Austonia AM
100% Austin news, info, and entertainment, straight to your inbox at 6 a.m. every morning.
In five minutes, you're fully informed and ready to start another great day in our city.
Get connected with our daily update
Dr. Patrick J. Crocker is former chief of emergency medicine at Brackenridge Hospital and Dell Children's Medical Center. He also is the author of "More Letters from the Pit: Stories of a Physician's Odyssey in Emergency Medicine," coming this spring. Austonia.com's Rich Oppel spoke with him recently.
Q: Dr. Crocker, when the H1N1 epidemic hit in 2009, you were chief of the ER at Dell Children's. So this isn't your first rodeo. Is the U.S.—and Austin—ready for this pandemic?
A: Back then, we believed we were better prepared than we actually were.
---
After all, we were able to rely on the national defense stockpile of supplies and medications and the assistance of the CDC and other government agencies. As for this pandemic, our preparations in the U.S. have proven inadequate for the challenge. We were hampered by those who felt it was appropriate to downplay the obvious growing threat. So I can't say we were adequately prepared.
Q: Both China and South Korea reacted quickly, and both now have come out of the worst of it. Did we get off to a similarly fast start?
A: The U.S. response has been too slow. We attempted to deny the emergency away. That head-in-the-sand approach never works. Delaying forced social distancing allowed the COVID-19 virus to spread through our country under the radar. Transmission occurred among asymptomatic or minimally symptomatic people. This made true containment impossible. Now our best hope is mitigation and flattening the pandemic spread. And our inexplicable inability to respond with test kits like other countries really contributed to the problem of unrecognized spread in the community.
Q: How can your strategy in the 2009 epidemic be applied and updated for today?
A: We understood from the outset in 2009 we were facing a potential tsunami of patients and prepared early to use what was novel thinking at the time. We would triage and treat patients outside the hospital in medical tents, never bring them in unless it was medically indicated, and bring the necessary diagnostics to the patient outside. It worked wonderfully. Many hospitals took note and within a week or so tents were springing up outside ERs all over the country.
There is room for even more creativity today. We can save resources and staff. First, patients should be screened via telemedicine. Algorithms can be used to prevent the patient from coming to the hospital first. Remember, approximately 80% of these patients do not need hospital care. Once at the hospital, patients could again be screened and directed either to the main ER or to ER space in tents. All outpatient care for the COVID-19 could be delivered there. If patients need admission, they should all be segregated into COVID-19 floors. This would help minimize transmission to other patients and also allow staff to decrease use of personal protective supplies.
Q: Speaking of protective gear, the supply chain on everyday medical gear is challenged. The CDC has even mentioned the use of bandanas if masks run out. Does that make sense to you?
A: No, it doesn't. The shortage of supplies has meant that we have had virtually no ability to test early. We are running low on gowns, gloves, and masks. All prove the inadequacy of our preparation. And the CDC's suggestion of using a bandana saddens me. I'm not convinced adequate study of possibly reusing masks has been done. I suspect that they possibly could be fumigated, dried to 140 degrees, or sterilized with ultraviolet light rather than being thrown away after a few minutes of use. This needs investigation. I'm pretty darn sure a properly treated reused N95 mask will provide more protection than a bandana!
Q: New York Gov. Andrew Cuomo warned that we will run out of hospital beds. Are you concerned that could happen in Austin, and if so, how will we handle patients needing acute care?
A: Unfortunately, I think there are likely to be multiple epicenters with a high density of infected patients. Especially in large cities, hospitals are likely to run out of beds, ventilators and adequate staff. We need to do things differently, and preparation and training should start now. Bed space for the lower tier of patients should be secured. Hotels are an obvious choice: each room has a bathroom and would be superior to large open rooms without facilities. For these patients we don't need expensive monitoring. Low-cost blood pressure machines and oxygen saturation monitors are available and can be used. If we placed all COVID-19 patients together in such makeshift hospitals, the staff can work without fear of spreading the infection. Perhaps this would allow them to work in HAZMAT suits and greatly decrease the use of consumables in short supply. And yes, it will be different, uncomfortable and unfamiliar...but it beats being unable to provide care.
Q: Some people play down the mortality rate of COVID-19, saying that it may be only 2% of infected patients, compared to 0.2% for common flu. How concerned should we be?
A: These naysayers are part of the problem and have succeeded in slowing our response while spreading disinformation. Make no mistake, just because 80% of patients have a moderate clinical course as outpatients, that still leaves 20% that need hospital care, and 5% of those will need intensive care and a ventilator. This disease is 10 to 20 times more lethal than seasonal flu and if the spread continues at the current rate it will by far be the No. 1 cause of death in 2020 and 2021—maybe even double or triple the number of deaths of the next highest cause. But we can still lessen the impact of the disease through strict social distancing. If you conservatively apply a little arithmetic to World Health Organization and CDC "possible scenarios" you end up with staggering numbers of dead. How anyone can construe this as a minor problem is beyond reason.
Q: We read that even if ventilators were available, hospitals may not be able to afford them at a cost $25,000 and up. Will older people be wheeled into hospital corridors to die as ventilators are saved for younger people in distress?
A: This frightening scenario may play out in our country just as it has in Italy and probably China as well. We need novel thinking about the use of ventilators. Emergency mini-ventilators are available but not used in the U.S. They don't have all the bells and whistles that the big machines have that allow for optimal care, but they are functional, cost around $650, and could be used for during a crisis. Further, existing ventilators can easily be refitted to service 2-4 patients simultaneously. This is not ideal medical care but again we may be facing "war-time field-expedient" medicine and this solution is better than no ventilators.
How you decide who gets a ventilator will be difficult. In my opinion, it cannot be based solely on a patient's age. Are you going to tell me a murderer, drug dealer, or rapist is going to get a ventilator because they are young? Are you ready to discard the elderly who are actually fit, never smoked and probably have a better chance of survival than some young patients based only on their age? While there will be some patients that as physicians we know are very unlikely to survive—making comfort care appropriate—this triage question causes all sorts of ethical dilemmas.
Q: Are we taking sufficient care of nurses and other hospital workers, the people on the front line of this battle?
A: No, and it's a tragedy to ask these heroes to put themselves directly in harm's way without providing appropriate protections. They should all be the first to be guaranteed full intensive care unit and ventilator support if needed.
Q: Is there a role here for retired physicians?
A: We could be very useful in staffing all of the telemedicine work that will be necessary and help alleviate hospital overcrowding by directing the care of many patients in their homes. If retired doctors are asked to pitch in, I'm there. I'm just not ready to roll over and play dead with only a bandana on my face.
Tesla CEO Elon Musk announced a record-setting second quarter during an earnings call broadcasted from the Giga Texas construction site in Southeast Travis County on Monday.
The electric carmaker reported more than $1 billion in quarterly net income and the production of more than 200,000 vehicles for the first time despite challenges such as a global semiconductor shortage.
"It … seems that public sentiment towards electric vehicles is at an inflection point, and at this point, I think, almost everyone agrees electric vehicles are the only way forward," Musk said.
Despite rising consumer demand and adequate factory capacity, Tesla faces what Musk described as a "quite serious" global semiconductor shortage, which will determine the company's growth rate for the rest of the year.

With increased revenue and production, Tesla is investing in new factories, Chief Financial Officer Zachary Kirkhorn said. These include Giga Texas, the $1.1 billion manufacturing plant that broke ground last summer and is slated to open later this year.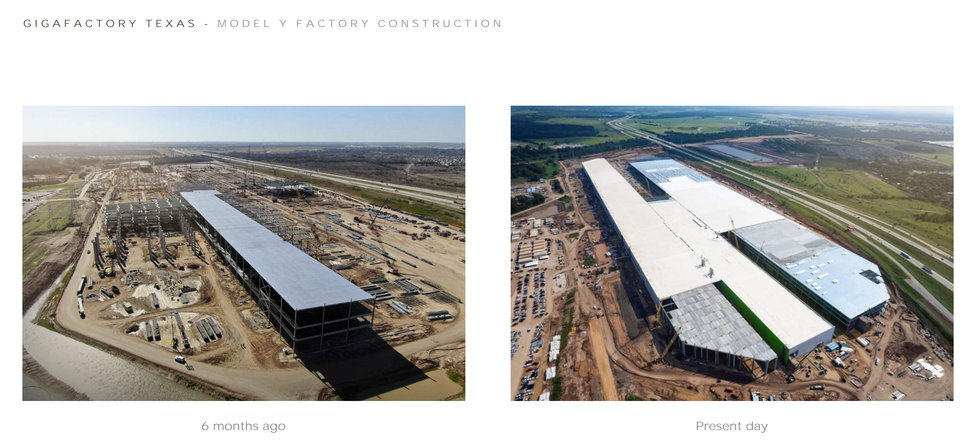 The Giga Texas factory in Southeast Travis County has rapidly increased in size since ground broke last August. (Tesla)
Musk commended the construction team for "incredible progress," transforming what was basically a vacant site into "a mostly complete large factory a year later."

I was at Giga Texas yesterday. Team is making excellent progress. Building will be almost a mile long when complete.
— Elon Musk (@elonmusk) July 25, 2021
Giga Texas will produce the highly anticipated Cybertruck, along with other models, but Musk said scaling its production will be difficult, especially given the supply chain delays caused by the pandemic. "It's going to move as fast as the slowest of its up to 10,000 unique parts," he said.

In other news, Musk said Monday's earnings call would likely be his last regular appearance, only jumping on future quarterly calls when big announcements warrant it.
Tesla Solar recently made news when it announced plans to build the nation's most sustainable residential community in Southeast Austin earlier this month. The newly built homes will feature Tesla solar roof tiles and Powerwall battery storage as well as electric vehicle charging stations.
The city of Austin released a shortlist of seven candidates for the police chief position left vacant when Brian Manley retired in March.
City Manager Spencer Cronk hopes to announce an appointment by the end of August, which will require City Council approval.
The finalists, chosen from a field of 46 applicants, include:
APD Interim Chief Joseph Chacon, who previously served as an assistant chief in the department for almost five years
Anne Kirkpatrick, former police chief in Oakland, California, who was fired last year after a federal monitor criticized her handling of a fatal 2018 police shooting of a homeless man
Dallas Police Department Assistant Chief Avery L. Moore, who is a 30-year veteran of the department
Atlanta Police Department Deputy Chief Celeste Murphy, who manages the department's community services division
Dekalb County Police Chief Mirtha V. Ramos, who previously served as division chief in the Miami-Dade Police Department
Wichita Police Department Chief Gordon Ramsay, who is a former president of the Minnesota Police Chief's Association as well as one of the first police chiefs of a major U.S. City to call George Floyd's death a murder, as reported by the Wichita Eagle
Los Angeles Police Department Deputy Chief Emada E. Tingirides, who is also commanding officer of the department's newly formed Community Safety Partnership Bureau, which serves L.A.'s underserved communities
The next police chief will be tasked with reimagining public safety after a tumultuous year that saw mass protests against police violence and racial injustice, a nearly year-long hiatus of police academy that exacerbates a years-long staffing shortage, Austin City Council's decision to cut APD's budget in August, rising violent crime rates in Austin and around the country, and new state laws that
financially penalize cities that cut police funding
.
City staff will interview the finalists in the coming weeks, with several community input opportunities to come, according to a Monday press release.
The city conducted a public survey in March and hosted community input meetings in April to learn more about what residents are looking for in their next police chief, which helped shape the selection criteria for the position.
"They want to see the Chief be reform-minded and transparent and have a track record of fostering community involvement and accountability," Cronk said in the release. "The candidates selected show these characteristics in various ways."
Days after Austin began once again recommending masks in public spaces, Austin ISD announced Monday that kindergarten through sixth-grade classes will have virtual options this fall.
The district will discuss the move in a special board meeting Monday evening starting at 5 p.m., while full details will be released Friday.
Teachers will not have to fret about the new option—no educators will have to juggle both virtual and in-person learning. Instead, certain teachers will specialize in virtual education, according to a press release.
The news comes after a recent spike in COVID cases in Travis County and across the nation. Children typically suffer fewer symptoms of COVID when contracted, but they are now catching the virus more often than their older counterparts without a vaccine available to them and as the more contagious Delta variant is quickly being spread.
While local health officials are recommending everyone wear masks, public school districts are unable to mandate masks due to an executive order issued by Gov. Greg Abbott in May.
Parents have expressed concern about classrooms with masks unenforceable and children under the age of 12 ineligible for a vaccine. Some have even said they would look for alternative schooling if AISD did not offer a virtual option for students.
The board meeting will be featured on AISD.TV and Facebook.com/AustinISD starting at 5 p.m. and will discuss more details on the virtual option.