Get connected with our daily update
Lake Travis is getting a shipment of 10,000 selectively-bred bass fingerlings thanks to a 15-year-old who's 15.32-lb largemouth bass catch in March broke a nearly 30-year record.
The record-breaking fish was one of 23 "Legacy Class" fish caught in the state of Texas in 2021. Lucky anglers who catch a 13-pound or larger fish can loan the live fish to TPWD hatcheries through the Toyota ShareLunker program. In turn, their lakes are filled with thousands of selectively-bred young fish in hopes of bringing higher quality lunkers to Texas' public waters.
Despite a winter storm that devastated the state, this has been a banner season for the 35-year-old program. The program's 23 entries were the most on record for January through March since 1995 and produced over 271,000 selectively-bred fingerlings in TPWD hatcheries.
Back in March, 15-year-old angler Trace Jansen knew he reeled in a big one when he fought to bring the 15.32-lb behemoth up to the water.
"It was crazy," Jansen said. "It's almost unreal. I never thought I would catch a fish that big in my life."
The Buda native helped Lake Travis become one of 10 Texas lakes, including Lake Austin, to receive over 10,000 ShareLunker fingerlings this summer.
In turn, Lake Travis and other ShareLunker hosts become more likely to produce more prize-worthy fish in the future.
Many of the ShareLunker entries this year boast a complicated family history—one fish caught this season was thought to be the granddaughter of a ShareLunker fish caught in a different lake in 2006, while two other 2021 entries are related to each other. O.H. Ivie, which produced 12 Legacy class fish this season, was granted over 70,000 well-bred fish.
Anglers who submitted an entry received more than Legacy Catch status. The winners also earned a catch kit, a decal, VIP access to the Toyota ShareLunker Annual Awards event and a trophy for their spoils in the form of a replica fish to put on their wall.
The Legacy Class just runs from January-March, but those looking for prizes of their own can enter data on any catch greater than 8 lbs or 24 inches and receive a catch kit and decal of their own.
It's no secret that Austin loves its dogs—with the most dog-friendly restaurants per capita in one of the most dog-enthusiastic cities in the world, it would probably be harder to find a restaurant that doesn't allow dogs than those that do.
That said, with so many options to choose from, it can be hard to narrow the search down to a few. From dog-themed restaurants to doggy food trucks, here are nine dog-friendly local businesses to try out.
Austin is quickly becoming the land of influencers—including those of the feathered variety.
Esperanza, a 12-year-old chicken from Austin's Highland neighborhood, has a reputation that precedes her. According to her owner, Edward Gottschalk, there's a solid chance she's the oldest chicken in Austin.
While it may seem a bold claim to make, Gottschalk has done his research. He said he found an old clip of a late-night television show (he's thinking David Letterman) that featured an ancient chicken from Austin that was 13 or 14 years old, and Esperanza isn't far off. He's asked around Reddit to see if any other geriatric chickens are still around, and no one fought for the esteemed title.
While "Austin's oldest chicken" may have an endearing ring to it, she's fought hard for her fame. Esperanza's backstory includes old-lady crankiness, family feuds and even chicken-on-chicken murder.
"She's not that nice, you really shouldn't like her that much," Gottschalk told Austonia. "She's an old lady, she's stubborn."
Gottschalk and his wife, Liath Appleton, got Esperanza from a friend in 2009, about a year after they moved to Austin.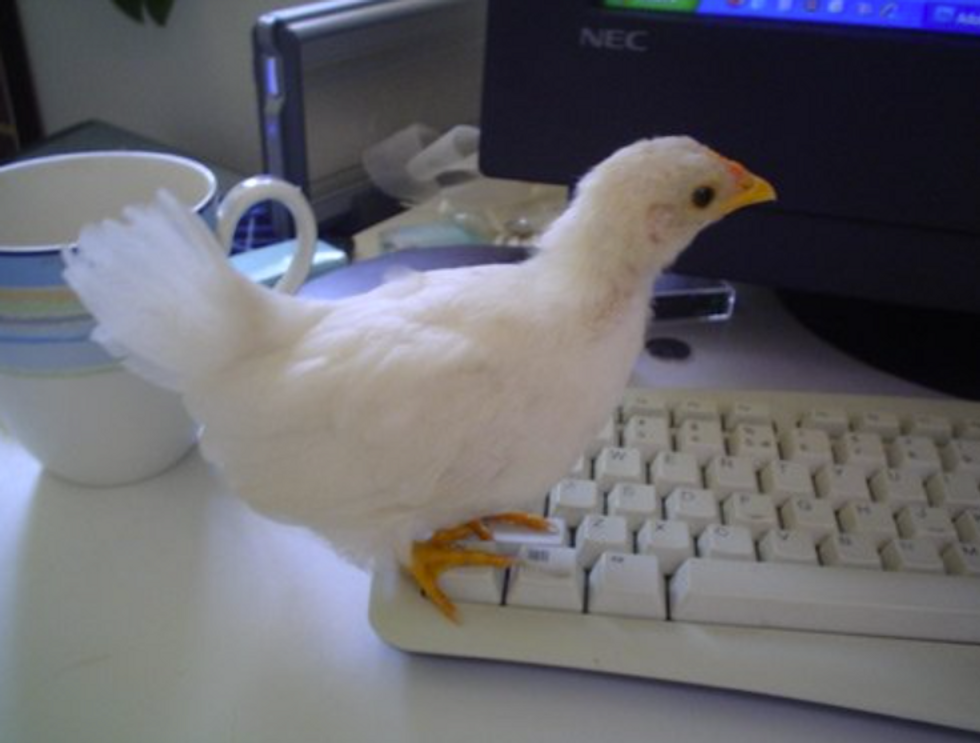 Esperanza as a young hen in 2009. (Edward Gottschalk)
She's had companion chickens, some of which have flown away or died of natural causes. In the chicken world, however, weakness is never tolerated. The couple had to separate any sick chickens for fear of the other hens killing their weakest link, but some, unfortunately, fell through the cracks.
"Those chickens usually don't even last a week because they would kill that chicken," Gottschalk said. "Esperanza personally has probably killed a chicken or two."
Esperanza isn't the only family member who has fought for her spot at the top. Gottschalk's brother, Mark, is a champion pumpkin grower who has produced competition winners that are several hundred pounds. In true brotherly competition, Gottschalk decided he would make sure Esperanza was well-known as the oldest chicken in the Texas capital.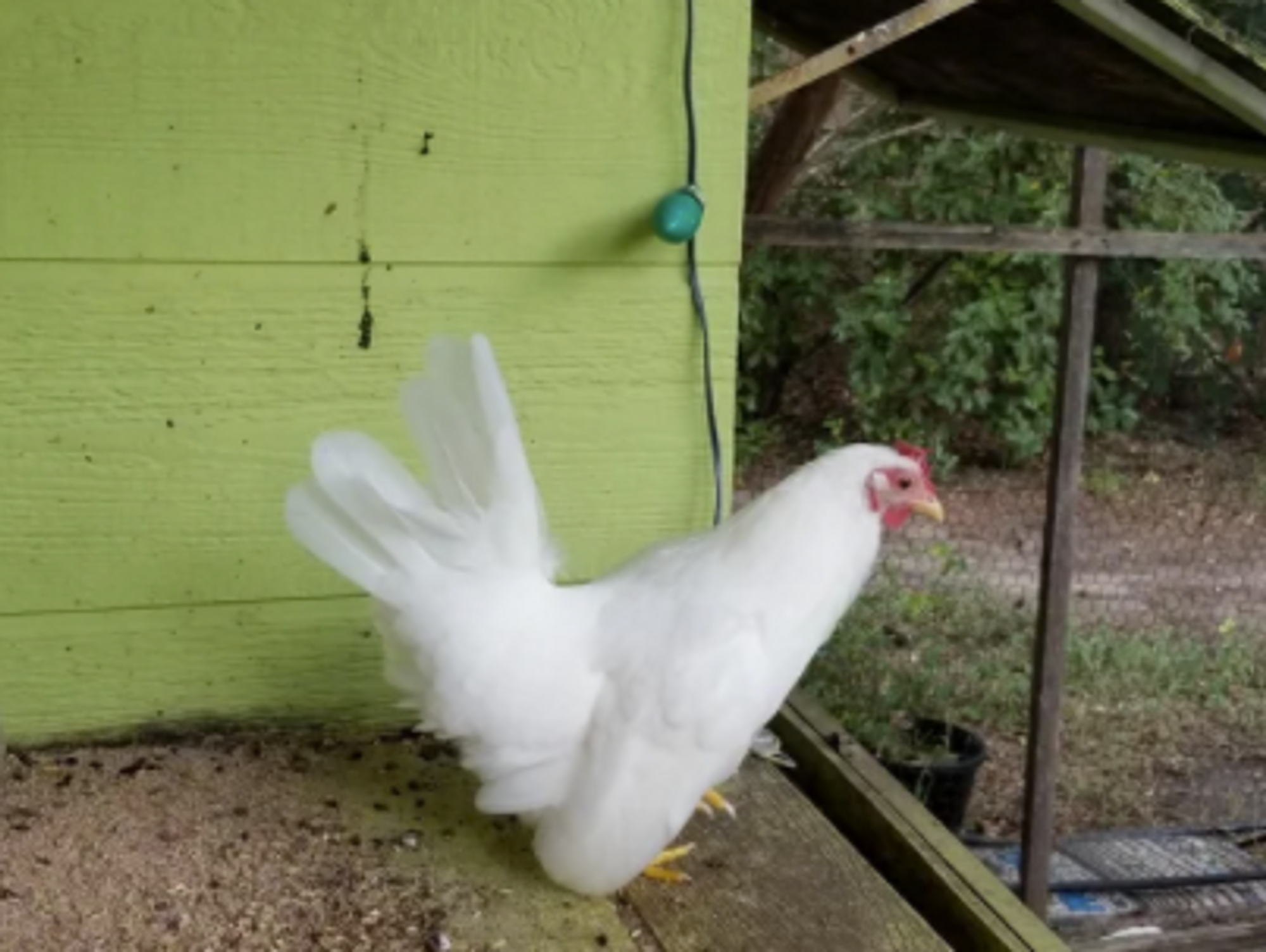 Esperanza has been with the couple since 2009. (Edward Gottschalk)
Gottschalk essentially boiled it down to an in-family Hatfield vs. McCoys dispute.
"I was like, 'let's not talk about my brother,'" Gottschalk said. "'Why are we talking about pumpkins? (Esperanza's) a celebrity.'"
Despite all of his talk, Gottschalk and Appleton have lots of love for their eldest (and now only) feathered friend. In bad weather, Appleton brings Esperanza inside the house for a few days, watches TV with her and even puts her on her lap. The coop, which is fully enclosed to prevent any attacks from predators, sits just outside a bedroom window so the two can give her treats and feed when needed.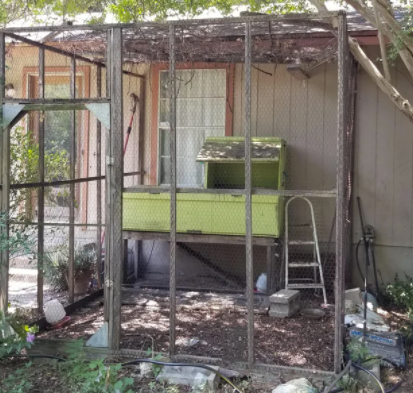 Esperanza's coop is attached to a nearby bedroom window for easier access. (Edward Gottschalk)
Aside from bouts of ringworm and scuffles with former companions, Austin's oldest chicken could get even older. Some of her feathers have bent or fallen out, but she's otherwise perfectly healthy.
All jokes aside, Gottschalk said he's grown to love his grouchiest family member.
"She's pretty sweet with age," Gottschalk said. "It's been nice to have her. I will definitely miss her when she's gone."
Retirees. Dog walkers. Preschoolers. Joggers. They all stop at the corner of 41st Street and Avenue G in Hyde Park to marvel at the side-yard mini farm, home to 12 nameless chickens and three goats: Clementine, Rosebud and Billy Budd.
The neighborhood attraction has only grown more popular since the start of the pandemic when daily walks became one of the few acceptable social activities—and a cherished part of many people's routines.
"I do think it has been significant to people's lives," said Don York, 63, owner of the historic home with his wife Diane. "They weren't going to church anymore. They weren't going out to eat with their friends... So it really did become a place of community."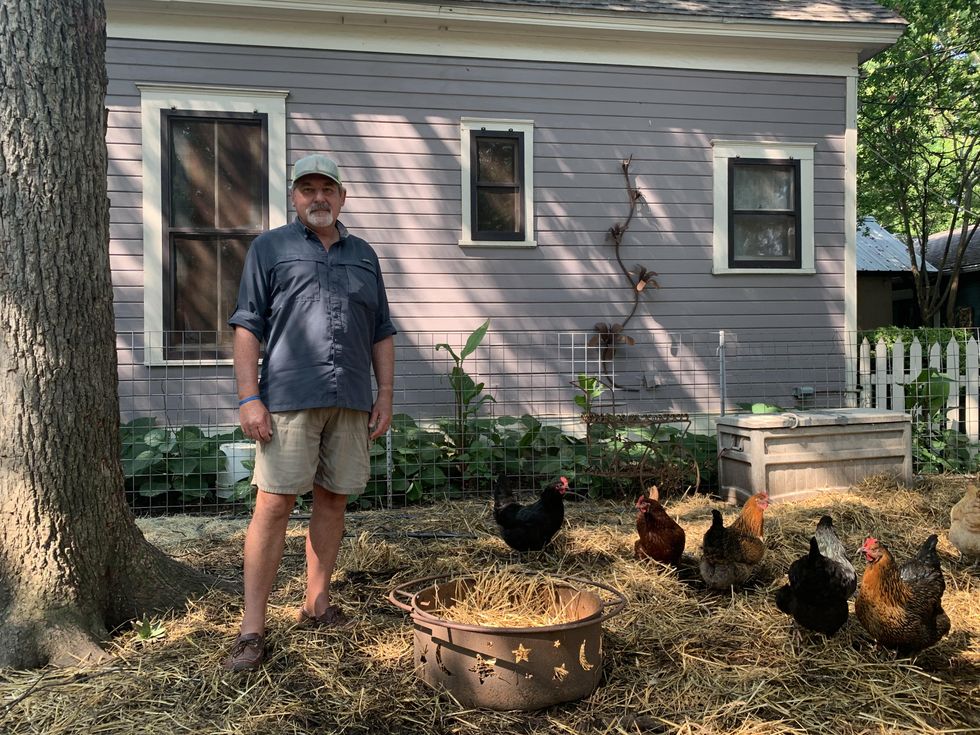 Don York and his wife, Diane, used to walk by their current home and hope to live there one day. (Emma Freer)
Dream home

The Yorks landed in Hyde Park after considering other options, including Tarrytown, Travis Heights and Dripping Springs. "Before Diane and I married, I was just driving around through neighborhoods trying to decide where we wanted to spend the rest of our lives," Don said. "Hyde Park just had the best feel."
While renting a honeymoon cottage at the corner of 40th Street and Avenue H, the couple would scope out the property. "We would walk by this house in the evening and say, 'Man, we would love to live there,'" Don said. "When they put up the for sale sign, we had a contract on it in 24 hours."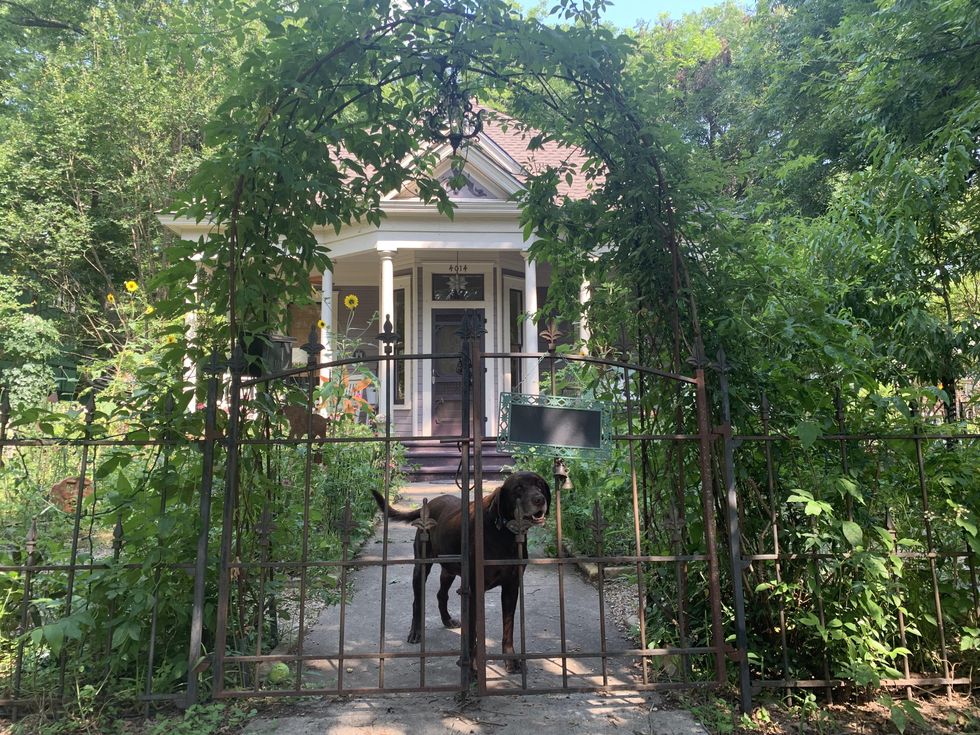 Jack the brown lab stands at the gate of the corner property. (Emma Freer)
They purchased the purple house for $150,000 in 1991 and soon welcomed their older son, whose middle name—Gray—pays homage to the former owner.

There's something of a naming tradition. The Zimmerli-Rosenquist house was built in 1903 and has changed owners approximately 17 times, according to the Hyde Park Neighborhood Association. The first owner, Ida Zimmerli, was a Swiss immigrant and dressmaker who sold it to Helena Rosenquist, a Swedish immigrant who lived there with her husband and their five children.

The home's history is part of its appeal. "One of the things I really like about the house is the tall ceilings, with the ceiling fans and the transoms," Don said. "Because, you know, back in 1903 people didn't have air conditioning."
In addition to good airflow, the house is surrounded by yard space on all sides and features an octagonal porch, which is currently home to at least three nests: robins, sparrows and wasps.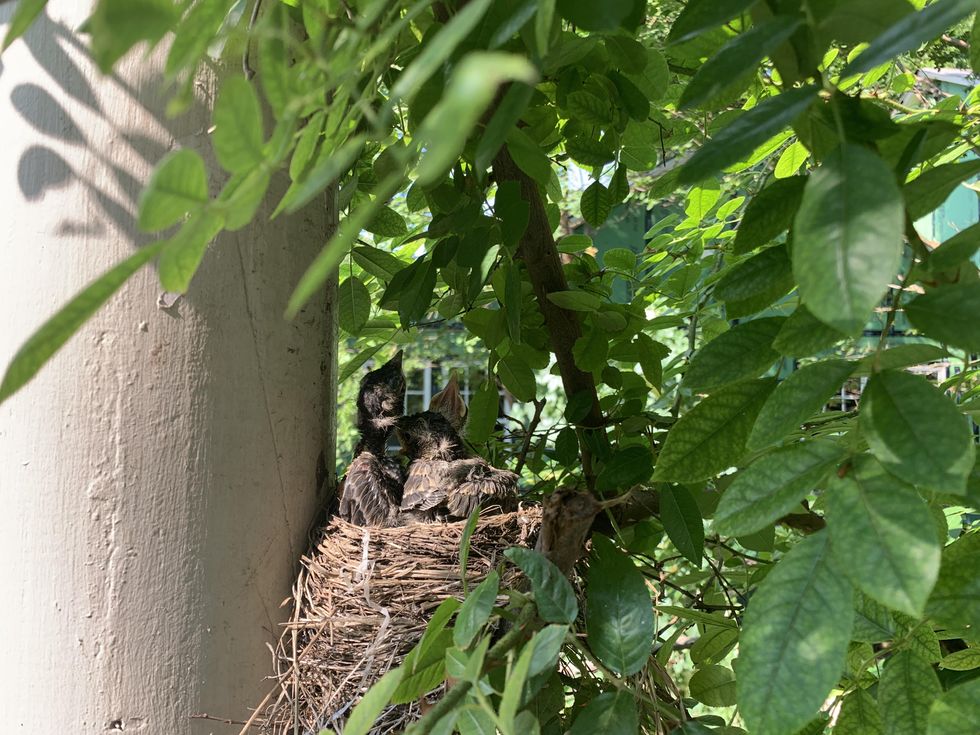 Robin chicks await their next meal. Their nest is hidden in one of the many corners of the Yorks' octagonal porch. (Emma Freer)
'A labor of love'

The mini-farm, which Don calls "a labor of love," began around 13 years ago, when the Yorks' older son was a student at McCallum High School. Don can't quite remember whether it was an environmental science or urban farming class that did it, but he knows his son came home one day wanting to get some chickens. With Diane's approval, Don transformed the kids' abandoned A-frame swing set into a coop and brought home the first eight birds.
Students from the nearby Hyde Park Montessori and Children's Discovery Center schools started visiting each day, around mid-morning. "After we had the chickens for a few years, I was sitting there thinking, 'Aren't you little kids tired of counting chickens?'" Don said. "So I just thought, 'Let's throw some miniature goats in the mix.' And that changed the course of history."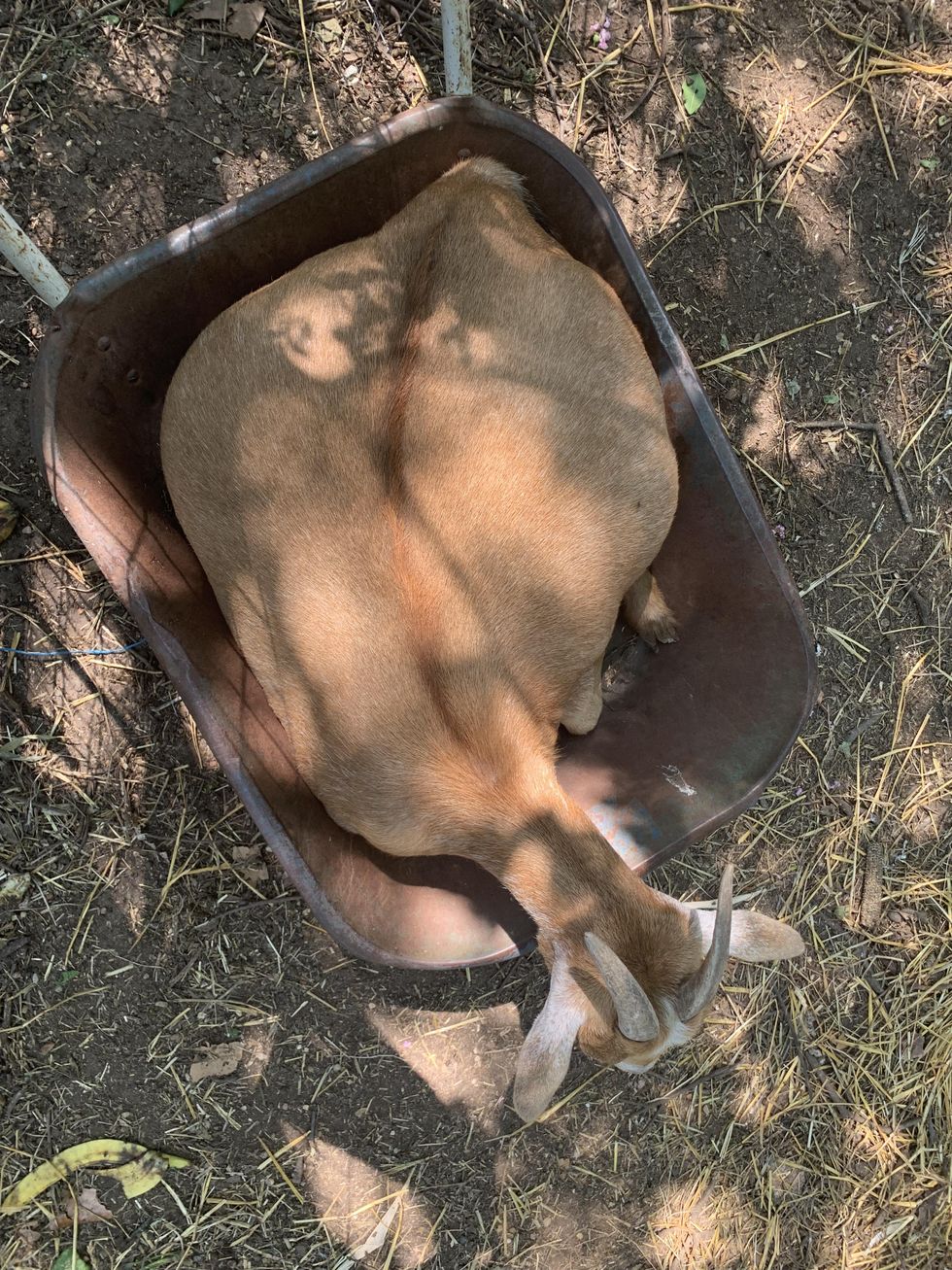 Rosebud moved to the mini farm around Christmastime and is named for the movie Citizen Kane. (Emma Freer)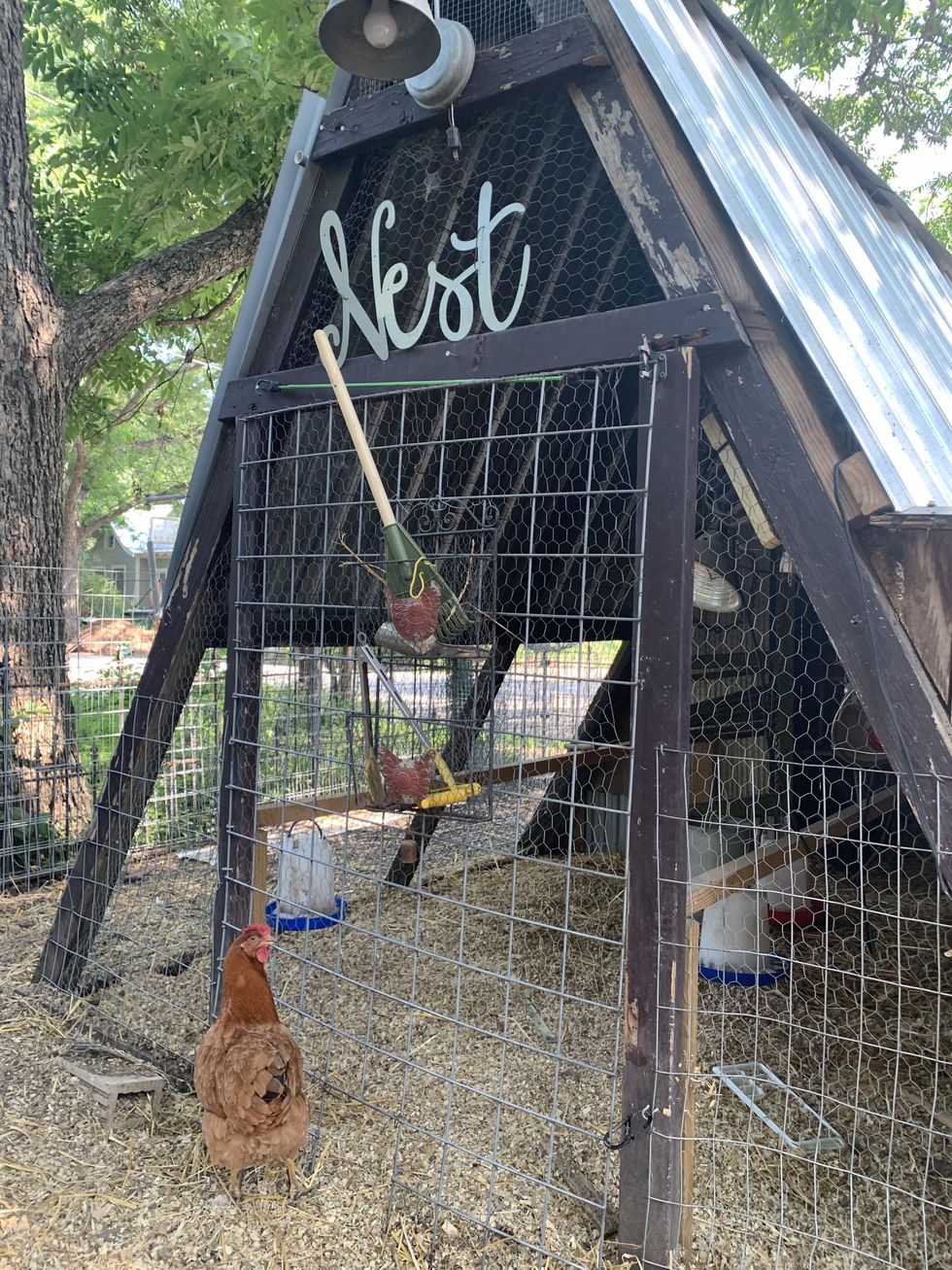 The chicken coop was repurposed from an old A-frame swing set. (Emma Freer)
The Yorks brought home Clementine and her twin sister, who died shortly after. Because goats are social animals, they soon welcomed Rosebud, who, unbeknownst to them, was pregnant. She gave birth to Billy Budd, named for a Herman Melville novella, in front of an audience of Montessori students.
Although Hyde Park has changed since the Yorks moved in—there are more BMWs than beat-up old Volvos, Don said—their routine has remained largely the same. Diane feeds the animals and mucks their enclosure. Don handles media inquiries and maintenance, such as adding a higher fence when the goats started escaping. He also collects eggs each day. There's a small basket hanging on the fence, where passersby can swap $5 for a carton.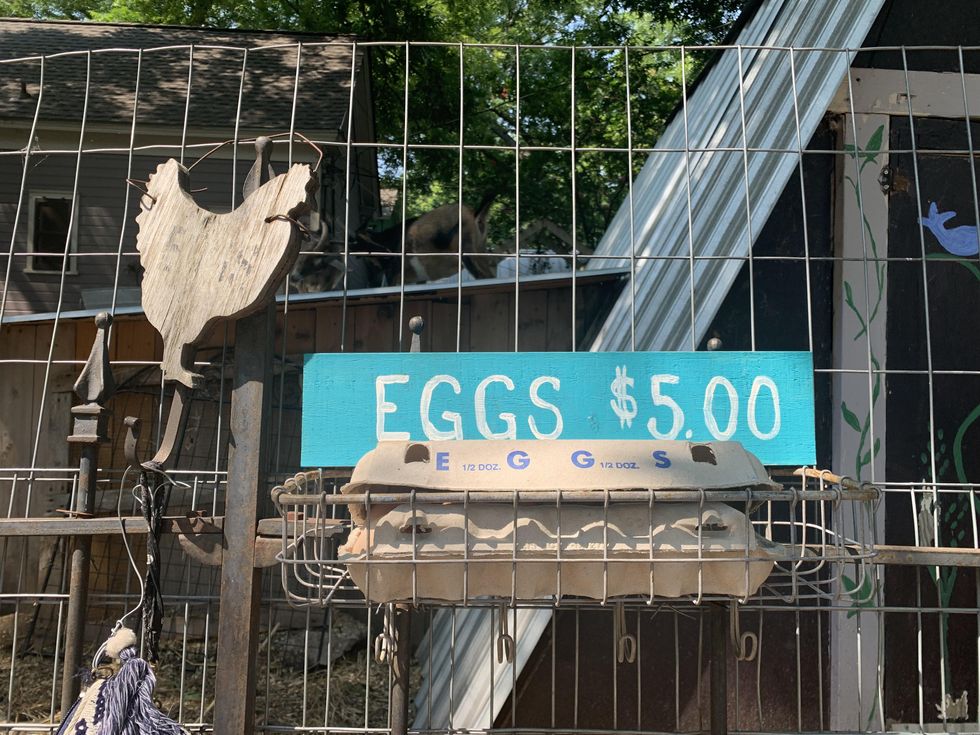 Lucky passersby will find fresh eggs, which Don typically sets out in the early evenings. There is a small coin purse for payment. (Emma Freer)
During the pandemic, the mini-farm was a natural gathering place, where neighbors could chat at a safe distance, with an obvious icebreaker. Don, an attorney, would sometimes have to change rooms while attending virtual hearings to get some quiet. But he welcomes the visitors, who continue to flock to the yard. "COVID really did ratchet it up," he said. "Hordes of people, every day."