Get connected with our daily update
Chupie the Lykoi cat isn't as feral as he may look—unless, of course, it comes to getting his paws on some precious baguettes.
The unusual kitty has recently gone viral on social media, garnering over 30 million views on TikTok and cheering up cat fans globally during the difficulties of the pandemic.
But according to owner and Austin resident Michelle, who asked not to disclose her full name for privacy reasons, this wasn't what she expected at all when she first made Chupie's Instagram and TikTok in January.
Chupie's claim to fame—aside from his overwhelming cuteness and love for all foods (except salsa and carrots)—is his unique genetics. Lykoi cats, named after the Greek word for "wolves" and often aptly dubbed "wolf cats," are the result of a mutation originally found in feral cat populations that have since become a pedigree cat breed.
He's gotten plenty of love—and plenty of bullying—for his wolf-like appearance. Michelle has been told he looks like anything from the weasel of "Suicide Squad" to Clint Eastwood as a cat.
"I think that a lot of people think that he looks like an ugly cat because he looks mangy," Michelle said. "But that's kind of what makes him special."
But Chupie doesn't have the disposition of a werewolf. In fact, the friendly cat can be seen kayaking, hiking and lounging around locales around Austin, from historic bar Nickel City to his favorite spot at South Austin's Little Darlin'.
He's almost always well-behaved, too—that is, until food enters the picture.
Just a few days after making his Internet debut, Chupie first went viral for viciously gripping onto a bag of H-E-B buns. The post gained 1.3 million views.
Since then, similar videos of Chupie gripping baguettes, treats and other goodies have gained up to 11 million views apiece.
Michelle and her husband have beencreating content nearly every weekend and are now busier than ever. Still, it's been a rewarding, if unexpected, life change, especially as she hears from fans worldwide who view Chupie as a bright spot in their life.
Michelle said that she's received countless positive messages from fans, many of whom struggled during the pandemic.
"I joke that he's a 'meowtivational speaker' because I really think that we sometimes live in really dark places, especially during COVID," Michelle said. "So if we can give them even a little part of their day, even if it's 10 seconds where they feel joy, then it's worth it."
That popularity has translated into real life. Chupie is celebrated by fans and newcomers alike nearly everywhere he goes. In an interview with Austonia, Chupie was almost immediately greeted by a fascinated stranger who was quick to scratch his head and take pictures, something Michelle said is a normal occurrence.
"Everybody knows him when I go places now," Michelle said. "People are like, 'Oh my God, is that Chupie? Can I feed him the crust of my pizza?'"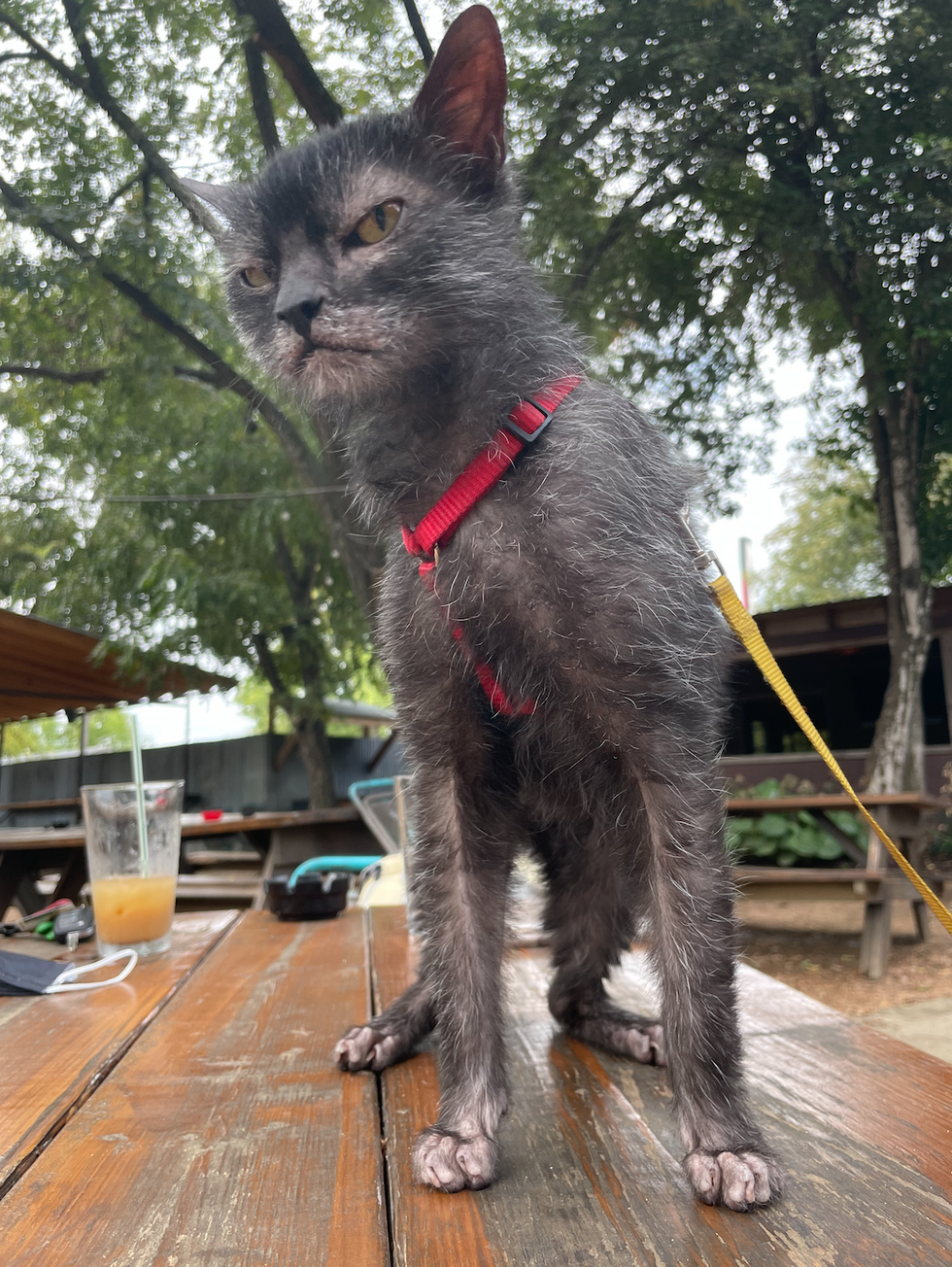 Chupie before getting a treat. (Claire Partain/Austonia)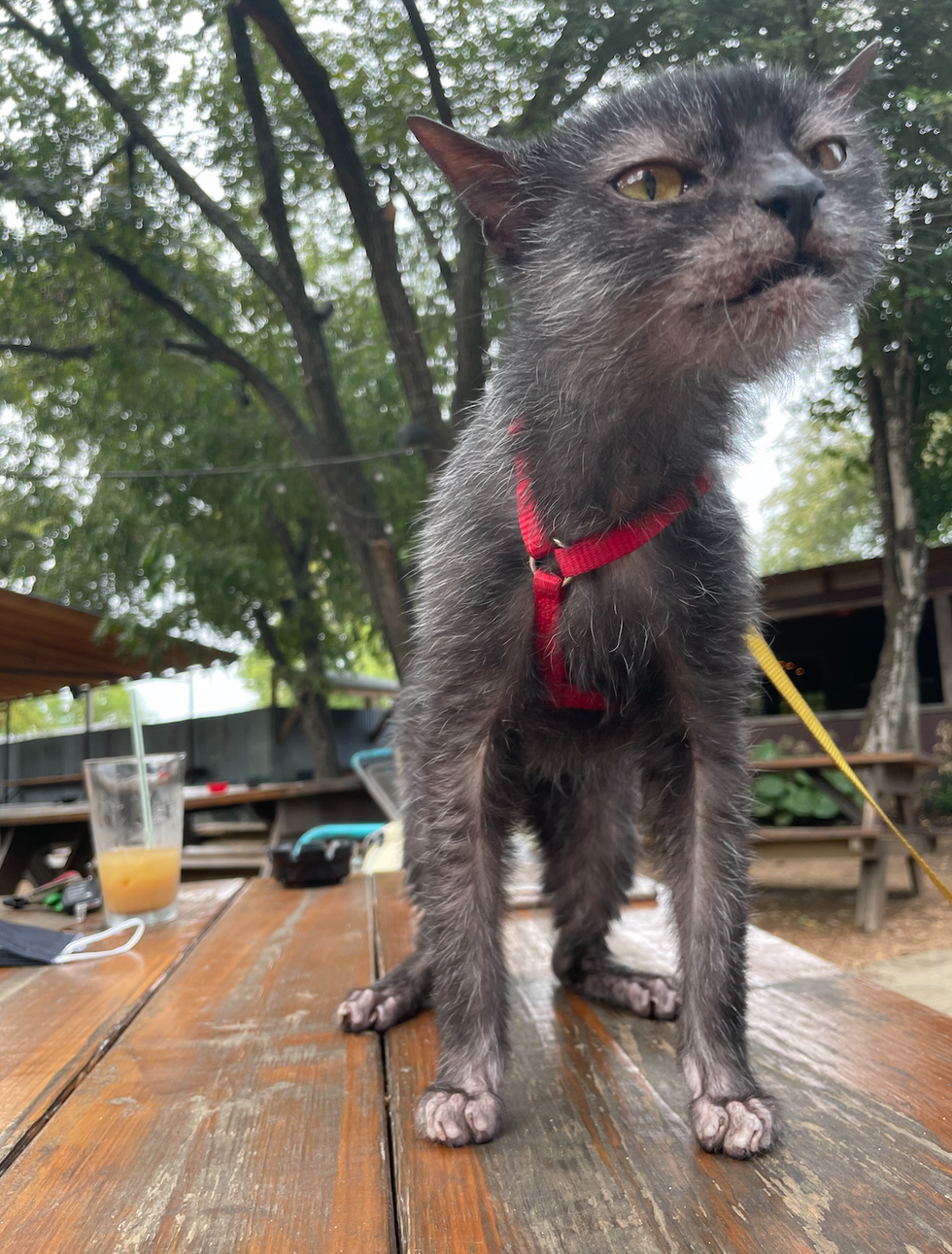 Chupie after he gets a treat. (Claire Partain/Austonia)
"He's living better than me probably," Michelle joked. "We live our lives well together. But I've never done so many things in one weekend until I started making these videos."
So what's next for Chupie? Michelle hopes one day she can take her kitty on global adventures where he can meet fans. For now, she's busy making Chupie merch, sending out care packages and is looking forward to taking her pet to animal events like the POP Cats festival on Saturday.
"This has gone way further than I ever imagined, and it's about Chupie, but it's also about the 'I don't give a meow' attitude," Michelle said. "I think people need to take life less seriously, so it's nice to be an outlet for that."
Actor, director and screenwriter Justin Theroux isn't the only famous member of his family. His canine companion Kuma made waves online this past weekend supporting Austin Pets Alive!—and Jennifer Aniston is a fan.
Theroux launched Kuma's own Instagram account on Saturday with a link to Austin Pets Alive!'s website in her bio. And the grey pitbull mix is already garnering the kind of attention worthy of her movie star dad: As of Monday night, she has over 55,000 followers.
Chief among them is Jennifer Aniston, who posted a photo of Theroux and his newly online dog on her Instagram story yesterday with fond words for the Austin shelter.
"Love what these two are doing to help people who help pups who help people," the 'Friends' star, and Theroux's ex-wife, wrote. "They helped save 60 pups at Austin Pets Alive! yesterday."
Theroux began volunteering at the shelter while filming 'The Leftovers' in Austin when he fell in love with the shelter's pitbulls, according to Dr. Ellen Jefferson, Austin Pets Alive! president and CEO.
"We are thrilled that he and Kuma are spreading the word about the work APA! is doing and the need to keep Austin no-kill," she said, referring to the shelter's commitment to save animals most at risk for euthenasia.
Theroux adopted his mut in 2018 after Kuma was rescued—dirty and injured—from the aftermath of Hurricane Harvey by A Chance to Bloom Dog Rescue, based in Conroe, Texas.
While Kuma is not from APA!, Theroux connected with the Conroe-based non-profit while visiting the Austin shelter, and he has remained "an enthusiastic supporter" ever since, Jefferson said.
Read more on celebrity dogs: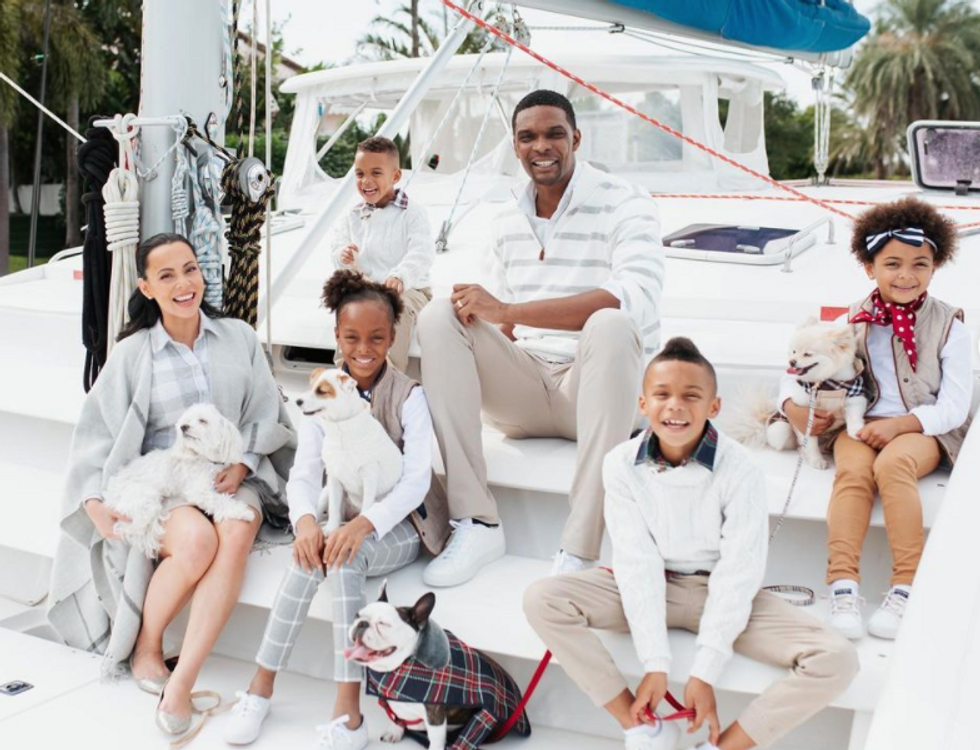 Star power gets furry: Meet the dogs of Austin's celebs
Around 75 dogs died in a fire Saturday night at Ponderosa Pet Resort in Georgetown, according to the Georgetown Fire Department, leaving dozens of owners to mourn the losses of their furry companions.
The fire department arrived on the scene less than five minutes after 911 calls started flooding in at 10:56 p.m. At their arrival, they found flames and clouds of smoke, according to GFD Chief John Sullivan.
Twenty-five firefighters were on the scene, hoping to save as many lives as possible, initially trying to open some ventilation and control the smoke, though they were unable to save any dogs. Sullivan said his heart goes out to the families of the victims of the fire.
"I've been doing this for 29 years and this is the first incident that I've had where we've lost so many pets," Sullivan said. "I hate to use that term because, to me, a pet is a lot more than a pet—it is the closest friend. I wish I could convey my internal emotions adequately. I just wish I could go back in time to make it better."
Families of the fallen pets, who are believed to have died from smoke inhalation, have created a memorial outside the pet resort's fence complete with flowers, photos, notes and beloved toys of their friends.
No people were discovered at the scene—Ponderosa's boarding policies state that the staff feels that pets sleep better at night when no employees are there, so the pets are left unattended at night.
The fire department is still working to discover what caused the fire. Despite fire and smoke damage to the inside, the outer metal exterior survived the blaze. Based on the type of construction and occupancy type, the building was not required to have a sprinkler system.
"Quite frankly, I view my personal pet as probably my closest confidant, friend and the one that doesn't judge, so my heart just breaks," Sullivan said.
The fire claimed the lives of dog duo Bunny and Clyde, leaving owners and newlywed couple Don and Pam Richard devastated and angry KXAN reports, saying they wouldn't have left the dogs had they known they would be left unattended at night.
The Richard family is planning to petition the city of Georgetown, making it so that animals in professional care are never left unattended again.
Lions and tigers and bears are getting vaccinated, oh my! Following suit with other zoos across the state and country, Austin Zoo said it will begin vaccinating its animals against COVID-19 in the coming weeks.
An allotment of vaccines specially formulated for big cats and bears from Zoeti, an American animal health company, will be provided to zoos that want to participate free of charge, including Austin Zoo. The zoo expects the doses to arrive in a few weeks.
Austin Zoo Executive Director Patti Clark on Tuesday said they did not yet know how many doses they would receive or which animals they will go toward, though it is likely they will prioritize primates, those in close proximity with humans and larger animals, as they are most at risk.
Headquartered in Michigan, Zoeti said it began working on a vaccine formulated for furry friends when the first dog was infected with the virus in Hong Kong last year. The vaccines Zoeti is providing are experimental but have been authorized for experimental use on a case-by-case basis by the United States Department of Agriculture.
"They are making available a certain number of doses to zoos at no cost," Clark said. "It's kind of like the equivalent of a clinical trial, without a clinical trial."
Wait, animals can catch COVID? Yes, but don't rush out to vaccinate Fido just yet. The World Small Animal Veterinary Association said it doesn't recommend vaccinating house pets due to their mild symptoms and lack of evidence that your pet will pass the virus on. Plus, Zoeti just doesn't have the inventory to vaccinate hundreds of thousands of companions.
When they do vaccinate them, rest assured no humans will be harmed. Big animals will be vaccinated with a partition between them and the human, according to Clark.

"We train the animals so that they will tolerate (vaccination)," Clark said.
Austin Zoo is not the first to announce such vaccines for their animals—San Antonio Zoo, Dallas Zoo and Fort Worth Zoo all have plans to poke their residents, along with dozens of zoos across the United States.
Animal vaccine deployment began back in January after there were confirmed cases of COVID in the gorillas at the San Diego Zoo. So far, no cases of the virus have been detected at Austin Zoo, though they did have a scare that came back negative.
In the meantime, Austin Zoo is asking visitors to comply with local guidance by wearing a mask while indoors and social distancing at all times.