Get connected with our daily update
(Charlie L. Harper III)
A new report shows that racial profiling continues to be a problem for the Austin Police Department, despite ongoing efforts to address disparities in stops, searches and arrests.
---
APD motor vehicle stop data from 2019 reveals that Black people are still the most overrepresented racial or ethnic group being stopped by police in Austin.
According to the report, which was jointly published by the city's office of police oversight, office of innovation and equity office on Monday, Black people make up 8% of Austin's voting age population but experienced 14% of motor vehicle stops, 25% of stops resulting in searchers and 25% of stops resulting in arrests.
Latino residents were also overrepresented in motor vehicle stops, searches and arrests compared to their share of the local population, while Asian and white residents were underrepresented.
"APD's data continues to show that disproportionality in traffic stops exists and adversely impacts Black and Brown community members," OPO Director Farah Muscadin said in a statement.
The data also revealed geographic disparities in warnings, field observations and arrests. Warnings and field observations were most concentrated on the west side of Austin, while arrests were most concentrated on the east side.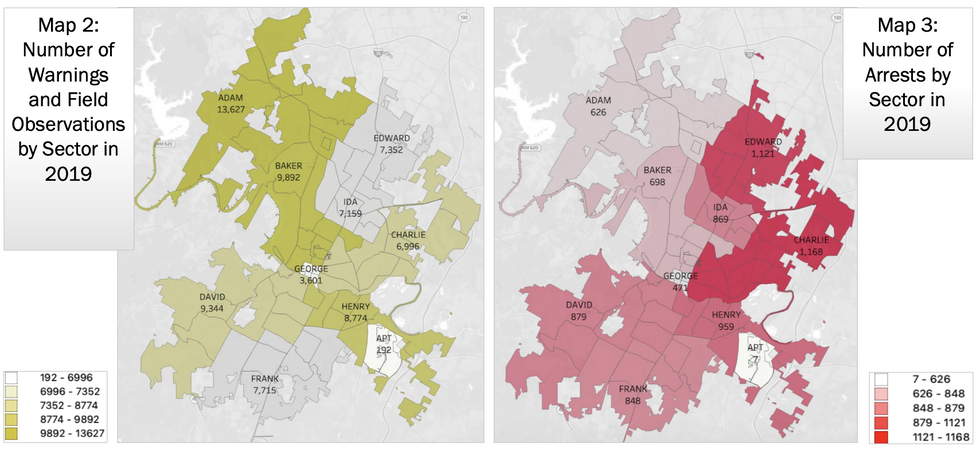 (Joint Report: APD's 2019 Racial Profiling Data)
Although there were some modest improvements since 2018, including a 1% decline in the overrepresentation of Black people in motor vehicle stops, other gaps widened.

For example, Black people were three times more likely to be searched than white people and the only racial or ethnic groups to receive more high-discretion searches than low-discretion searches.
High-discretion searches can only be conducted when there is consent, probable cause or contraband present, according to the report. Low-discretion searches, on the other hand, occur when policy requires an officer to conduct a search, such as due to an arrest or a vehicle being towed.
Last year, Black people received 58% of high-discretion searches compared to 42% of low-discretion searches. This disparity grew nearly 8% since 2018.
APD Chief Brian Manley said that his department is working toward reducing these disparities.
"Although it is a slight improvement, there is an improvement in some areas," he said at a public safety committee meeting on Monday. "I think we're headed in the right direction."
The report also included recommendations for how APD can ensure equity in policing.
Chief Equity Officer Brion Oaks said the department needs to acknowledge that their efforts to eliminate racial disparities have not worked, engage the community in creating a plan to do better, commit to achieving the benchmarks set out in that plan and improve how it trains officers.
"This report has established firmly how systemic racism manifests itself in policing and I hope it will serve as a catalyst for our community and city leaders to respond courageously in the pursuit of the fair administration of justice for our city," Oaks said in a statement.
The report analyzes data from 2019, before this year's protests against police violence and racism, and its publication follows myriad efforts to reform police.
Last December, after an anonymous complaint was filed with the OPO accusing an assistant police chief of using racist epithets and derogatory language, Austin City Council ordered a third-party investigation of APD's training, recruiting and promotion practices; use of force incident reports; and interactions with the public, including searches, arrests and citations.
More recently, council voted in August to cut approximately $20 million—or about 5%—of APD's budget and set aside an additional $130 million into two transitional funds, which allowed several of APD's traditional duties to continue while officials decide which ones to move out from under police oversight.
Members also canceled three planned cadet classes, citing concerns about the training academy's curriculum.
Manley said the budget cuts and canceled cadet classes have led to staffing shortages at the Monday meeting.
APD currently has 1,809 sworn officers and 45 vacancies. In the last couple of months, its attrition rate has spiked to 15%, about double what the department typically sees from retirements, resignations and terminations, he said.
Without any upcoming cadet classes, and assuming this attrition rate continues at its current level, Manley predicts the department will see an increasing number of vacancies—and related challenges staffing its patrol positions.
"We're doing what we can with what we have," he said.
(Tito's Handmade Vodka)
Ingredients:
750 mL Tito's Handmade Vodka
1 1/2 cup toasted pecans
Directions: Toast pecans in a 350°F oven until they become aromatic (about 5 minutes). Let pecans cool, drop them into a resealable jar, and fill with Tito's Handmade Vodka. Store in a cool, dark place for 1 month, if you can wait that long.
Small businesses have struggled through a long and arduous year, working to keep their livelihood afloat in a sea of uncertainty. This holiday season poses the opportunity to not only give gifts to your favorite people but also give back to your favorite local artists, Austin icons and small businesses.
So skip the line and shop small. There are hundreds of businesses to support around Austin, so if nothing here strikes a chord, visit the <a href="https://ibuyaustin.com/Find-a-local-business/" rel="noopener noreferrer" target="_blank">Austin Independent Business Alliance directory</a> for more.
The Austin Winery
<div id="7f64f" class="rm-shortcode" data-rm-shortcode-id="3400579315aa2bd42eeff0f20ebc659e"><blockquote class="instagram-media" data-instgrm-captioned data-instgrm-version="4" style=" background:#FFF; border:0; border-radius:3px; box-shadow:0 0 1px 0 rgba(0,0,0,0.5),0 1px 10px 0 rgba(0,0,0,0.15); margin: 1px; max-width:658px; padding:0; width:99.375%; width:-webkit-calc(100% - 2px); width:calc(100% - 2px);"> <div style="padding:8px;"> <div style=" background:#F8F8F8; line-height:0; margin-top:40px; padding:50% 0; text-align:center; width:100%;"> <div style=" background:url(data:image/png;base64,iVBORw0KGgoAAAANSUhEUgAAACwAAAAsCAMAAAApWqozAAAAGFBMVEUiIiI9PT0eHh4gIB4hIBkcHBwcHBwcHBydr+JQAAAACHRSTlMABA4YHyQsM5jtaMwAAADfSURBVDjL7ZVBEgMhCAQBAf//42xcNbpAqakcM0ftUmFAAIBE81IqBJdS3lS6zs3bIpB9WED3YYXFPmHRfT8sgyrCP1x8uEUxLMzNWElFOYCV6mHWWwMzdPEKHlhLw7NWJqkHc4uIZphavDzA2JPzUDsBZziNae2S6owH8xPmX8G7zzgKEOPUoYHvGz1TBCxMkd3kwNVbU0gKHkx+iZILf77IofhrY1nYFnB/lQPb79drWOyJVa/DAvg9B/rLB4cC+Nqgdz/TvBbBnr6GBReqn/nRmDgaQEej7WhonozjF+Y2I/fZou/qAAAAAElFTkSuQmCC); display:block; height:44px; margin:0 auto -44px; position:relative; top:-22px; width:44px;"> </div></div><p style=" margin:8px 0 0 0; padding:0 4px;"> <a href="https://www.instagram.com/p/CH5zZd0FC6w/" style=" color:#000; font-family:Arial,sans-serif; font-size:14px; font-style:normal; font-weight:normal; line-height:17px; text-decoration:none; word-wrap:break-word;" target="_top"></a></p> </div></blockquote></div><p><a href="https://www.theaustinwinery.com/" target="_blank" rel="noopener noreferrer">The Austin Winery</a>, located on 440 E. St. Elmo Road, already gives bulk discounts, because let's face it, 2020 has been a rough year. Whether you gift this local wine to someone else or stockpile for the next pandemic, <a href="https://www.austintexas.org/coupon/20%25-off-pickup-orders-free-wine-delivery-in-austin/1168/" target="_blank" rel="noopener noreferrer">take 20% off</a> a pickup order and get free Austin delivery through the rest of the year.<br></p>
Away Spa at W. Austin
<div id="b2292" class="rm-shortcode" data-rm-shortcode-id="c7920a53b54fdbe6b4f3cfb882b1f751"><blockquote class="instagram-media" data-instgrm-captioned data-instgrm-version="4" style=" background:#FFF; border:0; border-radius:3px; box-shadow:0 0 1px 0 rgba(0,0,0,0.5),0 1px 10px 0 rgba(0,0,0,0.15); margin: 1px; max-width:658px; padding:0; width:99.375%; width:-webkit-calc(100% - 2px); width:calc(100% - 2px);"> <div style="padding:8px;"> <div style=" background:#F8F8F8; line-height:0; margin-top:40px; padding:50% 0; text-align:center; width:100%;"> <div style=" background:url(data:image/png;base64,iVBORw0KGgoAAAANSUhEUgAAACwAAAAsCAMAAAApWqozAAAAGFBMVEUiIiI9PT0eHh4gIB4hIBkcHBwcHBwcHBydr+JQAAAACHRSTlMABA4YHyQsM5jtaMwAAADfSURBVDjL7ZVBEgMhCAQBAf//42xcNbpAqakcM0ftUmFAAIBE81IqBJdS3lS6zs3bIpB9WED3YYXFPmHRfT8sgyrCP1x8uEUxLMzNWElFOYCV6mHWWwMzdPEKHlhLw7NWJqkHc4uIZphavDzA2JPzUDsBZziNae2S6owH8xPmX8G7zzgKEOPUoYHvGz1TBCxMkd3kwNVbU0gKHkx+iZILf77IofhrY1nYFnB/lQPb79drWOyJVa/DAvg9B/rLB4cC+Nqgdz/TvBbBnr6GBReqn/nRmDgaQEej7WhonozjF+Y2I/fZou/qAAAAAElFTkSuQmCC); display:block; height:44px; margin:0 auto -44px; position:relative; top:-22px; width:44px;"> </div></div><p style=" margin:8px 0 0 0; padding:0 4px;"> <a href="https://www.instagram.com/p/CHx4JPoJWbu/" style=" color:#000; font-family:Arial,sans-serif; font-size:14px; font-style:normal; font-weight:normal; line-height:17px; text-decoration:none; word-wrap:break-word;" target="_top"></a></p> </div></blockquote></div><p>Give the gift of the oh-so-important self care this year, plus enjoy a little bit of it for yourself as well. With a $250 gift card purchase, receive an extra $25 spa voucher. Located on 200 Lavaca St., Austin residents also receive <a href="https://www.austinawayspa.com/texasresidents" target="_blank" rel="noopener noreferrer">20% off of certain services</a>—how can you afford not to go?</p>
Half Price Books
<div id="1fe88" class="rm-shortcode" data-rm-shortcode-id="7f5ac65fbadb3b621ba9a69d6556aa28"><blockquote class="instagram-media" data-instgrm-captioned data-instgrm-version="4" style=" background:#FFF; border:0; border-radius:3px; box-shadow:0 0 1px 0 rgba(0,0,0,0.5),0 1px 10px 0 rgba(0,0,0,0.15); margin: 1px; max-width:658px; padding:0; width:99.375%; width:-webkit-calc(100% - 2px); width:calc(100% - 2px);"> <div style="padding:8px;"> <div style=" background:#F8F8F8; line-height:0; margin-top:40px; padding:50% 0; text-align:center; width:100%;"> <div style=" background:url(data:image/png;base64,iVBORw0KGgoAAAANSUhEUgAAACwAAAAsCAMAAAApWqozAAAAGFBMVEUiIiI9PT0eHh4gIB4hIBkcHBwcHBwcHBydr+JQAAAACHRSTlMABA4YHyQsM5jtaMwAAADfSURBVDjL7ZVBEgMhCAQBAf//42xcNbpAqakcM0ftUmFAAIBE81IqBJdS3lS6zs3bIpB9WED3YYXFPmHRfT8sgyrCP1x8uEUxLMzNWElFOYCV6mHWWwMzdPEKHlhLw7NWJqkHc4uIZphavDzA2JPzUDsBZziNae2S6owH8xPmX8G7zzgKEOPUoYHvGz1TBCxMkd3kwNVbU0gKHkx+iZILf77IofhrY1nYFnB/lQPb79drWOyJVa/DAvg9B/rLB4cC+Nqgdz/TvBbBnr6GBReqn/nRmDgaQEej7WhonozjF+Y2I/fZou/qAAAAAElFTkSuQmCC); display:block; height:44px; margin:0 auto -44px; position:relative; top:-22px; width:44px;"> </div></div><p style=" margin:8px 0 0 0; padding:0 4px;"> <a href="https://www.instagram.com/p/CH0pVWOhkHC/" style=" color:#000; font-family:Arial,sans-serif; font-size:14px; font-style:normal; font-weight:normal; line-height:17px; text-decoration:none; word-wrap:break-word;" target="_top"></a></p> </div></blockquote></div><p>Texas-business Half Price Books is not skimping on the sales this year, and some of the deals even carry over into the new year. <a href="https://blackfriday.com/ads/black-friday/half-price-books" target="_blank" rel="noopener noreferrer">Take 20% off</a> of your online book haul and for every $25 gift card you give away, any HPB will give you $5 off in January. </p>
Kendra Scott
<div id="9364d" class="rm-shortcode" data-rm-shortcode-id="0dffe48a630a52143f0f01295d32318c"><blockquote class="instagram-media" data-instgrm-captioned data-instgrm-version="4" style=" background:#FFF; border:0; border-radius:3px; box-shadow:0 0 1px 0 rgba(0,0,0,0.5),0 1px 10px 0 rgba(0,0,0,0.15); margin: 1px; max-width:658px; padding:0; width:99.375%; width:-webkit-calc(100% - 2px); width:calc(100% - 2px);"> <div style="padding:8px;"> <div style=" background:#F8F8F8; line-height:0; margin-top:40px; padding:50% 0; text-align:center; width:100%;"> <div style=" background:url(data:image/png;base64,iVBORw0KGgoAAAANSUhEUgAAACwAAAAsCAMAAAApWqozAAAAGFBMVEUiIiI9PT0eHh4gIB4hIBkcHBwcHBwcHBydr+JQAAAACHRSTlMABA4YHyQsM5jtaMwAAADfSURBVDjL7ZVBEgMhCAQBAf//42xcNbpAqakcM0ftUmFAAIBE81IqBJdS3lS6zs3bIpB9WED3YYXFPmHRfT8sgyrCP1x8uEUxLMzNWElFOYCV6mHWWwMzdPEKHlhLw7NWJqkHc4uIZphavDzA2JPzUDsBZziNae2S6owH8xPmX8G7zzgKEOPUoYHvGz1TBCxMkd3kwNVbU0gKHkx+iZILf77IofhrY1nYFnB/lQPb79drWOyJVa/DAvg9B/rLB4cC+Nqgdz/TvBbBnr6GBReqn/nRmDgaQEej7WhonozjF+Y2I/fZou/qAAAAAElFTkSuQmCC); display:block; height:44px; margin:0 auto -44px; position:relative; top:-22px; width:44px;"> </div></div><p style=" margin:8px 0 0 0; padding:0 4px;"> <a href="https://www.instagram.com/p/CH8HBNNgvfj/" style=" color:#000; font-family:Arial,sans-serif; font-size:14px; font-style:normal; font-weight:normal; line-height:17px; text-decoration:none; word-wrap:break-word;" target="_top"></a></p> </div></blockquote></div><p>Kendra may not be a "small" business anymore but it started small with Austin roots. From Nov. 29 through Dec. 2, take 25% off of everything (yes, everything!) in the store and an extra 30% off of $300 or more for the "Yellow Friday" sale.</p>
Lilla & Beth
<div id="4c901" class="rm-shortcode" data-rm-shortcode-id="f95a34010ca819c655a05ddb7c0933cf"><blockquote class="instagram-media" data-instgrm-captioned data-instgrm-version="4" style=" background:#FFF; border:0; border-radius:3px; box-shadow:0 0 1px 0 rgba(0,0,0,0.5),0 1px 10px 0 rgba(0,0,0,0.15); margin: 1px; max-width:658px; padding:0; width:99.375%; width:-webkit-calc(100% - 2px); width:calc(100% - 2px);"> <div style="padding:8px;"> <div style=" background:#F8F8F8; line-height:0; margin-top:40px; padding:50% 0; text-align:center; width:100%;"> <div style=" background:url(data:image/png;base64,iVBORw0KGgoAAAANSUhEUgAAACwAAAAsCAMAAAApWqozAAAAGFBMVEUiIiI9PT0eHh4gIB4hIBkcHBwcHBwcHBydr+JQAAAACHRSTlMABA4YHyQsM5jtaMwAAADfSURBVDjL7ZVBEgMhCAQBAf//42xcNbpAqakcM0ftUmFAAIBE81IqBJdS3lS6zs3bIpB9WED3YYXFPmHRfT8sgyrCP1x8uEUxLMzNWElFOYCV6mHWWwMzdPEKHlhLw7NWJqkHc4uIZphavDzA2JPzUDsBZziNae2S6owH8xPmX8G7zzgKEOPUoYHvGz1TBCxMkd3kwNVbU0gKHkx+iZILf77IofhrY1nYFnB/lQPb79drWOyJVa/DAvg9B/rLB4cC+Nqgdz/TvBbBnr6GBReqn/nRmDgaQEej7WhonozjF+Y2I/fZou/qAAAAAElFTkSuQmCC); display:block; height:44px; margin:0 auto -44px; position:relative; top:-22px; width:44px;"> </div></div><p style=" margin:8px 0 0 0; padding:0 4px;"> <a href="https://www.instagram.com/p/CH8F_Oulu1n/" style=" color:#000; font-family:Arial,sans-serif; font-size:14px; font-style:normal; font-weight:normal; line-height:17px; text-decoration:none; word-wrap:break-word;" target="_top"></a></p> </div></blockquote></div><p>For some unique Austin-centric decor, gifts, clothes and accessories, <a href="https://www.lillabeth.com/" target="_blank">Lilla &amp; Beth</a>, located on 1911 Aldrich Street, has you covered this year. The more you buy, the more you save so take 10% off purchases under $50, 15% off purchases over $50 and 20% off purchases over $100. Everyone will wish they had gotten you as their secret Santa!</p>
Record Store Crawl
<img lazy-loadable="true" src="https://assets.rebelmouse.io/eyJhbGciOiJIUzI1NiIsInR5cCI6IkpXVCJ9.eyJpbWFnZSI6Imh0dHBzOi8vYXNzZXRzLnJibC5tcy8yNDgyNzk5Ni9vcmlnaW4uanBnIiwiZXhwaXJlc19hdCI6MTYzODcyOTIzMH0.tGkJ9sOB3AI3Mev0rf_h-ZaUOO4-KfVgRO3mUckvzPQ/img.jpg?width=980" id="6e233" class="rm-shortcode" data-rm-shortcode-id="4a20cc26c9be0201045b17c0d7993ab4" data-rm-shortcode-name="rebelmouse-image" /><p>Self-described "magic school bus that takes you to record stores and bars," the 2020 <a href="https://www.recordstorecrawl.com/?frontpage=true" target="_blank" rel="noopener noreferrer">Record Store Crawl</a> will make holiday shopping more fun than ever before. The Record Store Crawl will drive you to 10 record stores in the area, complete with a band on the bus for entertainment. Last year, the event helped sell 2 million records at local retailers nationwide, so this is a great way to have fun and help out the music industry.</p>
Roam Homegrown
<div id="e2418" class="rm-shortcode" data-rm-shortcode-id="0ed8000c5859b55fc66cca94b64ecfa2"><blockquote class="instagram-media" data-instgrm-captioned data-instgrm-version="4" style=" background:#FFF; border:0; border-radius:3px; box-shadow:0 0 1px 0 rgba(0,0,0,0.5),0 1px 10px 0 rgba(0,0,0,0.15); margin: 1px; max-width:658px; padding:0; width:99.375%; width:-webkit-calc(100% - 2px); width:calc(100% - 2px);"> <div style="padding:8px;"> <div style=" background:#F8F8F8; line-height:0; margin-top:40px; padding:50% 0; text-align:center; width:100%;"> <div style=" background:url(data:image/png;base64,iVBORw0KGgoAAAANSUhEUgAAACwAAAAsCAMAAAApWqozAAAAGFBMVEUiIiI9PT0eHh4gIB4hIBkcHBwcHBwcHBydr+JQAAAACHRSTlMABA4YHyQsM5jtaMwAAADfSURBVDjL7ZVBEgMhCAQBAf//42xcNbpAqakcM0ftUmFAAIBE81IqBJdS3lS6zs3bIpB9WED3YYXFPmHRfT8sgyrCP1x8uEUxLMzNWElFOYCV6mHWWwMzdPEKHlhLw7NWJqkHc4uIZphavDzA2JPzUDsBZziNae2S6owH8xPmX8G7zzgKEOPUoYHvGz1TBCxMkd3kwNVbU0gKHkx+iZILf77IofhrY1nYFnB/lQPb79drWOyJVa/DAvg9B/rLB4cC+Nqgdz/TvBbBnr6GBReqn/nRmDgaQEej7WhonozjF+Y2I/fZou/qAAAAAElFTkSuQmCC); display:block; height:44px; margin:0 auto -44px; position:relative; top:-22px; width:44px;"> </div></div><p style=" margin:8px 0 0 0; padding:0 4px;"> <a href="https://www.instagram.com/p/CIBGx0urxvs/" style=" color:#000; font-family:Arial,sans-serif; font-size:14px; font-style:normal; font-weight:normal; line-height:17px; text-decoration:none; word-wrap:break-word;" target="_top"></a></p> </div></blockquote></div><p>Give the gift of relaxation with the help of <a href="https://roamhomegrown.com/" target="_blank" rel="noopener noreferrer">Roam Homegrown's collection</a> of candles, soaps, scents and self care goodies. To celebrate the holidays, the Austin-based, women-owned company is giving 10% sitewide until Dec. 31. This offer has no minimum so you can gift as much or as little as your heart desires.</p>

<p class="">Make sure to check business hours before heading out, it is COVID-19 after all.</p>