Get connected with our daily update
(El Arroyo/Twitter)

April Fool's Day is hard on reporters and newsreaders alike. The annual tradition can leave confusion, pain and joy in its wake.
To make things a little easier this April Fool's, we compiled a list of pranks we found across the Austin metro today. Some needed a little work to be convincing, while we're still not sure if others are real or fake.
Here are 7 April Fool's jokes to spice up your afternoon:
---
1. El Arroyo's 'stolen' sign
It is with great sadness that we share some disheartening news… Our famous marquee sign has been stolen. If you have any information about the whereabouts of the sign, or any leads, please comment. #BringBackTheSign #ElArroyoSign pic.twitter.com/4aeiJVPpPB

— El Arroyo (@ElArroyo_ATX) April 1, 2021
We may have fallen hardest to this one. Early on April Fool's morning, the restaurant announced that their iconic sign was missing. They even provided security footage shots of what appeared to be four suspects at the scene at around 4 a.m. Thursday morning.
Many said the restaurant was crying wolf, and it was awfully suspicious timing that the iconic sign, which features hilarious new phrases every single day, would go missing on pranksters' favorite day of the year.
On a phone call with Austonia, a restaurant employee chuckled mysteriously and said, "no comment," when asked about the missing sign at 12:25 p.m.
The restaurant later revealed that the precious sign was found at the Yeti location. In a Tweet, the restaurant mocked Austinites and said, "Y'all fell hard for that one, huh?"
We certainly did. This might be the best prank of the day, and it certainly created an authentically Austin April Fool's panic.
2. Did Elon Musk buy Austin?
BREAKING: Elon Musk purchases all of Austin, declares himself "Iron Mayor." Read more: https://t.co/Ux13loxl1t pic.twitter.com/mI7ppWzB0p

— Austin Chronicle (@AustinChronicle) April 1, 2021
In the early hours of April Fool's morning, the Austin Chronicle revealed some shocking news. Gov. Greg Abbott had signed away the Texas Capitol, giving the entire city to billionaire Elon Musk, who declared himself the "Iron Mayor."
In the shocking announcement, the Chronicle wrote that Musk appeared via hologram at the signing ceremony and said if there's ever a scandal about him, he'd like it to be called "Elongate." Some, like Attorney General Ken Paxton, decried the statement as "fake news," while Austin Mayor Steve Adler said having a "Technoking" leader that wishes to colonize Mars isn't that off-brand for the "weird" city of Austin.
Don't worry though—Musk couldn't quite get his hands on the Texas Capitol or University of Texas campus.
Technically, this hasn't been confirmed or denied, but we haven't seen any "Iron Mayor" activity today. Some say the prank was a little too real and that the mysterious tech giant is "scary enough as it is."
A for effort on this one, Austin Chronicle.
3. Camila McConaughey goes classic prankster on her kids
Camila McConaughey became a bad influence for mischievous kids everywhere when she pulled a prank on her son, Livingston, and Matthew himself.
McConaughey took video as she fed her unsuspecting son and husband toothpaste-filled Oreos.
"Spicy," Livingston cried after taking a big bite. "You tricked us!"
Everything was not "alright, alright alright" for Mr. McConaughey. A bit more disgruntled than his son, McConaughey exclaimed "Nasty, what is that?" as he threw the remaining Oreo off a balcony.
Camila even provided a link for more April Fool's ideas, a power move that could inspire thousands of aspiring pranksters.
4. Is Austin's housing market slowing down?
The Austin-based realty group said words that have almost never been spoken by Austinites—especially in the past year.
In an Instagram post Thursday morning, the company posted the harrowing phrase, "the Austin housing market is slowing down." No need to fear—the culprit behind the quote is "literally nobody."
In the post, they said "can't even get through the sentence a second time," adding "Happy April Fool's Day!"
A good marketing trick, but it's not fooling anyone who's seen the city's booming housing market recently.
5. Old Thousand goes emo
Chinese food chain Old Thousand is transforming its two locations for April Fool's Day.
At their location on Burnet, the restaurant is now emo sandwich shop Jimmy Eat Sandwich. All day, they'll be jamming to pop punk, selling T-shirts and offering classic sandwiches.
At their 11th Street location, the restaurant is fusing with Red Lobster-esque meals as "Old Lobster." Menu items include twists like cheddar "Bae" scallion pancakes, crab rangoons and shrimp scampi lo mein.
Seems like this yummy, punk twist on April Fool's is really taking off.
6. Messi comes to Austin
Messi is going to sign with Austin Bold FC next season...got ya...April Fools or whatever.

— Austin Bold FC (@AustinBoldFC) April 1, 2021
I guess they are technically Austin's first-ever pro team, but USL soccer club Austin Bold FC isn't fooling anyone.
The team announced they were signing Lionel Messi for next season—and immediately gave away the prank in the same tweet. For those who don't know, Messi is considered one of the best professional soccer players of all time.
Even the most diehard Austin soccer fans would've had a hard time believing this one even without the quick disclaimer.
7. Austin EMS workers get a veggie surprise
The Austin Emergency Center should know better than to mess with Austinites and their tacos.
AEC staff were surprised to see their Taco Cabana boxes were hiding veggies instead of Tex-Mex meals. Luckily for both the center and staff, the AEC revealed where the real tacos were hiding soon after.
From Your Site Articles
Related Articles Around the Web
Capital Metro has been awarded $750,000 from the Federal Transit Administration to go toward Project Connect's Orange Line, documents show.
The FTA announced the funding round on Thursday, which dispersed $11 million across 12 states and 20 projects. The money is meant to connect communities to affordable transit and housing through the FTA Pilot Program for Transit-Oriented Development planning.
CapMetro said the funds will go toward projects at eight stations spanning 6.5 miles on the South end of the Orange Line, which has a total of 22 stations. The full project stretches across the 20 miles from Southpark Meadows to Tech Ridge.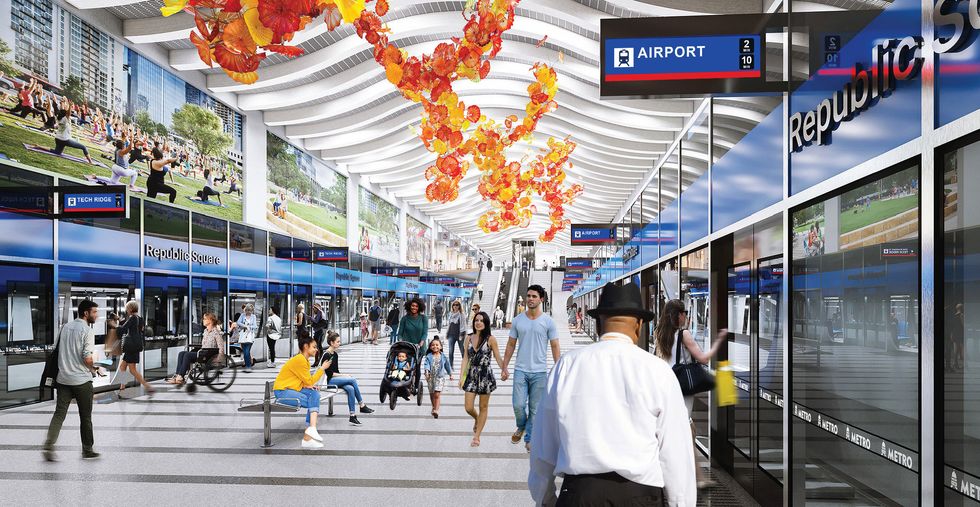 Republic Square station is along the Orange Line. (Project Connect rendering)
Once it's complete, which officials estimate will be in 2028, the Orange Line will reach the following stations:
Tech Ridge (Park & Ride)
North Lamar International District
Crestview
The Triangle
UT campus
Republic Square
Auditorium Shores
South Congress
Southpark Meadows (Park & Ride)
A $500 million mixed-use development spanning 1,400 acres is coming to Southeast Austin, near Tesla's headquarters at Giga Texas.
Plans for the development by Houston-based real estate firm Hines include 2,500 houses along with multi-family and townhomes, and commercial land. Hines is partnering with Trez Capital, Sumitomo Forestry and Texas-based Caravel Ventures.
The development, which is known as Mirador, will be located off the 130 Toll and Highway 71, which the developers say provides easy access to the Circuit of the Americas Formula 1 racetrack and other Austin attractions like restaurants, parks and live music venues.
Hines also boasts amenities like a 60-acre lake, over 600 acres of greenbelt, community parks, trails and a swimming pool.
"As Austin continues to grow into the tech epicenter of Texas, coupled with a supply-constrained market, the demand for new housing is at its highest," Dustin Davidson, managing director at Hines, said. "Mirador will be critical in providing more options for Austin's growing population and we are excited to work alongside our partners given they each provide a unique and valued perspective in single-family development."
The local housing market has been hot in recent years, with home sales accelerating earlier in the pandemic. In July 2021, the Austin metro area hit its pricing peak at $478,000. As Austonia previously reported, the area has been expected to see the Tesla effect, with the new workforce driving up demand for housing and other services.
The single-family houses are expected to be developed over the course of six years, in phases. Construction on the homes is expected to start this year and home sales will begin in 2023.