Get connected with our daily update
Thousands of concert attendees were left reeling after a tragedy at Travis Scott's Astroworld performance left eight dead and hundreds more wounded in a crowd frenzy in Houston on Friday night.
Scott's third annual Astroworld festival was canceled a night early after the deadly crowd surge.
Those at the concert told horrific tales of unconscious bodies falling on top of one another, screams for help and teenagers desperately performing CPR on passed-out concertgoers. Austin resident Kathryn Alonzo said the crowd was already suffocating just a few minutes into the performance.
---
"I only lasted about 10 minutes into his set until I decided that I need to get out," Alonzo said. "The crowd was swaying so bad that I almost lost my footing multiple times and it was getting hard for me to breathe. It was so scary."
Alonzo said her friends who stayed in the crowd had an even more life-threatening experience.
"When I finally reunited with my group, my friend told us that he saw two people die in front of him and no one tried to help him as he was trying to give one of the people CPR," Alonzo said.
There were tales of desperate heroism—former Marine Lucas Naccarati told CNN he administered CPR to two passed out concertgoers and said he'd "never seen a mass amount of bodies dropping that fast before." Texas A&M student Seanna Faith said in a viral Instagram post that she saw passed out attendees fall on top of one another and nearly fell herself before she was pulled up and climbed aboard a platform to ask a nearby cameraman to stop the show.
Many described the scene as "demonic" and "evil." Faith, who was captured on video pleading with the cameraman, said the man ignored the interaction even as she pushed the camera towards those who were dying. Faith said another man threatened to push her off the platform as the crowd began to boo at her.
Other videos, including those depicting fans dancing on top of an ambulance and security golf carts reveal a chilling scene as the concert continued on.
Scott and Astroworld organizer Live Nation, which is also a majority owner of Austin City Limits' C3 Presents, have released statements after the Friday night tragedy.
But many say that's not enough. Although Scott reportedly stopped the concert for around 20 seconds to acknowledge that someone needed an ambulance, the Houston rapper also reportedly told the crowd he wanted to "make the ground shake" after two men spoke to him on stage.
"You know what you came here for," Scott said on video.
In another viral video, Scott apparently watched and continued to sing as an unconscious person was carried out of the crowd.
Others, including Alonzo, say poor security also attributed to the deaths. Earlier in the day, hundreds stormed the VIP security checkpoint, leaving some injured. It proved to be grim foreshadowing for what was to come.
As we were arriving to the Astroworld Festival at NRG Park right at 2:00, a stampede burst through the gates. Hundreds of people destroyed the VIP security entrance, bypassing the checkpoint. People were trampled. Some were detained.

(Excuse any language you may hear) pic.twitter.com/d0m2rjqAAk
— Mycah Hatfield (@MycahABC13) November 5, 2021
According to Houston mayor Sylvester Turner, seven of the eight victims varied from ages 14 to 27, with one of the victim's ages not yet known. At least 300 others were treated in a field hospital nearby. Twenty-five attendees were later taken to the hospital and 13 are still receiving treatment. Five of those currently in the hospital are under the age of 18.
But for those who left injured or worse, Turner said an investigation is ongoing to see what went wrong.
"We'll continue to talk to Travis Scott's people," the Houston mayor said. "We'll talk to as many witnesses as we can who were present last night. We're talking with those individuals who have been hospitalized to try to get a much better understanding of what took place, what went wrong, where were the missteps."
Alonzo told Austonia she and her friends are shaken but unscathed and hopes that Scott and concert organizers learn from the incident.
"I just hope that when and if Travis Scott decides to play another concert that he encourages his fans to be more considerate and helpful of each other," Alonzo said. "This rager culture that he promotes has gone too far."
Capital Metro has been awarded $750,000 from the Federal Transit Administration to go toward Project Connect's Orange Line, documents show.
The FTA announced the funding round on Thursday, which dispersed $11 million across 12 states and 20 projects. The money is meant to connect communities to affordable transit and housing through the FTA Pilot Program for Transit-Oriented Development planning.
CapMetro said the funds will go toward projects at eight stations spanning 6.5 miles on the South end of the Orange Line, which has a total of 22 stations. The full project stretches across the 20 miles from Southpark Meadows to Tech Ridge.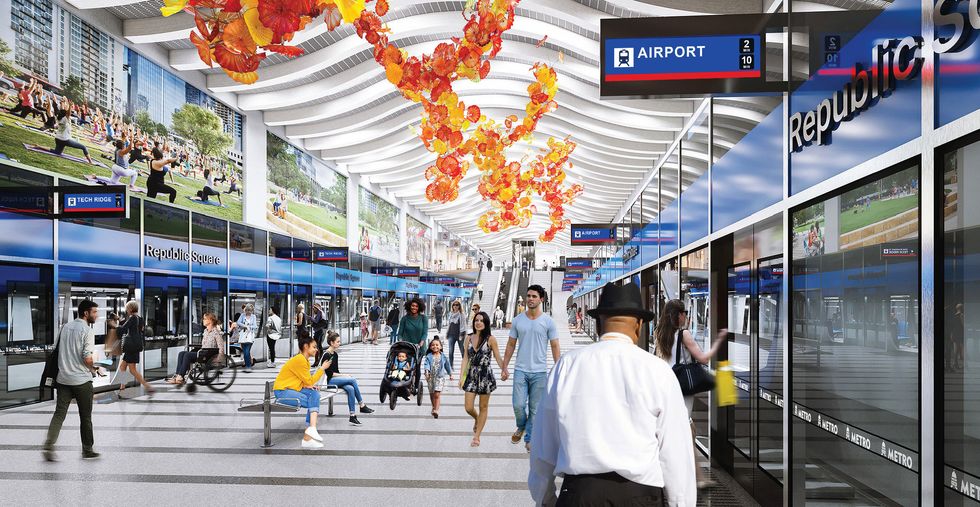 Republic Square station is along the Orange Line. (Project Connect rendering)
Once it's complete, which officials estimate will be in 2028, the Orange Line will reach the following stations:
Tech Ridge (Park & Ride)
North Lamar International District
Crestview
The Triangle
UT campus
Republic Square
Auditorium Shores
South Congress
Southpark Meadows (Park & Ride)
A $500 million mixed-use development spanning 1,400 acres is coming to Southeast Austin, near Tesla's headquarters at Giga Texas.
Plans for the development by Houston-based real estate firm Hines include 2,500 houses along with multi-family and townhomes, and commercial land. Hines is partnering with Trez Capital, Sumitomo Forestry and Texas-based Caravel Ventures.
The development, which is known as Mirador, will be located off the 130 Toll and Highway 71, which the developers say provides easy access to the Circuit of the Americas Formula 1 racetrack and other Austin attractions like restaurants, parks and live music venues.
Hines also boasts amenities like a 60-acre lake, over 600 acres of greenbelt, community parks, trails and a swimming pool.
"As Austin continues to grow into the tech epicenter of Texas, coupled with a supply-constrained market, the demand for new housing is at its highest," Dustin Davidson, managing director at Hines, said. "Mirador will be critical in providing more options for Austin's growing population and we are excited to work alongside our partners given they each provide a unique and valued perspective in single-family development."
The local housing market has been hot in recent years, with home sales accelerating earlier in the pandemic. In July 2021, the Austin metro area hit its pricing peak at $478,000. As Austonia previously reported, the area has been expected to see the Tesla effect, with the new workforce driving up demand for housing and other services.
The single-family houses are expected to be developed over the course of six years, in phases. Construction on the homes is expected to start this year and home sales will begin in 2023.