Get connected with our daily update
(staff/Austonia)
Attorneys representing the Austin police officer accused of shooting an unarmed Michael Ramos, as well as several officers involved in use-of-force incidents with residents, say their clients committed "zero crimes" and blasted police and prosecutors for playing politics with body-cam video of the incidents.
---
The attorneys, Ken Erven and Doug O'Connell, strongly criticized a decision by Austin Police Chief Brian Manley on Friday to delay the release of police video of incidents during violent protests earlier this summer—in which some officers used less-lethal rounds in confrontations that sent two demonstrators to hospitals with critical injuries.
Attorneys for some of those officers, who have not been charged and are not being named publicly, said the body-cam videos would exonerate them of any wrongdoing they might stand accused of and illustrate that "leadership failures" by the APD leadership put officers "in extremely dangerous situations—that could have and should have been avoided."
"One critical factor in any analysis of the use of force during the riots is the fact that the Austin Police Department's leadership was completely unprepared for the situation," O'Connell said in an email to Austonia.

In addition to the officers involved in protests, the attorneys also represent Austin police Officer Christopher Taylor, who shot Ramos, later determined to be unarmed, while responding to a complaint about drug use. Officers have said they thought he was going to run them over in his car.
After the Travis County District Attorney's Office announced that the Ramos case would be going to the grand jury, police released the official video of that shooting. The video was going to be released in mid-June but was held up for logistical reasons until July.
On Friday, Manley delayed release of "critical incident" video in the protests, which presumably would show official video of protesters getting shot and critically wounded by less-lethal rounds fired by officers, with his office saying they were waiting on the district attorney to make its decision about whether to send the cases to the grand jury.
Neither case has actually been through a grand jury review, which will be done to determine whether charges would be filed.
"Chief Manley deciding to release video of the shooting of Mike Ramos prior to grand jury review, while simultaneously claiming he cannot release video showing officers using force against rioters because there has been no grand jury review, is complete nonsense," the attorneys' statement said.
The attorneys did not specify if they thought the video of the protests would help their clients, who they did not name. But in a letter sent to the police department, they said Manley and the DA are using the videos as a political tool.
"We know from representing Officer Taylor as well as officers involved in the riots that zero crimes were committed by any of these officers," the attorneys said. "Rather than doing what is right and announcing these findings to the public, they hide behind each other and blame a stunning election defeat to avoid further public criticism."
Manley has been criticized for officers' use of force during the Black Lives Matter protests at the end of May and in June, when protesters were sent to hospitals, the department banned less-lethal rounds during protests and members of the City Council called for Manley's resignation.
Meanwhile, District Attorney Margaret Moore, who had recently announced a decision to take the Ramos shooting to a grand jury, lost her post in a resounding mid-July primary election defeat by Jose Garza, who won 68% of the vote. Garza will face GOP nominee Martin Harry in the November election.
Shortly after her defeat, Moore announced that she would not schedule a grand jury for Ramos and instead would let the new DA oversee that and the case of Javier Ambler, who also died at the hands of police officers. Both were scheduled for grand jury hearings in August.
"The Ramos video release was never about transparency, and APD's "policy" of releasing critical incident video is a sham," the statement reads. "The real policy is to do whatever is most politically beneficial for the Chief and/or District Attorney in that moment, and today's announcement proves that."
The Texas French Bread Bakery, located on 2900 Rio Grande Street, has been completely destroyed after a fire erupted on Monday night.
The Austin Fire Department responded to the fire just before 11 p.m., where they arrived to see flames coming from the roof of the bakery. Firefighters fought the fire for about an hour before the roof collapsed.
While no one was injured in the fire, firefighters say the historic building was completely totaled.
AFD determined that the fire was accidental and caused by mechanical failure. AFD said the damages amounted to $1.6 million total: $1.1 million in structural damage and $500,000 in damage to the contents of the bakery.

This year, Texas French Bread will celebrate 40 years of business. Before the bakery occupied the building, it was the Rome Inn, a music venue that hosted 1970s artists like Stevie Ray Vaughan.
Austin's first major league team is ready to extend its reach with a new collaborative sports complex The Pitch, an Austin FC destination packed with local food, beverages and Verde fervor is set to open in Northeast Austin in February.
The Pitch, a collaboration between Austin FC and Karlin Real Estate, among other entities, will be located in the 50-acre Parmer Pond District, which already hosts the club's practice facility St. David's Performance Center.
Dubbed a "true destination" for both soccer fans and the community, The Pitch will consist of multilevel shipping containers designed by Mark Odom Studio that will carve out into a 1,200-seat stadium complete with a soccer pitch made of turf, food and beverage options and a five-acre "Parmer Pond" featuring jogging trails.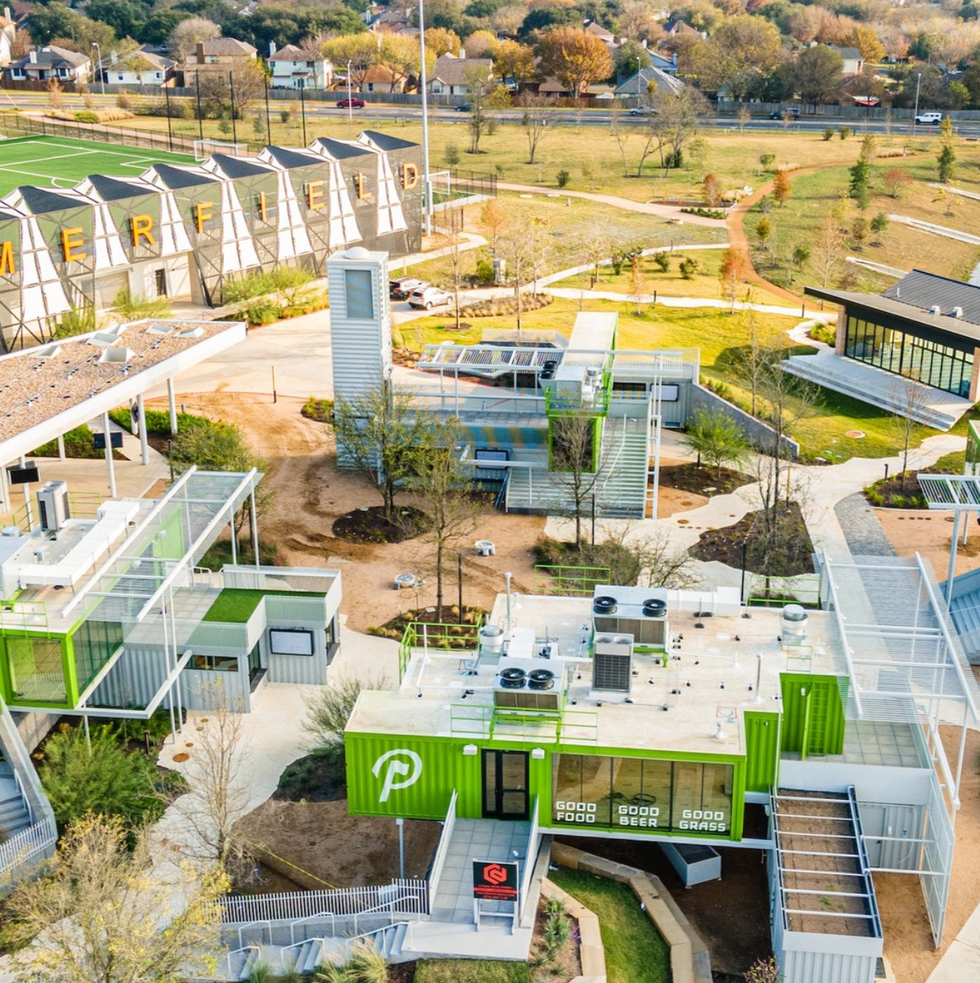 Made from multilevel shipping containers, The Pitch will include food and a 1,200-seat soccer pitch made from artificial turf. (The Pitch)
"The launch of Karlin's new food and entertainment experience will greatly enhance the Parmer development while perfectly complimenting St. David's Performance Center," Austin FC founder Anthony Precourt said. "The Pitch... will offer a strong variety of food options and gathering spaces for guests who will utilize St. David's Performance Center and Parmer Field for a variety of events."
The Pitch project lead Dave Greeley, who helped come up with the concept, is a former president of Austin FC parent company, Two Oak Ventures.
"The vision behind The Pitch at the Parmer Pond District is to be a first-of-its-kind sports, dining and entertainment destination," said Dave Greeley, The Pitch project lead and Team Orbis president. "This will be an unmatched experience for Parmer Austin tenants, Austin FC and club supporters, and the community."
With its proximity to the practice center, the venture hopes to contribute to the growing "soccer city" of Austin during Austin FC matches and youth games with the Austin FC Academy hosted at the St. David's Performance Center.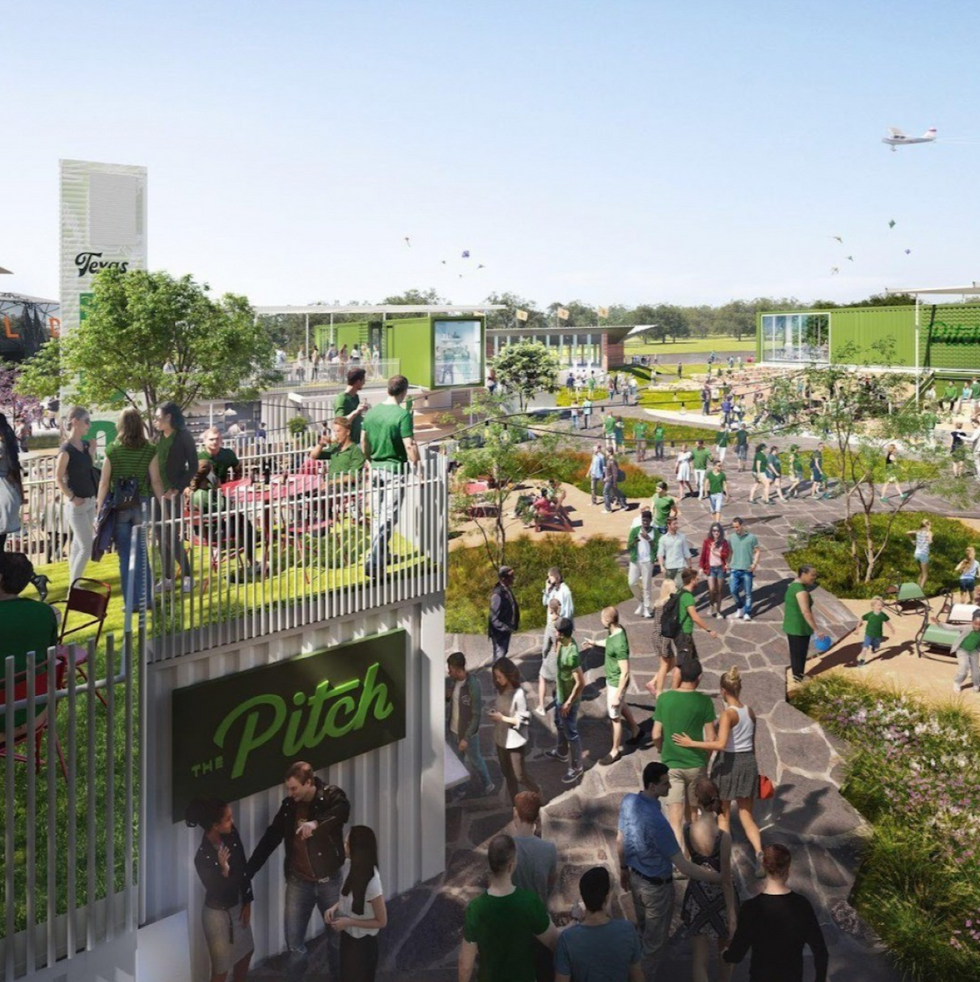 The Pitch hopes to converge both community and club interests with Austin FC. (The Pitch)
In addition to the soccer pitch, stadium and pond, The Pitch will provide a foody experience made by the creative team behind Austin staples like Fareground and Easy Tiger. The complex will offer local bites including:
Ranger Burger, which offers beers and burgers made from highly-coveted Wagyu beef direct from Ranger Cattle in East Austin
Ga Roti, which merges flavors from Northern Vietnam with the culinary techniques of France to create a unique rotisserie chicken joint
Taco Flats, a local taco chain serving Mexico City-style tacos, micheladas and more
Sand Bar, which fulfills its namesake with beauty cocktails, local beers and a sand volleyball court
Coffee Club, a coffee shop and bakery
Corner Kick Bar, the soccer-focused main bar of The Pitch complete with "tunes, TVs and (a) beer garden"
The Pitch will squeeze between St. David's Performance Center and Parmer Pond alongside the southern edge of Parmer Austin, a Karlin Real Estate venture that will eventually include multifamily housing, corporate office space and an aerospace and defense center.