Get connected with our daily update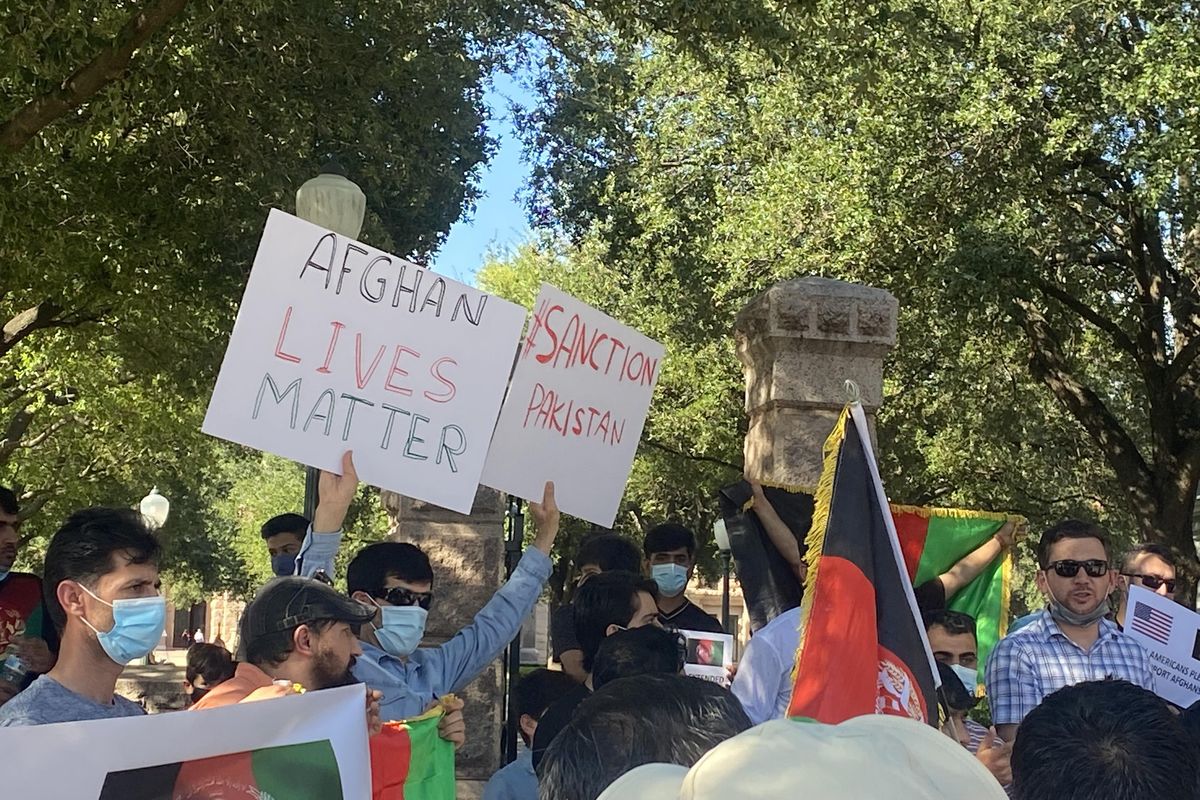 Chanting "we want our family here now" and holding signs that read "#SaveAfghanWomen" or "#SanctionPakistan," dozens of Afghan Austinites gathered in front of the Texas Capitol to make a plea to save their families and raise local awareness for the Taliban takeover in Afghanistan.
---
Men, women and children waving Afghanistan flags met in front of the Capitol on W. 11th Street and Congress Ave. Tuesday at 4:45 p.m.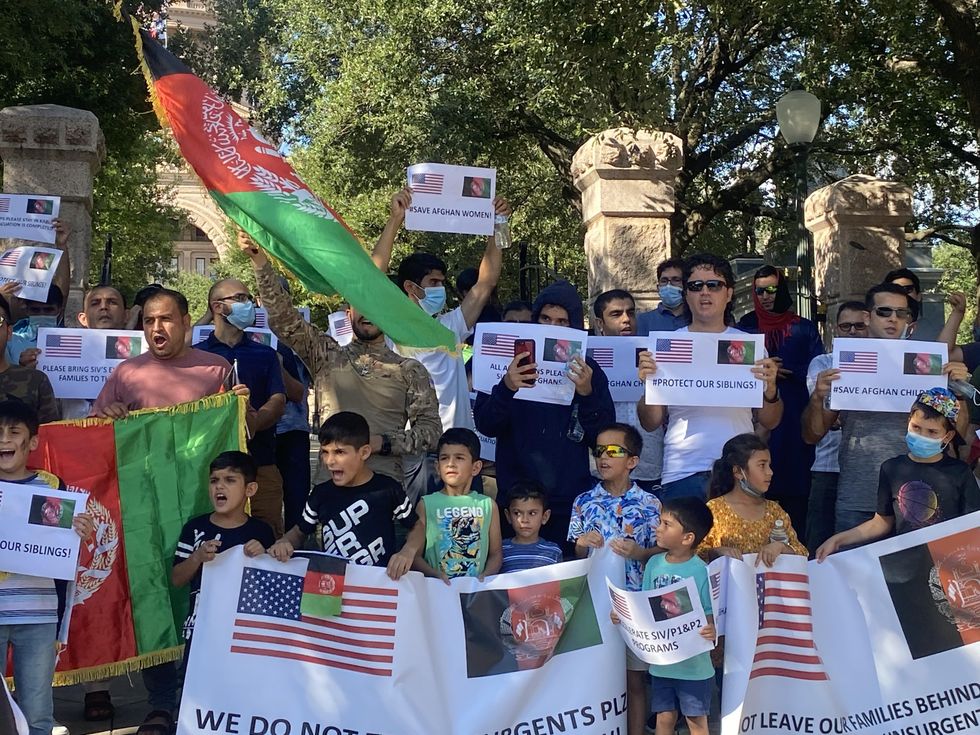 Many of the protesters served alongside the U.S. Military, often as translators, including protest attendee Maverick, who declined to give his real name for the safety of his relatives.
Maverick, the name that was written on his uniform, said he hasn't been able to speak to any of his eight immediate family members stuck in Kabul for four days as the government-run phone services are collapsing.
"I've been getting gray hairs, I'm getting eyebags. I've never had this much stress on me before," Maverick said. "My immediate family is at great risk—they're stranded there."
Maverick is a U.S. citizen and can file visa petitions for his family but since they are on a first-come-first-serve basis, the process can take years to complete. Even if he filed on behalf of his family, the U.S. Embassy in Afghanistan is shut down, so they couldn't complete the process.
After serving with the army for four years, Maverick said his family will be put in danger due to his service. He thinks Afghan families of servicemen need to be evacuated. Others at the protest reflected his thoughts, carrying signs that read "We helped you! You help us! Save our families!"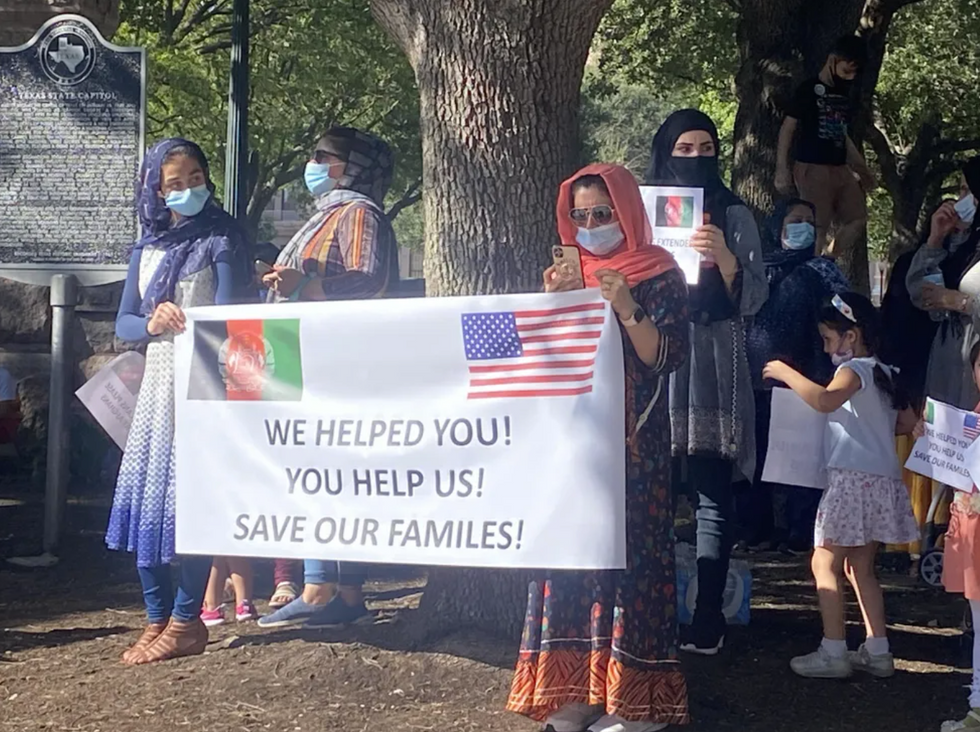 "God forbid if there's anything that bad happened here in America, I will be the first one to go help because we received help and we're really grateful for the help that the U.S. provided," Maverick said. "I was hoping that maybe they would get evacuated. If it was peaceable, if it was safe, I would go through every step (but) there's like zero hope right now."
The group also hoped to clear up any fears from the public—Maverick said he's heard people say they're worried about sleeper cells for the Taliban coming in as evacuations continue.
"The U.S. government can vet them however they want—as long as they get to safety, vetting is not a problem," Maverick said. "We helped the troops, we saved their lives and now we want something in return, which is just to save our family."
Before the end of September, 574 Afghan refugees will be resettled in Texas, of which Austin will receive 185. The number could increase, as President Joe Biden told CBS News last week that more than 50,000 Afghan allies were still in need of evacuation.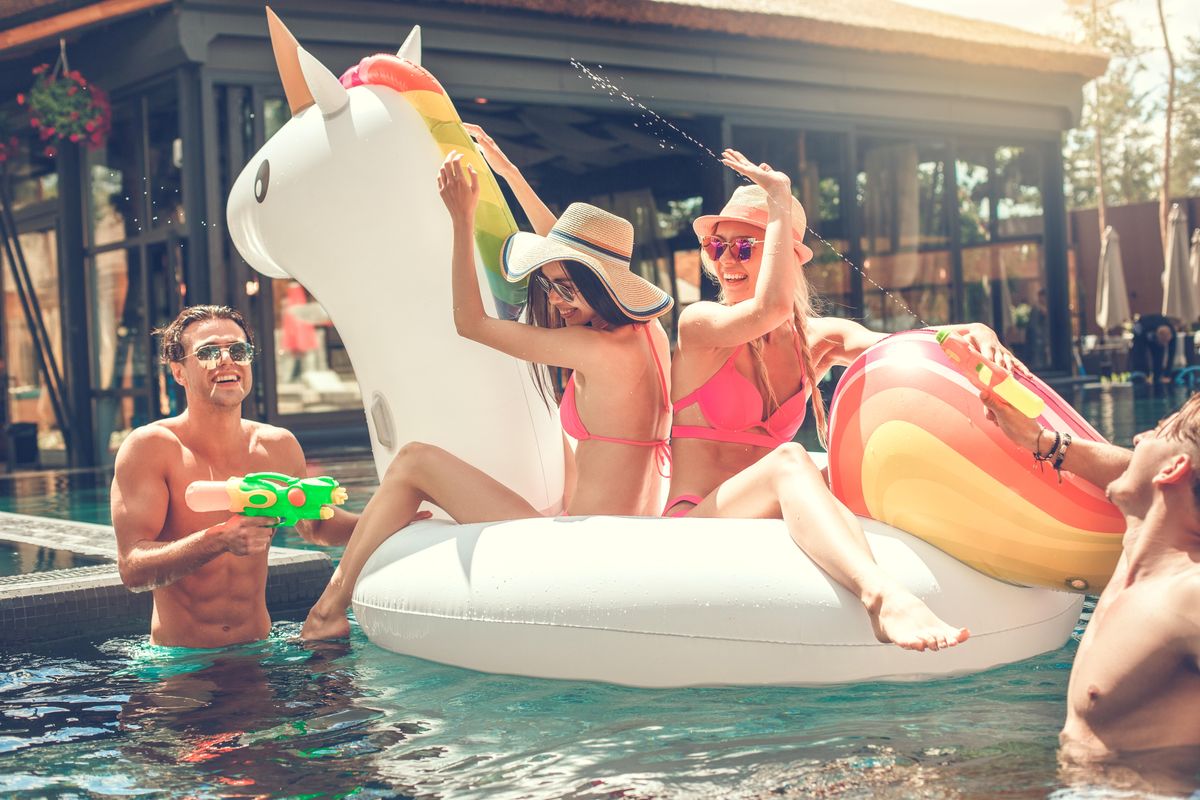 Airbnb is moving to make its COVID-induced ban on house parties permanent—but from the affordable housing shortage to
"Under 25" bans, the short-term rental service may be losing its shine in Austin.
In 2019, the company moved to prohibit "open-invite" parties that were advertised on social media and "chronic party houses." By 2020, its ban broadened to all parties and events "until further notice," which was officially coded into policy Tuesday.
From August 2020 to January 2022, Airbnb denied over 48,000 reservations in Texas from serial party offenders, and around 3,300 reservations were declined through the "Under 25" system in Austin.
For some Austinites, the party ban may be the last straw.
But Airbnb has already caught plenty of flack for its possible contributions to the nation's housing shortage.
In Austin, short-term rentals are required to be registered through the city. And while the city reports around 1,900 rental units in the rental registry, according to city demographer Lila Valencia, data collection site Inside Airbnb has tracked close to 12,000 in the area.
Inside Airbnb founder Murray Cox said that too many Airbnbs in Austin could shrink the available housing market.
"If the housing units (have) been taken off the market, that's displacing people, it's making housing more scarce. And it's probably driving the cost of housing up," Cox told Austonia.
Short-term rentals could also eat into new housing in Austin, from apartment buildings to accessory dwelling units on single-family properties.
"If new housing has been built, and it's being tied to Airbnb, that's also really just servicing the tourism industry as opposed to the housing needs of the city," Cox said.
Because a large portion of its customers are tourists, Airbnbs may also tend to crowd around desirable areas, such as downtown or South Congress. South Congress's average rent now rivals New York City, according to Austin Business Journal.
"When that happens, you're taking away housing units in an already densely-populated area where there is more of a shortage of housing," Valencia said. "And so then the people who historically once lived there are no longer able to afford to live there, and the unit itself isn't even going to somebody who could afford to rent it on a more permanent basis, but rather to people who are coming in and visiting for a weekend or two."
Despite the pandemic—and growing frustration among homeowners and renters—Airbnb saw a record year in 2021. But two of Airbnb's billionaire founders have quietly sold $1.2 billion in company stock in the last year, a possible premonition of what's to come.
And while some have created an Airbnb "empire"—one company owns 338 available listings in Austin—many priced-out Austinites are fed up with big investors' influence in the tight housing market.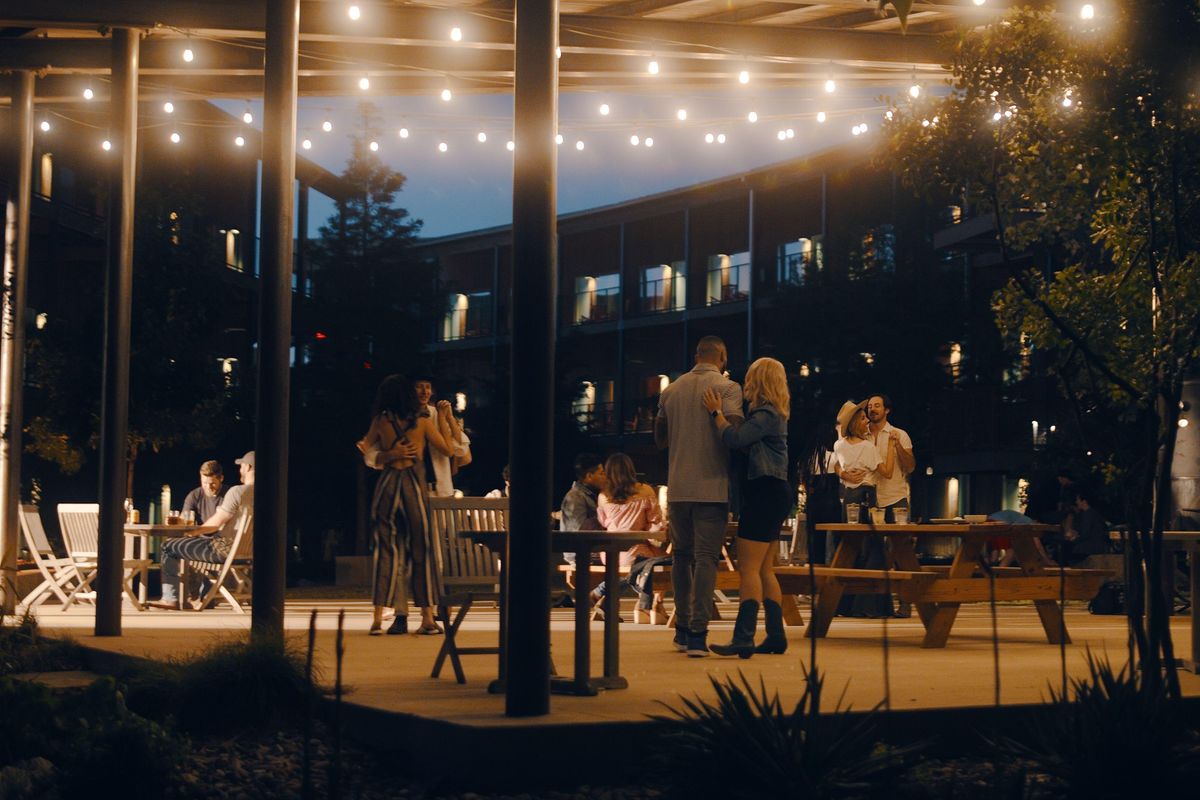 Live music and beer? Say no more. With a location in Austin, and others throughout Texas, the court hotels by the Valencia Hotel Group have a new offering for weekend stays: Live Music & Longnecks.
Enjoy live music all weekend long and check out the hotels' state-of-the-art amenities between sets. Make a splash in the pool, enjoy outdoor fire pits, or challenge your friends in a yard game while enjoying a weekend full of live music! Did we mention the package includes deluxe accommodations and a bucket of beer? Oh, and if you needed more convincing, this pet-friendly hotel means the whole family can join in on the fun.
The hotels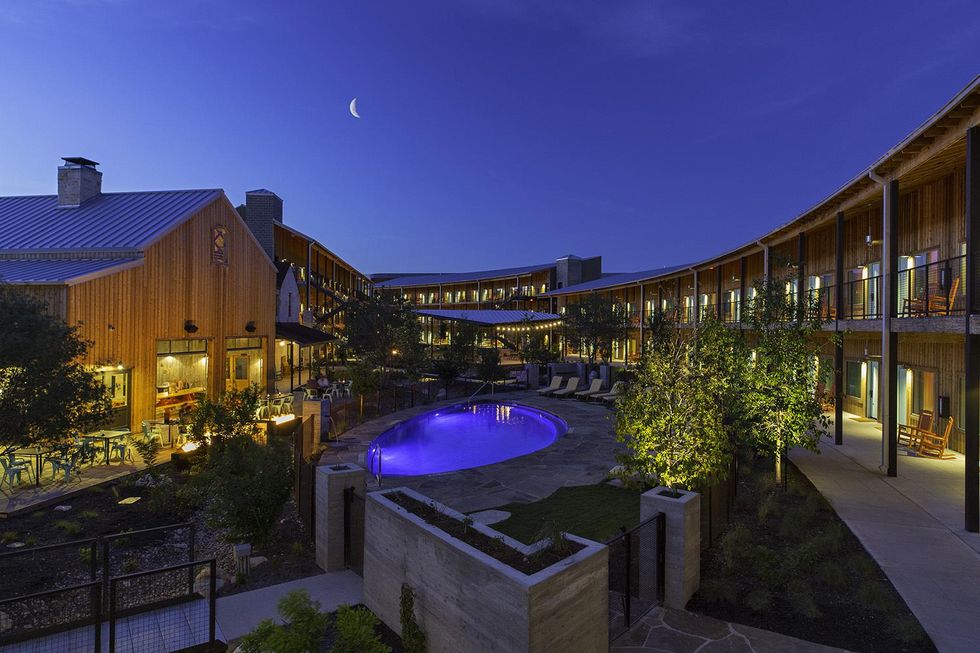 Explore any of the Court Hotels by Valencia Hotel Group for a memorable escape. Each property offers a unique experience remnant of yesteryear but with all of the modern amenities that make for a fun and comfortable stay. With acres of landscaped courtyards, relax and unwind in an outdoor environment perfect for doing everything or absolutely nothing at all. With locations in Austin, College Station, Irving, and Lubbock your urban retreat has never been so close.
The music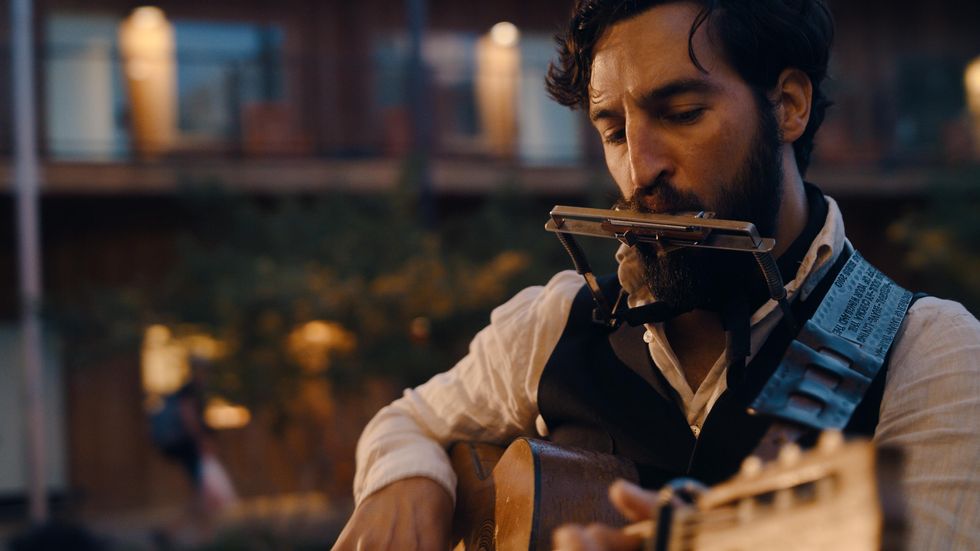 Locals and travelers alike are invited to enjoy the deep roots of Texas music all summer long with a robust lineup of live performances. From the banks of the San Antonio Riverwalk to Irving's manicured streets, Valencia's hotels are a place to gather and reconnect, offering uniquely Texan settings for the weekly performances.
"We're proud of the community we've fostered among Texas musicians and the many rising stars who perform at our properties," says Amy Trench, corporate director of brand marketing & PR for Valencia Hotel Group.
In Austin, you can catch good ol' fashioned Texas country by Drew Moreland and Clayton Gardner, bluegrass by Reagan Quinn, and much, much more.
With unique programming at each of Valencia's properties, there's something for everyone to enjoy all summer long.
The perks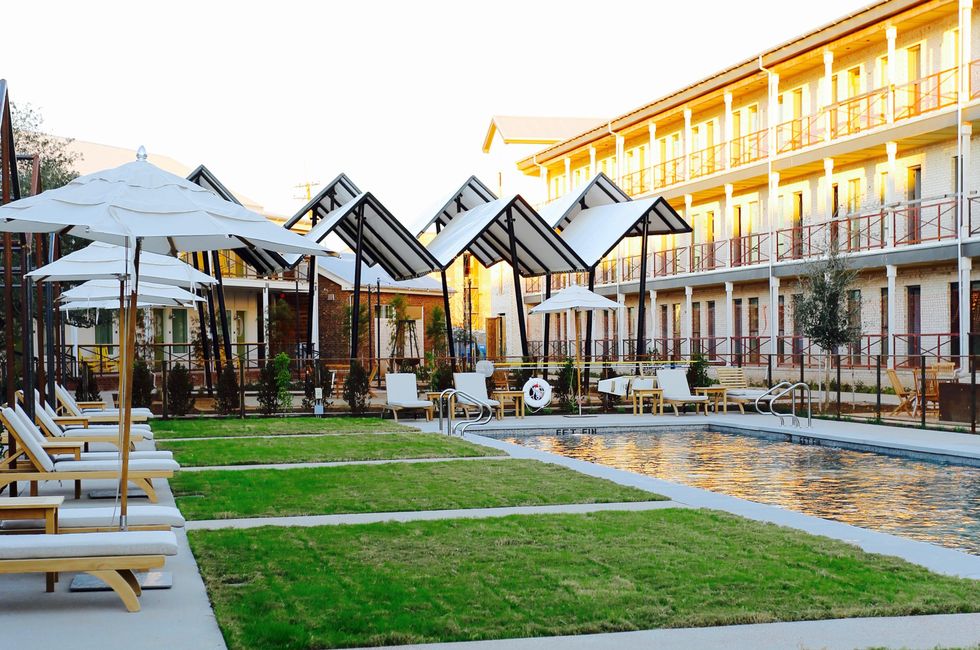 If you're a Valencia Hotel Group Rewards member, the perks are plentiful. Enjoy up to 10% off the Best Available Rate, and for a limited time, members can save up to 15% off a stay of 2 nights or more, for select stays in 2022.
But that's really just the beginning. At select locations, you can enjoy discounts on weeknight stays, a complimentary third night, or curated packages for a romantic getaway or a night of watching the Verde at Q2 Stadium. You'll also find special rates for AAA and AARP Members, educators, and front-line heroes including military, law enforcement, fire, and rescue workers.