Austonia AM
100% Austin news, info, and entertainment, straight to your inbox at 6 a.m. every morning.
In five minutes, you're fully informed and ready to start another great day in our city.
Get connected with our daily update
(Austin Bergstrom International Airport)
Austin-Bergstrom International Airport is keeping the tradition of live music at the airport alive.
---
The airport has reinstated its in-terminal music program with AUS Live and Instrumental bringing live music back to passengers waiting for their flights and continuing to provide paid gigs for local musicians in light of COVID-19.
The program has undergone some changes due to the pandemic: musicians are now required to play only instrumental music while wearing a mask for the duration of their performance and maintain safe distance, the equipment is sanitized in-between uses, performing areas are stanchioned off with plexiglass and musicians must use a virtual tip jar. The switch to only instrumental music is due to singing being a high-risk COVID-19 activity.
The airport said it hires exclusively Austin musicians, and has one of the most robust music programs in the country—matching the city's title of live music capital of the world.
Zack Morgan, a local keyboardist, said he enjoyed playing at the airport recently because he got to share his music again in a safe way.
"First and foremost, it felt safe and well-thought-out," Morgan said in a press release. "On top of that, I was able to make good money and bring some smiles to the travelers who are so accustomed to live music at our airport. I was also able to live stream my performance and share the music even further."
Before COVID-19, Michael Pennock, AUS music coordinator, booked around 30 musicians per week, but now only about three are booked a week. The airport plans to bring back live music to the Asleep at the Wheel main stage and various restaurant locations in November.
Pennock said people often tell him that they missed the music at the airport.
"With the music industry being decimated by COVID-19, this is our first step forward to bringing live music back at AUS and supporting local musicians," Pennock said. "Music brings people joy and will help bring some small sense of normalcy back. We all need that right now."
More on the airport: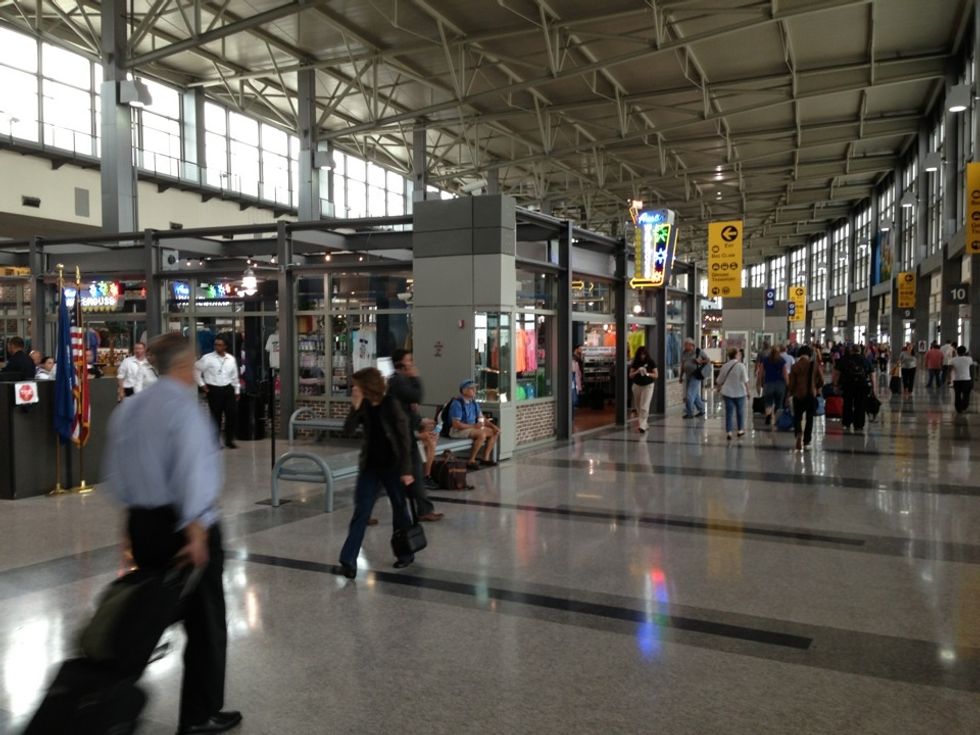 ​Austin airport shows disturbing trend with passenger traffic still way down from last year (Dion Hinchcliffe/Flickr)
Matthew McConaughey is reportedly weighing a run for Texas governor in 2022.
The Austin resident and Oscar winner has been "quietly making calls to influential people in Texas political circles, including a deep-pocketed moderate Republican and energy CEO" as he decides whether to run, according to Politico.
McConaughey said a gubernatorial run is "a true consideration" while on a March episode of Houston's "The Balanced Voice" podcast.
Although most political strategists doubt McConaughey's commitment and viability as a candidate, some are still intrigued by the possibility.
"I find it improbable, but it's not out of the question," Karl Rove, a top Republican strategist with a long history in Austin, told the political news site. He added that the big question is whether McConaughey would run as a Republican, a Democrat or an independent.
Brendan Steinhauser, an Austin-based GOP strategist, told Politico he's surprised McConaughey isn't being taken more seriously. "Celebrity in this country counts for a lot," he said. "It's not like some C-list actor no one likes. He has an appeal."

Texas Gov. Greg Abbott plans to run for a third term and remains popular among Republican voters, 77% of whom approve of his performance as of April, according to the Texas Politics Project.
Some strategists believe an independent McConaughey run would benefit Abbott. But a recent poll from The Dallas Morning News and the University of Texas at Tyler found that McConaughey would beat Abbott, 45% to 33%, with 22% opting for someone else.
Mimi Swartz, an executive editor at Texas Monthly, mulled a McConaughey run in a recent opinion essay from the New York Times. "Texas may not be ready for a philosopher king as a candidate, much less governor," she wrote. "May the best man win, man."
Some JuiceLand production facility workers and storefront employees are organizing to demand wage increases, better working conditions (including air conditioning in the warehouse) and pay transparency, among other asks. They are also calling on staff to strike and customers to boycott the Austin-based company until their demands are met.
JuiceLand responded on Saturday. "We are listening," the company wrote on their Instagram story. "JuiceLand crew now makes guaranteed $15 an hour or more companywide."
JuiceLand, which was founded in 2001 by Matt Shook and now has 35 locations in Austin, Houston and Dallas, acknowledged the rising cost of living across Texas and the added stress of the pandemic in an email to employees on Saturday, part of which @juicelandworkersrights shared on social media. "There's no denying that times are tough and financial security means more now than ever," the company wrote.
Organized JuiceLand workers rejected this proposal, according to a recent post on the @juicelandworkersrights Instagram account, and reiterated their demands.
"Cost of living in Austin is rising exponentially and will only continue to get worse with the tech boom," the post read. "$15 is barely a sustainable living."

Related Articles Around the Web