Get connected with our daily update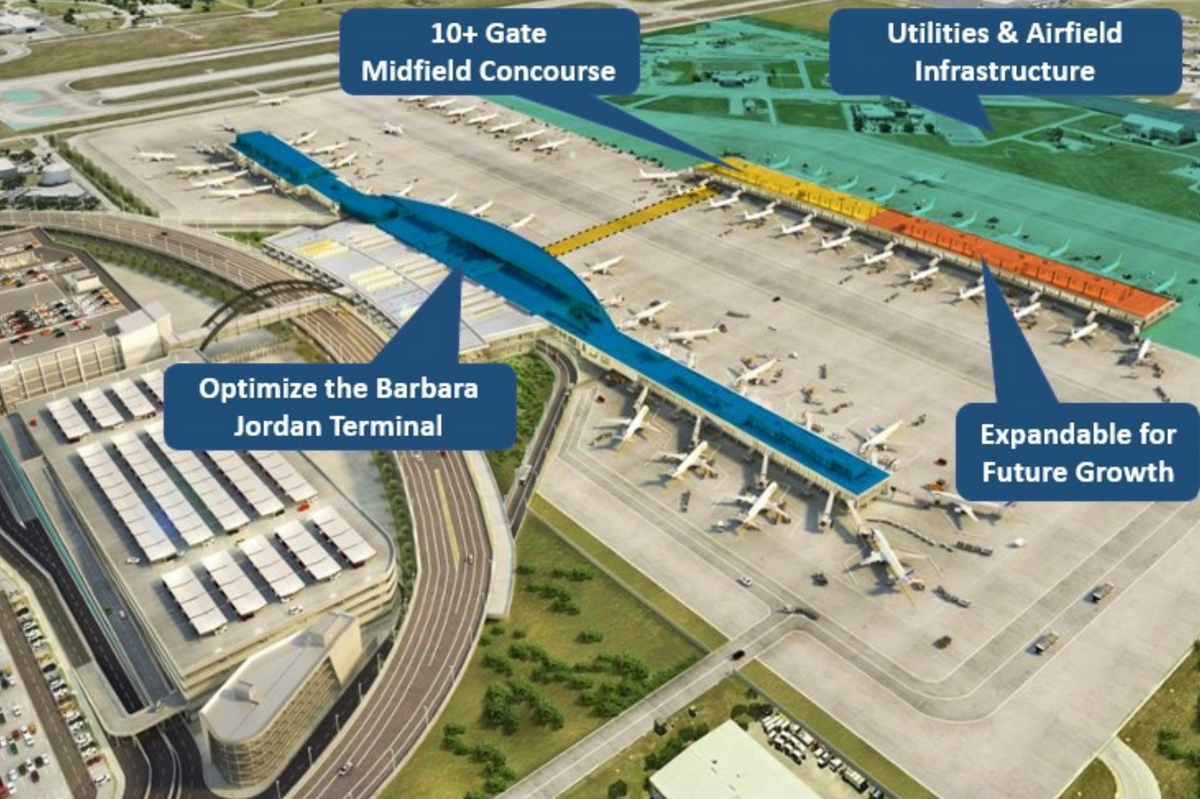 Austin-Bergstrom International Airport announced a new expansion program intended to meet ballooning demand on Tuesday.
---
The program will include building a midfield concourse with at least 10 new gates and two new taxiways, according to a press release. It will be connected to the Barbara Jordan Terminal via an underground tunnel.
Our initial #AEDP projects will transform the Barbara Jordan Terminal through:
👮♂️ New passenger screening capacity
✈️New gate capacity
🧳A new baggage handling system
🎫Expanded ticket counters
While preparing for a new 10+ gate mid-field concourse. (2/3) pic.twitter.com/SECXEUmZfy
— Austin-Bergstrom International Airport (AUS) (@AUStinAirport) July 13, 2021
Building the concourse will require relocating existing taxiways. Based on the advice of independent consultants, airport officials have decided the best way to do so is to close and remove the South Terminal, according to a memo sent to City Council on Tuesday.
"It is imperative that the South Terminal Facility be removed in a timely manner so that the development of the (concourse) can be completed in a timeframe to match the forecasted growth of airlines at (ABIA)," CEO Jacqueline Yaft wrote.
Keeping pace with growth
The expansion program is intended to help right-size ABIA given the city's population growth and rising demand for air travel in the short term while also setting the stage for the 2040 master plan, a 20-year roadmap finalized in 2019.
Since opening in 1999, ABIA has tripled its passenger numbers. Between 2011 and 2019 it was the third fastest-growing airport in the country. Although the pandemic had a catastrophic impact on airports around the country, with ABIA traffic plummeting 95% last April, there are indications of a rebound.
In April, 841,089 passengers traveled through ABIA, up from 47,7181 in April 2020 but down around 40% compared to April 2019, according to the airport's latest activity report.
ABIA expects that demand this summer will match or surpass that of summer 2019, according to the release. The airport set its current record for passenger travel in July 2019.
"The long-term plan for (ABIA) is a win for all customers and stakeholders and will ensure the airport is able to keep pace with rising demand for many years to come," Yaft wrote.
In addition to closing the South Terminal and adding a new concourse, the expansion program includes improving the Barbara Jordan Terminal, adding more gates and ticket counters as well as a new $77.6 million baggage handling system.
City officials do not yet have a budget estimate for the program but hope to have it finalized later this month, an airport spokesperson said. Funding sources will include airport cash reserves, current and future airport revenues and federal grants, according to the press release.
Closing the South Terminal
The South Terminal—a 30,000-square-foot, $12 million facility that opened in 2017—is currently home to two economy airlines: Allegiant and Frontier.
Although ABIA is owned and operated by the city of Austin, the South Terminal is operated by an outside entity: Lonestar Airport Holdings. As a result, city staff have initiated preliminary discussions to regain control of the terminal and communicated their plans to the affected airlines, the spokesperson said.
"All airlines operating from the South Terminal will not experience service interruption and will be accommodated at the Barbara Jordan Terminal," Yaft wrote.
But the transition will likely come with some growing pains. The South Terminal offers economy airlines a lower-cost space and their customers a more efficient travel experience, with shorter lines and cheaper parking than the Barbara Jordan Terminal.
Allegiant announced in April that it would open a new $75 million base at the South Terminal in November, creating 89 jobs, housing three airplanes and allowing for more routes.
"While we're still learning the details about the (expansion program), we're excited about our future there and are on track to launch base operations in November, as planned," the airline said in a statement shared with Austonia. "(ABIA) has given Allegiant assurances that we will work together on a transition plan and strategy to accommodate our future growth."
Private and general aviation that operate on the airport's south side will not be impacted by the expansion program.
This story was updated on July 15 to include a statement from Allegiant.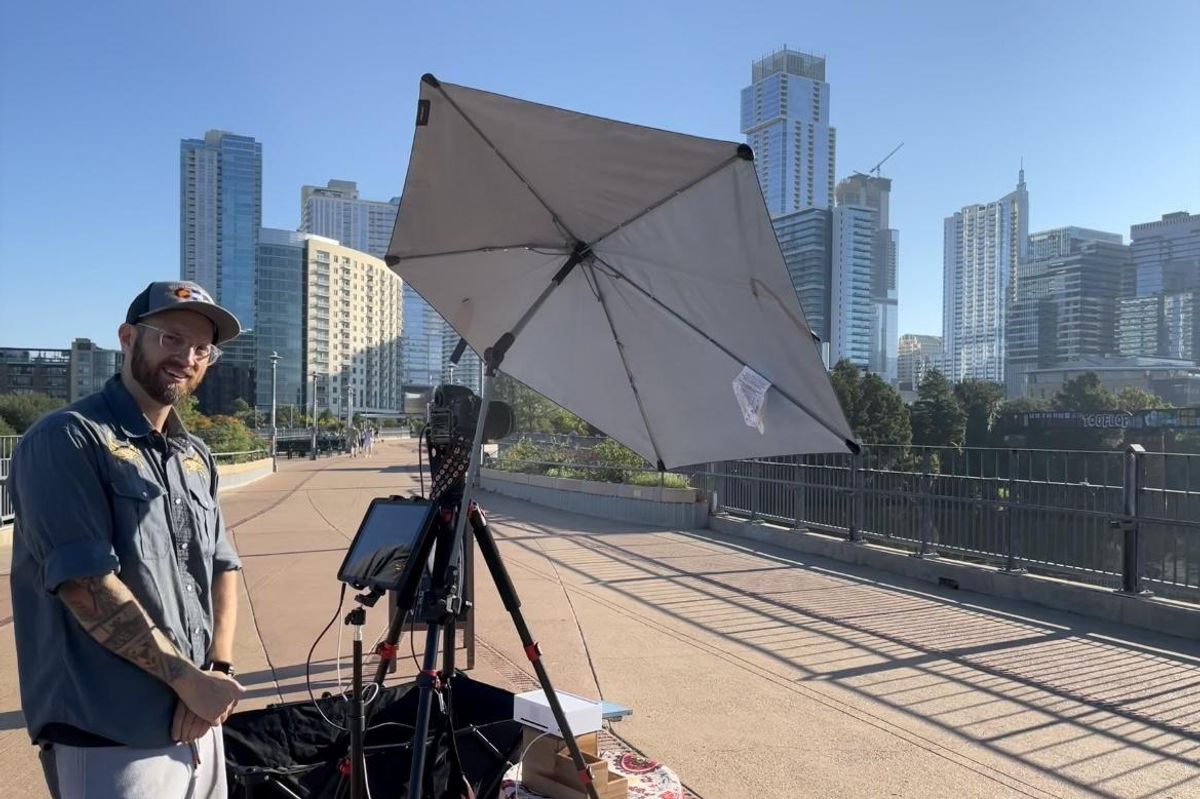 Nicklaus Pereksta says he loves photographing enthusiastic people, and it's why his latest gig offering pictures to people out on Lady Bird Lake's hike and bike trail is going smoothly. He sets up his gear on the Pfluger pedestrian bridge and puts out a sign: Photos, $10.
"Overwhelmingly, this has been a really positive experience," Pereksta said. "I get excited when I wake up in the morning and I can't wait to go to work."
Bikers and joggers are excited about it too. On the pedestrian bridge leading to downtown Thursday morning, a man on an e-bike rode up and posed, wanting more photos.
"I posted the last pictures on Instagram and people loved it. They asked, 'where is this guy?'" the biker told Pereksta. Bashfully, Pereksta, who also photographs landscapes and at weddings and other events, said he was happy to hear that.
Pereksta started these photos about a month ago, after the strenuous runs required in his valet job started causing pain in his legs. And though he has a passion for photography, he wasn't so sure when he started working independently if it would work out.
He felt uncertain about the demand for it and was also worried about having lots of expensive equipment out in the open.
"Then like the first day was nothing but high praise and people are like, this is so awesome. This is great. I've never seen anything like this before. I was like, Wow, this was really good, like positive turnout. So I got encouraged."
Now, he wants to expand and is thinking of contacting the Mueller Farmers Market about how to become a vendor. Still, he'll carry a connection to photographing on the bridge since the word bridge is related to his last name.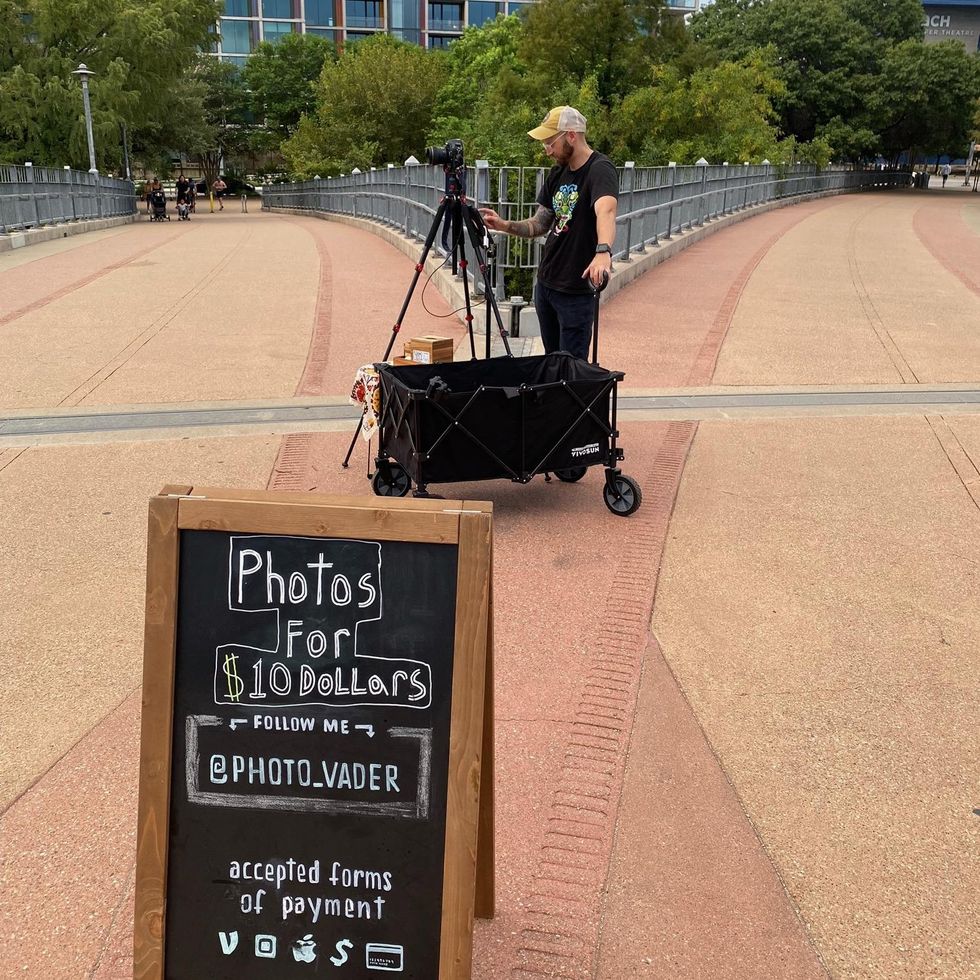 (Dewey C.)
"It's a name my great, great, great grandfather came up with when he was marrying somebody. It's actually quite a romantic name. It means a joining of two bridges," Pereksta said. "So, I thought it was ironic that I'm set up on a bridge. I'm kind of representing my last name right now."
Austonia talked to Pereksta about life in Austin, where he's lived for eight years after living in Boston doing band photography.
What was your first experience with Austin?
I came here to visit some friends and they took me to Barbarella. So we went to Barbarella and I was like, 'wow, this place is great.' And then the restaurants and the food and going to Barton Springs. I was like, 'this is amazing.' Because there's nothing like that in Boston. If you want to go to a natural spring, you got to go to New Hampshire. There's no pools in the city at all. So there's lots of swimming out here.
What do you like best about Austin?
You go to any little quiet bar and there's a band playing that should be like onstage for a sold out show. Yeah, they're playing to 10 people, right? Like, one of the best bands ever and they're playing for 10 people, right? And just little magic moments like that are pretty fun. You just run into little random weird things.
What do you think makes Austin different from other places?
There's no fall.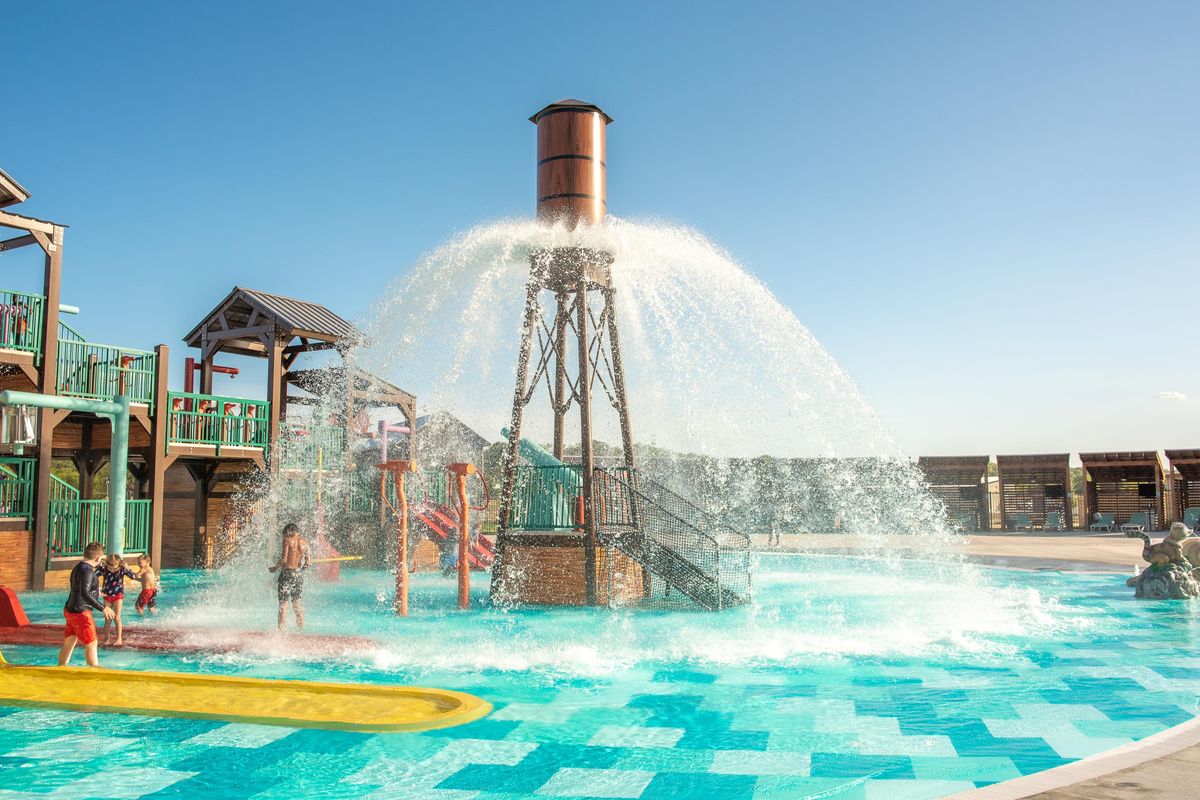 Camp Fimfo Waco
Camp Fimfo Waco, a brand new camping resort, is kicking off football and fall camping season in style! With top-notch amenities, premium accommodations, and 10 weekends of fall fun, there's no better place to have a fall camping getaway, especially if you're a Baylor football fan!
Fall promises to be a one-of-a-kind camping experience. From Sept. 16 to Nov. 24, weekends will be packed with fall-themed activities, including special Halloween weekends in October. Campers can enjoy activities like fall crafts, campground trick-or-treating, costume contests, site decorating, outdoor movie nights, and more!