Get connected with our daily update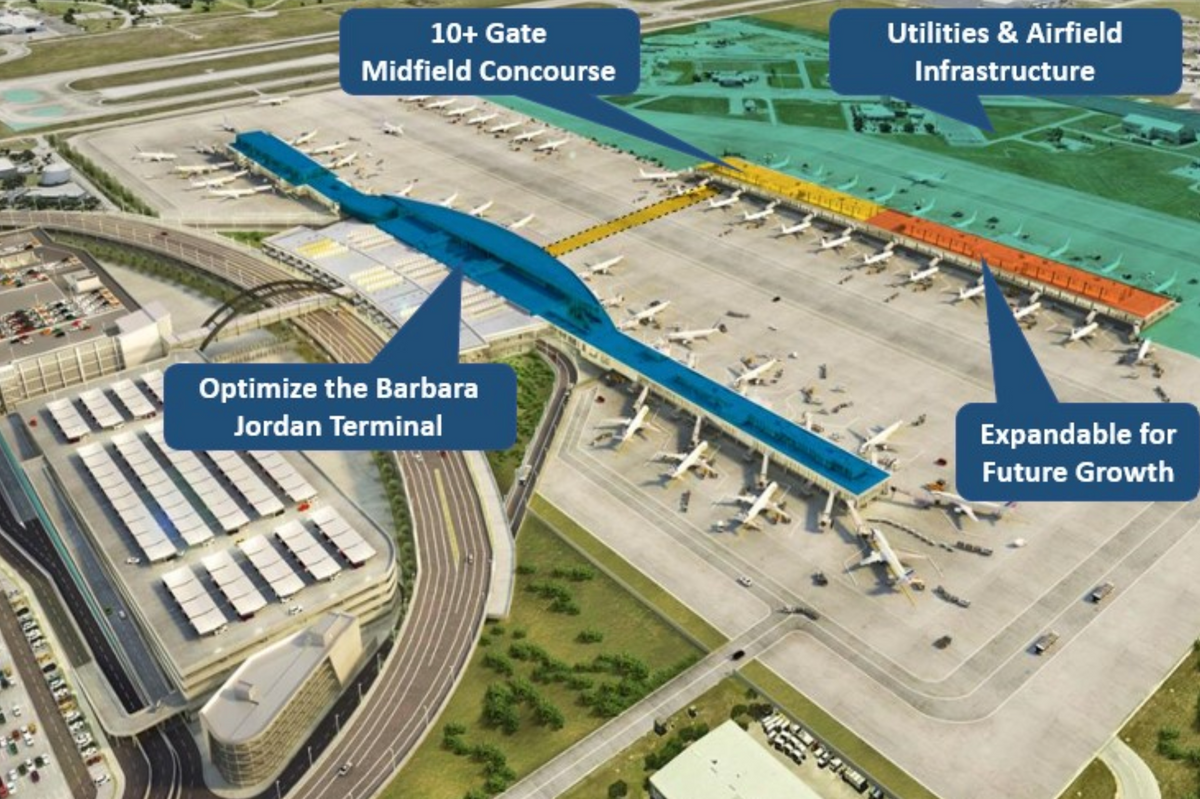 Austin-Bergstrom International Airport announced a new expansion program intended to meet ballooning demand on Tuesday.
---
The program will include building a midfield concourse with at least 10 new gates and two new taxiways, according to a press release. It will be connected to the Barbara Jordan Terminal via an underground tunnel.
Our initial #AEDP projects will transform the Barbara Jordan Terminal through:
👮♂️ New passenger screening capacity
✈️New gate capacity
🧳A new baggage handling system
🎫Expanded ticket counters
While preparing for a new 10+ gate mid-field concourse. (2/3) pic.twitter.com/SECXEUmZfy
— Austin-Bergstrom International Airport (AUS) (@AUStinAirport) July 13, 2021
Building the concourse will require relocating existing taxiways. Based on the advice of independent consultants, airport officials have decided the best way to do so is to close and remove the South Terminal, according to a memo sent to City Council on Tuesday.
"It is imperative that the South Terminal Facility be removed in a timely manner so that the development of the (concourse) can be completed in a timeframe to match the forecasted growth of airlines at (ABIA)," CEO Jacqueline Yaft wrote.
Keeping pace with growth
The expansion program is intended to help right-size ABIA given the city's population growth and rising demand for air travel in the short term while also setting the stage for the 2040 master plan, a 20-year roadmap finalized in 2019.
Since opening in 1999, ABIA has tripled its passenger numbers. Between 2011 and 2019 it was the third fastest-growing airport in the country. Although the pandemic had a catastrophic impact on airports around the country, with ABIA traffic plummeting 95% last April, there are indications of a rebound.
In April, 841,089 passengers traveled through ABIA, up from 47,7181 in April 2020 but down around 40% compared to April 2019, according to the airport's latest activity report.
ABIA expects that demand this summer will match or surpass that of summer 2019, according to the release. The airport set its current record for passenger travel in July 2019.
"The long-term plan for (ABIA) is a win for all customers and stakeholders and will ensure the airport is able to keep pace with rising demand for many years to come," Yaft wrote.
In addition to closing the South Terminal and adding a new concourse, the expansion program includes improving the Barbara Jordan Terminal, adding more gates and ticket counters as well as a new $77.6 million baggage handling system.
City officials do not yet have a budget estimate for the program but hope to have it finalized later this month, an airport spokesperson said. Funding sources will include airport cash reserves, current and future airport revenues and federal grants, according to the press release.
Closing the South Terminal
The South Terminal—a 30,000-square-foot, $12 million facility that opened in 2017—is currently home to two economy airlines: Allegiant and Frontier.
Although ABIA is owned and operated by the city of Austin, the South Terminal is operated by an outside entity: Lonestar Airport Holdings. As a result, city staff have initiated preliminary discussions to regain control of the terminal and communicated their plans to the affected airlines, the spokesperson said.
"All airlines operating from the South Terminal will not experience service interruption and will be accommodated at the Barbara Jordan Terminal," Yaft wrote.
But the transition will likely come with some growing pains. The South Terminal offers economy airlines a lower-cost space and their customers a more efficient travel experience, with shorter lines and cheaper parking than the Barbara Jordan Terminal.
Allegiant announced in April that it would open a new $75 million base at the South Terminal in November, creating 89 jobs, housing three airplanes and allowing for more routes.
"While we're still learning the details about the (expansion program), we're excited about our future there and are on track to launch base operations in November, as planned," the airline said in a statement shared with Austonia. "(ABIA) has given Allegiant assurances that we will work together on a transition plan and strategy to accommodate our future growth."
Private and general aviation that operate on the airport's south side will not be impacted by the expansion program.
This story was updated on July 15 to include a statement from Allegiant.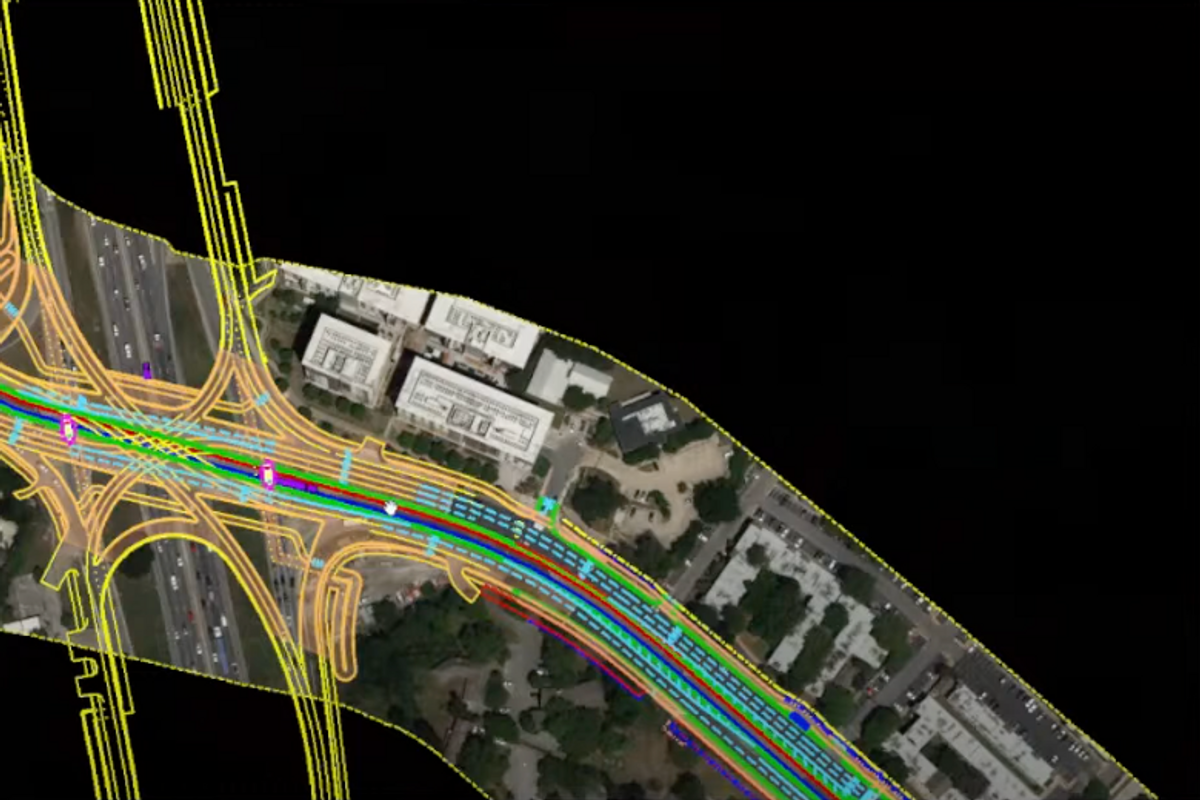 Designs for stations along Project Connect's Blue Line were presented this week, giving a detailed look at what part of the rail system extending from downtown to the airport could look like.
The planned stations that have gotten the latest focus include Waterfront, Travis Heights and Lakeshore stations past Lady Bird Lake.
At the Waterfront station, the preliminary design aims to prevent visual obstructions and save on costs. This is accomplished by a transit guideway that will lower from the bridge to a level station.
Heading onto East Riverside Drive, the light rail faces a curve requiring a slow down to about 10 miles per hour.
The Travis Heights station could involve relocating a pedestrian crosswalk zone at Alameda Drive to Blunn Creek. Since light rails can't effectively operate on a steep grade, this allows the transit guideway to avoid that.
From there, the rail will extend to the Norwood Park area, and though it will reach along the right-of-way zone, the park will be able to remain open.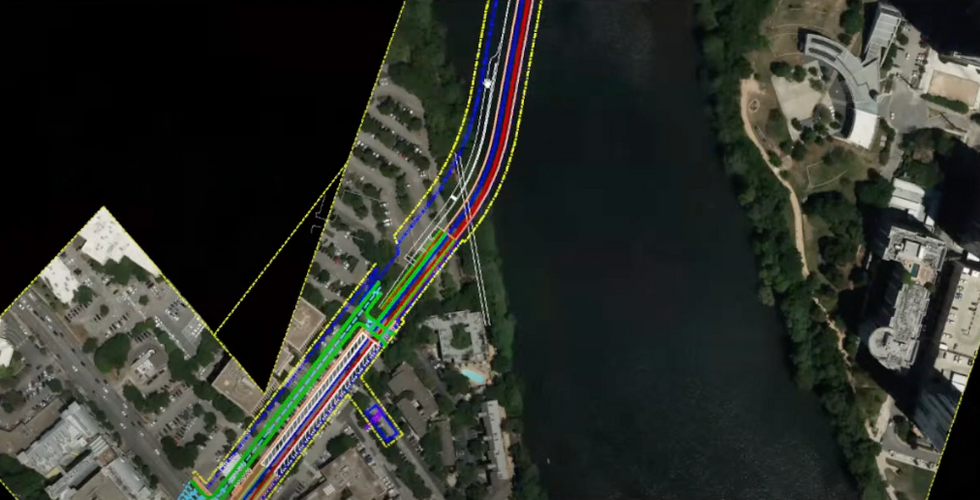 A view of the Blue Line by Lady Bird Lake. (Project Connect)
The line involves some coordination with the Texas Department of Transportation. That's because the department is working on an intersection that will have to be built before the phasing of the section of the Blue Line involving an I-35 crossing.
When it comes to the safety of cyclists and walkers, design ideas include a pedestrian hybrid beacon by East Bouldin Creek that would provide a protected signal to cross. And for the intersection TxDOT is carrying out, Project Connect is working with them on pedestrian access across the intersection. It could involve shared use paths along the street and crossings beneath it.
This summer, the public can expect 30% of design and cost estimates to be released. Though the project was $7.1 billion when voters approved it in November 2020, the latest estimates factoring in inflation and supply chain constraints show it could ultimately be upwards of $10 billion.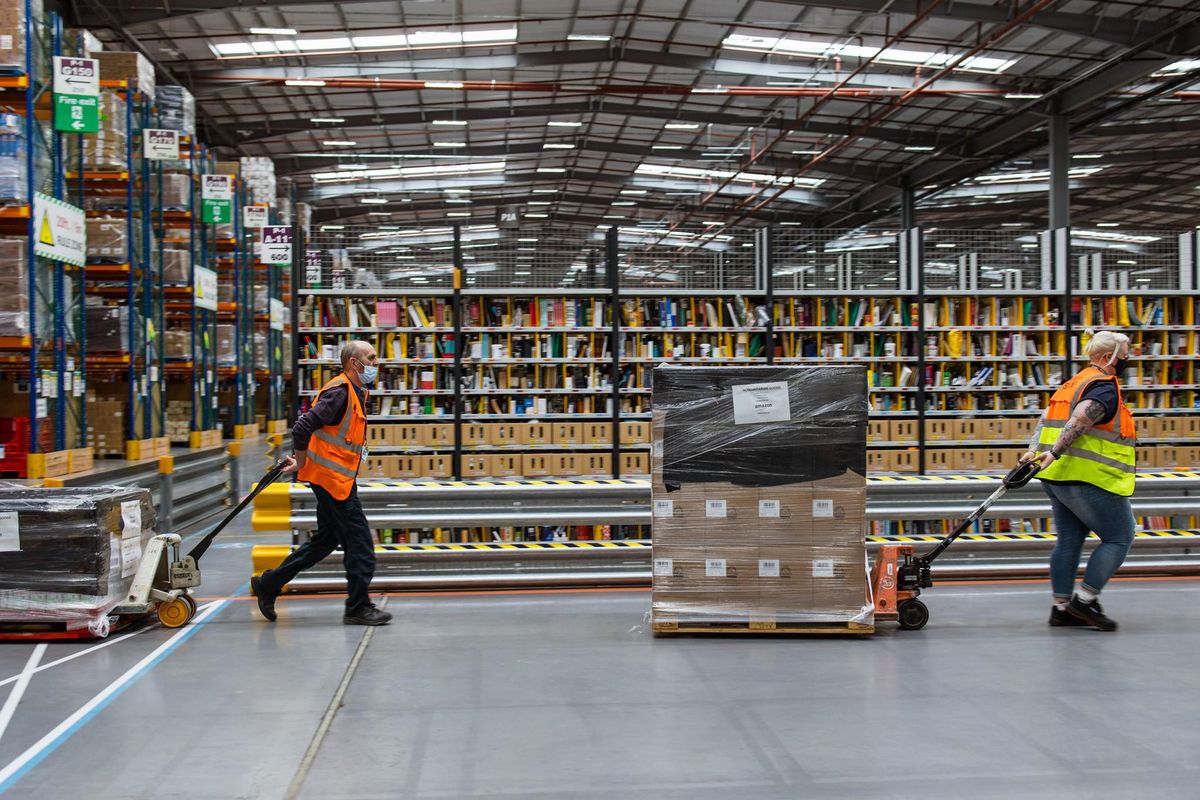 Plans for an Amazon warehouse in Round Rock—a $250 million project slated to be a large distribution center—are on hold.
This comes just after the tech giant had its worst financial quarter in seven years.
The details:
Late last year, it announced an expansion at the Domain adding 2,000 more corporate and tech jobs.
Amazon still owns the site in Round Rock. Plans for it are unclear.
Early this week, the Wall Street Journal reported that Amazon is aiming to scrap warehouse space as it faces a slowdown in its e-commerce operations.
Part of that effort involves exploring the possibility of ending or renegotiating leases with outside warehouse owners. Another aspect is a plan to sublease warehouse space.
"It allows us to relieve the financial obligations associated with an existing building that no longer meets our needs," an Amazon spokeswoman told the Wall Street Journal. "Subleasing is something many established corporations do to help manage their real estate portfolio."