Get connected with our daily update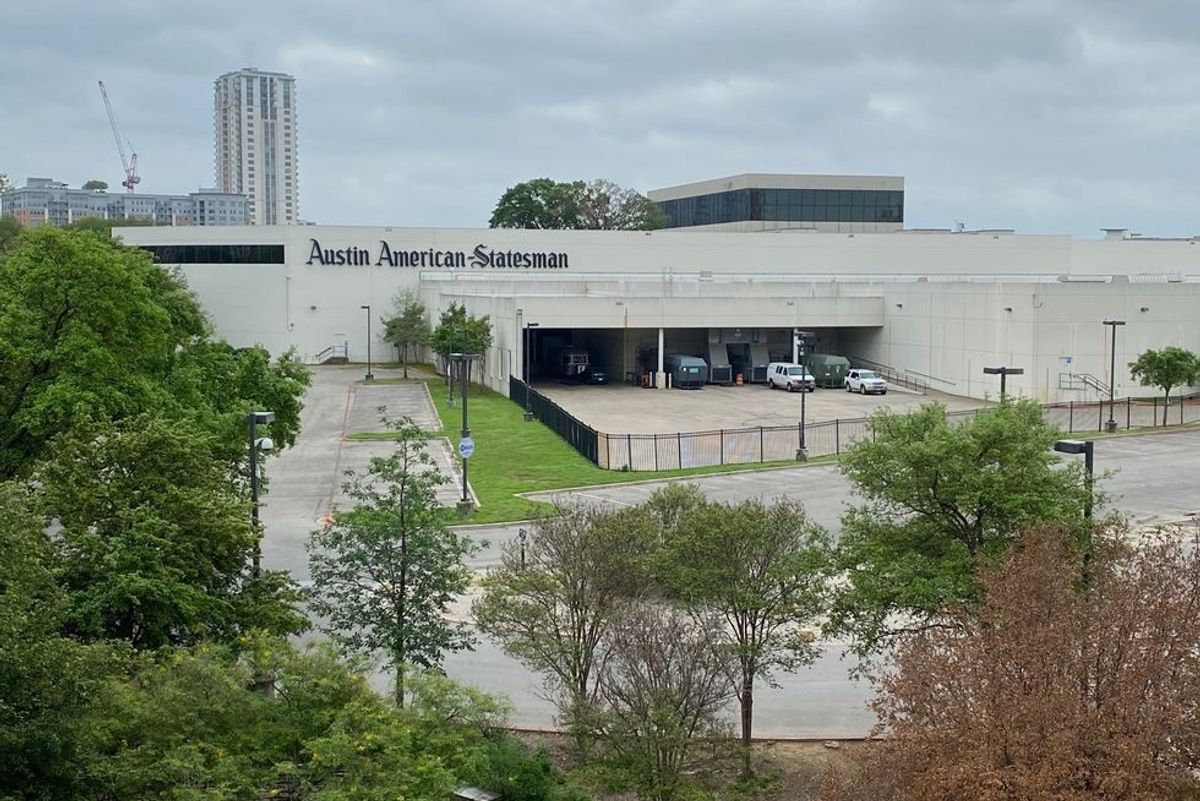 (Michael Barera/CC)
Journalists at the Austin American-Statesman and its six community newspapers announced Wednesday they are taking steps to unionize, following in the footsteps of newspapers around the country that have organized in recent years.
---
A "vast majority" of the papers' reporters, photographers, columnists and other employees asked Gannett, the Statesman's parent company, to voluntarily recognize the Austin NewsGuild, according to a news release.
The Austin NewsGuild also submitted the required paperwork to the National Labor Relations Board to request a union certification election at the Statesman. If Gannet voluntarily recognizes the union, no election would be needed.
Gannett has not yet responded. However, recent union pushes at other newspapers owned by the company have been stonewalled, according to reports.
The NewsGuild cited a need for stability in "an increasingly unstable industry, one plagued by budget cuts, layoffs, a lack of diversity and dwindling resources," in the release. Its members pledged to advocate for increased staff positions, improved benefits and anti-racist policies.
"We want to play a strong role in reshaping the business and hope to lend our creative energy and responsible input toward collectively joining with management to make the paper better on a daily basis for our valued readers," sports columnist and 47-year Statesman veteran Kirk Bohls said in a statement.
News of the union effort was met with support on Twitter from fellow Austin journalists, Council Members Greg Casar and Natasha Harper-Madison, and other newspaper unions.
GO AUSTIN, GO!! We stand with you and are so excited for y'all! We hope @Gannett does the right thing and volunta… https://t.co/NWgX2N4L1f

— Fort Worth NewsGuild ☀️ (@Fort Worth NewsGuild ☀️) 1607523620.0
The Austin NewsGuild joins other guilds across the country that have unionized newsrooms in recent years, including at the Los Angeles Times, the Chicago Tribune and the Arizona Republic.

The Dallas Morning News staff voted to unionize in October, becoming the first newspaper in Texas to do so. The Fort Worth Star-Telegram staff announced it had unionized shortly after.
Like many of these papers, the Statesman has faced years of downsizing, hiring freezes and, most recently, furloughs during the pandemic. It has also endured a series of corporate handoffs—three in as many years.
Atlanta-based Cox Enterprises sold the Statesman to the New York-based publishing company GateHouse Media in 2018, after 41 years of ownership. Last December, GateHouse closed its $1.1 billion takeover of Gannett, becoming the country's largest newspaper company, and pledged to cut costs.
Gannett laid off seven Statesman staffers, including veteran sportswriter Suzanne Halliburton and culture critic Joe Gross, in April.
Three months later, the company signed a lease at MetCenter, a corporate business park that the Statesman will move into next year. Its iconic riverfront headquarters will be redeveloped.
Then in October the company reportedly offered employees voluntary buyouts.
Melissa Taboada, who worked as a reporter at the Statesman for more than 20 years, announced she had taken a buyout last month.
"I still want to be a journalist," she told the Columbia Journalism Review. "But I've done this for a really long time and seeing the shrinking newsroom… I kind of want to be part of something that might be growing instead."
Veronica Serrano, an editorial assistant who has worked at the Statesman for 16 years, said a union is the best way for employees to speak up to the paper's corporate ownership.
"It is unconscionable that in the midst of a pandemic, our company continues to cut staff and forces remaining employees to take on additional responsibilities, many with no additional compensation," she said in a statement. "Having a collective bargaining unit is the only way for us to have a voice to address these and many other grievous wrongs, and will give us a chance to fight for our newsrooms and restore the balance of power for future generations."
Dr. Victor Pickard, a professor of media policy and political economy at the University of Pennsylvania, said this push toward organizing is "a rare glimmer of hope in this really dismal landscape."
Unions at legacy media companies, such as the Statesman, may help counterbalance publishers' singular focus on profit, which often comes at the expense of jobs.
"My general sense is that (unions) are at least slowing down the slide toward dismantling newsrooms," he said.
But unions alone likely won't insulate newspapers from a changing industry. Instead, Pickard said existing newsrooms will need to transition to new business models—like the nonprofit Texas Tribune or low-profit Philadelphia Inquirer—that help lessen commercial pressures.
"If we don't do anything, the market will just drive journalism into the ground," he said.
This story has been updated to include comment from a professor of media policy and political economy.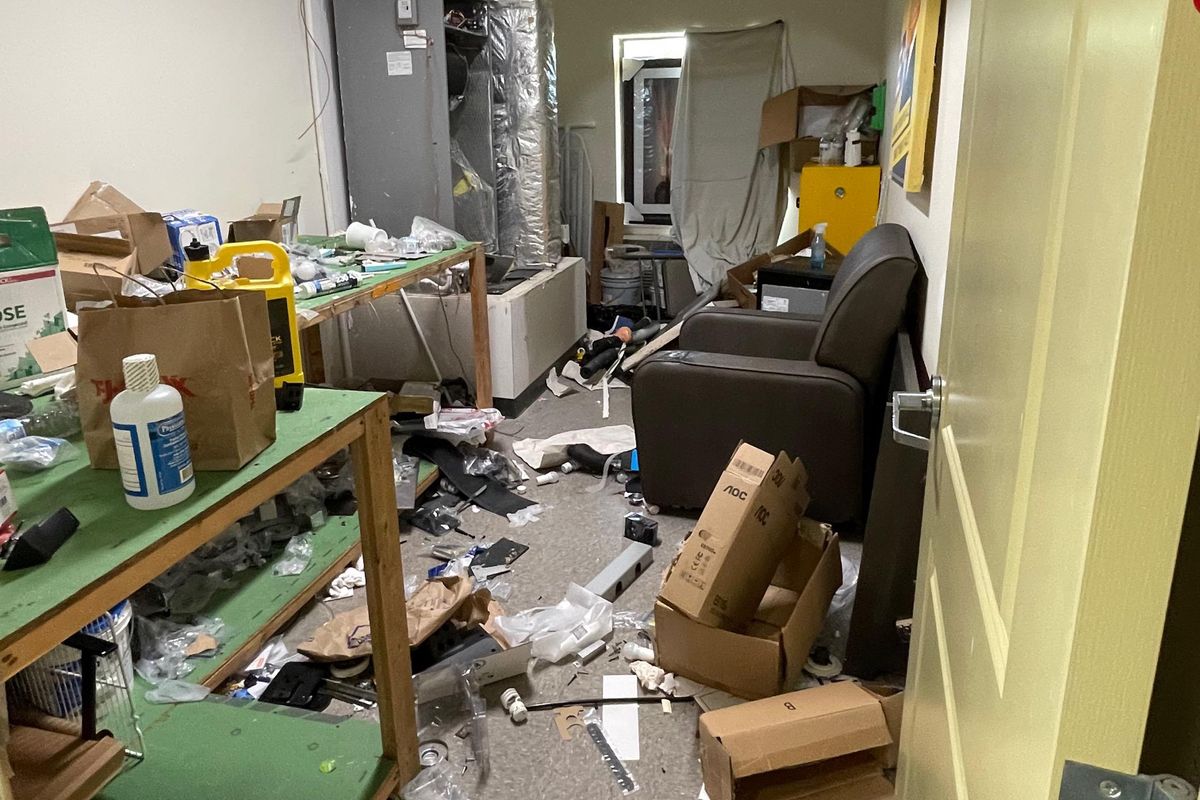 Austin's Homeless Strategy Officer Dianna Gray has apologized after vandals broke into a city-owned hotel in the process of being converted into a homeless hotel.
The break-in was discovered on May 5 at the northwest Candlewood Suites, 10811 Pecan Park Blvd., which had been sitting vacant and unrenovated with no security protocol at the time. A memo from the city said security had yet to be initiated due to a delay in processing the request.
The city is looking at funding six months of renovations at the hotel to prepare for move-ins. The memo also said it introduced security protocols after the incident, which will now be on patrol "day and night."
"The intent had been to have security on site previous to this event," Gray said. "It had been requested, and there was a delay in the request, so it had not been initiated. We acknowledge that as a failure and apologize."
The city bought the hotel—now called Pecan Gardens—in August 2021 with plans to convert it into 80 supportive housing units as part of the Housing-Focused Encampment Assistance Link initiative. The city's Homeless Strategy Division expects occupants—individuals existing long-term homelessness—to move in later this year or early next year.
The incident came to light after Austin City Council member Mackenzie Kelly, who represents the area, tweeted photos of the damage to the interior. She also said she learned of people sleeping at the hotel without permission.
Here are the photos of the inside of the Candlewood Suites that I shared during my press conference at 3pm today.

I want to encourage anyone with information regarding this incident to call Crime Stoppers at 512-472-8477. 1/2 pic.twitter.com/2bVBoA6Vba
— Mackenzie Kelly (@mkelly007) May 12, 2022
On Thursday, City Council is poised to approve a contract with Family Eldercare, allowing them to begin renovations.

Additionally, Williamson County Judge Bill Gravell shared photos of an adjoining homeless encampment nearby to the hotel.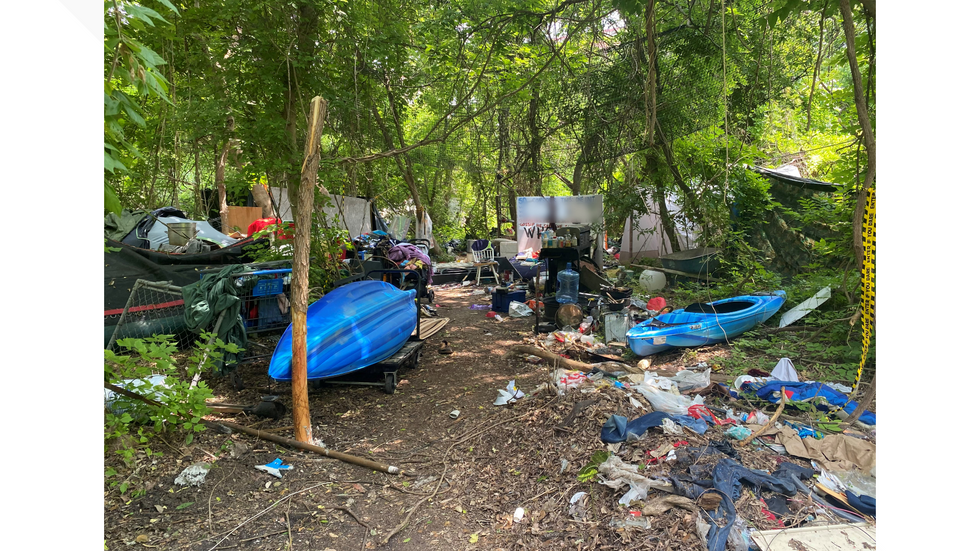 (Williamson County)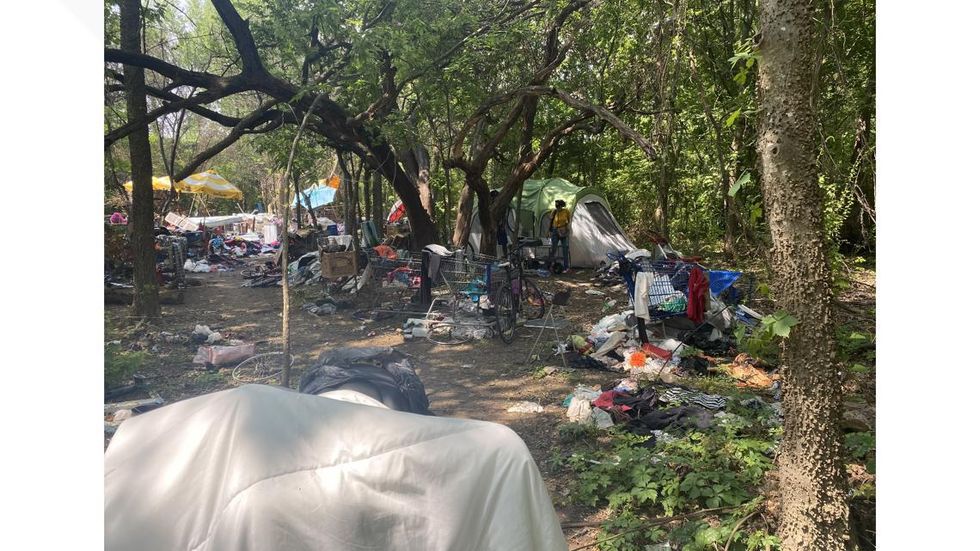 He issued the following statement: "I am deeply disappointed that once again the city of Austin has made decisions regarding their property in Williamson County without involving Williamson County leadership in coming up with solutions. I have heard from our residents that Austin's property has brought crime to their neighborhood. They sent me pictures of what is going on in their neighborhood. The city of Austin made their problem Williamson County's problem, so I promise our residents that I will work to find a solution. Our residents deserve to not live in fear."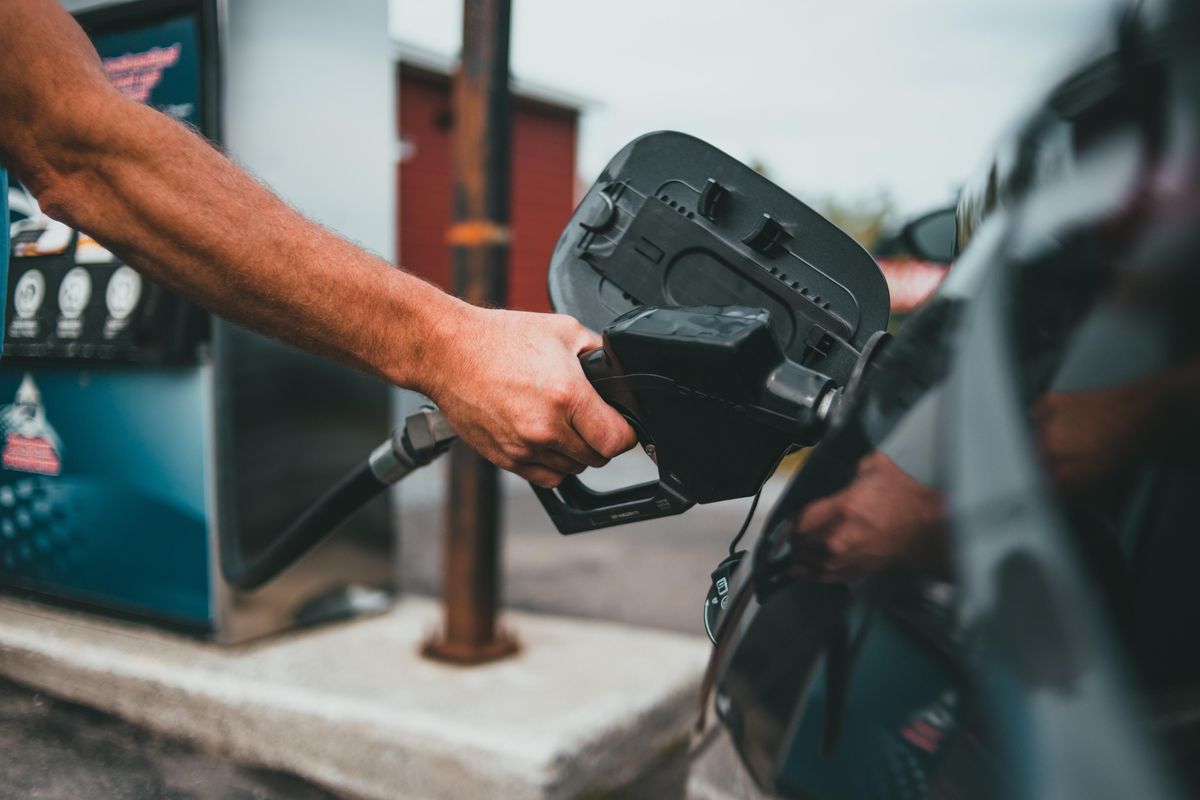 Fuel costs in Austin and across the nation are record high—and they're not going down anytime soon.
Average gas prices in Travis County are sitting a hefty $4.16 per gallon, according to AAA, compared to an average of $2.70 last year. Nationwide, fuel prices are at an average of $4.48 per gallon.
The bill per gallon is the highest ever recorded in Austin but experts don't expect a reprieve anytime soon—GasBuddy head of petroleum analysis Patrick DeHaan said to expect new records on a "near daily" basis.
"There isn't much reason to be optimistic that we'll see a plunge any time soon," DeHaan said, adding to expect prices closer to $5 by the end of the week.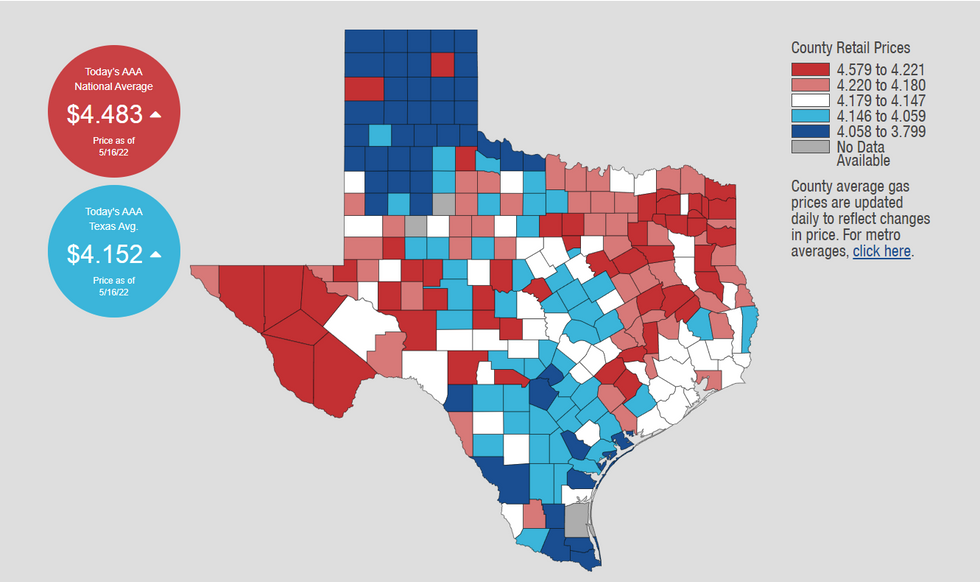 Why are prices climbing? DeHaan says to blame low inventory combined with high demand, more expensive blends and warming temperatures jump-starting "driving season."
While gas prices are marginally cheaper in Williamson and Hays Counties, between $4.12-$4.13, surrounding counties are locked into the same price range.