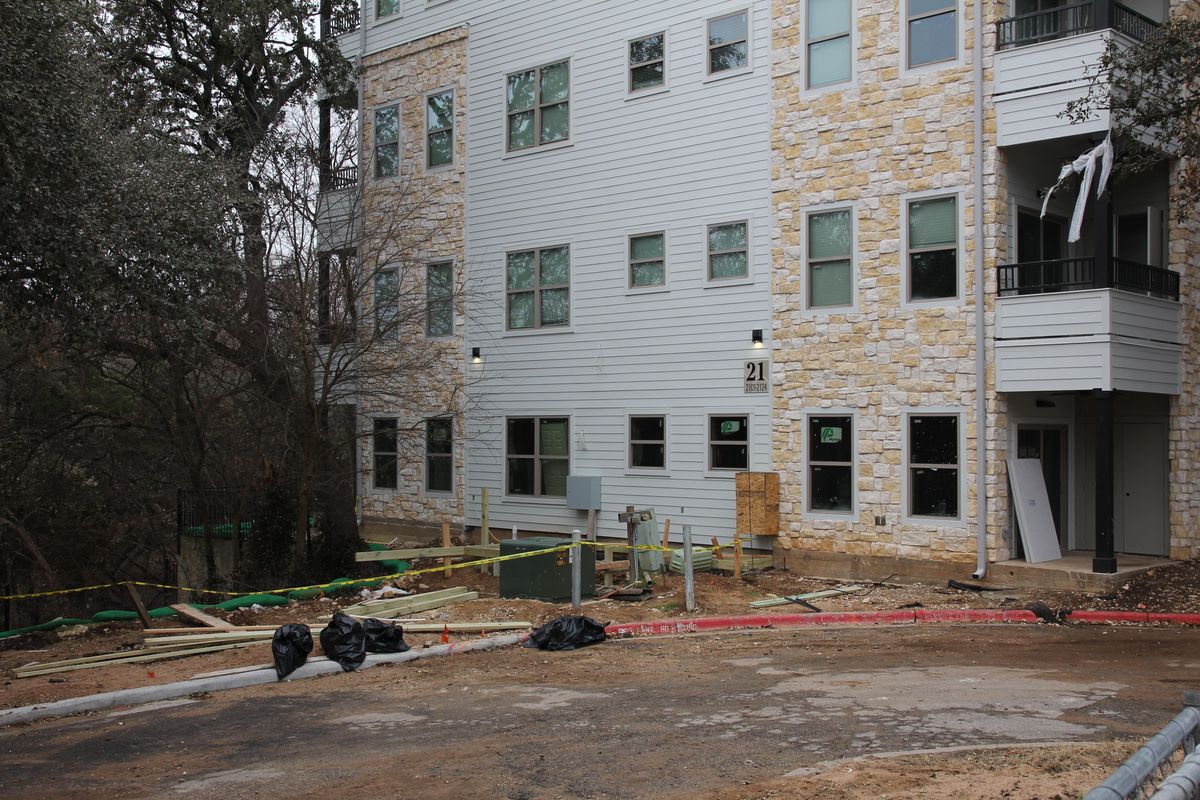 The last night Stephanie Landgraf, 25, spent in her apartment, off of Rundberg Lane, was on Valentine's Day. First, her power went off, only to return shortly after the complex lost water. Since then, she's been staying with friends. "There's no end in sight," she told Austonia. "At this point, I'm just angry."
---
Although Austin Water announced it had restored service system-wide on Tuesday and reporting on the crisis has faded, some residents remain impacted due to burst and broken pipes that still need repairing. Landgraf's apartment complex provided an update earlier this week, attributing the outage to a shortage of specific plumbing parts and saying that service would be restored within 24 hours. That was three days ago.
Landgraf spent Friday, her day off, trying to get a hold of Austin Water. If her service isn't restored by Sunday, she'll get a hotel room—an expense that isn't covered by her renters' insurance. Still, she counts herself lucky to have an alternative place to stay. If she was still in her apartment, she would need to find a way to get water up to her unit. "My area of town is not okay," she said, adding that her neighbors were already spread thin by the pandemic. "We're still struggling."
Ongoing repairs
After nearly a week of widespread outages and a boil water notice, Austin Water announced it had restored service and lifted its notice citywide on Tuesday. But hundreds of apartment complexes and other properties still lack water because of unresolved pipe breaks. Although these complexes may be able to restore water service, they cannot do so without risking flooding or other damage.
"I would anticipate right now there's at least two to four hundred apartment complexes, condos, areas served by interior piping systems … that are out of water in one form or another," Austin Water Director Greg Meszaros told City Council Thursday. "That's changing rapidly, but that's a very large number. And that doesn't count single-family homes or others that are struggling with those kinds of things."
The utility, along with the city of Austin, is working to deliver water to impacted residents, conduct wellness checks and facilitate repairs on private properties now that the public system is stable. But some residents are still without a basic necessity.
"In many, many instances, families including children are living in unsanitary conditions with water shut off," Miguel Barbosa said during the public portion of Thursday's council meeting. "People need toilets. Families need showers. This is risky, and quite frankly it is life-threatening."

Property owners and management companies, on the other hand, are competing for repair services and other amenities.
Pinnacle, which manages the Arboretum Oaks property in Great Hills, sent an update to residents on Wednesday saying that 10 additional plumbers are expected to arrive this weekend to help with ongoing plumbing repairs. The property has been without water for days now. The company was also in the process of securing portable showers and toilets from vendors that are pulling inventory from other states due to high demand. Until they arrive, residents can schedule a time to use a shower in one of five vacant units at the Argosy at Crestview, a sister property 15 minutes away by car.
What residents can do
Residents without water should call 311 to report the outage. This will help with coordinating water deliveries and other support services, Juan Ortiz, the city's director of homeland security and emergency management, said Thursday.
Water distribution sites operated by the city and Travis County are being consolidated due to declining demand. One such site, at the Onion Creek Soccer Complex at 5600 E. William Cannon Drive, is open on Friday. The latest information on such sites can be found here.
Austin Water has not forgotten those who are still dealing with pipe damage and waiting for their water service to be restored. "We're going to stay on this and help these apartment complexes and others get water back to their systems," Meszaros said. But, he added, it will likely be "many days" before their crisis is over.