Get connected with our daily update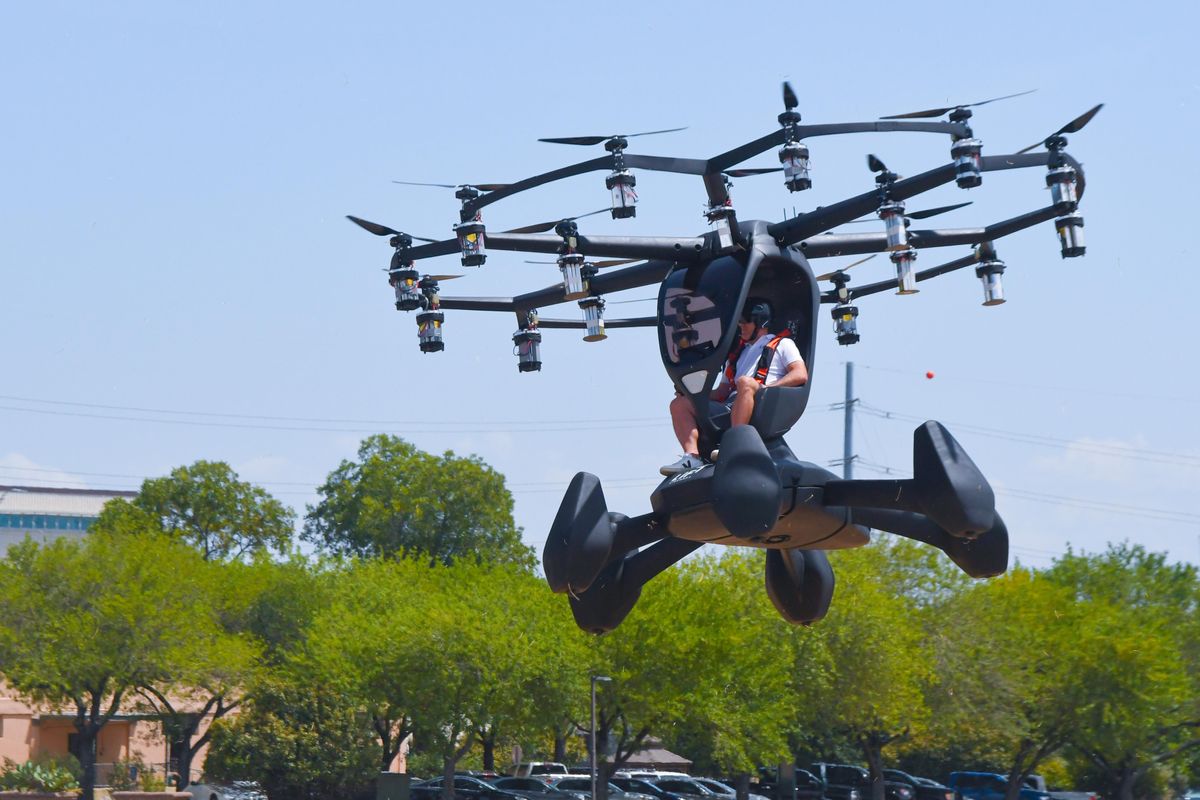 (Air National Guard/Sgt. Sean Cornegay)
An Austin-based startup is taking flying cars from sci-fi movies to reality.
Over the weekend, LIFT Aviation Company put its all-electric, single-passenger flying vehicle on display at Springfield-Beckley Municipal Airport in Springfield, Ohio. The electric vertical takeoff and landing vehicle, called HEXA, could change the future of flying transportation and is projected to be publicly available by the end of the year.
---
HEXA was created by University of Texas alumnus and LIFT CEO Matt Chasen and was funded with a $226,000 grant by JobsOhio's Ohio Site Inventory Program at Springfield-Beckley Municipal Airport.
Together with two other aircraft companies, LIFT is also creating a facility designated for flying cars. The facility will include simulation stations for future pilots as well as charging stations to help make Springfield a key spot in a network for future flying vehicles that can travel longer distances.
The vehicle itself is light enough that it is not even designated as aircraft, so it doesn't require a pilot's license to operate. It is also semi-autonomous, with a remote computer taking care of takeoff and landing and maintaining stability throughout the flight. The vehicle was created so that anybody could take a few minutes to master the joystick controls and take a ride of their own right after.
HEXA is stocked up with safety features as well. The vehicle can operate with up to six of its 18 propellers not in use, and is equipped with parachute backup to boot.
There are a few drawbacks to the vehicle, however. Because it's essentially a manned drone, the craft can't be flown over populated areas or fly over a couple hundred feet. The vehicle also has a flight time of only 10 or 15 minutes, so it's unlikely that HEXA will be used to evade highway traffic anytime soon.
Since its unveiling at SXSW in Austin in 2019, HEXA has been looked at by the Air Force secretary and chief of staff as a possible soldier transportation vehicle. At $495,000, it's also marketed for thrill-seekers with a bit of change in their pocket. For commercial rides, the drone is looking at a price of $250 per ride, and LIFT is hoping to make the vehicle accessible as a touristy ride as well as used for future transportation research.
While LIFT isn't quite making "Back to the Future" a reality, it is making the future happen with a real-life flying car available for all.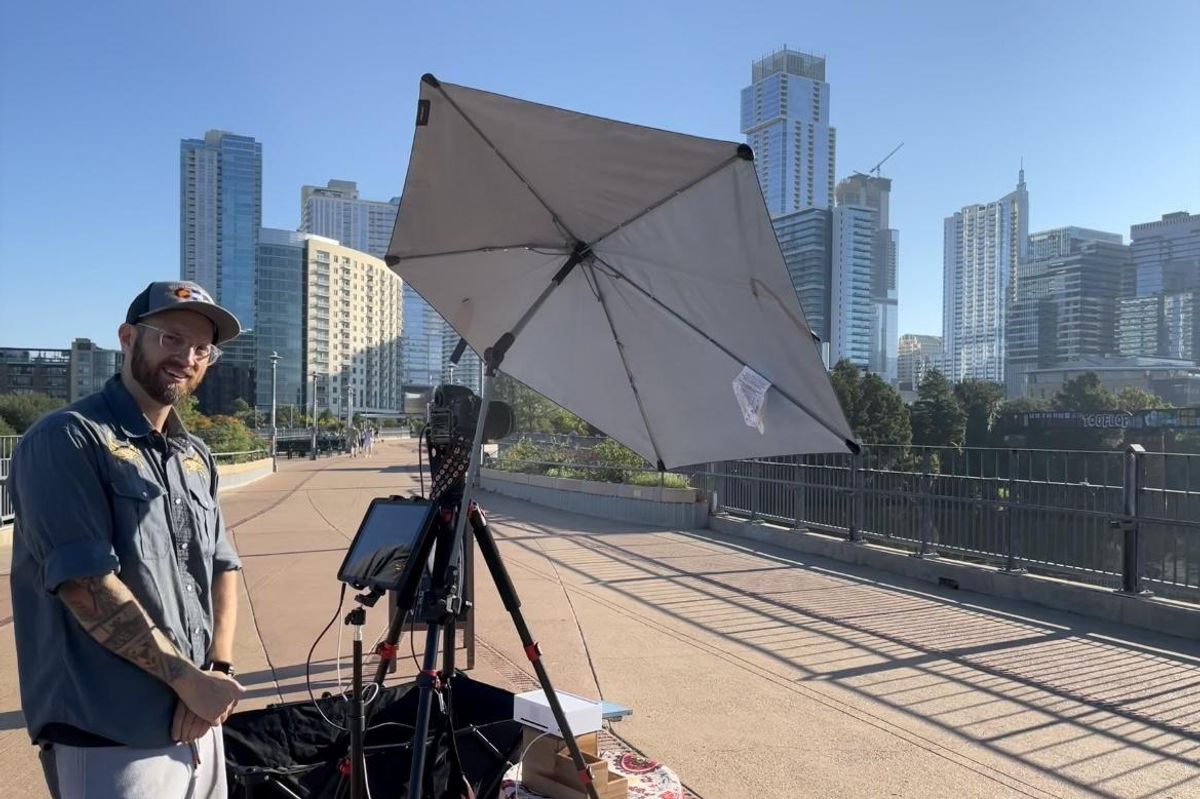 Nicklaus Pereksta says he loves photographing enthusiastic people, and it's why his latest gig offering pictures to people out on Lady Bird Lake's hike and bike trail is going smoothly. He sets up his gear on the Pfluger pedestrian bridge and puts out a sign: Photos, $10.
"Overwhelmingly, this has been a really positive experience," Pereksta said. "I get excited when I wake up in the morning and I can't wait to go to work."
Bikers and joggers are excited about it too. On the pedestrian bridge leading to downtown Thursday morning, a man on an e-bike rode up and posed, wanting more photos.
"I posted the last pictures on Instagram and people loved it. They asked, 'where is this guy?'" the biker told Pereksta. Bashfully, Pereksta, who also photographs landscapes and at weddings and other events, said he was happy to hear that.
Pereksta started these photos about a month ago, after the strenuous runs required in his valet job started causing pain in his legs. And though he has a passion for photography, he wasn't so sure when he started working independently if it would work out.
He felt uncertain about the demand for it and was also worried about having lots of expensive equipment out in the open.
"Then like the first day was nothing but high praise and people are like, this is so awesome. This is great. I've never seen anything like this before. I was like, Wow, this was really good, like positive turnout. So I got encouraged."
Now, he wants to expand and is thinking of contacting the Mueller Farmers Market about how to become a vendor. Still, he'll carry a connection to photographing on the bridge since the word bridge is related to his last name.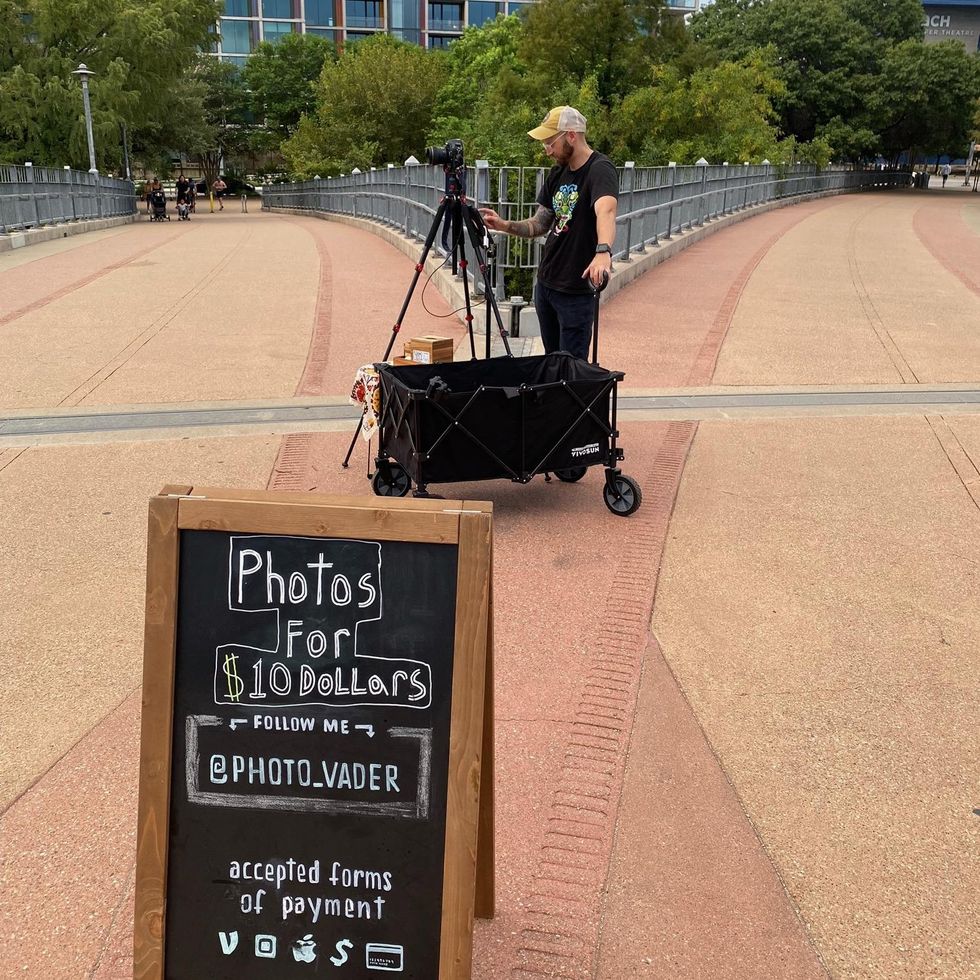 (Dewey C.)
"It's a name my great, great, great grandfather came up with when he was marrying somebody. It's actually quite a romantic name. It means a joining of two bridges," Pereksta said. "So, I thought it was ironic that I'm set up on a bridge. I'm kind of representing my last name right now."
Austonia talked to Pereksta about life in Austin, where he's lived for eight years after living in Boston doing band photography.
What was your first experience with Austin?
I came here to visit some friends and they took me to Barbarella. So we went to Barbarella and I was like, 'wow, this place is great.' And then the restaurants and the food and going to Barton Springs. I was like, 'this is amazing.' Because there's nothing like that in Boston. If you want to go to a natural spring, you got to go to New Hampshire. There's no pools in the city at all. So there's lots of swimming out here.
What do you like best about Austin?
You go to any little quiet bar and there's a band playing that should be like onstage for a sold out show. Yeah, they're playing to 10 people, right? Like, one of the best bands ever and they're playing for 10 people, right? And just little magic moments like that are pretty fun. You just run into little random weird things.
What do you think makes Austin different from other places?
There's no fall.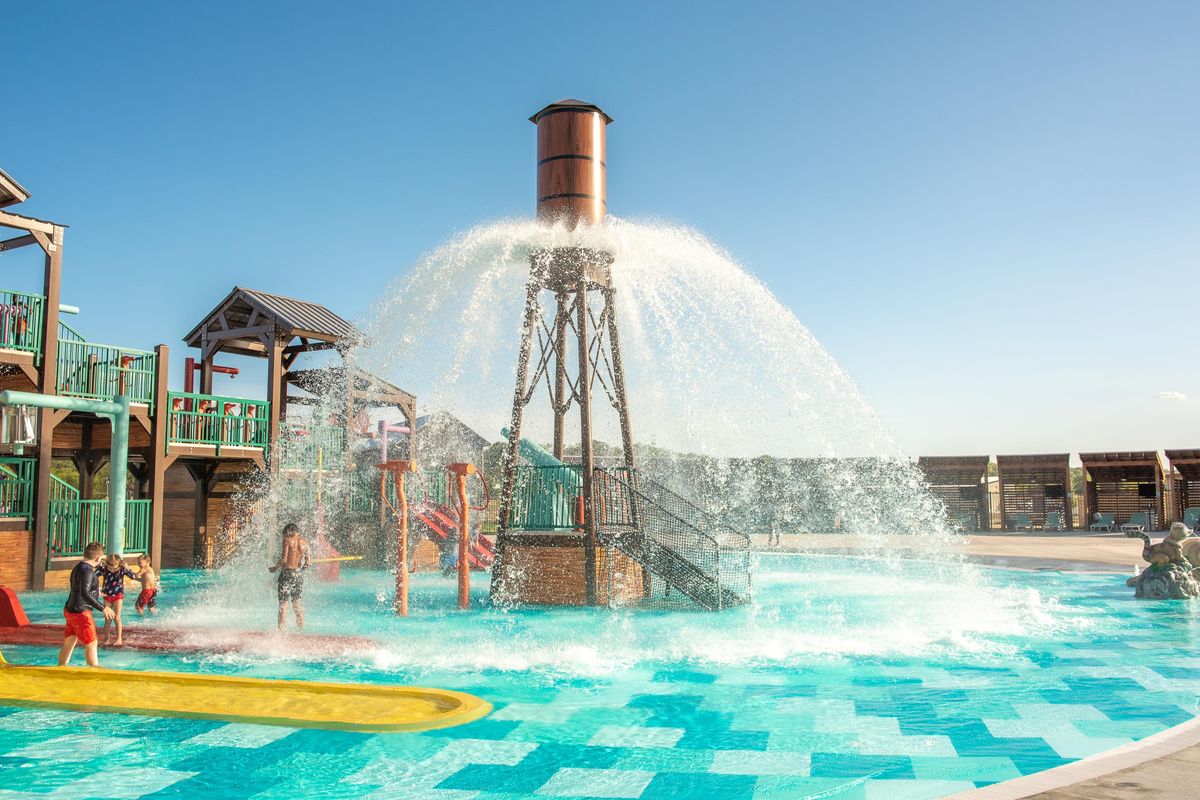 Camp Fimfo Waco
Camp Fimfo Waco, a brand new camping resort, is kicking off football and fall camping season in style! With top-notch amenities, premium accommodations, and 10 weekends of fall fun, there's no better place to have a fall camping getaway, especially if you're a Baylor football fan!
Fall promises to be a one-of-a-kind camping experience. From Sept. 16 to Nov. 24, weekends will be packed with fall-themed activities, including special Halloween weekends in October. Campers can enjoy activities like fall crafts, campground trick-or-treating, costume contests, site decorating, outdoor movie nights, and more!