Get connected with our daily update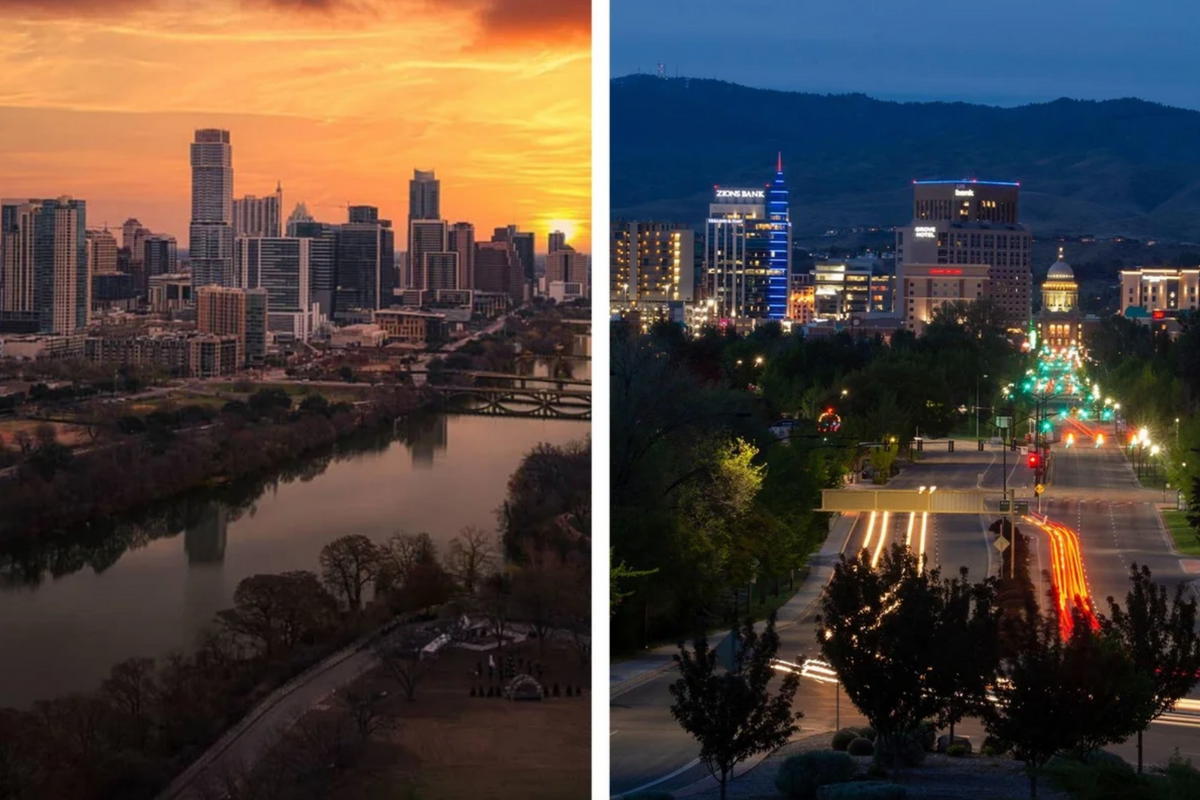 Last year, we examined how Austin has an unlikely lookalike in Boise, Idaho, a fast-growing metro that, like Austin, has earned both praise and ire as thousands flock to the city.
---
But while Boise and its suburb, Nampa, were named the two best-run cities in America by WalletHub, Austin ranked 85th—below fellow hubs Phoenix and Miami and six fellow Texas cities.
The study, which measures 150 US cities across 38 metrics, compared each metro's quality of city services to its city budget per capita. While Boise ranked third in both categories, Austin's 12th-best quality of services was offset by a city budget that ranked 112th per resident.
Here's a look at how the Sun Belt's former pride and joy fell so far below its tinier "twin":
Booming economies—both cities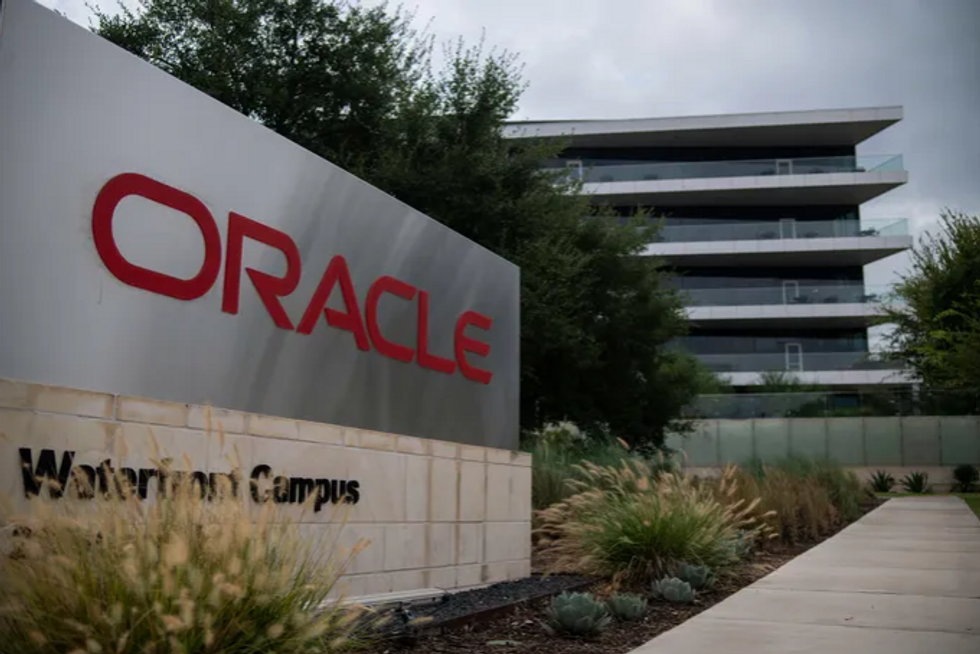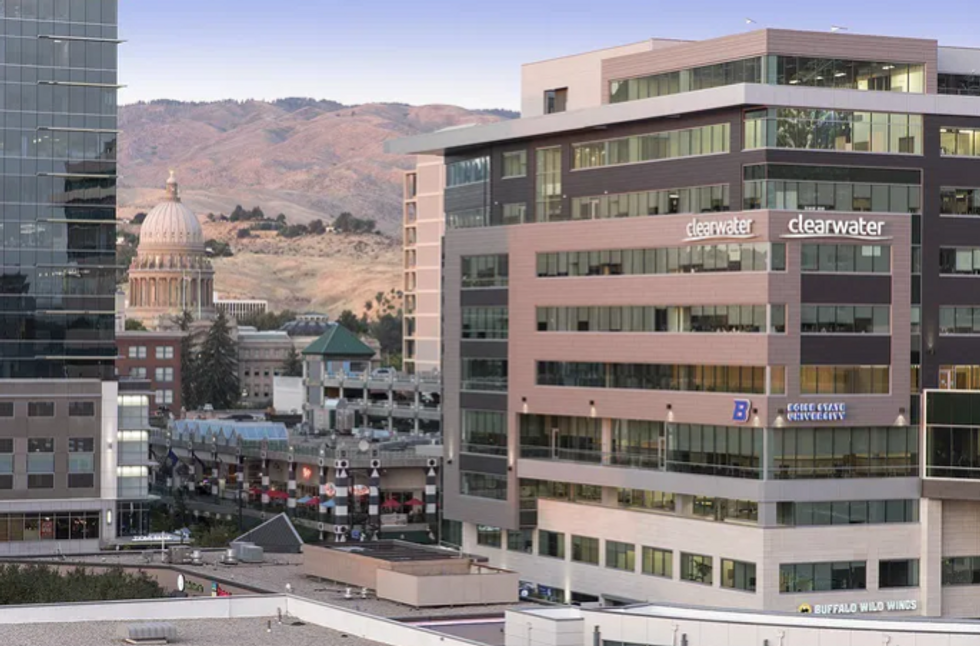 Both Boise and Austin ranked in the top 5 for their economies, with Austin taking the cake.
Bolstered by a mass pandemic migration and tech influx, both metros are caught "mid-metamorphosis" as they quickly transform into major cities. While Austin suburbs Georgetown and Leander both saw the fastest growth of any metros from July 2020-2021 with double-digit growth, three Boise suburbs—Meridian (5.2%), Caldwell (5.2%) and Nampa (5.0%) rounded out the top 10.
Tech giants like Tesla and Oracle, alongside other developments in tech and business, helped Austin produce one of the fastest-growing economies in 2021. And with employers like Albertson's, Hewlett-Packard and Micron Technology, Boise's unemployment rate sat at 2.4% in April—well below the national average of 3.6%.
City budget, safety—Boise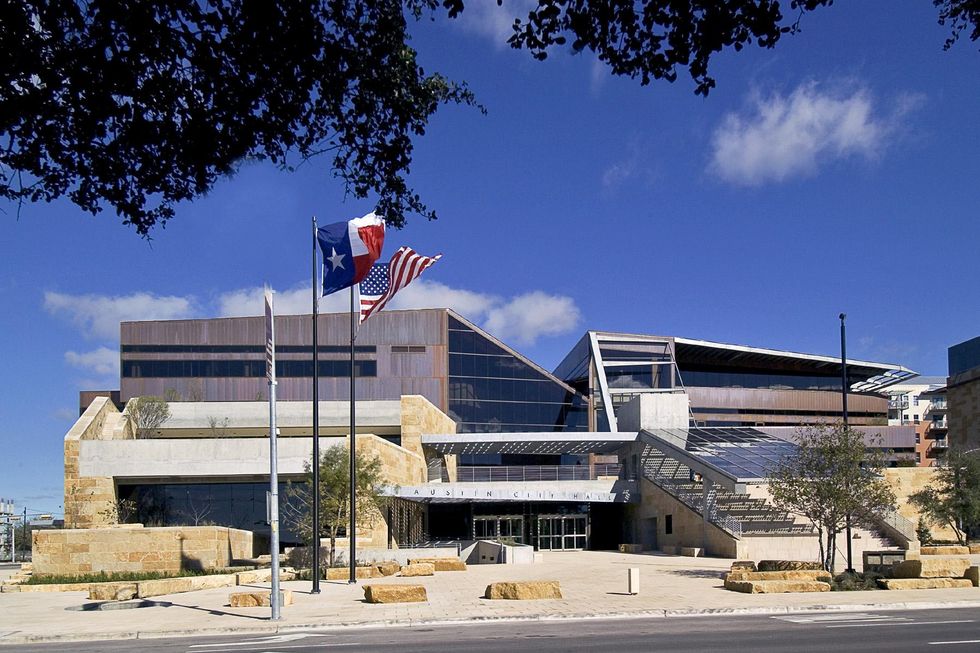 Austin's city budget for 2022 was around $1.2 billion. (Hensel Phelps)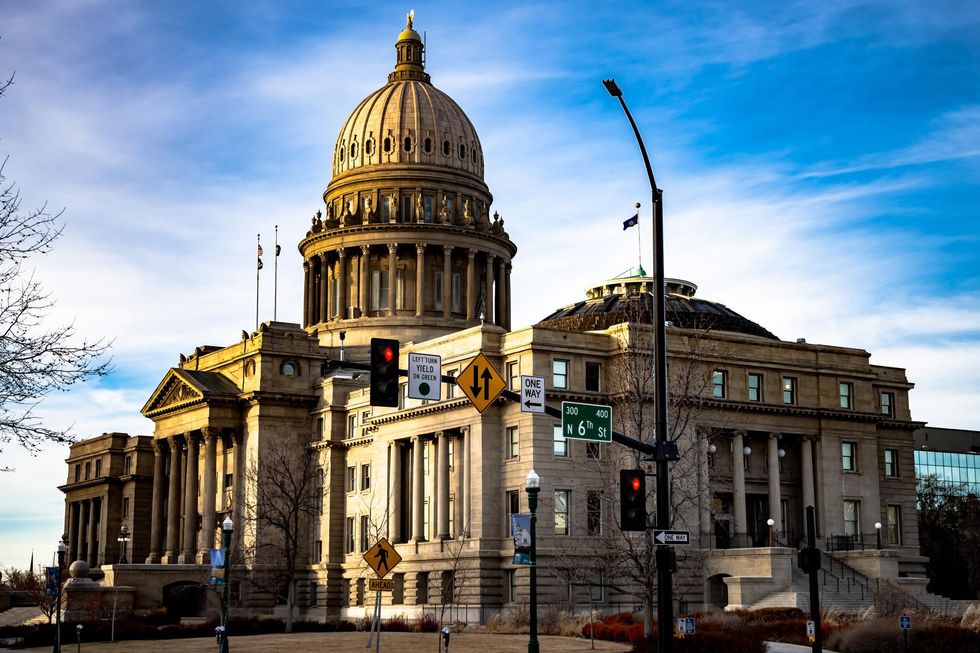 Boise's City Hall offers 42% of its budget to general funds. (Boise City Council/Facebook)
With a $661.8 million budget and a projected population of just over 235,000, Boise has the third-best city budget per capita.
As the city experiences rapid change, city leaders said their budget priority was community-oriented, including "housing, transportation, environment, and more," and that 42% of the budget went to general funds.
And while Austin had a $4.5 billion budget this year, the city had to stretch that among its nearly 1 million residents. 1.2 billion—or 26%—of the budget was placed in general allocation, with two-thirds of that slotted toward public safety.
Austin remains one of Texas' safest cities, according to Police Chief Joseph Chacon, but pales in comparison to Boise. While Austin ranked 71st in safety, Boise clocked in at eighth. Boise's crime rate per 1,000 citizens was 35.5 in 2020, a 2.4% decrease from the year prior, while Austin's was 40.98 in the same time period.
Education, health—Austin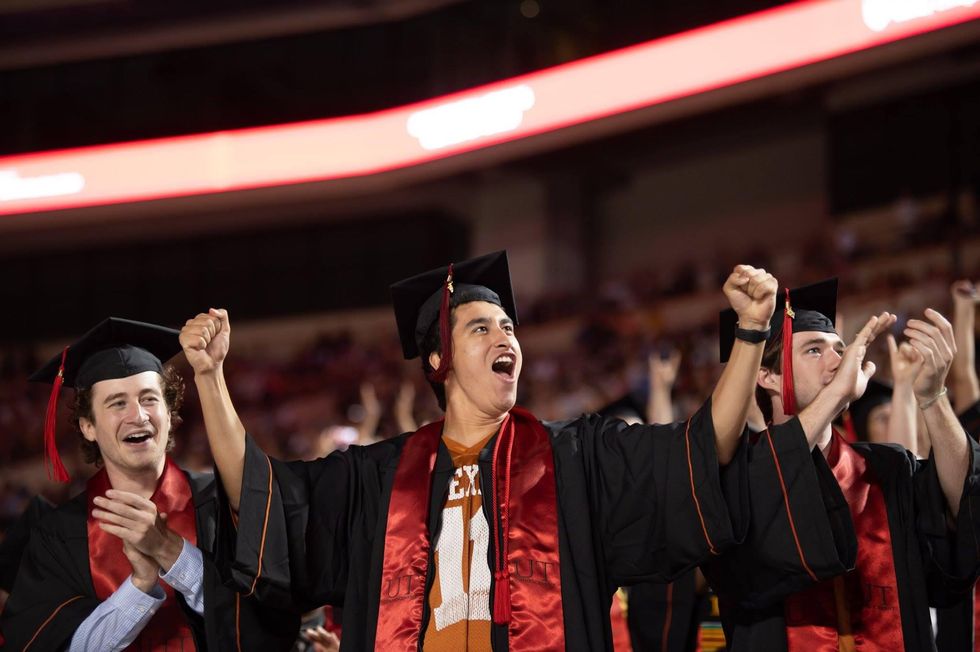 Austin has become known as a "brain drain" in part thanks to the University of Texas. (University of Texas at Austin/Facebook)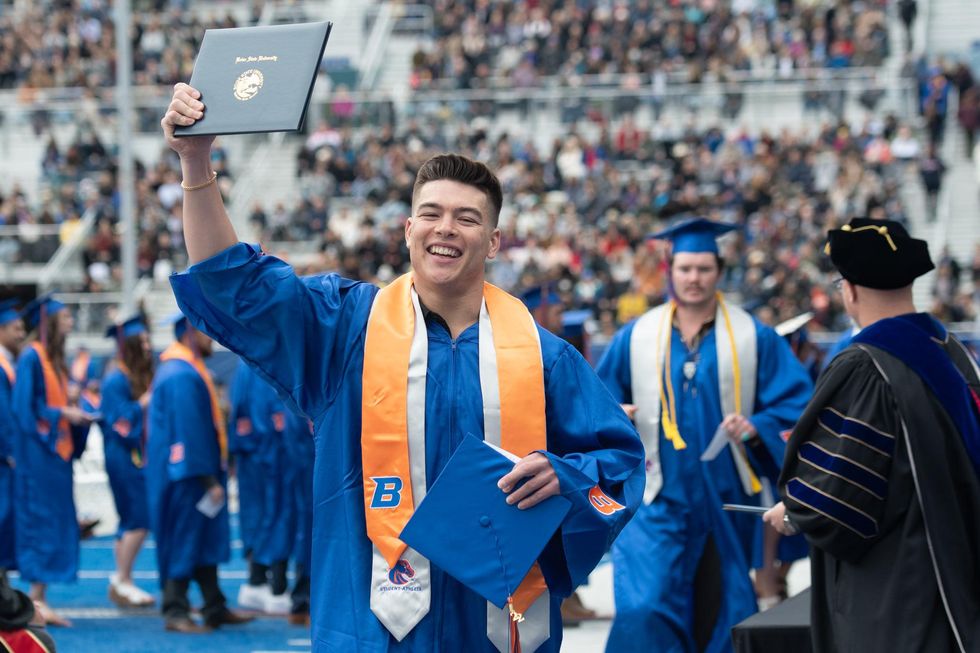 Boise's biggest university is Boise State University. (Boise State University/Facebook)
Aside from its top economy ranking, Austin also shone in its high school graduation rate, which clocked in at 1st in the US. Known as a "brain drain" city, Austin's college-town status and wealth of job opportunities have created one of the most educated populations in the U.S.
Three of the top 25 public high schools in Texas are located in Austin, and the city's education system ranked 16th. And while four of the top 10 high schools in Idaho are located in Boise, the city's overall education earned just 41st place.
Both cities are known as fitness and health havens thanks to robust outdoor amenities and health-conscious residents. But Austin still edged out its Idahoan lookalike, ranking 7th overall to Boise's 10th.
Affordability and infrastructure issues—both cities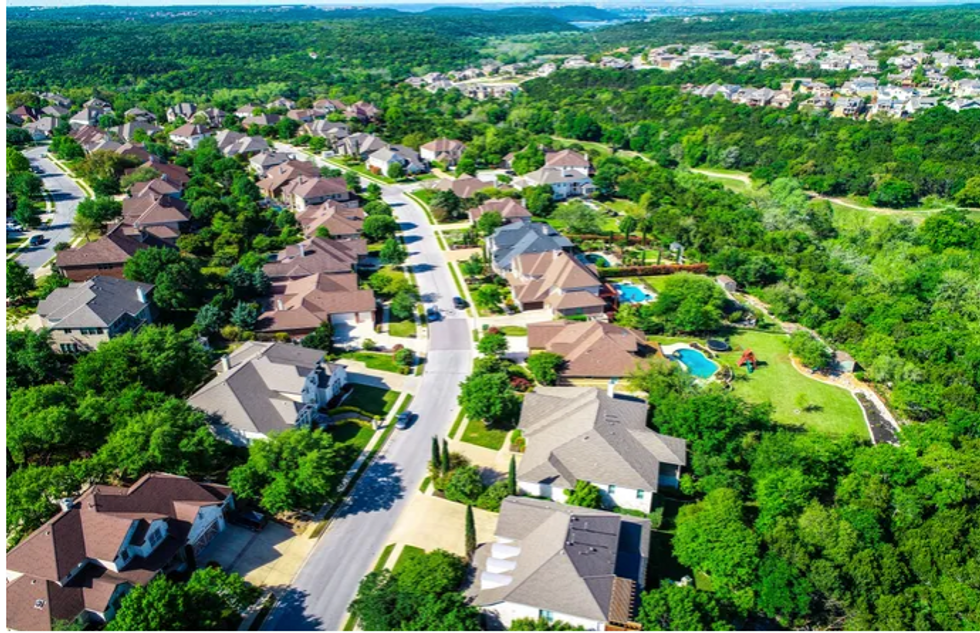 Housing has become a scarce commodity in Austin.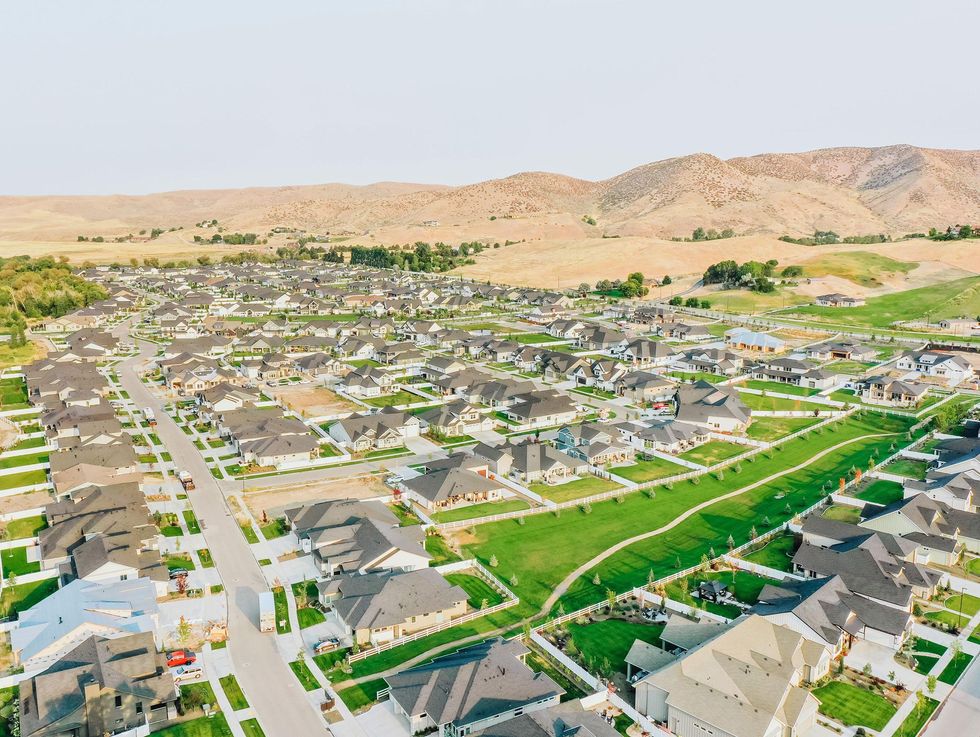 Both Boise and Austin are experiencing affordability issues thanks to an overpriced housing market. (Boise New Construction/Facebook)
Still, the effects of high-speed growth have done some major damage to both formerly sleepy cities.
Both cities pose higher than average incomes relative to their state. But thanks to a rapidly diminishing number of available homes for both new and old residents, both Boise and Austin ranked as the top two most overvalued housing markets in the country, according to a Florida Atlantic study.
With more and more residents priced out of homeownership and burdened with a higher cost of living, both Boise and Austin ranked below the top 30 in the financial stability index.
Both cities have seen even more development in neighboring suburbs—like Boise's Nampa, which was named the US's best-run city for the sixth year in a row—while its inner-city infrastructure often struggles to keep up with the times. While Boise's infrastructure and pollution ranked 32nd overall (Nampa ranked 77th), Austin's car-centric infrastructure ranked 45th.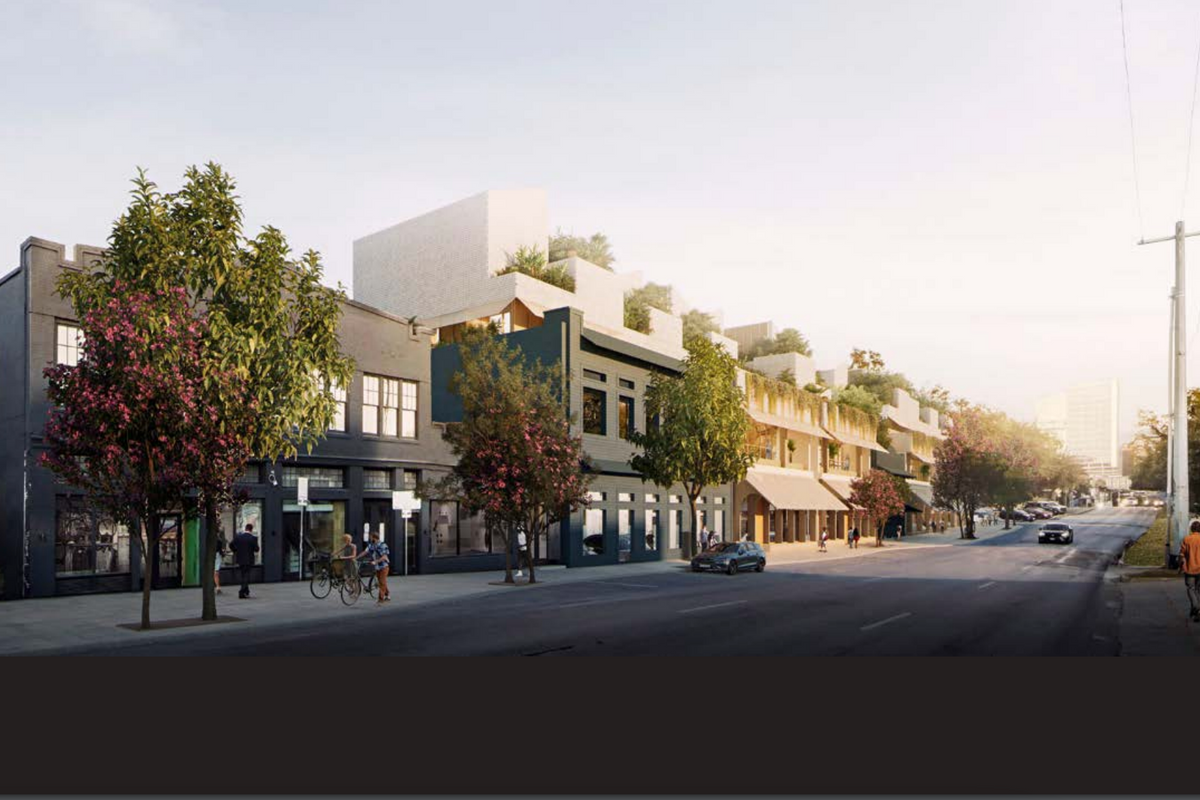 A new look could be coming to a stretch of West Sixth Street as plans for a vertical mixed-use development move forward.
Current plans for the development aim to bring retail, office space and a hotel between 1110 and 1204 West Sixth St. Known as Clarksville, the redevelopment includes a courtyard and plaza with multiple five-story buildings surrounding the area.
This comes as the area sees increased activity—a recent report by the Downtown Austin Alliance noted total monthly visits on West Sixth St. in late 2021 surpassed pre-pandemic levels.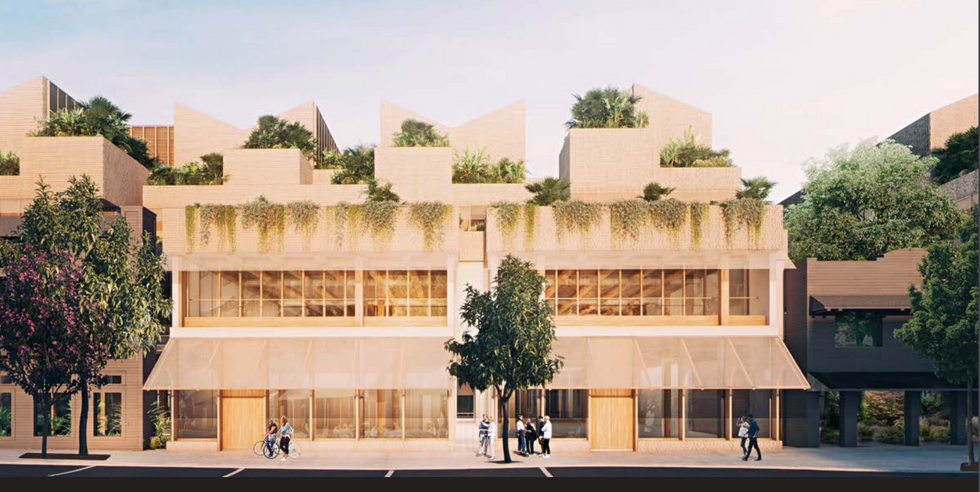 Earlier this week, the Austin Historic Landmark Commission heard an initial overview of the plans, as the project could possibly be in the Castle Hill and West Line historic districts.
The plan would also involve some demolition and reconstruction, though a number of current tenants could remain through that process, such as Woo Woo Burger, Swedish Hill and Wally Workman Gallery.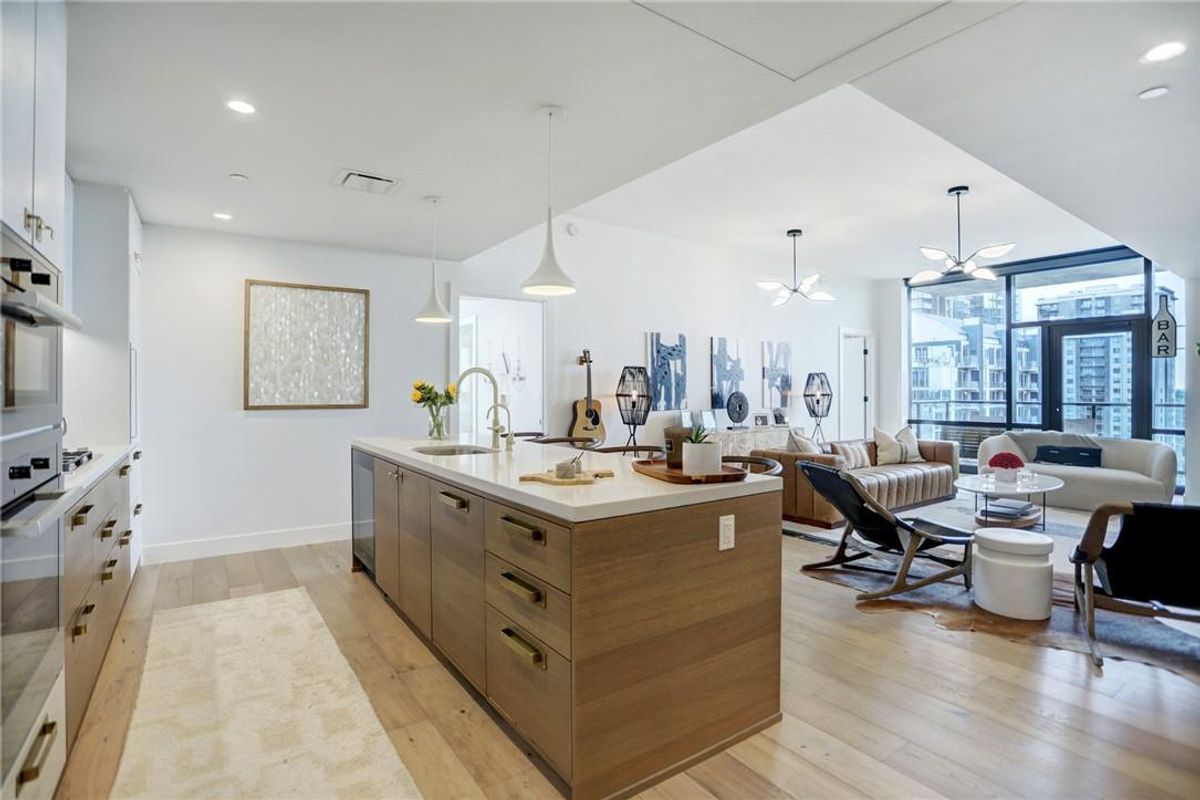 Panoramic skyline views, natural light galore and a life of luxury—all things you can experience if you live in one of Austin's famous downtown high rises.
Take a look inside these three condos that are on the market now.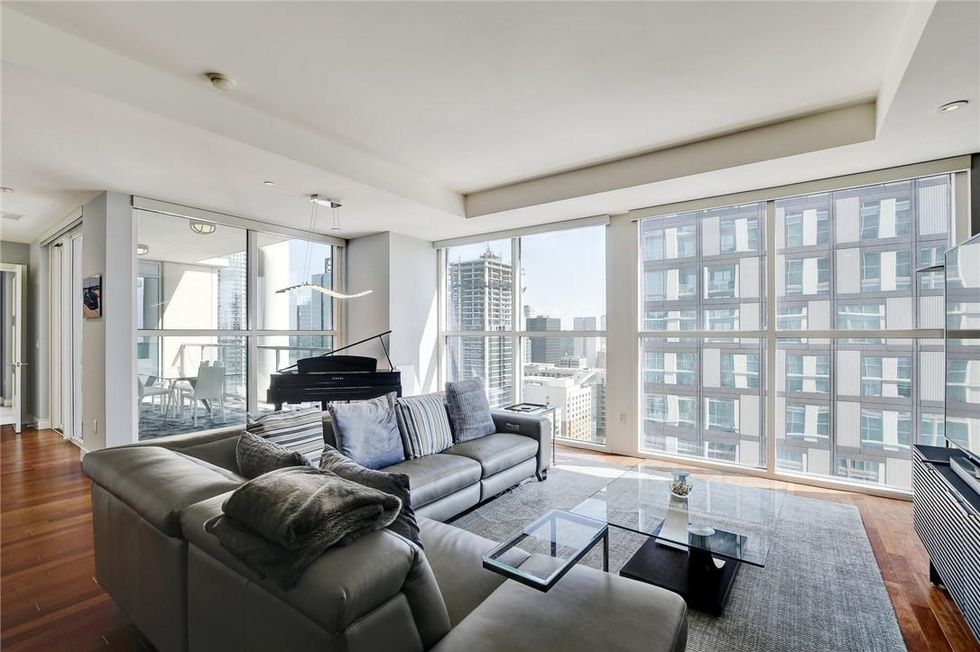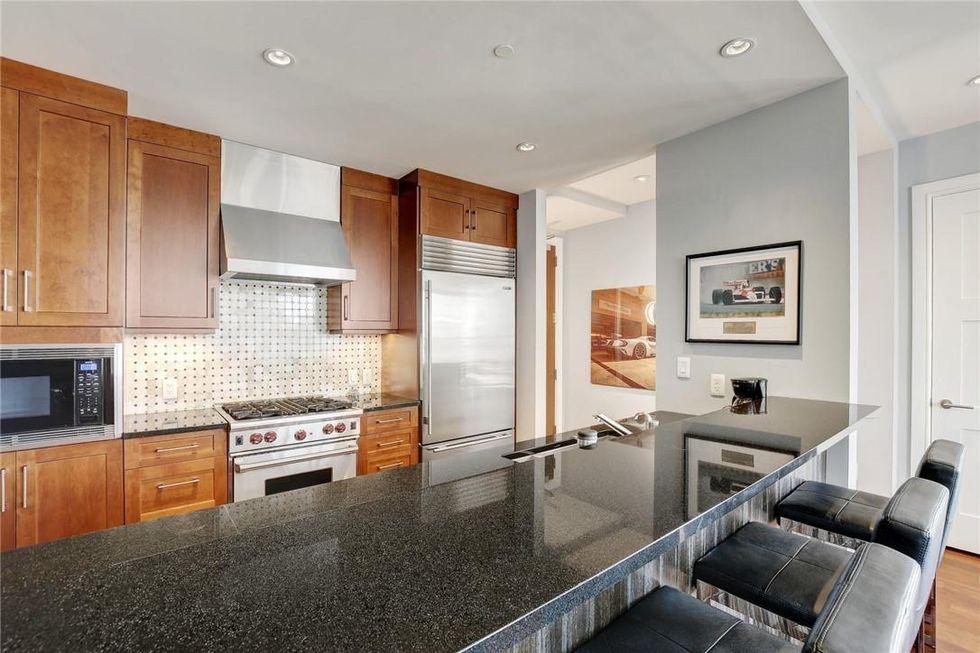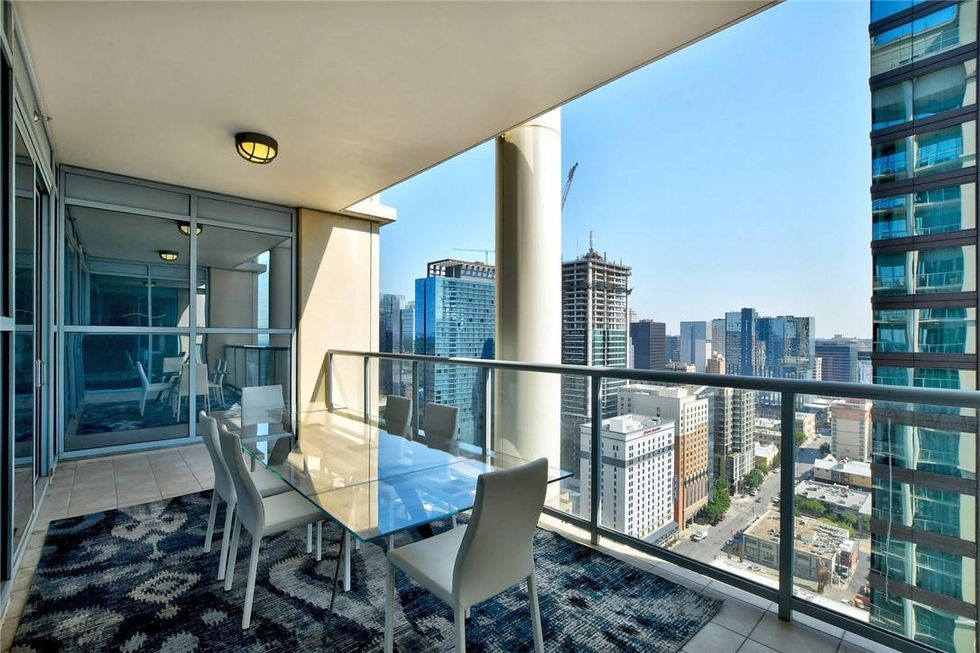 This spacious one-bedroom, one-bathroom Four Seasons home comes complete with a rare oversized balcony–a could-be "second living room" that stretches to the bedroom–and views of the Austin skyline. Built in 2010, the condo has modern features throughout its 1,060-square-foot floor plan and offers special perks for being a top-floor resident: concierge, valet parking, the rooftop pool, roof service and housekeeping.
This listing is held by Alan Holt of Compass.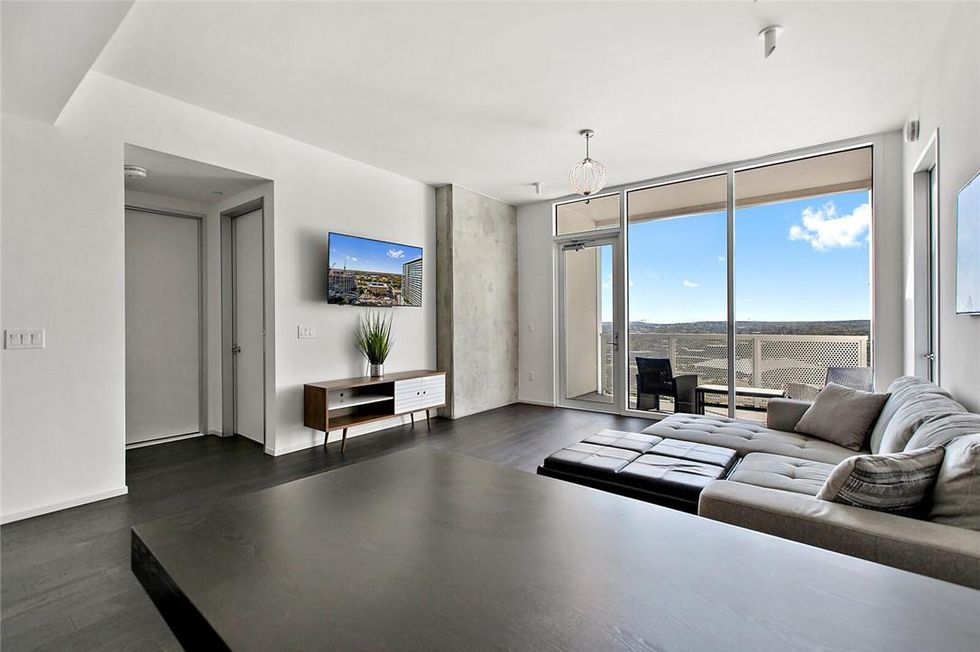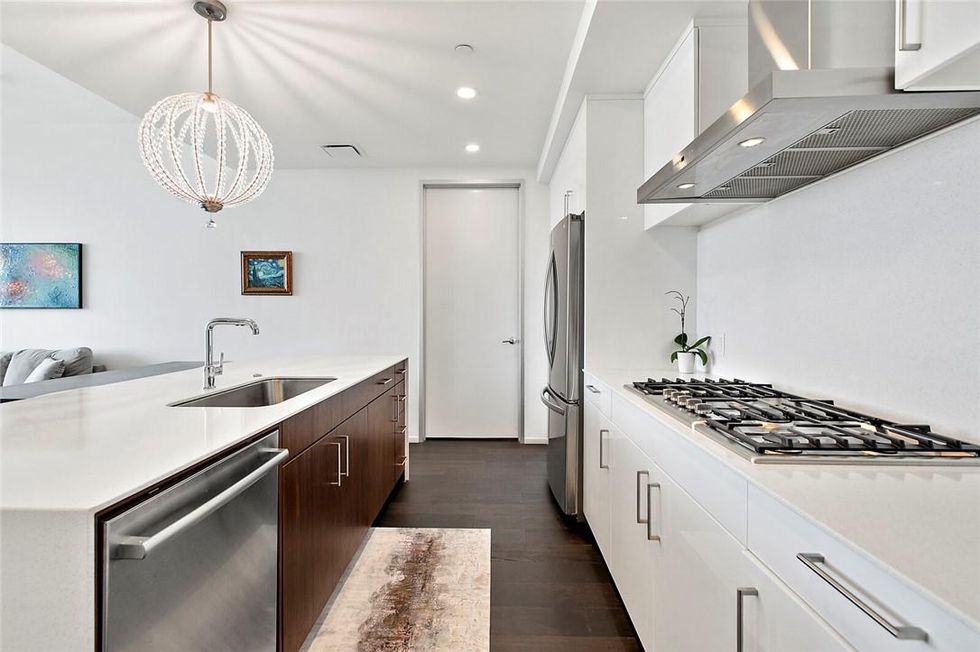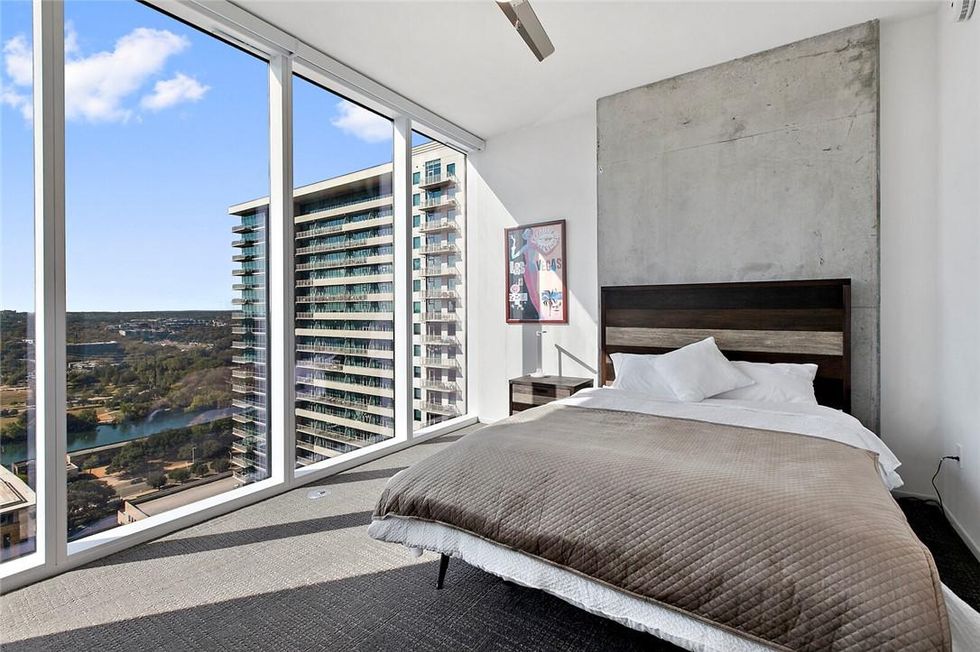 This two-bedroom, two-bathroom condo at The Independent faces south, securing panoramic views of Lady Bird Lake and downtown from its floor-to-ceiling windows that let in tons of natural light. The 1,262-square-foot floor plan feels especially spacious due to the open concept floor plan and 10-foot ceilings. Forget the modern finishes, ample amenities, guest suites and location—you can wake up to views of the capital city every morning if you can afford to live here.
This listing is held by Natalie Kalthoff and Krystle Copulos of Compass.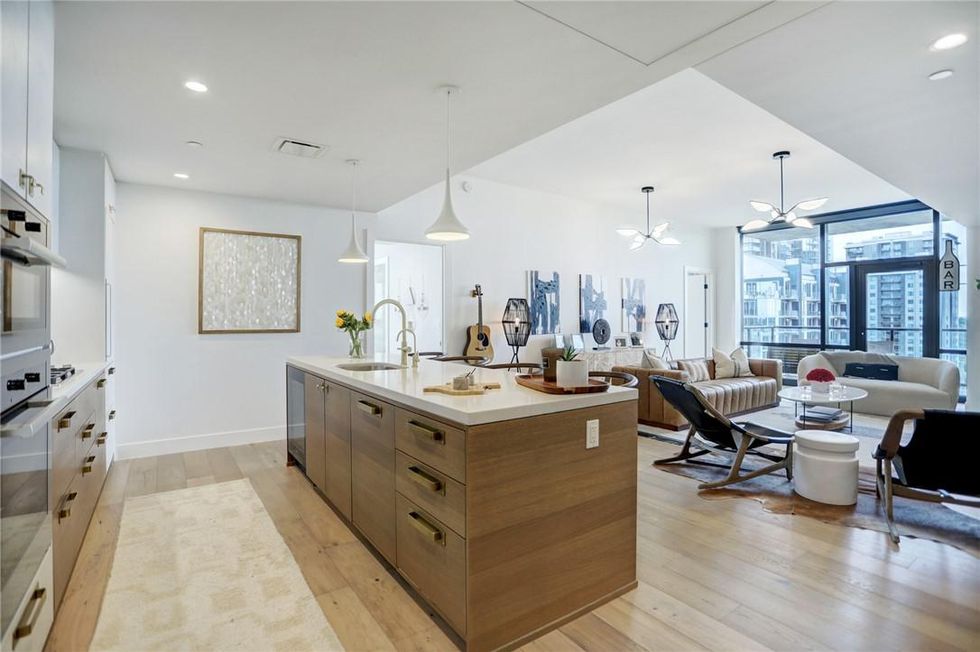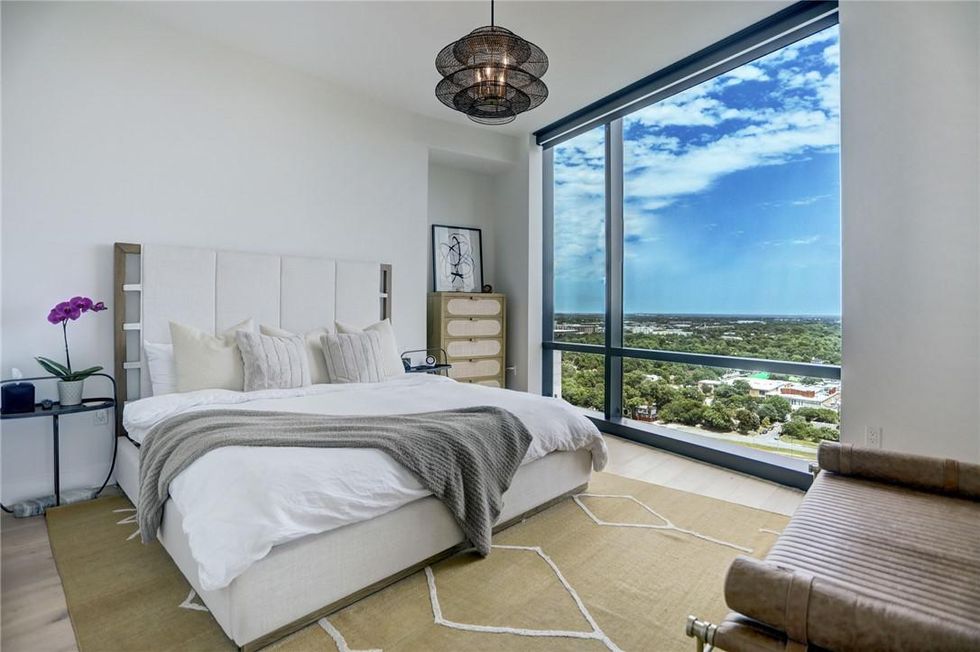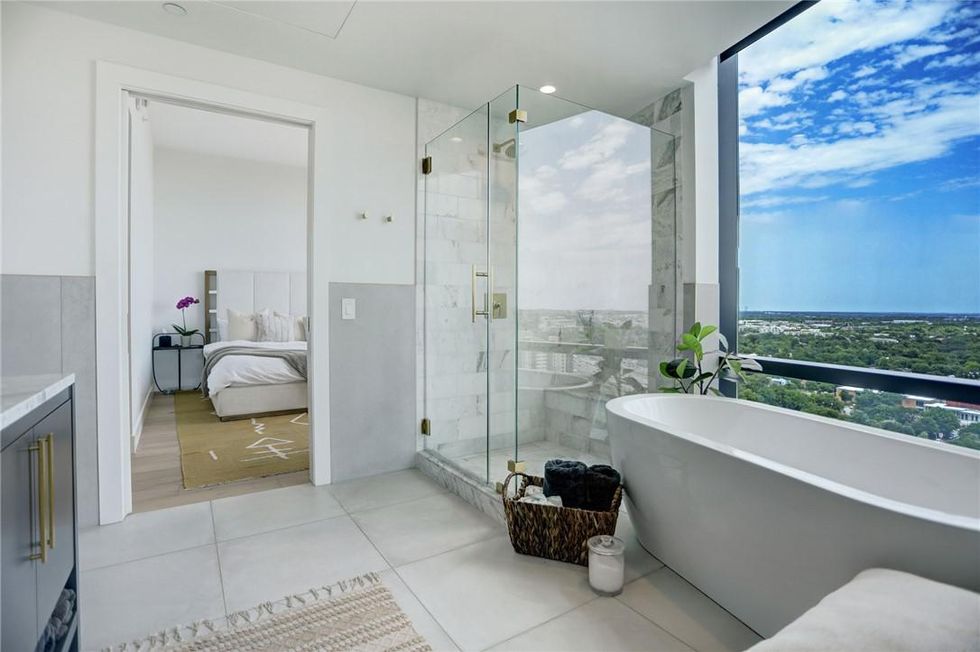 Located at 70 Rainey, this two-bedroom, two-bathroom condo has an ample 1,697 square feet of space that you can make the most of with an open floor plan. Built in 2018, it has features like the floor-to-ceiling glass windows, hardwood European oak flooring, marble bathrooms, custom finishes, motorized window shades and Miele appliances give this home its luxurious feel. This condo's price has dropped by a little more than $500,000, so now is the chance to live the luxurious lifestyle for a good deal.
This listing is held by
Leslie L. Thompson of Compass.