Get connected with our daily update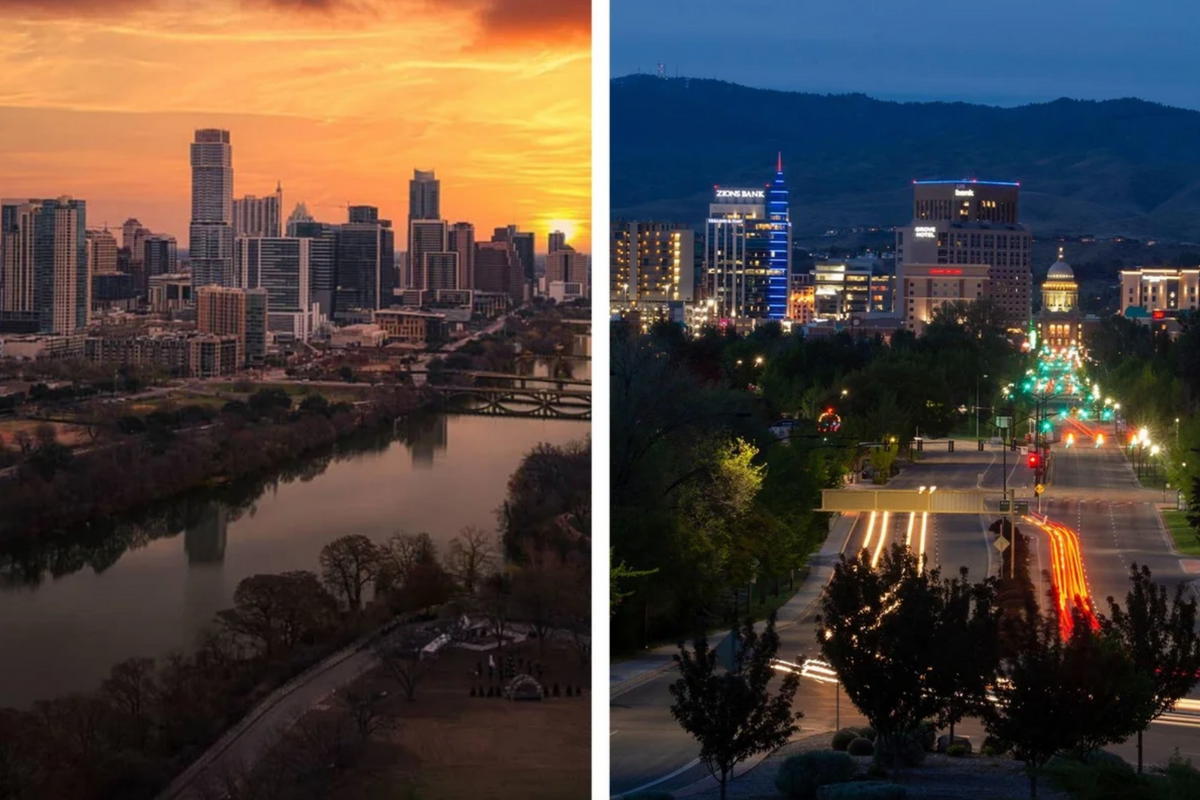 Last year, we examined how Austin has an unlikely lookalike in Boise, Idaho, a fast-growing metro that, like Austin, has earned both praise and ire as thousands flock to the city.
---
But while Boise and its suburb, Nampa, were named the two best-run cities in America by WalletHub, Austin ranked 85th—below fellow hubs Phoenix and Miami and six fellow Texas cities.
The study, which measures 150 US cities across 38 metrics, compared each metro's quality of city services to its city budget per capita. While Boise ranked third in both categories, Austin's 12th-best quality of services was offset by a city budget that ranked 112th per resident.
Here's a look at how the Sun Belt's former pride and joy fell so far below its tinier "twin":
Booming economies—both cities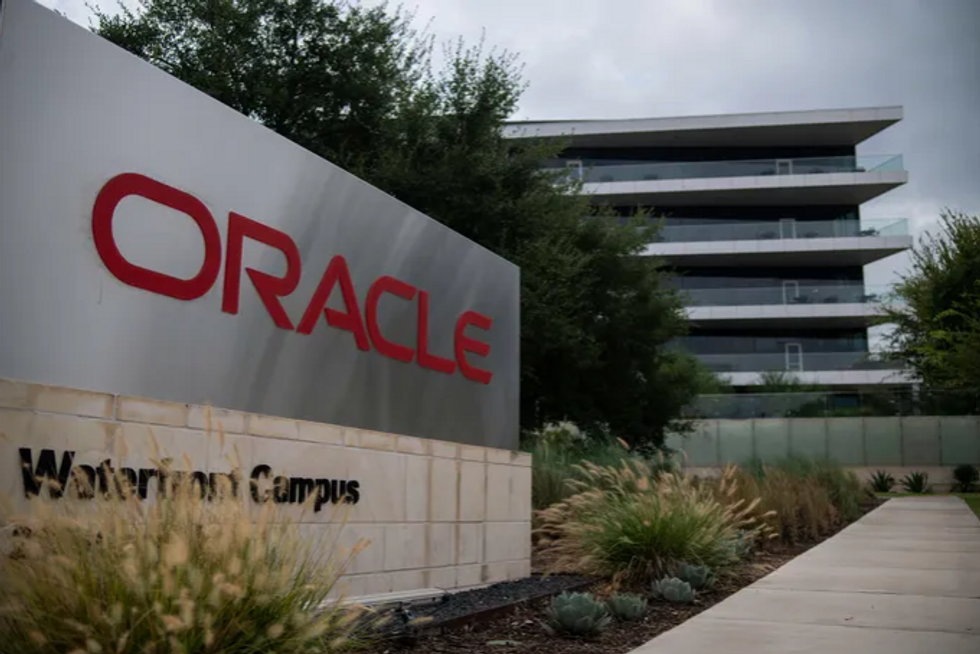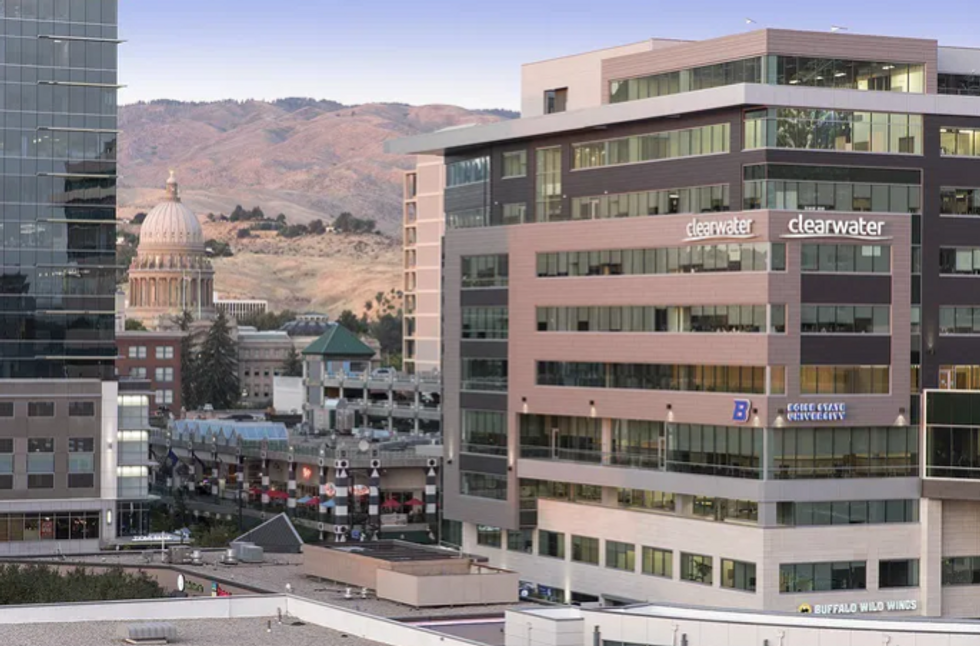 Both Boise and Austin ranked in the top 5 for their economies, with Austin taking the cake.
Bolstered by a mass pandemic migration and tech influx, both metros are caught "mid-metamorphosis" as they quickly transform into major cities. While Austin suburbs Georgetown and Leander both saw the fastest growth of any metros from July 2020-2021 with double-digit growth, three Boise suburbs—Meridian (5.2%), Caldwell (5.2%) and Nampa (5.0%) rounded out the top 10.
Tech giants like Tesla and Oracle, alongside other developments in tech and business, helped Austin produce one of the fastest-growing economies in 2021. And with employers like Albertson's, Hewlett-Packard and Micron Technology, Boise's unemployment rate sat at 2.4% in April—well below the national average of 3.6%.
City budget, safety—Boise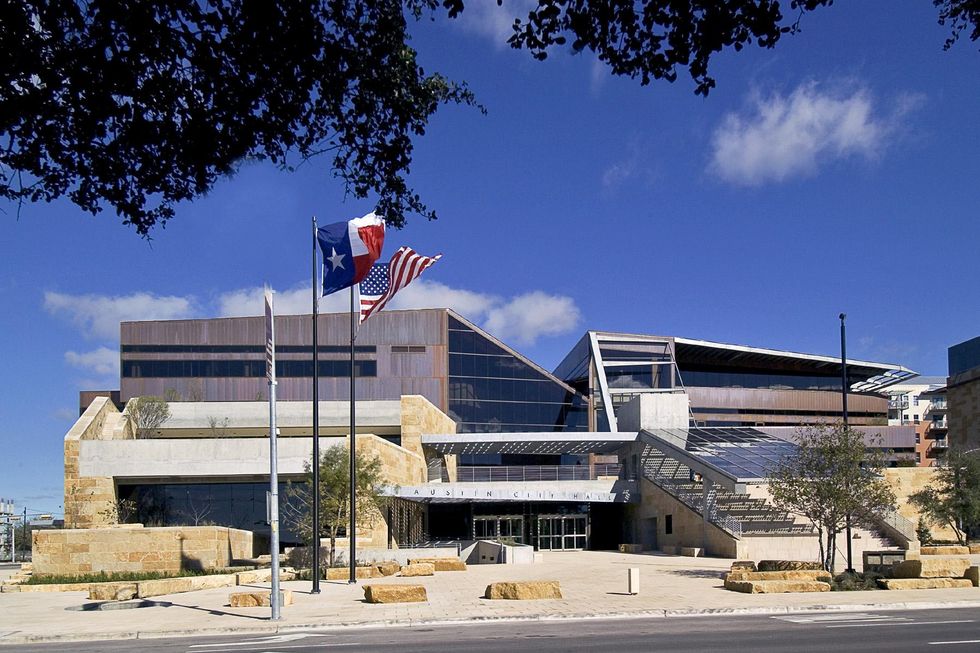 Austin's city budget for 2022 was around $1.2 billion. (Hensel Phelps)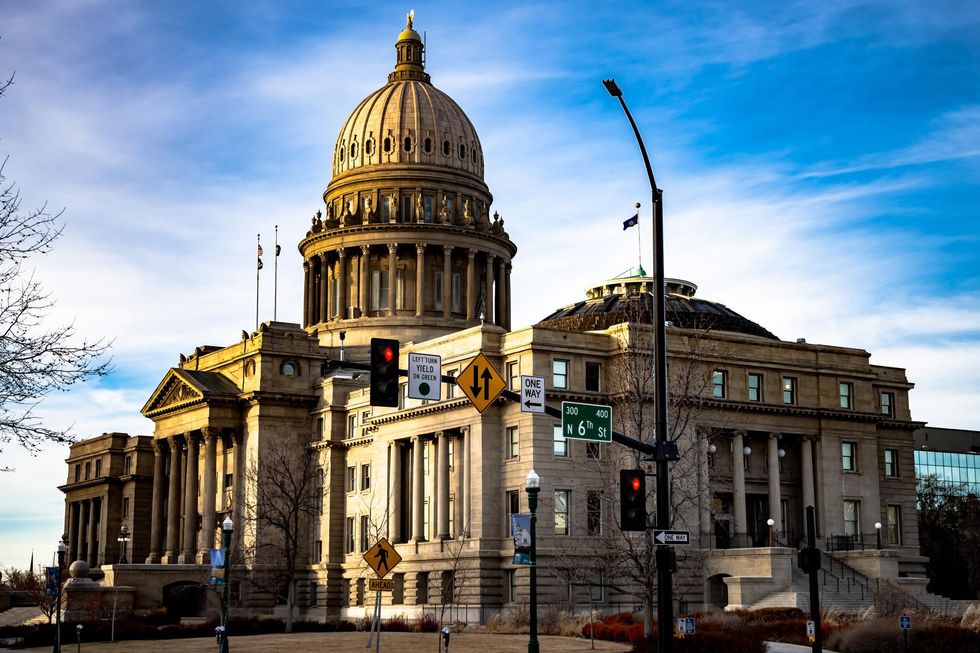 Boise's City Hall offers 42% of its budget to general funds. (Boise City Council/Facebook)
With a $661.8 million budget and a projected population of just over 235,000, Boise has the third-best city budget per capita.
As the city experiences rapid change, city leaders said their budget priority was community-oriented, including "housing, transportation, environment, and more," and that 42% of the budget went to general funds.
And while Austin had a $4.5 billion budget this year, the city had to stretch that among its nearly 1 million residents. 1.2 billion—or 26%—of the budget was placed in general allocation, with two-thirds of that slotted toward public safety.
Austin remains one of Texas' safest cities, according to Police Chief Joseph Chacon, but pales in comparison to Boise. While Austin ranked 71st in safety, Boise clocked in at eighth. Boise's crime rate per 1,000 citizens was 35.5 in 2020, a 2.4% decrease from the year prior, while Austin's was 40.98 in the same time period.
Education, health—Austin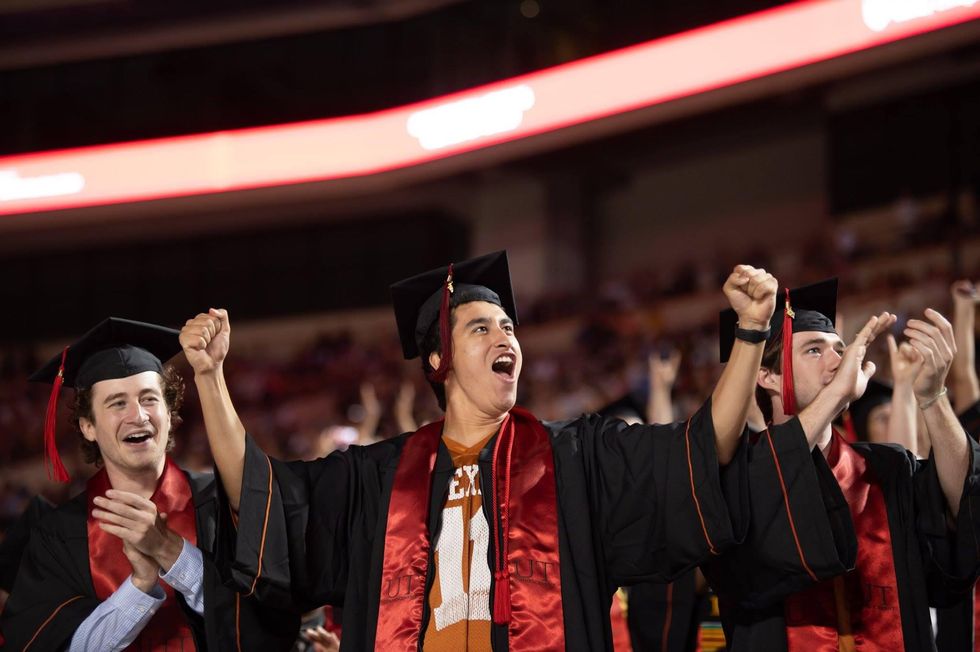 Austin has become known as a "brain drain" in part thanks to the University of Texas. (University of Texas at Austin/Facebook)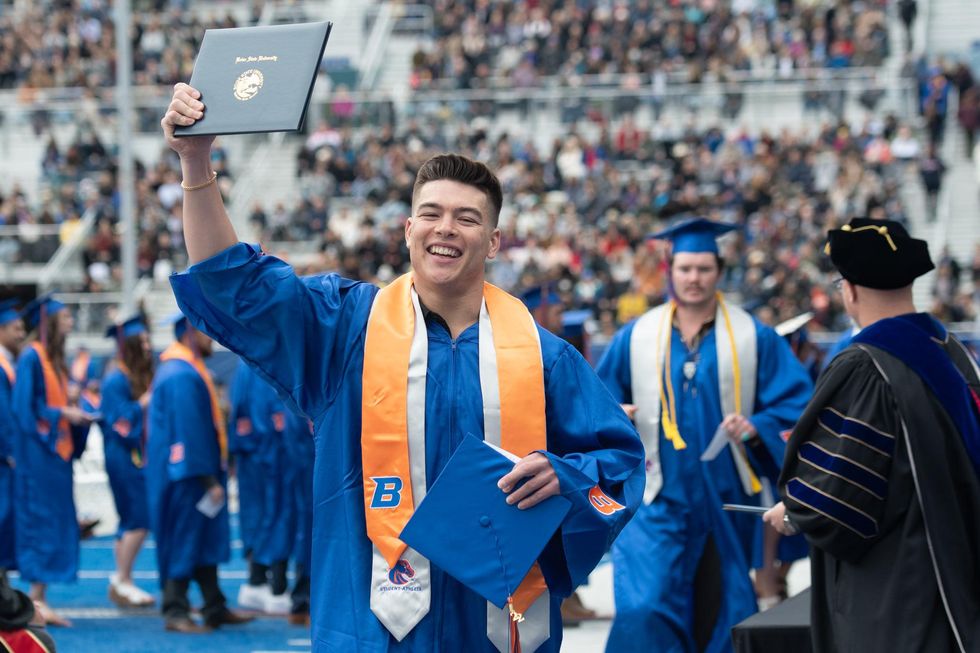 Boise's biggest university is Boise State University. (Boise State University/Facebook)
Aside from its top economy ranking, Austin also shone in its high school graduation rate, which clocked in at 1st in the US. Known as a "brain drain" city, Austin's college-town status and wealth of job opportunities have created one of the most educated populations in the U.S.
Three of the top 25 public high schools in Texas are located in Austin, and the city's education system ranked 16th. And while four of the top 10 high schools in Idaho are located in Boise, the city's overall education earned just 41st place.
Both cities are known as fitness and health havens thanks to robust outdoor amenities and health-conscious residents. But Austin still edged out its Idahoan lookalike, ranking 7th overall to Boise's 10th.
Affordability and infrastructure issues—both cities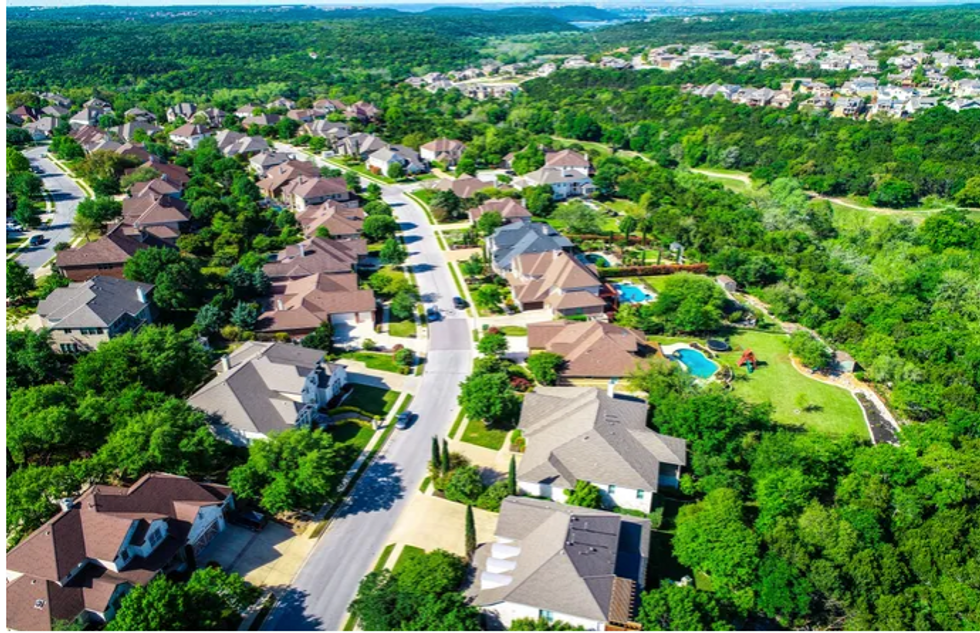 Housing has become a scarce commodity in Austin.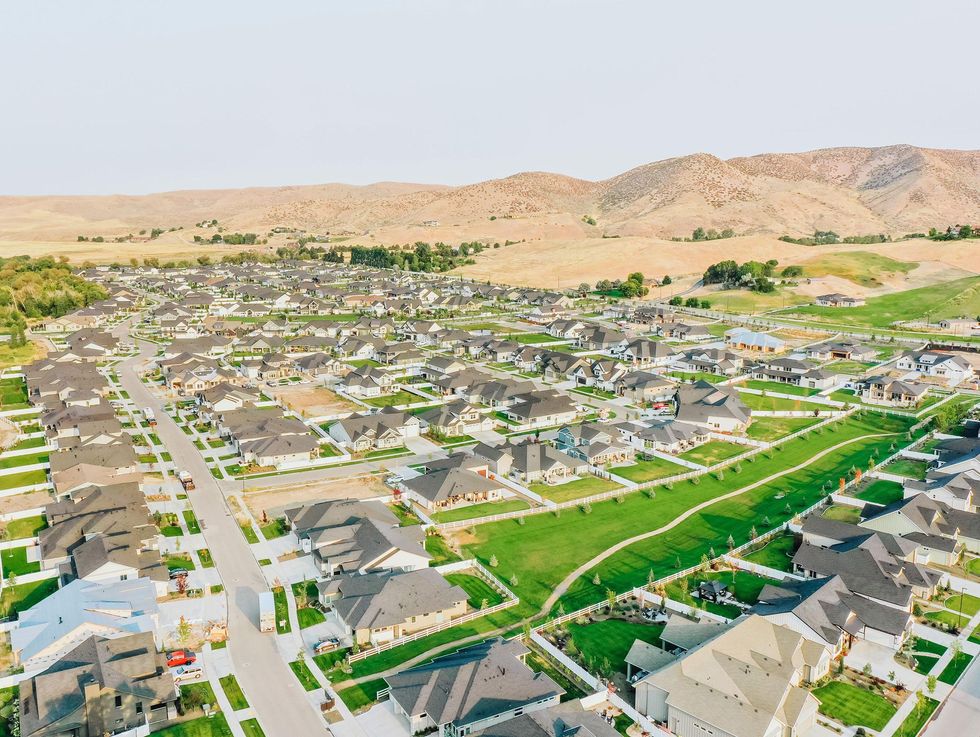 Both Boise and Austin are experiencing affordability issues thanks to an overpriced housing market. (Boise New Construction/Facebook)
Still, the effects of high-speed growth have done some major damage to both formerly sleepy cities.
Both cities pose higher than average incomes relative to their state. But thanks to a rapidly diminishing number of available homes for both new and old residents, both Boise and Austin ranked as the top two most overvalued housing markets in the country, according to a Florida Atlantic study.
With more and more residents priced out of homeownership and burdened with a higher cost of living, both Boise and Austin ranked below the top 30 in the financial stability index.
Both cities have seen even more development in neighboring suburbs—like Boise's Nampa, which was named the US's best-run city for the sixth year in a row—while its inner-city infrastructure often struggles to keep up with the times. While Boise's infrastructure and pollution ranked 32nd overall (Nampa ranked 77th), Austin's car-centric infrastructure ranked 45th.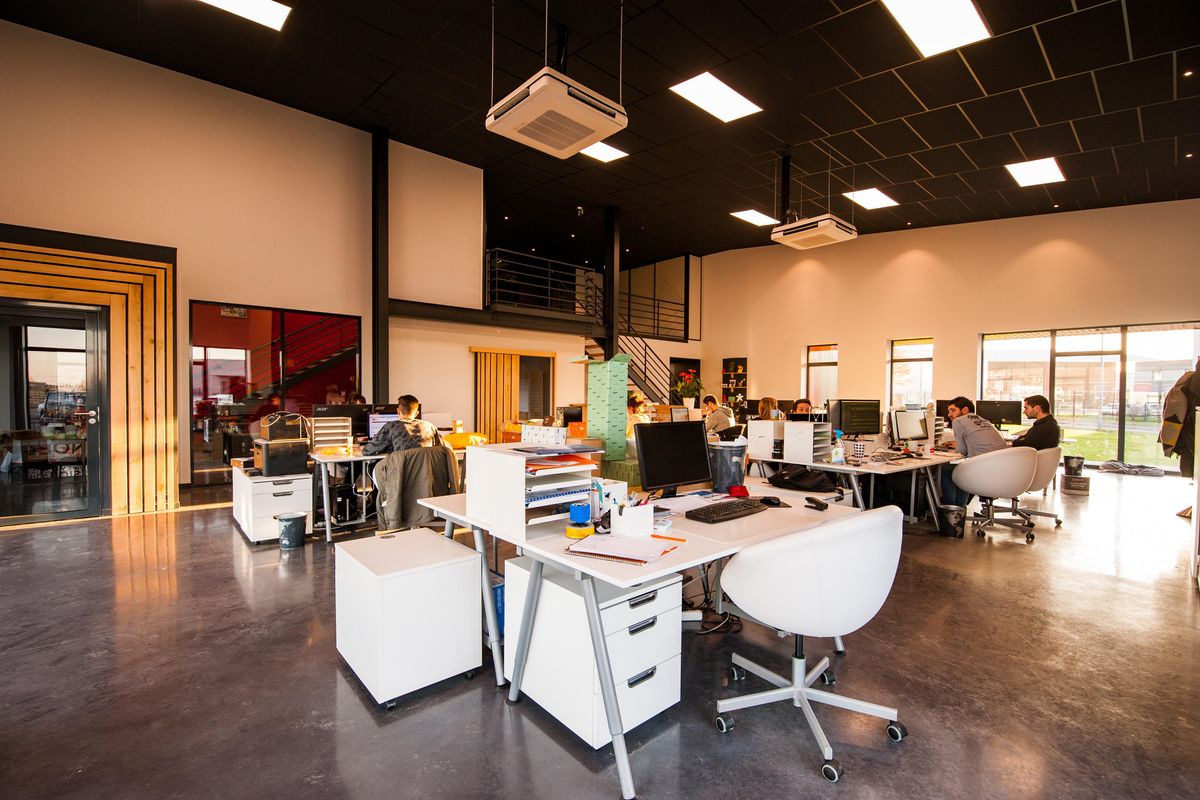 As Austin grapples with sky-high rents, even tech companies are seeing hefty costs for their dwellings.
A new report by commercial real estate and investment firm CBRE shows Austin is among only a handful of markets with more than 20% office rent growth from the first quarter of 2020 to the fourth quarter of 2021.
The average office rent per square foot is $45.11, which follows just behind the tech hubs of Manhattan and the San Francisco Bay Area. Except those places made the report's top five rank for tech talent while Austin just missed the cutoff at No. 6.
With the costs of setting up camp or expanding in Austin, will tech companies still see the capital city as worthy of an investment especially as a possible recession looms?
"Tech talent and the broader technology industry have time and again proven resilient amid economic cycles," said Colin Yasukochi, Executive Director of CBRE's Tech Insights Center.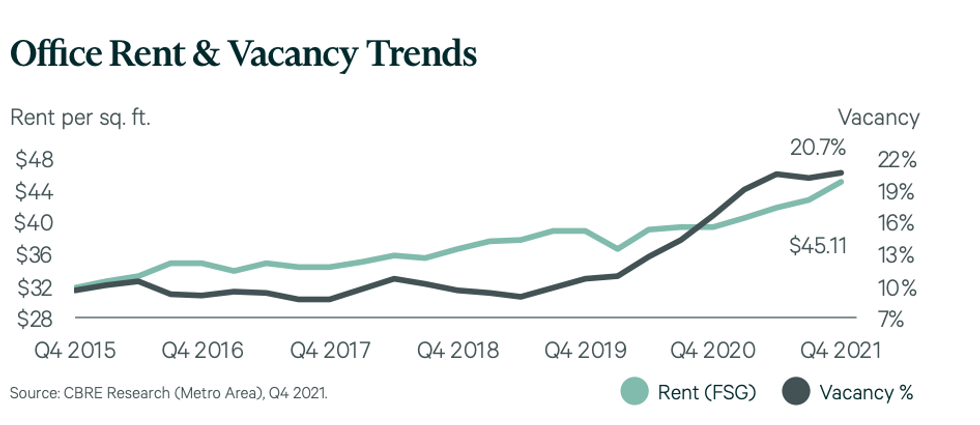 Still, employee wages are the largest cost for tech companies, behind office rent, and Austin workers don't come cheap. On average, the annual salary of tech workers here is $150,026.
But the report notes that Austin's talent is highly desirable and it's growing at a rapid pace. We have one of the highest concentrations of top-quality software engineering talent and the tech labor force saw a 21% growth rate.
And selling that talent on Austin might be an easier path than having them work and live on the coasts. Especially for recent grads and entry-level workers, the cost of living can play a major role in the path they take. In Austin, the rent-to-tech wage ratio is 19% compared to 32% in the New York metro and nearly 24% in the Bay Area.
So while Austin's talent pool may not be ranked on the same level as others just yet, the promise workers show now and in the coming years could be what's driving giants like Meta and Google to set up shop downtown. On top of that, North Austin is also seeing a breadth of office space. Late last year, Amazon announced an expansion at the Domain and plans to add 2,000 more corporate and tech jobs. And earlier this week, news broke that PayPal would be a tenant at a new Domain tower.
As Austin's tech scene continues to elevate its reputation, don't be surprised by techies making the Domain and downtown their home rather than sprawling across the city.
"Many (companies) understand the benefits of tech clustering and often place a higher value on specific submarkets and even specific streets convenient to tech talent," the report says.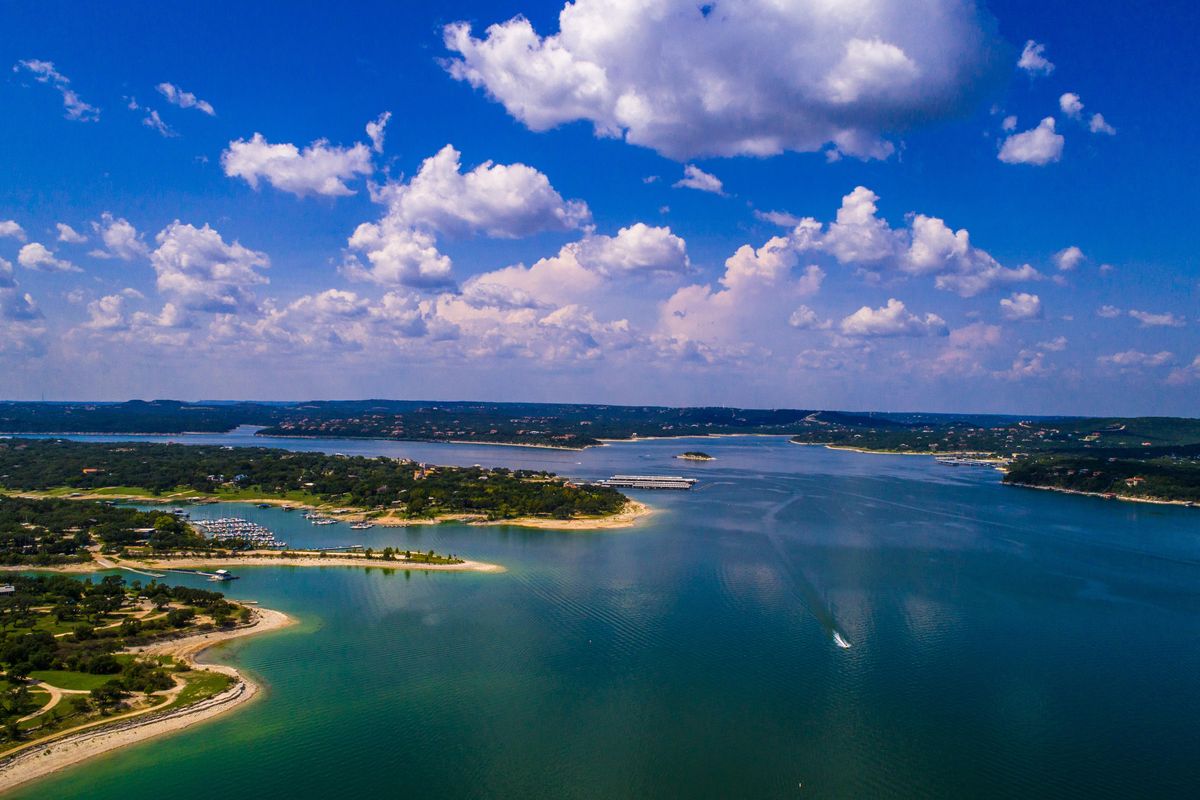 Travis Club, a massive 1,047-acre multi-use development, is getting closer to breaking ground in northwest Spicewood despite environmental concerns from nearby neighbors.
The development would include 274 single-family lots, 223 villa units, a marina and a golf course near the mouth of Lake Travis. The project has been proposed multiple times leading up to the vote, first in July 2008 under the project name Vizcaya.
The Travis County Commissioners Court voted 4-1 in favor of the new development—approving utility use and site plans—on Tuesday, bringing it one step closer to construction. Commissioner Brigid Shea cast the dissenting vote.
Concerned neighbors joined in on the meeting, citing concern for the habitat of the endangered Golden-Cheeked Warbler, worsening drought conditions and potential traffic disruptions.
Protecting the Golden-Cheeked Warbler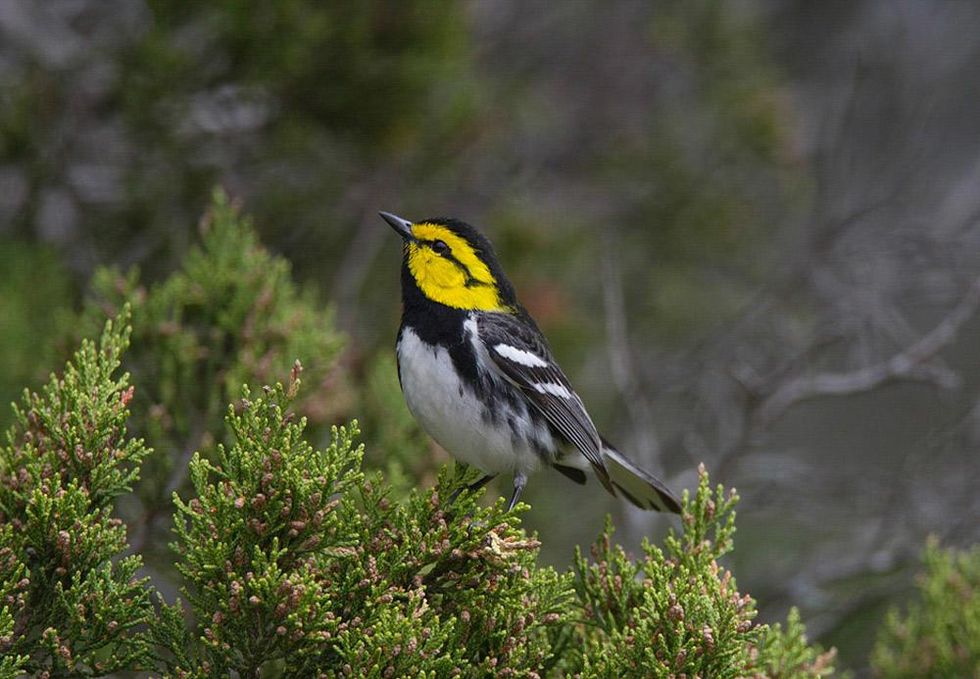 Concerns have gathered over the habitat stability of the Central Texas native Golden-Cheeked Warbler, which raises its young exclusively in the Hill Country.
Several neighbors have reported vegetation clearing on nesting grounds, which is prohibited by the moratorium between March 1 and Aug. 31, saying that could cause an existential threat to the bird. The developers have said they plan to set aside some land for conservation but have not released detailed plans.
Linda Pollock, a resident of Spicewood, implored the court to oppose the preliminary plan for a number of reasons, namely the damage it would cause to native flora and fauna.
"This land of the proposed development has been untouched, natural and native for many years," Pollock said. "There are mature native ash juniper trees that could be as old as 50 to 200 years. The continuous canopies that are provided by these mature ash junipers are a habitat for the Golden Cheeked Warbler, which has been sighted in the area."
During her time, Pollock explained that mature trees also bring up cool groundwater, which reduces erosion and helps with downslope flooding. Pollock said she hoped the court would determine "the development design is inappropriate, outdated and detrimental to the people and the environment."
Building a golf course in a drought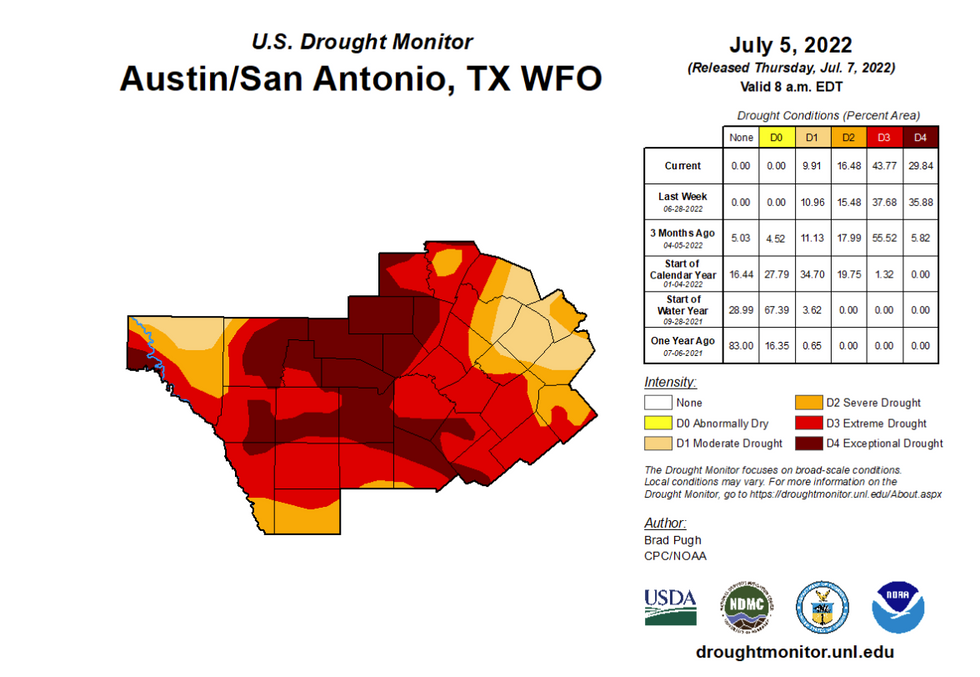 Travis County is currently under a D4, "extreme drought," with parts reaching D5, "exceptional drought," Micah King, representing Kit Bradford with law firm Husch Blackwell, mentioned but brought attention to drought conditions, followed by reiterating the need to protect the warbler.
"In our current drought situation, we're expected to have a mega-drought over the coming decades and just last week LCRA cut off water to its downstream agricultural customers to honor its firm water contracts," King said. "Why are we promoting a golf course and issuing an environmental variance when it's exactly the worst type of use you want to have in a buffer?"
Traffic concerns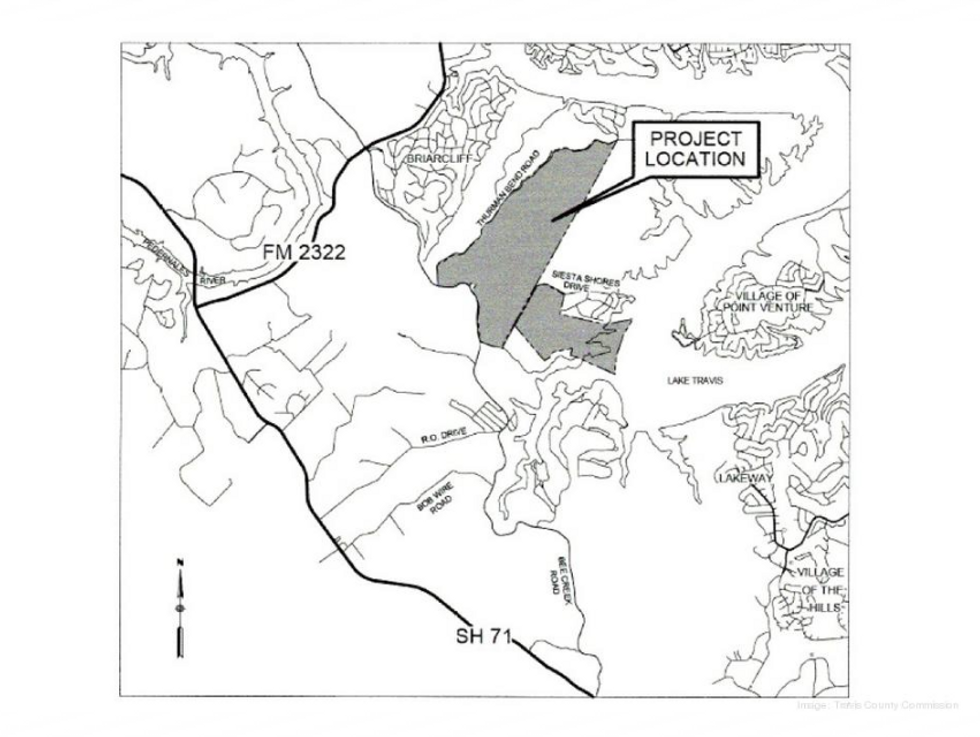 (Travis County Commissioners)
Nearly everyone who spoke brought up the Hill Country's famously narrow, windy and often dangerous two-lane roadways. Mayor of neighboring Village at Briarcliffe Al Hostetler said their government is "very much opposed" pending a traffic analysis on Bee Creek Road and Thurman Bend Road.
"Early approval will set the stage for disaster," Hostetler said. "There are ten curves, some of them very tight in that 1 and a half miles. Also, the intersection has been deemed dangerous enough for the highway department to post warning signs on bee creek that say 'box view.'"
Meanwhile, property association president of Angel Bay Charles Gordon said the analysis will be "critical" on such a "dangerous… winding road."
The project must now undergo traffic analysis, which is expected to take six-nine months, throughout all four stages of development before the commission will give further approval.