Austonia AM
100% Austin news, info, and entertainment, straight to your inbox at 6 a.m. every morning.
In five minutes, you're fully informed and ready to start another great day in our city.
Get connected with our daily update
New Austinites Joe Rogan and Elon Musk recently discussed their new home on an episode of "The Joe Rogan Experience": "I think Austin's going to be the biggest boomtown that America has seen in a half a century," Musk told the podcast host.
We've all heard the statistics. The Texas Demographic Center expects the five-county Austin metro to double in size by 2040, a projection that has spurred concerns about whether the city's infrastructure will be up to the task. But the city of Austin has been growing at a rapid clip since its founding in 1839, nearly doubling its population every 20 years, according to the U.S. Census Bureau.
---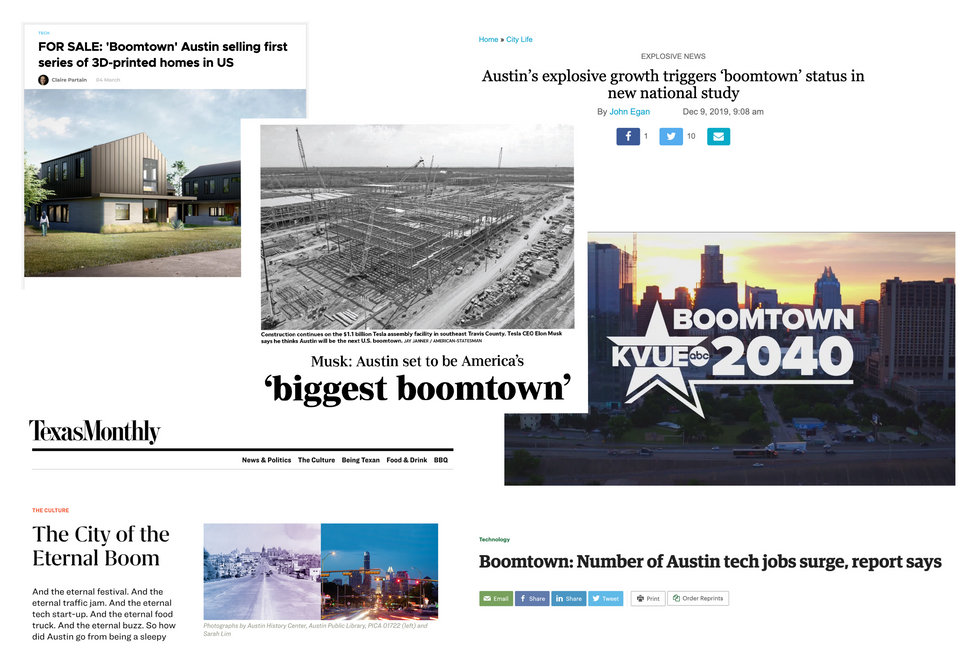 (Austonia)
Seen in this context, the Austin metro's current growth is nothing new. To better understand the city's magnetism, Austonia has looked at the drivers of migration—into Texas and Austin—starting with the 19th century. Stay tuned for more stories on what growth looked like in the 20th century, when World War II and other major historical events were reflected in new patterns, and since the turn of the 21st century.

Growing from the start

Texas' population growth predates its entry into the U.S. in 1845 and makes it an outlier among southern states, according to James Gregory, a professor of history at the University of Washington, where he directs the America's Great Migrations Project.
Migration from Tennessee, Alabama and Mississippi helped field the rebellion that led to Texas gaining its independence from Mexico in 1836, Gregory writes. In the wake of that event, southerners, many of them enslaved, continued to move west to expand the cotton belt, a region of the southern U.S. where cotton was the main cash crop from the late 18th through the 20th centuries.
This migration applied not only to Texas but also to Austin, which was purchased to serve as the capital of the Republic of Texas—independent from both Mexico and the United States—in 1839 and later became the capital of the state of Texas in 1846.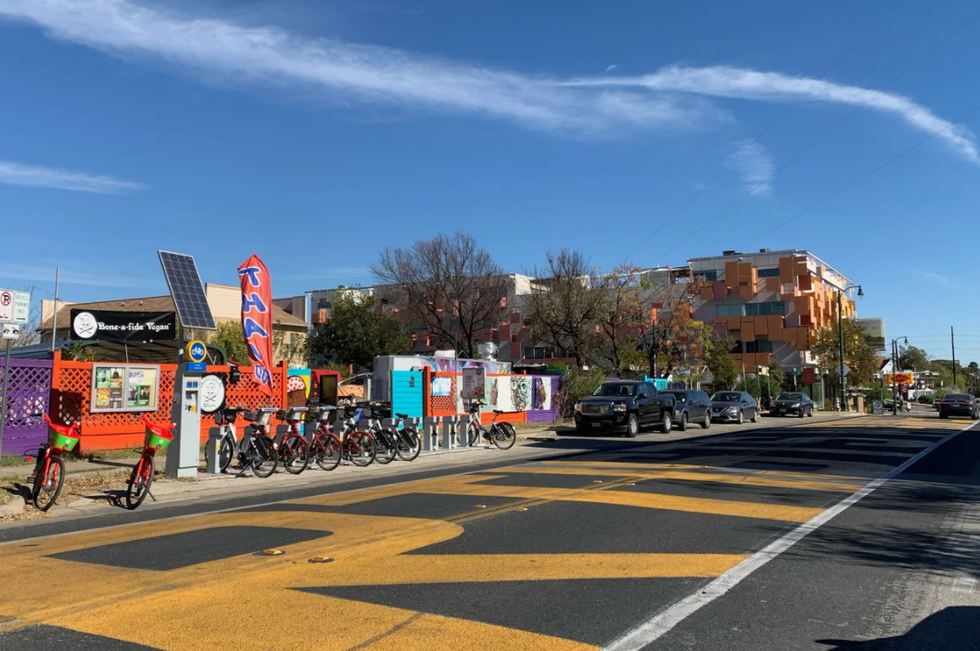 East 11th Street in Austin in November 2020. (Isabella Lopes/Austonia)
Austin City Council acknowledged this history earlier this month when its members approved a resolution directing staff to devise a plan to create a "Black Embassy" in East Austin. The resolution also formally apologized for the city's participation in the enslavement of Black people, segregation and other intentionally racist practices and expressed support for a national program of financial reparations for descendants of slaves.
"The first census in 1825 showed Austin with 450 slaves, which was 35% of the population count," Austin Mayor Steve Adler said at the March 4 meeting. "By 1860, the number of slaves were increasing faster than the population as a whole."
Colonization laws that provided settlers with additional land for each slave gave way to other forms of institutionalized and codified racism, from denying Black residents the right to vote in the early 20th century to the city's adoption of the 1928 master plan, which limited public services for Black residents to a "negro district" east of I-35.

After the Civil War, population growth in Texas was spurred by the arrival of residents from nearby southern states. These migrants faced economic problems related to the war and "saw Texas, with its extensive public lands, as a place of opportunity," according to the Texas State Historical Association's Handbook of Texas. Although Southerners "posed no threat to the dominant culture of the state," the Black population continued to face racist policies through the Reconstruction period, free but not accepted as such.
International migration
In addition to the influx of domestic migrants, Texas also grew in population due to the immigration of European immigrants, the bulk of whom hailed from Germany.
Starting in the 1830s, German settled in ethnic enclaves stretching from Galveston to the Hill Country following in the footsteps of Johann Friedrich Ernst, who settled in Austin County, west of Houston, in 1831 and wrote letters to his friends back home that inspired a chain of migrants. "He described a land with a winterless climate like that of Sicily," according to the TSHA handbook, with low taxes and fertile soil.
In addition to Ernst's role, the German Revolution in 1848—and the years of discontent leading up to it—also prompted a wave of migrants to seek opportunity in Texas, far from the unconsolidated states that would eventually unite to form Germany. This wave of migrants founded the towns of New Braunfels and Fredericksburg. "I like to consider them entrepreneurs," said Janis Gonser, president of the Austin-based German-Texans Heritage Society.
During this period, German immigrants encountered Texan conflicts. Before its independence, Mexico was looking for settlers to create a kind of buffer zone between its heartland and the Comanche Nation. "This was an area of contested land between multiple groups," GTHS Executive Director Christopher Markley said. When Texas gained its independence and joined the U.S., German immigrants found themselves caught in the middle again. "When the Civil War broke out, that was a big conflict for the Germans," Gonser said. "They had just left a country in conflict."
This migration tapered off toward the end of the 19th century and stopped when the Great Depression hit. Another wave of German immigrants arrived in Texas in the post-WWII period—many of them war brides—but by then their influence had already taken root.
In addition to their brewing skills (the founder of Shiner Bock was born in Bavaria), contributions to Tejano music (a blend of Eastern European folk music, including polka, and traditional Mexican styles), role as barbecue pioneers and beloved events (such as Wurstfest and assorted Christmas markets), German immigrants were key advocates for free public education in Texas.
Missing the free schools they were used to in their homeland, German-Texans built schools open to all children, including the German Free School in downtown Austin, which is the city's third oldest building. "There are records that show full integration," Gonser said, citing co-educational enrollment as well as a mix of religions and ethnic backgrounds. "In the 1860s and '70s that was revolutionary."
More than 160 years later, the school remains in use and is now home to GTHS and its ongoing German language classes. In addition to serving long-time Texans with German heritage, the society also attracts people like Gonser, who have moved to the Austin area from Germany in recent years, drawn by the growing tech industry and other opportunities. "Now today I see another wave of Germans coming in the last 10 years," Markley said. "I call them the New Germans."
Check back tomorrow when Austonia will look at migration and population growth in the Austin area during the 20th century.
In a scene that seemed to mark the pandemic's triumphant end, over 20,000 mostly maskless fans packed into Q2 Stadium for Austin FC's debut at Austin's first professional sports stadium in June. That mask-free utopia couldn't have been possible even a month before, and it may not be possible once more as Austin and the CDC returns to mask recommendations again for the first time since May.
Austin returned to Stage 4 restrictions on July 23 as case rates tripled since the beginning of the month and hospital beds once again filled with COVID patients. The spike comes after the highly contagious Delta variant was detected in Travis County. In its Stage 4 announcement, APH said its recommendations will not affect large events, such as Austin FC games, from operating.
More recently, the CDC updated its recommendation for vaccinated people on Wednesday, saying that all people in high-risk areas—including Austin with more than 50 COVID cases per 100,000 people—wear masks.
With businesses reinstating mask policies and new fear in the air, Q2's carefree party atmosphere may be affected. The club released the following statement to Austonia: "Austin FC encourages all guests to observe Austin Public Health's recommendations and take appropriate action based on individual circumstances."
After Austin voters passed Proposition B, reinstating a ban on public camping, City Council directed staff to look into possible sanctioned campsites where homeless residents could live legally. Now two members are asking to shelve discussion on the controversial topic.
Staff presented dozens of possible sanctioned campsites across each fo the 10 council districts in late May, following the election. But members mostly pushed back on the proposed locations, citing cost, wildfire risk and lack of transparency as concerns.
With updated criteria, staff recommended two sites—one in District 1 and the other in District 8—for further review last week. After being briefed on the options during Tuesday's work session, Mayor Pro Tem Natasha Harper-Madison, who represents District 1, and Council Member Paige Ellis, who represents District 8, issued a joint statement proposing "a pause" on further discussion of temporary sanctioned encampments.
"We are not convinced that these sites would be a cost-effective solution, but rather a band-aid tactic when we need to be supporting the long-term strategy to get folks off the street permanent," they said. "It is our responsibility to look at the situation holistically and objectively, and to spend out city's limited resources on solutions we know can work."
Homeless Strategy Officer Dianna Grey noted that the two locations were imperfect and would require a lot of time and money to outfit as sanctioned campsites during the briefing.
City staff and homeless experts have previously raised concerns about sanctioned encampments, saying they are expensive to maintain, challenging to manage and hard to close, even when intended to to be temporary.
In 2019, staff declined to make recommendations for such sites despite being directed by council to do so, citing 2018 guidance from the U.S. Interagency Council on Homelessness. "Neither authorized encampments nor parking areas provide housing for people experiencing homelessness," staff wrote in a memo. "Rather, each option detracts from the staff resources assigned to addressing this moral imperative."

But with Prop B being enforced and too few shelter beds and affordable units for the estimate unsheltered homeless population in Austin, the city is facing the same predicament that prompted District 9 Council Member Kathie Tovo to pursue possible sanctioned campsites in the first place: "When individuals in encampments ask where they should go, we need to have places to suggest," she said at a May 6 council meeting.
Don't lose your mask just yet—the Centers for Disease Control and Prevention announced it is now recommending masks in areas that are surging as cases rise nationwide and the Delta variant looms.
The CDC announced Tuesday that even fully vaccinated individuals should mask up indoors if their community is experiencing substantial transmission—defined as areas with more than 50 cases per 100,000 people. Travis County is sitting at an average of 94.59 cases per 100,000 over the past seven days, falling into the highest risk category, according to the CDC.
#DeltaVariant surging in U.S. New data show Delta much more contagious than previous versions of #COVID19. Unvaccinated people: get vaccinated & mask until you do. Everyone in areas of substantial/high transmission should wear a mask, even if vaccinated. https://t.co/tt49zOEC8N
— CDC (@CDCgov) July 27, 2021
After two COVID-19 recommendation stage jumps in the last two weeks, from Stage 2 to Stage 4, Austin-area cases are the highest they have been since February. The seven-day average for cases is on an upward trend, reaching 226 on Tuesday.
The CDC is also recommending that all students K-12 wear masks indoors, regardless of vaccination status. A May executive order by Gov. Greg Abbott prohibits schools from requiring masks, regardless of vaccination status. Austin ISD is "strongly" encouraging students to wear masks.
Although vaccinated individuals are still protected against the most severe symptoms of the variant, infections are spreading rapidly and now make up 83% of confirmed cases in the U.S. At least a dozen cases of the delta variant have been confirmed in the Austin area, though there are likely more since testing for it is limited.
CDC Director Dr. Rochelle Walensky said that hospital admissions are "almost exclusively" coming from people who are unvaccinated but those who are vaccinated can still catch and spread the virus.
"Unlike the alpha variant that we had back in May, where we didn't believe that if you were vaccinated you could transmit further, this is different now with the Delta variant," Walensky said. "That leads us to believe that the breakthrough infections, rare that they are, have the potential to pool and transmit at the same with the same capacity as an unvaccinated person."
Research suggests those who become infected carry 1,000 times more of the virus than other variants and could stay contagious for longer.
The announcement comes on the heels of the Biden administration ramping up cautionary measures in the face of the Delta variant. Just last week, the CDC said it had no plans to change its May guidance of vaccinated not having to wear masks unless there was a significant change in the data. Officials met on Sunday night to review new evidence,
according to reports.