Get connected with our daily update
New Austinites Joe Rogan and Elon Musk recently discussed their new home on an episode of "The Joe Rogan Experience": "I think Austin's going to be the biggest boomtown that America has seen in a half a century," Musk told the podcast host.
We've all heard the statistics. The Texas Demographic Center expects the five-county Austin metro to double in size by 2040, a projection that has spurred concerns about whether the city's infrastructure will be up to the task. But the city of Austin has been growing at a rapid clip since its founding in 1839, nearly doubling its population every 20 years, according to the U.S. Census Bureau.
---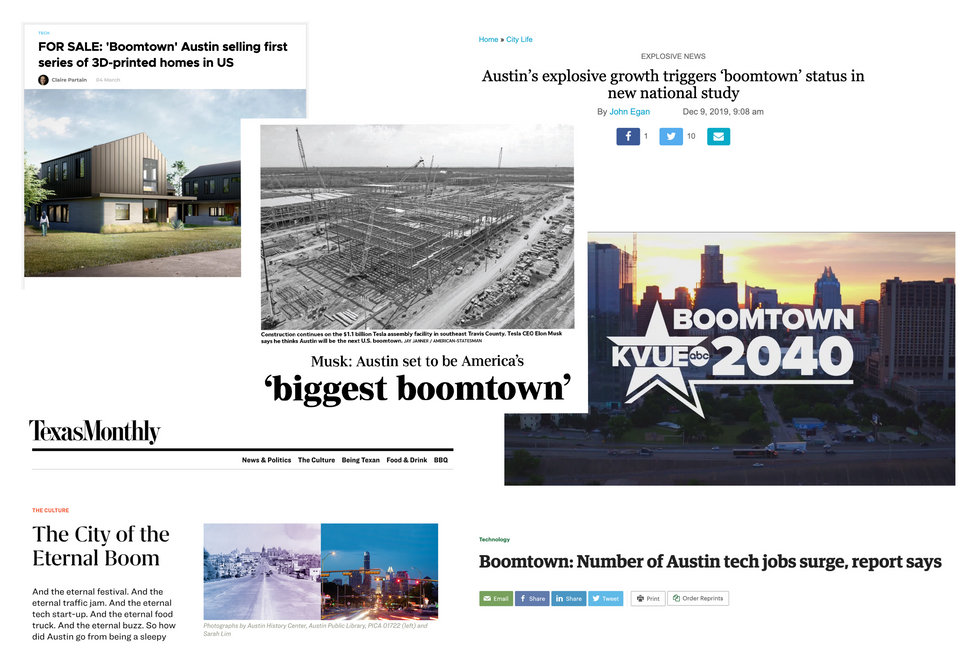 (Austonia)
Seen in this context, the Austin metro's current growth is nothing new. To better understand the city's magnetism, Austonia has looked at the drivers of migration—into Texas and Austin—starting with the 19th century. Stay tuned for more stories on what growth looked like in the 20th century, when World War II and other major historical events were reflected in new patterns, and since the turn of the 21st century.

Growing from the start

Texas' population growth predates its entry into the U.S. in 1845 and makes it an outlier among southern states, according to James Gregory, a professor of history at the University of Washington, where he directs the America's Great Migrations Project.
Migration from Tennessee, Alabama and Mississippi helped field the rebellion that led to Texas gaining its independence from Mexico in 1836, Gregory writes. In the wake of that event, southerners, many of them enslaved, continued to move west to expand the cotton belt, a region of the southern U.S. where cotton was the main cash crop from the late 18th through the 20th centuries.
This migration applied not only to Texas but also to Austin, which was purchased to serve as the capital of the Republic of Texas—independent from both Mexico and the United States—in 1839 and later became the capital of the state of Texas in 1846.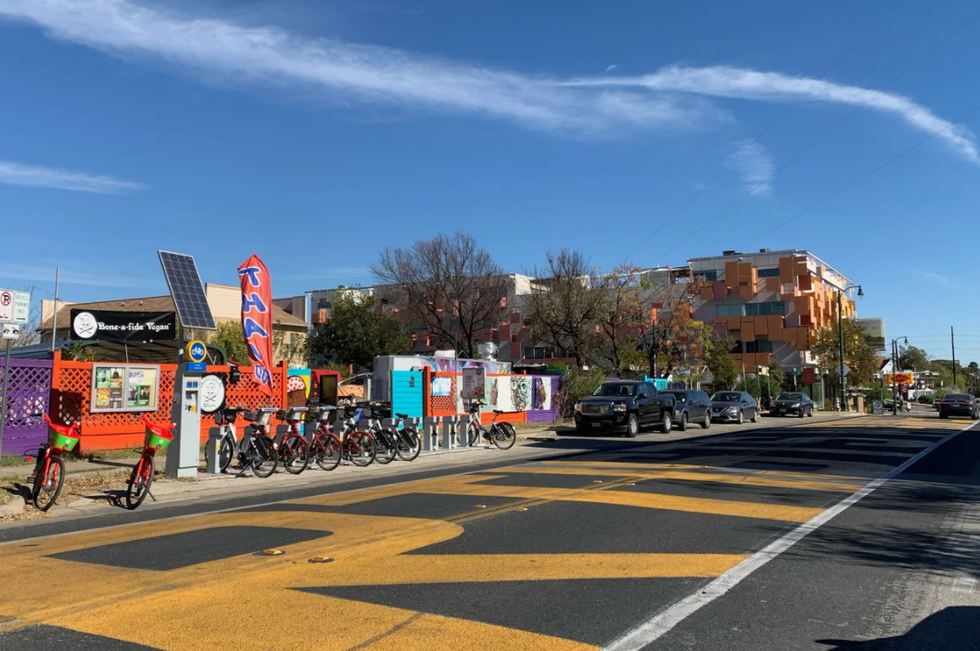 East 11th Street in Austin in November 2020. (Isabella Lopes/Austonia)
Austin City Council acknowledged this history earlier this month when its members approved a resolution directing staff to devise a plan to create a "Black Embassy" in East Austin. The resolution also formally apologized for the city's participation in the enslavement of Black people, segregation and other intentionally racist practices and expressed support for a national program of financial reparations for descendants of slaves.
"The first census in 1825 showed Austin with 450 slaves, which was 35% of the population count," Austin Mayor Steve Adler said at the March 4 meeting. "By 1860, the number of slaves were increasing faster than the population as a whole."
Colonization laws that provided settlers with additional land for each slave gave way to other forms of institutionalized and codified racism, from denying Black residents the right to vote in the early 20th century to the city's adoption of the 1928 master plan, which limited public services for Black residents to a "negro district" east of I-35.

After the Civil War, population growth in Texas was spurred by the arrival of residents from nearby southern states. These migrants faced economic problems related to the war and "saw Texas, with its extensive public lands, as a place of opportunity," according to the Texas State Historical Association's Handbook of Texas. Although Southerners "posed no threat to the dominant culture of the state," the Black population continued to face racist policies through the Reconstruction period, free but not accepted as such.
International migration
In addition to the influx of domestic migrants, Texas also grew in population due to the immigration of European immigrants, the bulk of whom hailed from Germany.
Starting in the 1830s, German settled in ethnic enclaves stretching from Galveston to the Hill Country following in the footsteps of Johann Friedrich Ernst, who settled in Austin County, west of Houston, in 1831 and wrote letters to his friends back home that inspired a chain of migrants. "He described a land with a winterless climate like that of Sicily," according to the TSHA handbook, with low taxes and fertile soil.
In addition to Ernst's role, the German Revolution in 1848—and the years of discontent leading up to it—also prompted a wave of migrants to seek opportunity in Texas, far from the unconsolidated states that would eventually unite to form Germany. This wave of migrants founded the towns of New Braunfels and Fredericksburg. "I like to consider them entrepreneurs," said Janis Gonser, president of the Austin-based German-Texans Heritage Society.
During this period, German immigrants encountered Texan conflicts. Before its independence, Mexico was looking for settlers to create a kind of buffer zone between its heartland and the Comanche Nation. "This was an area of contested land between multiple groups," GTHS Executive Director Christopher Markley said. When Texas gained its independence and joined the U.S., German immigrants found themselves caught in the middle again. "When the Civil War broke out, that was a big conflict for the Germans," Gonser said. "They had just left a country in conflict."
This migration tapered off toward the end of the 19th century and stopped when the Great Depression hit. Another wave of German immigrants arrived in Texas in the post-WWII period—many of them war brides—but by then their influence had already taken root.
In addition to their brewing skills (the founder of Shiner Bock was born in Bavaria), contributions to Tejano music (a blend of Eastern European folk music, including polka, and traditional Mexican styles), role as barbecue pioneers and beloved events (such as Wurstfest and assorted Christmas markets), German immigrants were key advocates for free public education in Texas.
Missing the free schools they were used to in their homeland, German-Texans built schools open to all children, including the German Free School in downtown Austin, which is the city's third oldest building. "There are records that show full integration," Gonser said, citing co-educational enrollment as well as a mix of religions and ethnic backgrounds. "In the 1860s and '70s that was revolutionary."
More than 160 years later, the school remains in use and is now home to GTHS and its ongoing German language classes. In addition to serving long-time Texans with German heritage, the society also attracts people like Gonser, who have moved to the Austin area from Germany in recent years, drawn by the growing tech industry and other opportunities. "Now today I see another wave of Germans coming in the last 10 years," Markley said. "I call them the New Germans."
Check back tomorrow when Austonia will look at migration and population growth in the Austin area during the 20th century.
With two weeks of rest, a dream team lineup and nearly 20 scoring attempts in the match, Austin FC could have come away with a three-match home win streak against Minnesota United on Saturday.
Instead, missed opportunities and an equally boisterous opponent forced Austin to leave Q2 with a 1-0 loss to Minnesota.
Austin FC brought what appeared to be their strongest lineup to date to the pitch after their two-week break, including breakout stars Sebastian Driussi and Moussa Djitte. But even with dozens of shots between the two teams, the home team couldn't find their footing in the back-and-forth match.
After landing a brace in the team's 2-1 win against Real Salt Lake, Austin's Cecilio Dominguez struck first in the match with a shot on goal in the eighth minute of play. The scoring attempt opened the floodgates—in just three minutes, teammates Moussa Djitte and Sebastian Driussi would follow suit with their own looks at goal.
Just seconds later, Minnesota bounced back with a shot that forced Austin keeper Brad Stuver to jump for his first save, but a bad sendoff from the Verde and Black left Stuver unable to block another as the Loons' Franco Fragapone scored from close range in the 16th minute.
Despite a wide array of scoring attempts—from Djitte's blocked high-fliers to Tomas Pochettino's many near misses— Minnesota would stay on top for the remainder of the match.
A few flops from Minnesota, including a poorly-acted fall from the Loons' Emmanuel Arriaga (which was unrewarded and resulted in an Arriaga yellow card) and a controversial foul given to Moussa Djitte as he nearly made a solo drive to goal added to Austin's woes.
The Verde and Black's final attempt came as Austin center back Julio Cascante placed a close-range header in the final seconds of regulation, but the home team was unable to capitalize on their many attempts.
Both teams shared over 30 shots in the match, with Austin making eight shots on target. Austin FC held over 65% possession and received 12 fouls to Minnesota's nine.
It could soon be impossible for Austin FC to reach the playoffs, but Verde fans still have two chances to catch their team at home. Austin's first season will wrap up with five final matches, including a 4 p.m. Sunday game against the Houston Dynamo on October 24 and an 8 p.m. Wednesday match against Sporting KC on November 4.
80' Austin makes first subs
80' | First couple #AustinFC substitutions on the night.

➡️ McKinze Gaines
⬅️ Diego Fagundez

➡️ Jon Gallagher
⬅️ Moussa Djitté pic.twitter.com/yVXyPr97Gn

— Austin FC (@AustinFC) October 17, 2021
With just over 10 minutes left in regulation ,Austin FC made some late-game subs, swapping Diego Fagundez for Austinite McKinze Gaines and Sebastian Driussi for forward Jon Gallagher. Both have a history of clutch performances for the team: Gaines scored just 10 minutes in to his first match of the game back in September, while Gallagher was Austin's first scorer at Q2 Stadium.
It's looking more like a draw at best for Austin as the time continues to tick down on the match.
61' Djitte loses chance after controversial call
In the 61st minute of a less-cohesive half for Austin, Moussa Djitte found himself alone near the goal with a good chance at making the home team's first goal. But referees had another ideas, making another controversial call on the Senegalese striker.
Refs stopped Djitte's menacing drive after Minnesota's Michael Boxall appeared to flop in a run-in with the striker, curbing Djitte's attempt to boos from the crowd. It's Djitte's second foul of the night and the team's ninth foul in the match. Both clubs host a yellow card, with center back Julio Cascante holding the home team's sole warning call. Minnesota's Emmanuel Reynoso holds the away team's yellow after an obvious flop that left him rolling on the ground for minutes, waiting on a call.
Blown whistles for both sides have slowed the match's tempo and left both clubs reeling as Austin looks for its first goal.
At the half: Austin still can't finish
45' still left to play. pic.twitter.com/39J1XnvvOc

— Austin FC (@AustinFC) October 17, 2021
With minutes-long shooting sprees and more shots on goal than Minnesota, Austin could easily have the lead in the match. But each crowd-raising attempt has still been slightly skewed as the home team ends the half with nothing on the board.
In just 45 minutes, both Austin and Minnesota have reached the double-digits in scoring attempts, but Minnesota's ability to infiltrate Austin's penalty box has given them the leg up in the match. The Loons have sometimes found themselves nearly alone alarmingly close to goal, and they've capitalized on their chances with a 16thb minute goal by Franco Fragapane.
Austin FC, however, has not. The club has seen close calls from Dominguez and Driussi, headers from Djitte and near-misses from Tomas Pochettino, but missed opportunities and a few strokes of bad luck have left them scoreless. The team will need to shake their age-old scoring issues if they hope to get back into tonight's game.
16' Minnesota nabs 1-0 lead
Fragapane at the back post!@MNUFC go up 1-0 on @AustinFC. pic.twitter.com/u5LxVgMhAU

— Major League Soccer (@MLS) October 17, 2021
Austin may have struck first, but Minnesota won the first points on the board as Franco Fragapane got one past keeper Brad Stuver from a close range in the 16th minute to make it 1-0. The Loons tested Stuver just as Austin did Miller, making two anxiety-inducing shots before Fragapane struck gold.
This goalie-vs.-goalie match has already seen three shots on goal from each team and a relatively quiet midfield as each team dukes it out in the box.
11' Austin tests Minnesota first
.@SebadriussiOk 😅 pic.twitter.com/SUdpNklgMF

— Austin FC (@AustinFC) October 17, 2021
Austin FC has taken no time to threaten goal. In a three-minute span, the home team has racked up three shots, two of which are on goal, as the ball bounces between Austin attackers but can't quite find the net.
Dominguez strikes first as he looks to find his third goal in three matches in the eights minute, but Minnesota's Tyler Miller fights back with a clutch save. Djitte then tests Miller just seconds later, while Driussi takes a final shot from farther back that just misses the top left corner.
Austin's Fagundez and Pochettino were the playmakers of the three-minute shooting spree, but the club still came out scoreless. Minnesota soon rebounded with a shot of their own that was blocked by keeper Brad Stuver.
Starting lineup
Rested and ready to be back on the pitch for #ATXvMIN. 💪#AustinFC x @YETICoolers pic.twitter.com/oHzypiVtqK

— Austin FC (@AustinFC) October 17, 2021
This may be Austin FC's most popular lineup— even the crankiest fans are commending the strong starting XI on Twitter. Tonight's starters are the same as in their win against Salt Lake.
New standouts Moussa Djitte and Sebastian Driussi are in alongside double-scorer Cecilio Dominguez up front, while fan favorite Diego Fagundez, Captain Alex Ring and Designated Player Tomas Pochettino take the midfield.
With Matt Besler still out on concussion protocol, Zan Kolmanic, Jhohan Romana and Julio Cascante take the back along with Hector Jimenez, who is in for right back Nick Lima. As (almost) always, Brad Stuver holds it down in goal.
An Austin-based program manager for Apple Maps and one of two leaders for the #AppleToo activist movement said she has been fired after a suspension.
According to the New York Times, Janneke Parrish said she was put on suspension for several days while the company investigated her activities before she was fired by a human resources employee via phone call on Thursday.
Parrish was under investigation for allegedly leaking a recording of an Apple staff meeting to the media, which she said she didn't do.
The report said the company told Parrish, who is 30, that she was being fired for having deleted files off her company-issued phone and computer before handing them in for examination. Parrish said the files she deleted contained her personal and financial information.
Among the files she deleted were the Robinhood app, which she said was to keep Apple from seeing "how much money I lost investing in GameStop," the Pokemon Go app and screenshots of programming bugs she was fixing.
Parrish said she believes Apple was retaliating against her efforts in organizing #AppleToo, a group of employees working to expose the company's "culture of secrecy" that has been "faced disproportionately by our Black, Indigenous, and other colleagues from minoritized racial, gender and historically marginalized groups of people."
Parrish had been publishing weekly accounts of workplace problems that had been shared anonymously with her from other employees, though she did not verify employment on all of them. The accounts she received were in the hundreds, so Parrish said she was hopeful her termination would lead to some justice within the company.
Employees at tech giants have been more outspoken than usual in recent months—with former Facebook data scientist Frances Haugen speaking out against her former employer—and Parrish said the company's desire to keep under wraps has eroded trust by discouraging employees to come forward with issues like harassment or wage disparity.
Apple spokesman Josh Rosenstock commented on the matter: "We are and have always been deeply committed to creating and maintaining a positive and inclusive workplace. We take all concerns seriously and we thoroughly investigate whenever a concern is raised and, out of respect for the privacy of any individuals involved, we do not discuss specific employee matters."
Additionally, the email detailing her termination, which was obtained by the New York Times, said Apple had determined that Parrish "engaged in conduct in violation of Apple policies including, but not limited to, interfering with an investigation by deleting files on your company provided equipment after being specifically instructed not to do so."