Get connected with our daily update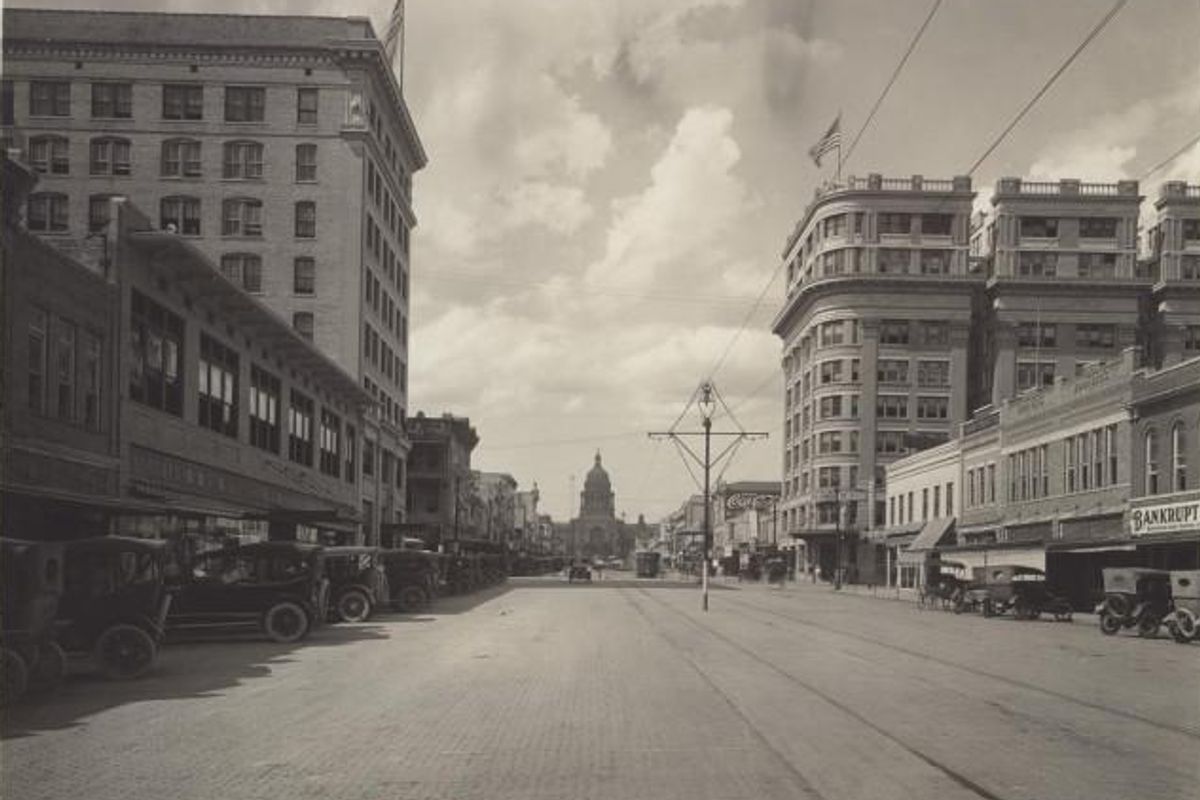 New Austinites Joe Rogan and Elon Musk recently discussed their new home on an episode of "The Joe Rogan Experience": "I think Austin's going to be the biggest boomtown that America has seen in a half a century," Musk told the podcast host.
We've all heard the statistics. The Texas Demographic Center expects the five-county Austin metro to double in size by 2040, a projection that has spurred concerns about whether the city's infrastructure will be up to the task. But the city of Austin has been growing at a rapid clip since its founding in 1839, nearly doubling its population every 20 years, according to the U.S. Census Bureau.
---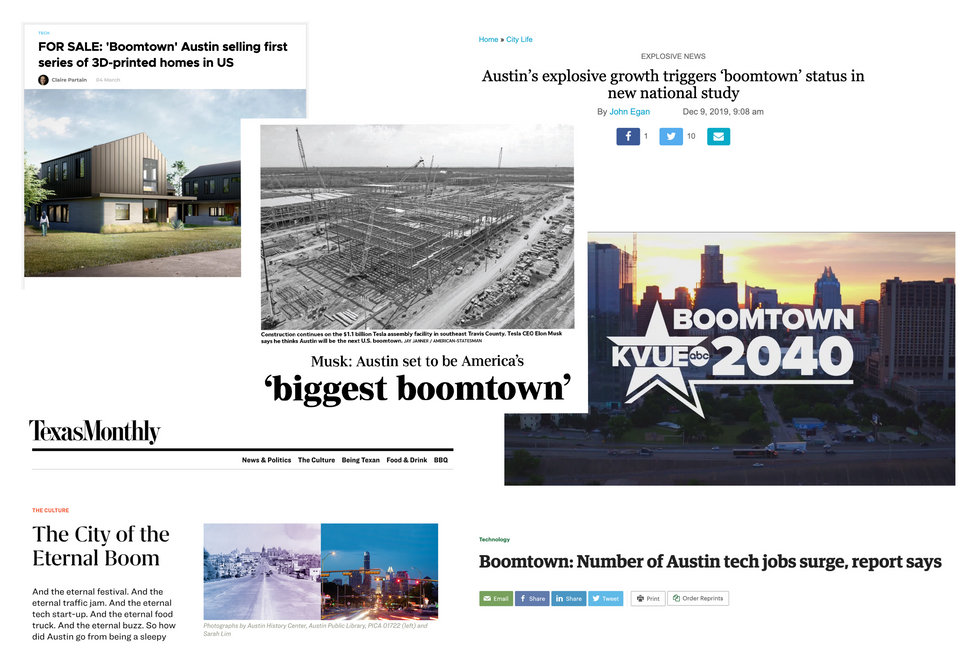 (Austonia)
Seen in this context, the Austin metro's current growth is nothing new. To better understand the city's magnetism, Austonia has looked at the drivers of migration—into Texas and Austin—starting with the 19th century. Stay tuned for more stories on what growth looked like in the 20th century, when World War II and other major historical events were reflected in new patterns, and since the turn of the 21st century.

Growing from the start

Texas' population growth predates its entry into the U.S. in 1845 and makes it an outlier among southern states, according to James Gregory, a professor of history at the University of Washington, where he directs the America's Great Migrations Project.
Migration from Tennessee, Alabama and Mississippi helped field the rebellion that led to Texas gaining its independence from Mexico in 1836, Gregory writes. In the wake of that event, southerners, many of them enslaved, continued to move west to expand the cotton belt, a region of the southern U.S. where cotton was the main cash crop from the late 18th through the 20th centuries.
This migration applied not only to Texas but also to Austin, which was purchased to serve as the capital of the Republic of Texas—independent from both Mexico and the United States—in 1839 and later became the capital of the state of Texas in 1846.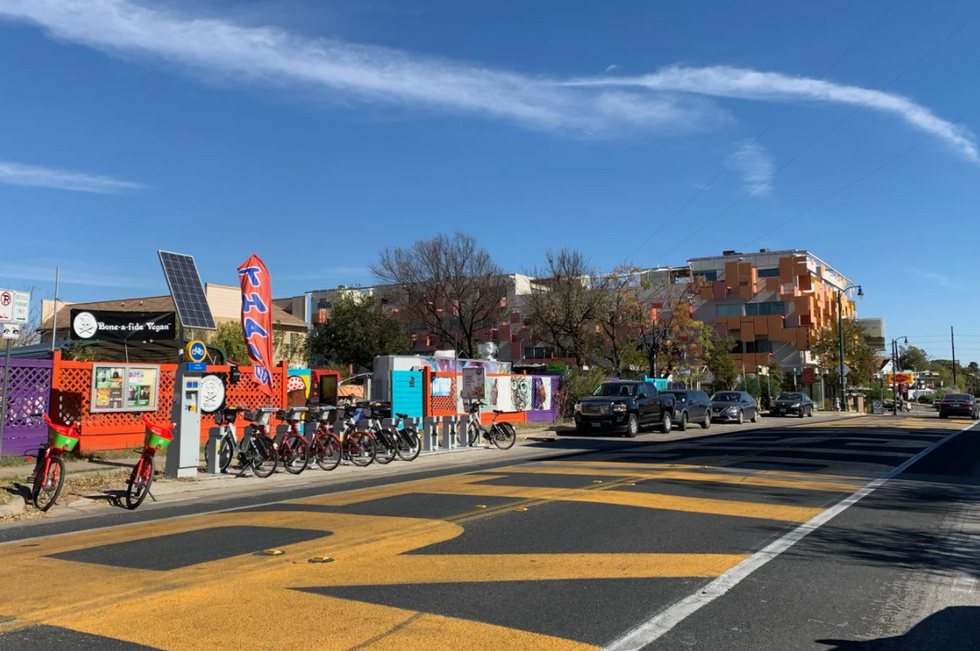 East 11th Street in Austin in November 2020. (Isabella Lopes/Austonia)
Austin City Council acknowledged this history earlier this month when its members approved a resolution directing staff to devise a plan to create a "Black Embassy" in East Austin. The resolution also formally apologized for the city's participation in the enslavement of Black people, segregation and other intentionally racist practices and expressed support for a national program of financial reparations for descendants of slaves.
"The first census in 1825 showed Austin with 450 slaves, which was 35% of the population count," Austin Mayor Steve Adler said at the March 4 meeting. "By 1860, the number of slaves were increasing faster than the population as a whole."
Colonization laws that provided settlers with additional land for each slave gave way to other forms of institutionalized and codified racism, from denying Black residents the right to vote in the early 20th century to the city's adoption of the 1928 master plan, which limited public services for Black residents to a "negro district" east of I-35.

After the Civil War, population growth in Texas was spurred by the arrival of residents from nearby southern states. These migrants faced economic problems related to the war and "saw Texas, with its extensive public lands, as a place of opportunity," according to the Texas State Historical Association's Handbook of Texas. Although Southerners "posed no threat to the dominant culture of the state," the Black population continued to face racist policies through the Reconstruction period, free but not accepted as such.
International migration
In addition to the influx of domestic migrants, Texas also grew in population due to the immigration of European immigrants, the bulk of whom hailed from Germany.
Starting in the 1830s, German settled in ethnic enclaves stretching from Galveston to the Hill Country following in the footsteps of Johann Friedrich Ernst, who settled in Austin County, west of Houston, in 1831 and wrote letters to his friends back home that inspired a chain of migrants. "He described a land with a winterless climate like that of Sicily," according to the TSHA handbook, with low taxes and fertile soil.
In addition to Ernst's role, the German Revolution in 1848—and the years of discontent leading up to it—also prompted a wave of migrants to seek opportunity in Texas, far from the unconsolidated states that would eventually unite to form Germany. This wave of migrants founded the towns of New Braunfels and Fredericksburg. "I like to consider them entrepreneurs," said Janis Gonser, president of the Austin-based German-Texans Heritage Society.
During this period, German immigrants encountered Texan conflicts. Before its independence, Mexico was looking for settlers to create a kind of buffer zone between its heartland and the Comanche Nation. "This was an area of contested land between multiple groups," GTHS Executive Director Christopher Markley said. When Texas gained its independence and joined the U.S., German immigrants found themselves caught in the middle again. "When the Civil War broke out, that was a big conflict for the Germans," Gonser said. "They had just left a country in conflict."
This migration tapered off toward the end of the 19th century and stopped when the Great Depression hit. Another wave of German immigrants arrived in Texas in the post-WWII period—many of them war brides—but by then their influence had already taken root.
In addition to their brewing skills (the founder of Shiner Bock was born in Bavaria), contributions to Tejano music (a blend of Eastern European folk music, including polka, and traditional Mexican styles), role as barbecue pioneers and beloved events (such as Wurstfest and assorted Christmas markets), German immigrants were key advocates for free public education in Texas.
Missing the free schools they were used to in their homeland, German-Texans built schools open to all children, including the German Free School in downtown Austin, which is the city's third oldest building. "There are records that show full integration," Gonser said, citing co-educational enrollment as well as a mix of religions and ethnic backgrounds. "In the 1860s and '70s that was revolutionary."
More than 160 years later, the school remains in use and is now home to GTHS and its ongoing German language classes. In addition to serving long-time Texans with German heritage, the society also attracts people like Gonser, who have moved to the Austin area from Germany in recent years, drawn by the growing tech industry and other opportunities. "Now today I see another wave of Germans coming in the last 10 years," Markley said. "I call them the New Germans."
Check back tomorrow when Austonia will look at migration and population growth in the Austin area during the 20th century.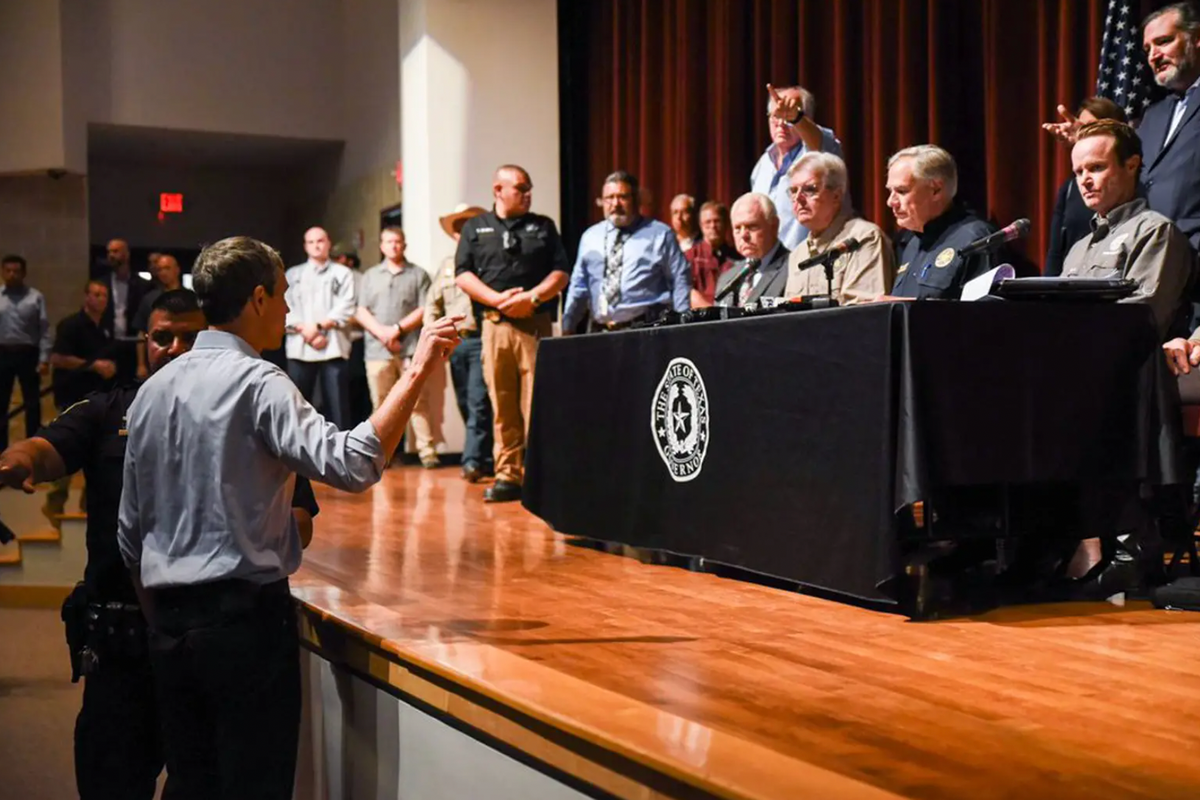 By Patrick Svitek
Beto O'Rourke caused a dramatic scene on Wednesday when he angrily confronted Gov. Greg Abbott at his news conference about the Uvalde school shooting, yelling, "This is on you."
After Abbott was done giving his initial remarks, O'Rourke approached the stage and told Abbott he was "doing nothing" to combat gun violence. He said the Uvalde massacre, in which a gunman killed 19 children and two adults, was "totally predictable."
Some of the Republican officials onstage with Abbott quickly denounced O'Rourke, telling him to go away. Another man onstage used expletives to criticize O'Rourke for interrupting the event.O'Rourke was eventually escorted away amid the unruly scene.
"I can't believe that you're a sick son of a bitch that would come to a deal like this to make a political issue," Uvalde Mayor Don McLaughlin told O'Rourke at one point.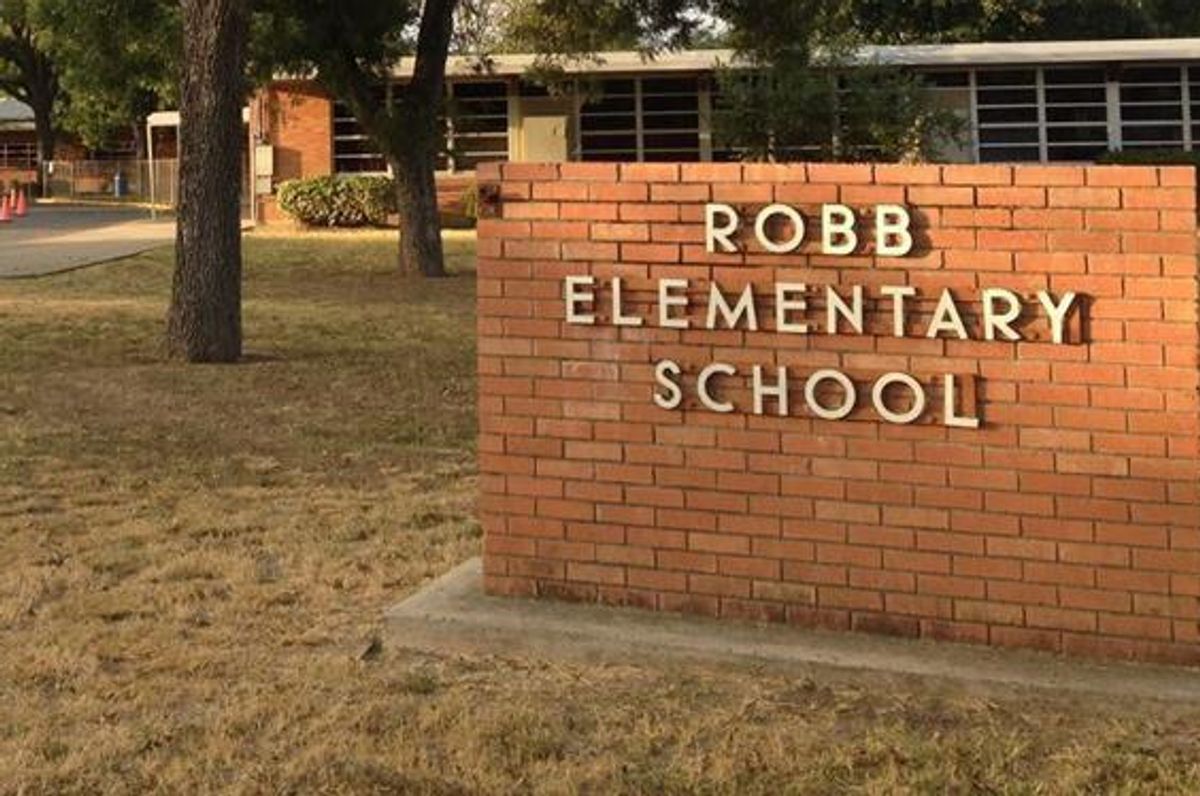 Nineteen kids and two adults are dead after a shooting at Robb Elementary School in Uvalde, Texas—a small town an hour and a half west of San Antonio—on Tuesday afternoon.
Gov. Greg Abbott said the suspect, 18-year-old Salvador Ramos, is believed to have been killed by the police. The Uvalde Police Department said the shooting began at 11:43 a.m. Tuesday.
"What happened in Uvalde is a horrific tragedy that cannot be tolerated in the state of Texas," Abbott said. "He shot and killed—horrifically, incomprehensibly."

Texans are grieving for the victims of this senseless crime & for the community of Uvalde.

Cecilia & I mourn this horrific loss & urge all Texans to come together.

I've instructed @TxDPS & Texas Rangers to work with local law enforcement to fully investigate this crime. pic.twitter.com/Yjwi8tDT1v
— Greg Abbott (@GregAbbott_TX) May 24, 2022
According to University Health Hospital officials, a 66-year-old woman and 10-year-old girl arrived in critical condition. Uvalde Memorial Hospital reportedly received 13 children for treatment and two individuals who were already deceased. At the time, it was believed 14 had died in this shooting.

The shooter prompted a lockdown at the elementary school of just under 550 students, with San Antonio Police sending SWAT, and Eagle chopper and Crime Scene Investigators.
According to White House press secretary Karine Jean-Pierre, President Joe Biden has been briefed on the tragedy and "His prayers are with the families impacted by this awful event, and he will speak this evening when he arrives back at the White House."
At 21 deaths, it is the deadliest school shooting in Texas and one of the deadliest in the U.S. since 26 at Sandy Hook Elementary lost their lives. This is the U.S.'s 213th mass shooting of 2022.