Austonia AM
100% Austin news, info, and entertainment, straight to your inbox at 6 a.m. every morning.
In five minutes, you're fully informed and ready to start another great day in our city.
Get connected with our daily update
(Shutterstock)
The deadline to file sexual abuse claims against the Boy Scouts of America ended Monday, the latest marker in a saga that has damaged the reputation of the national youth organization in recent years.
---
At least 81,500 individuals had filed claims by the end of last week, as part of the Texas-based organization's bankruptcy proceeding, according to the Dallas Morning News. When the final tally is released, that number could be higher.
A spokesman for the local Central Texas branch said they don't know how many confirmed cases there are in the area yet because the matter is being handled at the national level.
Local Boy Scouts spokesman Charles Mead said it was "absolutely heartbreaking" anyone would use the Boy Scouts to take advantage of a child, and that the branch has implemented anti-abuse measures.
"Those processes have been critical in making sure our program becomes an inhospitable place for anyone who wants to hurt a child," Mead said.

Past figures make clear that abuse has been a problem in the region.
Last year the Capitol Area Council, the local branch covering 15 counties in Central Texas, released the names of 23 volunteers accused of sexual assault in the area, dating back to the 1960s.
Those volunteers have all had their membership revoked or denied, Mead told the Austin-American Statesman last year. The latest recorded incident in Central Texas occurred in 2014, when a seasonal camp staff employee placed a camera in a camp staff shower. The employee had no previous criminal record.
Other sources detail allegations in the Austin area. Nine allegations related to sexual abuse in the Austin area are detailed in a 2012 database compiled by the Los Angeles Times, which drew from three separate lists of Boy Scout files. Documents are available for many of those allegations.
Safety measures taken by the Capitol Area Council and other branches in recent decades include a mandatory training that adults are required to take upon joining and renew every two years; anti-abuse material at the beginning of every rank handbook, and a policy called "two deep leadership" that prohibits isolated one-on-one time between an adult and child they are not the parent of.
Advocacy groups and lawyers for abuse victims say the total number of victims nationwide may never be known.
Those who filed claims for the bankruptcy case before Monday's deadline were required to submit a detailed account of the abuse, how it affected them, and detail their abuser and how they were related to the Boy Scouts.
The Boy Scouts of America filed for bankruptcy in February, as the organization faced mounting legal costs in the face of assault claims. The organization said it would use the Chapter 11 process to set up a victims relief fund. The bankruptcy does not extend to local branches like the Capitol Area Council.
The Boy Scouts of America released a statement Sunday that the organization is "devastated by the number of lives impacted by past abuse in Scouting and moved by the bravery of those who came forward."
"We intentionally developed an open, accessible process to reach survivors and help them take an essential step toward receiving compensation," the organization said. "The response we have seen from survivors has been gut wrenching. We are deeply sorry."
The court will decide what happens to the organization's assets, land, and fine art, which total over $1 billion in value.
Austin has been on the fast-track to growth for 10 years, according to Census data. (Stuart Seeger/CC)
Austin is on a rollercoaster that only goes up, according to the new U.S. Census Bureau data that says the city has been the fastest-growing large metropolitan area in the U.S. for a full 10 years.
The data, which was released on Tuesday, said the population between the five counties in the Austin metro area—Travis, Williamson, Hays, Bastrop and Caldwell—increased by 3% since 2019 and 34% since 2010.
Austin still isn't the largest metro area but it does have the fastest population growth compared to other U.S. metro areas with over a million people. In the past decade, the metro population has gone from around 1.7 million to 2.3 million people.

The huge increase in Travis County alone is enough to bring the city closer to the leagues of other big cities, jumping above San Francisco and San Jose, California and Jacksonville, Florida in the ranks of most populous.
An increase of more than half a million people in the metro area puts it as the 29th largest, an increase of one spot from last year.
However, in terms of just population growth compared to last July, Austin was beaten by a few other Texas cities: Dallas ranked first in the U.S. with an increase of 119,748 and Houston took third, gaining 91,078. Austin ranked fourth with a growth spurt of 67,197, averaging out to 184 new people per day including natural increase, or the difference caused by births and deaths.

Overall, Texas gained the most residents out of all other U.S. states.
With companies like Tesla, which has promised to hire 10,000 people at the new Gigafactory, Oracle, Samsung and Google putting down roots in Austin and Texas tax breaks and lack of personal income tax, it's no surprise companies and people are flocking to the Lone Star State.
We asked you what you wanted and you told us. More newsletter!
Austonia launched its new and improved newsletter today. You can expect:
100% Austin news, info and entertainment
Sent straight to your inbox at 6 a.m. every morning
In 5 minutes or less, you're fully informed and ready for a great day
Sign up here:
This week, Austin FC Head Coach Josh Wolff returns to a team that has his name plastered on their stadium walls.
Wolff, Sporting Kansas City's fourth-place all-time scorer, is returning home to Kansas City, but this time, he's the opponent as Austin FC looks to up their win streak to three straight games.
The MLS is abuzz with Austin FC's quick rise in the standings—predicted to just maybe crack the playoffs, the club is already ninth in Week 4's MLS Power Rankings and fourth in the West. The club is coming off of a breakout 3-1 win over the Colorado Rapids and a slower-paced, but still decisive, victory over Minnesota United FC.
It's only the start, however. The club is facing a few injuries, and Wolff predicts that clubs are going to try to crack the league's golden team. "We want to play a certain way and some teams want to destroy that," Wolff said.
Here's what to expect for Austin FC's fourth-ever match on the road this weekend.
What to expect
¡Bienvenido de nuevo, @alanpulido! :boom:#RSLvSKC | #SportingKC | #VamosKC pic.twitter.com/Y8BzfVsqKn

— Sporting Kansas City (@SportingKC) May 1, 2021
A founding MLS member, Sporting KC has been around since they were the Sporting KC Wizards in 1995. They're not having the greatest start, however. KC has given up five goals and scored three so far, most notably losing 3-1 to an on-fire Real Salt Lake on Saturday.
The lone goal they scored was a doozy, though. KC's Khiry Shelton sent a smooth cross along the ground to Gianluca Busio, who, in a clever move, faked out on the pass and let it keep rolling. Kansas' leading striker, Alan Pulido, was there to score his first goal, and the play was completed in a matter of seconds.
Austin FC clearly needs to dismantle the chemistry between Pulido and team. Busio, especially, has been trying to create looks for the club. Kansas City is lacking some bite in their defense, however, and it looks like their back end is sometimes hesitant to go after the ball. Good news for Austin.
Could Austin FC get insights from KC vet Matt Besler, who will most likely join Wolff as a hall of famer after 12 seasons with the club? Wolff says maybe.
"I certainly expect Matt to give us some information, an inside scoop," Wolff said.
If the pattern continues, ATX might see more roughing up of Cecilio Dominguez, who has been targeted after his two-goal breakthrough against Colorado. They can also expect Kansas City and other clubs to start pressing higher up the field, bringing in more physicality and disrupting the club's offensive structure.
However, their new strong midfield, headlined by Captain Alex Ring, and a chance at lucky goal No. 3 for Diego Fagundez could propel Austin FC forward if they continue to go full steam ahead.
Projected starting lineup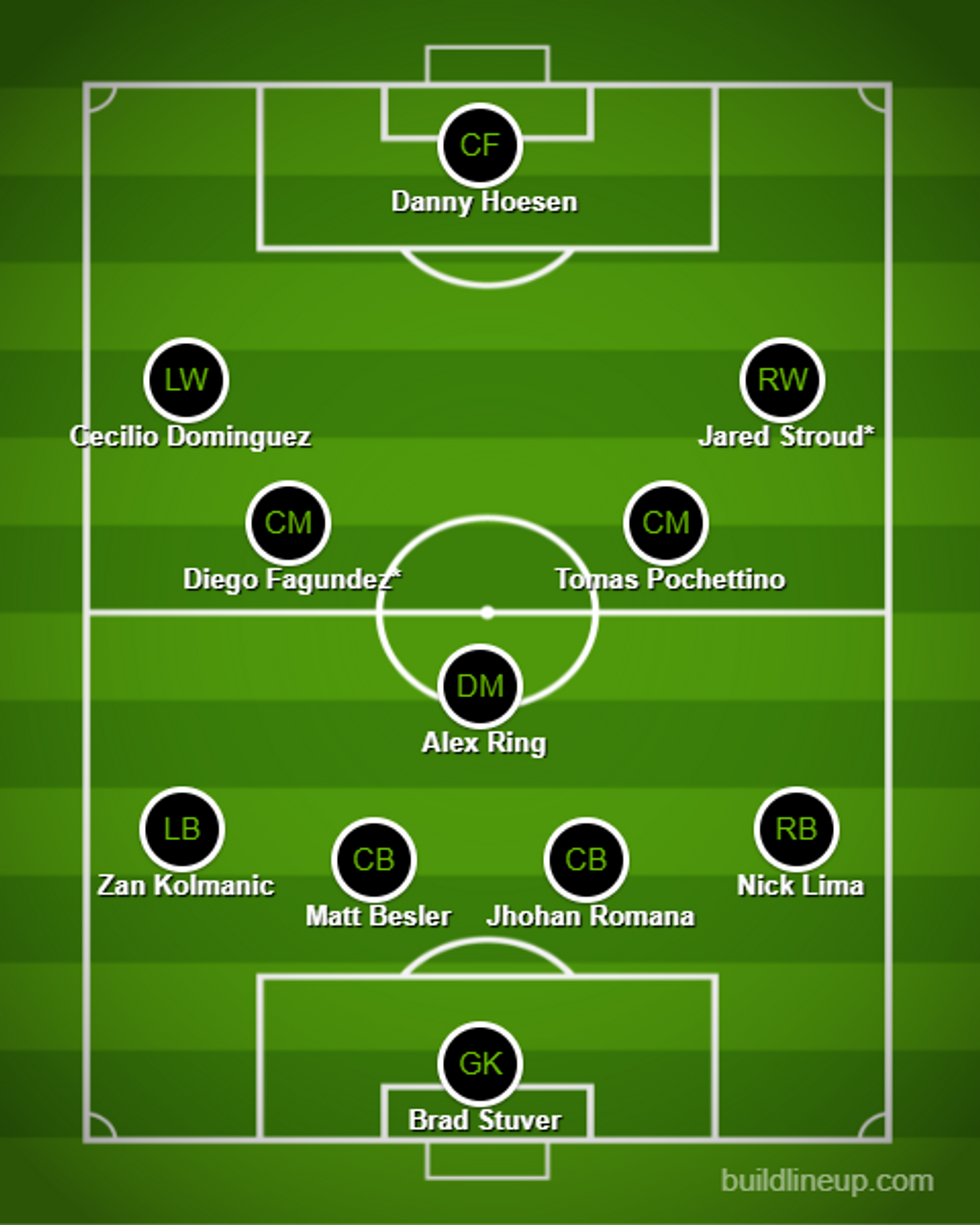 Why fix something that isn't broken? Austin FC finally found their stride in midfield with the Holy Trinity of Alex "ringleader" Ring, repeat goal-scorer Diego Fagundez and Designated Player Toto Pochettino. No hate to Daniel Pereira, however. He could easily start too, but it seems as though the 20-year-old will have to wait for that Fagundez fire to burn out before he sees the starting pitch again.
Same goes for right wing. It's a good thing when a team has multiple players who could be on the starting XI, and Rodney Redes is no exception. He stood out in preseason and against LAFC and very nearly scored against both the Rapids and Minnesota, but Jared Stroud is proving a great strategist at the front of the field. He provided the cross that led to Fagundez' goal, and he's threatened goal with a few shots of his own.
Other than that, we can probably expect more of the same. Matt Besler is going head-to-head against his former teammates, and Zan Kolmanic is adjusting to the MLS after former starting left back Ben Sweat tore his ACL two matches ago.
Austonia FC