Get connected with our daily update
A sixth fully vaccinated Texas House Democrat, State Rep. Donna Howard, D-Austin, tested positive for COVID-19 in Washington D.C. earlier this week, spurring concerns about so-called "breakthrough" cases.
---
Breakthrough cases occur when a fully vaccinated person gets infected with the coronavirus. The two-dose Pfizer and Moderna vaccines were found to be about 95% effective at preventing illness during clinical studies, and the one-shot Johnson & Johnson vaccine was 72% effective, meaning that a small number of breakthrough cases are to be expected.
"When you hear about a breakthrough infection, that doesn't necessarily mean the vaccine is failing," Dr. Anthony Fauci, director of the National Institute of Allergy and Infectious Disease, told a U.S. Senate panel earlier this week.
But how common are breakthrough cases?
Of the approximately 15,400 COVID cases reported in Travis County since early February, 488—or around 3%—have been among fully vaccinated individuals, according to Austin Public Health data. In other words, the overwhelming majority of cases—around 97%—in recent months have been among unvaccinated individuals.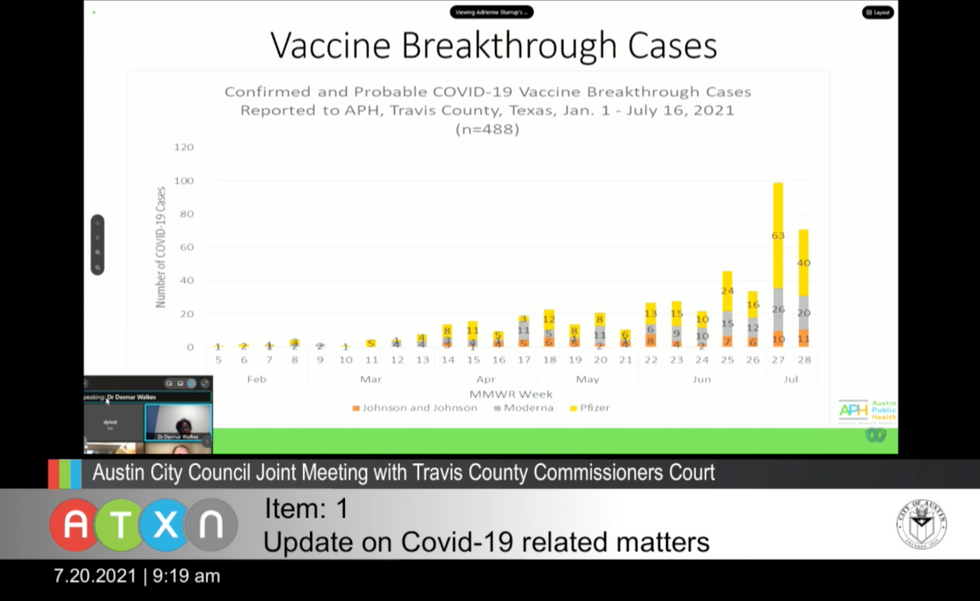 There have been a total of 488 breakthrough cases in Travis County since early February, according to Austin Public Health. (City of Austin)
The disparity grows even starker when looking at COVID deaths. Of the 8,878 people who have died in Texas due to COVID since early February, 99.5% of them were unvaccinated, according to the Texas Tribune. Around 0.5%—at least 43—were vaccinated and died as a result of breakthrough cases.

Overall, breakthrough cases are more likely to be asymptomatic and less likely to require hospitalization because the vaccinated person already has some immunity to the virus, according to a recent report by the Associated Press.
Austin-Travis County Health Authority Dr. Desmar Walkes has said that more than 90% of patients hospitalized with COVID in Austin-area hospitals are unvaccinated, mirroring trends seen around the country and giving rise to the phrase "pandemic of the unvaccinated."
An Alabama hospitalist recently went viral after writing an emotional Facebook post on Sunday. "I'm admitting young healthy people to the hospital with very serious COVID infections," she wrote. "One of the last things they do before they're intubated is beg me for the vaccine. I hold their hand and tell them that I'm sorry, but it's too late."
Public health experts stress that the three available COVID vaccines are effective in the face of new variants and at preventing severe illness and death.
The Centers for Disease Control and Prevention has also noted that the more contagious Delta variant could play a role in breakthrough cases. As a result, federal health officials are keeping an eye on breakthrough case data as they consider the utility of a possible booster shot.
In the meantime, local officials have implored vaccinated residents to resume masking and unvaccinated Austinites to get their shots. Both behaviors help mitigate the spread of the more contagious Delta variant and protect those who are ineligible for the vaccine, including children under 12.
"We know what works," Walkes told local elected officials on Tuesday. "Masks stop the spread, and vaccination stops severe disease and illness."
Five Austin companies joined Google's second Startups Black Founders Fund on Wednesday, earning $100,000 each as part of the $10 million initiative geared toward giving Black entrepreneurs access to funding for their startups.
The fund gave $100,000 to 50 founders nationwide, including Austin companies CustomerX.i, Journey Foods, Sandbox Commerce, The Mentor Method and Tadeblock.
The founders will receive the funding without giving up any ownership of their startups and will gain access to Google technical support including up to $120,000 in donated search Ads from Google.org and up to $100,000 in Google Cloud credits. The Austin companies will also join a select few—the fund is only two years old and last year rewarded 76 Black-led startups with up to $100,000 as well.
Google's Startup funds can be used to boost Black founders' companies into success—last year, founders raised up to $50 million in capital after recieving the funds, and 80% of the companies used their funds to create jobs.
Founders from last year's batch then paid it forward by nominating new companies and announcing the winners via Zoom.
Here's a look at those 5 founders in Austin:
A member of the Independent Citizens Redistricting Commission (ICRC) contacted council members asking for their home addresses despite a charter provision prohibiting the ICRC from considering such information in its mapping process, according to emails obtained by the Bulldog through a public information request.
Four council members or their staffers replied providing home addresses: Alison Alter, Paige Ellis, Mackenzie Kelly, and Leslie Pool, according to the emails dated August 9th to Aug. 17.
Austinites will once again be able to take a nonstop flight to London as Austin-Bergstrom International Airport resumes transatlantic travel this fall.
Starting Oct. 13, British Airways will offer its direct flight from ABIA to London-Heathrow Airport three times a week on Wednesday, Friday and Sunday. The airline, which has been operating in Austin since 2013, had halted service at the start of the pandemic over a year ago.
"We can't wait to welcome our customers back on board our Austin flights and we are honored to be playing our part in reuniting families and friends with their loved ones after such a long time apart," said Marie Hilditch, British Airways' head of North America sales.
Safety protocols the airline is taking include:
social distancing measures
wearing of facemasks
providing hand sanitizer stations
cleaning all surfaces after every flight
fully recycling the air once every two to three minutes through HEPA filters, which remove microscopic bacteria and virus clusters with over 99.9% efficiency
The announcement comes as COVID-19 testing requirements to enter the UK are scheduled to stop on Oct. 4. for vaccinated Americans.
Additionally, a Monday White House announcement allows fully vaccinated international travelers to enter the U.S. starting in early November with proof of a negative COVID-19 test. The ban, which was implemented in 2020, restricted travelers from a number of European countries, Iran and China throughout the pandemic.