Austonia AM
100% Austin news, info, and entertainment, straight to your inbox at 6 a.m. every morning.
In five minutes, you're fully informed and ready to start another great day in our city.
Get connected with our daily update
Brenda Ramos often visits Assumption Cemetery, just off the I-35 frontage road in South Austin, near Ben White Boulevard.
Her parents, aunts, uncles and cousins are buried there. So is her son, Mike Ramos, who died on April 24, 2020, after being shot by an Austin police officer at a nearby apartment complex.
---
Mike is buried underneath a tree because he'd want to be in the shade. His headstone features two inlaid photos of him as a young child with his mother, who has jet-black hair and thick bangs, "like Cleopatra," she said. In one, they're playing pattycake. The other photo is over Brenda's name; she'll be buried beside him.
Now that it's spring, the gravesite is due to be seeded with grass. Until then, Brenda tends to the Hobby Lobby flower arrangements and sprinkles fresh rose petals—white with pale blue tips—and plastic purple gemstones on the dirt. Despite the breeze, they stay put.
This weekend, Brenda might bring some balloons. "It'll be a year Saturday," she told Austonia, amid the birdsong. "It don't seem like a year. It feels recently. I still have dreams of the video (showing Mike killed)."
One year after Mike Ramos' death, Brenda Ramos speaks to Austonia about her son. (Laura Figi/Austonia)
An unexpected role

Last April, the Austin Police Department responded to a drug-related 911 call at a Southeast Austin apartment complex parking lot. APD said Mike did not comply with their orders, prompting one officer to shoot him with a so-called "less lethal" bullet. Mike then got into his car and attempted to drive away; Officer Christopher Taylor shot at the car three times, killing him.
"They weren't going to let me see him at the morgue," Brenda said, adding that she was asked to bring a hat to cover up some of the damage to his head. "But I already knew." Mike was a big fan of the University of Texas, so that's the hat she chose. There's a Longhorn engraved on his headstone.
Thirty-one days after Mike's death, former Minneapolis police officer Derek Chauvin knelt on the neck of another unarmed Black man, George Floyd, for nearly nine minutes, killing him. Video footage of his death, along with outrage over the police killing of Breonna Taylor, a 26-year-old EMT in Kentucky, sparked a mass protest movement. In Austin, Mike's name joined theirs in protesters' chants and on their signs.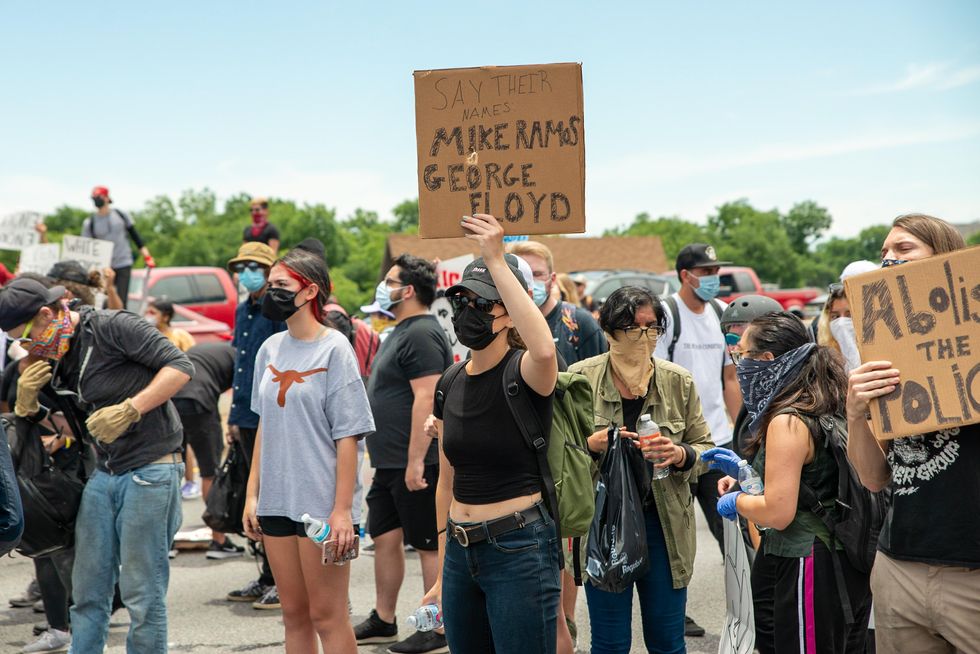 Protesters with signs of Mike Ramos, George Floyd and denoucing police brutality take over I-35 on May 30, 2020. (Shutterstock)
Brenda began speaking at rallies, including a thousands-strong march from Huston-Tillotson University to the Texas Capitol organized by the Austin Justice Coalition in early June. "She didn't ask to become a spokesperson for a movement, but she got forced into that last May and has stepped into it," her lawyer Rebecca Webber said.
The movement has been a long time coming for Chas Moore, who founded the Austin Justice Coalition, a civil rights group, in 2015. Mike's death, grimly detailed through body camera footage, was the unfortunate catalyst for police reform in Austin. "I think it's yet another leverage point that you use to show people that we're not making this up," he said. "It takes people seeing a knee on the neck (of George Floyd). It takes the videos of Mike Ramos getting in his car. It takes the stories of Breonna Taylor being in her house, being shot, for people to be like, 'Damn, maybe AJC, maybe all these other groups are right. And maybe we do need to do something.'"
Waiting for justice

Brenda feels close to Mike during these events, but they have taken a toll. She retired from her airport security job last week to focus on her advocacy work and her health, which has deteriorated in the last year.
Webber is representing Brenda in a civil suit against the city of Austin and APD, which alleges Mike's death was "a direct result of the racism that has permeated policing in Austin." But she said her client's focus is on the criminal case. Last month, Taylor was charged with first-degree murder—an unprecedented event in Travis County—and released on bond after a short stint in jail. "What Ms. Brenda wants is for Officer Taylor to not be an Austin police officer and for there to be some recognition that this was a heinous, unjustified, unnecessary shooting," she said.
Mike's death helped spur on some local reforms, including police budget cuts and, Brenda believes, new leadership at APD. But police killings continue.
As the one-year anniversary approaches, Brenda can't escape the news of the Chauvin trial and the recent police killings of Alex Gonzales in Austin, Adam Toledo in Chicago and Daunte Wright in Brooklyn Center, Minnesota. There have only been three days this year that someone hasn't been killed by law enforcement in the U.S., according to the police reform nonprofit Campaign Zero.

"There's not yet a scenario in my head where we have police, and these things stop," Moore said. "That's why I say the verdict is still out on if change is actually going to happen because I think we're still having the conversation. Until we get to the meat and potatoes of that conversation, I think we'll keep seeing the Daunte Wrights and anybody else."
Although Chauvin was found guilty on all three counts—including second-degree murder—in the case of Floyd's death on Tuesday, Webber is preparing Brenda for different possible outcomes in the civil suit and criminal case. "I can't prognosticate what a criminal jury is going to do with Officer Taylor," Webber said. "I will most definitely do the best that I can to set Ms. Brenda's expectations that this is still Texas, and this is a town that has deeply entrenched institutional racism—even though we have really begun to grapple with it."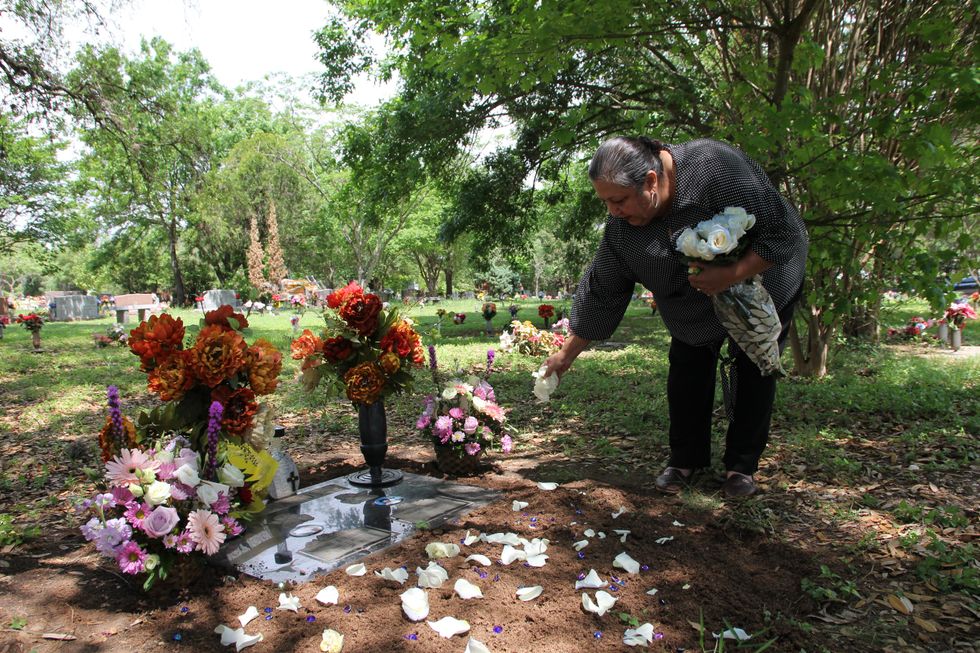 Brenda Ramos lays white rose petals on the grave of her son. (Laura Figi/Austonia)
Meanwhile, the San Jose Catholic Church in South Austin will hold a mass in Mike's memory on Saturday. It's where he received his first communion and was confirmed. Brenda prays for strength and justice, but her grief is palpable. "Nobody should go through this," she said. "It hurts a mother so much."
Ingredients:
1 1/2 oz of hibiscus-infused Tito's Handmade Vodka
2 oz sparkling water
1 oz fresh lime juice
3/4 oz simple syrup
1 tsp allspice dram
Directions: Add infused Tito's Handmade Vodka, lime juice, and simple syrup to a shaker with ice. Shake and strain into a glass over fresh ice. Top with sparkling water, and garnish with a lime slice. Enjoy!
A week after Texas added two congressional seats and California lost one, state officials reported a population decline in 2020 for the first time in the Golden State's history.
California fell by over 182,000 people from January 2020 to January 2021, dropping almost 0.5% to cap out at around 39.5 million people. It is still the nation's most populous state.
For over thirty years, California has seen more people leave than move in from other states, state officials said, with 6.1 million people moving out and 4.9 million coming in last year. Immigration and births kept California growing, but the state saw a shrink in international migration in 2020 due to COVID and the White House's hold on visas.
Of the steady flow of ex-Californians moving to other states, more are moving to Texas than any other state. Many are relocating to Austin, which has been labeled a "little California" by billionaire resident Elon Musk and continues to grow astronomically.
Meanwhile, California cities including Los Angeles, San Diego, San Jose and San Francisco saw a population decline.
With immigration and state migration on the decline, the Golden State was also hit with a spike in deaths- 51,000 people died from COVID in 2020, and all but seven of the state's counties saw death rates higher than the three-year average.
Still, the California Department of Finance said a "slightly positive annual growth" can be expected next year as the state recovers from COVID deaths and political repercussions.