Get connected with our daily update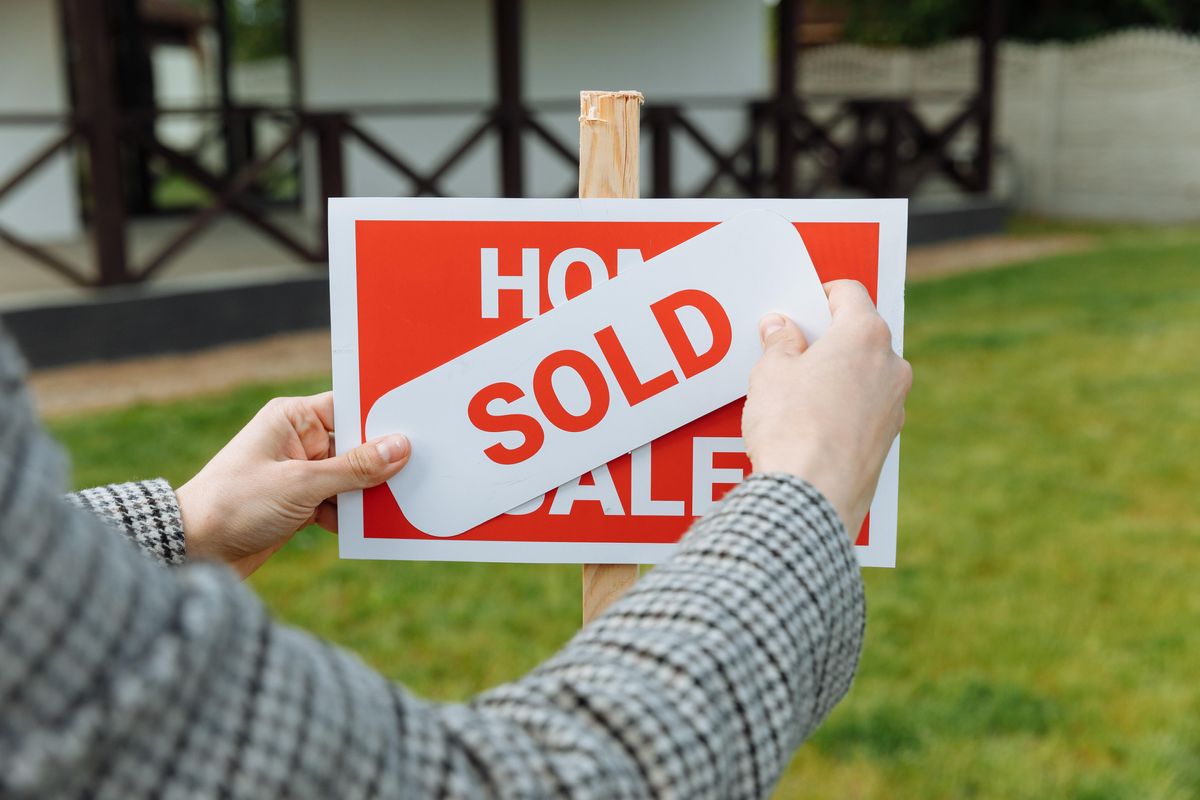 The Austin housing market—historically a hot one—entered a new sizzling phase early this year.
Prospective buyers are likely to face dozens of competing offers, many of which are well above the list price and in cash. Realtors talk about extreme cases: winning offers $200,000 above list price and the Brushy Creek house that received 97 offers over one weekend.
---
The median home price in the city of Austin hit an all-time high of $566,500 in May, rising more than $142,450 year-over-year, according to the Austin Board of Realtors. And prices across the five-county Austin metro are rising at an even faster rate.

But there is room for hope. Local realtors report a small shift in the market in recent weeks, as fully vaccinated would-be buyers head out on summer vacations. "Don't give up," said Alex Gilmore, an agent at Paul Presley Realty. "Austin's only going to get more expensive."
A case study
Chris More, 44, and his wife recently purchased a new construction house in Pflugerville after a months-long search that included multiple rejections.
The couple moved from California to Round Rock in 2017, spurred by remote work options and the metro's relative affordability. Last year, midway through the pandemic when the market was hot but not scorching, they started looking for a new home with more privacy and a pool. "We were like, 'We can still catch that wave,'" he said.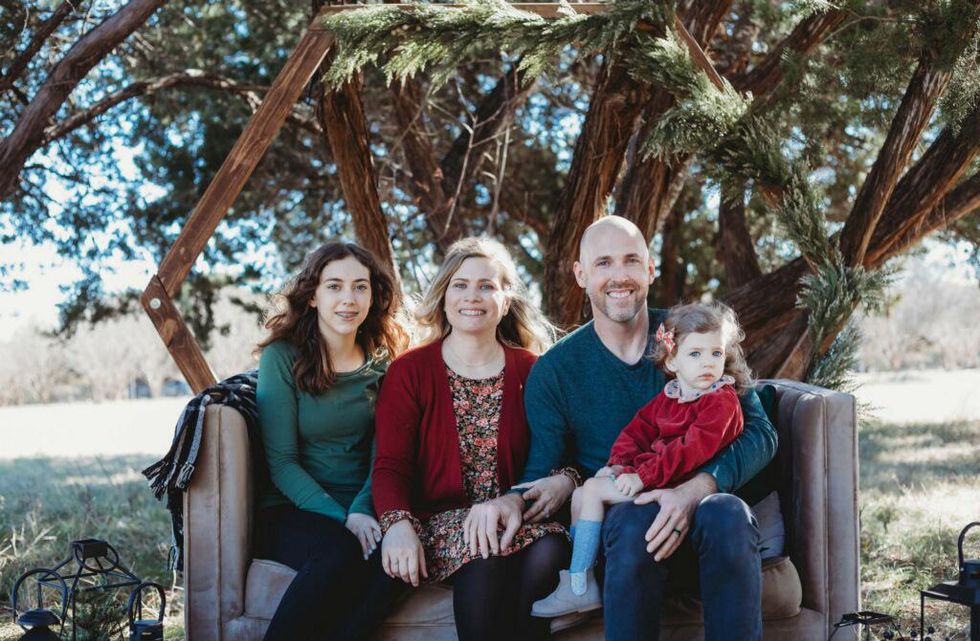 Chris More and his wife faced multiple rejected offers while searching for a home earlier this year. (Chris More)
After the holidays, More noticed Zillow home prices in Round Rock, Leander and Pflugerville were rising dramatically from week to week—he described it as "hockey-stick growth"—and started to worry. Using a VA home loan thanks to his wife's time in the Air Force, the couple soon made their first offer: $75,000 over asking price on a home in the $600,000 range. They were immediately rejected but not discouraged.
The couple eventually made five more offers, one as much as $220,00 above the list price, but found sellers were only interested in cash. "We completely gave up, and it was kind of depressing," More said.
Discouraged by the resale market, they looked into new construction and found a builder who had three properties available on a first-come, first-served basis. Unbeknownst to them, they were first in line and able to purchase a home using the VA loan for under $800,000. Although higher than their initial budget of $550,000, More said, "I just got completely lucky."
Creative solutions
The market also poses challenges for realtors. Realty Austin, a brokerage firm with more than 550 agents, brought in Bay Area realtors to speak about navigating such intense competition. "All of us had to set up new expectations with our clients," said Deanna Garza, an agent with 14 years of experience.
Buyers who found they were priced out of the resale market could seek out a cash bridge loan through a program such as Homeward, which has become "almost mandatory" in the current market given sellers' preference for cash offers, said Ashley Jackson, a Realty Austin agent with nine years of experience. They could also look at new construction or the rental home market. "You have to have tenacity in this market," she added.
Jackson recently worked with a buyer who offered $50,000 above the list price for a South Austin home in the 78704 ZIP code. She later learned the seller had received multiple offers $200,000 above the list price. But her client now has a home under contract after she called the listing agent to ask for the real price—not the one listed but the one the seller would accept.
"You have to walk the line between the brutal reality of our market … and the excitement of buying a home," she said.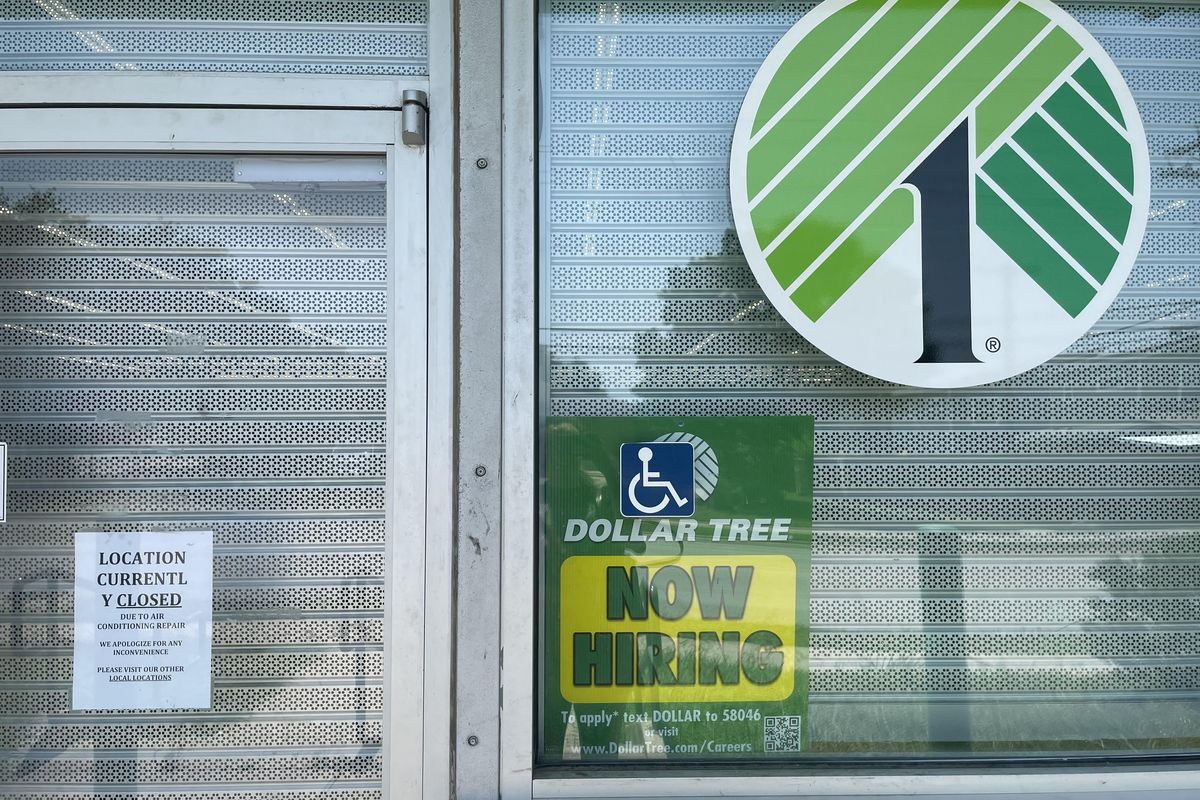 It's been a few weeks since a viral TikTok revealed poor working conditions at the Montopolis Dollar Tree in southeast Austin, and employee Maggie Lopez is still feeling its effects.
Lopez was filmed working alone at the location May 1 in a since-deleted video that saw 2.9 million views and over 450,000 likes.
In the video, stacked boxes littered the floor, shelves were left unstocked and a leaky, broken air conditioning unit welcomed customers into the understaffed storefront.
Lopez, who now works at the dollar store's Springdale location, says she was left with the aftermath of a 90-hour workweek, lost wages and a mystery illness after the store closed a few days later.
"Nobody ever told me... that there was no air conditioning. They didn't tell me there was danger of getting robbed," Lopez told Austonia. "Nobody said anything... they didn't care."
The location didn't shut its doors because of the TikTok exposure: instead, an AC unit specialist doing routine maintenance found employees working in extreme heat and said it was too hot for employees to continue working.
"To operate a business, you have to have your temperature within a certain parameter," Ikaika, the specialist who didn't disclose his full name to protect his job, told Austonia. "As soon as you walk in, you start sweating... it's not good at all."
Lopez said working in 90+ degree heat became the norm in her two months at the location as air conditioning units remained broken for months before the closure. She added some employees, including her former manager and several customers, passed out in the store due to the heat. But she said company leadership remained unresponsive.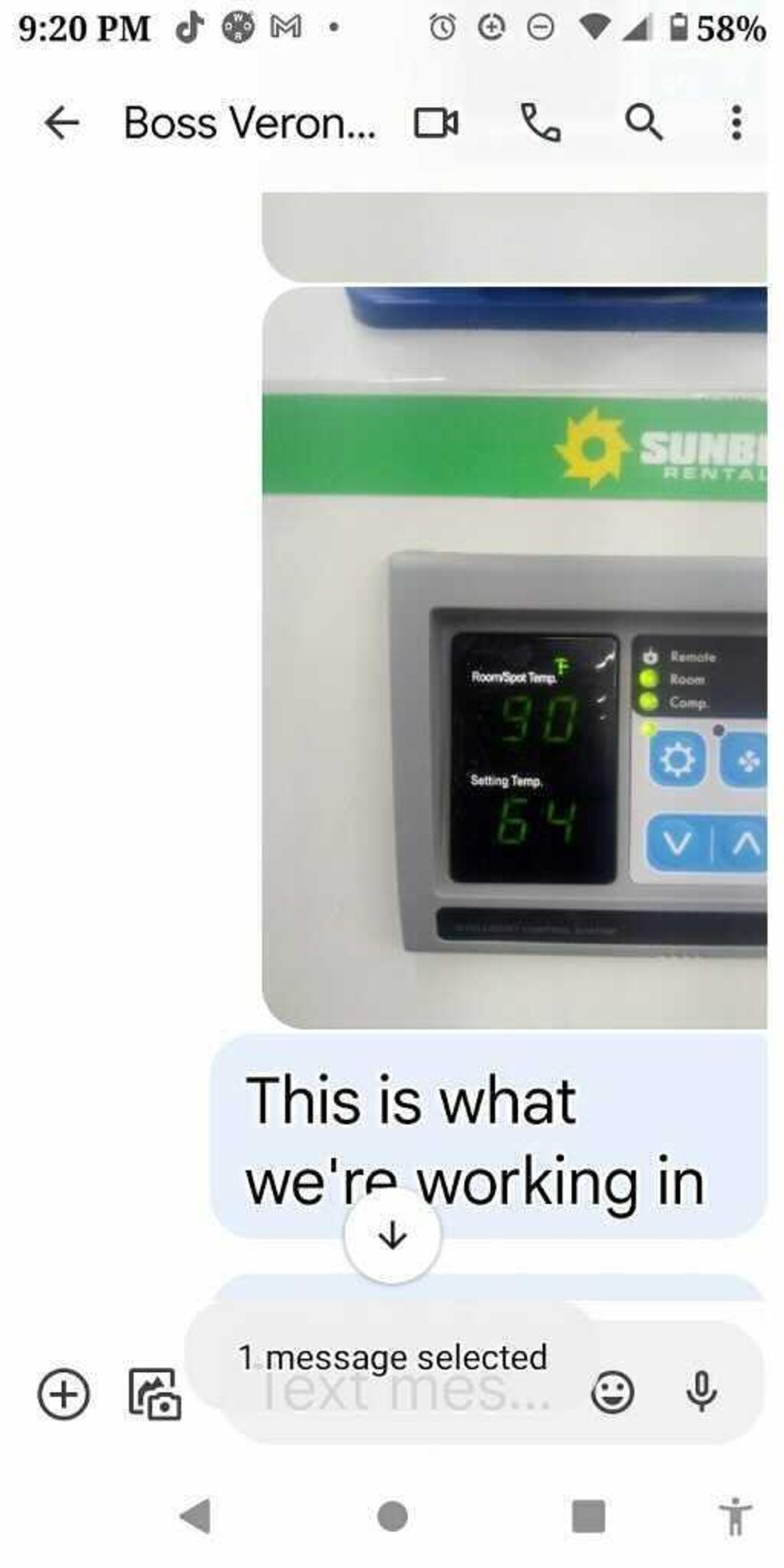 Lopez said she sent her district manager, Veronica Oyervides, screenshots of 90+ degree temperatures inside the store. (Maggie Lopez)
Four days after the air conditioning repairman told employees they should no longer keep working at the store, Lopez said her district manager, Veronica Oyervides, was asking her to come back in to prep the location for reopening. Lopez worked May 8 in the shuttered store prepping it for a reopening, which has yet to happen. Oyervides has declined to comment.
Ever since she started working in the deteriorating Dollar Tree, Lopez said she often wakes up with nosebleeds. She said she's constantly thirsty, her hands shake, and she's experiencing headaches and mood swings—symptoms she believes are due to long-term exposure to mold.
Former assistant manager Linnea Bradley told Austonia she has been hospitalized with symptoms linked to heat and stress after working at the store.
"We are sick and corporate does not give a shit," Lopez said. "What kind of damage did these stupid units do to our bodies?"
Lopez hasn't sought care for her symptoms. She says she makes $13.50 an hour and doesn't have health insurance.
Former employees have more complaints than just the heat: Lopez said that personal safety became a concern in the understaffed store. Catherine, a former employee who wished to only reveal her first name, said she's witnessed large-scale theft and instances of mismanagement in her months as a stocker at the location.

"They have no security, no cameras... they don't want you to have anything in writing," Catherine told Austonia. "It's just complete chaos."
Catherine said that she and other hourly employees were given zero hours for weeks on end as managers, who work on salary, were left to run the store alone from 5 a.m. to 10 p.m. each day. She said some managers became so desperate they were hiring homeless people to help stock shelves in exchange for a drink and a bite to eat.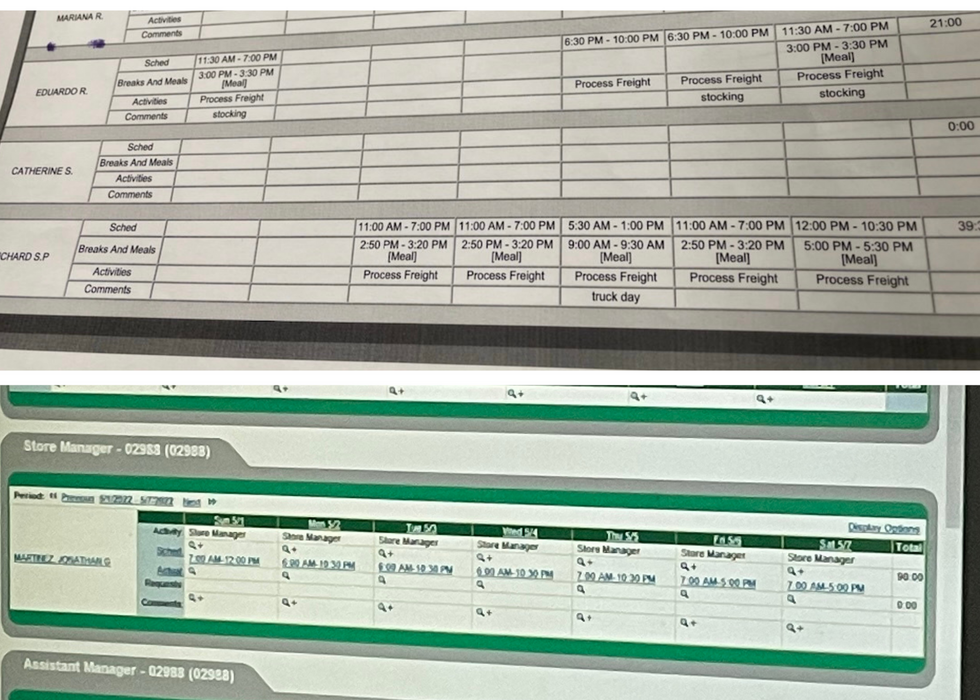 While Catherine (top, middle) often had zero-hour weekly schedules, Martinez, who was paid on salary, worked back-to-back 90-hour workweeks. (Catherine) (Claire Partain)
"They actually did have people willing to work, they just refused to give them hours," Catherine said. "I'm not understanding whether Dollar Tree wants to go under... are they doing this as a tax break?"
Other Austin Dollar Tree locations have reported similar issues. Former manager Jonathan Martinez, who says he was supposed to work 45 hours a week, says he was racking up 90+ hour workweeks and sleeping in the store as he shouldered both the Montopolis and William Cannon locations while his newborn baby was in the ICU in March.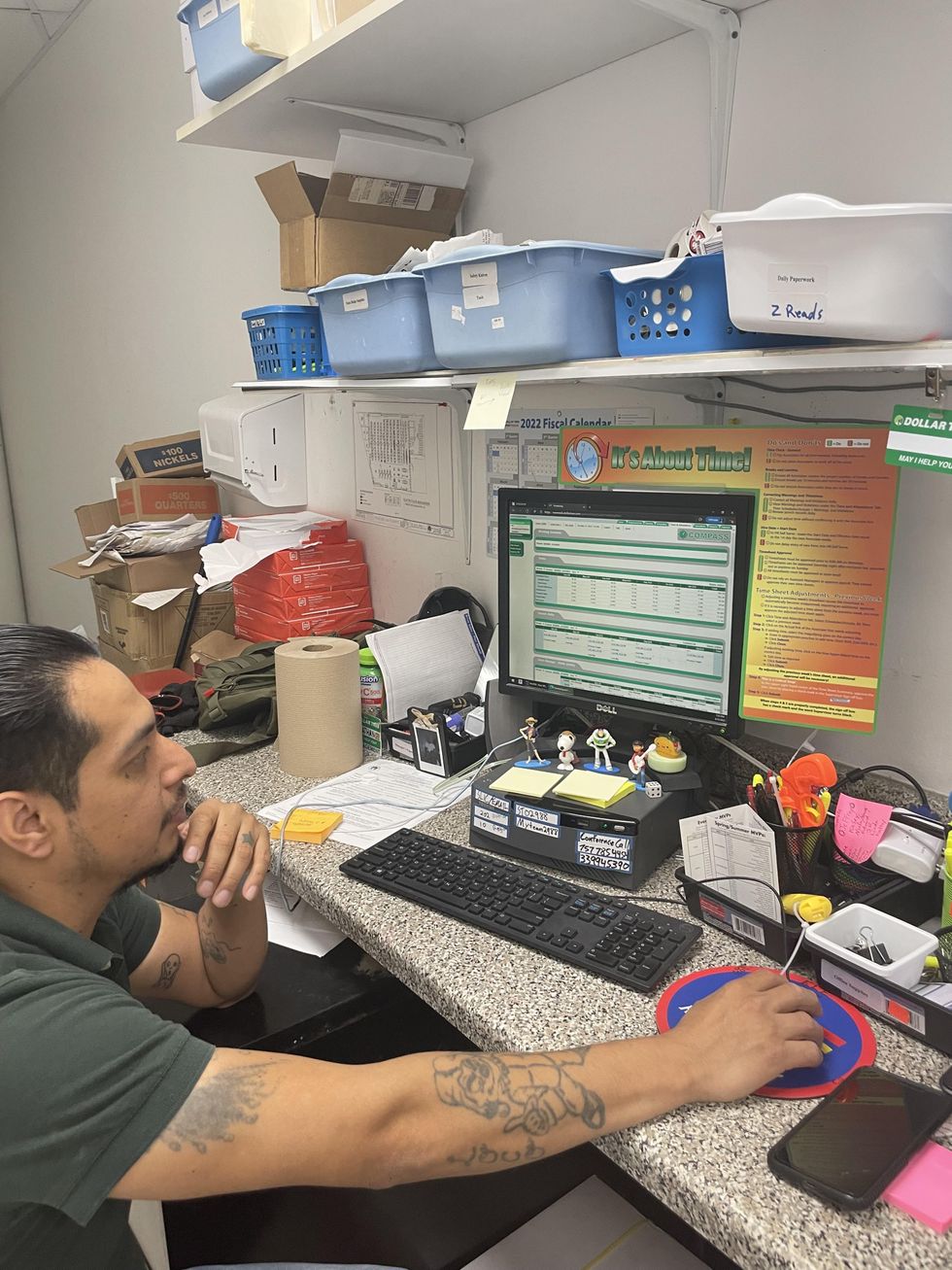 Martinez kept extra clothes in this office after working seven-day weeks at two Dollar Tree locations. (Claire Partain)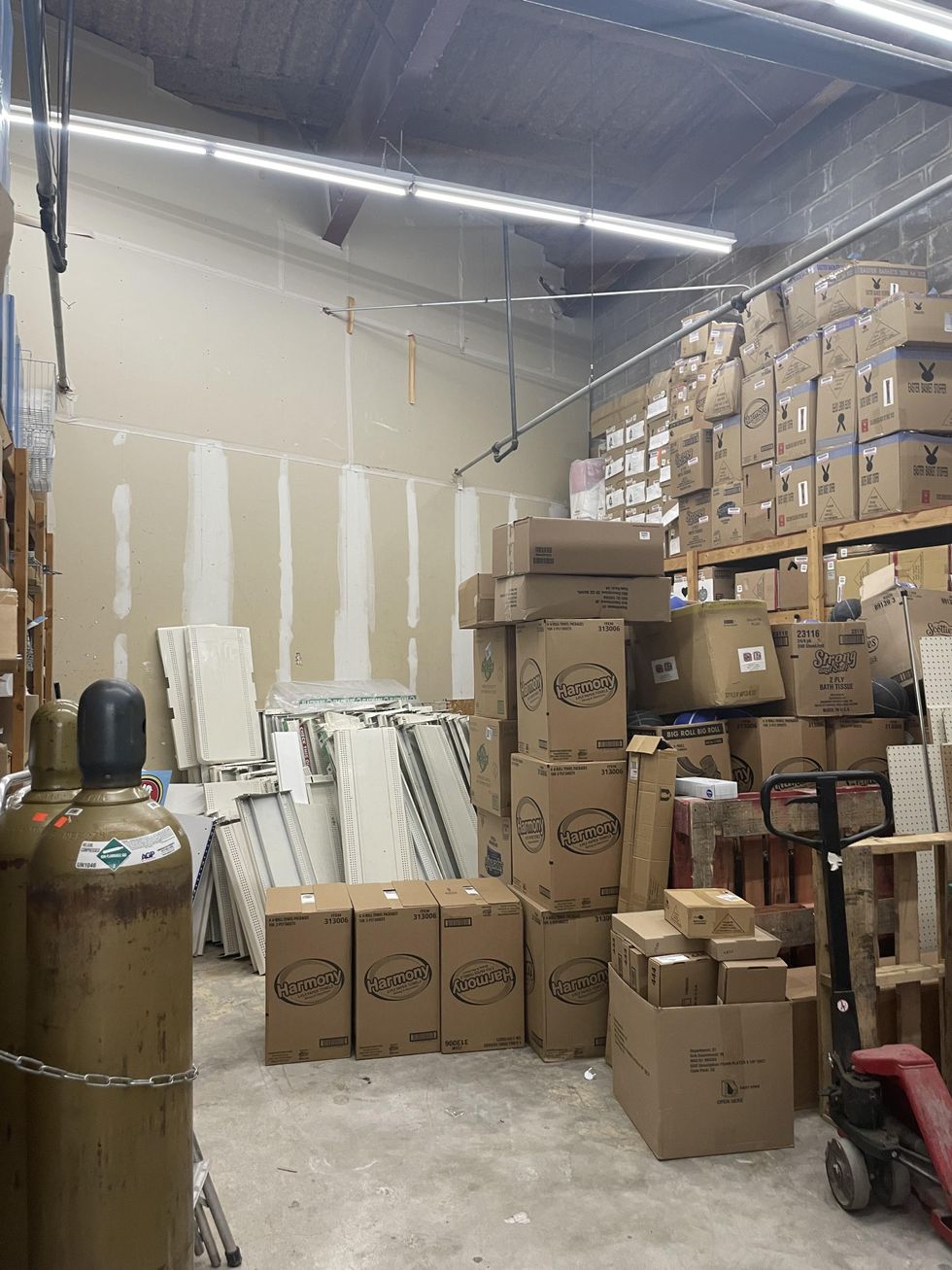 Martinez said he slept on boxes as he juggled the job and visiting his newborn in the ICU. (Claire Partain)
Martinez said he slept on boxes as he juggled the job and visiting his newborn in the ICU. (Claire Partain)
"As long as the store stays open, there are corporate people getting bonuses," Martinez, who quit last week after receiving a $100 annual bonus, told Austonia. "Six months ago, when corporate people had a shitload of bonuses, that's when they upped the price (of everything in the store from $1 to $1.25)."
In the six months since Dollar Tree hiked its prices to $1.25, it's gained plenty of mostly negative national attention. In February, the Food and Drug Administration shut down an Arkansas distribution plant due to a massive rodent infestation, and several lawsuits have ensued. The company has also come under fire for selling allegedly expired over-the-counter medicine and its worker shortage at locations across the country.
One employee, who still works for Dollar Tree and wished to remain anonymous, said that they've seen or heard that many area locations are near their breaking point.
"I've seen the good, the bad, the bad to worse," they said. "And it's always a rinse repeat kind of thing... How many more (stores) will go? And what about the employees?"
"Every time I would tell (Oyervides) 'I'm just going to close, I can't stand it anymore,' she would say, 'No, no, no,'" Lopez said. "And I'd be so upset because why? They have my paycheck. It's just been mortifying... the most horrible year of my life."
Dollar Tree's regional director did not respond to requests for comment from Austonia.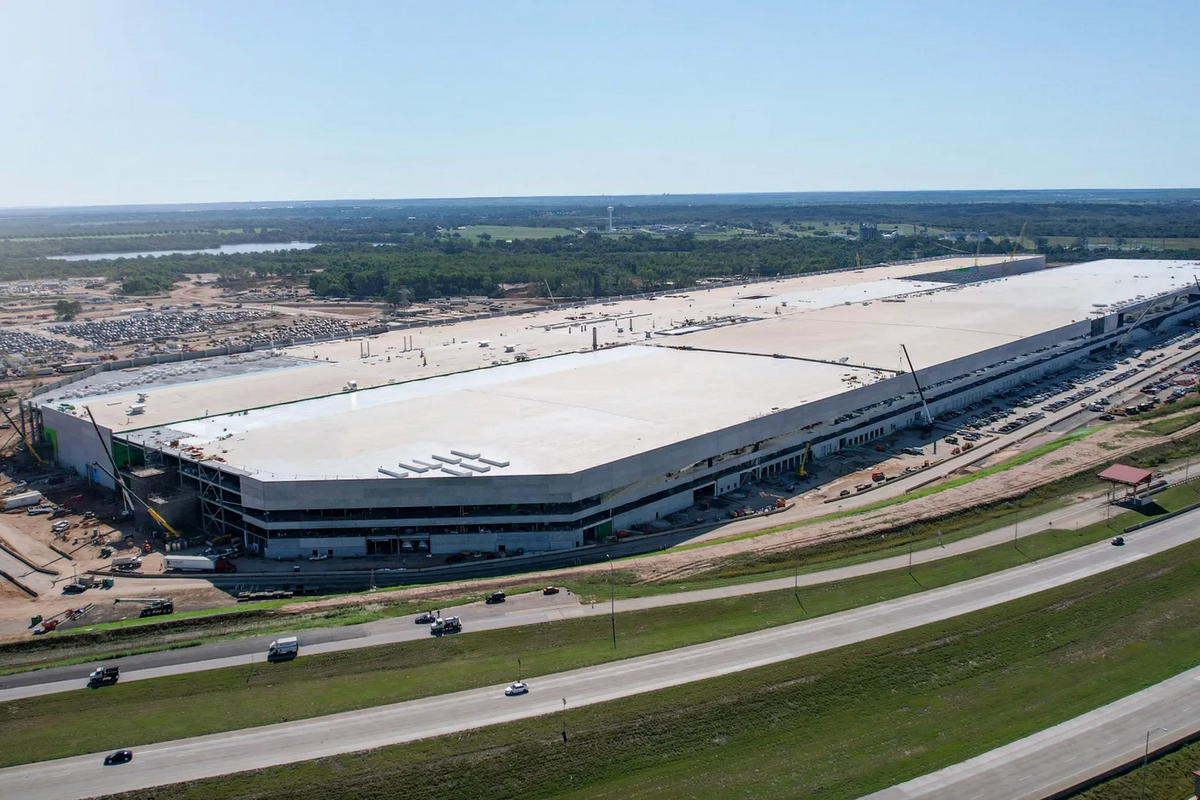 A group of environmentalists and other activist groups are calling on the city to withhold permits Tesla has requested, including for a battery cathode facility by the company's headquarters near the Colorado River.
In a letter to Mayor Steve Adler and the rest of council, the groups say the manufacturing process will require a substantial amount of water and chemicals, and that as a result, a hazardous waste stream will form.
"Where will the toxic waste end up? How will Austin ensure that it doesn't pollute the water?" the letter asks.
The groups, which include East Austin group PODER, the Texas Anti-Poverty Project, Hornsby Bend Alliance and others, demand that the city wait on permit approval until the company makes commitments to engage the community and protect the environment.
While building its own batteries could mean a significant reduction in production costs for the automaker, the groups say materials and processes involved in battery production have dangers. They pointed to Piedmont Lithium, a supplier for the facility, saying caution should be taken with battery production products to "avoid contamination of surface, ground and sewerage waters."
Last year, PODER launched an initiative known as the Colorado River Conservancy to protect the character of the river corridor. Paul DiFiore, manager of the initiative, talked about its aims to put protections in place for the riverfront neighborhoods. "That was the goal that Tesla maybe brought that to another level of urgency," DiFiore told Austonia.
The company has faced controversy with its environmental action before. Earlier this year, the company was fined $275,000 by the Environmental Protection Agency for high priority violations of pollution regulations at its Fremont, California plant.
The letter from environmental groups comes just as Tesla was booted from the E.S.G. index, which ranks companies for how they follow environmental, social and governance principles.
Yesterday, Tesla CEO Elon Musk pushed back against the index, calling it a "clear case of wacktivism."
Exxon is rated top ten best in world for environment, social & governance (ESG) by S&P 500, while Tesla didn\u2019t make the list!\n\nESG is a scam. It has been weaponized by phony social justice warriors.

— Elon Musk (@Elon Musk) 1652890157
Along with action on the cathode facility's permits, the groups are also calling for collaborative work to remedy inequities in water access.
The letter describes how Tesla receives service from Austin Water, though the gigafactory is outside the boundaries of the service area. That's because the Public Utility Commission granted Tesla a release from South West Water's service, allowing them to instead turn to Austin Water for service.
Meanwhile, others in the surrounding area, like those in the Garden Valley neighborhood, rely on Aqua Texas Inc.—which has rates more than double that of Austin Water—for retail service. The neighborhood can receive wholesale service from Austin Water, however.
The groups point to this, along with other developments at the gigafactory—clearing large swaths of trees, filling in ponds and pouring acres of concrete for the factory—as a reason to enforce standards requiring companies to operate with social and environmental responsibility.
"If we do not raise the bar for the increasing number of corporations who wish to relocate to Austin or expand their presence, we risk losing precisely that which attracts people to live here in the first place: the clean, beautiful environment that is the foundation of our collective quality of life," the letter states.