Get connected with our daily update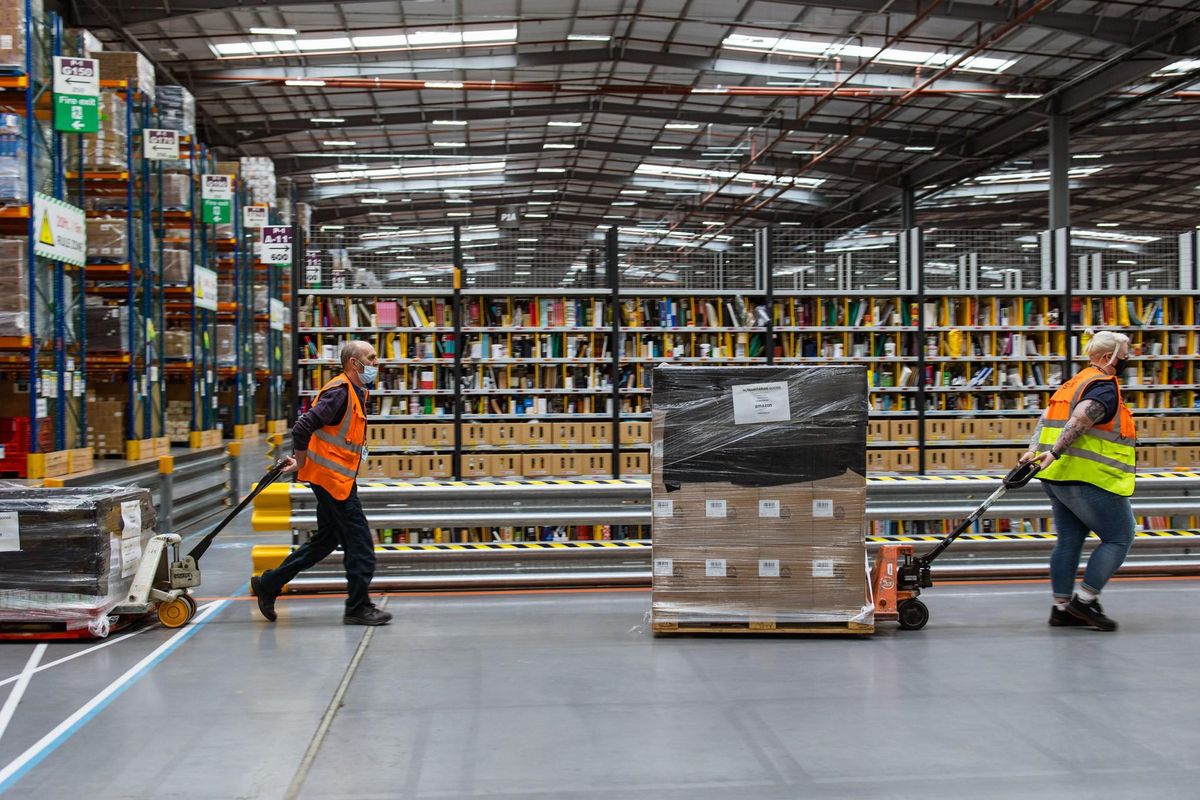 When University of Texas student Ben Patterson graduates this spring, he'll join the large group of Austinites who make $15 an hour at their main place of work.
---
Once the "livable" salary that thousands across the country fought to make the national minimum wage, living on $15/hour is now a near-insurmountable task in many urban metros, including the booming tech hub of Austin, where the median home price pushed past $600,000 in March.
Charles Mitchell, who owns Capital Budgeting Strategies, knows the perils of recent college graduates all too well. He's worked with clients with as little as $67 to their name and says living on your own is doable—if you're willing to sacrifice some luxuries or time.
Here's the key to budgeting that $15/hour income in Austin, according to Mitchell:
Find your hidden housing gem
This depresses me so much. I love this city, I grew up here. It means everything to me. But I'm watching it lose its identity more and more every day.

I'm really starting to wonder how much longer I can afford to live here. https://t.co/OSZELTrnPC

— Chris Welhausen (@chriswelhausen) April 14, 2022
Aside from paying off debts early, avoiding high-interest loans like payday loans and sacrificing some luxuries in life, Mitchell told Austonia the key comes down to finding cheap housing.
Affordable housing may seem like an element of old Austin legend, and it would be hard to find a place to stay within Mitchell's ideal range—housing that costs within 28% of your monthly budget. For a full-time employee making $15 an hour, that income amounts to $2,217 per month.
That allots $620 per month for rent. Pickings may be slim—just two complexes offer four-bedroom apartments for that range in Austin on ApartmentFinder.com—but with enough roommates, certain specials and the help of apartment locators, it's still very narrowly possible within the city.
The more likely scenario, like Patterson's, may be finding other budgeting areas to cut. Mitchell recommends skimping on luxuries, like payments for nicer cars, and cutting out on savings if needed.
"I'll more or less be able to prioritize paying "X" amount for rent each month," Patterson said. "Trying to be mindful of not just exuberantly spending or being impulsive with buying habits... just knowing that in the next few months, I need to start being able to hand out an additional $1,000 bucks each month just to live."
But $15 an hour may no longer cut it even for Austin homeowners. Fae, an Amazon and Whole Foods employee who is using an alias since she is going against the company media policy, has owned a house in Pflugerville for 20 years, when it was worth half of its current value.
But like virtually every other coworker she knows, Fae has picked up multiple supplemental jobs in order to eke out a living in her city.
Get a side hustle
Welcome to Austin, Tx, where wages are 97% of nat'l avg, rent is 103% of nat'l avg, and education level is 20-25% above national avg. A real slice of heaven we've got here🙄 pic.twitter.com/AqQUUtSFKL

— Tracey Suits (@SuitsTracey) April 28, 2021
Fae recently had a bittersweet celebration as her hourly wage increased to $15.25—a 25-cent increase after three years with the company. Wages like hers put Amazon workers' median salary at just over $31,000 in Austin—less than half of the median pay at Google, Meta and Apple.
"Even full-time (employees), it doesn't matter, they cannot rely on Amazon as a living job," Fae told Austonia. "Everybody I know has a side job."
Before he even goes out on his own, Patterson is preparing to work extra for a second flow of income that works with his hours at his current job at Austin FC's Q2 Stadium without running his energy into the ground.
A side hustle may be essential to paying off loans early and beginning to save for retirement (Mitchell recommends a high-interest IRA), but it doesn't have to be too taxing: Mitchell said anything from picking up food delivery shifts to having a garage sale could revitalize your budget.
Find a sustainable employer
BREAKING: David beats Goliath! In a historic victory, Amazon workers in Staten Island win the first U.S. Amazon union.@AmazonLabor and workers at the JFK8 warehouse overcame extreme union-busting to make history.

— More Perfect Union (@MorePerfectUS) April 1, 2022
Patterson didn't take his current job for the money—instead, he's hoping his current gig at the stadium could lead to his breakthrough in the sports industry.
Taking a job with clear upward mobility is key, Mitchell says, and bonuses like matching 401(k) plans or other benefits are a huge plus. If your job offers neither and still pays too little, however, it might be time to consider switching to a more sustainable job.
Mitchell said many people aren't taught the financial literacy tools needed to afford a living in Austin, and many others are never made aware of the employment options that are available. While Austin hasn't had much praise for its affordability in recent months, it does boast a swelling job market, with over 58,000 more jobs created from February 2020 to February 2022.
If your debt is low and you've got extra time, investing in a marketable skill online or at a local community college is always advisable. And while it may not be as desirable, some restaurants and entry-level positions, including McDonald's, have raised starting pay for some positions to over $15 per hour.
To stay or to leave?

Even with these tips in place, both Fae and Patterson agree that their current wage is hardly doable in Austin.
"The way that rent and real estate just continue to become more and more expensive... I don't think it's in a sustainable spot," Patterson said. "Even today, it's kind of on the fringe with people who still make ends meet."Patterson says he wonders if he made the right decision to stay in the capital city in what is looking like its most expensive era yet.
"There's probably not a week that goes by where I don't second guess if I'm making the right call," Patterson said. "But I'm also pretty confident, just knowing me as a person, that I'll be able to... grind it out and find a way to make things work."

Fae plans to stay too, even as other Austinites she knows could get pushed out, as she collects workplace horror stories—and unlivable wages—at Amazon before her homemade skincare product line takes off.
"Everybody who's originally from Austin can't even afford to live in Austin (anymore) and they're just moving out," Fae said. "My question is, how do they get away with this?"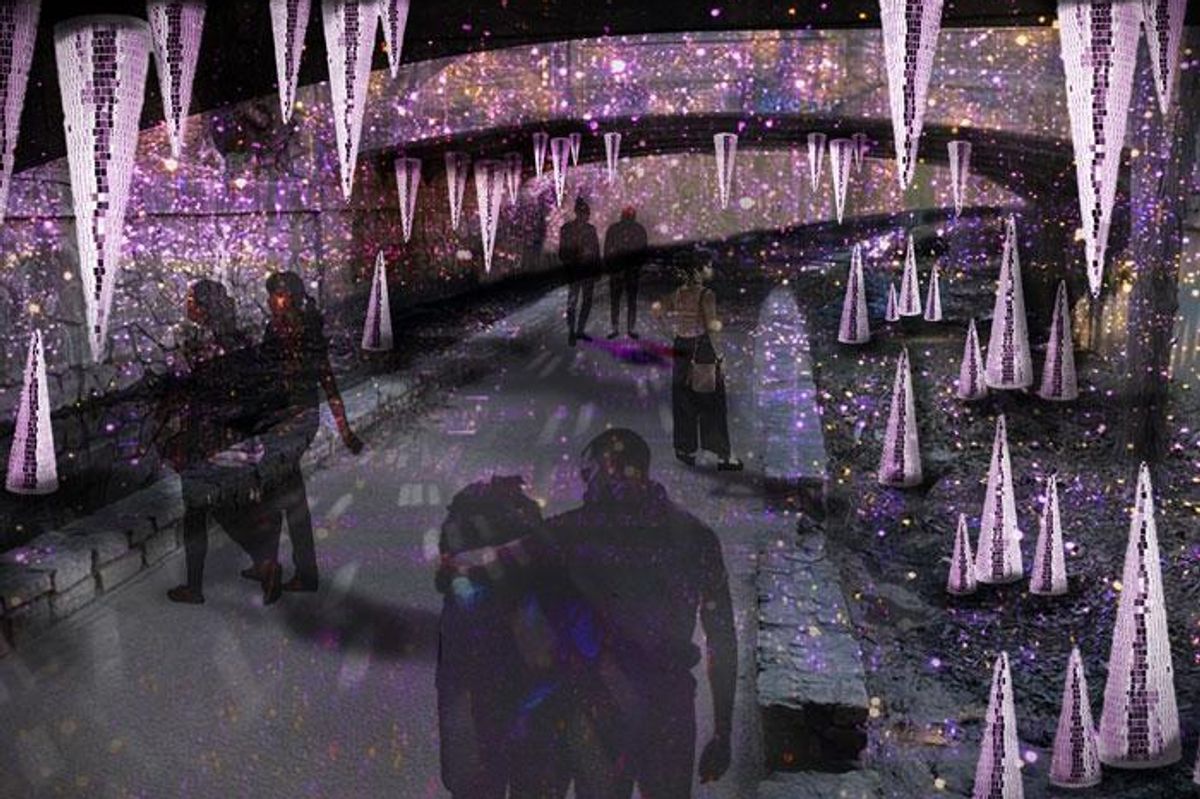 Waterloo Greenway, Good Vibrations Installation
🗓 All weekend
Check out this highly anticipated art exhibition with illuminated art along Waller Creek. Tickets are free and the event includes food vendors, dazzling lights, live music, and hands-on activities
All weekend 6 p.m - 10 p.m | 📍Waterloo Park
This iconic holiday tradition lights up for the first time this holiday season starting this weekend! Reserve your spot for an enchanting light and sound performance, delicious hot cocoa, sweet treats, and some overall fun with your friends or family. The show runs till January 6th.
6 p.m and 9 p.m | 📍Mozart's Coffee Roasters - 3825 Lake Austin Blvd, Austin, TX 78703
🗓 Saturday
This fitness event is free and open to the public. Get your morning started right with a "Fitness in the park" class for kickboxing! The class will be led by certified instructors and is a great way to get a cardio workout in while also honing your self-defense skills.
10 a.m - 11 a.m | 📍 Metz Park
Support local LBGTQ+ and female artists at this outdoor market with over 150 vendors. Get your holiday shopping out of the way at this event, with vendors for food trucks, handmade goods, raffles, hands on workshops and activities, and more.
11 a.m - 5 p.m | 📍Ani's Day and Night - 7107 E Riverside Drive, Austin, TX 78741
Did someone say cheese?! If you're like me and always willing to get your hands on a bowl of mac and cheese, then this event is for you. Check out the Mac and Cheese festival happening this weekend to decide which vendor has. the best mac and cheese for yourself, and enjoy the bar with creative cocktails while you're at it. Tickets start at $45.
11 a.m - 3 p.m | 📍Lantana Place - 7415 Southwest Parkway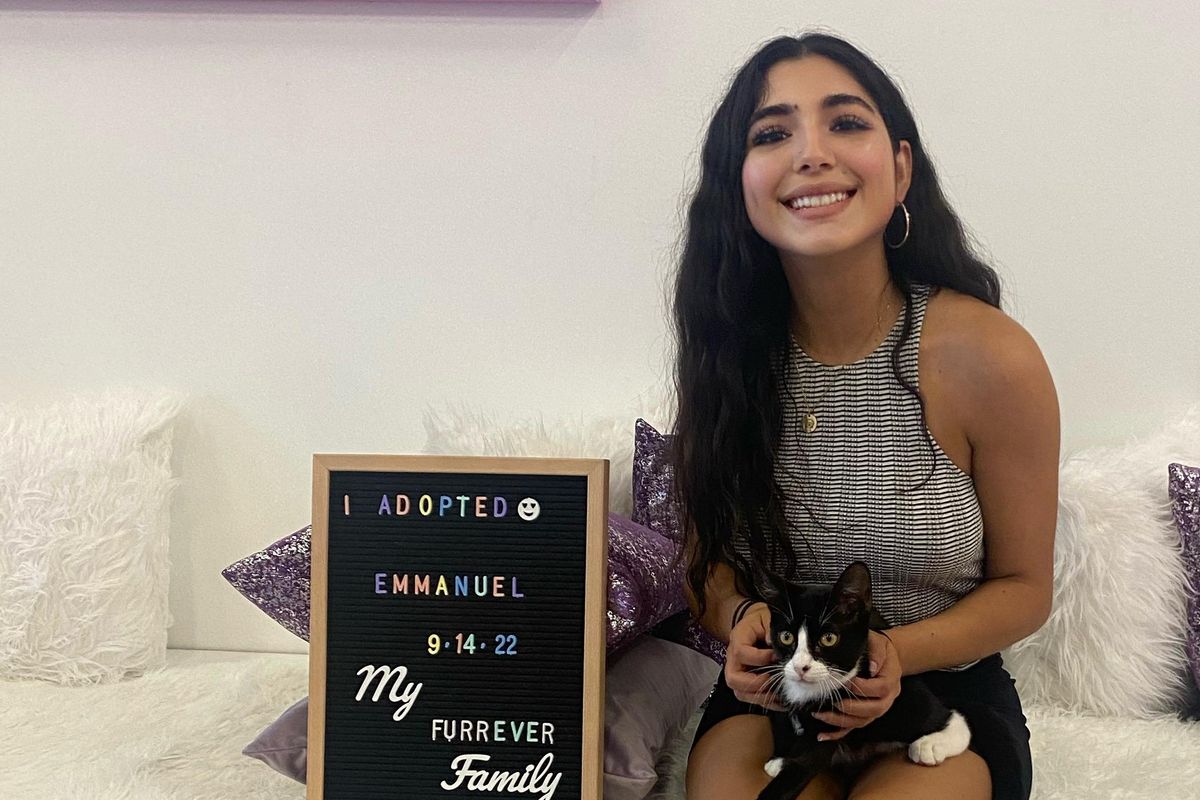 Purr-fecto Cat Lounge
Timmy and Tommy are ready to play.
As the 2-month-old white-and-tabby brothers swat feather wands, chase toys and generally hold court inside Purr-fecto Cat Lounge, a half-dozen potential adoptive parents look on lovingly, trying to get their attention.
"This is kind of like the speed dating of cats," said Lupita Foster, owner of Purr-fecto Cat Lounge. "I intentionally didn't put in any tables. That's why we call it a lounge instead of a cat café because we have these lounge areas where you can sit and relax and cuddle."
Foster, who has owned a cleaning company, Enviromaids, for 18 years, was inspired to open Purr-fecto Cat Lounge after adopting her own cat, Romeo, from a local shelter.
"When you want to adopt a cat, you have to spend a lot of time with them to get their personality," Foster said. "I wanted to do something to help the community and something that makes me feel good, that warms my heart. A business with a purpose. This was a perfect idea."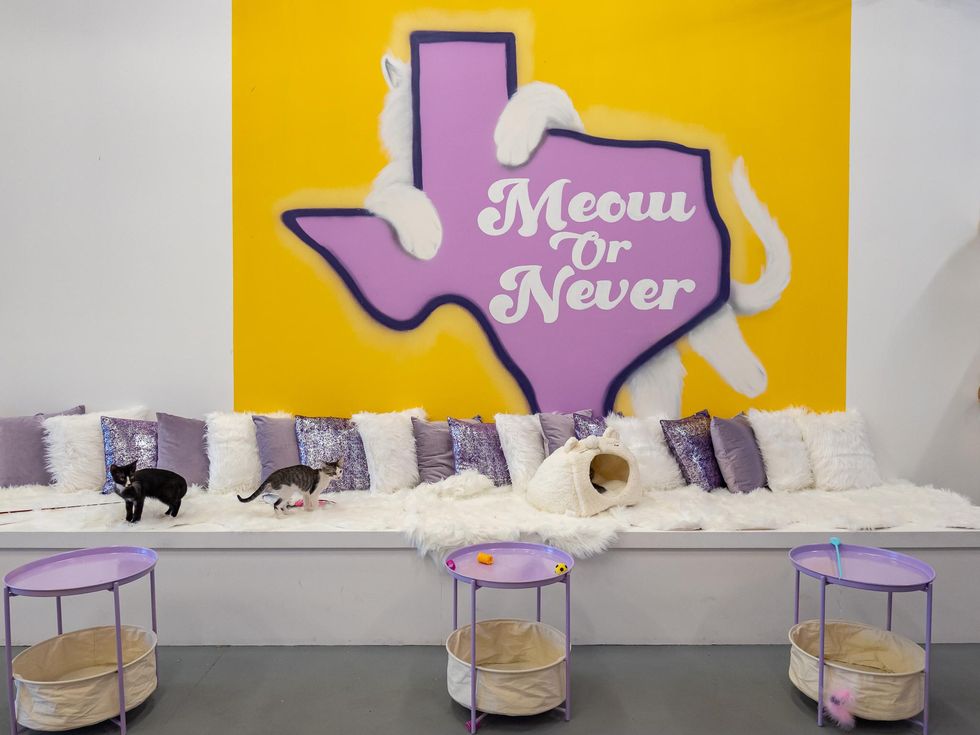 Actually, a purr-fect idea.
Inspired in part by a cat lounge she visited in Los Angeles, Foster began laying the groundwork for the business in late 2021 and officially opened the doors of Purr-fecto Cat Lounge, located at 2300 S. Lamar Blvd., in July 2022. Since then, she's worked with rescue organizations such as Fuzzy Texan Animal Rescue and Sunshine Fund Cat Rescue to facilitate nearly 100 cat adoptions.
At any given time, there are 10-15 cats living in the space, which features an ideal blend of calm, cool corners and adorably Instagrammable backdrops with phrases such as "I want to spend all my 9 lives with you."
Lina Martinez, 32, learned about Purr-fecto Cat Lounge from a friend's Instagram post and made an appointment to visit two days later.
"My first impression was, 'AWW!'" Martinez said. "The kittens were to die for. I felt happy and at peace – just what I needed."
Visitors to the cat lounge pay $15 for a 30-minute CATXperience session or $30 for a 70-minute session that is spent getting to know the personalities of each cat. Foster said the first thing she typically sees from visitors to the lounge is a smile.
"Everybody that enters the door is smiling," she said. "And we've seen people who have cried because they can't have kids and they decide to go and adopt a cat instead."
Foster said she loves bringing in cats who might not have a chance to be adopted at traditional shelters. She told the story of one cat named Izzy, who was partially blind, who was adopted by a family that had a deaf cat at home.
"Izzy was not going to get adopted anywhere else, but she's extremely beautiful," she said. "If she was in a cage in a rescue and you tell people she's blind, she was probably going to be overlooked. But visiting our space, she doesn't seem like she's blind. She knows her way around. She moves around perfectly."
Although Martinez, who had been casually looking for a pet to adopt since moving to Austin nearly four years ago, was interested in a cat named Ruby that she had seen on Purr-fecto's social media, at the lounge she instead found herself drawn to 5-month-old mixed breed Tuxedo cat.
"I thought he was a star," she said. "He worked the room and introduced himself to everyone. When I laid down to pet Ruby, he ran from the other side of the room and cuddled with me. It was game over. He got me."
And she, of course, got him, complete with a commemorative photo that read "My Furrever Family" the day she took him home. Although his original name was Emmanuel, she renamed him Sullivan after her favorite DJ.
"Purr-fecto is special because of the amount of effort and love they put into taking care of the cats," Martinez said, "and finding them good homes and making possible adopters feel at home."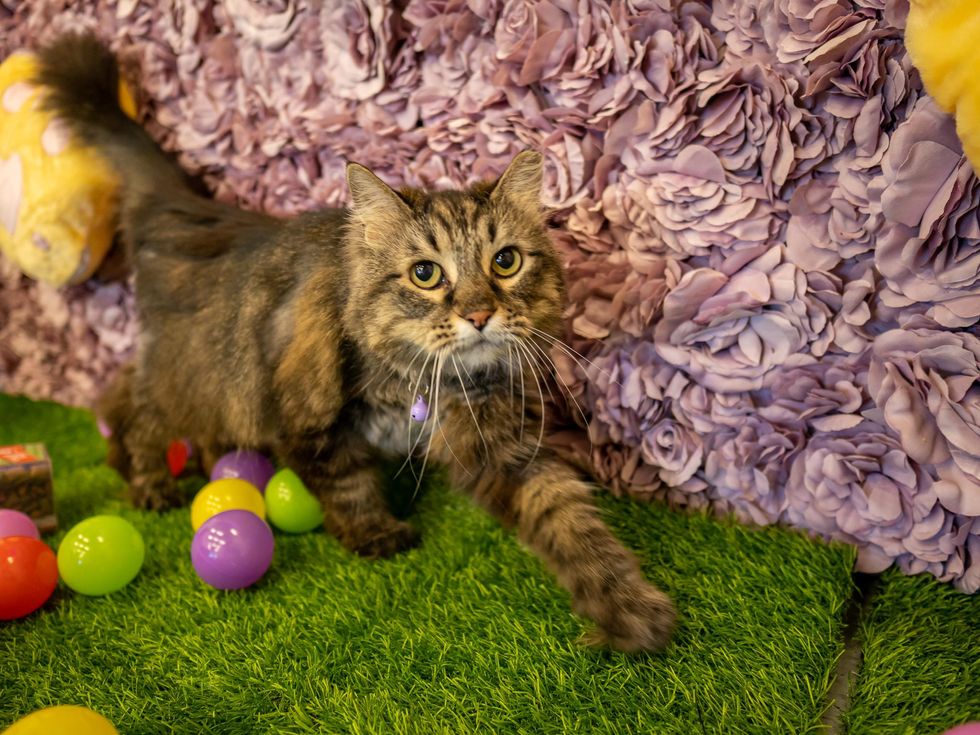 Foster, who spent a recent Thursday hosting a group of teenagers in foster care at the lounge, several of whom expressed interest in working there, said the best part about her new endeavor is that her heart is always full.
"I just feel complete," she said. "I always felt as an entrepreneur that I was missing something. I knew I accomplished a lot, but in my heart I was missing a little connection with the community. Now I'm creating connections between humans and pets and that's amazing. I'm creating family bonds. It's just about love, you know. And we need that."