Get connected with our daily update
A cave-like room with electric red walls and blue light fixtures is the new home to the $100 million podcast of new Austin resident Joe Rogan. And who would Rogan trust to construct this room? None other than his fellow Austinites.
---
Rogan, a mixed martial arts enthusiast and comedian, entrusted two local businesses—Sound Shed Studios and Wrightsmith Studios—to construct his new podcast studio after
recently moving
to Austin from Los Angeles. In just under three weeks, the two Austin companies scrambled to complete the project of their most high-profile client yet.
Timeline of Joe Rogan moving to Texas:
Sound Shed Studios, a local audio and visual business, was a side project Matthew Alvarez started 10 years ago, transforming a storage unit into a recording studio. Getting laid off from his full-time audio engineering job due to the pandemic and seeing the outcome of the Rogan studio, Alvarez has since decided to run Sound Shed Studios full time.
Alvarez began working with Rogan after getting a call from an old friend he had done some work for who said he wanted Alavarez to meet the person who had hired him for private security—Rogan. Alvarez met Rogan the next day, and the two had a thorough discussion about the studio design.

In an interview with Austonia, Alvarez said when he saw the room, he knew he had to make some major changes for it to be podcast ready, and when he told Rogan, Rogan responded with, "Hey, I trust you, I like you, build this out as if it were your own studio."
Alvarez, who usually works alone, gathered some friends—Jacob Rangel, Nate Laningham, Richard Castro, Nick Fette, Justin Contreras and Christopher Spikes—to jump on the project with him on a tight two-and-a-half-week deadline. Together, they sound proofed the inner walls with open core polyurethane foam, adding double doors and treating the finished room with sound dampening panels.
Rogan gave Alvarez the creative freedom—and budget—to make a stunning studio with input mostly on the color scheme.
At the completion of Sound Shed's part of the studio creation, Alvarez said he sent Rogan a photo of the studio, to which Rogan replied, "Fucking sick."
But it wasn't until Rogan saw it in person that Alvarez received the validation that the project was a success.
"He didn't really say much. I could tell that he was really absorbing everything, and he gave me a knuckle bump and [said], 'Matt, you killed it.' To hear that from him in person … I knew that we had something to be proud of," Alvarez said.
And what's a podcast room without the right table? For that, Rogan brought in a recommendation from another famous podcaster in Austin, Adam Curry—the first guest on Rogan's Austin podcast.
Drew Teague, founder of Wrightsmith Studios, is a friend of Curry's and was in the process of designing a podcast table for him when he was asked to put that project on hold by Curry to complete Rogan's Austin studio table.
While Wrightsmith Studios is only officially about a year old, Teague has had lots of experience building and fabricating unique furniture pieces, especially for studios.
After speaking with Rogan on what he wanted, Teague came up with a design. Usually clients will request tweaks to the design Teague said, but at first glance, Rogan said, "That's the one, build it."
On the same schedule as Sound Shed Studios, Teague also brought in outside help to complete the project on time, as he usually works all on his own.
Teague and his team made a 500 pound white oak discussion table with a specific frame for enough leg room for podcast guests.
When Rogan saw the table for the first time in person, he reached out to Teague and told him how much he loved it.
"[Rogan] is outstanding in every way," Teague said. "From the first meeting, he was friendly and down to earth; he was very encouraging."
When Rogan posted the almost-complete podcast room to Instagram, tagging both Sound Shed and Wrightsmith studios, the two accounts were all of a sudden in the public eye. Both accounts gained over a thousand new followers with direct messages asking questions about the studio and requests for their work.
Rogan is up and rolling in the new studio, and the two businesses behind it know their work payed off.
He could literally have anybody come in to [complete the studio] from anywhere, but he decided to find local guys who were already doing it in town at relatively small businesses," Teague said. "It says a lot about Joe's character."
Want to read more stories like this one? Start every day with a quick look at what's happening in Austin. Sign up for Austonia.com's free daily morning email.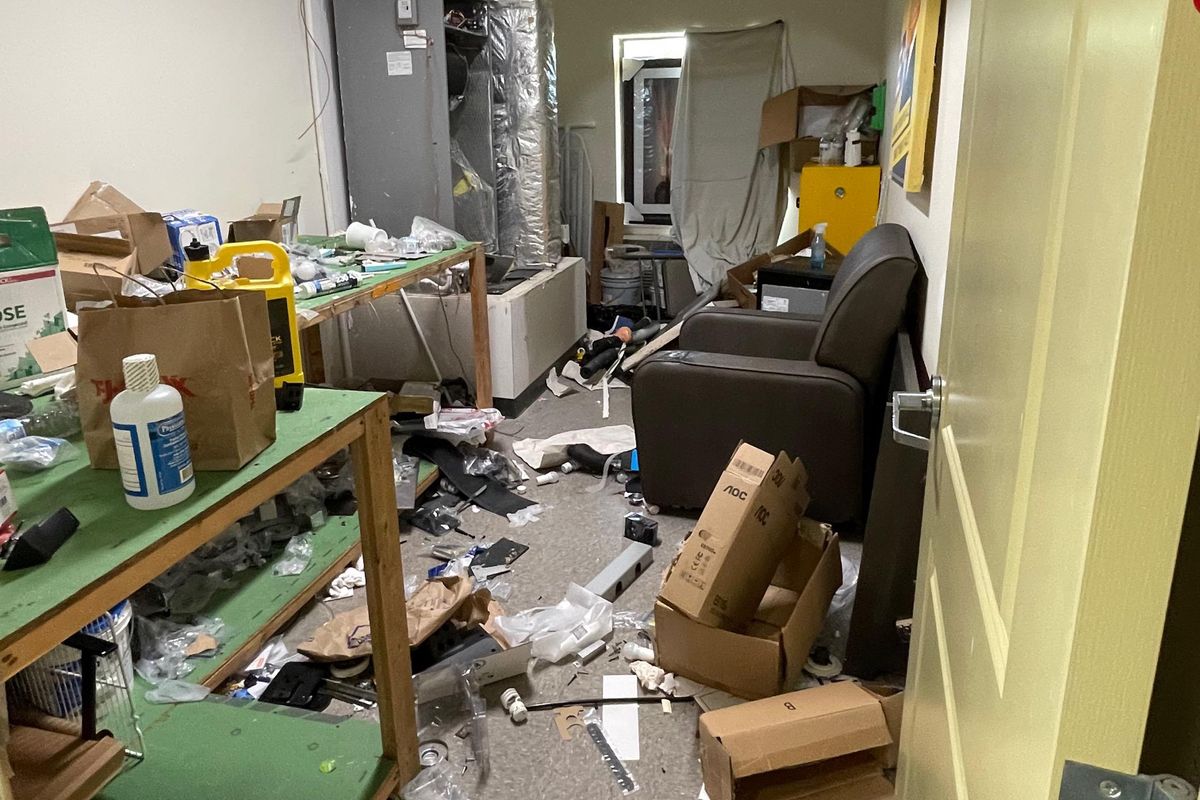 Austin's Homeless Strategy Officer Dianna Gray has apologized after vandals broke into a city-owned hotel in the process of being converted into a homeless hotel.
The break-in was discovered on May 5 at the northwest Candlewood Suites, 10811 Pecan Park Blvd., which had been sitting vacant and unrenovated with no security protocol at the time. A memo from the city said security had yet to be initiated due to a delay in processing the request.
The city is looking at funding six months of renovations at the hotel to prepare for move-ins. The memo also said it introduced security protocols after the incident, which will now be on patrol "day and night."
"The intent had been to have security on site previous to this event," Gray said. "It had been requested, and there was a delay in the request, so it had not been initiated. We acknowledge that as a failure and apologize."
The city bought the hotel—now called Pecan Gardens—in August 2021 with plans to convert it into 80 supportive housing units as part of the Housing-Focused Encampment Assistance Link initiative. The city's Homeless Strategy Division expects occupants—individuals existing long-term homelessness—to move in later this year or early next year.
The incident came to light after Austin City Council member Mackenzie Kelly, who represents the area, tweeted photos of the damage to the interior. She also said she learned of people sleeping at the hotel without permission.
Here are the photos of the inside of the Candlewood Suites that I shared during my press conference at 3pm today.

I want to encourage anyone with information regarding this incident to call Crime Stoppers at 512-472-8477. 1/2 pic.twitter.com/2bVBoA6Vba
— Mackenzie Kelly (@mkelly007) May 12, 2022
On Thursday, City Council is poised to approve a contract with Family Eldercare, allowing them to begin renovations.

Additionally, Williamson County Judge Bill Gravell shared photos of an adjoining homeless encampment nearby to the hotel.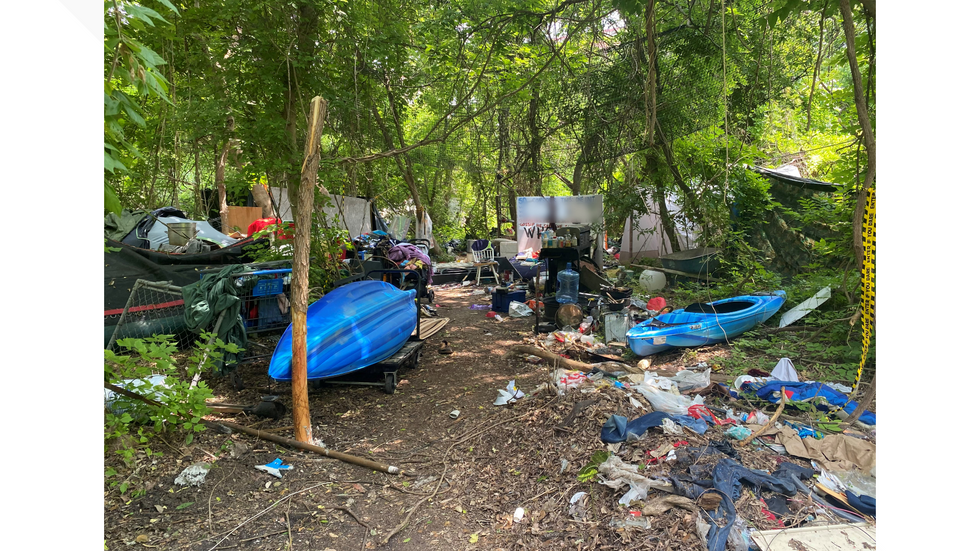 (Williamson County)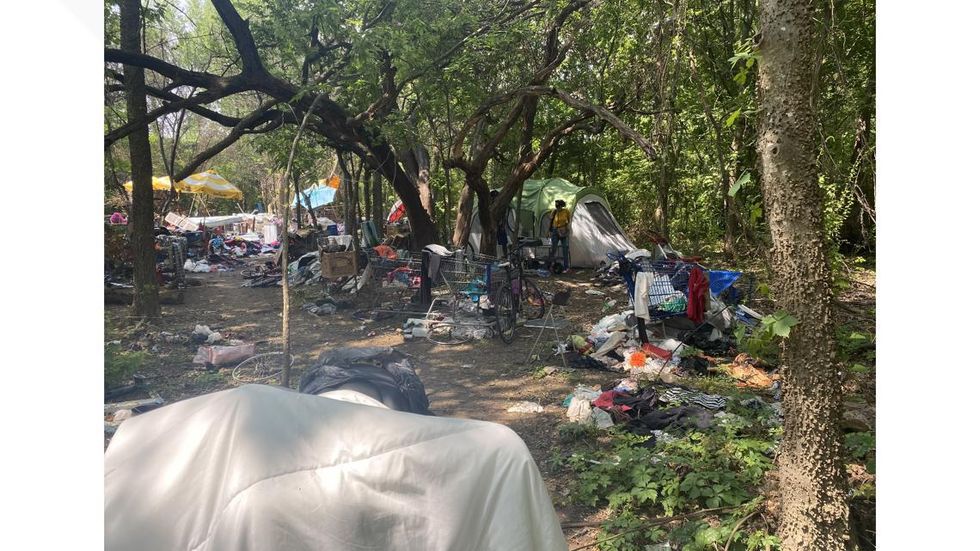 He issued the following statement: "I am deeply disappointed that once again the city of Austin has made decisions regarding their property in Williamson County without involving Williamson County leadership in coming up with solutions. I have heard from our residents that Austin's property has brought crime to their neighborhood. They sent me pictures of what is going on in their neighborhood. The city of Austin made their problem Williamson County's problem, so I promise our residents that I will work to find a solution. Our residents deserve to not live in fear."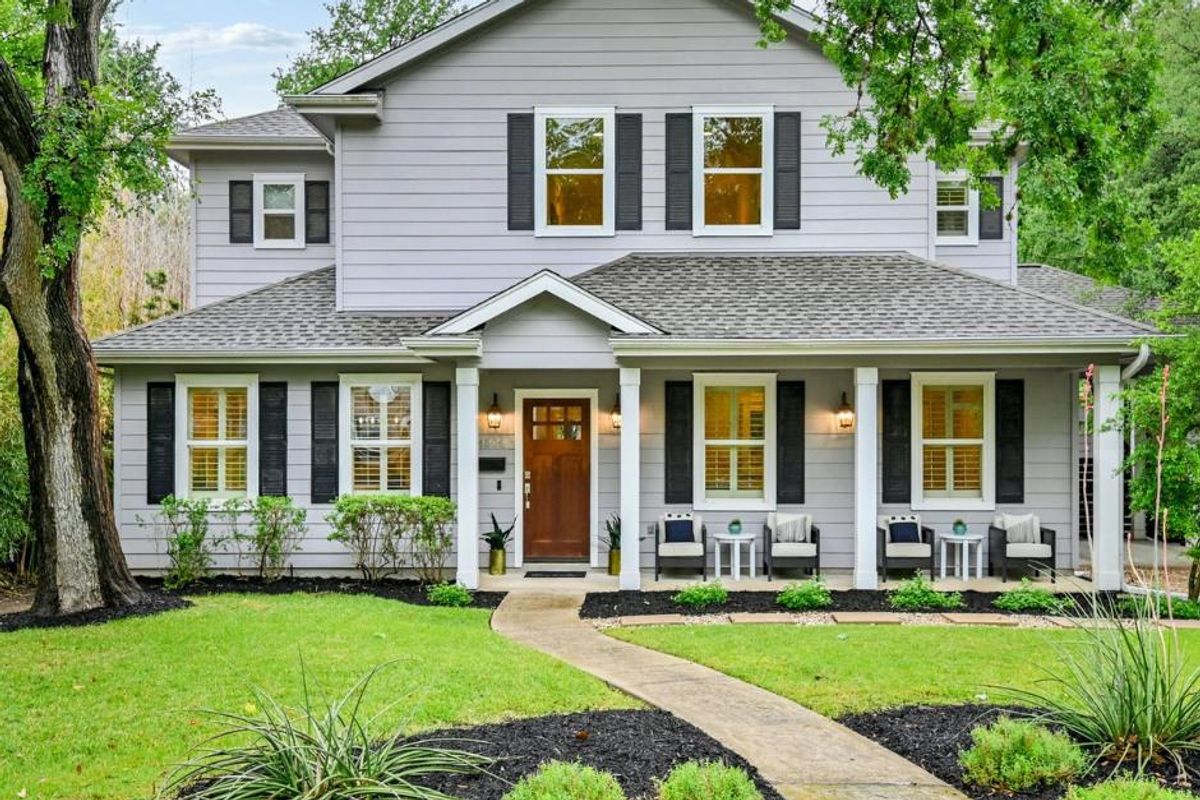 Austin's home sales were on the decline for the second month in a row as the metro's median home price reached an all-time record of $550,000 in April, according to the Austin Board of Realtors' April report.
While home sales were down 6.2% year-over-year, the five-county metro still saw the second-highest number of sales on record.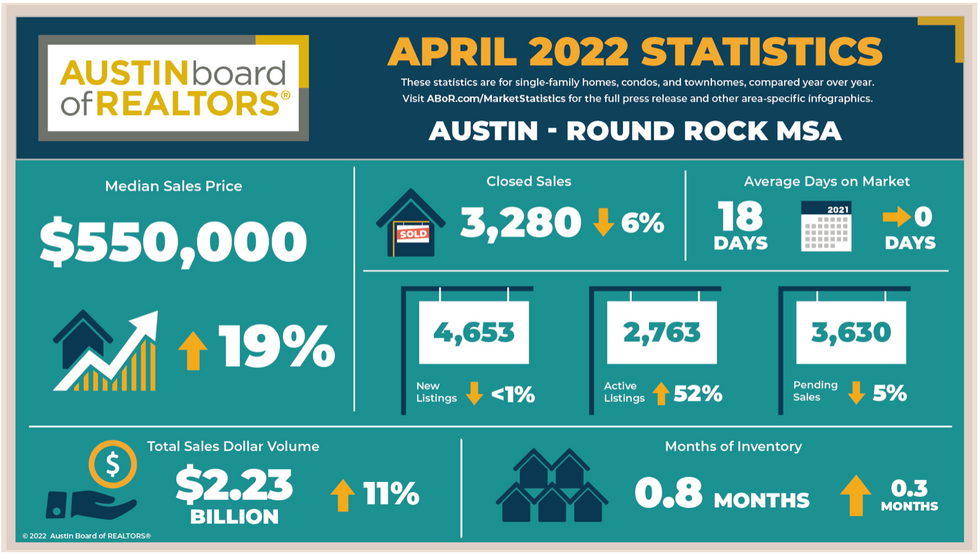 Austin was its year-over-year median home price raise 19%, while sales were down 6% in April 2022. (Austin Board of Realtors)
Here's a look at the numbers behind the month's housing report:
The metro saw 3,280 home sales, 216 short of a record-breaking April 2021
The median home price grew 19.6% year-over-year to $550,0000
Active listings jumped 52.5%, causing inventory to rise from 0.3 months to 0.8 months
The city of Austin has a new all-time median home price record of $640,000
While ABoR president Cord Shiflet said the metro has "far from a healthy number of homes for sale," Austin did see the biggest gain in housing inventory year-over-year since 2017 as the market continues to slowly cool from its pandemic peak.