Get connected with our daily update
A cave-like room with electric red walls and blue light fixtures is the new home to the $100 million podcast of new Austin resident Joe Rogan. And who would Rogan trust to construct this room? None other than his fellow Austinites.
---
Rogan, a mixed martial arts enthusiast and comedian, entrusted two local businesses—Sound Shed Studios and Wrightsmith Studios—to construct his new podcast studio after
recently moving
to Austin from Los Angeles. In just under three weeks, the two Austin companies scrambled to complete the project of their most high-profile client yet.
Timeline of Joe Rogan moving to Texas:
Sound Shed Studios, a local audio and visual business, was a side project Matthew Alvarez started 10 years ago, transforming a storage unit into a recording studio. Getting laid off from his full-time audio engineering job due to the pandemic and seeing the outcome of the Rogan studio, Alvarez has since decided to run Sound Shed Studios full time.
Alvarez began working with Rogan after getting a call from an old friend he had done some work for who said he wanted Alavarez to meet the person who had hired him for private security—Rogan. Alvarez met Rogan the next day, and the two had a thorough discussion about the studio design.

In an interview with Austonia, Alvarez said when he saw the room, he knew he had to make some major changes for it to be podcast ready, and when he told Rogan, Rogan responded with, "Hey, I trust you, I like you, build this out as if it were your own studio."
Alvarez, who usually works alone, gathered some friends—Jacob Rangel, Nate Laningham, Richard Castro, Nick Fette, Justin Contreras and Christopher Spikes—to jump on the project with him on a tight two-and-a-half-week deadline. Together, they sound proofed the inner walls with open core polyurethane foam, adding double doors and treating the finished room with sound dampening panels.
Rogan gave Alvarez the creative freedom—and budget—to make a stunning studio with input mostly on the color scheme.
At the completion of Sound Shed's part of the studio creation, Alvarez said he sent Rogan a photo of the studio, to which Rogan replied, "Fucking sick."
But it wasn't until Rogan saw it in person that Alvarez received the validation that the project was a success.
"He didn't really say much. I could tell that he was really absorbing everything, and he gave me a knuckle bump and [said], 'Matt, you killed it.' To hear that from him in person … I knew that we had something to be proud of," Alvarez said.
And what's a podcast room without the right table? For that, Rogan brought in a recommendation from another famous podcaster in Austin, Adam Curry—the first guest on Rogan's Austin podcast.
Drew Teague, founder of Wrightsmith Studios, is a friend of Curry's and was in the process of designing a podcast table for him when he was asked to put that project on hold by Curry to complete Rogan's Austin studio table.
While Wrightsmith Studios is only officially about a year old, Teague has had lots of experience building and fabricating unique furniture pieces, especially for studios.
After speaking with Rogan on what he wanted, Teague came up with a design. Usually clients will request tweaks to the design Teague said, but at first glance, Rogan said, "That's the one, build it."
On the same schedule as Sound Shed Studios, Teague also brought in outside help to complete the project on time, as he usually works all on his own.
Teague and his team made a 500 pound white oak discussion table with a specific frame for enough leg room for podcast guests.
When Rogan saw the table for the first time in person, he reached out to Teague and told him how much he loved it.
"[Rogan] is outstanding in every way," Teague said. "From the first meeting, he was friendly and down to earth; he was very encouraging."
When Rogan posted the almost-complete podcast room to Instagram, tagging both Sound Shed and Wrightsmith studios, the two accounts were all of a sudden in the public eye. Both accounts gained over a thousand new followers with direct messages asking questions about the studio and requests for their work.
Rogan is up and rolling in the new studio, and the two businesses behind it know their work payed off.
He could literally have anybody come in to [complete the studio] from anywhere, but he decided to find local guys who were already doing it in town at relatively small businesses," Teague said. "It says a lot about Joe's character."
Want to read more stories like this one? Start every day with a quick look at what's happening in Austin. Sign up for Austonia.com's free daily morning email.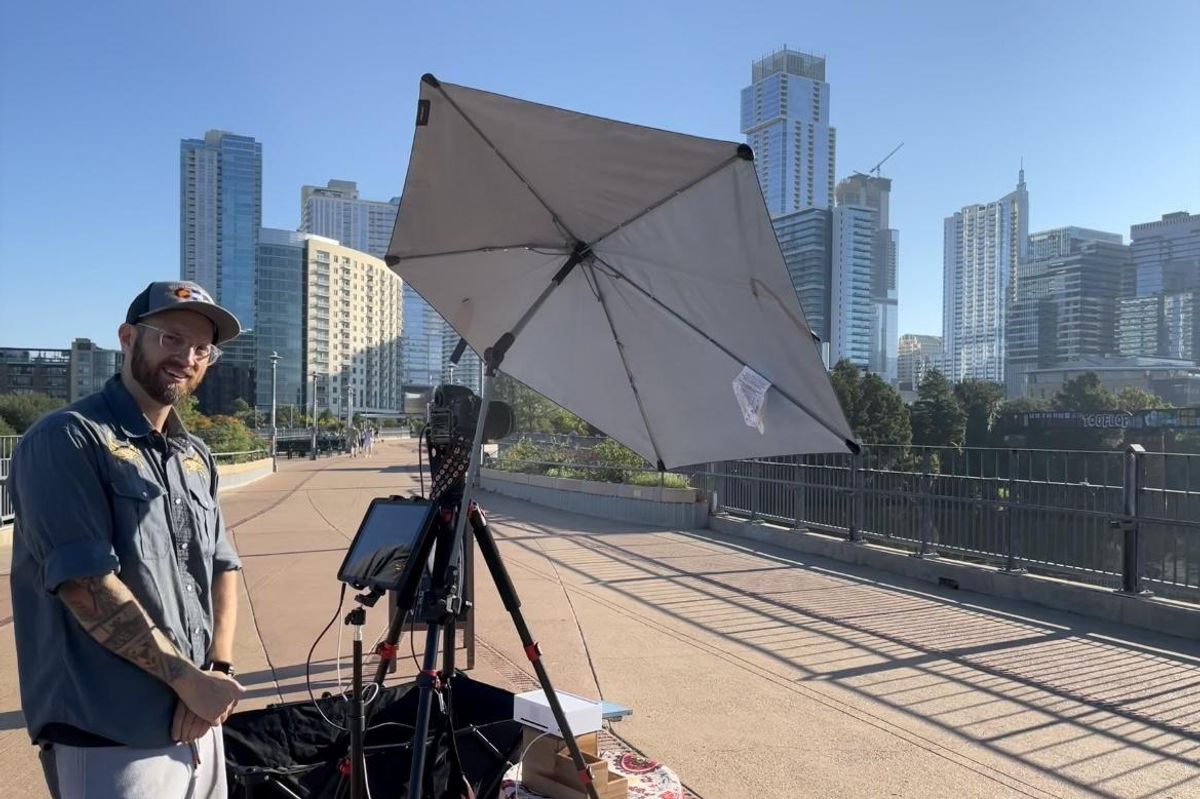 Nicklaus Pereksta says he loves photographing enthusiastic people, and it's why his latest gig offering pictures to people out on Lady Bird Lake's hike and bike trail is going smoothly. He sets up his gear on the Pfluger pedestrian bridge and puts out a sign: Photos, $10.
"Overwhelmingly, this has been a really positive experience," Pereksta said. "I get excited when I wake up in the morning and I can't wait to go to work."
Bikers and joggers are excited about it too. On the pedestrian bridge leading to downtown Thursday morning, a man on an e-bike rode up and posed, wanting more photos.
"I posted the last pictures on Instagram and people loved it. They asked, 'where is this guy?'" the biker told Pereksta. Bashfully, Pereksta, who also photographs landscapes and at weddings and other events, said he was happy to hear that.
Pereksta started these photos about a month ago, after the strenuous runs required in his valet job started causing pain in his legs. And though he has a passion for photography, he wasn't so sure when he started working independently if it would work out.
He felt uncertain about the demand for it and was also worried about having lots of expensive equipment out in the open.
"Then like the first day was nothing but high praise and people are like, this is so awesome. This is great. I've never seen anything like this before. I was like, Wow, this was really good, like positive turnout. So I got encouraged."
Now, he wants to expand and is thinking of contacting the Mueller Farmers Market about how to become a vendor. Still, he'll carry a connection to photographing on the bridge since the word bridge is related to his last name.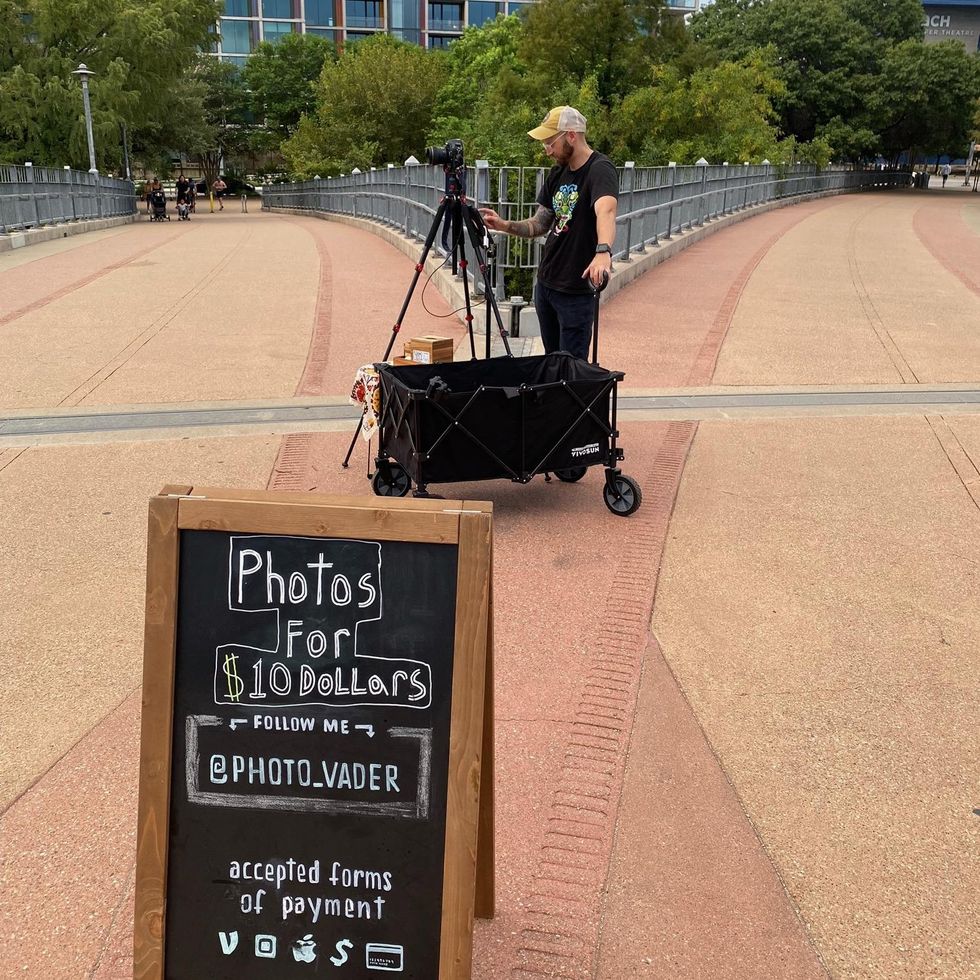 (Dewey C.)
"It's a name my great, great, great grandfather came up with when he was marrying somebody. It's actually quite a romantic name. It means a joining of two bridges," Pereksta said. "So, I thought it was ironic that I'm set up on a bridge. I'm kind of representing my last name right now."
Austonia talked to Pereksta about life in Austin, where he's lived for eight years after living in Boston doing band photography.
What was your first experience with Austin?
I came here to visit some friends and they took me to Barbarella. So we went to Barbarella and I was like, 'wow, this place is great.' And then the restaurants and the food and going to Barton Springs. I was like, 'this is amazing.' Because there's nothing like that in Boston. If you want to go to a natural spring, you got to go to New Hampshire. There's no pools in the city at all. So there's lots of swimming out here.
What do you like best about Austin?
You go to any little quiet bar and there's a band playing that should be like onstage for a sold out show. Yeah, they're playing to 10 people, right? Like, one of the best bands ever and they're playing for 10 people, right? And just little magic moments like that are pretty fun. You just run into little random weird things.
What do you think makes Austin different from other places?
There's no fall.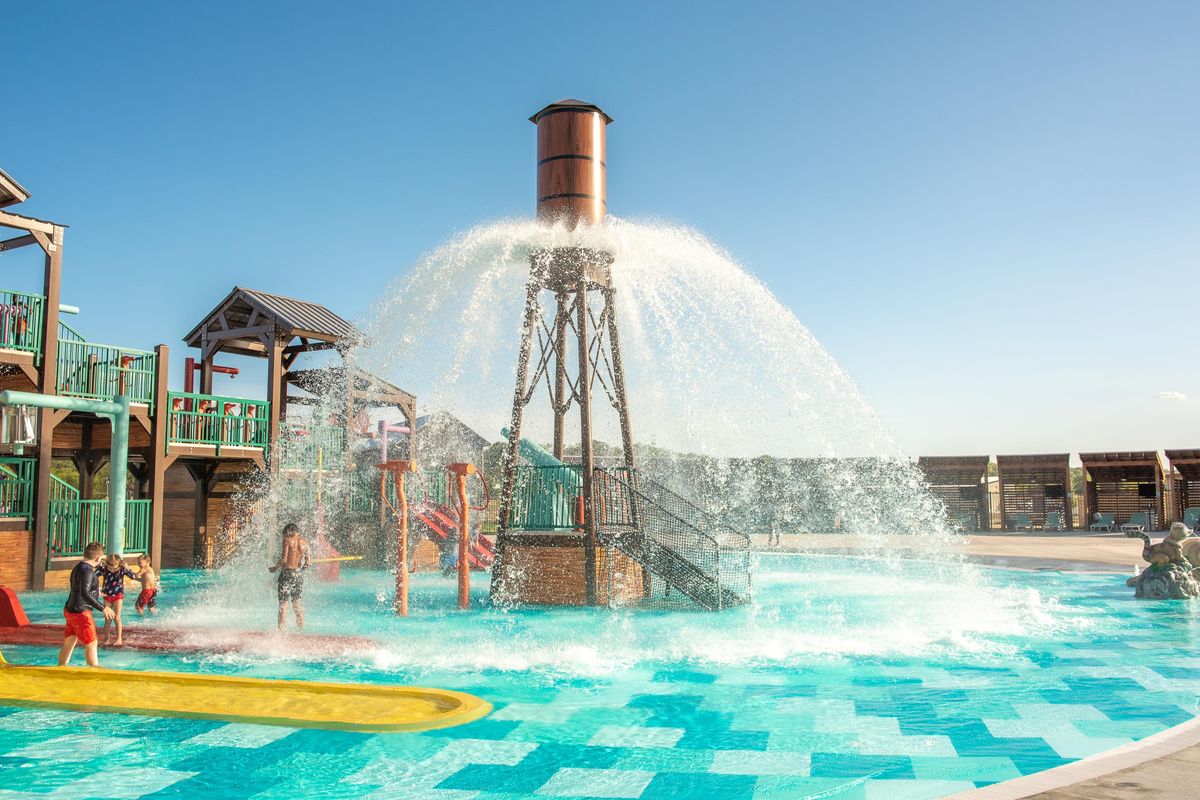 Camp Fimfo Waco
Camp Fimfo Waco, a brand new camping resort, is kicking off football and fall camping season in style! With top-notch amenities, premium accommodations, and 10 weekends of fall fun, there's no better place to have a fall camping getaway, especially if you're a Baylor football fan!
Fall promises to be a one-of-a-kind camping experience. From Sept. 16 to Nov. 24, weekends will be packed with fall-themed activities, including special Halloween weekends in October. Campers can enjoy activities like fall crafts, campground trick-or-treating, costume contests, site decorating, outdoor movie nights, and more!