Never miss a story
Sign up for our free daily morning email...
...and afternoon text update
Get connected with our daily update
(Shutterstock)
As Congress continues to negotiate the terms of another coronavirus relief bill, local and state officials are focused on a different task: spending the money allocated in the last one.

---
The CARES Act, a bipartisan bill that was signed into law in late March, provided more than $2 trillion in assistance, including millions of dollars to local city and county governments. But it must be spent by Dec. 30—or be returned to the U.S. Treasury Department.
This has proven challenging for many government entities, which will still need to provide assistance to renters, grants to small businesses and free COVID testing to residents.
"For us, there's a lot of concern," Williamson County Treasurer Scott Heselmeyer told Austonia. "This pandemic (is) not going to be over on Dec. 30."
A temporary fix
When the CARES Act was passed more than nine months ago, it was intended to serve as a stopgap.
"The approach was, 'Look, let's make sure that we're providing funding to bridge this gap between shutdowns that are happening now … to the time when we can reopen,'" said Vance Ginn, who was serving the Office of Management and Budget at the White House when the act was passed. He is now chief economist at the Texas Public Policy Foundation, a conservative think tank in downtown Austin.
The Dec. 30 deadline was established for a number of reasons, Ginn said: to ensure the federal relief program would be temporary, to avoid incentivizing states to stay shut down longer than they would have otherwise and to allow room for incoming members of Congress to take up future relief bills, given the November election.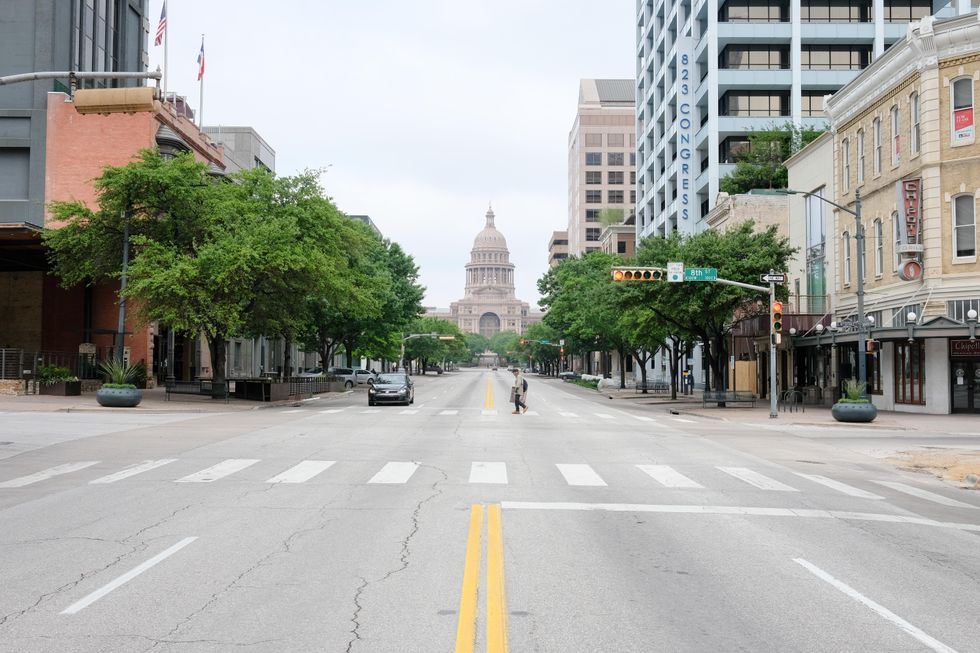 Congress Avenue during the shutdown earlier this year.(Charlie Harper III/Austonia)
"There was so much uncertainty at that time that there wasn't a good assurance of how much money should be provided or when it should end," Ginn said.

Now that the deadline is looming—and lawmakers continue to negotiate a follow-up relief bill—there is growing support for an extension, which would allow governments to spend their CARES Act dollars after Dec. 30.
This is generally uncontroversial and has bipartisan support, Ginn said.
It could also prove helpful on the ground in Austin, where Texas Gov. Greg Abbott has reportedly left around $2 billion of the state's CARES dollars unspent and local governments are scrambling to allocate their own.
Spending spree
The city of Austin received nearly $171 million in CARES Act funding, which was intended for necessary expenditures incurred by the pandemic, according to an April presentation by Intergovernmental Relations Officer Brie Franco.
As of Sept. 30, the city had spent around $101 million of its allocation, according to a spokesperson.
Some of this funding paid for new pandemic-era hires, such as epidemiologists, contact tracers and strike force teams, which have helped respond to clusters at long-term care facilities and schools. Austin City Council also approved a resolution in October that allocated $15 million in CARES Act funding to music venues and other businesses deemed vital to the local culture.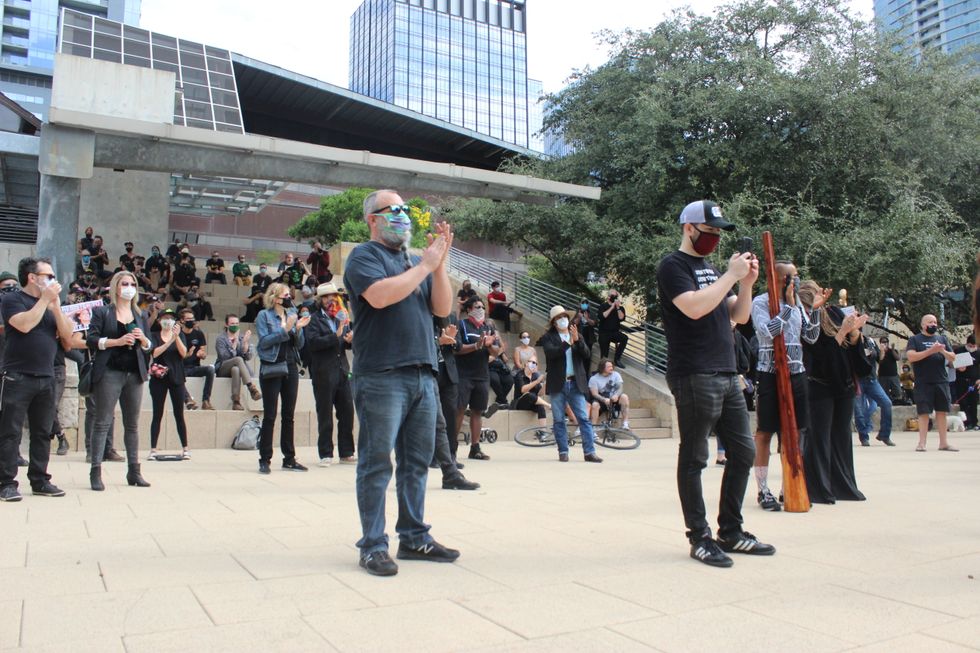 Austin music venues and artists rallied outside City Hall for relief money
A city spokesperson did not provide an update as to how much it has spent since then but said it would disburse any remaining dollars by Dec. 30.

Travis County received just over $61 million in CARES Act funding. As of Nov. 10, it has spent nearly 78% of its allotment, including more than $23 million in reimbursement payments to small cities. This is a significant increase compared to Oct. 9, when it had only spent around 43%.
A planning and budget analyst wrote that the county expects "to fully expend its allotment of the Coronavirus Relief Funds by Dec. 30" in a Nov. 10 memo to the Commissioners Court.
Neighboring Williamson County received more than $93 million in CARES Act funds, of which it projects it will spend around $61 million by Dec. 30.
Heselmeyer is hopeful that Congress will approve an extension before the deadline.
"We have plenty of money," he said. "They just didn't give us enough time."
If Congress fails to deliver, Williamson County will scramble to spend the dollars quickly—likely on reimbursements to area schools for pandemic-related expenses—to avoid forfeiting them.
But Heselmeyer said it would be better spent in 2021, when it could be used for continued renter and small business assistance as well as for vaccine distribution events.
"The problem we have right now is, I can't pay someone's January rent," he said. "There is a continuing need we can't meet."
(Austin Police Department/Twitter)
Austin police lifted the shelter in place order after searching the area around 9600 block of Great Hills Trail near the Arboretum for a 41-year-old man named Stephen Broderick, who they believe is responsible for shooting and ultimately killing three people in Northwest Austin
As of 5 p.m., the suspect is still at large and considered to be armed and dangerous, though police do not believe he is actively targeting anyone else. During a press briefing at 4:45 on Sunday, APD Interim police Chief Joseph Chacon said they are switching the search from the immediate area to a fugitive search as they have exhausted all the leads they currently have.
Chacon confirmed during the briefing that Broderick was a former Travis County Sheriff's Office deputy. Chacon said they will remain on the scene for "several hours" and there were 75 FBI agents on the scene as of the briefing.
Police believe the victims, who have been identified as two Hispanic women and one Black man, knew their assailant. Chacon said a child was involved but is now safely in police custody. Broderick was described as 5 foot, 7 inches with a medium build and was last seen wearing a gray hoodie, sunglasses and a baseball cap.
"We're very sorry that obviously that this has happened and we continue to try and locate this individual, we are transitioning from a search in this area to a fugitive search and those efforts will continue until this person is located," Chacon said. "I don't want anyone to think that we're packing up and going home. We're going to continue to look for this individual because he continues to pose a threat to this community."
At a 2:30 p.m. press briefing, Chacon said APD responded to a "shoot, stab, hot shot" call on Great Hills Trail and Rain Creek Parkway at 11:46 a.m. to find the three victims with gunshot wounds. APD was joined by the Austin Fire Department. ATCEMS, the local chapter of the FBI, the U.S. Marshals, Department of Public Safety, and the Round Rock Police Department for support.
Though Austin Travis-County EMS originally reported it as an active shooter situation, police now believe the incident was an isolated domestic event.
"This is still an ongoing and active investigation and we do not have this individual in custody yet," Chacon said during the first press briefing. "We would ask if you have your neighbors, phone numbers, call or text them check on them and make sure that they're okay. We are concerned that he might possibly take a hostage and be himself sheltered somewhere waiting for us to leave."
Three helicopters and SWAT teams were sent to the area, as well as 18 ATCEMS response assets. According to Austin Police, the incident occurred at an apartment complex near Great Hills Trail and Rain Creek Parkway.

APD announced at 1:02 p.m. that Loop 360 will be shut down in both directions from Spicewood Springs to 183 due to the incident. The roads will remain closed until law enforcement is able to wrap up the crime scene and units demobilize.
This is a developing story.

(Hard Rock Stadium)
Formula 1 is returning to Florida for the first time since 1959, announcing that the brand-new Miami Grand Prix will join the calendar in 2022 and Austin will no longer be the only F1 race in the U.S.
Held at the Hard Rock Stadium complex in Miami Gardens, this will be the first race in the Sunshine State in 62 years. With a new track setup, F1 will loop the stadium, home of the NFL's Miami Dolphins.
The new 3.36 mile circuit has 19 corners, three straights and potential for three DRS zones, with expected top speeds of 198 mph.

Now with two races in the U.S., F1 President Stefano Domenicali said they will avoid having back-to-back events by keeping the Miami Grand Prix separate from the U.S. Grand Prix, which is held at Austin's Circuit of the Americas.
The date of the race has yet to be confirmed, though Domenicali said he expects the first race in a 10-year deal to take place in the second quarter of 2022. Austin's race will take place on Oct. 24 this year.
"The USA is a key growth market for us, and we are greatly encouraged by our growing reach in the U.S. which will be further supported by this exciting second race," Domenicali said.
Miami will mark the 11th race location in the U.S. since the Championship began in 1950: Circuit of The Americas in Austin; Dallas, Texas; Indianapolis, Indiana; Sebring, Florida; Riverside, California; Watkins Glen, New York; Long Beach, California; Las Vegas, Nevada; Detroit, Michigan and Phoenix, Arizona. COTA was first opened in 2012.
Domenicali said F1 will be working with the FIA and the Hard Rock Stadium to leave a lasting impact on the community: discounted tickets for residents, a program to support local businesses and a STEM education program through F1 in schools.