Get connected with our daily update
The Centers for Disease Control and Prevention unexpectedly announced Thursday that it no longer recommends fully vaccinated individuals wear masks or socially distance in most settings, throwing area masking policies into question.
While Austin Public Health is evaluating what this new guidance means for their recommendations, local businesses are responding in diverse ways: many are continuing as usual—masks required, at least for now—but a handful are moving away from the requirement for good.
---
Local elected officials celebrated the news as another sign of the vaccines' efficacy but urged residents to keep masking and get vaccinated if they haven't already. "Our local mask rules are still in place, pending an update," Mayor Pro Tem Natasha Harper-Madison tweeted Friday morning. "Even then, businesses will still be able to use their own discretion. For now, even if you are fully vaccinated, don't leave home without a mask."
Masks optional
Sweet Ritual, a vegan ice cream shop on Airport Boulevard, is one of a few businesses reevaluating its service model after the announcement. "It will take us a few days to do things like move the store around, buy supplies and train our staff," the business wrote in a Thursday Facebook post. "We look forward to getting 'back to better' with you all."
Some businesses are eschewing their masking policies altogether, including Dell Diamond in Round Rock, according to a Thursday announcement. Shape Method, a fitness studio with locations in North Central Austin and Westlake, is also now mask-optional. "You are ALWAYS welcome to wear a mask at Shape Method," the business wrote in a Friday Instagram post.
Whatever the CDC guidance and a business's policy, some Austinites plan to continue masking indefinitely.
Masks on
A wide range of organizations—from the airport to local businesses and especially those catering to children—are keeping their masking policies in place, regardless of the new CDC guidance.
Great news from the CDC! Just a reminder that travelers at airports must continue to wear a mask that properly covers the nose & mouth per the federal executive order signed earlier this year. https://t.co/0IwvrxLikH
— Austin-Bergstrom International Airport (@AUStinAirport) May 13, 2021
The Thinkery, a children's museum in the Mueller development, will continue to require masks "given the large number of children that we serve, as well as the sizable number of unvaccinated adults and teens in our service area," the nonprofit wrote in a Thursday Facebook post.
Austin ISD will also require masking indoors at least through the rest of the school year and at graduation ceremonies "since we have no way to verify vaccination statuses and, until this week, most of our students were not yet eligible to be vaccinated," according to a Friday announcement. The district shifted to a mask-optional outdoor policy on Wednesday for children whose parent or caregiver have consented.

So, too, is BookPeople. "(We) believe our mask requirement has helped protect everyone during the pandemic, so we will continue to mask up," Director of Events & Marketing Eugenia Vela wrote in an email to Austonia.
Grocery stores H-E-B, Whole Foods and Wheatsville have not yet updated their masking policies, according to their websites and social media pages; all three maintained masking requirements after Texas Gov. Greg Abbott lifted the statewide mandate in March.
Officials are asking certain residents in Bastrop State Park to evacuate as crews work to put out a "very active fire" that is currently 0% contained.
The Texas A&M Forest Service has responded to help local fire departments with the Rolling Pines Fire at 100 Park Road 1A, which is consuming 300 acres. Residents of Pine Hill Drive, Pine Tree Loop, Linda Lane and Lisa Lane are being asked to evacuate.
Aviation resources have been called to assist.

According to the Bastrop County Office of Emergency Management, the wildfire sparked during a prescribed burn that took place today, despite wildfire warnings. Park Road 1C from Harmon Road to Park Road 1A had been closed for the prescribed burn.
The blaze is in the same location as the Bastrop Complex Fire of 2011, which burned for 55 days, killing two people, destroying 34,000 acres and around 1,700 homes and buildings. The fire, which started in 2011, became the most destructive wildfire in Texas at the time.
A hotbed for fires, the Hidden Pines Fire started at the same location in 2015, destroying 4,600 acres and 64 structures.
Some road closures have been put in place at State Highway 21 South Shore Lake Bastrop and East State Highway 21.
This is a developing story and will be updated as information becomes available.
After months of record-setting periods for Austin real estate, the Austin Board of Realtors announced Tuesday that the metro's housing market accounted for over $23 billion of economic activity in 2021, making it the biggest year yet for both home sales and median home prices in the metro.
The Austin-Round Rock MSA saw 41,316 homes sold in 2021, 2.5% more than a record-setting 2020. Median home prices skyrocketed as well, rising 30.8% from 2020 to $450,000. The housing market also saw unprecedented impact on Austin's economy, with sales dollar volume jumping to over $23.38 billion, and more homes hit the market in 2021 than any previous year, increasing by 5.9% to 46,449 total homes listed.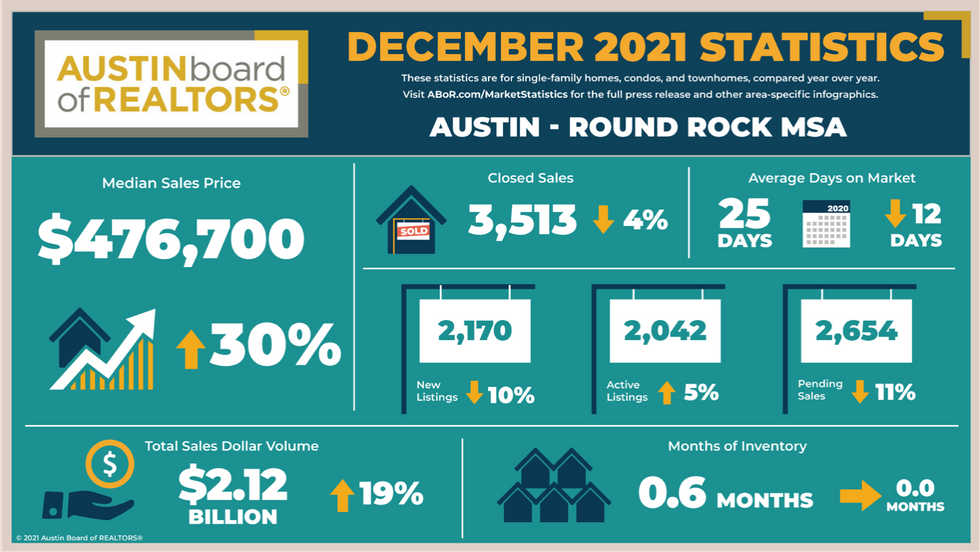 (Austin Board of Realtors)
As many recent Austin homebuyers have experienced firsthand, Austin Board of Realtors 2022 President Cord Shiflet said 2021 was the most "exciting, complicated, fast-paced and record-setting housing market" in Austin's history.
Shiflet dubbed the market as "complicated" for a reason—Austin became a case study on supply and demand in 2021, with demand far outpacing the number of active listings, which dropped by 48.2% to 2,348 homes in 2021.
The metro ended the year with 0.6 months of inventory, a far cry from a "healthy" six-month supply, and houses were snatched at breakneck speeds, spending 25 fewer days on the market when compared to 2020. The average home was on the market for 20 days.
But low inventory is more due to high demand than a stagnant homebuilding market, Mark Sprague, Independence Title's state director of information capital, said in the report.
"In 2021, the record number of homes sold were demand-driven transactions and that demand was influenced greatly by companies continuing to target the region for job creation and expansion," Sprague said. "Even though more homes are being built, listed and sold than ever before, our region is still nowhere close to having a comfortable amount of supply to meet the demand, which is why home prices continue to rise steadily."
Over 23,000 jobs have been promised by companies across the metro as of December 2021, breaking the 2020 record, according to Opportunity Austin, the economic development arm of the Greater Austin Chamber of Commerce. With an influx of major factories and offices, including Tesla's Giga Texas, Samsung's Taylor plant and a planned 33-floor Facebook office, Sprague said the region's booming market paired with a struggling inventory and supply chain issues could be a double-edged sword in 2022.
"In short, 2022 will see a robust market for home sales and property values, but the region must do more to address inventory, " Sprague said.
Shiflet recommended that potential homebuyers make a decision ahead of predicted increases in interest rates and home prices and said that he hopes local politicians will continue to prioritize affordable housing in the election year.
Still, Shiflet said a record-breaking housing market reflects Austin's growing reputation as a hub for talent, tech jobs and a good quality of life.
"With all the new jobs across the region from exciting companies like Tesla and Samsung, Austin was put on the world's stage and captured the hearts and attention of so many," Shiflet said. "We are lucky to call Austin our home when it has so much to offer from a great quality of life to a wonderful destination for innovation and opportunity."