Austonia AM
100% Austin news, info, and entertainment, straight to your inbox at 6 a.m. every morning.
In five minutes, you're fully informed and ready to start another great day in our city.
Get connected with our daily update
The Centers for Disease Control and Prevention unexpectedly announced Thursday that it no longer recommends fully vaccinated individuals wear masks or socially distance in most settings, throwing area masking policies into question.
While Austin Public Health is evaluating what this new guidance means for their recommendations, local businesses are responding in diverse ways: many are continuing as usual—masks required, at least for now—but a handful are moving away from the requirement for good.
---
Local elected officials celebrated the news as another sign of the vaccines' efficacy but urged residents to keep masking and get vaccinated if they haven't already. "Our local mask rules are still in place, pending an update," Mayor Pro Tem Natasha Harper-Madison tweeted Friday morning. "Even then, businesses will still be able to use their own discretion. For now, even if you are fully vaccinated, don't leave home without a mask."
Masks optional
Sweet Ritual, a vegan ice cream shop on Airport Boulevard, is one of a few businesses reevaluating its service model after the announcement. "It will take us a few days to do things like move the store around, buy supplies and train our staff," the business wrote in a Thursday Facebook post. "We look forward to getting 'back to better' with you all."
Some businesses are eschewing their masking policies altogether, including Dell Diamond in Round Rock, according to a Thursday announcement. Shape Method, a fitness studio with locations in North Central Austin and Westlake, is also now mask-optional. "You are ALWAYS welcome to wear a mask at Shape Method," the business wrote in a Friday Instagram post.
Whatever the CDC guidance and a business's policy, some Austinites plan to continue masking indefinitely.
Masks on
A wide range of organizations—from the airport to local businesses and especially those catering to children—are keeping their masking policies in place, regardless of the new CDC guidance.
Great news from the CDC! Just a reminder that travelers at airports must continue to wear a mask that properly covers the nose & mouth per the federal executive order signed earlier this year. https://t.co/0IwvrxLikH
— Austin-Bergstrom International Airport (@AUStinAirport) May 13, 2021
The Thinkery, a children's museum in the Mueller development, will continue to require masks "given the large number of children that we serve, as well as the sizable number of unvaccinated adults and teens in our service area," the nonprofit wrote in a Thursday Facebook post.
Austin ISD will also require masking indoors at least through the rest of the school year and at graduation ceremonies "since we have no way to verify vaccination statuses and, until this week, most of our students were not yet eligible to be vaccinated," according to a Friday announcement. The district shifted to a mask-optional outdoor policy on Wednesday for children whose parent or caregiver have consented.

So, too, is BookPeople. "(We) believe our mask requirement has helped protect everyone during the pandemic, so we will continue to mask up," Director of Events & Marketing Eugenia Vela wrote in an email to Austonia.
Grocery stores H-E-B, Whole Foods and Wheatsville have not yet updated their masking policies, according to their websites and social media pages; all three maintained masking requirements after Texas Gov. Greg Abbott lifted the statewide mandate in March.
Texas voters are split on whether Gov. Greg Abbott should run for a third term and whether Matthew McConaughey should run at all. But Democrats are clear: they want to see Beto O'Rourke on the ballot.
These are the findings of a Quinnipiac University poll of registered voters released this week.
Abbott and McConaughey received the highest favorability ratings of the elected officials, candidates and potential candidates, according to the Quinnipiac poll.
Abbott: 49%
McConaughey: 42%
O'Rourke: 34%
Former Texas GOP Chair Allen West: 25%
Former Texas senator and Republican challenger Don Huffines: 8%
Overall, 48% say Abbott does not deserve to be reelected to a third term compared to 46% who say he does. "A Trump favorite in a state that is turning less red in recent election cycles, Abbott has a decent but in no way overwhelming grasp on reelection," Quinnipiac University Polling Analyst Tim Malloy said in a press release.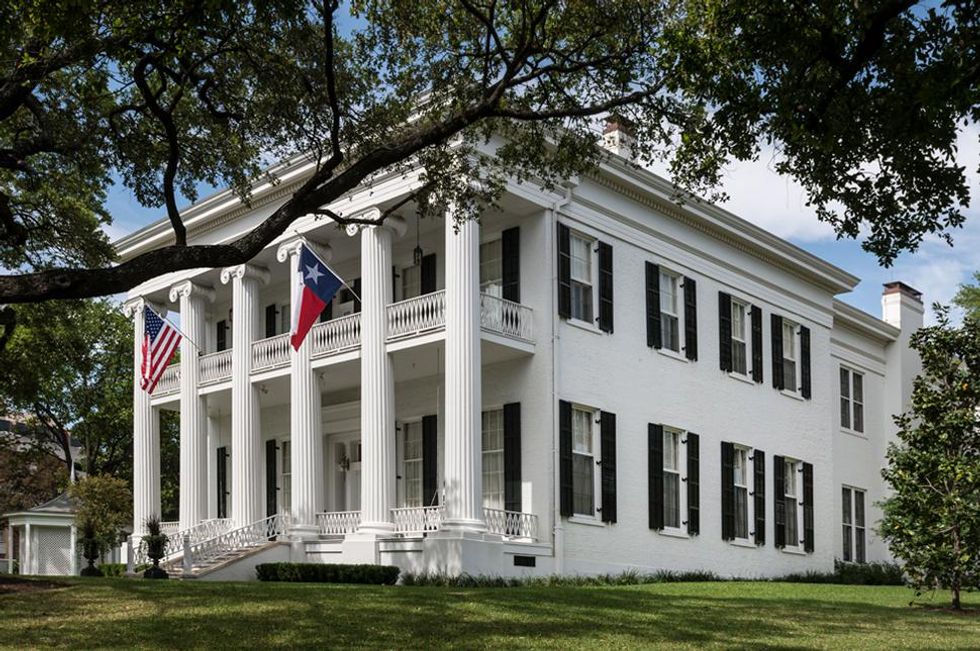 Abbott, McConaughey and Beto O'Rourke could vie for governor in 2022. (Office of the Texas Governor)
Voters are also divided on Matthew McConaughey, who is reportedly considering a gubernatorial run. Forty-one percent of voters say they would like to see him run, compared to 47% who say they wouldn't.

The poll found that Democrats and Independents favor the Oscar-winning Austinite, whose party affiliation is unclear. Forty-seven percent of Democrats would like to see him run, compared to 43% who wouldn't. Forty-four percent of Independents would, compared to 43% who wouldn't. Republicans, on the other hand, say 60%-29% they would not like to see him run.
Another possible candidate is former U.S. Representative and presidential hopeful Beto O'Rourke, who is also reportedly mulling a bid. Overall voters say 52%-41% they would not like to see him run for governor. But 77% of Democrats and 50% of Independents would, according to the poll.
"McConaughey and O'Rourke may still be on the fence, but their numbers suggest they have the attention of voters," Malloy said in the same release.
It's officially dating season if you haven't heard, and that doesn't mean you have to ditch your dating apps.
Two out of three people say they believe you can fall in love before meeting in person, according to a new survey released by Bumble. Bumble, the locally founded online dating company that allows women to make the first move, says its newly released survey "reveals how the pandemic has changed dating" headed into the "summer of love."
As COVID-19 restrictions begin to ease in parts of the country and around the Lone Star State, the company says that 91% of those surveyed believe that there is no longer a stigma attached to online dating compared to before the COVID-19 pandemic. And more than two-thirds think it's possible to fall in love with someone that they've never met in person before.
Bumble users have also adapted to Coronavirus-related restrictions throughout the COVID-19 pandemic, the survey says.

Clare O'Connor, head of content at Bumble, said that 1 in 3 users said that they liked virtual dates because it saves them time and money and 1 in 4 users surveyed said they liked that they only have to get partially ready when going on a video date.
For those wanting to play it safe heading out the door, O'Connor said that soon, users will be able to add a badge to their Bumble profile that says "vaccinated."
So what should you if trying to get back in on the dating scene?
O'Connor's advice is to "seasonalize" your profile by updating your photos to show your personality.
Let's get dating!
Austin FC's loss in Minnesota was a far cry from their joyous first match at Q2 Stadium.
The club was looking for a 2-0 record at the Loon's stadium after beating Minnesota 1-0 earlier in the year. Instead, they were bogged down with even more injuries and a roster that never clicked as they took a 2-0 loss at Allianz Field.
Even with the loss, thousands of fans kept chanting their club's name when the match ended at watch parties around the city.
Members of the supporters' groups Los Verdes and Austin Anthem scattered around town to watch the match, even making it as far south as Sean Patrick's in San Marcos. They were all hoping for the same thing—a goal and a win after a series of scoreless draws.
Unfortunately, Austin FC was hit with a spell of bad luck as the match began.
Captain Alex Ring, out. Nick Lima, out. The club already had just 17 healthy players on the roster prior to the match, and no Ring usually means no dice for the club. Wolff paired some tough decisions with some questionable ones. Sebastian Berhalter, Manny Perez and Aedan Stanley saw their first starts for the club, while center back Jhohan Romana subbed in for veteran Matt Besler and Rodney Redes was once again placed back in the starting 11.
Minnesota used Austin's uncertainty from the jump. Energized by newcomer Franco Fragapane, who had already tallied a goal in his first match with the club, the Loons struck first as Fragapane scored in the 11th minute.
The Loons managed two goals in ten minutes after Fragapane was once again put in a threatening position, sailing a set piece over the Austin FC defense that was expertly headed in by Adrien Hunou.
Eighteen minutes in, Austin FC's backs were already against the wall.
Still, Austin had more shots on goal than Minnesota for most of the game. Tomas Pochettino, who is eagerly awaiting his first MLS goal, made more threats than usual in the final third. Fagundez hustled in his usual fashion and nearly scored for his second straight appearance at Allianz Field.
By the half, however, it was clear that Austin's rotating door of substitutions weren't clicking on the pitch. Austin FC fans were heating up on Twitter. Supporters everywhere were in rare agreement about the club's performance.
Almost as the second half whistle blew, Wolff seemed to put up the white flag as he subbed out star striker Cecilio Dominguez. Twenty minutes later, Fagundez was swapped out as well. At one point, five of the 11 players on the pitch were under 22 years old.
Wolff said the moves were made both to bring energy onto the pitch and plan for their next match. Some positions have no depth left—for example, Wolff said Hector Jimenez is the club's only remaining right back.
"In the second half, there was injection of some energy... we're also trying to be just responsible with our players," Wolff said. "Health becomes an issue real quick."
As players came on and off the field, the captain's armband was passed around, eventually landing on the well-deserving Brad Stuver, who quickly proved his worth with a showstopping save that impressed even Minnesota's Twitter account.
Still, the save wasn't enough for the series of mishaps that led Austin to their first loss in St. Paul.
The club has no time to wallow, however. On Sunday, the club will play their third match in eight days as they take on the Columbus Crew in a much-awaited match at home.
Defender Julio Cascante said he loves the quick turnaround of the sport and can't wait to get back to Q2.
"I think that's the beautiful thing about this game. We play today and right away we have to change our mentality to play the next game," Cascante said. "I think we have to show our fans what they are expecting from us... we have to stand up and keep working on the season."
Austin FC will take on Columbus—the club that won the MLS Cup last year and is the former home of Austin FC owner Anthony Precourt and other club players—at Q2 Stadium on Sunday, June 27.