Get connected with our daily update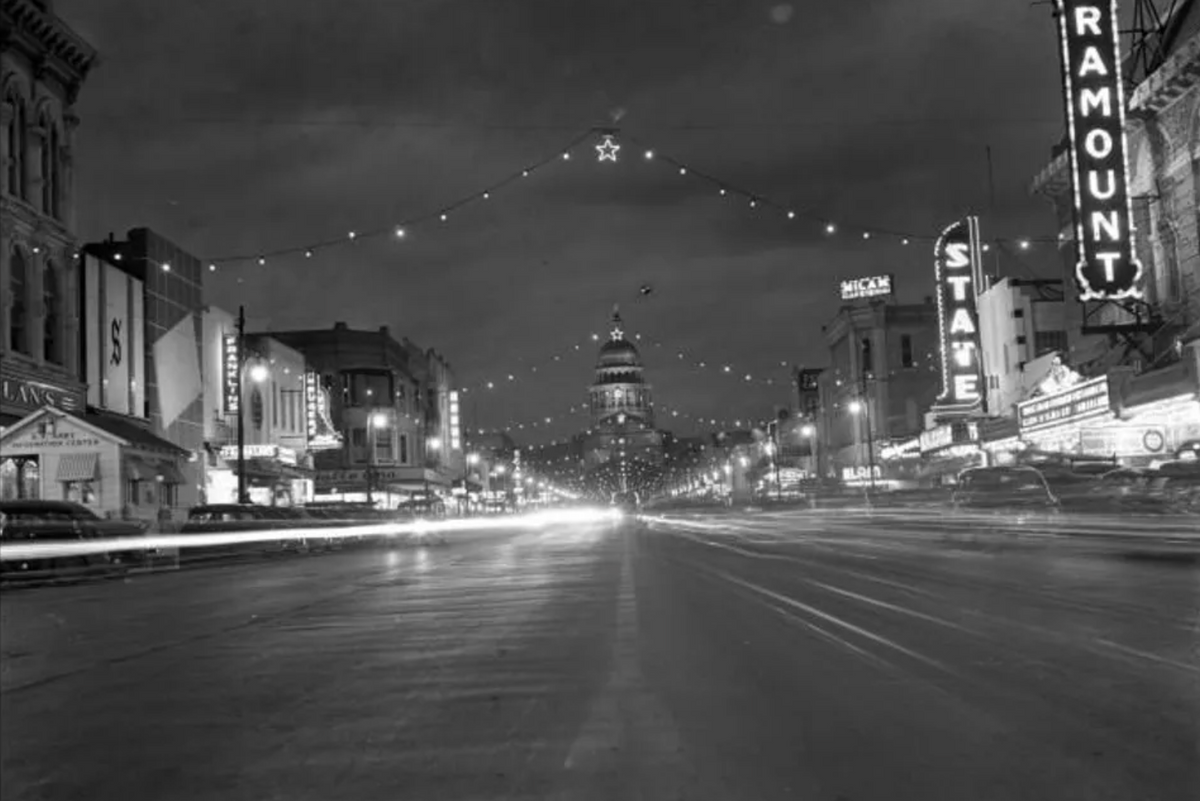 (Austin History Center, Austin Public Library)
With Christmas only three days away, it's time to look back at Austin's history during the holiday season.
The city has taken the world by storm with its unique and fun personality, and it only gets better during the holidays.
Here is some history on some beloved holiday traditions in Austin.
---
Trail of Lights
Modern-day celebrations such as the Austin Trail of Lights, set a guideline of traditions for years to follow in Austin. This year, the Trail of Lights is celebrating its 56th anniversary, continuing traditions despite the pandemic.

It was 1965 when Austin locals began the tradition with Christmas displays all around Zilker Park. The Trail of Lights, known as Yule Fest until 1992, was a drive-through experience until 1998. This year's event returns to its roots in taking place as a drive-thru celebration to combat the pandemic.
The Zilker Holiday Tree has been helping Austin shine bright during the holiday season since 1967. After years of development, the Trail of Lights we know and love today has over two million lights in the park, 90 lighted trees and more than 70 other holiday displays and lighted tunnels. The beloved Trail of Lights is known nationally for illuminating Austin and won eighth place in USA Today's Top 10 Public Holiday Lighting Display.
37th Street lights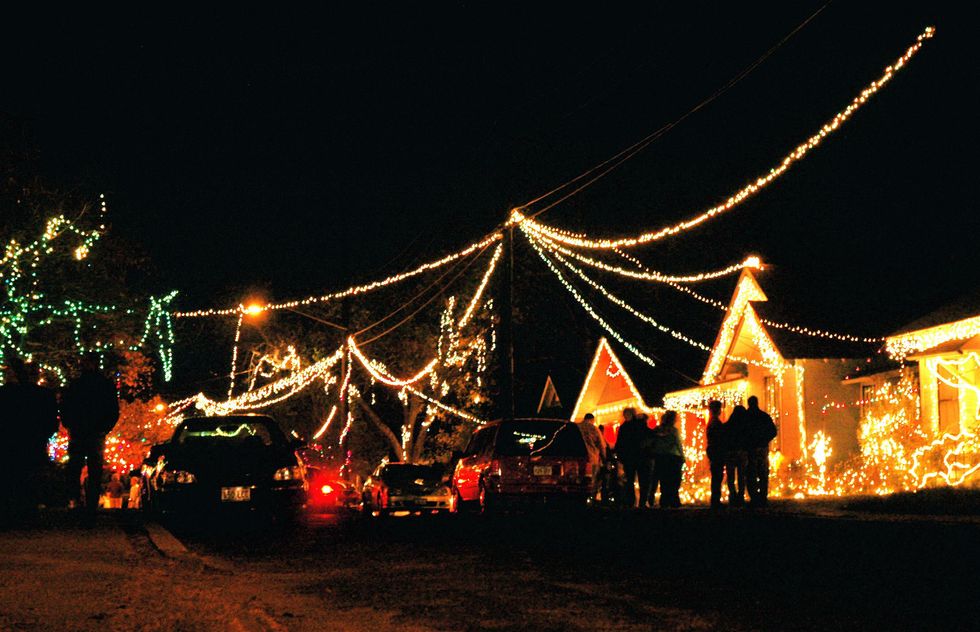 37th Street lights up the neighborhood in 2006.
(CC)
Since 1979, 37th Street has been an Austin holiday destination for Christmas lights. What started as one man decorating houses on the street began a holiday tradition unlike any other with houses on 37th Street lighting up to form the brightest block in town.

Unfortunately, due to the pandemic, 37th Street has turned off their lights for the first time and canceled the annual event. Residents are hopeful that 37th Street will illuminate the city again next year.
You can check out other holiday light displays going on around Austin here.
Bazaars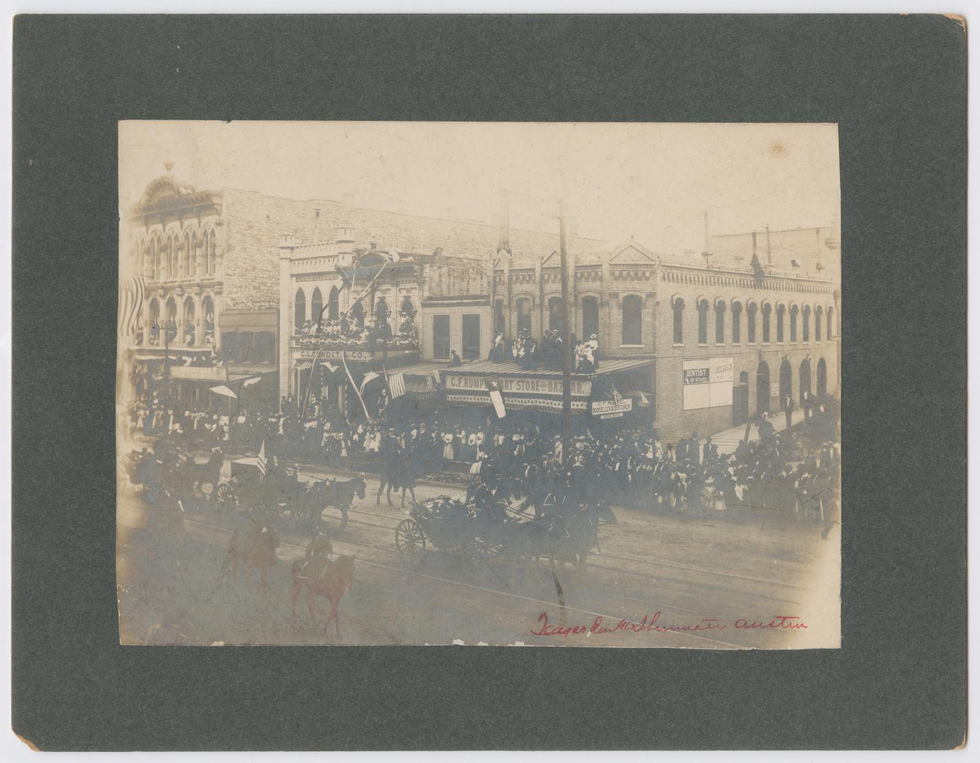 A 1906 photo of a Bazaar on Congress Avenue.
(Austin History Center, Austin Public Library)

Bazaars have become another holiday tradition in Austin since before the 1970s. The Armadillo Christmas Bazaar began in 1975; the event gave access to local artists and musicians to showcase their work during the holiday season.
Since the arrival of bazaars, Austin has seen numerous others such as The Bazaar, Austin Bazaar, The Arabic Bazaar and the other holiday favorite: Blue Genie Art Bazaar, which is open and operating until Dec. 24.
Unfortunately, the pandemic also impacted the opening of the Armadillo Christmas Bazaar, but you can still shop online for gifts by local artists.
Austin has been following tradition for years during the holiday season. Although due to the pandemic some events have been canceled, Austin is still feeling the Christmas spirit.

This is part of a holiday series counting down to Christmas so make sure to visit Austonia tomorrow, as we reach two days until Christmas.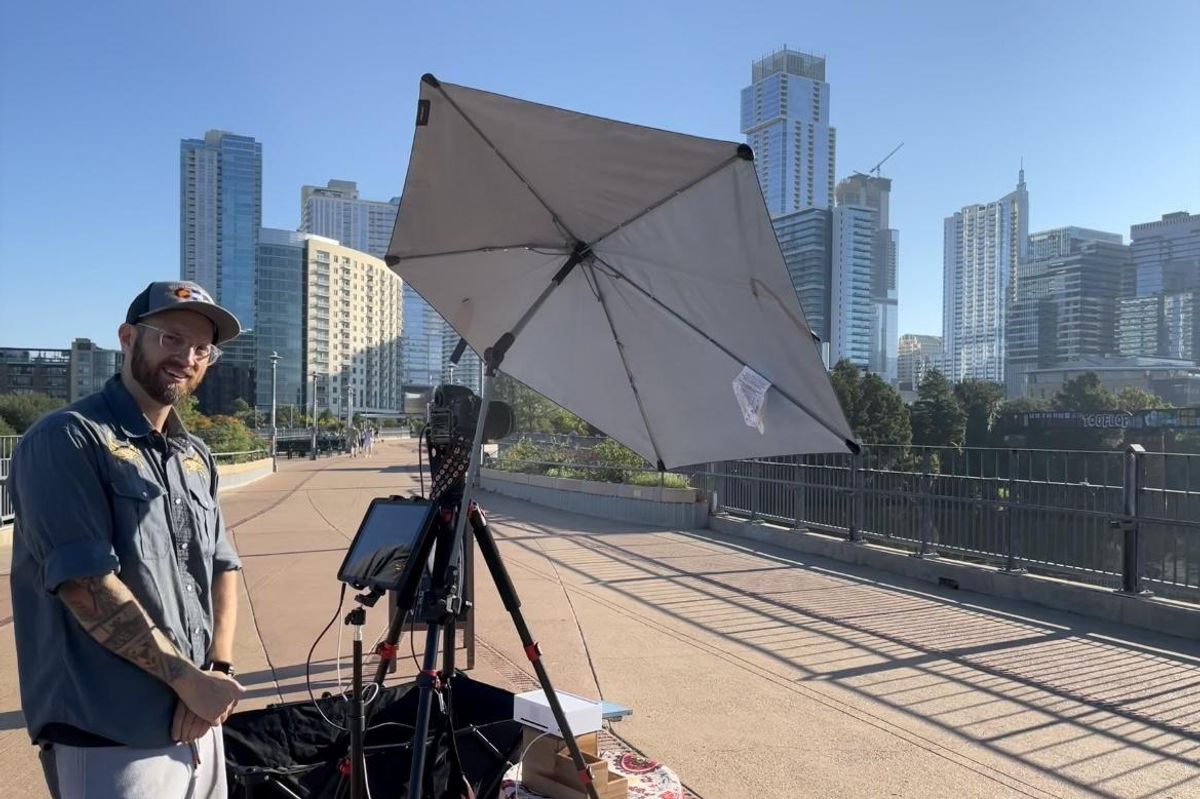 Nicklaus Pereksta says he loves photographing enthusiastic people, and it's why his latest gig offering pictures to people out on Lady Bird Lake's hike and bike trail is going smoothly. He sets up his gear on the Pfluger pedestrian bridge and puts out a sign: Photos, $10.
"Overwhelmingly, this has been a really positive experience," Pereksta said. "I get excited when I wake up in the morning and I can't wait to go to work."
Bikers and joggers are excited about it too. On the pedestrian bridge leading to downtown Thursday morning, a man on an e-bike rode up and posed, wanting more photos.
"I posted the last pictures on Instagram and people loved it. They asked, 'where is this guy?'" the biker told Pereksta. Bashfully, Pereksta, who also photographs landscapes and at weddings and other events, said he was happy to hear that.
Pereksta started these photos about a month ago, after the strenuous runs required in his valet job started causing pain in his legs. And though he has a passion for photography, he wasn't so sure when he started working independently if it would work out.
He felt uncertain about the demand for it and was also worried about having lots of expensive equipment out in the open.
"Then like the first day was nothing but high praise and people are like, this is so awesome. This is great. I've never seen anything like this before. I was like, Wow, this was really good, like positive turnout. So I got encouraged."
Now, he wants to expand and is thinking of contacting the Mueller Farmers Market about how to become a vendor. Still, he'll carry a connection to photographing on the bridge since the word bridge is related to his last name.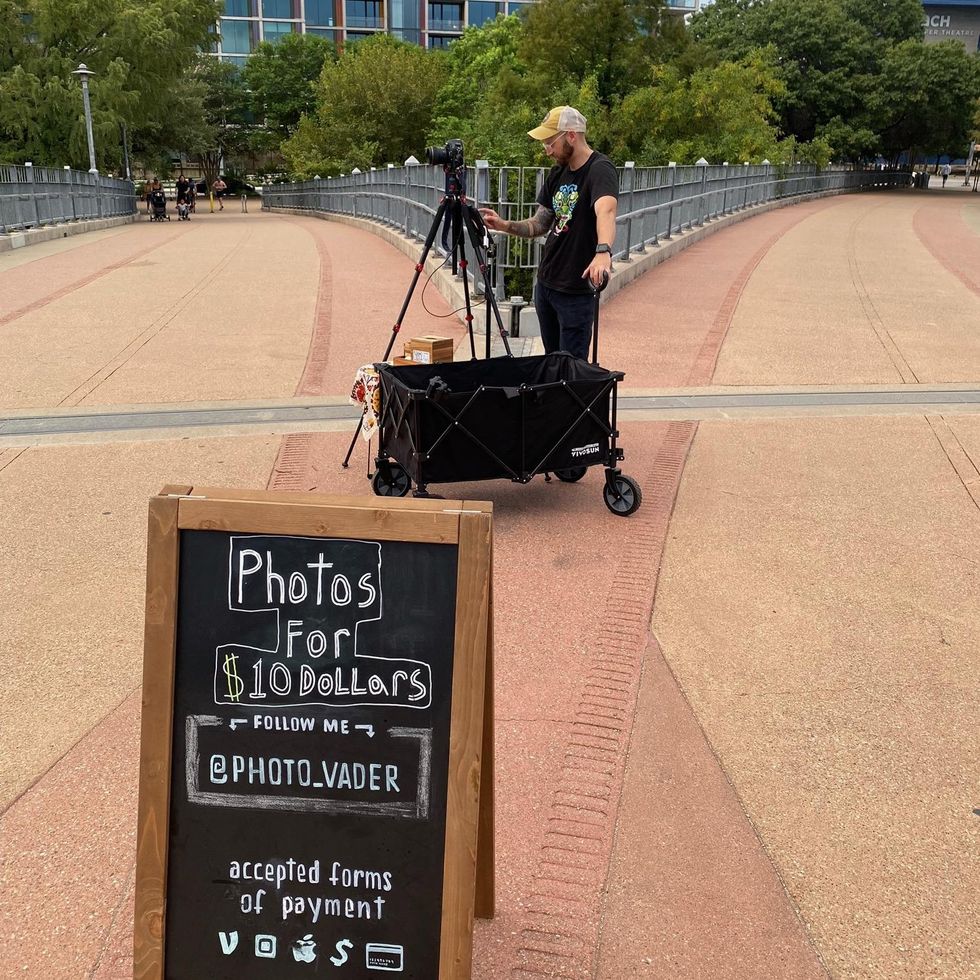 (Dewey C.)
"It's a name my great, great, great grandfather came up with when he was marrying somebody. It's actually quite a romantic name. It means a joining of two bridges," Pereksta said. "So, I thought it was ironic that I'm set up on a bridge. I'm kind of representing my last name right now."
Austonia talked to Pereksta about life in Austin, where he's lived for eight years after living in Boston doing band photography.
What was your first experience with Austin?
I came here to visit some friends and they took me to Barbarella. So we went to Barbarella and I was like, 'wow, this place is great.' And then the restaurants and the food and going to Barton Springs. I was like, 'this is amazing.' Because there's nothing like that in Boston. If you want to go to a natural spring, you got to go to New Hampshire. There's no pools in the city at all. So there's lots of swimming out here.
What do you like best about Austin?
You go to any little quiet bar and there's a band playing that should be like onstage for a sold out show. Yeah, they're playing to 10 people, right? Like, one of the best bands ever and they're playing for 10 people, right? And just little magic moments like that are pretty fun. You just run into little random weird things.
What do you think makes Austin different from other places?
There's no fall.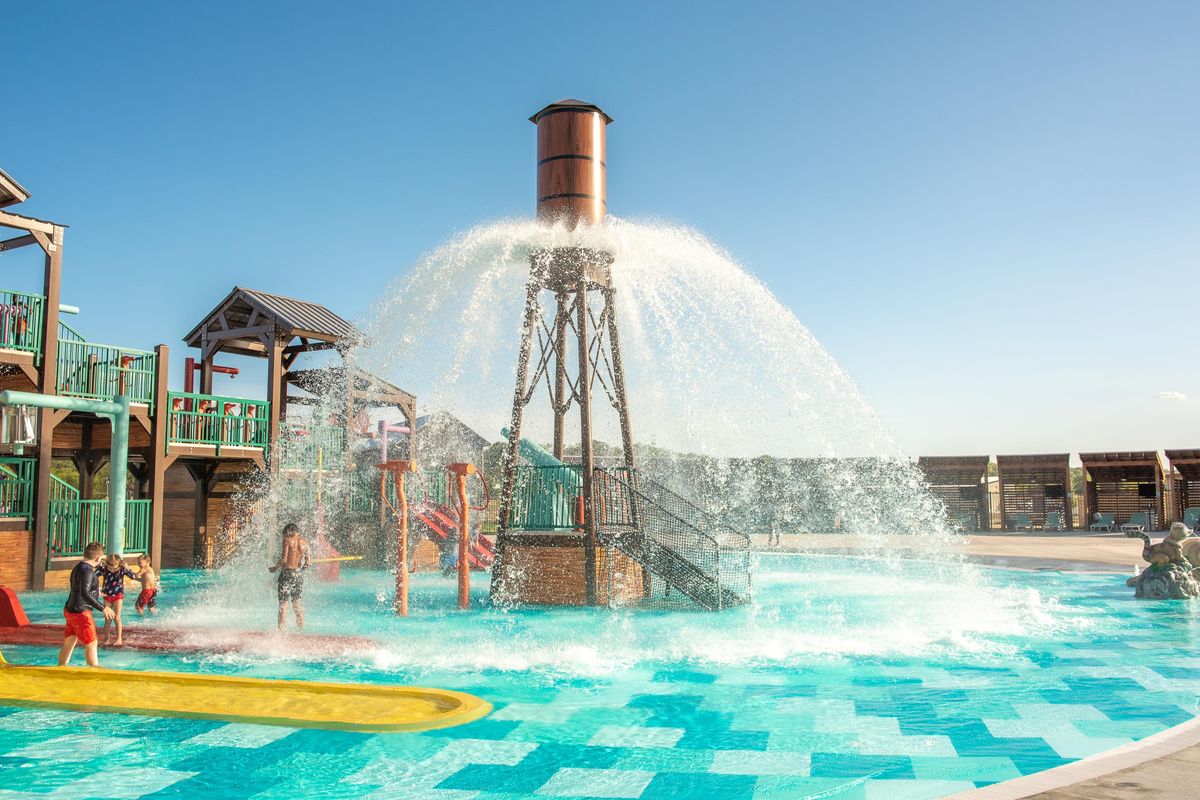 Camp Fimfo Waco
Camp Fimfo Waco, a brand new camping resort, is kicking off football and fall camping season in style! With top-notch amenities, premium accommodations, and 10 weekends of fall fun, there's no better place to have a fall camping getaway, especially if you're a Baylor football fan!
Fall promises to be a one-of-a-kind camping experience. From Sept. 16 to Nov. 24, weekends will be packed with fall-themed activities, including special Halloween weekends in October. Campers can enjoy activities like fall crafts, campground trick-or-treating, costume contests, site decorating, outdoor movie nights, and more!