Austonia AM
100% Austin news, info, and entertainment, straight to your inbox at 6 a.m. every morning.
In five minutes, you're fully informed and ready to start another great day in our city.
Get connected with our daily update
Local nonprofit Mobile Loaves & Fishes announced plans to vastly expand Community First! Village, a 51-acre master-planned development that is home to more than 220 formerly chronically homeless residents, on Wednesday.
---
The two-phase expansion will add 1,400 micro homes and 127 acres between two pieces of land—one across the street from Community First! Village on Hog Eye Road in far East Austin and the other on Burleson Road in Southeast Austin—with development starting in summer 2022. The land purchases were made possible thanks to a donation commitment from Love, Tito's, the philanthropic arm of Tito's Handmade Vodka. (Disclosure: Tito's is an Austonia sponsor.)
Mobile Loaves & Fishes has operated Community First! Village, which Austin Mayor Steve Adler has coined as "Austin's most talked about neighborhood," for more than five years. During that time, the social outreach ministry has paid out more than $3 million to residents, who make and sell art and maintain the village.

The expansion consists of Community First! Villages third and fourth phases and will more than triple its size and sextuple its current number of homes, from 240 to 1,900 total. In addition to the coming micro-homes, the village also includes RVs and canvas-sided cottages.
Amber Fogarty, president of Mobile Loaves & Fishes, said the expansion announcement is proof that there is hope despite the city's ongoing homelessness crisis. "We realize there's an intensifying conversation happening in our city right now as it relates to homelessness, and for some it may seem like a dismal situation," she said in a statement. "It brings us great joy to think that today's expansion news means we will bring home many more of our friends who are currently suffering on the streets of Austin."

As residents prepare to vote on a controversial proposition that would reinstate a ban on camping and other activities in parts of the city, Adler said Community First! Village is "a vital and important piece of the puzzle" when it comes to addressing homelessness in Austin and praised Mobile Loaves & Fishes founder and CEO Alan Graham for his vision.
To be eligible to live at Community First! Village, applicants must be chronically homeless, meaning they have lived in a place unsuitable for habitation for at least one year and have at least one qualifying disability; have lived in Travis County for at least one year; and have the ability to pay rent, through social security income, disability benefits or on- and off-site work.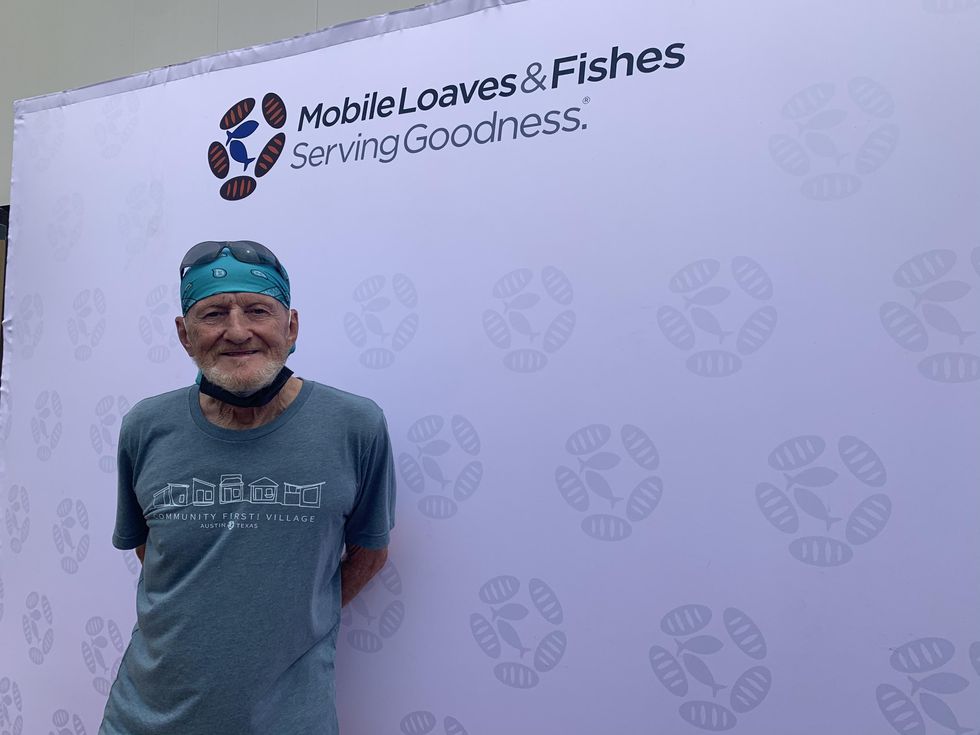 Tim Shea has lived at Community First! Village for five years. (Emma Freer)
Tim Shea has lived at Community First! Village for five years, after three decades of intermittent homelessness, heroin addiction and incarceration. After living in an RV, he became the first person in the country to move into a 3D-printed home, furnished by the Austin-based construction technology company ICON. "I am loving it," he said, citing its high ceilings, big windows and solidity as his favorite features.

The expansion plans are welcome news to Shea. "I'm not surprised," he said. "I just know that more people need to know about it."
A week after Texas added two congressional seats and California lost one, state officials reported a population decline in 2020 for the first time in the Golden State's history.
California fell by over 182,000 people from January 2020 to January 2021, dropping almost 0.5% to cap out at around 39.5 million people. It is still the nation's most populous state.
For over thirty years, California has seen more people leave than move in from other states, state officials said, with 6.1 million people moving out and 4.9 million coming in last year. Immigration and births kept California growing, but the state saw a shrink in international migration in 2020 due to COVID and the White House's hold on visas.
Of the steady flow of ex-Californians moving to other states, more are moving to Texas than any other state. Many are relocating to Austin, which has been labeled a "little California" by billionaire resident Elon Musk and continues to grow astronomically.
Meanwhile, California cities including Los Angeles, San Diego, San Jose and San Francisco saw a population decline.
With immigration and state migration on the decline, the Golden State was also hit with a spike in deaths- 51,000 people died from COVID in 2020, and all but seven of the state's counties saw death rates higher than the three-year average.
Still, the California Department of Finance said a "slightly positive annual growth" can be expected next year as the state recovers from COVID deaths and political repercussions.


Ingredients:
1 1/2 oz of hibiscus-infused Tito's Handmade Vodka
2 oz sparkling water
1 oz fresh lime juice
3/4 oz simple syrup
1 tsp allspice dram
Directions: Add infused Tito's Handmade Vodka, lime juice, and simple syrup to a shaker with ice. Shake and strain into a glass over fresh ice. Top with sparkling water, and garnish with a lime slice. Enjoy!
The sun is out, and thousands of Austin FC fans will be as well as Austin FC goes to Kansas to play Sporting Kansas City at 6:30 p.m. on Sunday.
There's plenty of pub partners to choose from, but here's a few watch parties to help you get in on the action.