Get connected with our daily update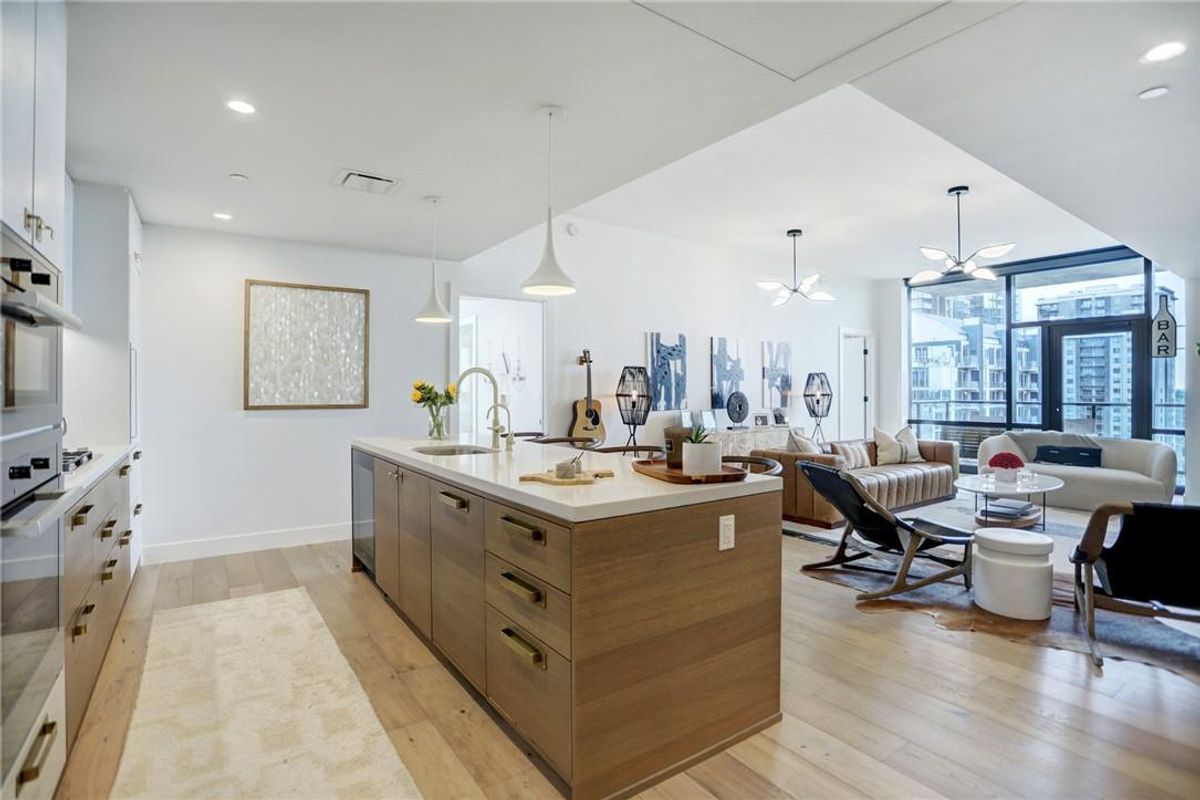 Panoramic skyline views, natural light galore and a life of luxury—all things you can experience if you live in one of Austin's famous downtown high rises.
---
Take a look inside these three condos that are on the market now.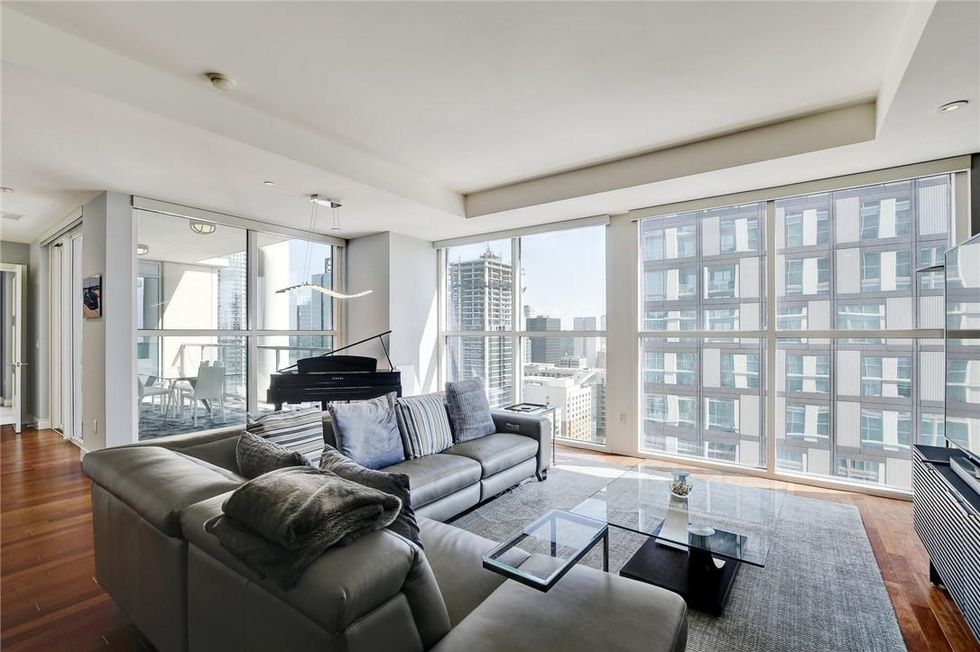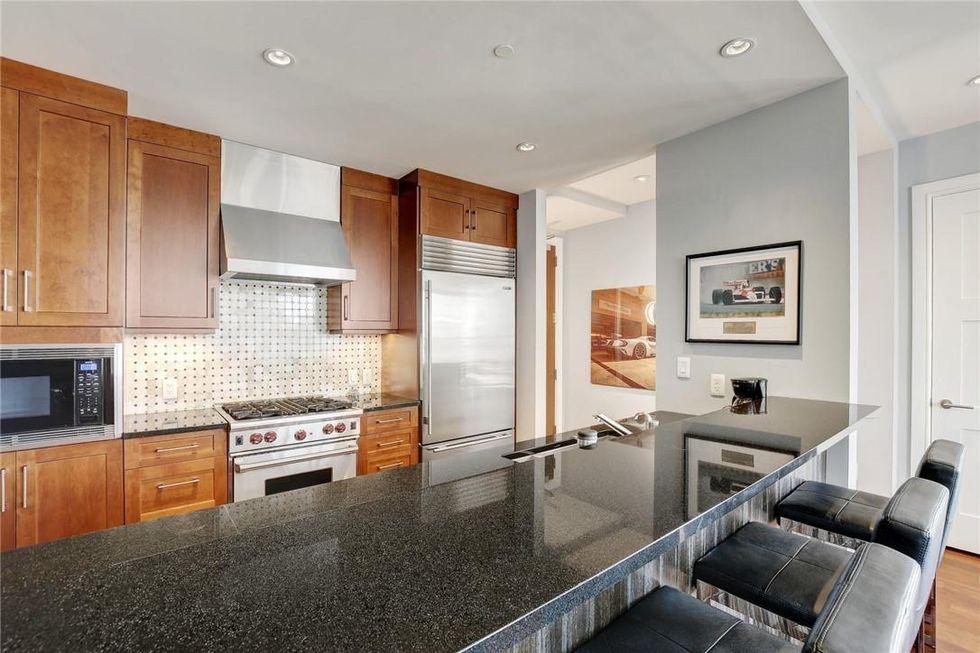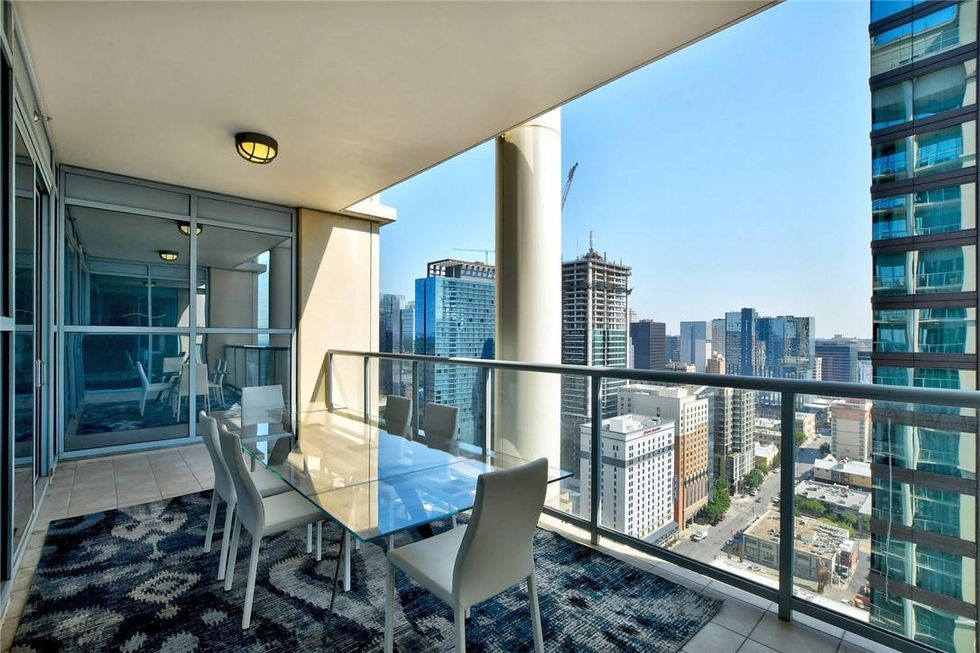 This spacious one-bedroom, one-bathroom Four Seasons home comes complete with a rare oversized balcony–a could-be "second living room" that stretches to the bedroom–and views of the Austin skyline. Built in 2010, the condo has modern features throughout its 1,060-square-foot floor plan and offers special perks for being a top-floor resident: concierge, valet parking, the rooftop pool, roof service and housekeeping.
This listing is held by Alan Holt of Compass.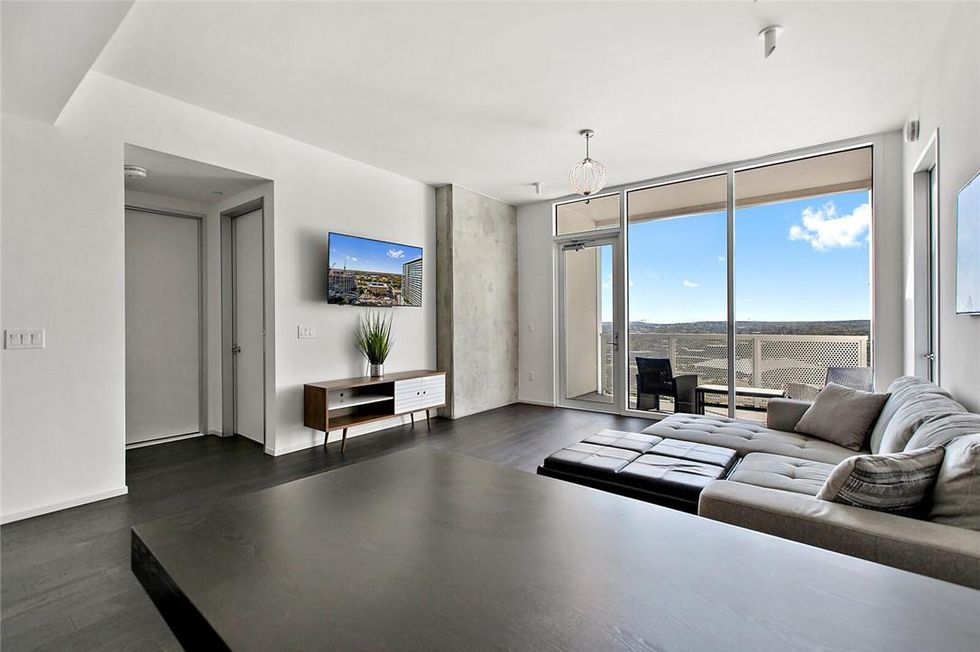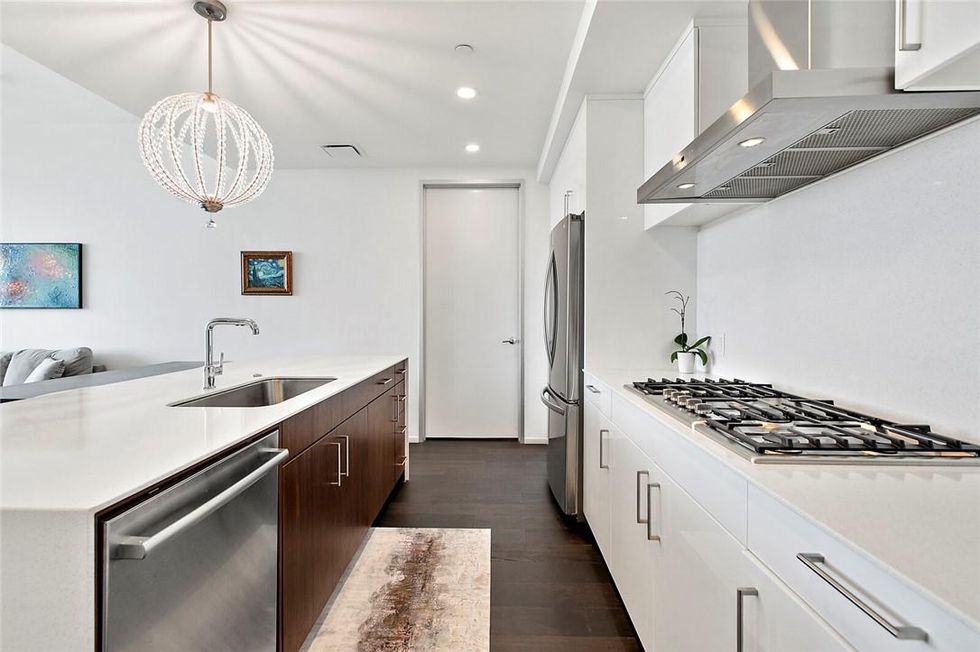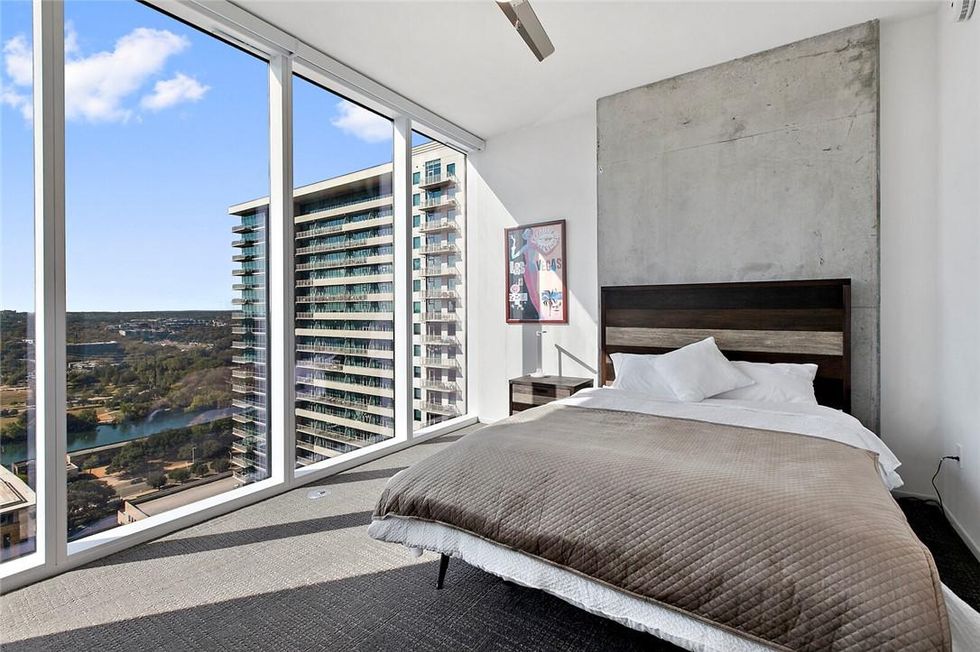 This two-bedroom, two-bathroom condo at The Independent faces south, securing panoramic views of Lady Bird Lake and downtown from its floor-to-ceiling windows that let in tons of natural light. The 1,262-square-foot floor plan feels especially spacious due to the open concept floor plan and 10-foot ceilings. Forget the modern finishes, ample amenities, guest suites and location—you can wake up to views of the capital city every morning if you can afford to live here.
This listing is held by Natalie Kalthoff and Krystle Copulos of Compass.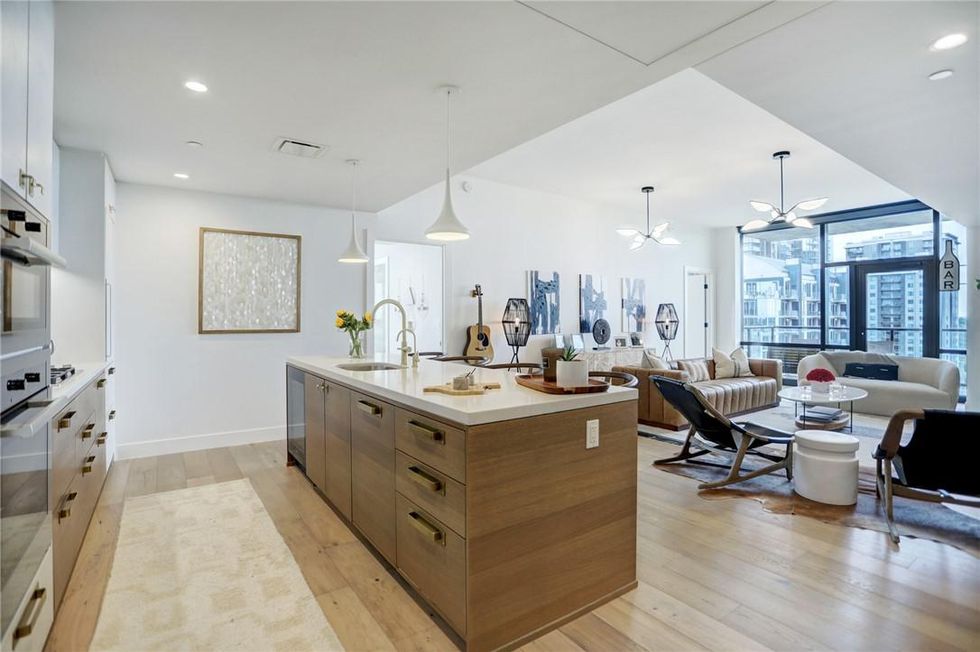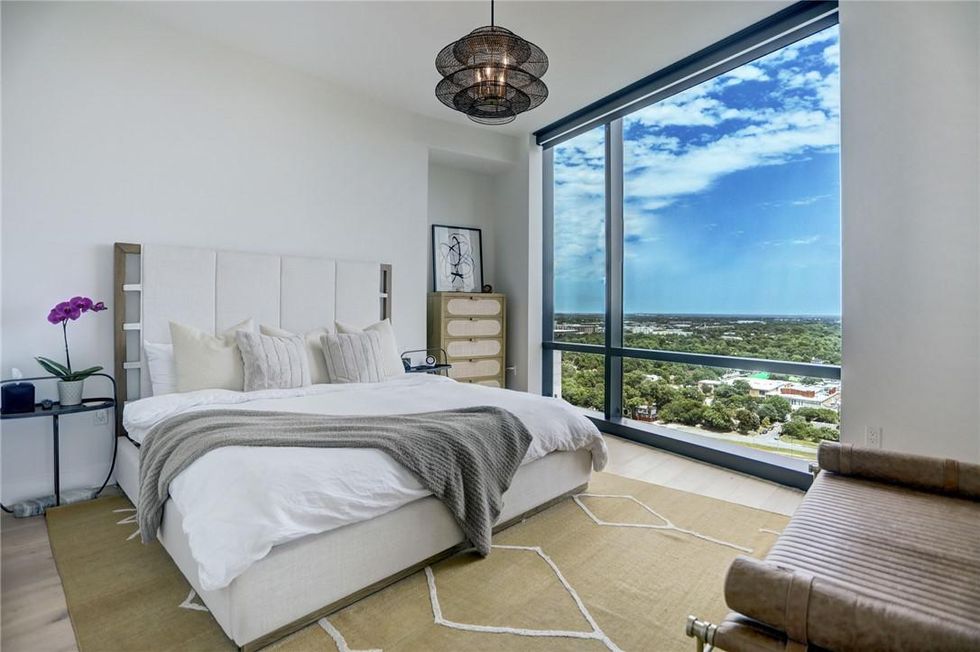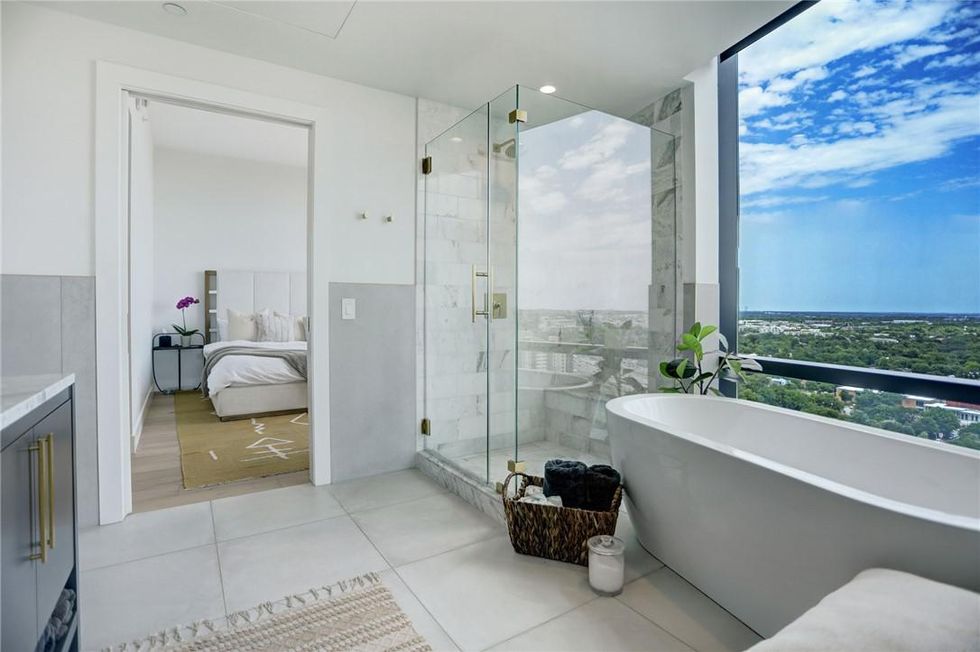 Located at 70 Rainey, this two-bedroom, two-bathroom condo has an ample 1,697 square feet of space that you can make the most of with an open floor plan. Built in 2018, it has features like the floor-to-ceiling glass windows, hardwood European oak flooring, marble bathrooms, custom finishes, motorized window shades and Miele appliances give this home its luxurious feel. This condo's price has dropped by a little more than $500,000, so now is the chance to live the luxurious lifestyle for a good deal.
This listing is held by
Leslie L. Thompson of Compass.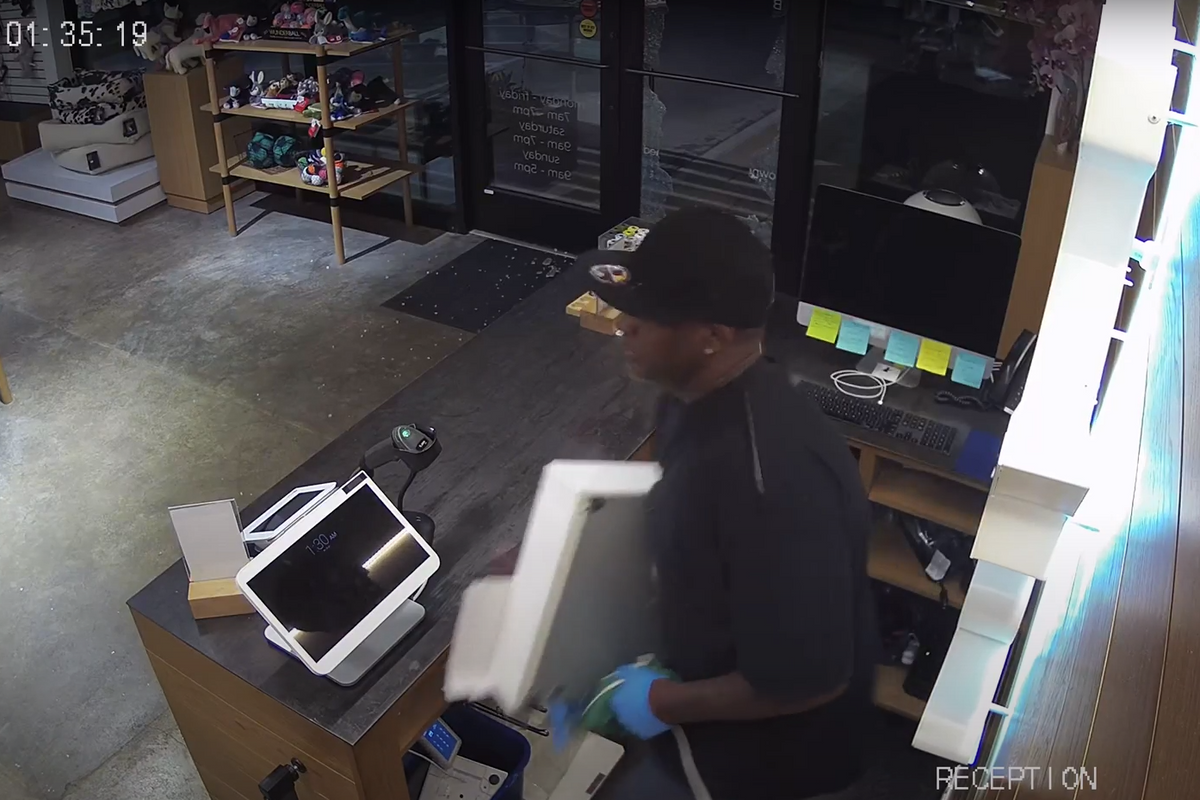 Pet grooming salons and dog supply stores have seen a rash of at least seven burglaries over the last month, bringing store owners together to try and put an end to the repeated crime.
The break-ins started in late June and have continued every few days at different locations around the city, according to the Austin Police Department and Austin/CentralTexasGroomers Facebook group.
Victims have started sharing their security videos via Facebook, with a nearly identical story each time: A gloved man uses a rock to break through a glass door or window in the early morning hours, takes the cash drawer and splits.
Barkin' Creek Dog Kitchen & Bath co-owner and CEO Jeff Springer has had two of his four locations hit. Springer said he's not only out a few thousand in stolen cash but also keys and checks from inside the drawers, plus several thousand dollars in repairs.
"There's a sense of anger and helplessness combined—anger because you've been victimized and helplessness because there's nothing that you can do that could have stopped this," Springer told Austonia.
The stores that were hit:
June 27: Mod Mutt Salon
July 2: Rainbow Paws Pet Salon
July 4: As the Fur Flies
July 11: Sniff Grooming Studio
July 23: Hair O' the Dog Pet Salon
July 26: Barkin' Creek Dog Kitchen & Bath Zilker location
July 29: Barkin' Creek Dog Kitchen & Bath South Lamar location
Springer said his first burglary occurred around 2 a.m. at the Zilker location—the perpetrator smashed through the door, ripped out the cash drawer, unlocked the unbroken door and calmly walked out. The scene was found by an employee a few hours later.
Springer said they spent the morning rescheduling grooming appointments and cleaning up the glass. Barkin' Creek's South Lamar location was hit three days later in the exact same way, by who he believes to be the same person Springer said, and the robbery was discovered around 6 a.m.
"He left the computers—he left some very expensive items that are on our sales floor right there," Springer said. "I think he wanted to expedite the theft and get in and out as quickly as possible."
While Springer has reached out to police, he said he's been repeatedly told they are understaffed and are trying to prioritize reports as they come in. He had to fill out the police reports online, as opposed to having an officer dispatched to him, due to staffing issues.
After reaching out to District Five Council Member Ann Kitchen, he was able to get in touch with a district sergeant who helped him upload evidence on Friday.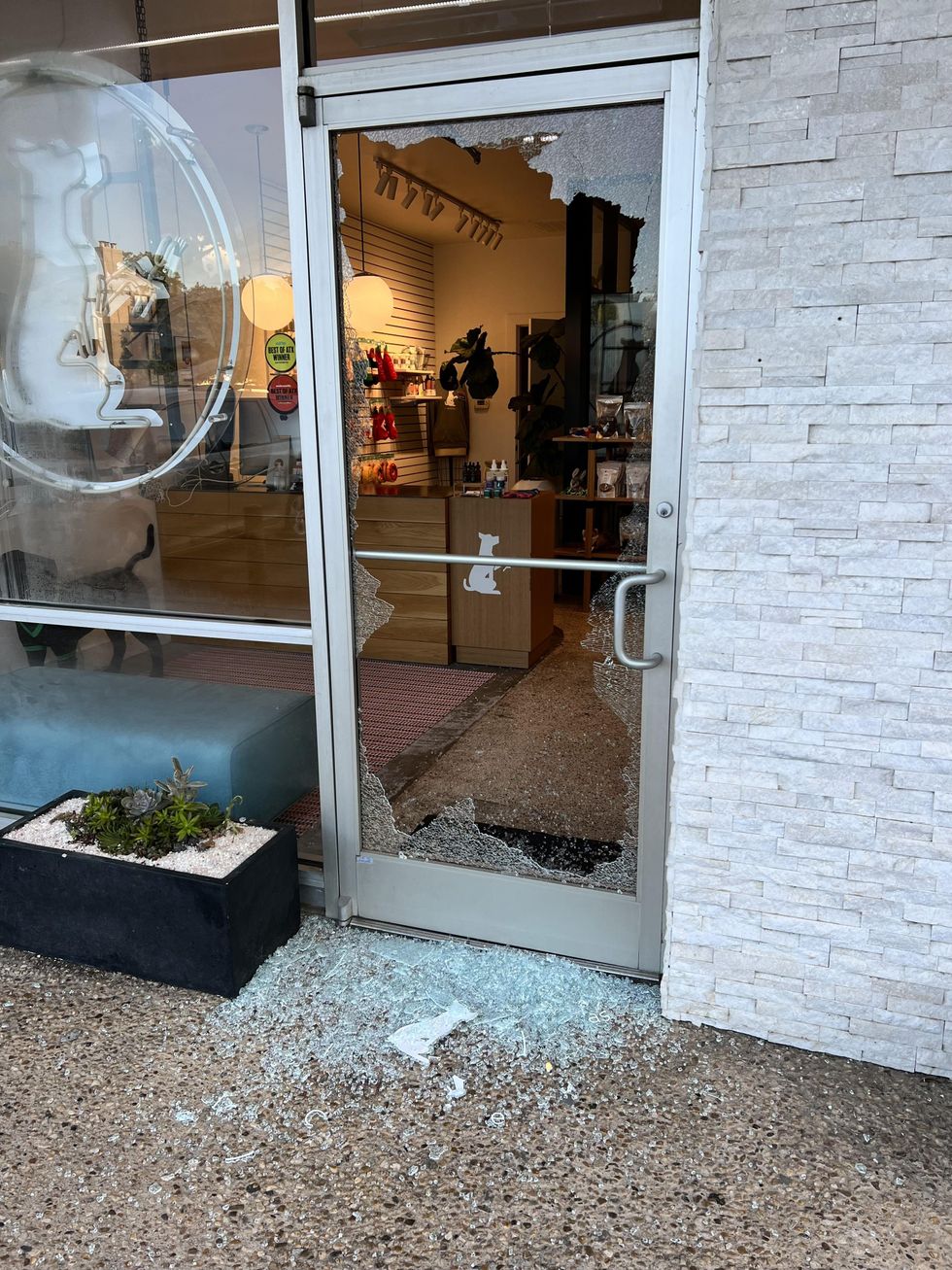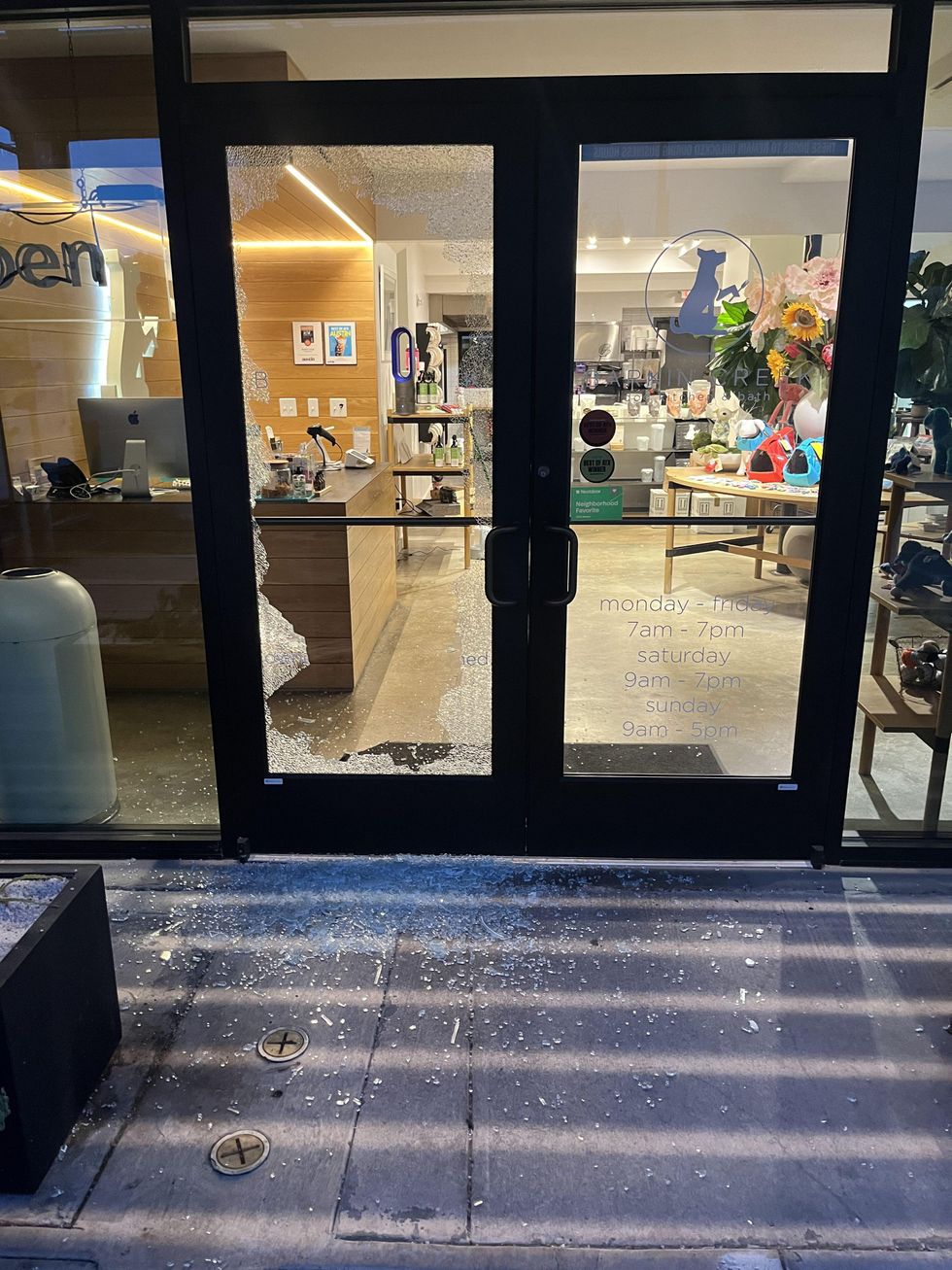 "That was frustrating because you expect the police to show up when you're burglarized," Springer said. "I wanted to make sure that the police were aware that we had a serial burglar on the loose who is targeting dog stores. This is low-hanging fruit given all the evidence that all these stores have collectively together on the guy."
A report from KXAN said several other store owners have complained about little to no police response—Nancy Rich with As the Fur Flies said police haven't come to take fingerprints on objects the perpetrator touched or evidence.
Springer said in the meantime, they have updated lighting in their parking lots, are converting to a cashless system and looking into stronger glass, but he fears that after the repairs are done, the robber will strike again.
"(Upgrading) the glass is another heavy cost," Springer said. "We're a small, family-owned business. We don't have a lot of money to pay somebody to be a full time security guard at each one of our stores. It's just not feasible."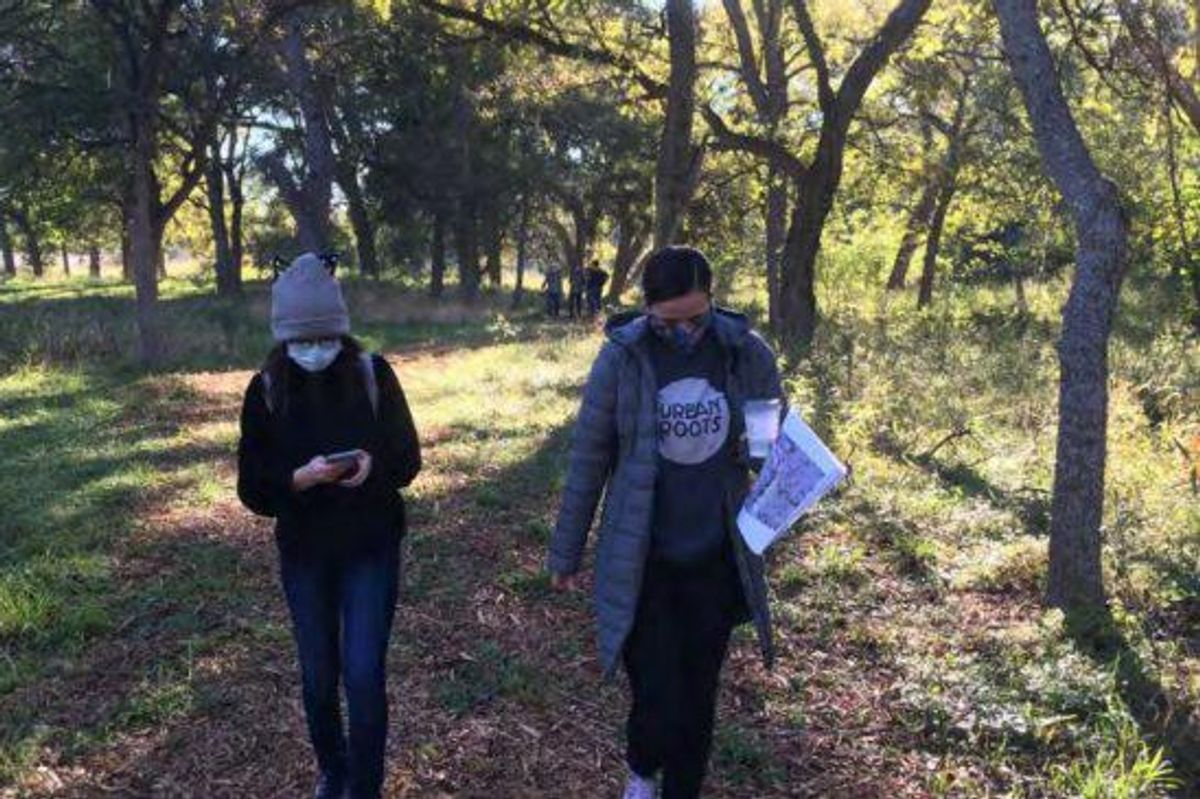 By Willow Higgins
In the summer of 2020, in the heart of the Covid-19 pandemic, Dove Springs community members began to wonder how they could better use a section of the local greenbelt that had become neglected. The unmarked trail, which is overgrown and enclosed by a 10-foot flood wall, was once actively maintained and a go-to river access point for residents in the mood for a stroll or a swim. Last week, project partners presented their proposal for a revamp of a section of the East Williamson Creek Greenbelt–which they've named Donde Corre el Agua (Where the Water Runs)–to the Parks and Recreation Board.
The project team has been working tirelessly over the past year to figure out how to transform the space. Dove Springs residents Blanca Ortíz, Elena Rodríguez and Enedina Sánchez, who initiated the project, teamed up with Frances Acuña of Go Austin/Vamos Austin and Bjørn Sletto, a UT architecture professor, and his class to pull together a 100-plus-page book that spells out how the project should be approached.
"The residents and students have been working every single weekend for a little bit more than a year so they could get the language that was needed to be included in this book so we could have a model for how to transform something that looks like (this) into something beautiful and doing it the right way by including the residents and including the neighbors," Acuña said in her presentation to the parks board.
While some enjoy hiking the trail in its current wild state, steep drop-offs to the creek and eroded riverbanks have prevented neighbors from enjoying it the way they used to. The parcel used to be lined with houses that backed up to the creek, but after the area was hit by a flood, the houses were bought out and removed. Nonetheless, the area has a rich history and holds memories, especially for older residents, that the team worked to honor.
What they have in mind is a beautiful, well-maintained trail with flower gardens, a community garden, rest stops, picnic areas and a play area including swings and volleyball and basketball courts. The trail will also be adorned with murals that tell stories about the community.
"We prioritized culture preservation and conservation, making sure that the culture wasn't lost in our community," Acuña said. "We have been losing (our culture) little by little because of gentrification and displacement, but at least in this space, we were able to come together and see what the residents, between the youth and the older adults, highlighted that they wanted to see."
Now that the community-activated project proposal is complete, the partners will move on to complete the Neighborhood Partnering Program application, which will include an estimate of the budget and zoning and permitting logistics. Then they'll identify and begin to implement the project's priorities. If they don't secure the funding to complete the project in one sweep, they'll steward their plan over time.
"This means a lot to the neighborhood because we have taken so much of our minds and our souls into this project," Acuña said. "Dove Springs is an area that has been neglected and all the work the residents took and the students took to make this happen is something that is admirable for it to become a reality."