Get connected with our daily update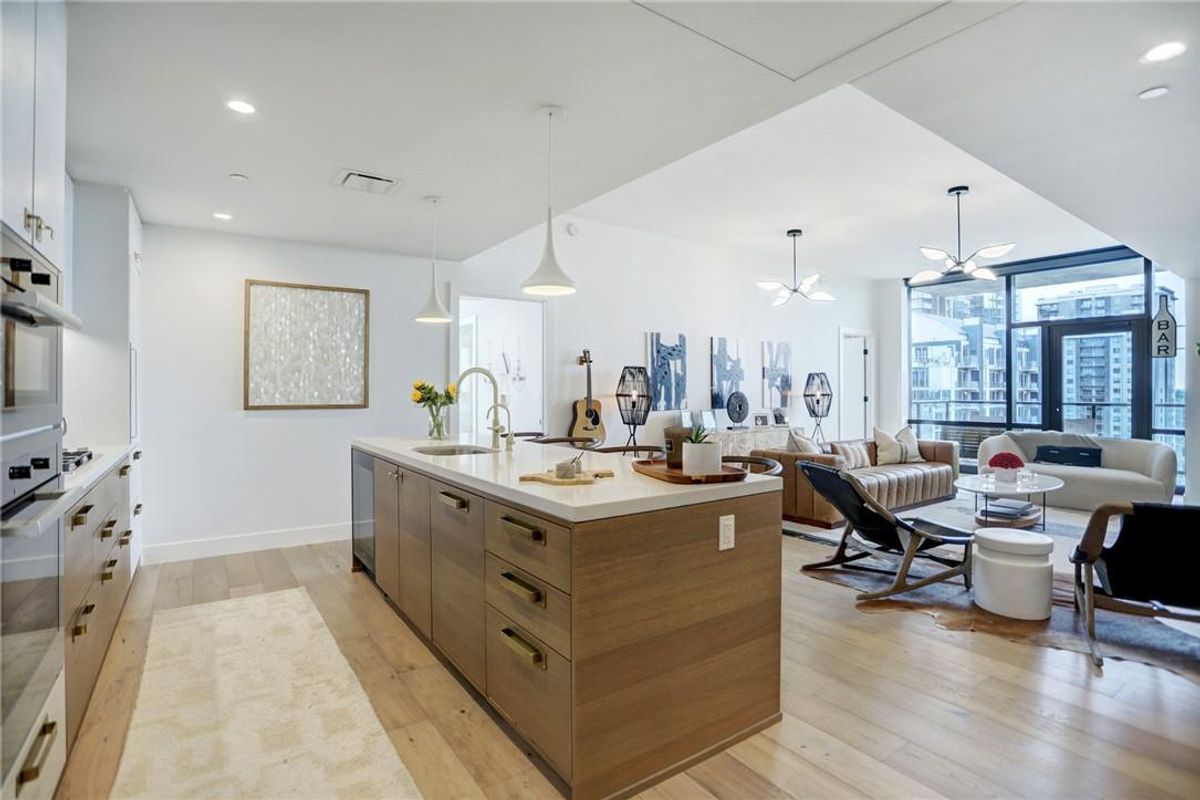 Panoramic skyline views, natural light galore and a life of luxury—all things you can experience if you live in one of Austin's famous downtown high rises.
---
Take a look inside these three condos that are on the market now.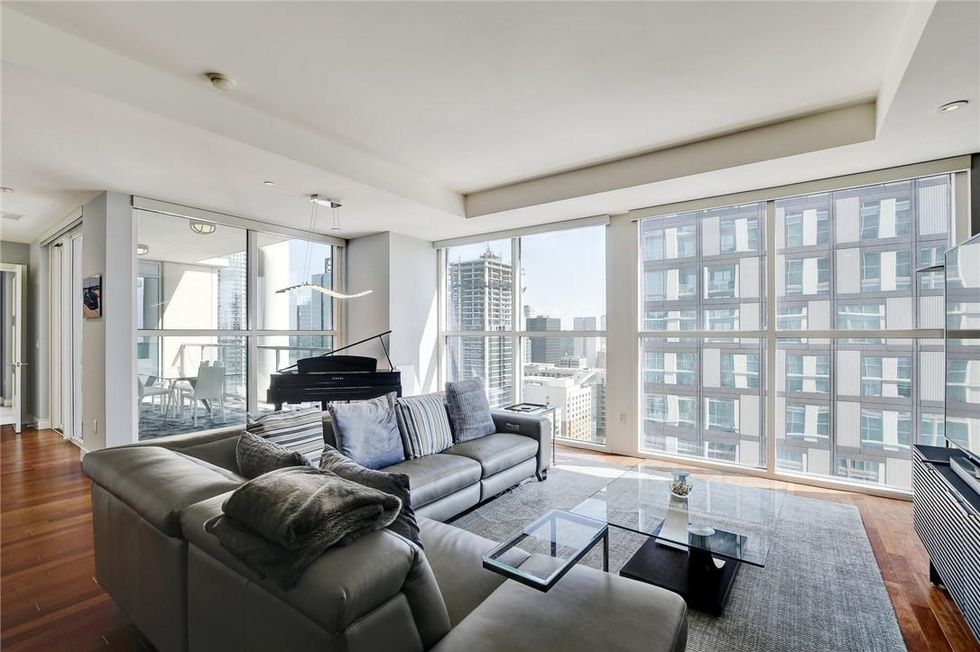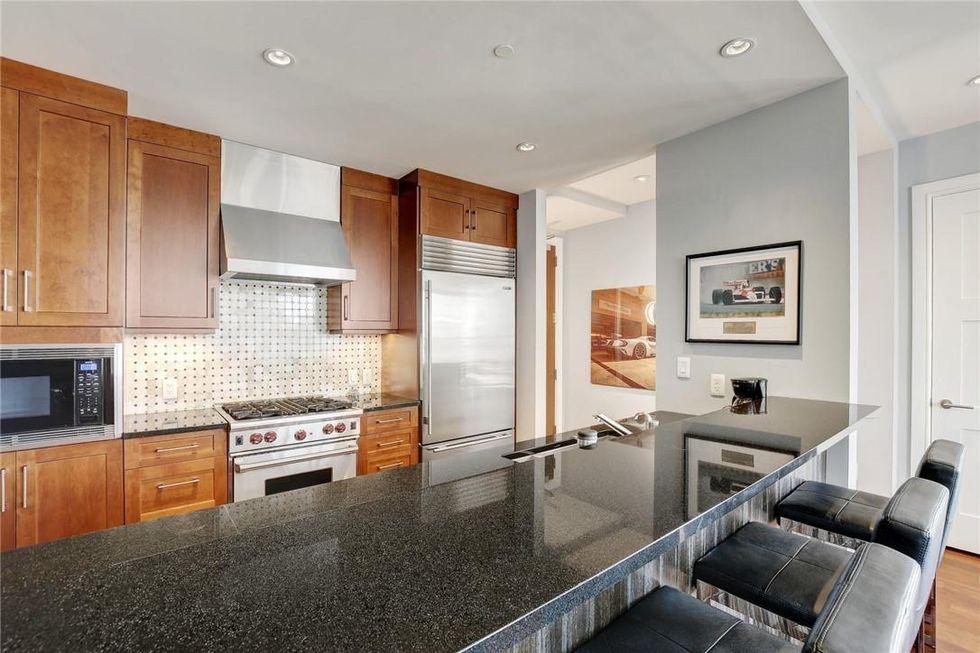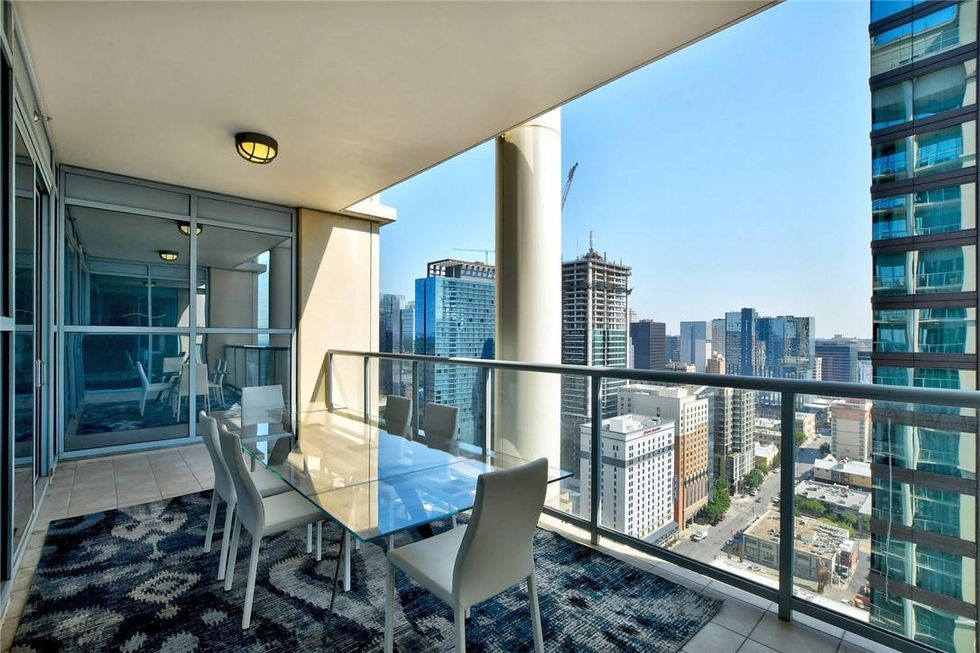 This spacious one-bedroom, one-bathroom Four Seasons home comes complete with a rare oversized balcony–a could-be "second living room" that stretches to the bedroom–and views of the Austin skyline. Built in 2010, the condo has modern features throughout its 1,060-square-foot floor plan and offers special perks for being a top-floor resident: concierge, valet parking, the rooftop pool, roof service and housekeeping.
This listing is held by Alan Holt of Compass.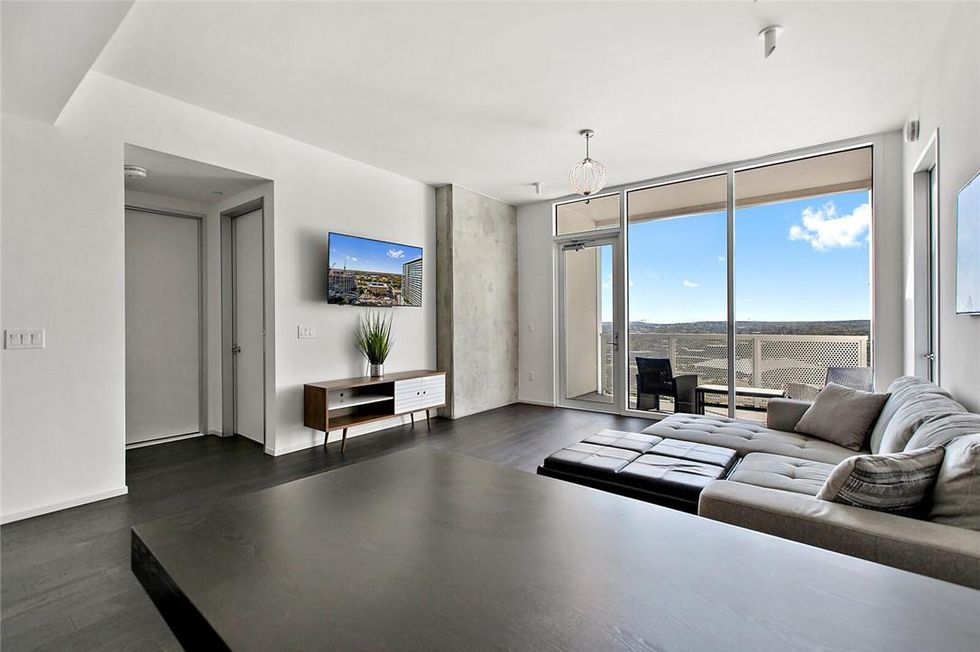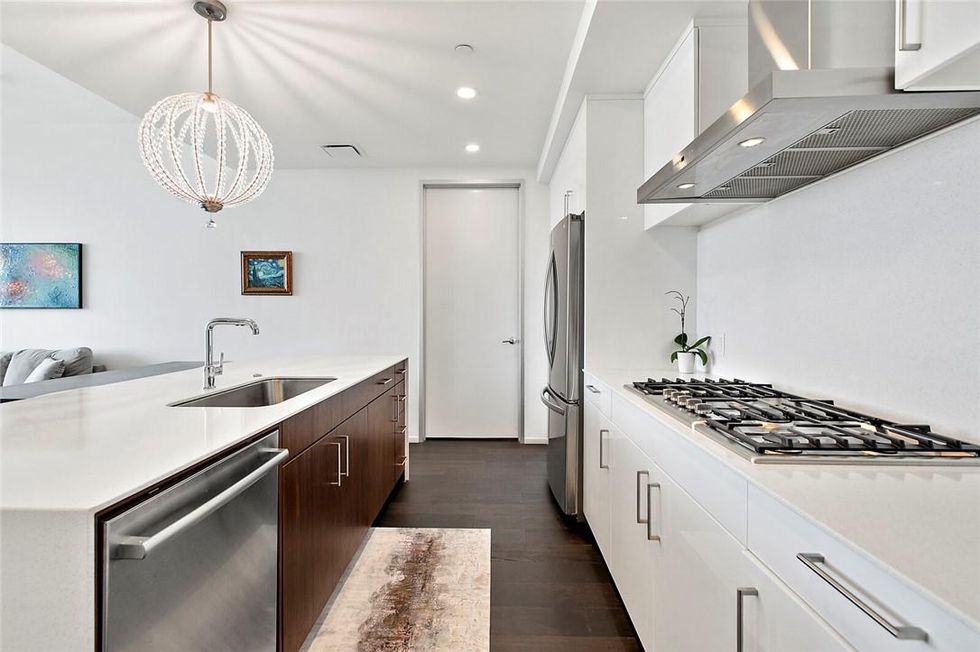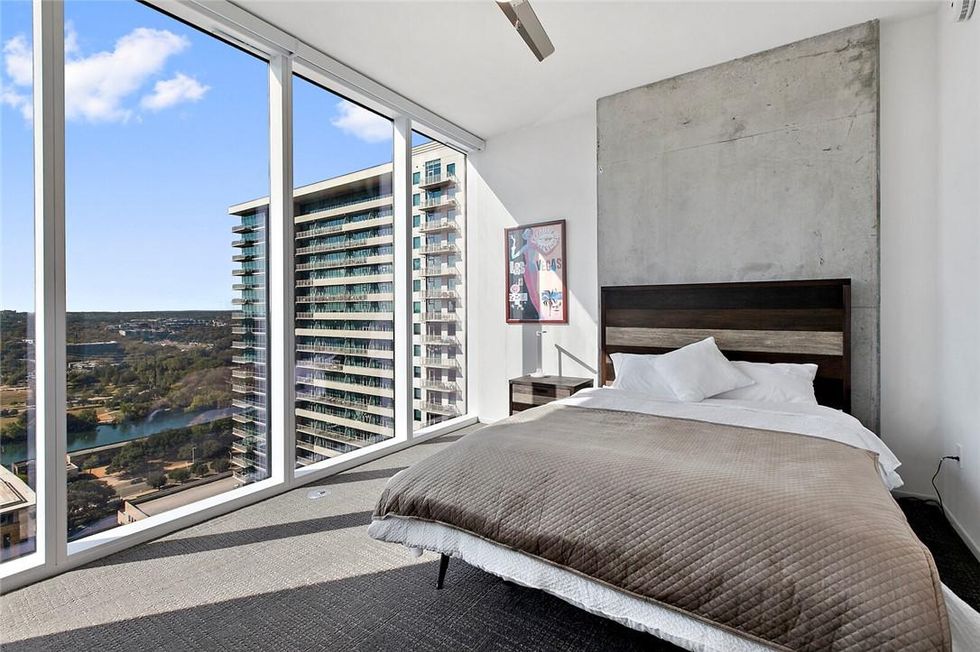 This two-bedroom, two-bathroom condo at The Independent faces south, securing panoramic views of Lady Bird Lake and downtown from its floor-to-ceiling windows that let in tons of natural light. The 1,262-square-foot floor plan feels especially spacious due to the open concept floor plan and 10-foot ceilings. Forget the modern finishes, ample amenities, guest suites and location—you can wake up to views of the capital city every morning if you can afford to live here.
This listing is held by Natalie Kalthoff and Krystle Copulos of Compass.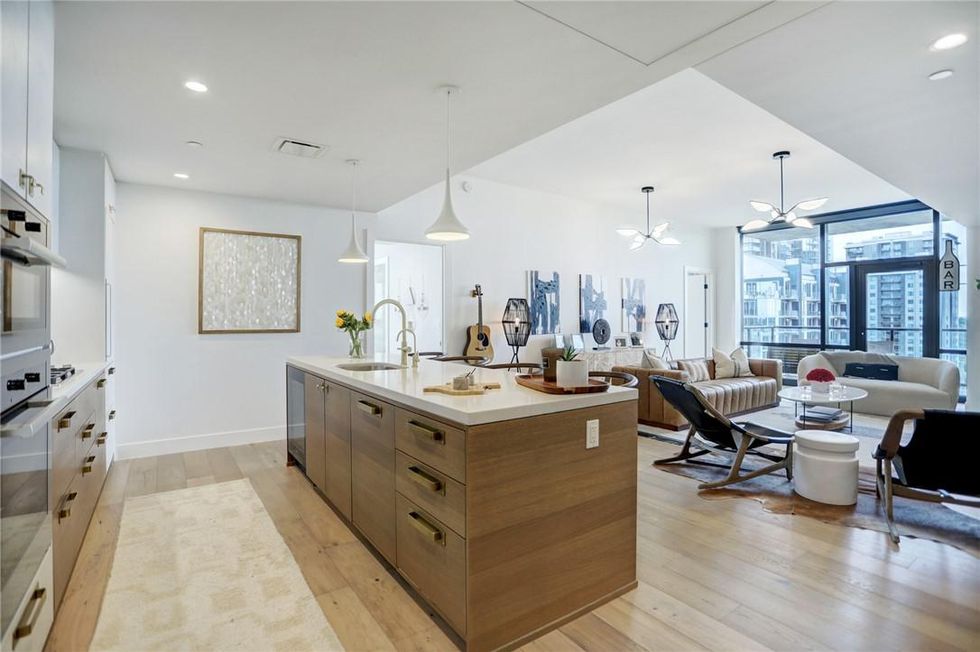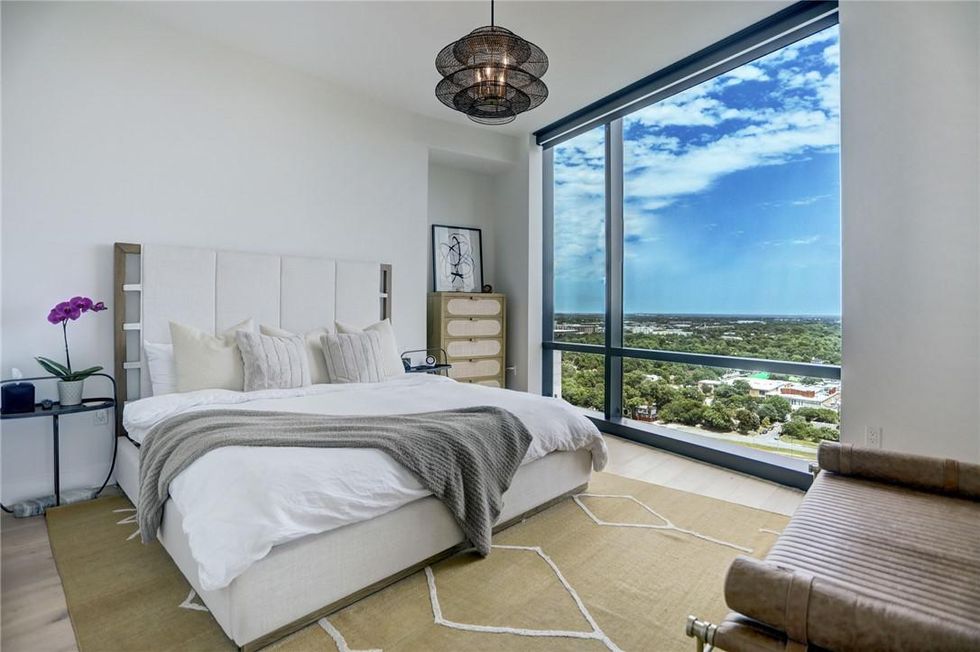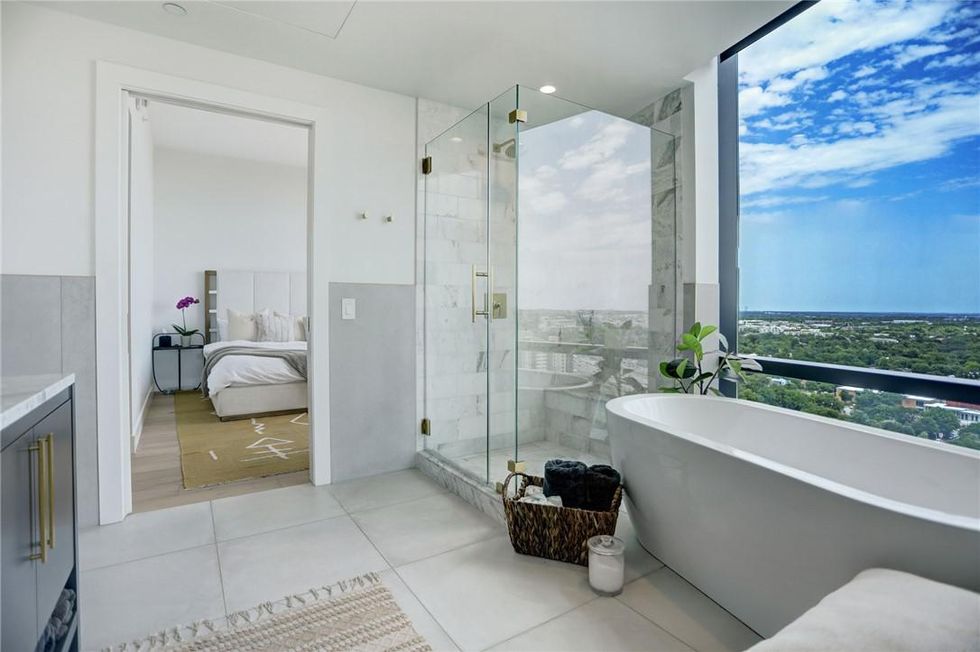 Located at 70 Rainey, this two-bedroom, two-bathroom condo has an ample 1,697 square feet of space that you can make the most of with an open floor plan. Built in 2018, it has features like the floor-to-ceiling glass windows, hardwood European oak flooring, marble bathrooms, custom finishes, motorized window shades and Miele appliances give this home its luxurious feel. This condo's price has dropped by a little more than $500,000, so now is the chance to live the luxurious lifestyle for a good deal.
This listing is held by
Leslie L. Thompson of Compass.
The aquarium, located in a strip mall off highway US-183, is an exotic indoor petting zoo that has encouraged visitors to touch nearly all of its animals since it opened in 2013. It was designed and built by Ammon Covino, who was sentenced to a year and a day in prison for illegally shipping protected animals to another aquarium in Florida a week before the Austin grand opening. He was arrested again on a federal warrant in Austin in 2015 and again in 2016.
The aquarium claims to have welcomed almost half a million guests in 2021, and thousands of locals have expressed concern via social media over the business's practices in the last decade.
During a USDA routine check in March, Austin Aquarium was cited for not providing adequate care when two otters were in need of veterinary care. Additionally, PETA announced it had filed requests with local, state and federal authorities to investigate allegations of violating animal protection, worker safety, wildlife laws and to revoke the aquarium's federal license to exhibit regulated animals on Thursday after sending an undercover employee to work in the facility for four months this year.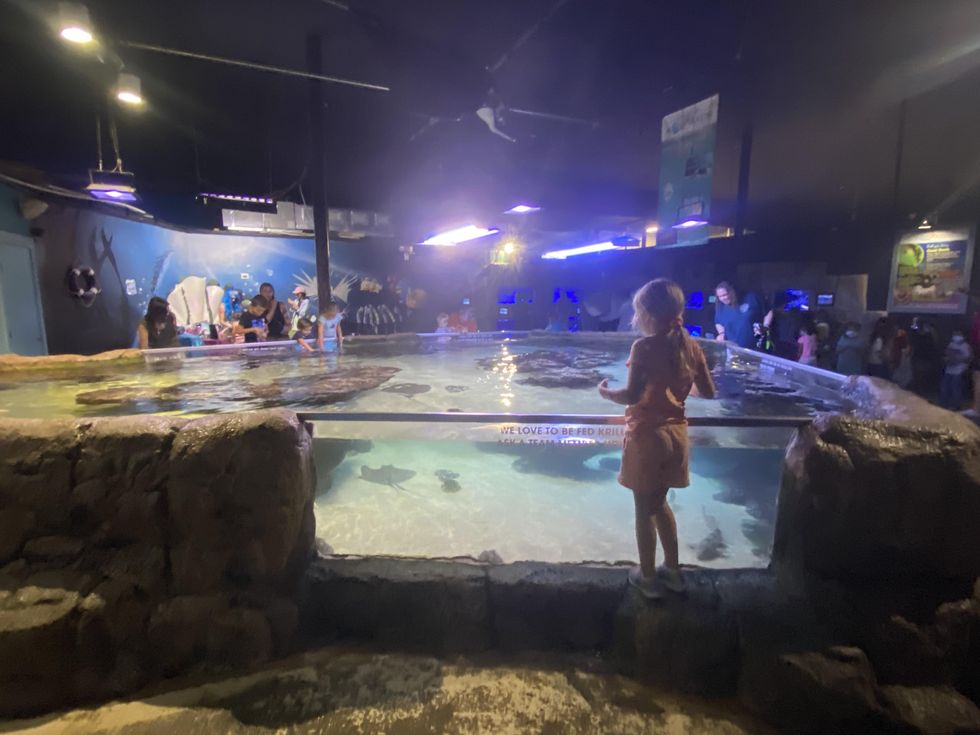 Guests were encouraged to stick their hands in the sting ray and shark tank. (Laura Figi/Austonia)
Austonia reached out to Austin Aquarium for comment on PETA's claims multiple times but didn't hear back. We visited the aquarium on Friday afternoon to investigate some of PETA's claims for ourselves.
Inside the facility
As a single person with no children in tow, I was definitely the odd one out as Austin Aquarium was almost exclusively families with small kids.
Immediately to the right of the entrance is the ring-tailed lemur encounter enclosure, where visitors are encouraged to enter with an attendant to pet the animals. Forest the lemur is in an isolated cage where he paces with a limp from one of his back legs.
An Austin Aquarium employee, who told Austonia she had been working there for three months, said Forest was "born that way." PETA alleges he was injured and never received treatment at the San Antonio Aquarium, which is run by the same owners.
Another employee seemed visibly hesitant to answer the question of where the animals came from, simply saying, "A lot of them are donated." When asked where they were donated from, the employee said, "They're just donations, a lot of them, a lot of people aren't able to take care of them."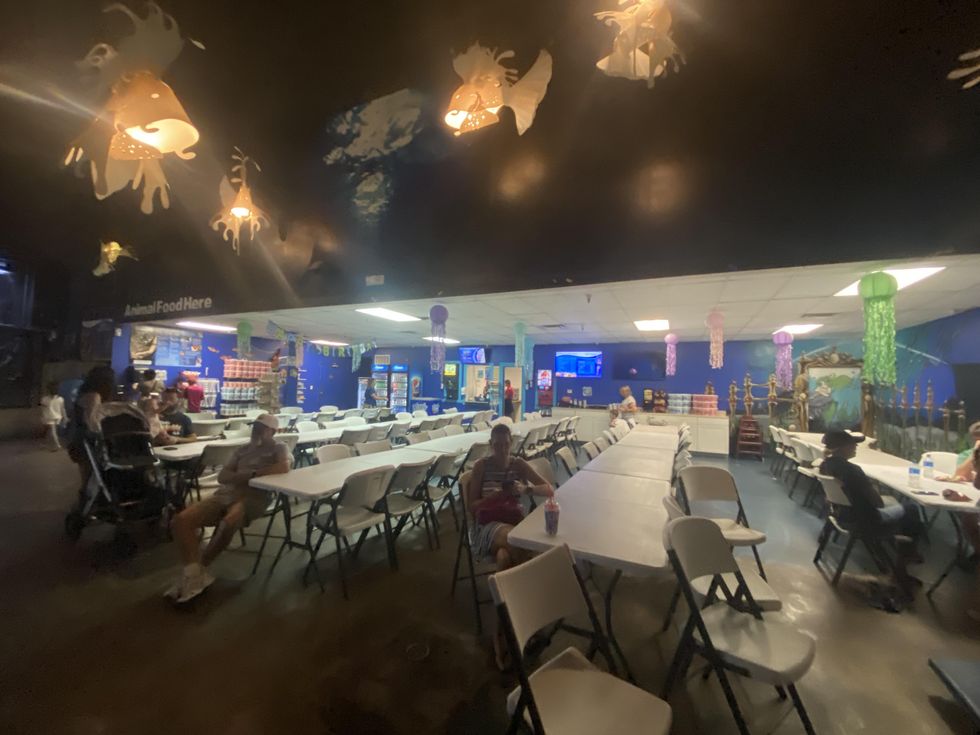 The otters are in an enclosure at the back of the aquarium, which opens up to a large cafeteria, ahead of dozens of exhibits asking visitors to "Please touch" the animals, many without attendants present. An employee said the otters, Scooter and Sadie, were 15 months old.
The aquarium also invites visitors to touch and feed its cold water fish, tropical fish, stingrays, a parakeet aviary, caiman lizards, iguanas, sloths, tortoises and parrots. There are also kangaroos and a capybara on display.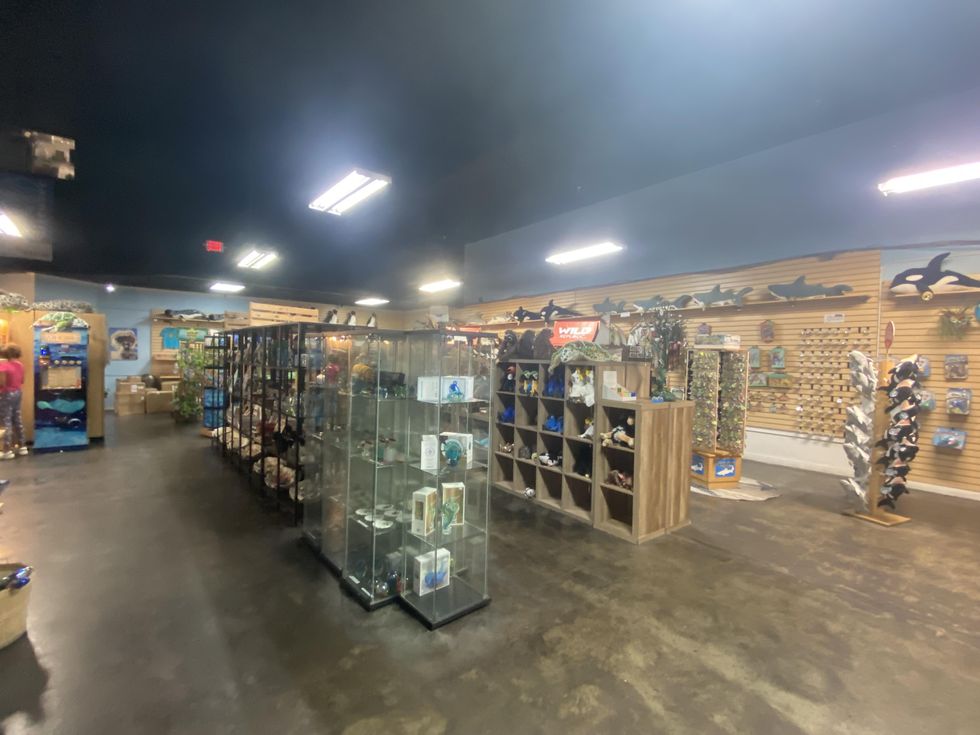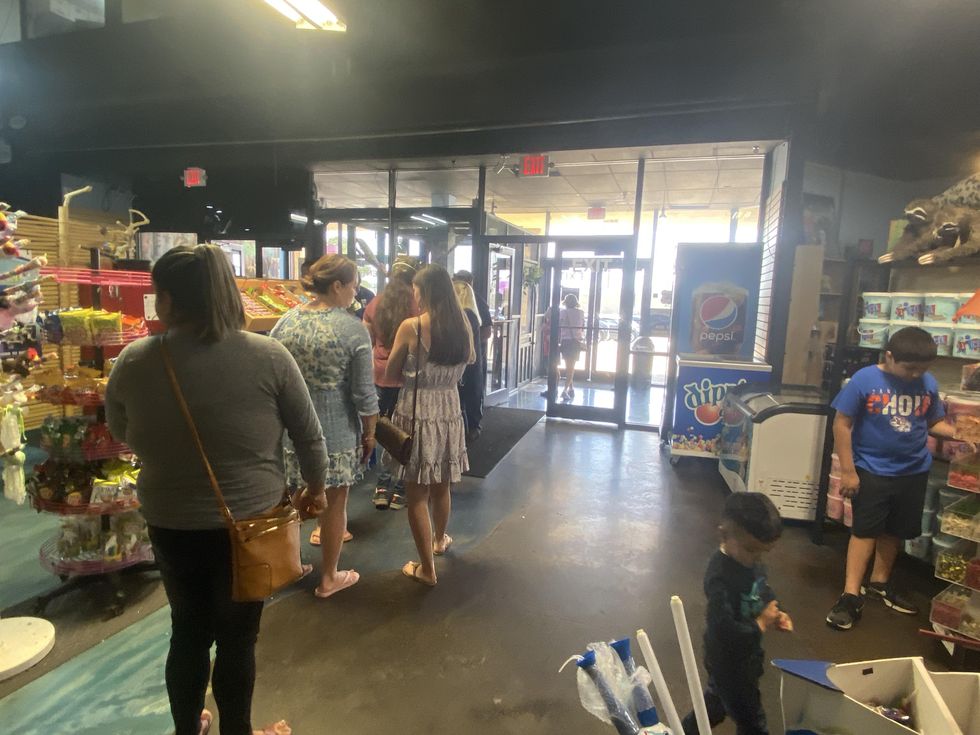 The attraction ends at the large gift shop, which is filled with all the trinkets you'd expect and oil diffusers all around to mask the smell.
The allegations
During an April interview with PETA Associate Director of Captive Animal Law Enforcement Michelle Sinnott, she told Austonia she's been following owner Ammon Covino since he pled guilty to wildlife trafficking in 2013.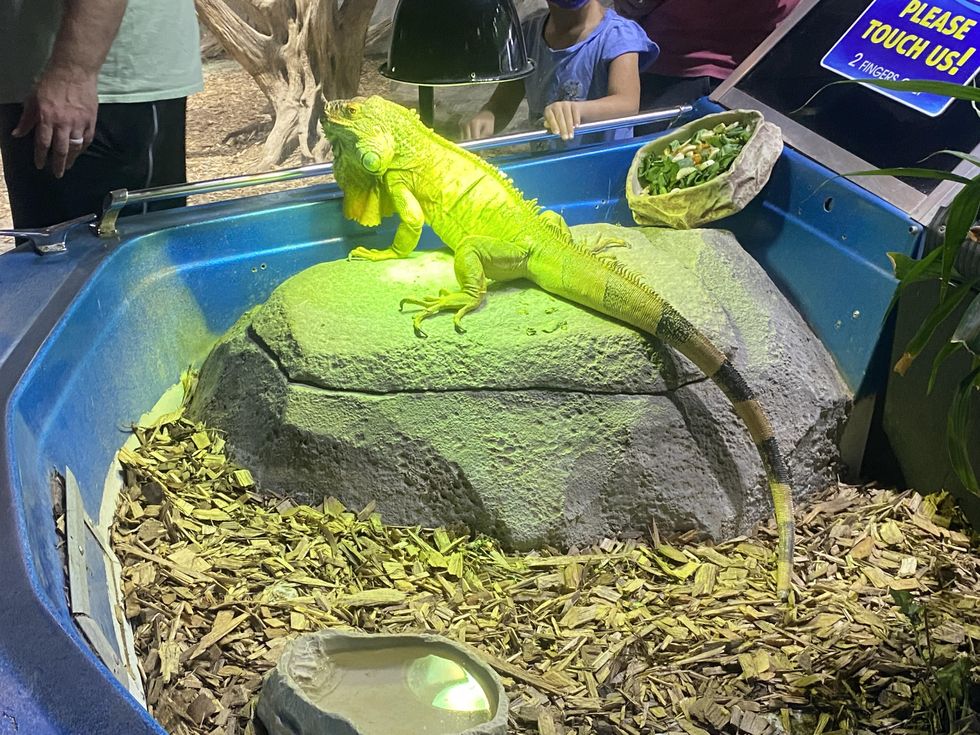 No one supervised this iguana, who was open-air.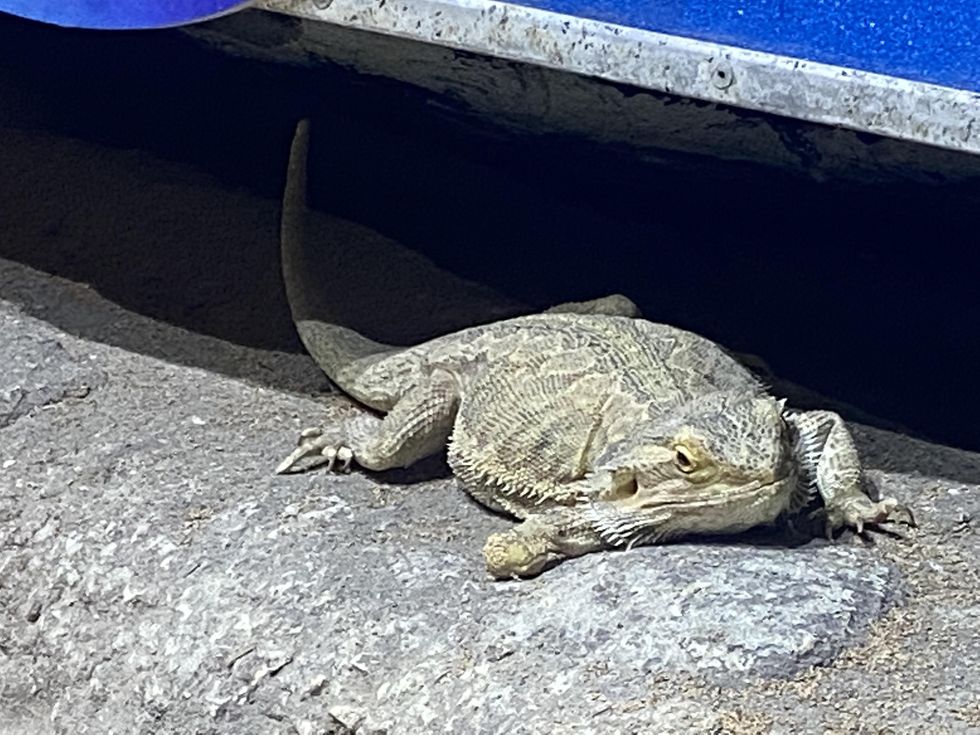 This lizard seemed to be missing a hand.
Austin Aquarium is one of several aquariums in a nationwide chain led by Ammon and his brother, Vince Covino.
Sinnott has also been following the cases of otters Scooter and Sadie, which the USDA said were showing signs of "severe" distress from too many encounters with the public, and Forest the lemur, who PETA said sustained a leg injury at the San Antonio Aquarium that went untreated.
PETA said its investigator learned 11 staffers had been bitten by animals, 12 visitors had been bitten by lemurs or kinkajous in a two-month period and saw many animals die while working in the facility.
"Knowing that that's what the federal investigators walked in and observed at this facility is critical information for the public," Sinnott said. "PETA is urging everyone to steer clear of the Austin Aquarium. The price of your ticket is what's allowing these facilities to stay in operation."
Public perception
Reddit threads over the years have revealed concerns customers of the aquarium, citing different instances they saw for themselves where animals seemed unhappy.
Twenty-year-old visitor Fiona, who asked Austonia to keep her last name private, said she visited with her young cousin last year, spending $60 dollars on tickets and tokens to feed animals while she was there.

Fiona said she hasn't been back since because she felt animals were in too small of enclosures, were unmonitored by attendants, fish tanks were dirty and the location smelled "sewage-y."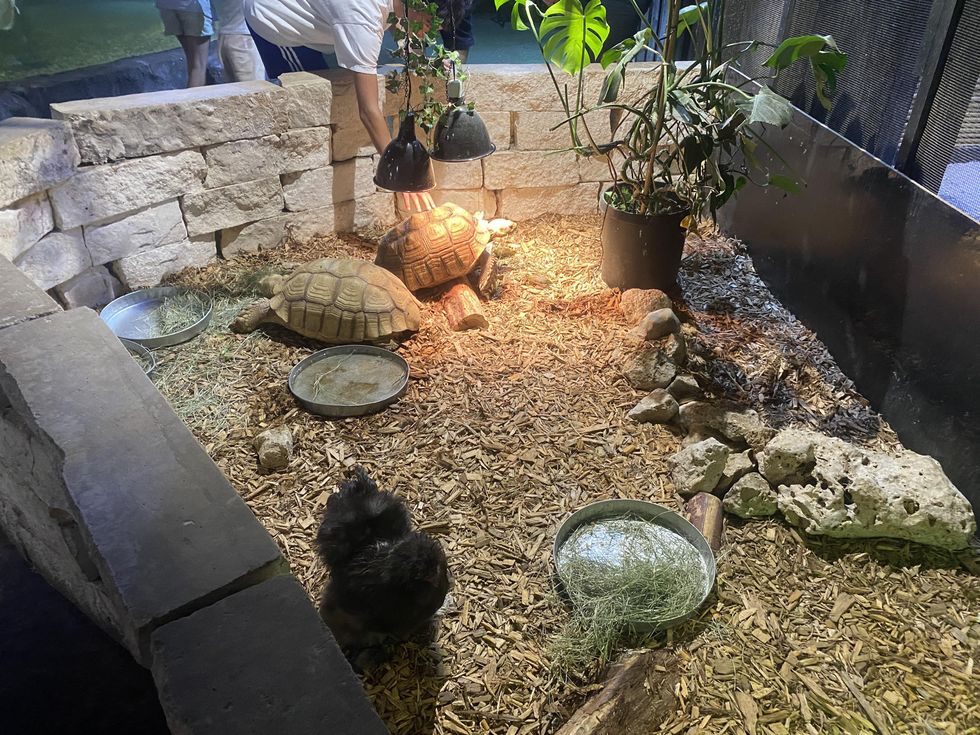 (Laura Figi/Austonia)
"A lot of the areas were touch and pet sections and some of the animals should not be there—like the tortoises in a very tiny, open living space—and I was just like, the animals are obviously overly stimulated," Fiona said.
Fiona is passionate about wildlife, studying natural resource management in college for a while, and said she encourages people who are upset at the animals' treatment to contact the Association of Zoos & Aquariums.
"I wish I knew what I was getting myself into," Fiona said. "I feel like a lot of adults don't really have the guts to actually explain to kids this is not an okay situation and animals are not happy here."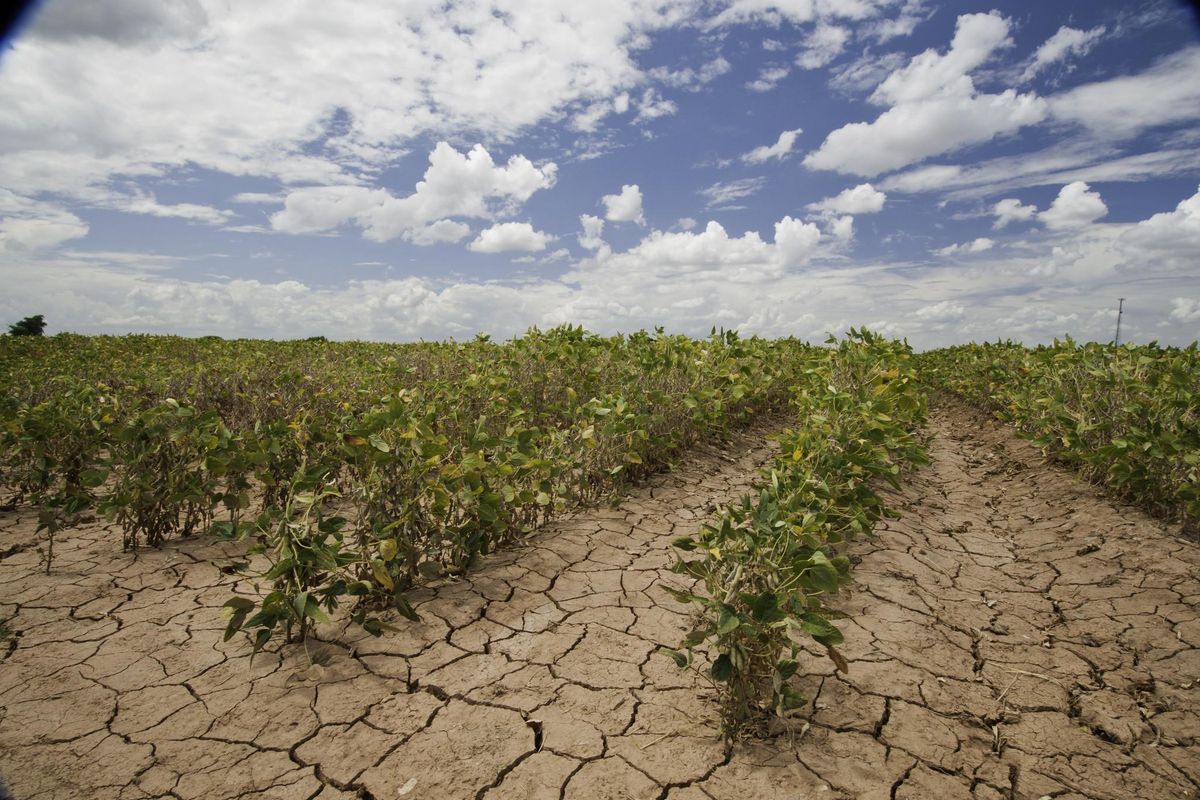 By Veronica Apodaca
Texas' current drought is affecting both Austin residents as well as the crops grown outside of the city. At Wednesday's Water and Wastewater Commission meeting, representatives from Austin Water explained the far-reaching effects of the drought and efforts made to address it.
"While hot and dry is not uncommon for this part of the world, we find ourselves unusually hot and dry even for Texas, and even for the summer," Austin Water Assistant Director Kevin Crittendon said.
These unusual conditions have led to a change in the agricultural operations that rely on water from the Highland Lakes. Ordinarily, the growers will harvest a second crop after their first harvest. However, attempts to conserve water during the drought have led to the second crop being curtailed.
Teresa Lutes, managing engineer of Austin Water's system planning division, told the commission that the rice operations in Matagorda, Colorado and Fayette counties are the crops most affected.
"Because of the dry conditions and the improved water management plan that (the Lower Colorado River Authority) operates, there are going to be less releases for downstream agricultural needs," Lutes said.
LCRA tracks the combined water storage of Lake Buchanan and Lake Travis, two of the Highland Lakes, in order to make decisions regarding the use of the water. Currently, the lakes hold 1.2 million acre-feet of water. Stage one drought restrictions went into effect June 6, when water levels reached 1.4 million acre-feet. This resulted in LCRA's decision to redirect water toward cities, businesses and industries in accordance with its water management plan.
"It's a new plan, and it seems to be working well, because under these very dry conditions, these curtailments are kicking in as part of the plan, so everybody knows that's coming," Lutes said.
As LCRA continues to monitor the lakes' water storage on a monthly basis, the level of water will determine how the water will be used. Stage two drought restrictions will be put in place if the water levels continue to decrease and reach 900,000 acre-feet, although Lutes said that LCRA has projected the lakes will remain above this level for the remainder of the year.
This will also determine whether agricultural operations will receive water from the lakes for next year's crop. The lakes' water storage must reach 1.3 million acre-feet by March 1 in order for LCRA to allow the water to be used for agriculture again. Until then, Lutes said, farmers have the option to use groundwater rather than lake water for their crops.
Lutes concluded by sharing the three-month outlook for seasonal temperatures and precipitation from the National Oceanic and Atmospheric Administration and what it might mean for Texas. The outlook shows a 50 percent chance of normal precipitation levels, which may help to raise the lakes' water levels and allow agricultural operations to have access to lake water again.
"In the coming months … we're going to work to continue (to ensure) that water conservation remains on top of everyone's mind," Crittendon said.