Austonia AM
100% Austin news, info, and entertainment, straight to your inbox at 6 a.m. every morning.
In five minutes, you're fully informed and ready to start another great day in our city.
Get connected with our daily update
(Shutterstock)
Austin City Council is poised to take the next steps toward a long-discussed, $1.2 billion expansion of the Neal K. Kocurek Austin Convention Center this week, despite the economic uncertainty brought about by the COVID-19 pandemic.
---
At a meeting on Thursday, members will consider whether to approve a contract with "all necessary parties for acquisition" of two adjacent downtown blocks as well as whether to commit additional funding to the project in the form of consultants and legal counsel.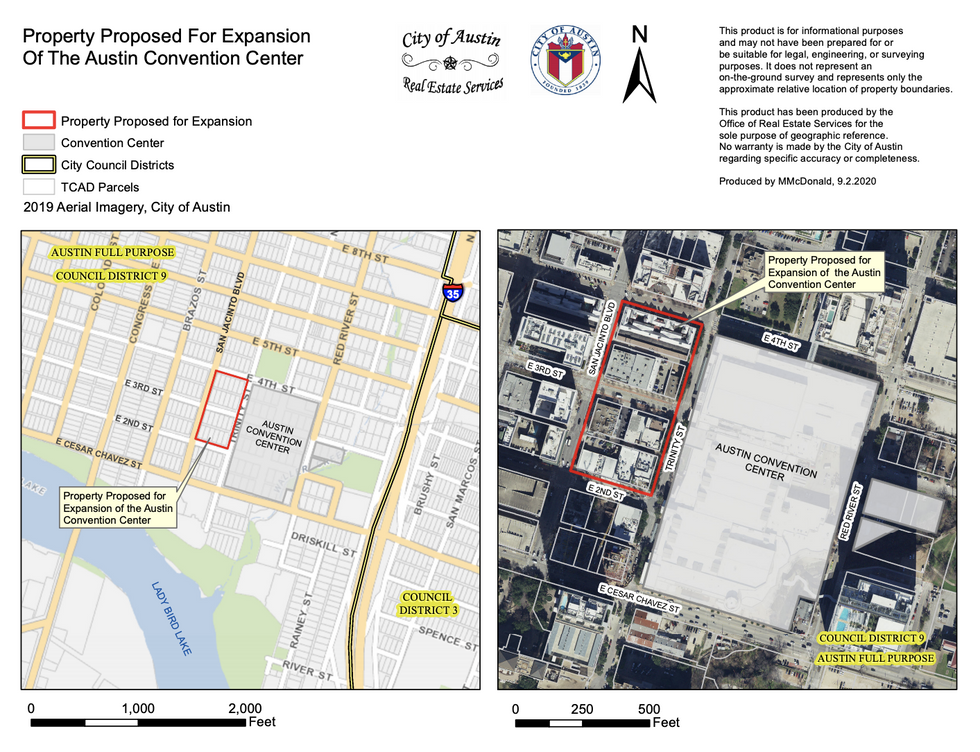 Austin City Council will take the first step toward purchasing two adjacent downtown blocks on Thursday as part of a planned expansion of the convention center. (City of Austin Real Estate Services)
The convention center opened in 1992 and underwent an expansion between 1999 and 2002. Council members voted unanimously in May 2019 to approve a second, $1.2 billion expansion that will extend the convention center to the west. The proposal also ties in the preservation of the historic Palm School, development of Palm Park and improvements to Rainey Street.

Given the city's rapid growth, the current venue "has not been able to accommodate all event demand," according to a market study conducted by the consulting firm HVS published last month. An expanded convention center, however, is projected to drive economic activity by drawing more people to Austin—and the hotels, restaurants and other businesses that call it home.
The consultants estimate that the proposed expansion will increase the economic impact of the convention center by more than $300 million a year, leading to higher tax revenues for the city as well as the creation of more than 1,700 new jobs.
HVS Managing Director Thomas Hazinski told council members on Tuesday that he expects the convention center demand across the U.S. to return to normal in the next few years, in time for the 2024 opening of the first phase of the expansion in 2024.
"I think it is very fair to assume that this (pandemic), while it is much more prolonged than we ever expected it to be, is a temporary phenomenon and some resolution is going to happen before 2024," he said.
That said, Hazinski did raise concerns about the longer-term impacts of the economic recession occasioned by the pandemic.
"My bigger concern, and the concern that we built into this analysis, is what the pandemic's long-term impacts are on the economy," he said. "What we have seen in past recessions is it takes a long time to recover from a recession."
If council votes to approve these agenda items on Thursday, the next steps will include the design phase of the expansion project and the purchase of the two downtown blocks, which is anticipated to occur next summer.
"I think we obviously have a lot of open questions," Austin Mayor Steve Adler said on Tuesday. "(I) look forward to the action this week and answering some additional questions as we go forward."
The expansion project will be funded by hotel occupancy tax revenue. City Council voted to increase the hotel occupancy tax, or HOT tax, rate from 15% to the maximum 17% allowed under state law last summer. The city of Austin will use the revenue from the 2% increase for the expansion.
A group called Unconventional Austin gathered signatures for a citizen-initiated petition that would have required voter approval of any convention center expansion, but 54% of Austin voters rejected the measure last November.
Summertime sure does fly by, doesn't it? It's time to jam-pack as many summer activities as you can while there is still about a month left before school starts up again and the grind gets going. Luckily, Austin is full of places to visit that will fill your season full of memories.
To get you started, check out some of these seasonably-fit museums, galleries and snacks.
Soak up the rest of summer while you can!
Ingredients:
1 1/12 oz sweet pepper-infused Tito's Handmade Vodka
3 oz soda water
1 oz grapefruit juice
1/2 oz lime juice
1/4 oz simple syrup
Directions: Add all ingredients, except soda water, to a shaker with ice. Shake and strain into a glass over fresh ice. Top with soda water and garnish with a mint sprig.
The Biden administration is asking cities and states to use pandemic relief funds to pay residents $100 to get vaccinated. Meanwhile, Texas Gov. Greg Abbott reaffirmed prohibitions on pandemic protocols in a new executive order issued on Thursday.
The order emphasizes that "the path forward relies on personal responsibility rather than government mandates," according to a press release. It outlaws government entities from requiring employees to be vaccinated or individuals to provide proof of vaccination and upholds previous orders restricting government entities' ability to impose pandemic protocols.
Local public health and elected officials have asked all Austinites to wear masks indoors, regardless of vaccination status, and unvaccinated individuals to avoid nonessential trips last week given the rising number of local confirmed cases and related hospitalizations in recent weeks. But it is not enforceable under Abbott's order.
The seven-day moving average of new hospital admissions in the five-county Austin metro has more than quintupled since the beginning of July and is now 47.4. The threshold for Stage 5 is 50, according to Austin Public Health's risk-based guidelines.
Despite these trends, Abbott stands firm in his commitment to avoid new statewide mandates and to prohibit local government entities from issuing any of their own.

"Texans have mastered the safe practices that help to prevent and avoid the spread of COVID-19," he said in a statement. "They have the individual right and responsibility to decide for themselves and their children whether they will wear masks, open their businesses and engage in leisure activities."
Public health officials have attributed the current spike to the more contagious Delta variant and unmitigated spread among unvaccinated individuals. Abbott encouraged Texans to get vaccinated if they haven't already but affirmed that it would never be required by the state in his statement.
An increasing number of Austin-area employers—including Ascension Seton, Baylor Scott & White Health, Facebook and the Department of Veterans Affairs—have announced new vaccine requirements in recent days. Austin Mayor Steve Adler asked the city manager to enact a similar requirement on Wednesday, but the city is unable to do so due to an executive order issued by Abbott in April.