Get connected with our daily update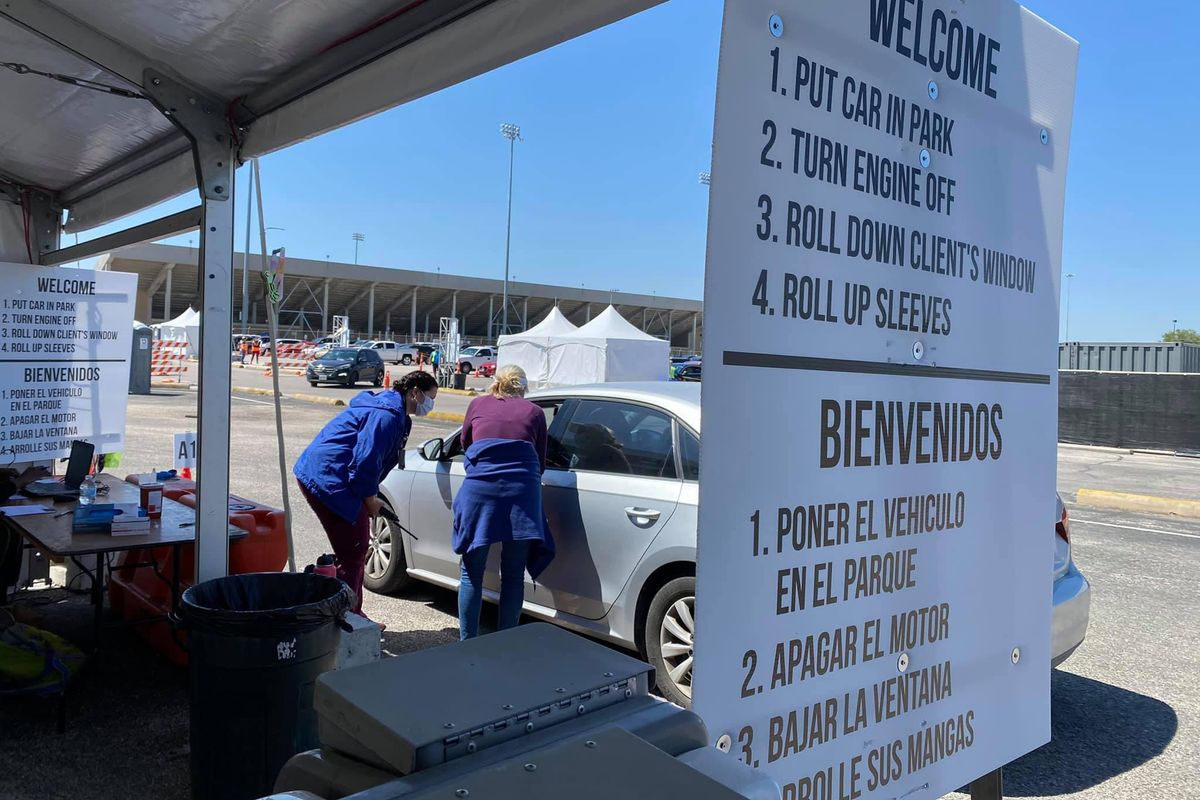 (Austin Public Health)
It's about to be a year since the first reported COVID death in the Austin-Travis County area, and despite improvements in treatment for the virus over a course of a year, the case-fatality rate—defined as the number of reported deaths per confirmed cases—has increased slightly in the last few months.
But local health experts say that outcomes are improving even if they are not yet reflected in the data, and will continue to do so as more of the population is vaccinated.

---
"The severe or ultimately fatal cases do seem, at least anecdotally speaking, to be less frequent," said Dr. Matthew Robinson, medical director of infectious diseases at St. David's South Austin Medical Center. "But it's hard to divorce that from (the fact that) we're just seeing less overall cases."
What the data shows
The Austin-Travis County case-fatality rate has generally declined since its peak of more than 3% last April, during the early weeks of the pandemic. After dropping to less than 0.5% in June, it rose slightly as the first summer surge emerged and faded. Since September, it has generally been on the decline, rising slightly to 1.6% last month.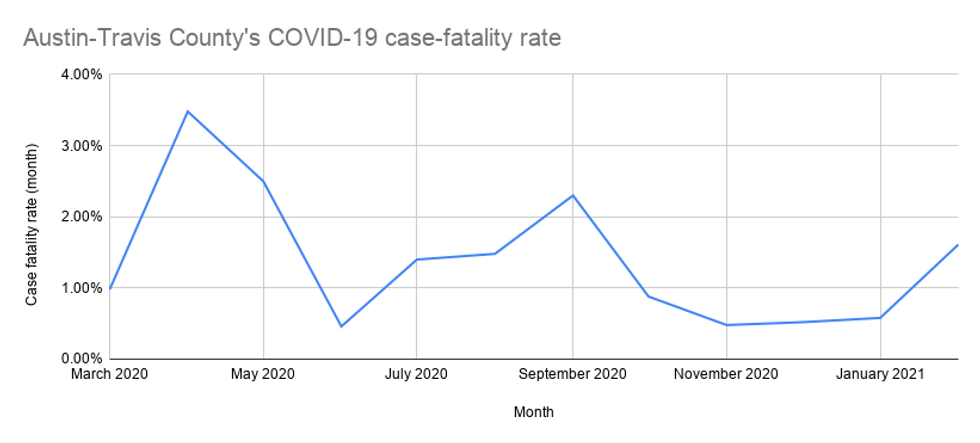 Overall, the local case-fatality rate is better than the national average. With 802 deaths reported and 78,193 confirmed cases as of Sunday, it is 1.03%—significantly lower than both the statewide rate of 1.95% and the national rate of 1.82%, according to data from the Texas Department of State Health Services and the Coronavirus Resource Center at the Johns Hopkins University of Medicine.

The slight increase in the local case-fatality rate comes at a time when confirmed cases and reported deaths are dropping sharply in the wake of the last surge, which was exacerbated by holiday gatherings and travel. The average number of new confirmed cases reported daily has fallen more than 85% since a peak of 701.7 on Jan. 17, according to Austin Public Health data. Just over 100 new cases are reported each day, as of Sunday. COVID hospital admissions have also dropped precipitously: since hitting a peak of 93.7 on Jan. 9, the average number has dropped nearly 77%, to 21.6 on Sunday.
The rate is also an imperfect metric given that the number of confirmed cases is almost certainly lower than the number of actual cases in the community. "The denominator of total cases is somewhat of a hard number to be accurate with," Robinson said.
What the doctors say
Since the early months of the pandemic, doctors have grown more familiar with COVID—and gained greater access to treatment options. In addition to hospital-based treatments, such as steroids and the antiviral drug remdesivir, other interventions have emerged that are intended for patients in the early stages of the disease to prevent them from requiring hospitalization. These include convalescent plasma, which is sourced from recovered COVID patients, and monoclonal antibodies, a lab-made protein that acts as a substitute antibody.
These treatment options, combined with more experienced doctors, fewer hospitalized patients and wider availability, have improved case outcomes. "We've refined our knowledge of who benefits from which therapeutic interventions at which time, so we try to tailor that therapeutic response to the patient, and generally we have access to what we need at this point," Robinson said.
But there are still limitations. Remdesivir remains the only antiviral available for treating COVID patients, and it is not a cure-all in the way that antibiotics can be for bacterial infections. Like other treatments, such as convalescent plasma and monoclonal antibodies, its efficacy depends on the patient's comorbidities, viral load and the strength of his or her immune response. "There's not really a panacea for this process, and I don't think there will be," Robinson said.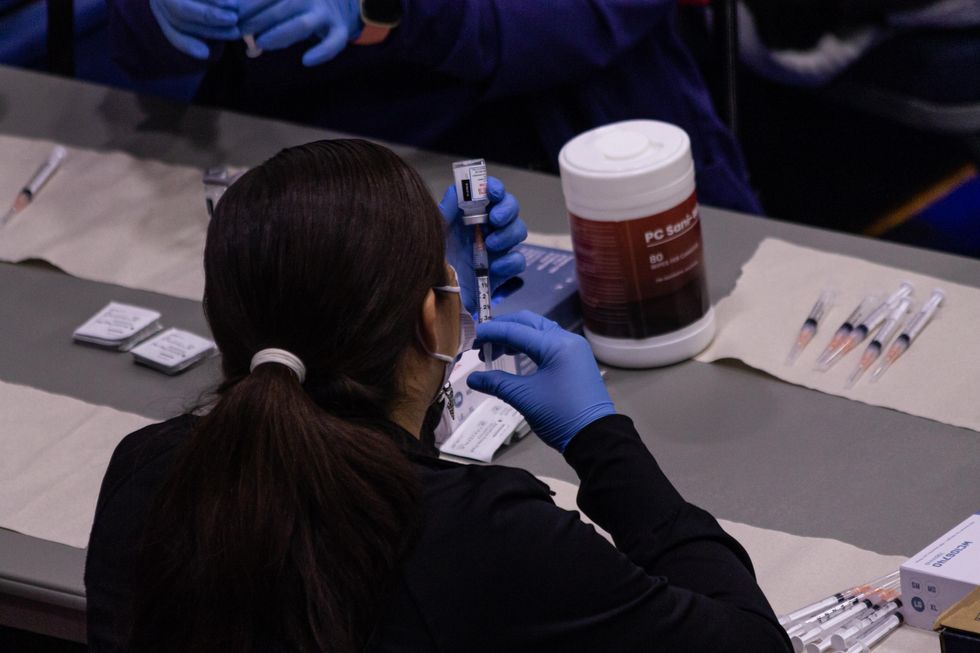 Staff prepare vaccine doses at the Delco Activity Center in Northeast Austin on Saturday. (Christa McWhirter)
This is why the increasing vaccination rate is so promising. Although it's too early to know definitively, Robinson has noticed fewer patients requiring hospitalization in certain high-risk populations, such as nursing home residents and people 65 and older, at St. David's South Austin Medical Center. "I suspect we are beginning to see some impact of vaccination penetration in the community in concert with reducing cases, but it's hard to know for sure how much to attribute to that," he said.
As of Sunday, 27% of the Travis County population ages 16 and older have received at least one dose of the COVID vaccine and around 11% are fully vaccinated, according to DSHS data. But some high-risk groups have much higher vaccination rates.
Austin-Travis County Interim Health Authority Dr. Mark Escott told Austonia earlier this month that increasing vaccine access among nursing home residents has translated into a sharp drop in new cases at long-term care facilities. In the last two weeks, six new COVID cases have been reported at Travis County facilities, compared to around 350 during the two-week period from late January to early February. "It's been a remarkable and rapid decline of cases as a testament to the efficacy of the vaccine," he said.
At this stage in the pandemic, higher rates of natural immunity—among people who have contracted COVID and recovered from it—may also be contributing to case outcome improvements. Combined with growing vaccine access, Robinson is optimistic about the case-fatality rate decrease moving forward. "I think we're beginning to reach numbers where we should be able to see some impact," he said.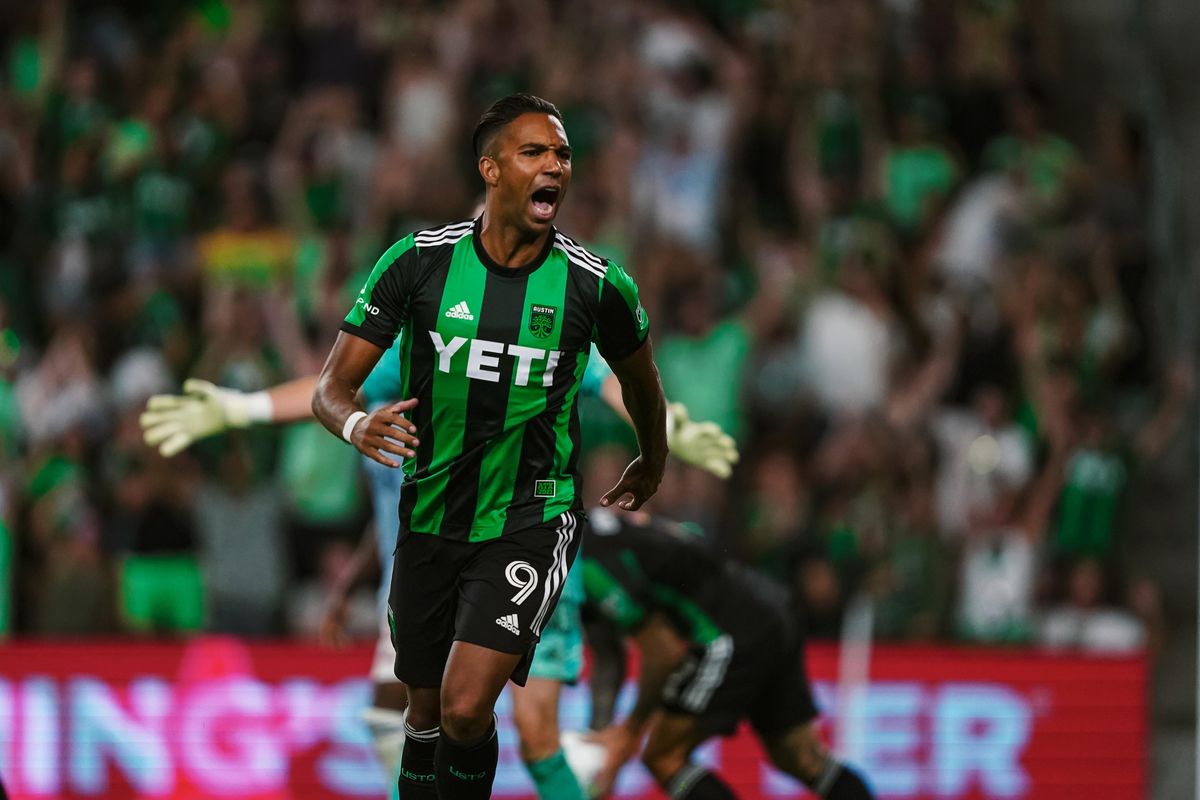 Despite a 2-0 deficit, there was a pot of gold for Austin FC after all as it celebrated its annual Pride Night with rainbows and a 2-2 comeback draw to FC Dallas Saturday night.
After three FC Dallas losses last season, the Dallas derby draw marks the first time Austin FC has tied against its Copa Texas rival. Austin continues to edge over FC Dallas as it sits at 3rd in the MLS West.
Here are the biggest takeaways from the match:
A somber start
¡Ya Basta! Enough! End Gun Violence. #uvaldestrong

📷 @arubiophotospic.twitter.com/3PiVdTPtik

— Los Verdes (@LosVerdesATX) June 26, 2022
Decked out in colorful hues for LBGTQ+ Pride, Verde fans started the match on a somber note as they held up banners to take a stand against gun violence before the match.
As the national anthem began, fans held up banners with the names of each child that was killed in the Uvalde school shooting and a plea to "end gun violence."
The supporters' section was also dotted with Pride flags and a "Bans off Our Bodies" banner in protest of the Supreme Court's decision to overturn Roe v. Wade.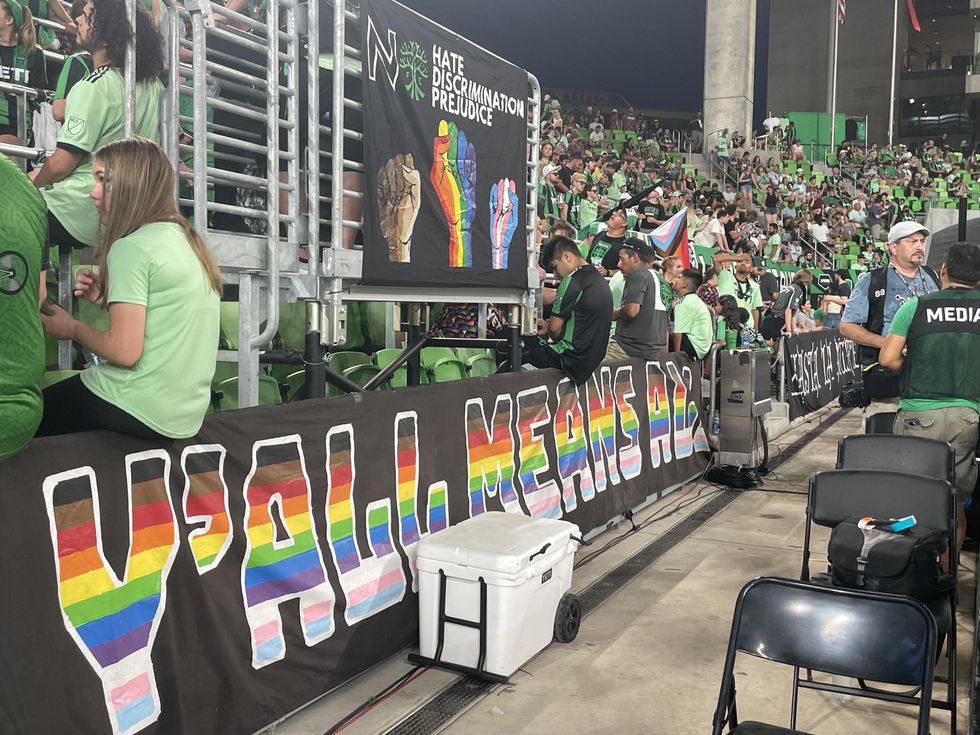 (Claire Partain/Austonia)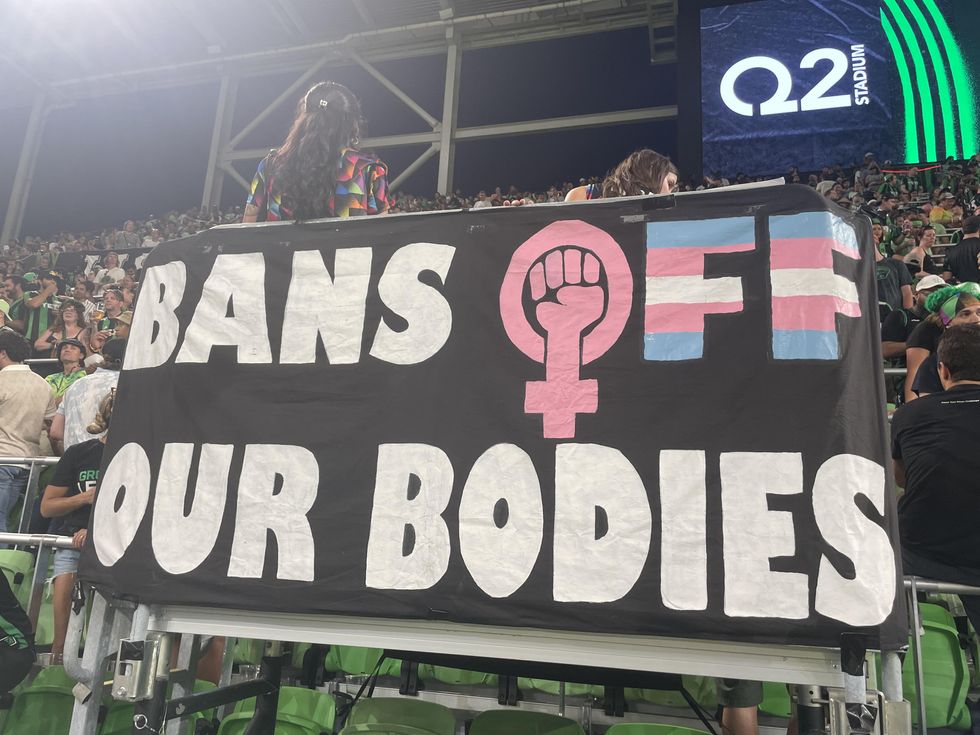 (Claire Partain/Austonia)
FC Dallas earns a 2-0 lead
Paul Arriola is there to put it away and put @FCDallas ahead! pic.twitter.com/Z4AMmM6lp3

— Major League Soccer (@MLS) June 26, 2022
That sober tone continued onto the pitch. With midfielder Daniel Pereira's absence due to a red card, the Verde and Black lost two goals to FC Dallas by the 70th minute of play.
FC Dallas played it sneaky for the first half of the match, giving Austin FC plenty of room to hold possession as it waited to strike on a Verde error. That mentality proved dangerous for Austin as Dallas' Paul Arriola took advantage of Brad Stuver's deflection to score the first goal of the night in the 57th minute of play.
Dallas struck once more as Brandon Servant pushed past the Verde line to score the second goal of the match.
Austin FC strikes back
Sebastián Driussi pulls one back!#AustinFC are still in this one. 👀 pic.twitter.com/Yoi0x768jb

— Major League Soccer (@MLS) June 26, 2022
But energy quickly returned to Austin's favor thanks to Designated Player Sebastian Driussi, who scooted past several FC Dallas defenders alongside Moussa Djitte to snag an unlikely first goal for Austin.
A full Verde comeback
Late drama in this Texas Derby!@AustinFC ties it up, Danny Hoesen with the diving header. 😱 pic.twitter.com/Jk2f4fIEXG

— Major League Soccer (@MLS) June 26, 2022
Austin's subs proved deadly as momentum returned to the home team toward the end of the match. A well-placed cross from Nick Lima—and a diving header from a fresh-legged Danny Hoesen—helped the team secure the draw with a second Verde goal in the 84th minute of play.
Hoesen, who was Austin's first starting striker last season, has now scored two goals with the team after a yearlong injury stuck him on the bench.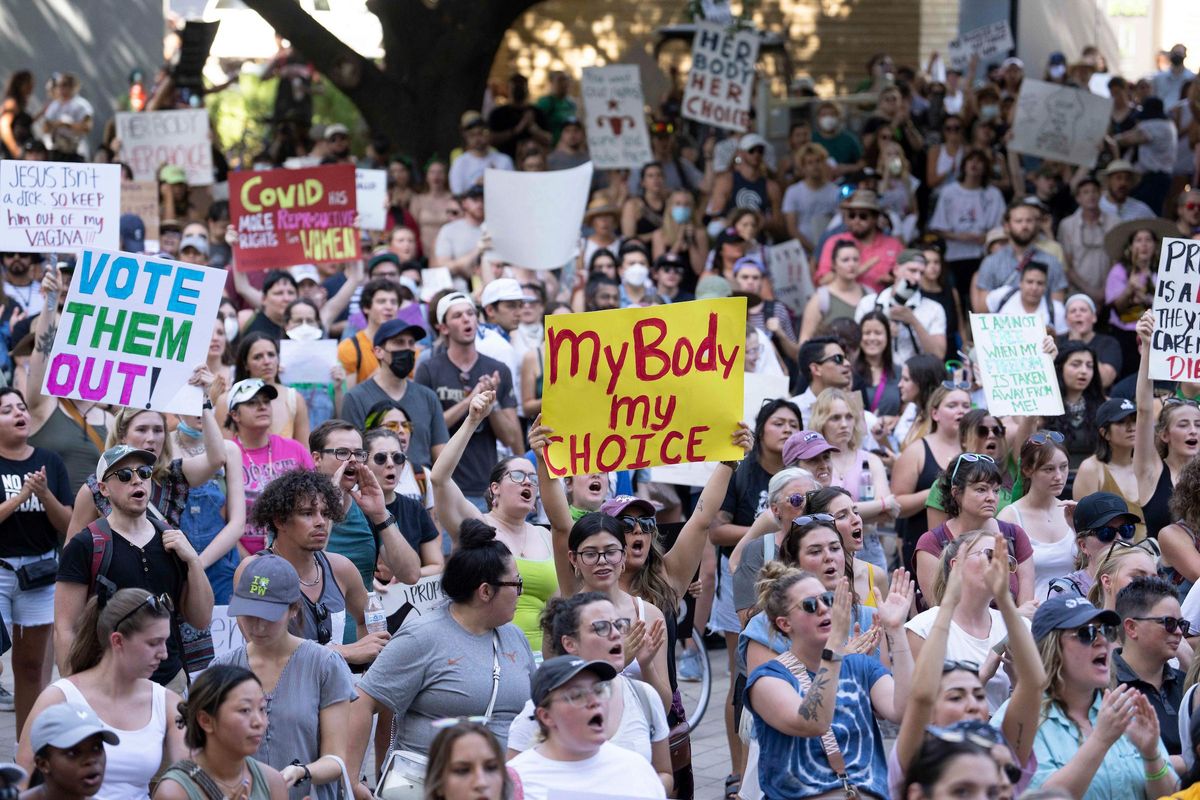 Hours following the U.S. Supreme Court's ruling to overturn Roe v. Wade, the landmark ruling that guaranteed a constitutional right to an abortion, on Friday, about 1,000 people gathered in Republic Square with signs calling for change.
The rally, organized by the group Rise Up 4 Abortion Rights Texas, started at the federal courthouse on Republic Square on Friday at 5 p.m. before the crowd marched to the Texas Capitol. More protests are expected to ensue over the weekend.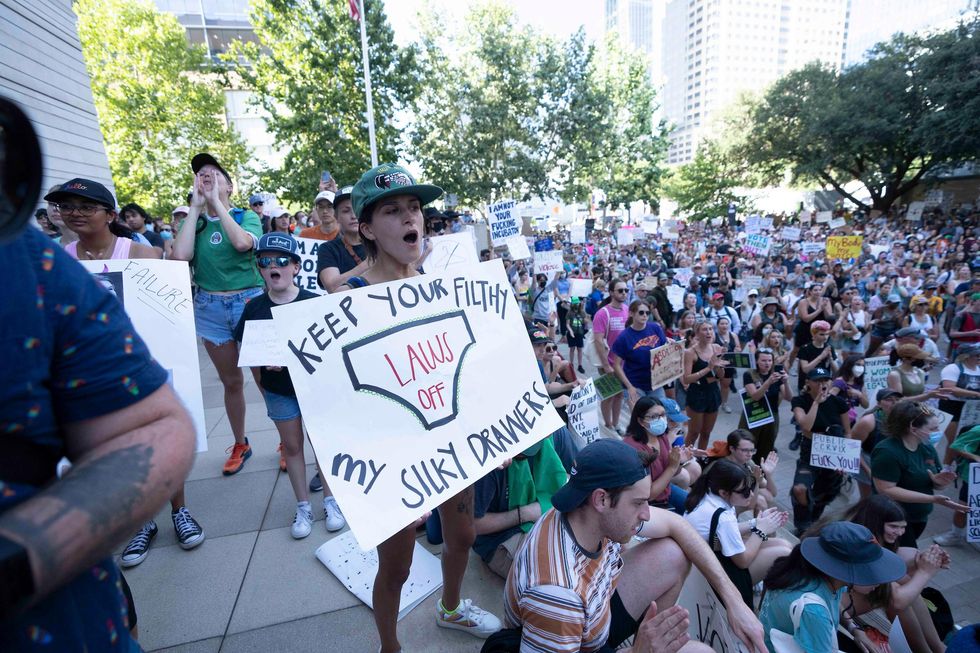 People showed up with all types of signs like Mindy Moffa holding up, "Keep your filthy laws off my silky drawers."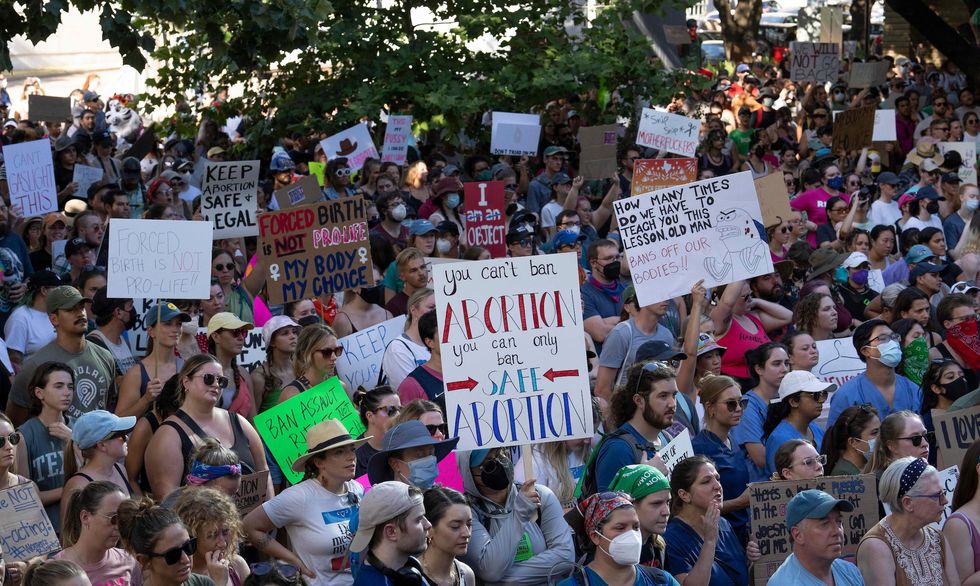 Austin joined cities across the country that saw protests for a women's right to an abortion after the ruling.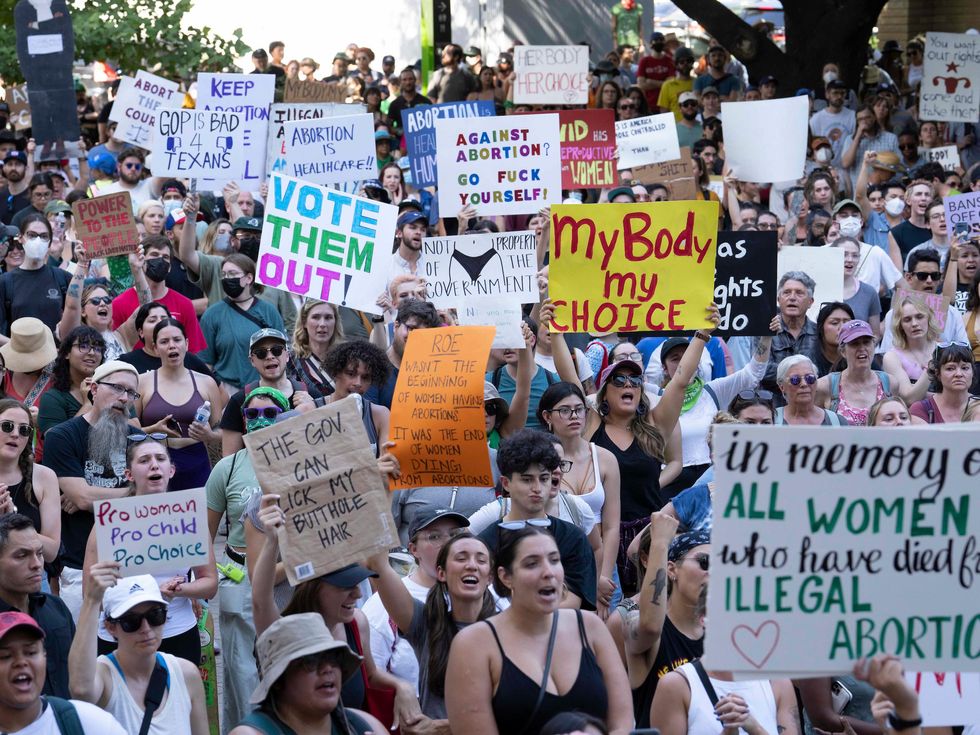 According to a recent UT poll, 78% of Texas voters support abortion access in most cases.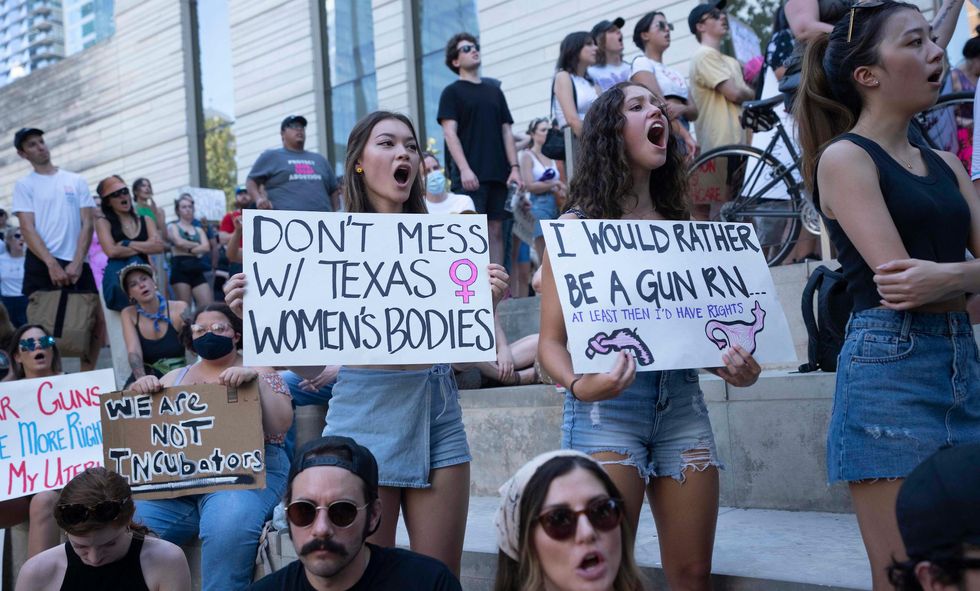 Sabrina Talghade and Sofia Pellegrini held up signs directed at Texas laws. A Texas trigger law will ban all abortions from the moment of fertilization, starting 30 days after the ruling. When state legislators passed the trigger law last summer, it also passed laws for more protection of firearms, including the right to open carry without a permit.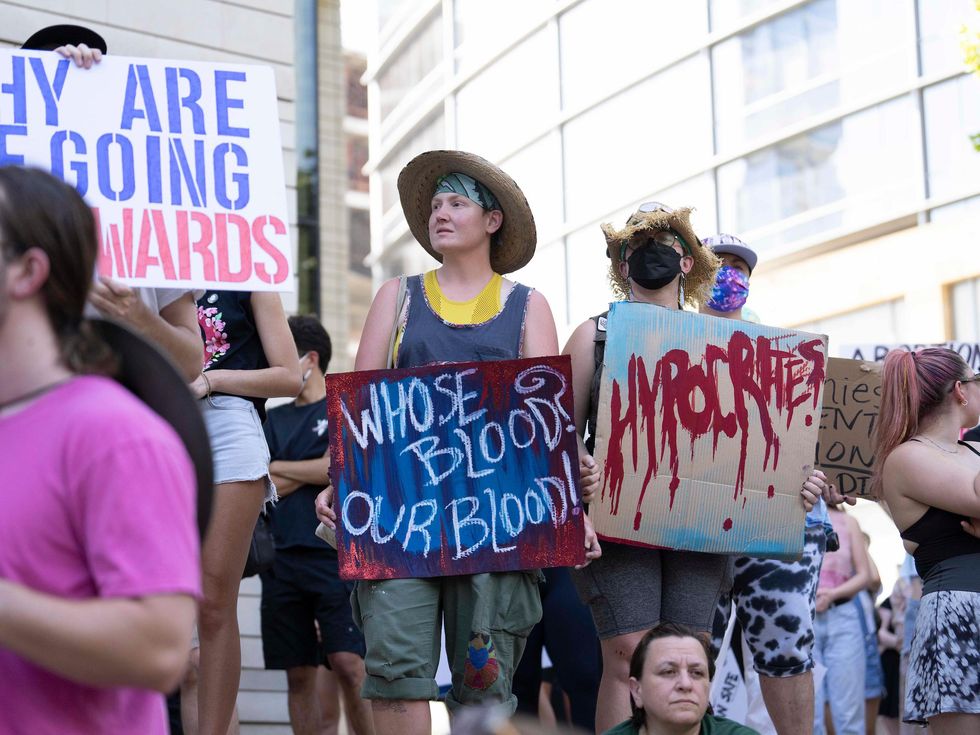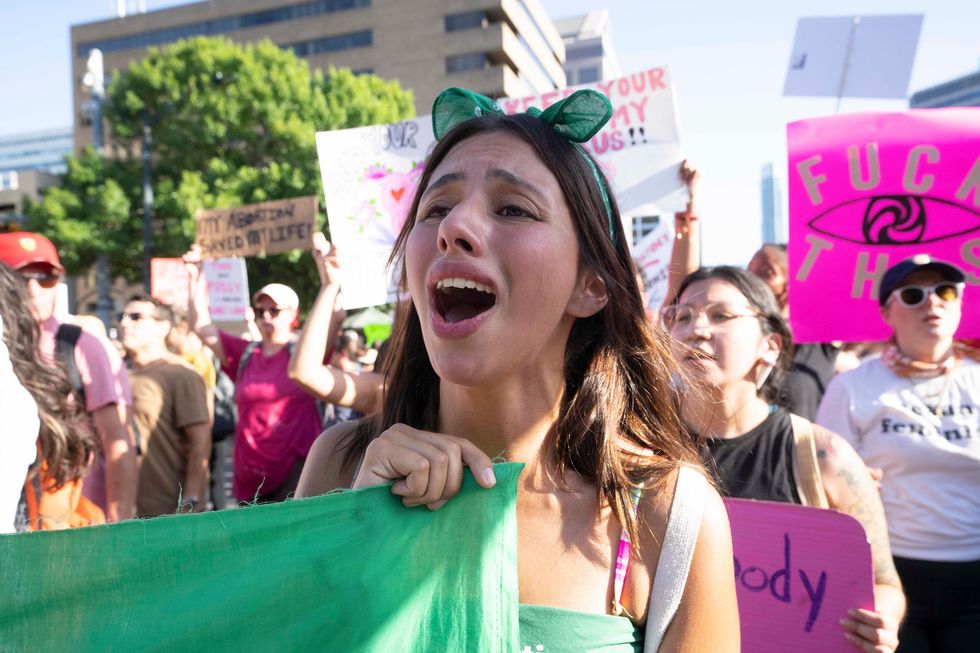 Lili Enthal of Austin yells as around 1,000 Texans marched to the Texas Capitol.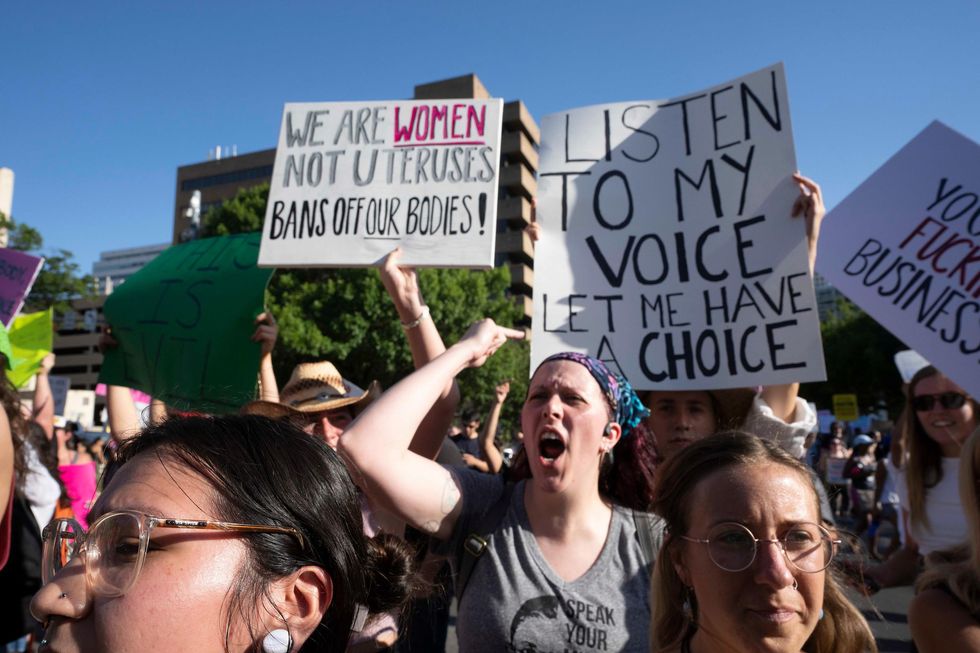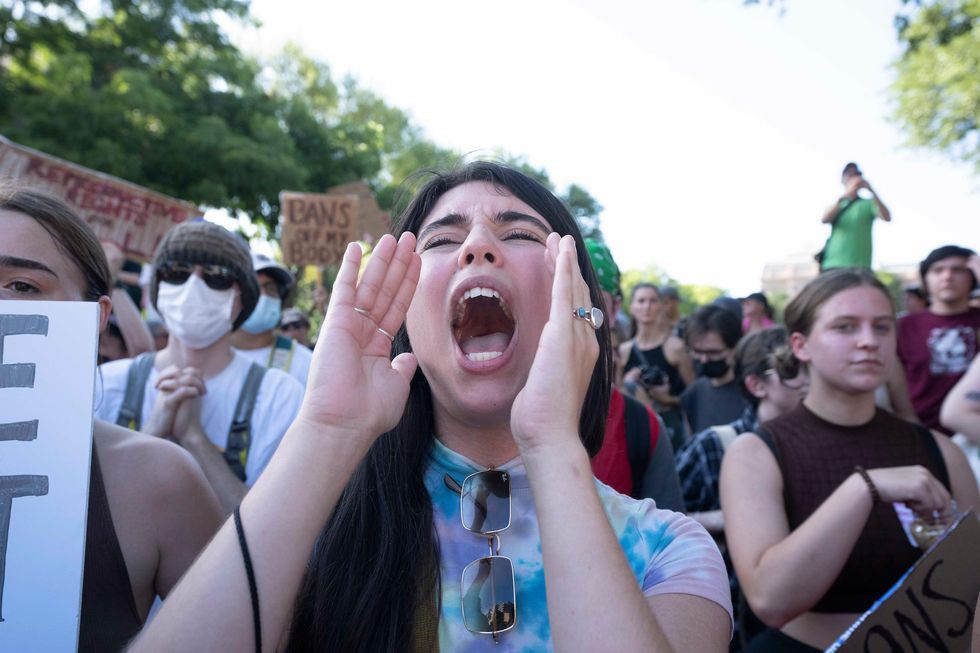 From the Texas Capitol, Zoe Webb lets her voice be heard against the Supreme Court ruling.