Get connected with our daily update
(Austin Public Health)
It's about to be a year since the first reported COVID death in the Austin-Travis County area, and despite improvements in treatment for the virus over a course of a year, the case-fatality rate—defined as the number of reported deaths per confirmed cases—has increased slightly in the last few months.
But local health experts say that outcomes are improving even if they are not yet reflected in the data, and will continue to do so as more of the population is vaccinated.

---
"The severe or ultimately fatal cases do seem, at least anecdotally speaking, to be less frequent," said Dr. Matthew Robinson, medical director of infectious diseases at St. David's South Austin Medical Center. "But it's hard to divorce that from (the fact that) we're just seeing less overall cases."
What the data shows
The Austin-Travis County case-fatality rate has generally declined since its peak of more than 3% last April, during the early weeks of the pandemic. After dropping to less than 0.5% in June, it rose slightly as the first summer surge emerged and faded. Since September, it has generally been on the decline, rising slightly to 1.6% last month.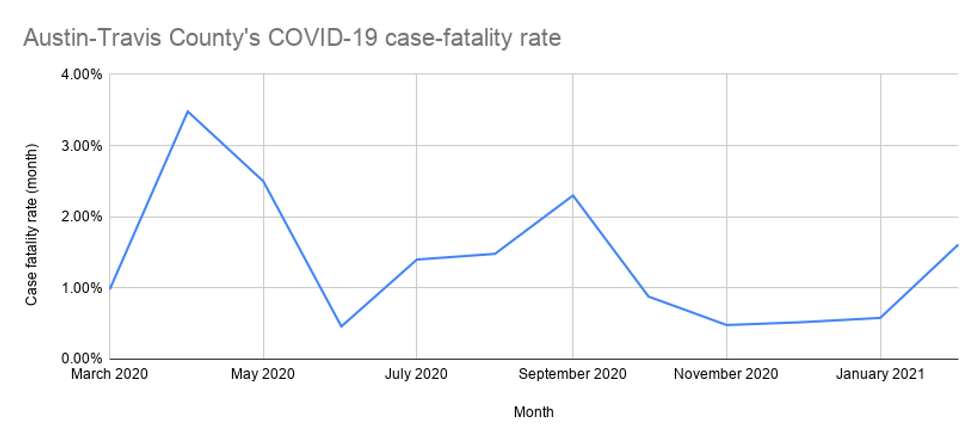 Overall, the local case-fatality rate is better than the national average. With 802 deaths reported and 78,193 confirmed cases as of Sunday, it is 1.03%—significantly lower than both the statewide rate of 1.95% and the national rate of 1.82%, according to data from the Texas Department of State Health Services and the Coronavirus Resource Center at the Johns Hopkins University of Medicine.

The slight increase in the local case-fatality rate comes at a time when confirmed cases and reported deaths are dropping sharply in the wake of the last surge, which was exacerbated by holiday gatherings and travel. The average number of new confirmed cases reported daily has fallen more than 85% since a peak of 701.7 on Jan. 17, according to Austin Public Health data. Just over 100 new cases are reported each day, as of Sunday. COVID hospital admissions have also dropped precipitously: since hitting a peak of 93.7 on Jan. 9, the average number has dropped nearly 77%, to 21.6 on Sunday.
The rate is also an imperfect metric given that the number of confirmed cases is almost certainly lower than the number of actual cases in the community. "The denominator of total cases is somewhat of a hard number to be accurate with," Robinson said.
What the doctors say
Since the early months of the pandemic, doctors have grown more familiar with COVID—and gained greater access to treatment options. In addition to hospital-based treatments, such as steroids and the antiviral drug remdesivir, other interventions have emerged that are intended for patients in the early stages of the disease to prevent them from requiring hospitalization. These include convalescent plasma, which is sourced from recovered COVID patients, and monoclonal antibodies, a lab-made protein that acts as a substitute antibody.
These treatment options, combined with more experienced doctors, fewer hospitalized patients and wider availability, have improved case outcomes. "We've refined our knowledge of who benefits from which therapeutic interventions at which time, so we try to tailor that therapeutic response to the patient, and generally we have access to what we need at this point," Robinson said.
But there are still limitations. Remdesivir remains the only antiviral available for treating COVID patients, and it is not a cure-all in the way that antibiotics can be for bacterial infections. Like other treatments, such as convalescent plasma and monoclonal antibodies, its efficacy depends on the patient's comorbidities, viral load and the strength of his or her immune response. "There's not really a panacea for this process, and I don't think there will be," Robinson said.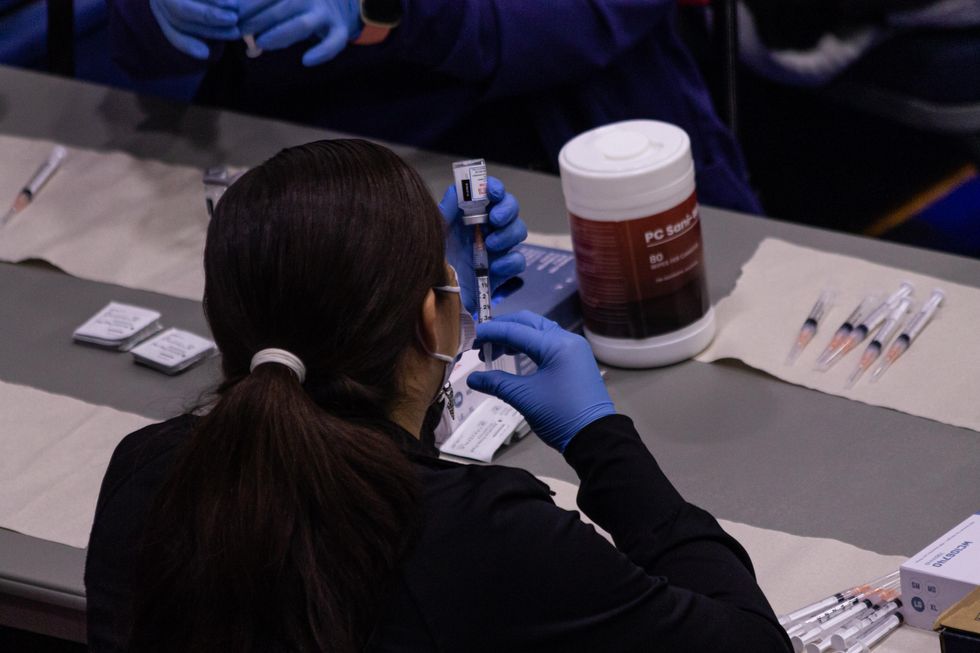 Staff prepare vaccine doses at the Delco Activity Center in Northeast Austin on Saturday. (Christa McWhirter)
This is why the increasing vaccination rate is so promising. Although it's too early to know definitively, Robinson has noticed fewer patients requiring hospitalization in certain high-risk populations, such as nursing home residents and people 65 and older, at St. David's South Austin Medical Center. "I suspect we are beginning to see some impact of vaccination penetration in the community in concert with reducing cases, but it's hard to know for sure how much to attribute to that," he said.
As of Sunday, 27% of the Travis County population ages 16 and older have received at least one dose of the COVID vaccine and around 11% are fully vaccinated, according to DSHS data. But some high-risk groups have much higher vaccination rates.
Austin-Travis County Interim Health Authority Dr. Mark Escott told Austonia earlier this month that increasing vaccine access among nursing home residents has translated into a sharp drop in new cases at long-term care facilities. In the last two weeks, six new COVID cases have been reported at Travis County facilities, compared to around 350 during the two-week period from late January to early February. "It's been a remarkable and rapid decline of cases as a testament to the efficacy of the vaccine," he said.
At this stage in the pandemic, higher rates of natural immunity—among people who have contracted COVID and recovered from it—may also be contributing to case outcome improvements. Combined with growing vaccine access, Robinson is optimistic about the case-fatality rate decrease moving forward. "I think we're beginning to reach numbers where we should be able to see some impact," he said.
After their first two-win week and a two-week hiatus, Austin FC is back at home against Minnesota United as they attempt to up their home win streak to three on Saturday.
The team kicks off at 8 p.m. against the Loons in their first matchup since a 2-0 loss in June, but they're 1-1 against the club after beating Minnesota in May for their first-ever shutout.
Austin maintains a last-place spot in the West but has seen a bit of a late comeback with two wins in their last three matches. Austin's Cecilia Dominguez, who scored a brace for the team in their last match against Real Salt Lake, will look to keep that momentum as the team works for another victory. Meanwhile, the seventh-place Loons will work to keep that last spot in playoff contention as the season nears its end.
Follow along here for updates on the biggest plays of the match.
80' Austin makes first subs
80' | First couple #AustinFC substitutions on the night.

➡️ McKinze Gaines
⬅️ Diego Fagundez

➡️ Jon Gallagher
⬅️ Moussa Djitté pic.twitter.com/yVXyPr97Gn

— Austin FC (@AustinFC) October 17, 2021
With just over 10 minutes left in regulation ,Austin FC made some late-game subs, swapping Diego Fagundez for Austinite McKinze Gaines and Sebastian Driussi for forward Jon Gallagher. Both have a history of clutch performances for the team: Gaines scored just 10 minutes in to his first match of the game back in September, while Gallagher was Austin's first scorer at Q2 Stadium.
It's looking more like a draw at best for Austin as the time continues to tick down on the match.
61' Djitte loses chance after controversial call
In the 61st minute of a less-cohesive half for Austin, Moussa Djitte found himself alone near the goal with a good chance at making the home team's first goal. But referees had another ideas, making another controversial call on the Senegalese striker.
Refs stopped Djitte's menacing drive after Minnesota's Michael Boxall appeared to flop in a run-in with the striker, curbing Djitte's attempt to boos from the crowd. It's Djitte's second foul of the night and the team's ninth foul in the match. Both clubs host a yellow card, with center back Julio Cascante holding the home team's sole warning call. Minnesota's Emmanuel Reynoso holds the away team's yellow after an obvious flop that left him rolling on the ground for minutes, waiting on a call.
Blown whistles for both sides have slowed the match's tempo and left both clubs reeling as Austin looks for its first goal.
At the half: Austin still can't finish
45' still left to play. pic.twitter.com/39J1XnvvOc

— Austin FC (@AustinFC) October 17, 2021
With minutes-long shooting sprees and more shots on goal than Minnesota, Austin could easily have the lead in the match. But each crowd-raising attempt has still been slightly skewed as the home team ends the half with nothing on the board.
In just 45 minutes, both Austin and Minnesota have reached the double-digits in scoring attempts, but Minnesota's ability to infiltrate Austin's penalty box has given them the leg up in the match. The Loons have sometimes found themselves nearly alone alarmingly close to goal, and they've capitalized on their chances with a 16thb minute goal by Franco Fragapane.
Austin FC, however, has not. The club has seen close calls from Dominguez and Driussi, headers from Djitte and near-misses from Tomas Pochettino, but missed opportunities and a few strokes of bad luck have left them scoreless. The team will need to shake their age-old scoring issues if they hope to get back into tonight's game.
16' Minnesota nabs 1-0 lead
Fragapane at the back post!@MNUFC go up 1-0 on @AustinFC. pic.twitter.com/u5LxVgMhAU

— Major League Soccer (@MLS) October 17, 2021
Austin may have struck first, but Minnesota won the first points on the board as Franco Fragapane got one past keeper Brad Stuver from a close range in the 16th minute to make it 1-0. The Loons tested Stuver just as Austin did Miller, making two anxiety-inducing shots before Fragapane struck gold.
This goalie-vs.-goalie match has already seen three shots on goal from each team and a relatively quiet midfield as each team dukes it out in the box.
11' Austin tests Minnesota first
.@SebadriussiOk 😅 pic.twitter.com/SUdpNklgMF

— Austin FC (@AustinFC) October 17, 2021
Austin FC has taken no time to threaten goal. In a three-minute span, the home team has racked up three shots, two of which are on goal, as the ball bounces between Austin attackers but can't quite find the net.
Dominguez strikes first as he looks to find his third goal in three matches in the eights minute, but Minnesota's Tyler Miller fights back with a clutch save. Djitte then tests Miller just seconds later, while Driussi takes a final shot from farther back that just misses the top left corner.
Austin's Fagundez and Pochettino were the playmakers of the three-minute shooting spree, but the club still came out scoreless. Minnesota soon rebounded with a shot of their own that was blocked by keeper Brad Stuver.
Starting lineup
Rested and ready to be back on the pitch for #ATXvMIN. 💪#AustinFC x @YETICoolers pic.twitter.com/oHzypiVtqK

— Austin FC (@AustinFC) October 17, 2021
This may be Austin FC's most popular lineup— even the crankiest fans are commending the strong starting XI on Twitter. Tonight's starters are the same as in their win against Salt Lake.
New standouts Moussa Djitte and Sebastian Driussi are in alongside double-scorer Cecilio Dominguez up front, while fan favorite Diego Fagundez, Captain Alex Ring and Designated Player Tomas Pochettino take the midfield.
With Matt Besler still out on concussion protocol, Zan Kolmanic, Jhohan Romana and Julio Cascante take the back along with Hector Jimenez, who is in for right back Nick Lima. As (almost) always, Brad Stuver holds it down in goal.
An Austin-based program manager for Apple Maps and one of two leaders for the #AppleToo activist movement said she has been fired after a suspension.
According to the New York Times, Janneke Parrish said she was put on suspension for several days while the company investigated her activities before she was fired by a human resources employee via phone call on Thursday.
Parrish was under investigation for allegedly leaking a recording of an Apple staff meeting to the media, which she said she didn't do.
The report said the company told Parrish, who is 30, that she was being fired for having deleted files off her company-issued phone and computer before handing them in for examination. Parrish said the files she deleted contained her personal and financial information.
Among the files she deleted were the Robinhood app, which she said was to keep Apple from seeing "how much money I lost investing in GameStop," the Pokemon Go app and screenshots of programming bugs she was fixing.
Parrish said she believes Apple was retaliating against her efforts in organizing #AppleToo, a group of employees working to expose the company's "culture of secrecy" that has been "faced disproportionately by our Black, Indigenous, and other colleagues from minoritized racial, gender and historically marginalized groups of people."
Parrish had been publishing weekly accounts of workplace problems that had been shared anonymously with her from other employees, though she did not verify employment on all of them. The accounts she received were in the hundreds, so Parrish said she was hopeful her termination would lead to some justice within the company.
Employees at tech giants have been more outspoken than usual in recent months—with former Facebook data scientist Frances Haugen speaking out against her former employer—and Parrish said the company's desire to keep under wraps has eroded trust by discouraging employees to come forward with issues like harassment or wage disparity.
Apple spokesman Josh Rosenstock commented on the matter: "We are and have always been deeply committed to creating and maintaining a positive and inclusive workplace. We take all concerns seriously and we thoroughly investigate whenever a concern is raised and, out of respect for the privacy of any individuals involved, we do not discuss specific employee matters."
Additionally, the email detailing her termination, which was obtained by the New York Times, said Apple had determined that Parrish "engaged in conduct in violation of Apple policies including, but not limited to, interfering with an investigation by deleting files on your company provided equipment after being specifically instructed not to do so."