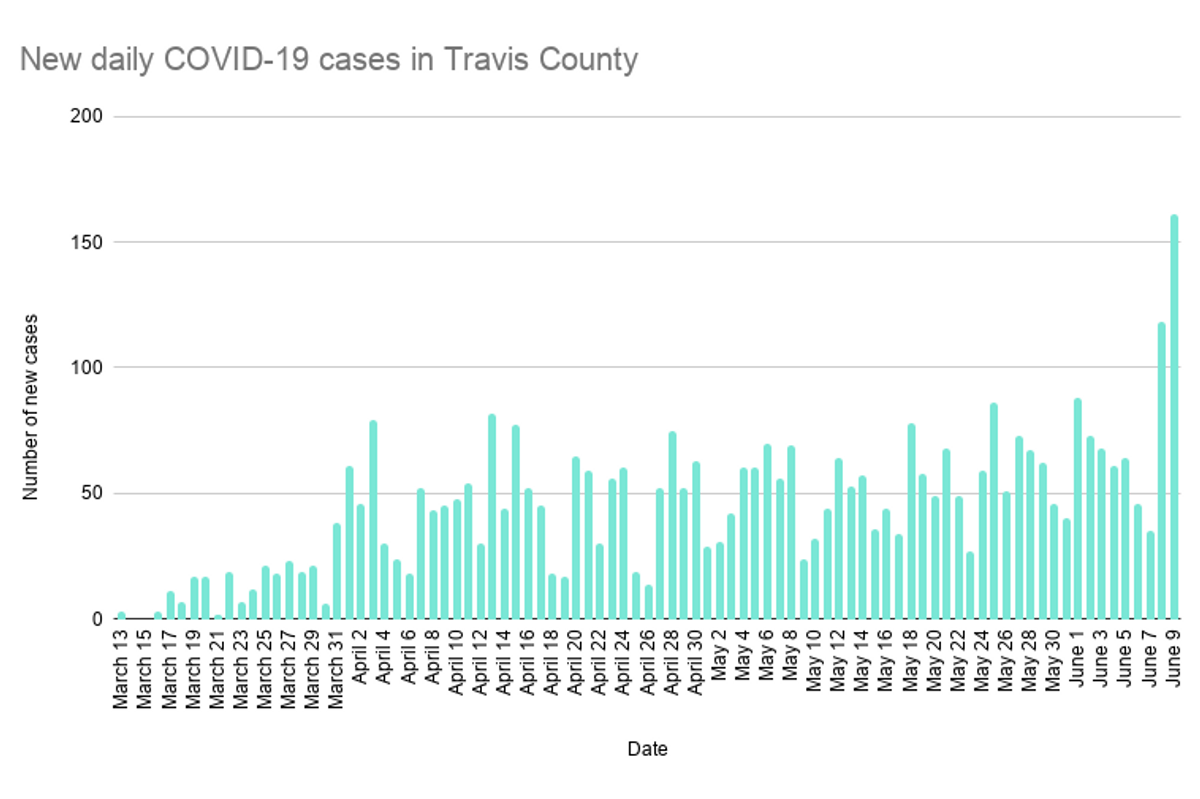 After two consecutive days of record-breaking daily COVID-19 caseloads, Austin-Travis County Interim Health Authority Dr. Mark Escott said the spike is primarily related to the state's reopening plan and Memorial Day activities. An increase in hospitalizations related to the disease is likely to follow next week.
---
"None of the cases we're seeing right now are related to protests," he said during a virtual media call this morning.
Health authorities expect an increase in new cases on Mondays, due to weekend reporting delays, but that typically tapers off by Tuesday, Dr. Escott said. Instead, Travis County reported a record daily increase of 116 new cases on Monday evening only to report even more—161—yesterday.
"This disease is still here. It's still a risk for us. We still have people hospitalized. We still have people dying," he added. "That doesn't mean we need to live in fear."
Residents can protect themselves—and others—by maintaining (or resuming) precautions, such as masking, social distancing and hand-washing. "Quite frankly, we also have an increase in risk-taking behavior," Dr. Escott said.
Austin Public Health is also working to improve its response time, with the goal of residents being able to get tested within 24 hours of symptom onset and to receive results within 24 hours of being tested, Dr. Escott said. This would help city officials make more timely decisions in response to caseload data and help residents isolate themselves more quickly.
Right now, however, there is a considerable lag time. In some cases, a patient with a confirmed case of COVID-19 has recovered by the time their positive result is tallied. "The cases that we reported over the last three days are cases that had onset a week or up to 10 days ago," Dr. Escott said.
As a result, any cases related to the recent protests against police brutality likely won't emerge until later this week or next.
Dr. Escott applauded protestors for exercising their First Amendment rights to protest but added that person-to-person interactions are the primary way COVID-19 spreads. He urged residents to be proactive about getting tested and notifying their contacts if they receive a positive result.
To this end, APH recently "lowered the bar" to allow asymptomatic residents to access free testing. The department is also expanding its team of contact tracers, according to Chief Epidemiologist Janet Pichette.
Currently, the team of 38 is growing by 10 new staffers each week to allow for in-person training without putting onboarders at excess risk. "We have a pretty full house," Pichette said.