Get connected with our daily update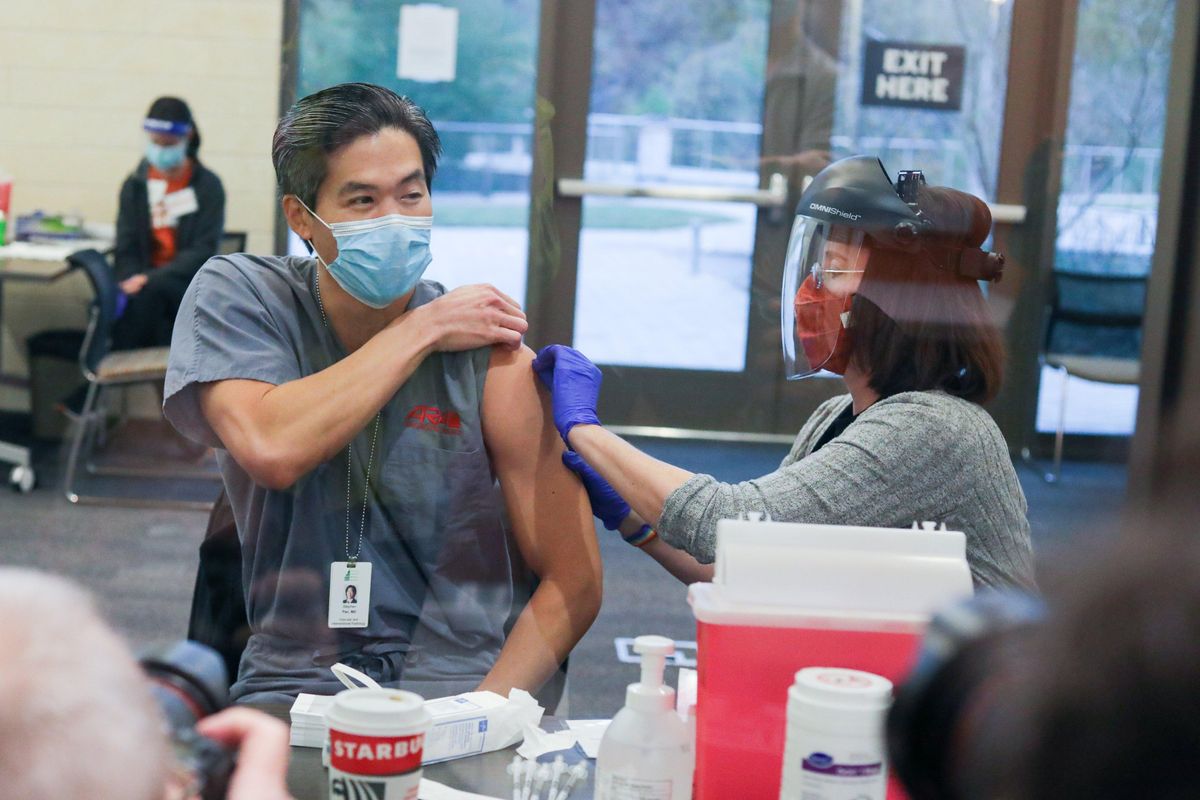 (UT Health Austin)
There are a lot of questions circulating about the pandemic and its impact locally. Each month, Austonia will answer a new batch of them.

---
Is the local COVID situation improving? 
No.
Despite the good news of V-Day, local health officials painted a grim picture of disease spread in Austin, which they attributed to the "Thanksgiving effect"—and warned that Christmas gatherings could cause a surge on par with El Paso.
"Our situation is getting worse in Travis County," Austin-Travis County Interim Health Authority Dr. Mark Escott said Wednesday. "Right now we are at a place where we have more active infections in our community than we've had at any other time in this pandemic."
Since the beginning of December, Travis County has seen a 45% in the average number of COVID-19 cases confirmed each day and a 57% increase in the number of daily COVID-related hospital admissions. The positivity rate has also increased to 9%, up from 7.4% last week, which Austin Public Health Director Stephanie Hayden said was "extremely high" on Wednesday.
Escott attributed these numbers to Thanksgiving gatherings and relaxed adherence to pandemic precautions, such as masking, social distancing and hand washing.
"It's a concern for us because if we see surge happening now because of Thanksgiving and we see a repeat of that activity during Christmas, we really have the risk of an El Paso or Lubbock type of substantial and catastrophic surge," he said Tuesday.
How are hospitals faring? 
Hospitals in the five-county Austin metro are faring okay—for now.
The three major hospital systems—Ascension Seton, Baylor Scott & White Health and St. David's Healthcare—reported an overall occupancy rate of 82% and an ICU occupancy rate of 83% on Wednesday.
"We're not at the stage yet of asking our hospitals to scale back on elective procedures, because we do have enough cushion there to absorb a bit more," Escott said Tuesday. "What we're concerned about is two or three weeks from now."
The current surge in cases is due to Thanksgiving gatherings, Austin Public Health officials have stressed. If people continue to gather for Christmas, New Year's and other holidays, the surge could accelerate quickly.
"We're very concerned that the Christmas holiday may transition into that hockey stick, or exponential, phase of active case growth, which would put our hospitals in danger," Escott added.
Does this affect the local risk level?
The Austin-Travis County area is at Stage 4, according to APH's risk-based guidelines. At this stage, local health officials recommend that individuals at high risk or who live in households with people who are high-risk avoid gathering with others as well as non-essential activities, such as dining out and shopping.
Updated projections from the COVID-19 Modeling Consortium at the University of Texas at Austin, which were published on Sunday, suggest the region is on the precipice of reaching the threshold for Stage 5, which is a daily average of 50 or more COVID-related hospital admissions.
Already, local health officials are imploring Austinites to avoid nonessential trips in an effort to flatten the curve.
"Everything you do should be essential trips only," Hayden said. "We really encourage you not to connect with others who do not live in your household."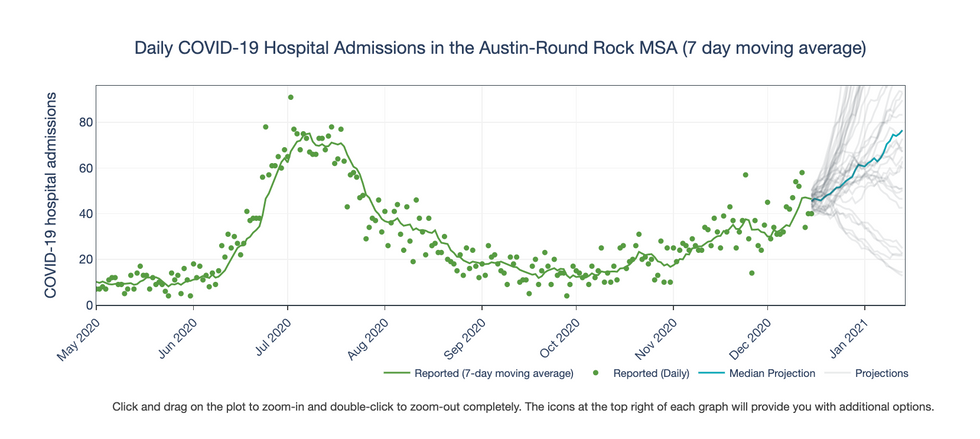 (COVID-19 Modeling Consortium at the University of Texas at Austin)
How does this compare to the state of Texas? 
Compared to other large Texas counties, Travis County has reported the fewest active cases and cumulative deaths per capita over the course of the pandemic.
However, Austin officials said that the area could see a surge approaching the severity of that seen in El Paso and Lubbock prior to Thanksgiving if residents don't work to flatten the curve.
"This is what the beginning of that kind of surge looks like, what we're seeing now," Escott said Wednesday.
What does this mean for schools? 
Disease transmission has largely occurred outside of classrooms, with local officials pointing to extracurricular activities and social gatherings as major reasons for cases among students and staff.
"So schools are safe," Escott said Wednesday.
However, increased community spread could affect schools. Escott doesn't anticipate making a blanket recommendation to close schools, he said, but may advise campuses to return to virtual learning for one or two weeks following the winter break, as happened after Thanksgiving.
If the pandemic continues to worsen locally, the next step would be to significantly reduce or halt extracurricular activities, he added.
In the case of school closures, APH officials would recommend closing high schools first and then middle schools in an effort to preserve in-person elementary education, where students are most adversely affected by virtual learning.
Who will get the COVID-19 vaccine first (and second)?
The initial allotment of COVID-19 vaccines were distributed across Texas earlier this week. UT Health Austin, the clinical arm of Dell Medical School, administered its first shots to frontline healthcare workers on Tuesday.
Earliest access to vaccines will go to frontline healthcare workers, EMT first responders and nursing home residents and staff.
As more doses of the vaccine become available, APH will prioritize those at highest risk of hospitalization and death due to COVID-19. They include people 60 years of age and older, those with underlying conditions and communities our color.
"Our decisions will be data-driven," Escott said Wednesday.
APH is working with a local coalition to arrive at a standardized approach for determining who is prioritized for vaccine access across different community providers.
"There simply isn't enough to go around right now, and there won't be for quite some time," he added.
It also appears unlikely that teachers and other school employees will have any particular priority based on their profession.
"A young, healthy 25-year-old teacher has a quite different risk profile than a 45-year-old teacher with diabetes," Escott explained.
I haven't felt so much joy since before the pandemic, watching the frontline receive such an amazingly effective va… https://t.co/T7iQr5eddp

— Clay Johnston (@Clay Johnston) 1608049298.0
How will I get vaccinated? 
APH is one of more than 200 local providers that have registered to distribute the COVID vaccine in Austin and Travis County.
As the vaccine becomes more widely available, the local health department will focus on low-income and uninsured residents.
"Austin Public Health has always been a safety net provider to our community, and we will continue to be in that space," Hayden said.
Austinites with insurance are encouraged to go through their usual vaccine providers—whether that be pharmacies or primary care physicians—when the time comes.
Does the COVID vaccine control spread as well as prevent infection? What are the differences between the vaccines? 
Experts are still working to understand the level of protection that COVID vaccines provide in terms of preventing spread.
For this reason, the CDC recommends that people continue to wear masks and social distance even after they have been vaccinated.
Both the Pfizer and Moderna COVID vaccines rely on a spike protein invented by a team of scientists led by Dr. Jason McLellan, an associate professor of molecular biosciences at the University of Texas at Austin.
The spike protein developed by McLellan's team mimics those found on the coronavirus. When injected via a vaccine, it signals the body to start creating antibodies, which then attach to the virus and lock it in place before it rearranges, preventing infection.
The Pfizer vaccine has been distributed in Texas. While the Moderna vaccine is scheduled to be reviewed by the U.S. Food and Drug Administration for an emergency use authorization on Thursday.
Two other vaccine candidates, from Johnson & Johnson and AstraZeneca, use adenoviruses to deliver DNA from the coronavirus to stimulate an immune response in the vaccine recipient, according to the University of Michigan Health Lab.
What does this mean for the upcoming holiday season? 
Local health officials continue to advise Austinites to avoid gathering with people outside of their households and to recommit to precautions such as masking and social distancing.
"We have the possibility of having a miserable Christmas and a miserable New Year's if we allow this kind of transmission to continue," Escott said Wednesday.
Like Thanksgiving, officials recommend developing new traditions this holiday season to minimize risk—and ensure loved ones are around to celebrate in person next year.
"We must alter our holiday celebrations or we could face a real disaster here," Escott added.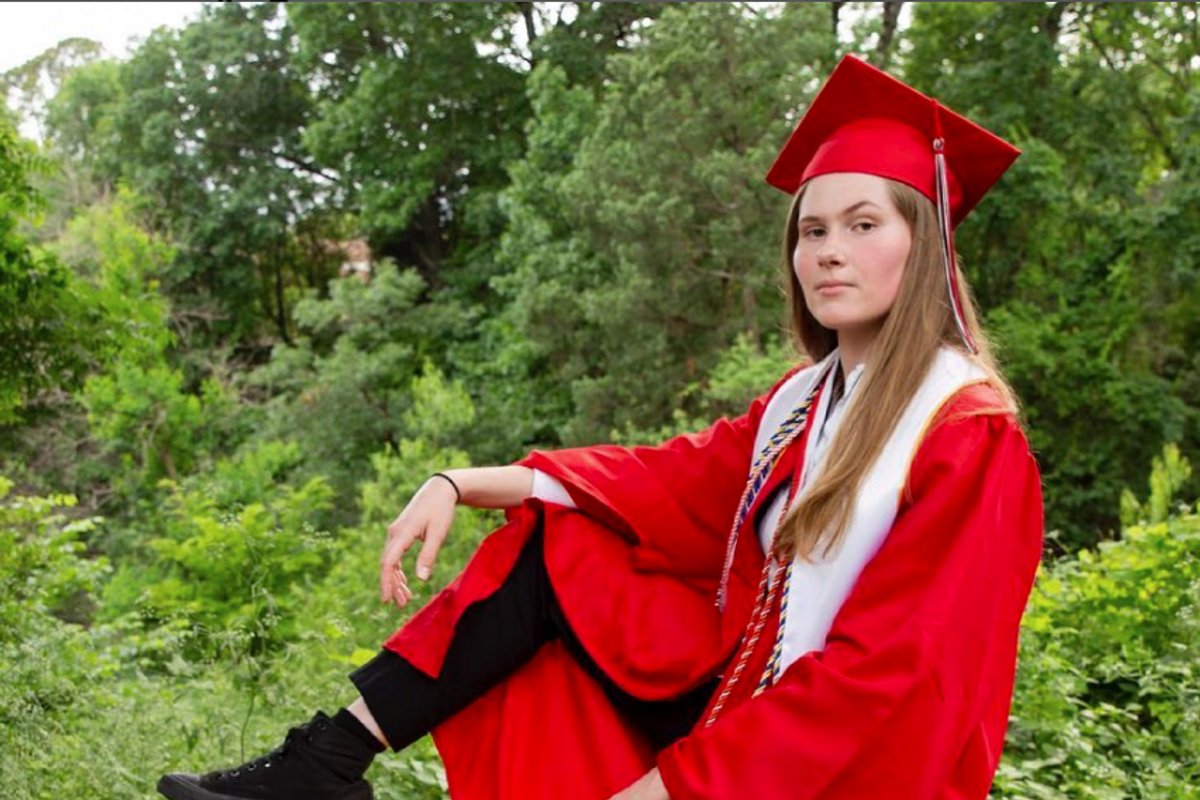 Paxton Smith's 2021 valedictory speech at Lake Highlands High School in Dallas wasn't the same speech she had previously shared with school administrators. She dropped the approved speech and made a case for women's reproductive rights after lawmakers passed the Texas "Heartbeat Bill."
Her advocacy made news on NPR, YouTubeTV and in The Guardian. Just over a year later, the "war on (women's) rights" she forewarned has come to a head as the U.S. Supreme Court voted Friday morning to overturn Roe v. Wade, ending constitutional protection for abortion access.
"It is up to the people to show up and show the courts and the politicians that we won't sit back and let this happen," Smith told Austonia Friday morning. "We will show up, we will fight back. Before, we were scared of them, now they should be scared of us."
Now a University of Texas sophomore and abortion rights activist, 19-year-old Smith said she wanted to give the same speech in the "the most public way possible" to reach "as many people as possible who don't agree that I deserve this right."
However, she says the response was "actually overwhelmingly positive" and supportive of her cause. According to a recent UT poll, 78% of Texas voters support abortion access in most cases.
The speech opened up further opportunities for activism: she advocated for reproductive rights at the International Forum on Human Rights in Geneva, interviewed with Variety magazine and spoke to tens of thousands at Austin's Bans Off Our Bodies protest at the Texas Capitol in May.
Smith also serves on the board of directors for the Women's Reproductive Rights Assistance Project, a national nonprofit organization that helps fund abortions or medication abortion—like Plan C pills—in all 50 states. Most recently, Smith has been attending protests in Washington, D.C. leading up to the ruling.
"This is land of the free. This is where you get to choose how you live your life," Smith said. "Overturning Roe v. Wade violates everything that we have come to believe about what it means to live in this country. I think a lot of people aren't willing to accept that this is a human right that is most likely just going to be gone for over half of the country within the next couple of weeks."
Bracing for the next steps, Smith gave some tips for supporters:
Find a protest to attend.

"I would say invite somebody to go to those protests with you, invite a couple of friends, invite people into the movement," Smith said.

Talk about the issue on social media—use the platform you have.

"Have these kinds of conversations where people can just talk about their fears and then find ways to go and advocate for yourself," Smith said.

Volunteer at a nonprofit near you.
"I feel like a lot of the reason things have gotten as bad as they have within the abortion rights world is that people are not making a scene, not protesting, not putting the effort into ensuring that the government doesn't take away this right," Smith said. "I want to emphasize that if you're not doing anything, don't expect the best scenario, expect the worst because that's the direction that we're going in."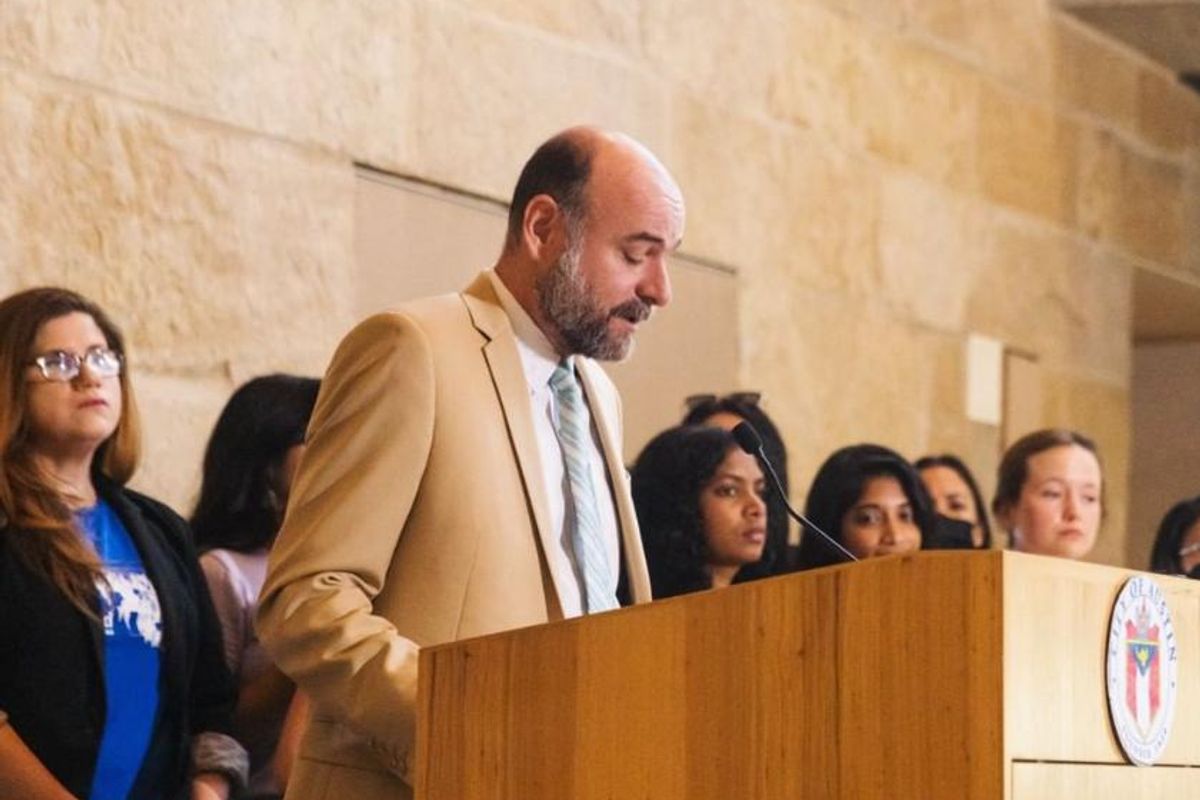 The U.S. Supreme Court overturned Roe v. Wade, the landmark ruling that guaranteed a constitutional right to an abortion, Friday morning. Moments later, Austin City Council set a special meeting for next month to pass a resolution aimed at decriminalizing abortion.
The GRACE Act, which stands for guarding the right to abortion care for everyone, is a twofold plan submitted by council member Jose "Chito" Vela. It recommends that city funds shouldn't be used to surveil, catalog, report or investigate abortions. It also recommends that police make investigating abortion their lowest priority.
Council Member Vanessa Fuentes, who co-sponsored the resolution along with council members Paige Ellis, Kathie Tovo and Mayor Steve Adler, said the importance of the GRACE Act cannot be overstated.
"By introducing this resolution during a special session, City Council is doubling down on fighting back for reproductive health," Fuentes said. "Items like the GRACE Act will promote essential healthcare while enabling individuals to exercise their bodily freedom."
The act takes an approach similar to when former council member Greg Casar moved to decriminalize the possession of small amounts of marijuana. Ultimately, state law doesn't allow city officials to order police chiefs to adopt specific enforcement policies so the resolution would be a request to Police Chief Joe Chacon. In May, Politico reported that Vela is having "ongoing conversations" with Chacon about the proposal.
Austonia contacted Attorney General Ken Paxton for comment on the GRACE Act but did not hear back by time of publication. On Friday, Paxton celebrated the overturning of Roe and announced an annual office holiday on June 24 in recognition of the high court's decision.
In a press release, Vela said the Texas state government has a history of overturning municipal protections of human rights. Thirty days after the Supreme Court's ruling, Texas will ban all abortions, with exceptions only to save the life of a pregnant patient or prevent "substantial impairment of major bodily function."
Still, Vela expressed hope for the GRACE Act's longevity. Council's special meeting on it is set for the week of July 18.
"We know this resolution is legally sound, and Austin is not alone in this fight," Vela said. "We are working with several other cities who are equally horrified by the prospect of an abortion ban and want to do everything they can to protect their residents."