Get connected with our daily update
(UT Health Austin)
There are a lot of questions circulating about the pandemic and its impact locally. Each month, Austonia will answer a new batch of them.

---
Is the local COVID situation improving? 
No.
Despite the good news of V-Day, local health officials painted a grim picture of disease spread in Austin, which they attributed to the "Thanksgiving effect"—and warned that Christmas gatherings could cause a surge on par with El Paso.
"Our situation is getting worse in Travis County," Austin-Travis County Interim Health Authority Dr. Mark Escott said Wednesday. "Right now we are at a place where we have more active infections in our community than we've had at any other time in this pandemic."
Since the beginning of December, Travis County has seen a 45% in the average number of COVID-19 cases confirmed each day and a 57% increase in the number of daily COVID-related hospital admissions. The positivity rate has also increased to 9%, up from 7.4% last week, which Austin Public Health Director Stephanie Hayden said was "extremely high" on Wednesday.
Escott attributed these numbers to Thanksgiving gatherings and relaxed adherence to pandemic precautions, such as masking, social distancing and hand washing.
"It's a concern for us because if we see surge happening now because of Thanksgiving and we see a repeat of that activity during Christmas, we really have the risk of an El Paso or Lubbock type of substantial and catastrophic surge," he said Tuesday.
How are hospitals faring? 
Hospitals in the five-county Austin metro are faring okay—for now.
The three major hospital systems—Ascension Seton, Baylor Scott & White Health and St. David's Healthcare—reported an overall occupancy rate of 82% and an ICU occupancy rate of 83% on Wednesday.
"We're not at the stage yet of asking our hospitals to scale back on elective procedures, because we do have enough cushion there to absorb a bit more," Escott said Tuesday. "What we're concerned about is two or three weeks from now."
The current surge in cases is due to Thanksgiving gatherings, Austin Public Health officials have stressed. If people continue to gather for Christmas, New Year's and other holidays, the surge could accelerate quickly.
"We're very concerned that the Christmas holiday may transition into that hockey stick, or exponential, phase of active case growth, which would put our hospitals in danger," Escott added.
Does this affect the local risk level?
The Austin-Travis County area is at Stage 4, according to APH's risk-based guidelines. At this stage, local health officials recommend that individuals at high risk or who live in households with people who are high-risk avoid gathering with others as well as non-essential activities, such as dining out and shopping.
Updated projections from the COVID-19 Modeling Consortium at the University of Texas at Austin, which were published on Sunday, suggest the region is on the precipice of reaching the threshold for Stage 5, which is a daily average of 50 or more COVID-related hospital admissions.
Already, local health officials are imploring Austinites to avoid nonessential trips in an effort to flatten the curve.
"Everything you do should be essential trips only," Hayden said. "We really encourage you not to connect with others who do not live in your household."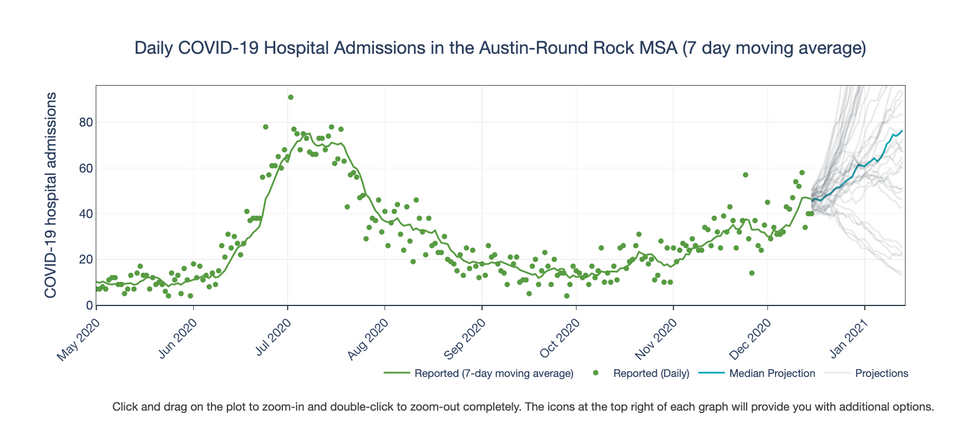 (COVID-19 Modeling Consortium at the University of Texas at Austin)
How does this compare to the state of Texas? 
Compared to other large Texas counties, Travis County has reported the fewest active cases and cumulative deaths per capita over the course of the pandemic.
However, Austin officials said that the area could see a surge approaching the severity of that seen in El Paso and Lubbock prior to Thanksgiving if residents don't work to flatten the curve.
"This is what the beginning of that kind of surge looks like, what we're seeing now," Escott said Wednesday.
What does this mean for schools? 
Disease transmission has largely occurred outside of classrooms, with local officials pointing to extracurricular activities and social gatherings as major reasons for cases among students and staff.
"So schools are safe," Escott said Wednesday.
However, increased community spread could affect schools. Escott doesn't anticipate making a blanket recommendation to close schools, he said, but may advise campuses to return to virtual learning for one or two weeks following the winter break, as happened after Thanksgiving.
If the pandemic continues to worsen locally, the next step would be to significantly reduce or halt extracurricular activities, he added.
In the case of school closures, APH officials would recommend closing high schools first and then middle schools in an effort to preserve in-person elementary education, where students are most adversely affected by virtual learning.
Who will get the COVID-19 vaccine first (and second)?
The initial allotment of COVID-19 vaccines were distributed across Texas earlier this week. UT Health Austin, the clinical arm of Dell Medical School, administered its first shots to frontline healthcare workers on Tuesday.
Earliest access to vaccines will go to frontline healthcare workers, EMT first responders and nursing home residents and staff.
As more doses of the vaccine become available, APH will prioritize those at highest risk of hospitalization and death due to COVID-19. They include people 60 years of age and older, those with underlying conditions and communities our color.
"Our decisions will be data-driven," Escott said Wednesday.
APH is working with a local coalition to arrive at a standardized approach for determining who is prioritized for vaccine access across different community providers.
"There simply isn't enough to go around right now, and there won't be for quite some time," he added.
It also appears unlikely that teachers and other school employees will have any particular priority based on their profession.
"A young, healthy 25-year-old teacher has a quite different risk profile than a 45-year-old teacher with diabetes," Escott explained.
I haven't felt so much joy since before the pandemic, watching the frontline receive such an amazingly effective va… https://t.co/T7iQr5eddp

— Clay Johnston (@Clay Johnston)1608049298.0
How will I get vaccinated? 
APH is one of more than 200 local providers that have registered to distribute the COVID vaccine in Austin and Travis County.
As the vaccine becomes more widely available, the local health department will focus on low-income and uninsured residents.
"Austin Public Health has always been a safety net provider to our community, and we will continue to be in that space," Hayden said.
Austinites with insurance are encouraged to go through their usual vaccine providers—whether that be pharmacies or primary care physicians—when the time comes.
Does the COVID vaccine control spread as well as prevent infection? What are the differences between the vaccines? 
Experts are still working to understand the level of protection that COVID vaccines provide in terms of preventing spread.
For this reason, the CDC recommends that people continue to wear masks and social distance even after they have been vaccinated.
Both the Pfizer and Moderna COVID vaccines rely on a spike protein invented by a team of scientists led by Dr. Jason McLellan, an associate professor of molecular biosciences at the University of Texas at Austin.
The spike protein developed by McLellan's team mimics those found on the coronavirus. When injected via a vaccine, it signals the body to start creating antibodies, which then attach to the virus and lock it in place before it rearranges, preventing infection.
The Pfizer vaccine has been distributed in Texas. While the Moderna vaccine is scheduled to be reviewed by the U.S. Food and Drug Administration for an emergency use authorization on Thursday.
Two other vaccine candidates, from Johnson & Johnson and AstraZeneca, use adenoviruses to deliver DNA from the coronavirus to stimulate an immune response in the vaccine recipient, according to the University of Michigan Health Lab.
What does this mean for the upcoming holiday season? 
Local health officials continue to advise Austinites to avoid gathering with people outside of their households and to recommit to precautions such as masking and social distancing.
"We have the possibility of having a miserable Christmas and a miserable New Year's if we allow this kind of transmission to continue," Escott said Wednesday.
Like Thanksgiving, officials recommend developing new traditions this holiday season to minimize risk—and ensure loved ones are around to celebrate in person next year.
"We must alter our holiday celebrations or we could face a real disaster here," Escott added.
Concerning levels of cylindrospermopsin were discovered on Sept. 22 after a person got sick and samples were sent to get tested on Sept. 9. Signs will be posted at access points to Sculpture Falls that people and their pets should not injest or swim in the water.
Unlike the harmful algae making dogs sick in parts of Lake Travis and Lady Bird Lake in past summers, these toxins are found in the water, the city says. Barton Creek visitors are asked to avoid stagnant water especially.
The toxins also result in different health effects than the harmful algae in Lady Bird Lake, including liver and kidney damage. If exposed, people can feel:
Fever
Headache
Vomiting
Bloody diarrhea
If exposed, people should seek medical attention and report it to 311.
TinyFest Texas 2021
When: 10 a.m. Saturday – 5 p.m. Sunday
Where: Jourdan-Bachman Pioneer Farms, 10621 Pioneer Farms Drive
What: Tour tiny houses, van converstions, shipping container homes and more at this year's TinyFest. Grab tickets here for a weekend of speakers, workshops and panel discussions plus live music, food and more!

Fierce Whiskers Grand Opening
When: 12 p.m. Saturday
Where: Fierce Whiskers, 5333 Fleming Court
What: Fan of whiskey? Come along to the free grand opening of Fierce Whiskers Distillery's new tasting room. Enjoy bites from a food truck, oysters, musical performances and a raffle.

Austin Summer Carnival
When: 6 p.m. Saturday – 2 a.m. Sunday
Where: The Venue ATX, 516 East 6th St.
What: Don your dancing outfit for this carnival that celebrates the African heritage with Brazilian, Latin and Caribbean rhythms in Austin. Snag your tickets here.

Beginner's Succulent Arrangement and Planting
When: 3 p.m. – 4 p.m. Sunday
Where: Succulent Native, 5501 North Lamar Blvd.
What: Calling all first-time planters: Get your hands dirty and learn about succulent and cactus arrangement and care. No tools required! Grab your tickets here.