Get connected with our daily update
(UT Health Austin)
There are a lot of questions circulating about the pandemic and its impact locally. Each month, Austonia will answer a new batch of them.

---
Is the local COVID situation improving? 
No.
Despite the good news of V-Day, local health officials painted a grim picture of disease spread in Austin, which they attributed to the "Thanksgiving effect"—and warned that Christmas gatherings could cause a surge on par with El Paso.
"Our situation is getting worse in Travis County," Austin-Travis County Interim Health Authority Dr. Mark Escott said Wednesday. "Right now we are at a place where we have more active infections in our community than we've had at any other time in this pandemic."
Since the beginning of December, Travis County has seen a 45% in the average number of COVID-19 cases confirmed each day and a 57% increase in the number of daily COVID-related hospital admissions. The positivity rate has also increased to 9%, up from 7.4% last week, which Austin Public Health Director Stephanie Hayden said was "extremely high" on Wednesday.
Escott attributed these numbers to Thanksgiving gatherings and relaxed adherence to pandemic precautions, such as masking, social distancing and hand washing.
"It's a concern for us because if we see surge happening now because of Thanksgiving and we see a repeat of that activity during Christmas, we really have the risk of an El Paso or Lubbock type of substantial and catastrophic surge," he said Tuesday.
How are hospitals faring? 
Hospitals in the five-county Austin metro are faring okay—for now.
The three major hospital systems—Ascension Seton, Baylor Scott & White Health and St. David's Healthcare—reported an overall occupancy rate of 82% and an ICU occupancy rate of 83% on Wednesday.
"We're not at the stage yet of asking our hospitals to scale back on elective procedures, because we do have enough cushion there to absorb a bit more," Escott said Tuesday. "What we're concerned about is two or three weeks from now."
The current surge in cases is due to Thanksgiving gatherings, Austin Public Health officials have stressed. If people continue to gather for Christmas, New Year's and other holidays, the surge could accelerate quickly.
"We're very concerned that the Christmas holiday may transition into that hockey stick, or exponential, phase of active case growth, which would put our hospitals in danger," Escott added.
Does this affect the local risk level?
The Austin-Travis County area is at Stage 4, according to APH's risk-based guidelines. At this stage, local health officials recommend that individuals at high risk or who live in households with people who are high-risk avoid gathering with others as well as non-essential activities, such as dining out and shopping.
Updated projections from the COVID-19 Modeling Consortium at the University of Texas at Austin, which were published on Sunday, suggest the region is on the precipice of reaching the threshold for Stage 5, which is a daily average of 50 or more COVID-related hospital admissions.
Already, local health officials are imploring Austinites to avoid nonessential trips in an effort to flatten the curve.
"Everything you do should be essential trips only," Hayden said. "We really encourage you not to connect with others who do not live in your household."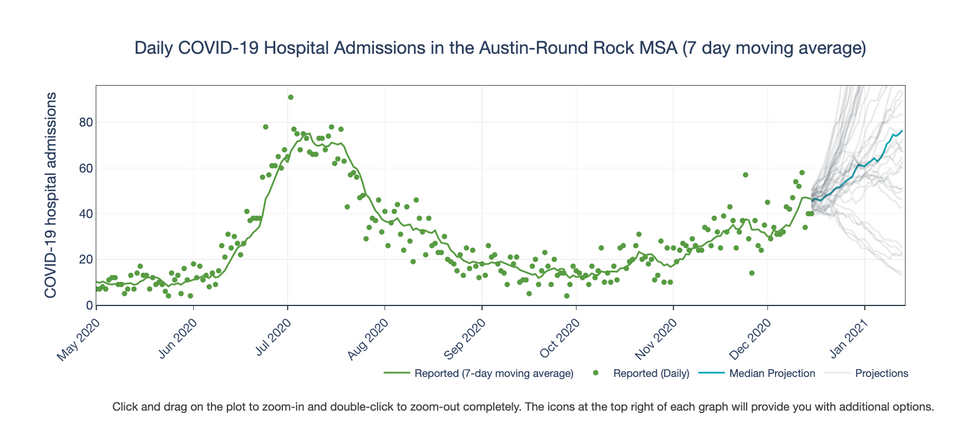 (COVID-19 Modeling Consortium at the University of Texas at Austin)
How does this compare to the state of Texas? 
Compared to other large Texas counties, Travis County has reported the fewest active cases and cumulative deaths per capita over the course of the pandemic.
However, Austin officials said that the area could see a surge approaching the severity of that seen in El Paso and Lubbock prior to Thanksgiving if residents don't work to flatten the curve.
"This is what the beginning of that kind of surge looks like, what we're seeing now," Escott said Wednesday.
What does this mean for schools? 
Disease transmission has largely occurred outside of classrooms, with local officials pointing to extracurricular activities and social gatherings as major reasons for cases among students and staff.
"So schools are safe," Escott said Wednesday.
However, increased community spread could affect schools. Escott doesn't anticipate making a blanket recommendation to close schools, he said, but may advise campuses to return to virtual learning for one or two weeks following the winter break, as happened after Thanksgiving.
If the pandemic continues to worsen locally, the next step would be to significantly reduce or halt extracurricular activities, he added.
In the case of school closures, APH officials would recommend closing high schools first and then middle schools in an effort to preserve in-person elementary education, where students are most adversely affected by virtual learning.
Who will get the COVID-19 vaccine first (and second)?
The initial allotment of COVID-19 vaccines were distributed across Texas earlier this week. UT Health Austin, the clinical arm of Dell Medical School, administered its first shots to frontline healthcare workers on Tuesday.
Earliest access to vaccines will go to frontline healthcare workers, EMT first responders and nursing home residents and staff.
As more doses of the vaccine become available, APH will prioritize those at highest risk of hospitalization and death due to COVID-19. They include people 60 years of age and older, those with underlying conditions and communities our color.
"Our decisions will be data-driven," Escott said Wednesday.
APH is working with a local coalition to arrive at a standardized approach for determining who is prioritized for vaccine access across different community providers.
"There simply isn't enough to go around right now, and there won't be for quite some time," he added.
It also appears unlikely that teachers and other school employees will have any particular priority based on their profession.
"A young, healthy 25-year-old teacher has a quite different risk profile than a 45-year-old teacher with diabetes," Escott explained.
I haven't felt so much joy since before the pandemic, watching the frontline receive such an amazingly effective va… https://t.co/T7iQr5eddp

— Clay Johnston (@Clay Johnston)1608049298.0
How will I get vaccinated? 
APH is one of more than 200 local providers that have registered to distribute the COVID vaccine in Austin and Travis County.
As the vaccine becomes more widely available, the local health department will focus on low-income and uninsured residents.
"Austin Public Health has always been a safety net provider to our community, and we will continue to be in that space," Hayden said.
Austinites with insurance are encouraged to go through their usual vaccine providers—whether that be pharmacies or primary care physicians—when the time comes.
Does the COVID vaccine control spread as well as prevent infection? What are the differences between the vaccines? 
Experts are still working to understand the level of protection that COVID vaccines provide in terms of preventing spread.
For this reason, the CDC recommends that people continue to wear masks and social distance even after they have been vaccinated.
Both the Pfizer and Moderna COVID vaccines rely on a spike protein invented by a team of scientists led by Dr. Jason McLellan, an associate professor of molecular biosciences at the University of Texas at Austin.
The spike protein developed by McLellan's team mimics those found on the coronavirus. When injected via a vaccine, it signals the body to start creating antibodies, which then attach to the virus and lock it in place before it rearranges, preventing infection.
The Pfizer vaccine has been distributed in Texas. While the Moderna vaccine is scheduled to be reviewed by the U.S. Food and Drug Administration for an emergency use authorization on Thursday.
Two other vaccine candidates, from Johnson & Johnson and AstraZeneca, use adenoviruses to deliver DNA from the coronavirus to stimulate an immune response in the vaccine recipient, according to the University of Michigan Health Lab.
What does this mean for the upcoming holiday season? 
Local health officials continue to advise Austinites to avoid gathering with people outside of their households and to recommit to precautions such as masking and social distancing.
"We have the possibility of having a miserable Christmas and a miserable New Year's if we allow this kind of transmission to continue," Escott said Wednesday.
Like Thanksgiving, officials recommend developing new traditions this holiday season to minimize risk—and ensure loved ones are around to celebrate in person next year.
"We must alter our holiday celebrations or we could face a real disaster here," Escott added.
An Austin-based program manager for Apple Maps and one of two leaders for the #AppleToo activist movement said she has been fired after a suspension.
According to the New York Times, Janneke Parrish said she was put on suspension for several days while the company investigated her activities before she was fired by a human resources employee via phone call on Thursday.
Parrish was under investigation for allegedly leaking a recording of an Apple staff meeting to the media, which she said she didn't do.
The report said the company told Parrish, who is 30, that she was being fired for having deleted files off her company-issued phone and computer before handing them in for examination. Parrish said the files she deleted contained her personal and financial information.
Among the files she deleted were the Robinhood app, which she said was to keep Apple from seeing "how much money I lost investing in GameStop," the Pokemon Go app and screenshots of programming bugs she was fixing.
Parrish said she believes Apple was retaliating against her efforts in organizing #AppleToo, a group of employees working to expose the company's "culture of secrecy" that has been "faced disproportionately by our Black, Indigenous, and other colleagues from minoritized racial, gender and historically marginalized groups of people."
Parrish had been publishing weekly accounts of workplace problems that had been shared anonymously with her from other employees, though she did not verify employment on all of them. The accounts she received were in the hundreds, so Parrish said she was hopeful her termination would lead to some justice within the company.
Employees at tech giants have been more outspoken than usual in recent months—with former Facebook data scientist Frances Haugen speaking out against her former employer—and Parrish said the company's desire to keep under wraps has eroded trust by discouraging employees to come forward with issues like harassment or wage disparity.
Apple spokesman Josh Rosenstock commented on the matter: "We are and have always been deeply committed to creating and maintaining a positive and inclusive workplace. We take all concerns seriously and we thoroughly investigate whenever a concern is raised and, out of respect for the privacy of any individuals involved, we do not discuss specific employee matters."
Additionally, the email detailing her termination, which was obtained by the New York Times, said Apple had determined that Parrish "engaged in conduct in violation of Apple policies including, but not limited to, interfering with an investigation by deleting files on your company provided equipment after being specifically instructed not to do so."
Republic Square Park has turned into a Ford-themed fiesta for its Built to Connect pop-up experience, complete with test drives, off-roading and an inside look at the Tesla-rivaling electric vehicles that the motor vehicle company is planning to integrate over the next decade.
The outdoor driving event is free, open to the public and will stay in the park from now until Oct. 24, offering rides on Bronco Mountain, a 0-40 mph zip in the 2022 all-electric Ford F-150 Lightning and a chance to win an original Ford Bronco.
The event kicked off with a panel of speakers, including Austin Director of Transportation Rob Spillar, Ford General Manager Darren Palmer and engineering specialists discussing Ford's goals to make it so that 50% of the vehicles on the road are electric by 2030.
As an eco-conscious city, Spillar said that around 4,000 vehicles, or 22% of the Texas electric vehicle market, as well as over 15,000 plugins lie in Austin, meaning driving electric just got accessible.
"Austin, as you know, is a fast-growing modern city that is committed to protecting the long term health and viability of our communities and strategies that reduce greenhouse gases, mitigate the effects of climate change and improve the drone quality of life here in Central Texas for all of our residents," Spillar said.
And Ford's electric vehicles are putting up some steep competition for newly-Austin-based company Tesla. The new electric Mustang Mach-E and F-150 Lighting offer amenities that used to be exclusive to Musk's brand, such as the BlueCruise self-driving network. The cars also boast a 300-mile range on a single charge, assisted reverse technology and access to the biggest charging network outside of the home.
Plus, Ford's got affordability on its side. The F-150 Lightning starts at $39,974 and the Mustang Mach-E starts at $42,895, while the cheapest Tesla model, the Model 3, starts at $41,990 and averages 262 miles on a single charge.
Speaking of price, the numbers on the electric vehicles may look like a little more than you'd like to pay for your transport, but Palmer promises it will pay off. In addition to a $7,500 tax credit you can earn for your sustainability, you'll never have to buy a pricey tank of gas again.
"Personally, I have not found one customer ever, who would go back to gas so that says something," Palmer said. "I realized, at $51,000, that car outruns every childhood hero car I ever had."
Texas buyers: take note. The Ford Lightning can power your house for three to 10 days, just in case the statewide power grid fails. You can take it glamping with you, so you don't have to leave the comfort of modern life behind, and in a pinch, Palmer said he's even seen a wedding party powered by the truck.
Ford is investing $30 billion into the U.S. market to meet demand by 2025 and the new electric truck already has over 150,000 reservations.
"I think they're going to take off much faster than you expect—they're going to be extremely, extremely popular next year," Palmer said. "With the incentives that are available today, this is starting to become more mainstream and viable for more and more families. We couldn't have done that before, we didn't have the technology, or the technology at that price."
The event is ongoing through next weekend from 12-9 p.m. Monday-Friday and 9 a.m.- 8 p.m. Saturday and Sunday.