Never miss a story
Sign up for our free daily morning email...
...and afternoon text update
Get connected with our daily update
(Laura Figi)
Amid the current surge and a bumpy vaccine rollout, Austin public health officials announced the opening of the alternate care site—a field hospital at the convention center downtown—on Tuesday morning. The Texas Division of Emergency Management has provided contract staff, who previously worked at the alternate care sites in El Paso and Arlington, to care for up to 25 low- and moderate-acuity COVID patients in an attempt to free up hospital and ICU capacity for more critical cases.
The alternate care site will accept COVID patients referred by area hospitals and who have been determined to be stable enough for transfer. It will provide treatments such as supplemental oxygen and IVs. With additional staff, the current set-up could accept up to 250 patients.
"Our hope is that we never see a patient at this site," Austin-Travis County Interim Health Authority Dr. Mark Escott said. "Our expectation is that we will see patients."
---
Hospitalizations update
Travis County is in the middle of a surge that has exceeded the peak seen during the last surge, in late June and early July. The average number of COVID-related hospital admissions reported each day is now 87, up 14% from last week and 102% from last month.
The average number of ICU patients in the five-county Austin metro is now 165.7, the highest recorded this pandemic. Updated projections from the COVID-19 Modeling Consortium at the University of Texas at Austin estimate that the metro will overwhelm its ICU capacity later this week.
Live update happening now on #COVID in ATX from @AusPublicHealth. Details in thread below 👇 🚨Current projections s… https://t.co/h6pZq644J4

— Gregorio Casar (@Gregorio Casar)1610464844.0
Texas Gov. Greg Abbott announced additional occupancy limits in Austin on Sunday, triggered by the rising hospitalizations. Travis County is part of the 11-county Trauma Service Area O, where COVID patients have represented at least 15% of overall hospitalizations for over a week, which is the threshold for stricter rules. Businesses, including restaurants, are now required to decrease their occupancy cap from 75% to 50%, and hospitals must stop elective surgeries.

This is not enough to reverse the upward trendlines, Escott said, pointing to other metro areas in Texas that have already triggered these limits—only to see their surges worsen. "What we need … is for our entire community to really embrace the concept of: We must stay home," he said.
Caseload update
In better news, it appears some Austinites are taking their advice to heart. The average number of new COVID cases confirmed each day in Travis County has fallen 4.7%—from 616 to 588.1—since Saturday. Although it's too early to tell if this represents a post-peak decline, Escott is hopeful it is reflective of the curfew he and local officials implemented over the New Year's weekend. "If we were going to see an intervention with the action that we took … we would see it now," he said.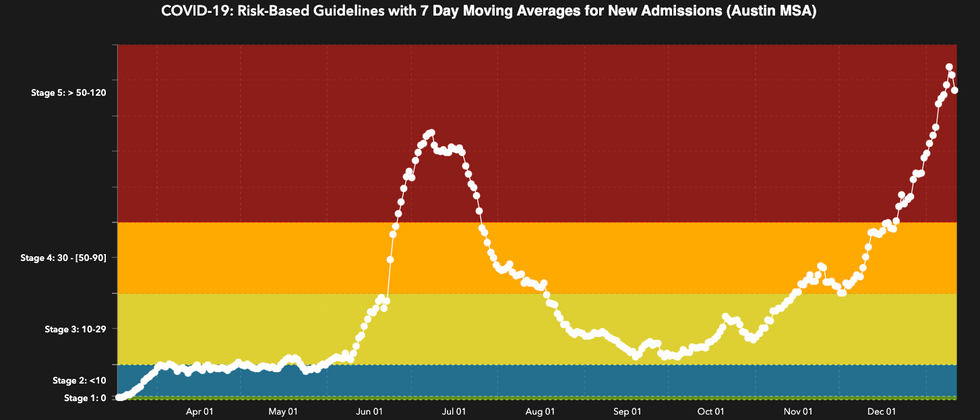 (Austin Public Health)
But the virus continues to spread across the community. Austin Public Health detected 17% more cases last week than the week prior, Escott said. The positivity rates among school-age children and people 80 years of age and older also remain alarmingly high.

Last week, APH reported the following positivity rates:
High school: 20.2%
Middle school: 27.1%
Elementary school: 19.8%
Preschool: 10%
Austin ISD Superintendent Stephanie Elizalde encouraged parents to choose virtual learning for the rest of this week due to the current COVID caseload. The district, however, remains open for families who choose to remain in-person—and because of state funding requirements. Escott also continued to encourage parents to opt into virtual learning. "As we get more and more concerned about the new variant … (and) as the in-person school numbers increase, it's going to be more and more difficult for us to control outbreaks at school," he said.
Elderly adults are particularly vulnerable to COVID-19 and disproportionately likely to require hospitalization. So far, more than 40 area long-term care facilities have administered vaccines to over 7,000 residents through a federal partnership with CVS and Walgreens pharmacies. APH, which received 12,000 doses from the state this week, is working to vaccinate any nursing home residents who were not covered by that effort.
Vaccine update
APH will debut an online vaccine registration system, as well as a companion phone line for those without internet access, tomorrow. It also plans to establish distribution sites throughout the Eastern Crescent. The department is focusing its vaccine distribution efforts on individuals in group 1A and the following communities:
Populations of color
Those living in poverty
Those living in areas where disease transmission is highest
Those without transportation access
But access remains extremely limited. APH has already administered around 4,000 of its 12,000 dose allocation, and there are more than 200,000 vulnerable individuals in the community. "We know that we do not have enough vaccine," Director Stephanie Hayden said.
Treatment update
Last week, the state opened a therapeutic infusion center in Austin to treat COVID patients and reduce the number of hospitalizations. Patients must meet certain criteria and be referred by their doctors to the center, where they will then be treated with the monoclonal antibody cocktail Regeneron. "That's the treatment the president got," Austin Mayor Steve Adler said. So far, the center has treated 93 patients and has a daily capacity of 26 patients, with the aim of ramping that up to 75.
First score made by LAFC. (Sonia Garcia/Austonia)
Austin FC couldn't find the stamina to fight off a 2-0 loss against LAFC for their inaugural match on Saturday.
The match, which saw No. 21 Austin FC go head-to-head with No. 2 LAFC in Los Angeles, was broadcast nationally on FOX and FOX Deportes.
Eleven players took the stage as Austin FC players for the first time, with five starters making their MLS debut. "Ringleader" Alex Ring took the captain's armband and wore it well. The defensive midfielder could be seen leading his teammates through their first ever match, but it wasn't enough to stage an Austin takeover in LA.
In the signature style of Head Coach Josh Wolff, the team played with quickness and intensity, nearly connecting on several fast breaks. It was harder for them to stay in front, however, something that Wolff credits with quick decision making and a tough LAFC defense.
"We have a quick attacking team, but I think when you make quick attacks and it fizzles it's just about some decision making," Wolff said. "Are we in position to finish attacks? If not, can we reestablish our attack and get stuff better?"
The club was given some generous breaks from No. 2 LAFC, who had one or both of their star DPs out for the half. While forward Diego Rossi is out for the entire match due to a hamstring injury, Carlos Vela was accidentally pulled too soon on what turned out to be a miscommunication.
"He gave us the sign that he needed to come off," LAFC Head Coach Bob Bradley said on broadcast. "I can't say more than maybe it's my fault."
LA pulled some dramatics and slowly gained more possession throughout the half, but ATXFC's defense wasn't initially as shaky as it seemed in preseason. Jhohan Romana has pulled his weight in getting the ball out of goal, and a 34-year old Matt Besler held his own in center back.
As the second half commenced, however, it became clear that LAFC had the advantage over Austin's first major league team.
Goalkeeper Brad Stuver had his work cut out for him, fending off 24 shot attempts, 11 of which were on goal. He didn't have much time to prepare, either: in the first 30 seconds of play, Stuver had already made a save to keep the match 0-0.
LAFC finally connected in the 61st minute of play as Corey Baird shot one into the bottom right corner. The team capitalized off their momentum and put one past Stuver a second time, drawing roars of approval from the LAFC crowd.
While some last-minute attempts from Jon Gallagher and others were made, Austin FC didn't have the endurance to bring a tie. After seven additional minutes of stoppage time, the club lost their first match 2-0.
While the scoreboard tells one story, Wolff said that the team did well considering the skill of LAFC and the pressure of their club debut.
"We've got to be realistic," Wolff said. "This is the first time this organization has been in front of TV with an opportunity to show itself and I think there were some promising moments. And we're going to maximize those and continue to try to develop those, but there's lots to build on."
The team may have lost, but it still won the support of thousands of Verde fans, dozens of which made it to watch their team's first match. When Stuver and the team made it to bthe stadium, Los Verdes fans were already there to show support, and Stuver said his wife saw the same back in Austin.

"The moment that we pulled into the stadium, we saw Black and Verde fans cheering us on as we got to the stadium," Stuver said. "During warm up, you can just look around and see different groups sitting in different sections of the stadium and it's just truly amazing to see the support in our first game. We know that we want to give the fans everything, because this we play for the city and we play for them."