Get connected with our daily update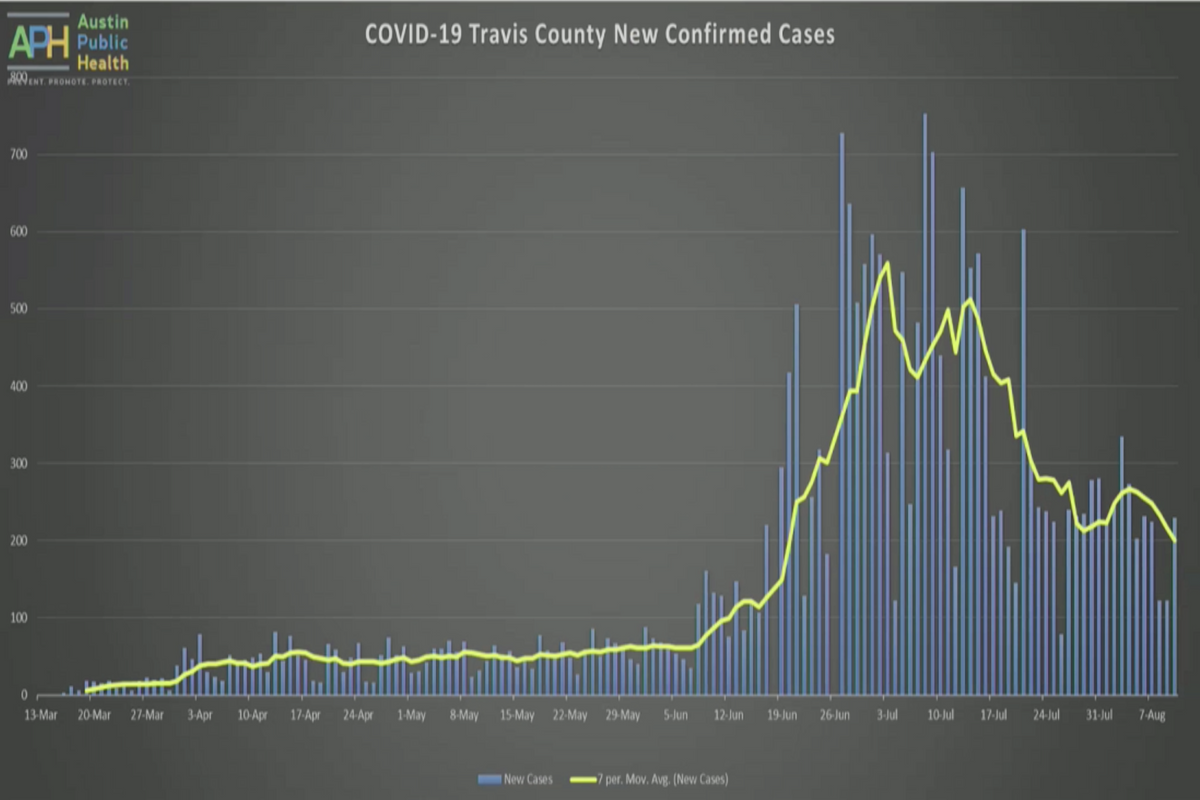 (Austin Public Health)
Travis County is once again seeing a decline in the number of new confirmed COVID cases and related hospitalizations after a brief plateau, but more kids are testing positive and being hospitalized with the virus, the county's top health official said Tuesday.
---
Area hospitals are reporting increased capacity and adequate staffing after two months of operating in surge mode, and the positivity rate among COVID tests conducted by and reported to Austin Public Health is declining.
"Our hope is at this stage, we're pushing past that plateau," Austin-Travis County Interim Health Authority Dr. Mark Escott told county commissioners during their weekly meeting.
But despite the progress, Escott said, there has been an increasing portion of children ages 10-19 testing positive for and being hospitalized with COVID-19. The age group accounted for more than 5% of the positive test results reported Aug. 4-10.
Children ages 10-19 had the highest or second-highest rate of positivity in the county in recent weeks, Escott said.
In the last week, 2.7% of the metro's hospitalizations were among children ages 10-19, which he said was higher than what the metro area had been seeing. It also mirrors national trends, he said, which are attributed to a variety of things including less frequent testing of asymptomatic children.
Nonetheless, Escott said, children ages 10-19 with known exposure should be tested to prevent an additional spread.
"You have seen that across the country there's been a significant increase in the number of school-aged individuals who have contracted COVID-19," Escott said.
School guidance coming
APH will recommend, in guidance coming this week, that area schools resume in-person classes at 25% capacity for the first two to three weeks, an idea that Escott has floated before.
"We want to make sure that the schools can manage the disease spread and new processes with a small number of students before we take on any additional risk," Escott said. "Having said that, I think doing things in a slow and methodical way is going to prevent the surge we may see if we just pack students back into school in August or September."
Continued declines in the number of new cases and hospitalizations are critical if schools are to reopen safely on Sept. 8, Escott said, especially as Labor Day and the prospect of college football games threaten to increase community transmission in the short term.
Although Texas Attorney General Ken Paxton said in recent nonbinding guidance that local health officials don't have the authority to shut down schools due to COVID-19, Escott feels he is within his rights to give his professional opinion.
"From my perspective, I believe I have the legal authority to do that," Escott said.
Disinterest in testing
Escott also noted that interest in testing is declining.
In late July, Austin Public Health was conducting more than 6,000 tests a week. Over the last week or so, however, it has conducted fewer than 1,400 because of a lack of demand. As a result, the department is expanding its free service to some asymptomatic individuals.
Last week, Escott attributed the decline to fewer cases emerging, a side effect of the decline and plateau the area has seen recently.
But residents have also complained in recent weeks about free tests that take days or weeks to return results, along with long lines - either of which may account for part of the decline. APH has reported improvement in both of those areas.
On Tuesday, APH discouraged employers from requiring employees to provide proof of multiple negative test results as a condition of returning to work.
This places an "unnecessary financial burden on the employee," APH said.
Instead, individuals who have had COVID should stay home at least 10 days following the onset of symptoms before returning to work, according to CDC recommendations.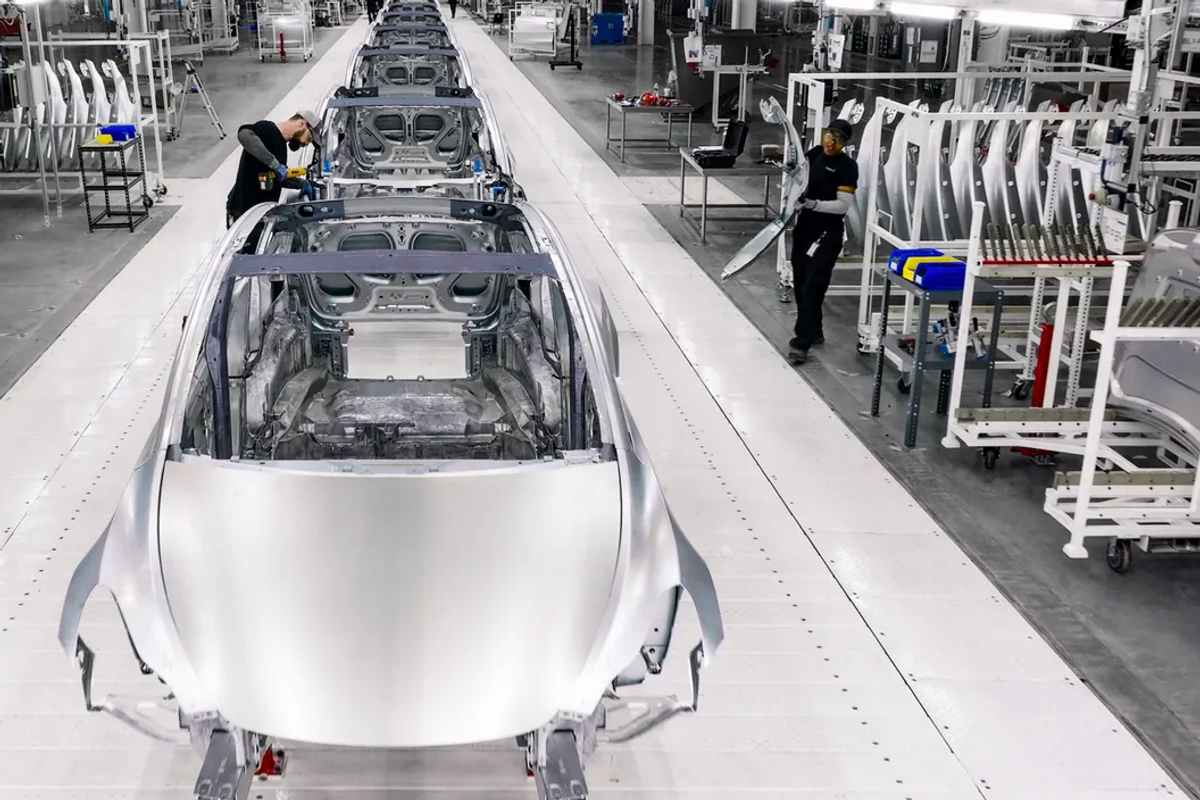 Giga Texas, the massive Tesla factory in southeast Travis County is getting even bigger.
The company filed with the city of Austin this week to expand its headquarters with a new 500,000-square-foot building. The permit application notes "GA 2 and 3 expansion," which indicates the company will make two general assembly lines in the building.
More details about the plans for the building are unclear. The gigafactory has been focused on Model Y production since it opened in April, but the company is also aiming for Cybertruck production to kick off in mid-2023.
While there is room for expansion on the 3.3 square miles of land Tesla has, this move comes after CEO Elon Musk's recent comments about the state of the economy and its impact on Tesla.
In a May interview with Tesla Owners Silicon Valley, Musk said the gigafactories in Berlin and Austin are "gigantic money furnaces" and said Giga Texas had manufactured only a small number of cars.
And in June, Musk sent a company wide email saying Tesla will be reducing salaried headcount by 10%, then later tweeted salaried headcount should be fairly flat.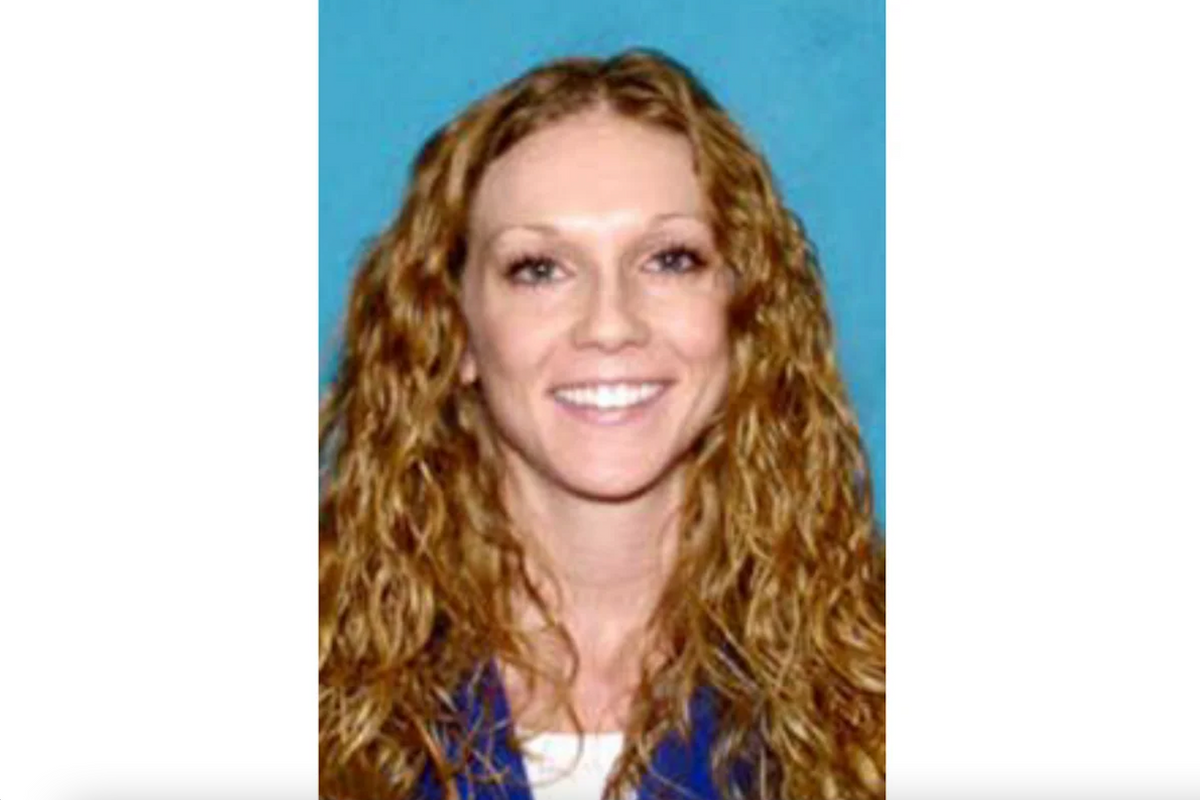 The Austin woman suspected of killing star cyclist visiting from out of town, Moriah "Mo" Wilson, has now been captured after evading arrest for more than a month.
Kaitlin Marie Armstrong, an Austin yoga instructor, is believed by officials to be the killer of Wilson, who was found with gunshot wounds in a friend's house on May 11. The murder is being investigated as a crime of passion after Wilson met up with Armstrong's ex-boyfriend.
According to the U.S. Marshals, Armstrong was located at a hostel on Santa Teresa Beach in Provincia de Puntarenas, Costa Rica. Officials said she may have been using her sister's name after fleeing Austin on May 14, the day after police questioned her. She was last identified at Newark Liberty International Airport on May 18.
Federal authorities say they plan on returning Armstrong to the U.S., where she'll face charges of murder and unlawful flight to avoid prosecution.
Here's a timeline of events since the night of Wilson's murder.
The night of her death, Wilson met with Armstrong's ex-boyfriend Colin Strickland, a fellow pro cyclist. According to an affidavit, the pair went swimming, then to dinner, before he dropped Wilson off at her friend's home where she was staying in East Austin at around 8:30 p.m.
While Wilson and Stickland had previously had a romantic relationship, Stickland said the two were friends. The affidavit says Strickland lied to Armstrong about his whereabouts that evening.
Video footage shows Armstrong's Jeep pulled up nearby the home within a minute of Wilson arriving home.
At around 10 p.m., Wilson's friend called Austin police after finding her in a pool of blood. Wilson had been staying with the friend ahead of the upcoming bike race in nearby Hico, Texas.
Armstrong was brought in for questioning the day after the murder and released after appearing "very still and guarded" when confronted with video evidence.
The Lone Star Fugitive Task Force said her black Jeep Cherokee was sold to a South Austin CarMax dealership on May 13 for $12,200.
She leaves from the Austin airport on May 14.
Shell casings found on the scene matched a gun belonging to Armstrong.
Austin police obtained an arrest warrant for Armstrong on May 17.
She took a flight from Newark Liberty International Airport to San Jose, Costa Rica on May 18 using a fraudulent passport, according to the Marshals.
On May 25, another warrant was obtained for unlawful flight to avoid prosecution.
On June 29, she was captured by the U.S. Marshals