Get connected with our daily update
(City of Austin)
After weeks of an apparent flattening, Austin Public Health reported 1,034 active cases of COVID-19 on Wednesday—the highest caseload since mid-August.
---
"It is a gradual but significant increase in the number of cases," the department said in a press release issued on Thursday.
On Tuesday and Wednesday, Austin-Travis County reported 148 and 154 new cases, respectively, about a 50% increase from the seven-day moving average of 96.6 reported previously.

(Austin Public Health)
More than half of those who tested positive at APH testing sites were between the ages of 20 and 39 years old, according to APH.

The numbers suggest that those who recently participated in a gathering, such as a Halloween party, have had a higher risk of encountering someone infected with the virus. As a result, APH recommends that everyone who gathered outside their household last weekend get tested and self-isolate at home.
"APH cannot prevent a spike in cases ahead of the winter holidays without the support and cooperation of our entire community," the department said. "An increase in case numbers will lead to needless hospitalizations and deaths."
This spike follows a few weeks of local health officials cautiously reporting a relatively flat COVID curve, which bucked the trend of rising caseloads across Texas—and the world.
On Wednesday, the U.S. reported a record-breaking number of new COVID cases—at least 107,000—marking the first time since the pandemic that the country has broken six figures in a single day and prompting fears of a coming surge that will be worse than the one seen this past summer.
El Paso also set a new record on Wednesday, with 3,100 new COVID cases reported, and remains under a countywide shutdown order. Hospitals are at or near capacity, the Texas Tribune reported, and four temporary morgues have been set up.
Across Europe, the U.K. and France have recently reentered lockdown due to similarly swelling caseloads.
"It is important that we … learn what has happened in other cities across our state and in other countries," Austin-Travis County Interim Health Authority Dr. Mark Escott said on Monday. "And the lesson learned is that when things start to look better, then we want to celebrate, and we want to change and open things up aggressively."
Most businesses and area schools have reopened, at varying capacity levels, but bars remain closed for at least the next week and a half, per a county order.
"We don't want the reopenings to be short-lived," Escott added.
Tesla has officially moved its headquarters from Silicon Valley to its under-construction Gigafactory in southeast Travis County.
In October, CEO Elon Musk had announced plans to uproot the HQ from California during a company shareholder meeting. The company's filing with U.S. securities regulators on Wednesday locked down the move.
It's unclear whether the 10,000 employees in Palo Alto will be required to move. An analyst told the Associated Press that while many may be given the option of staying, up to 50% could make the move with some motivated by a lower cost of living in Austin.
"It's tough for people to afford houses, and people have to come in from far away… there's a limit to how big you can scale in the Bay Area," Musk had previously said. Regardless of the HQ move, the company plans to increase production at its California plant.
The HQ swap is the latest development on Giga Texas, the approximately 1,700-acre factory that Tesla received at least $14.7 million in tax breaks for. The factory is on track to start production of its Model Y vehicles by year's end.
Musk has hinted at making the move for some time. Last year, while California health officials were concerned with the spread of COVID-19, Tesla's push to reopen the factory in Fremont set off a spat. During an earnings call in April 2020, he'd described the state's health orders as "fascist." Recently, Musk relocated his own residence from Los Angeles to Texas, bringing almost each one of his companies along with him, including the Boring Company, Neuralink and his foundation.
At the cutting edge of tech, music and business are many successful leaders who not too long ago weren't old enough to drive or vote.
These wunderkinds were honored in Forbes' prestigious "30 under 30" lists, which highlights hundreds of top young entrepreneurs in categories from social media to science, in the 2022 rendition of the list on Wednesday. Some of the Class of '22 were as young as 14, while the average honoree was around 28 years old. Ten of these burgeoning business moguls were from Austin, which has seen such distinguished 30 under 30 alumni as former UT basketball player Kevin Durant get top spots on the 10-year-old list.
Here's a look at the 10 Austinites who made the cut:
Downtown may be recovering from the pandemic but the priorities residents want in their city center are changing, according to the City Pulse Survey done by design firm Gensler.
After studying 7,500 people in 15 global markets, including Austin, Gensler found that life in COVID has pushed city-dwellers to want more outdoor activities, social spaces and entertainment venues in bustling business districts.
Post-pandemic, the highest-rated downtown activities were shopping, visiting parks and just "hanging out." The need for more public spaces like parks jumped from sixth on the list to second this year.
Although globally people view downtown as a business district for task-based activities, across the U.S., downtown districts are viewed more as a vehicle for entertainment. This is especially true for Austinites, where people surveyed said they would rather see more entertainment and cultural venues than shopping or public transit downtown.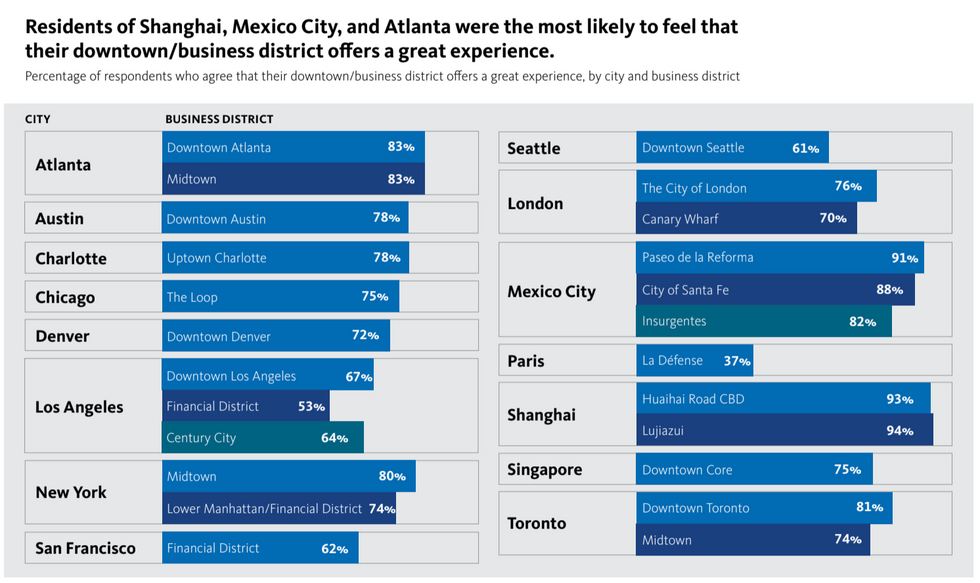 (Gensler)
For Melanie Gartman, a manager at construction software company Levelset who has been living in Austin for most of her life, the needs and wants of the average resident closely align with her own.
Austin clocked in second-most desirable downtown, tied with Charlotte, North Carolina. Like the 78% of Austinites in the survey, Gartman said she thinks Downtown Austin is hanging on to its lovable charm.
"Even now with fewer people out and about it's still very vibrant and lively. I feel like I saw life come back to downtown a lot sooner than I expected it to," Gartman said. "It's still holding on a bit that Austin vibe and with the high rises coming in, it's scary that we could lose that. I think it's holding on better than I would have expected, especially within the last two years of everything that happened."
As Austinites eased back into downtown, the first stop Gartman made was to go see music again. Since venues opened back up, Gartman and her loved ones have seen live music at their favorite venues: Moody Amphitheatre, Mohawk, The Parish and Empire Control Room.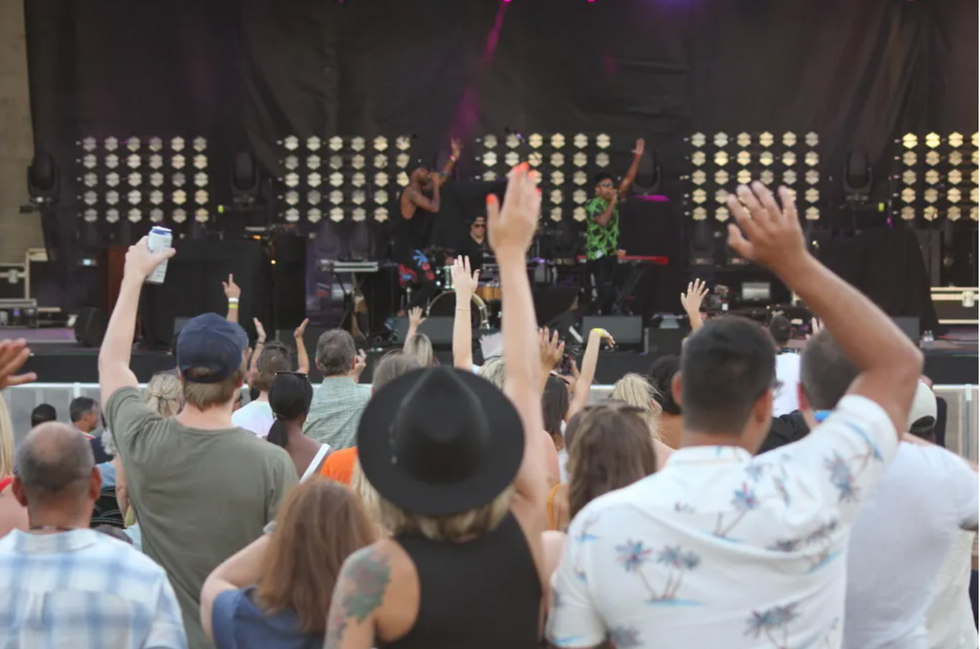 Blackillac opened for Gary Clark Jr. at the Moody Amphitheater's first show back in August. (Laura Figi/Austonia)
Entertainment is most important for Gartman's life in Austin—seeing Gary Clark Jr. in August brought normalcy back into her routine—and said our local downtown is the ideal out of other cities in Texas.
"I've always noticed that between Houston's downtown and Austin's, Houston's is so Monday to Friday, eight to five, maybe a post-work happy hour," Gartman said. "Growing up, downtown (Austin) was always the place to go. It has always been the hub and I think Austin is unique in that way."
Traffic in downtown areas is way down overall, even though concern over pandemic safety has taken a backseat. Shopping traffic has decreased by 28%, dining out and entertainment attendance dropped by 33% in the post-pandemic sphere.
Even though her office is located downtown, Gartman usually works from home. Her downtown visits tend to be for the purpose of entertainment and she said the lack of parking sometimes becomes problematic.
"I feel like all these high rises are taking over all the parking," Gartman said. "It used to be for go-to parking, I would just park under I-35. No big deal. But now, that's kind of scary, especially if you're by yourself. The party parking is a barrier to actually making it down there."
But with the rise of the hybrid work model, it's likely that the downtown sphere is going to change all across the U.S. For now, survey participants said they would like to see their downtown reduce traffic, add more green space, improve the cityscape and increase parking capacity as we shape the future of cities.