Get connected with our daily update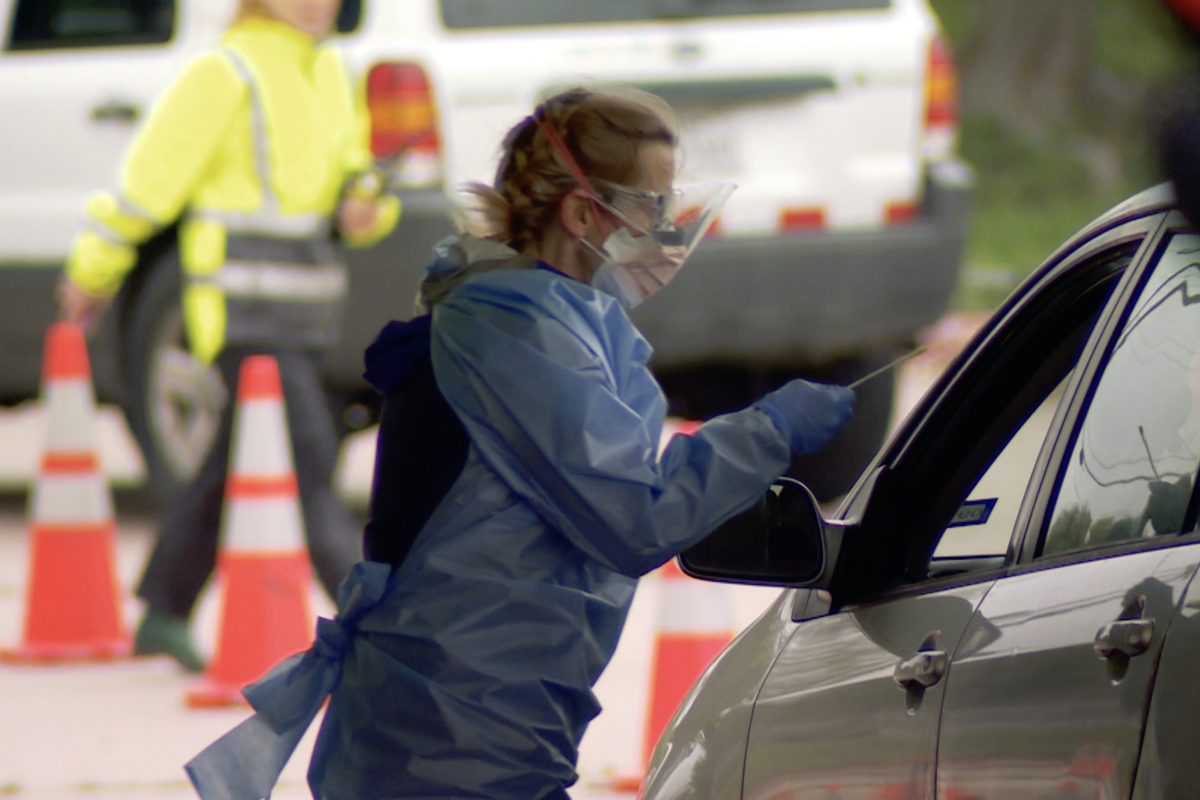 There are a lot of questions circulating about the pandemic and its impact locally. Each month, Austonia will answer them.
---
Is the local COVID situation improving?
No.
Travis County is now reporting a moving average of 154 new confirmed COVID-19 cases each day, up more than 60% on Nov. 1.
The Austin metro is also seeing an increase in COVID-related hospitalizations. The moving average is now 26 new admissions each day, up nearly 50% since Nov. 1.
Austin-Travis County Interim Health Authority Dr. Mark Escott described the current situation as "precarious" and compared it to that of the region on June 17, two weeks ahead of its peak.
"We're not at the stage of recommending a lockdown, but certainly we need people to take less risk in the coming weeks," he said on Monday.
The next day Escott extended existing emergency rules through Dec. 31. First implemented on Aug. 14, the rules require individuals to wear masks, businesses to enforce social distancing and schools to maintain static cohorts of students and teachers, with certain exceptions.
How are area hospitals faring?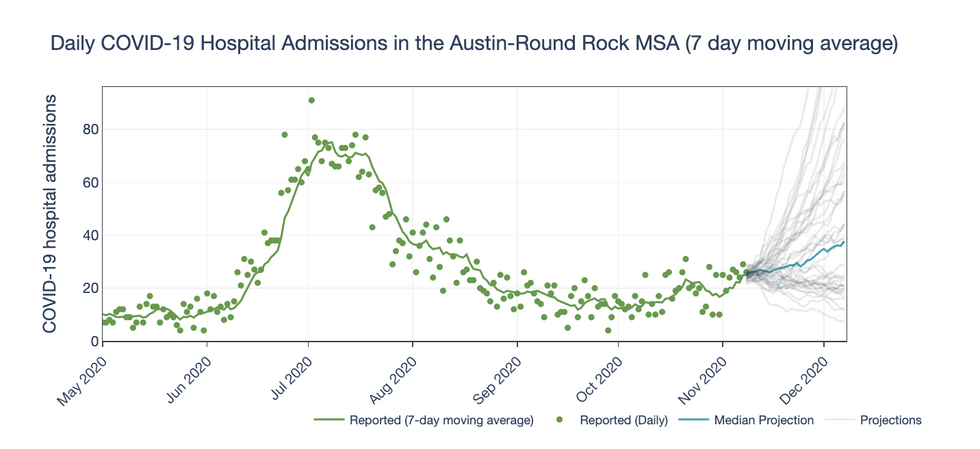 (COVID-19 Modeling Consortium at the University of Texas at Austin)
Austin's three hospital systems—Ascension Seton, Baylor Scott & White Health and St. David's HealthCare—have plenty of capacity. But staffing is a concern, as the local caseload grows and other jurisdictions across Texas face worsening surges, drawing personnel to El Paso, Lubbock and Dallas.
Over the summer, the metro had planned for a surge capacity of 350 ICU beds. At the peak, 170 of those beds were filled, which led to considerable stress on hospital staff, Escott said Tuesday.
As a result, local health officials are considering adjusting the local surge capacity to 200 ICU beds.
"There's lots of space in hospitals. There's a lot of equipment. We have more ventilators locally than we anticipate we would ever need," Escott said. "But we don't have the people."
As of Monday evening, only 45 ICU beds were being used by COVID patients.
But the COVID-19 Modeling Consortium at the University of Texas is projecting that the metro could see as many as 40 COVID-related hospital admissions each day by Thanksgiving, raising concerns about hospital capacity in the coming weeks.
Considering these projections and the possibility that the local surge capacity may be lower than previously planned, Escott said he and other officials are considering reducing the threshold for Stage 4, according to Austin Public Health's risk-based guidelines.
Currently the threshold is 40 or more new COVID-related hospitalizations, on average, each day.
"My concern for the next week to two weeks is that we may need to transition to Stage 4, so that we can flatten the curve again," he said.
Does this affect local recommendations and the state's reopening plan?
Currently, the metro is at a Stage 3 level of risk. If local health officials recommend a move to Stage 4, it would include guidance to avoid dining and shopping except at essential businesses and, for those individuals at high risk of COVID, to limit social gatherings to two people or fewer.
Escott also advocated for a possible rollback of restaurant capacity limits to avoid a second surge. He added that the next logical step may be to ask the governor to consider such an action.
Right now, restaurants are allowed to open at up to 75% capacity, per state order. Until recently, Escott had also suggested that bars may be able to reopen, with modified procedures, in the near future. But that is no longer the case.
"The discussion we should be anticipating in the coming weeks is, 'Do we need to scale back on risk? Do we need to ask restaurants to move back to 50% from 75%?'" Escott said on Monday.
Texas Gov. Greg Abbott announced last month that bars could reopen at 50% capacity in countries that chose to opt in and where COVID patients accounted for no more than 15% of hospitalizations.
Travis County Judge Sam Biscoe has so far declined to allow bars to reopen, citing the rising case numbers.
How does this compare to the state of Texas and the country as a whole?
Although local trend lines are concerning, Travis County is faring better than other metropolitan areas across Texas—with fewer active cases per capita than Harris, El Paso, Dallas, Tarrant or Bexar counties, according to the Department of State Health Services—and the country as a whole.
Over the last week, the U.S. reported 116,448 new COVID cases a day—a 64% increase compared to two weeks ago—and Texas has reported more new cases in the last week than any other state other than Illinois, according to the New York Times.
Local hospitals have already accepted "a handful" of COVID patients from other jurisdictions that have exceeded their capacity, such as El Paso, which occurred during the previous surge and stresses the state's response plan.
If cases in Austin continue to rise, the area will not be able to offer aid to other parts of the state, either in the form of hospital beds or medical professionals, Escott explained.
What does this mean for the upcoming holiday season?
Past holidays, including Memorial Day and most recently Halloween, have been linked to new COVID cases in Travis County.
"I would anticipate that Thanksgiving would have a similar impact," APH Chief Epidemiologist Janet Pichette said on Monday.
Local health officials have been explicit in their advice.
"Don't gather with people outside of your household this Thanksgiving," Escott said Tuesday.
When asked if Austinites should get tested in advance of any holiday gatherings to limit the risk of spread, Escott referred to the latest outbreak of COVID at the White House, adding that everyone who enters the building is tested but may not have the viral load necessary for detection at the time.
For those who plan to gather "against very strong advice" not to, Escott recommended a self-quarantine period of one to two weeks and getting tested within five days of the interaction.
"If you plan to be around those at high risk, you have to be very strict," he said.
What can Austinites do to help flatten the curve?
Local health officials repeated their regular advice: wearing a mask, social distancing and washing one's hands are effective protective measures against COVID.
Escott added that Austinites have successfully flattened the curve in the past and could help repeat this success by limiting their interactions to members of their household and avoiding unnecessary trips.
"If we flatten things out … we'll be in a much better place for Thanksgiving and Christmas," he said Tuesday. "If we don't do that … then Thanksgiving is going to look bad, and Christmas may look worse."
Austinites looking to help are also encouraged to donate blood, where they will be screened for COVID antibodies. If they have developed them, they are eligible to donate convalescent plasma, which is one of the few treatment options for COVID patients and one that can be replenished through donations, unlike the antiviral drug Remdesivir, which Escott said he is concerned may be depleted in the case of another surge.
What is the status of the COVID vaccine?
Pharmaceutical giant Pfizer announced Monday that a potential vaccine candidate has been 90% effective in preventing COVID in a trial setting.
Should the Pfizer trials, which include one being conducted at Austin Regional Clinic, continue to deliver successful results, the company projects it can produce up to 50 million doses globally by the end of the year and 1.3 billion in 2021.
CEO Dr. Albert Bourla told CNN that the company will offer the vaccine for free "to all American citizens."
Local health officials said earlier this week that they are working with state officials and a local coalition to plan for widespread distribution of a vaccine, once one is available.
The coalition will identify priority populations, which will receive earliest access to a vaccine, APH Director Stephanie Hayden said on Monday.
But other challenges remain, including the need for peer review, ultra-cold storage and a second dose.
"There are still a lot of unknowns as far as logistically how things will come," Pichette said.
What is the local testing situation?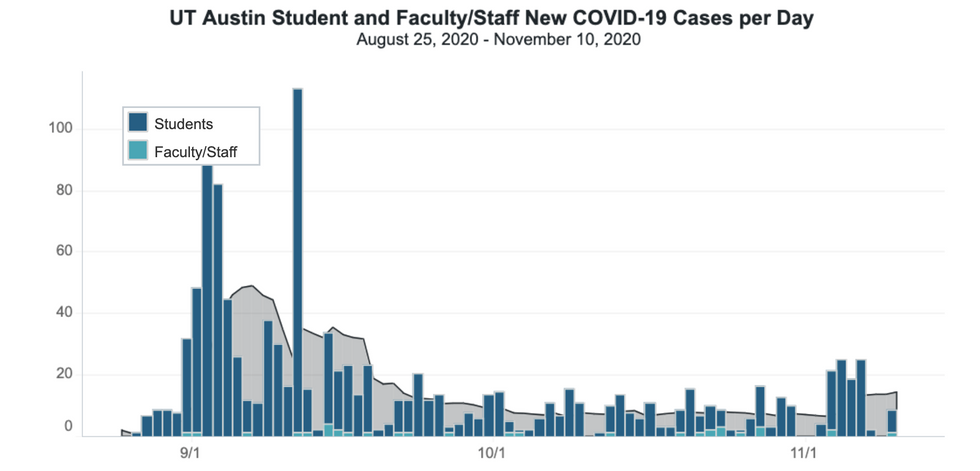 (UT Austin COVID-19 Dashboard)
APH continues to offer free testing to Austin residents.
"We have more tests available than people who are seeking out testing," Escott said Tuesday, encouraging people who gathered for Halloween festivities or attended a post-election protest or celebration to get tested.
However, the local positivity rate is increasing.
Last week's tests, of which around 5,000 have been tallied, produced a positivity rate of 5.3%, which is significantly higher than in recent weeks, when it has mostly stayed below 4%, Escott said.
The University of Texas at Austin, which offers its own testing services, is posting similar increases.
University Health Services and UT Health Austin offered 435 clinical tests to students during the week ending Nov. 7, with a positivity rate of 7.6%, up from 5.4% the week prior.
What is the impact of flu season?
Despite concerns of a "twindemic," when the annual flu season coincided with the pandemic, local health officials are encouraged by the data so far.
"In general, our flu cases have been lower than they have been over the last four seasons," Escott said Monday.
This is heartening given that, last winter, flu patients filled up area hospitals. If that happens this winter, it could limit capacity for COVID patients.
Health officials continue to encourage Austinites to get their flu vaccines to help minimize this possibility.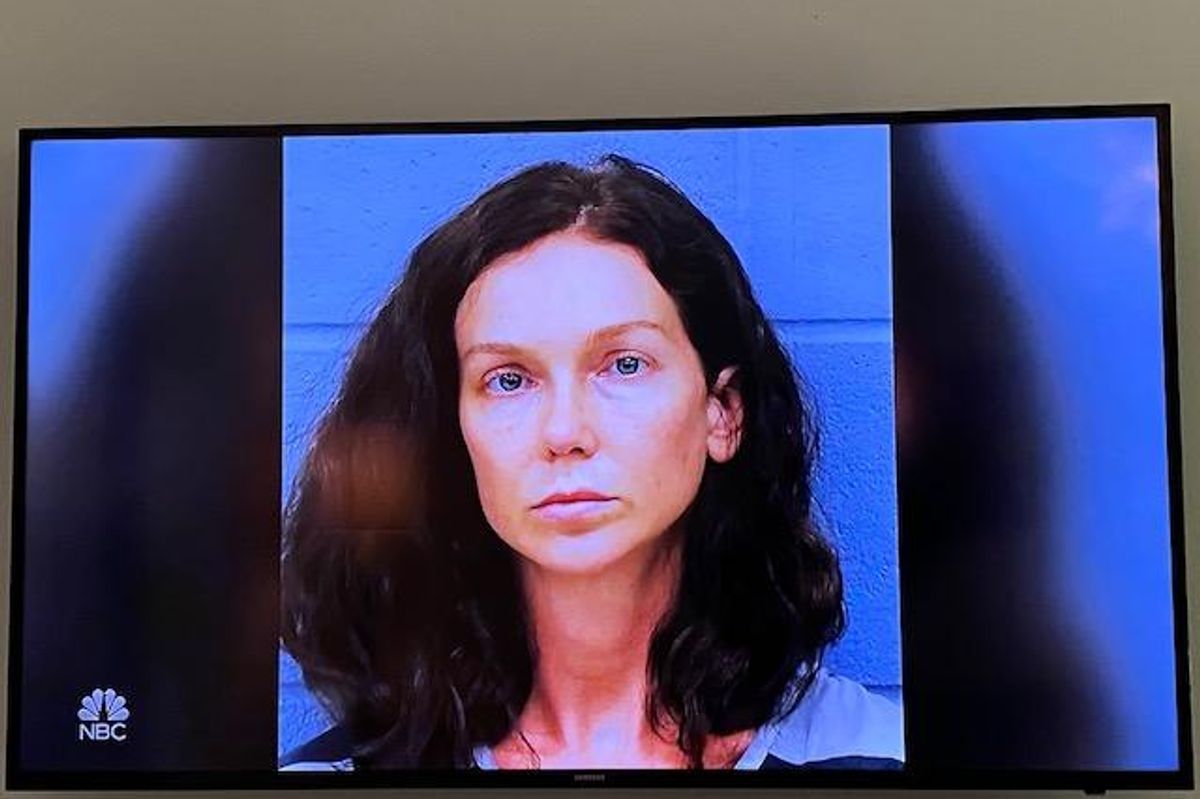 Austin's Kaitlin Armstrong after capture in Costa Rica.
(Editor's note: this is part two of a two part Austonia series tracking the Dateline NBC investigation of Moriah Wilson's murder. Read part one here.)
After pro gravel biker Moriah "Mo" Wilson is gunned down in South Austin on May 11, police investigators develop a "person of interest," Austin's Kaitlin Armstrong, 34, a real estate agent, yoga teacher, amateur cyclist, and longtime girlfriend of Austin cyclist Colin Strickland.
Originally from Michigan, where a childhood friend described her as "fun loving" and "smart," Armstrong finished college and traveled the world studying yoga, in places like Iceland, Bali, and Mexico. She ended up in Austin where she met Colin Strickland. The two were business partners in a vintage trailer business, along with her own venture flipping houses. "Business partners and life partners," NBC said.
According to NBC's evaluation of a police report, a friend of Wilson's, who remains anonymous, said that despite Strickland's relationship with Kaitlin Armstrong, Mo Wilson and Strickland had been seeing each other since their "fling" in Austin months before. NBC reports this friend told police that before she died, Wilson had received a number of calls from Kaitlin Armstrong warning her to stay away from Armstrong's boyfriend, Colin Strickland.
A second tipster claimed to have been present when Armstrong first learned that Wilson and Strickland had been seeing each other. The tipster said Armstrong became "enraged" and threatened to kill Moriah Wilson.
Police found an outstanding warrant for Armstrong for an unpaid botox bill, and brought her in for questioning. She was largely unresponsive to their inquiries. Then police discovered a typo in the warrant and were forced to release her.

Six days after Wilson's death, a police ballistics analysis pointed toward a 9mm weapon owned by Kaitlin Armstrong. In his police interview, Strickland had told police he had previously purchased two 9mm handguns, one for him and one for Armstrong.
Police obtained a warrant to arrest Kaitlin Armstrong for first degree murder, but when they went to arrest her, she was gone.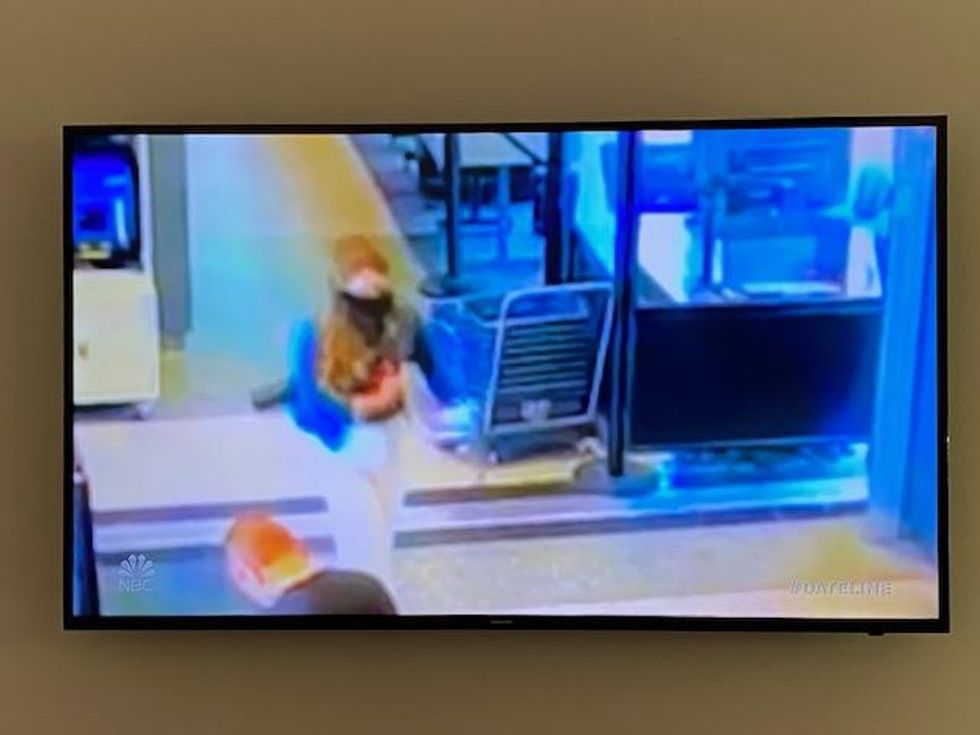 (Dateline NBC)
Disappearance
Austin police asked the U.S. Marshals to find her. The Marshals believed Armstrong was hiding in Austin, until 14 days after the murder when they discovered video from ABIA showing Armstrong, masked and carrying a yoga mat, about to board a plane 3 days after the murder. From Austin, Armstrong had flown to Houston and on to New York's LaGuardia, where the trail went cold.
The Marshals posted a reward, $5,000, asking the public for help. Help came with a tip that Armstrong had been seen in upstate New York a few days after arriving at LaGuardia. Investigators knew that Kaitlin's sister lived there, and went to investigate, but did not find any trace of Armstrong.
Another tip came that Kaitlin had been seen next at Newark International Airport on May 18. But, as before, there was no trail to follow.
But how could she travel without using her identification documents? And how could she survive without using her credit cards and bank account?
Back in Austin, police found her Jeep at a CarMax dealership, where she had sold it weeks before for $12,200.
Costa Rica
Meanwhile, in the small, end-of-the-road surfing town of Santa Teresa, Costa Rica, Kaitlin Armstrong had quietly arrived in town and was working for a local hostel, Don Jon's, checking in guests and teaching yoga.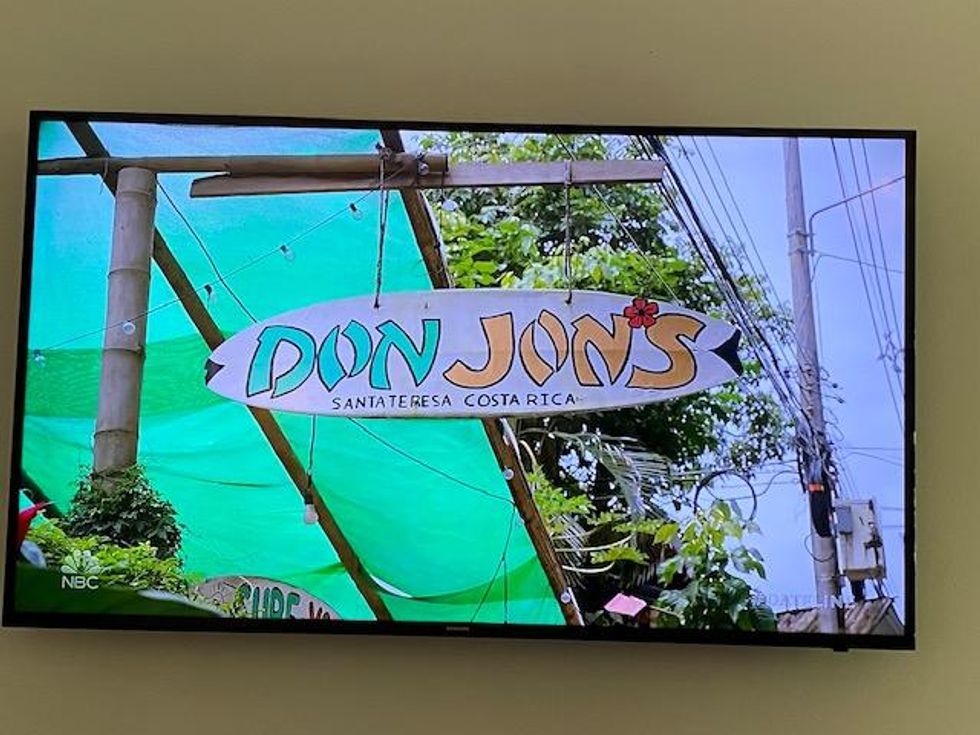 Dateline NBC
(Dateline NBC)
She befriended a local man who described Santa Teresa to NBC as "a really good place to hide out....it's the land of the unwanted, and the 'wanted.'"
At night, Armstrong became a regular at the town's one bar. She called herself "Ari," but didn't say much about past.
She dyed her hair dark and cut it shorter. She traveled to the capital, San Jose, where she may have had plastic surgery to change the appearance of her nose. Armstrong was later identified by an employee of the surgical center, but if that was her, she used a different name to register for the procedure.
Armstrong told people in Santa Teresa that she had had a surfing accident and needed treatment.
Capture
Summing it all up, Austin American-Statesman reporter Ryan Autullo said she "lacked the discipline, frankly, to not get caught." She did some things to conceal herself, but she also wanted to "have fun and live it up at the beach."
Around this time, working off the yoga mat clue, U.S. investigators were contacting police in "yoga destinations" around the world and circulating Armstrong's description. An officer in Costa Rica made inquiries, and was told about a "new yogi" in Santa Teresa.
43 days after Armstrong disappeared, police walked into Don Jon's and arrested her.
In the aftermath, a customer discovered Armstrong's documents, which he photographed before turning over to police. They included her sister's passport, and Armstrong's own passport, American Express Platinum Card, and her social security card.
Armstrong was extradited to the United States, returned to Austin, indicted for murder, and placed in jail with a $3.5 million dollar bail.
She pleaded not guilty, hiring Austin criminal attorney Rick Cofer to defend her.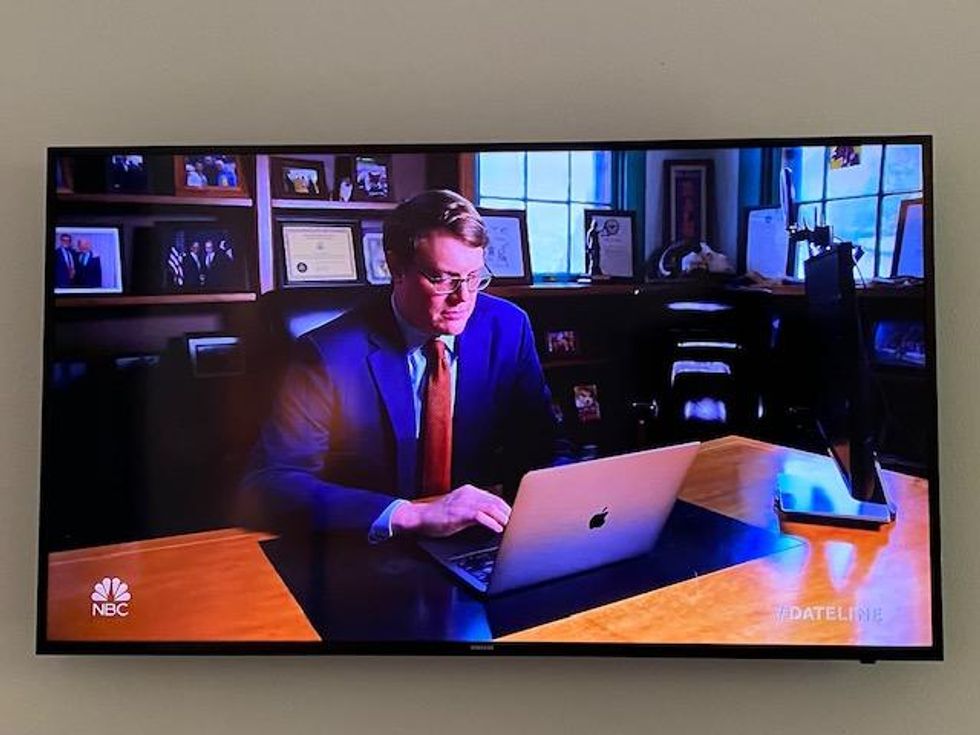 (Dateline NBC)
Cofer, a former prosecutor, was interviewed by NBC. He explained away every point of Armstrong's disappearance and apparent flight to a skeptical interviewer.
He identifies what he says are some weak points in the prosecution's case. Then he perhaps implies that he knows something prosecutors don't. "Kaitlin Armstrong is not guilty, Cofer said. "Evidence will come out that Kaitlin Armstrong was nowhere near the scene of Miss Wilson's murder."
A trial date was set for October 19, but a Travis County judge said in a ruling that an October trial is "highly unlikely."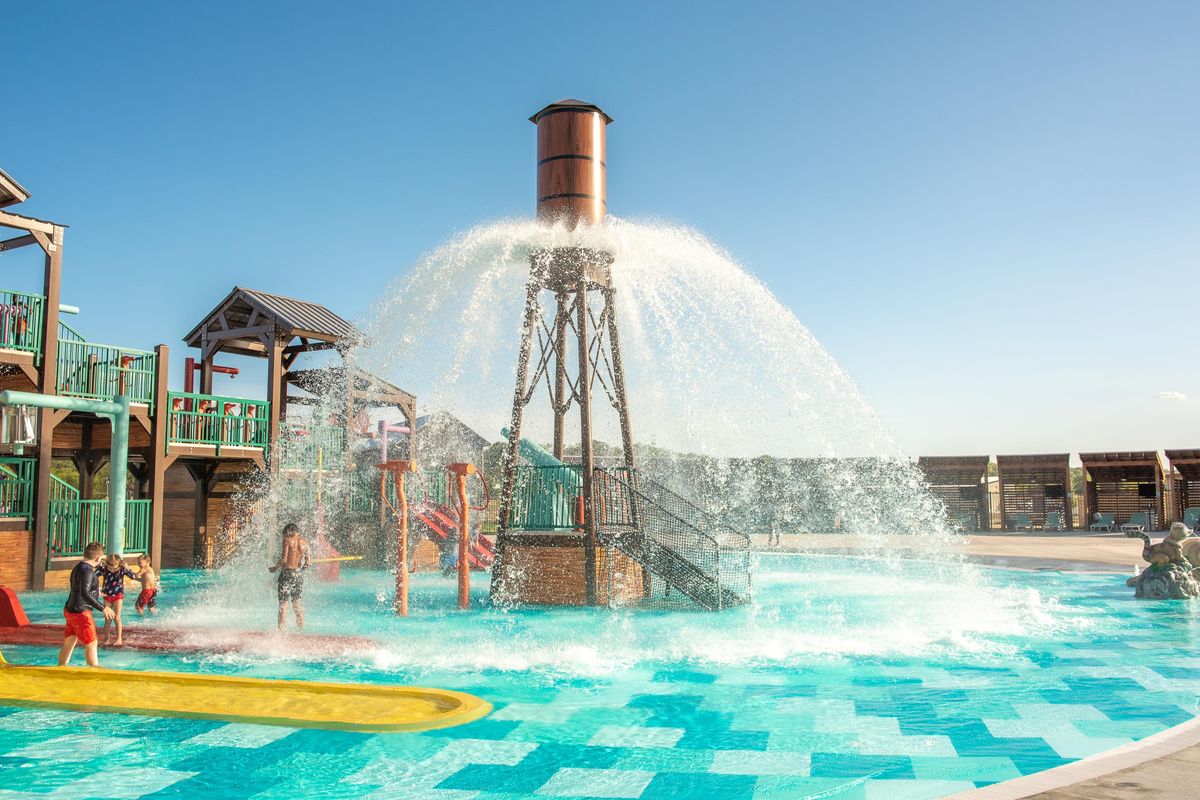 Camp Fimfo Waco
Camp Fimfo Waco, a brand new camping resort, is kicking off football and fall camping season in style! With top-notch amenities, premium accommodations, and 10 weekends of fall fun, there's no better place to have a fall camping getaway, especially if you're a Baylor football fan!
Fall promises to be a one-of-a-kind camping experience. From Sept. 16 to Nov. 24, weekends will be packed with fall-themed activities, including special Halloween weekends in October. Campers can enjoy activities like fall crafts, campground trick-or-treating, costume contests, site decorating, outdoor movie nights, and more!