Austonia AM
100% Austin news, info, and entertainment, straight to your inbox at 6 a.m. every morning.
In five minutes, you're fully informed and ready to start another great day in our city.
Get connected with our daily update
There are a lot of questions circulating about the pandemic and its impact locally. Each month, Austonia will answer them.
---
Is the local COVID situation improving?
No.
Travis County is now reporting a moving average of 154 new confirmed COVID-19 cases each day, up more than 60% on Nov. 1.
The Austin metro is also seeing an increase in COVID-related hospitalizations. The moving average is now 26 new admissions each day, up nearly 50% since Nov. 1.
Austin-Travis County Interim Health Authority Dr. Mark Escott described the current situation as "precarious" and compared it to that of the region on June 17, two weeks ahead of its peak.
"We're not at the stage of recommending a lockdown, but certainly we need people to take less risk in the coming weeks," he said on Monday.
The next day Escott extended existing emergency rules through Dec. 31. First implemented on Aug. 14, the rules require individuals to wear masks, businesses to enforce social distancing and schools to maintain static cohorts of students and teachers, with certain exceptions.
How are area hospitals faring?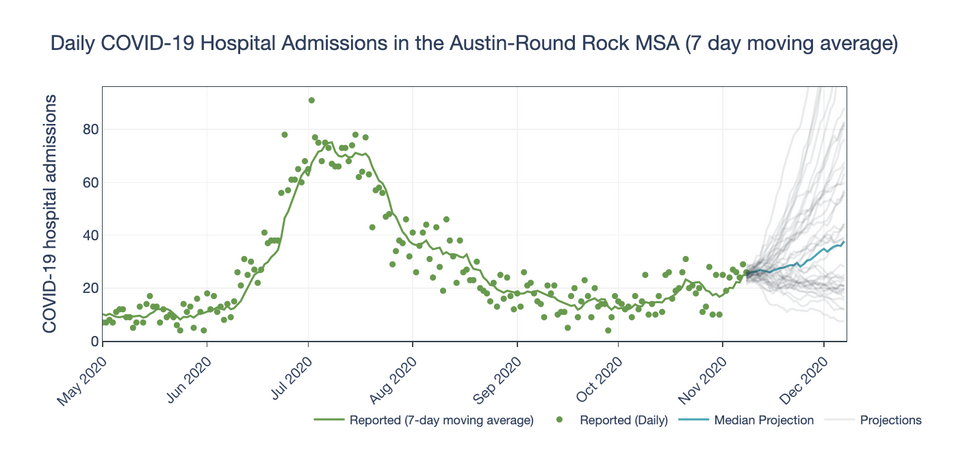 (COVID-19 Modeling Consortium at the University of Texas at Austin)
Austin's three hospital systems—Ascension Seton, Baylor Scott & White Health and St. David's HealthCare—have plenty of capacity. But staffing is a concern, as the local caseload grows and other jurisdictions across Texas face worsening surges, drawing personnel to El Paso, Lubbock and Dallas.
Over the summer, the metro had planned for a surge capacity of 350 ICU beds. At the peak, 170 of those beds were filled, which led to considerable stress on hospital staff, Escott said Tuesday.
As a result, local health officials are considering adjusting the local surge capacity to 200 ICU beds.
"There's lots of space in hospitals. There's a lot of equipment. We have more ventilators locally than we anticipate we would ever need," Escott said. "But we don't have the people."
As of Monday evening, only 45 ICU beds were being used by COVID patients.
But the COVID-19 Modeling Consortium at the University of Texas is projecting that the metro could see as many as 40 COVID-related hospital admissions each day by Thanksgiving, raising concerns about hospital capacity in the coming weeks.
Considering these projections and the possibility that the local surge capacity may be lower than previously planned, Escott said he and other officials are considering reducing the threshold for Stage 4, according to Austin Public Health's risk-based guidelines.
Currently the threshold is 40 or more new COVID-related hospitalizations, on average, each day.
"My concern for the next week to two weeks is that we may need to transition to Stage 4, so that we can flatten the curve again," he said.
Does this affect local recommendations and the state's reopening plan?
Currently, the metro is at a Stage 3 level of risk. If local health officials recommend a move to Stage 4, it would include guidance to avoid dining and shopping except at essential businesses and, for those individuals at high risk of COVID, to limit social gatherings to two people or fewer.
Escott also advocated for a possible rollback of restaurant capacity limits to avoid a second surge. He added that the next logical step may be to ask the governor to consider such an action.
Right now, restaurants are allowed to open at up to 75% capacity, per state order. Until recently, Escott had also suggested that bars may be able to reopen, with modified procedures, in the near future. But that is no longer the case.
"The discussion we should be anticipating in the coming weeks is, 'Do we need to scale back on risk? Do we need to ask restaurants to move back to 50% from 75%?'" Escott said on Monday.
Texas Gov. Greg Abbott announced last month that bars could reopen at 50% capacity in countries that chose to opt in and where COVID patients accounted for no more than 15% of hospitalizations.
Travis County Judge Sam Biscoe has so far declined to allow bars to reopen, citing the rising case numbers.
How does this compare to the state of Texas and the country as a whole?
Although local trend lines are concerning, Travis County is faring better than other metropolitan areas across Texas—with fewer active cases per capita than Harris, El Paso, Dallas, Tarrant or Bexar counties, according to the Department of State Health Services—and the country as a whole.
Over the last week, the U.S. reported 116,448 new COVID cases a day—a 64% increase compared to two weeks ago—and Texas has reported more new cases in the last week than any other state other than Illinois, according to the New York Times.
Local hospitals have already accepted "a handful" of COVID patients from other jurisdictions that have exceeded their capacity, such as El Paso, which occurred during the previous surge and stresses the state's response plan.
If cases in Austin continue to rise, the area will not be able to offer aid to other parts of the state, either in the form of hospital beds or medical professionals, Escott explained.
What does this mean for the upcoming holiday season?
Past holidays, including Memorial Day and most recently Halloween, have been linked to new COVID cases in Travis County.
"I would anticipate that Thanksgiving would have a similar impact," APH Chief Epidemiologist Janet Pichette said on Monday.
Local health officials have been explicit in their advice.
"Don't gather with people outside of your household this Thanksgiving," Escott said Tuesday.
When asked if Austinites should get tested in advance of any holiday gatherings to limit the risk of spread, Escott referred to the latest outbreak of COVID at the White House, adding that everyone who enters the building is tested but may not have the viral load necessary for detection at the time.
For those who plan to gather "against very strong advice" not to, Escott recommended a self-quarantine period of one to two weeks and getting tested within five days of the interaction.
"If you plan to be around those at high risk, you have to be very strict," he said.
What can Austinites do to help flatten the curve?
Local health officials repeated their regular advice: wearing a mask, social distancing and washing one's hands are effective protective measures against COVID.
Escott added that Austinites have successfully flattened the curve in the past and could help repeat this success by limiting their interactions to members of their household and avoiding unnecessary trips.
"If we flatten things out … we'll be in a much better place for Thanksgiving and Christmas," he said Tuesday. "If we don't do that … then Thanksgiving is going to look bad, and Christmas may look worse."
Austinites looking to help are also encouraged to donate blood, where they will be screened for COVID antibodies. If they have developed them, they are eligible to donate convalescent plasma, which is one of the few treatment options for COVID patients and one that can be replenished through donations, unlike the antiviral drug Remdesivir, which Escott said he is concerned may be depleted in the case of another surge.
What is the status of the COVID vaccine?
Pharmaceutical giant Pfizer announced Monday that a potential vaccine candidate has been 90% effective in preventing COVID in a trial setting.
Should the Pfizer trials, which include one being conducted at Austin Regional Clinic, continue to deliver successful results, the company projects it can produce up to 50 million doses globally by the end of the year and 1.3 billion in 2021.
CEO Dr. Albert Bourla told CNN that the company will offer the vaccine for free "to all American citizens."
Local health officials said earlier this week that they are working with state officials and a local coalition to plan for widespread distribution of a vaccine, once one is available.
The coalition will identify priority populations, which will receive earliest access to a vaccine, APH Director Stephanie Hayden said on Monday.
But other challenges remain, including the need for peer review, ultra-cold storage and a second dose.
"There are still a lot of unknowns as far as logistically how things will come," Pichette said.
What is the local testing situation?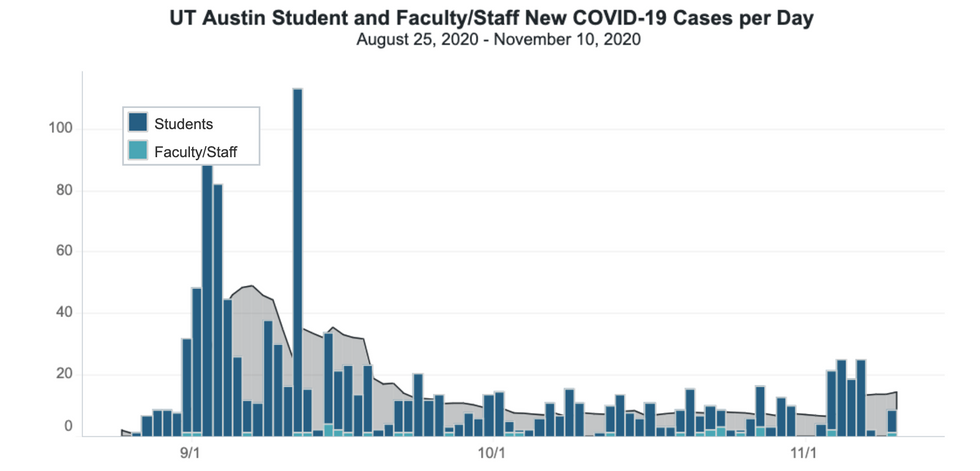 (UT Austin COVID-19 Dashboard)
APH continues to offer free testing to Austin residents.
"We have more tests available than people who are seeking out testing," Escott said Tuesday, encouraging people who gathered for Halloween festivities or attended a post-election protest or celebration to get tested.
However, the local positivity rate is increasing.
Last week's tests, of which around 5,000 have been tallied, produced a positivity rate of 5.3%, which is significantly higher than in recent weeks, when it has mostly stayed below 4%, Escott said.
The University of Texas at Austin, which offers its own testing services, is posting similar increases.
University Health Services and UT Health Austin offered 435 clinical tests to students during the week ending Nov. 7, with a positivity rate of 7.6%, up from 5.4% the week prior.
What is the impact of flu season?
Despite concerns of a "twindemic," when the annual flu season coincided with the pandemic, local health officials are encouraged by the data so far.
"In general, our flu cases have been lower than they have been over the last four seasons," Escott said Monday.
This is heartening given that, last winter, flu patients filled up area hospitals. If that happens this winter, it could limit capacity for COVID patients.
Health officials continue to encourage Austinites to get their flu vaccines to help minimize this possibility.
Matthew McConaughey is reportedly weighing a run for Texas governor in 2022.
The Austin resident and Oscar winner has been "quietly making calls to influential people in Texas political circles, including a deep-pocketed moderate Republican and energy CEO" as he decides whether to run, according to Politico.
McConaughey said a gubernatorial run is "a true consideration" while on a March episode of Houston's "The Balanced Voice" podcast.
Although most political strategists doubt McConaughey's commitment and viability as a candidate, some are still intrigued by the possibility.
"I find it improbable, but it's not out of the question," Karl Rove, a top Republican strategist with a long history in Austin, told the political news site. He added that the big question is whether McConaughey would run as a Republican, a Democrat or an independent.
Brendan Steinhauser, an Austin-based GOP strategist, told Politico he's surprised McConaughey isn't being taken more seriously. "Celebrity in this country counts for a lot," he said. "It's not like some C-list actor no one likes. He has an appeal."

Texas Gov. Greg Abbott plans to run for a third term and remains popular among Republican voters, 77% of whom approve of his performance as of April, according to the Texas Politics Project.
Some strategists believe an independent McConaughey run would benefit Abbott. But a recent poll from The Dallas Morning News and the University of Texas at Tyler found that McConaughey would beat Abbott, 45% to 33%, with 22% opting for someone else.
Mimi Swartz, an executive editor at Texas Monthly, mulled a McConaughey run in a recent opinion essay from the New York Times. "Texas may not be ready for a philosopher king as a candidate, much less governor," she wrote. "May the best man win, man."
Some JuiceLand production facility workers and storefront employees are organizing to demand wage increases, better working conditions (including air conditioning in the warehouse) and pay transparency, among other asks. They are also calling on staff to strike and customers to boycott the Austin-based company until their demands are met.
JuiceLand responded on Saturday. "We are listening," the company wrote on their Instagram story. "JuiceLand crew now makes guaranteed $15 an hour or more companywide."
JuiceLand, which was founded in 2001 by Matt Shook and now has 35 locations in Austin, Houston and Dallas, acknowledged the rising cost of living across Texas and the added stress of the pandemic in an email to employees on Saturday, part of which @juicelandworkersrights shared on social media. "There's no denying that times are tough and financial security means more now than ever," the company wrote.
Organized JuiceLand workers rejected this proposal, according to a recent post on the @juicelandworkersrights Instagram account, and reiterated their demands.
"Cost of living in Austin is rising exponentially and will only continue to get worse with the tech boom," the post read. "$15 is barely a sustainable living."

Related Articles Around the Web