Get connected with our daily update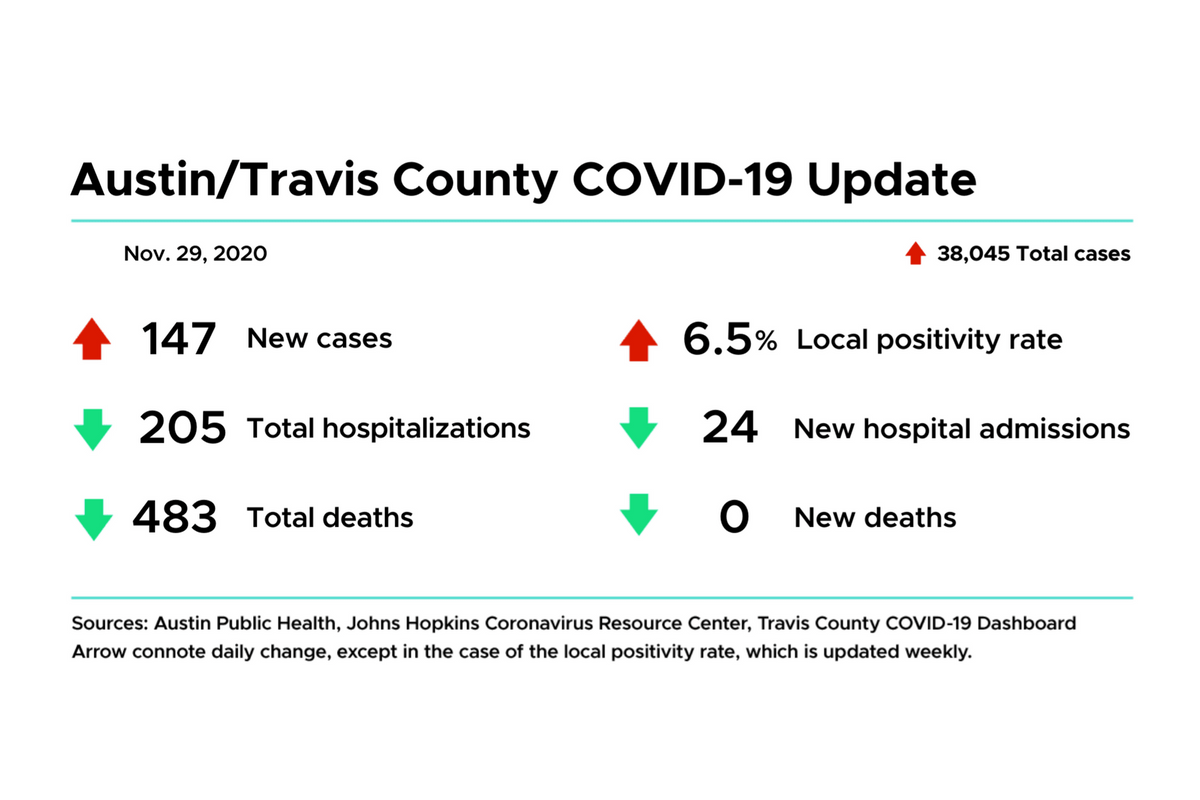 After weeks of warnings, advisories and even an emergency text alert from local health officials, Austin's COVID-19 caseload appears to be on a post-Thanksgiving decline.
---
However, as was the case with past holidays, it will likely take two weeks before the full impact of Thanksgiving gatherings is revealed in local data.
The average number of new confirmed cases reported each day in Travis County is 230, down from 300 a week ago, according to Austin Public Health data. The average number of new COVID-related hospital admissions reported each day in the Austin metro is also falling; it is now 32, down from 38 a week ago.
The COVID-19 Modeling Consortium at the University of Texas at Austin projects a declining number of hospital admissions, on average, in the coming weeks and reports a 4% decline in the number of cases reported in the metro over the last two weeks. The consortium's model uses hospitalization data as well as anonymized cell phone mobility data to make its projections.
Although not the same data source used by the consortium, Google publishes regular COVID-19 community mobility reports. The latest one for Travis County, published on Nov. 24, shows a mixed bag when it comes to residents' behavior in the lead-up to the Thanksgiving holiday. Trips to retail and recreation locations, parks, transit stations and workplaces were all down compared to the baseline. But trips to the grocery store, pharmacy and residences were up.
As with past holidays, such as Memorial Day and the Fourth of July, it's still too early to tell whether Thanksgiving gatherings will contribute to a spike in cases—or mark a turning point in Austin's current surge. Experts have said it typically takes two weeks between transmission and the time that cases are confirmed by test results.
Local health officials issued repeated warnings ahead of Thanksgiving, warning Austinites of the growing surge of new COVID cases and pointing to other jurisdictions, where hospital capacity has already been overwhelmed.
"We are not immune from a tragedy like El Paso's," Austin-Travis County Interim Health Authority Dr. Mark Escott said in a statement earlier this month. "And like El Paso, we could be facing a rapidly growing surge between Thanksgiving and Christmas with Stage 5 a few weeks away."
After a months-long hiatus, Austin's three hospital systems—Ascension Seton, Baylor Scott & White Health and St. David's HealthCare—recently began offering hospital capacity updates on a regular basis. As of the last update, which was provided on Wednesday, the metro's overall hospital occupancy rate is 74% and its ICUs are 82% occupied.
Just dropped my wife Clarissa off at the airport, on her way to El Paso, where they desperately need help from hosp… https://t.co/Kpkt2QIuKf

— Clay Johnston (@Clay Johnston) 1606704942.0
APH issued post-Thanksgiving guidelines on Friday, recommending that residents continue to avoid higher-risk activities, such as indoor gatherings with people outside of their households and travel.

For those who did gather over Thanksgiving, APH recommends getting tested on Monday or Tuesday and staying home for at least a week as a precaution, even if the test results are negative.
The department also recommended that area school districts temporarily return to remote learning for the week following Thanksgiving. Austin ISD heeded the advice; some campuses in the Del Valle, Manor and Round Rock school districts temporarily closed in recent weeks due to outbreaks. UT Austin students will not return to campus until the spring semester.
The COVID-19 Modeling Consortium estimated last week, in its latest update, that there was a 54% chance that at least one person would arrive with a COVID infection for a school or pod of 100 people in Travis County. The larger the school or pod size, the greater the chance of spread.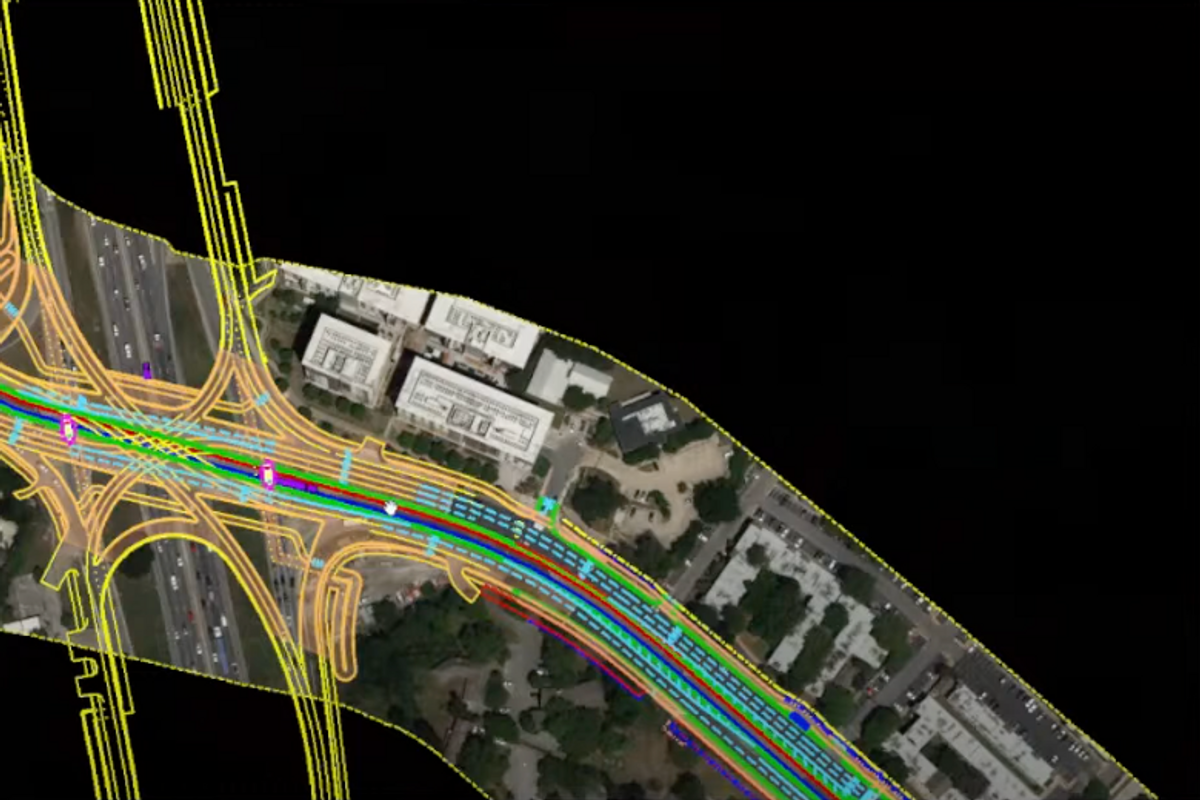 Designs for stations along Project Connect's Blue Line were presented this week, giving a detailed look at what part of the rail system extending from downtown to the airport could look like.
The planned stations that have gotten the latest focus include Waterfront, Travis Heights and Lakeshore stations past Lady Bird Lake.
At the Waterfront station, the preliminary design aims to prevent visual obstructions and save on costs. This is accomplished by a transit guideway that will lower from the bridge to a level station.
Heading onto East Riverside Drive, the light rail faces a curve requiring a slow down to about 10 miles per hour.
The Travis Heights station could involve relocating a pedestrian crosswalk zone at Alameda Drive to Blunn Creek. Since light rails can't effectively operate on a steep grade, this allows the transit guideway to avoid that.
From there, the rail will extend to the Norwood Park area, and though it will reach along the right-of-way zone, the park will be able to remain open.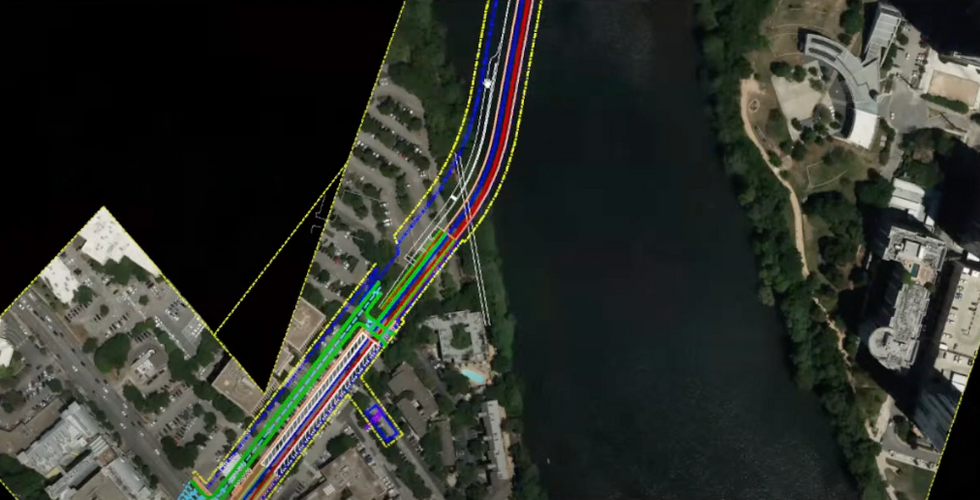 A view of the Blue Line by Lady Bird Lake. (Project Connect)
The line involves some coordination with the Texas Department of Transportation. That's because the department is working on an intersection that will have to be built before the phasing of the section of the Blue Line involving an I-35 crossing.
When it comes to the safety of cyclists and walkers, design ideas include a pedestrian hybrid beacon by East Bouldin Creek that would provide a protected signal to cross. And for the intersection TxDOT is carrying out, Project Connect is working with them on pedestrian access across the intersection. It could involve shared use paths along the street and crossings beneath it.
This summer, the public can expect 30% of design and cost estimates to be released. Though the project was $7.1 billion when voters approved it in November 2020, the latest estimates factoring in inflation and supply chain constraints show it could ultimately be upwards of $10 billion.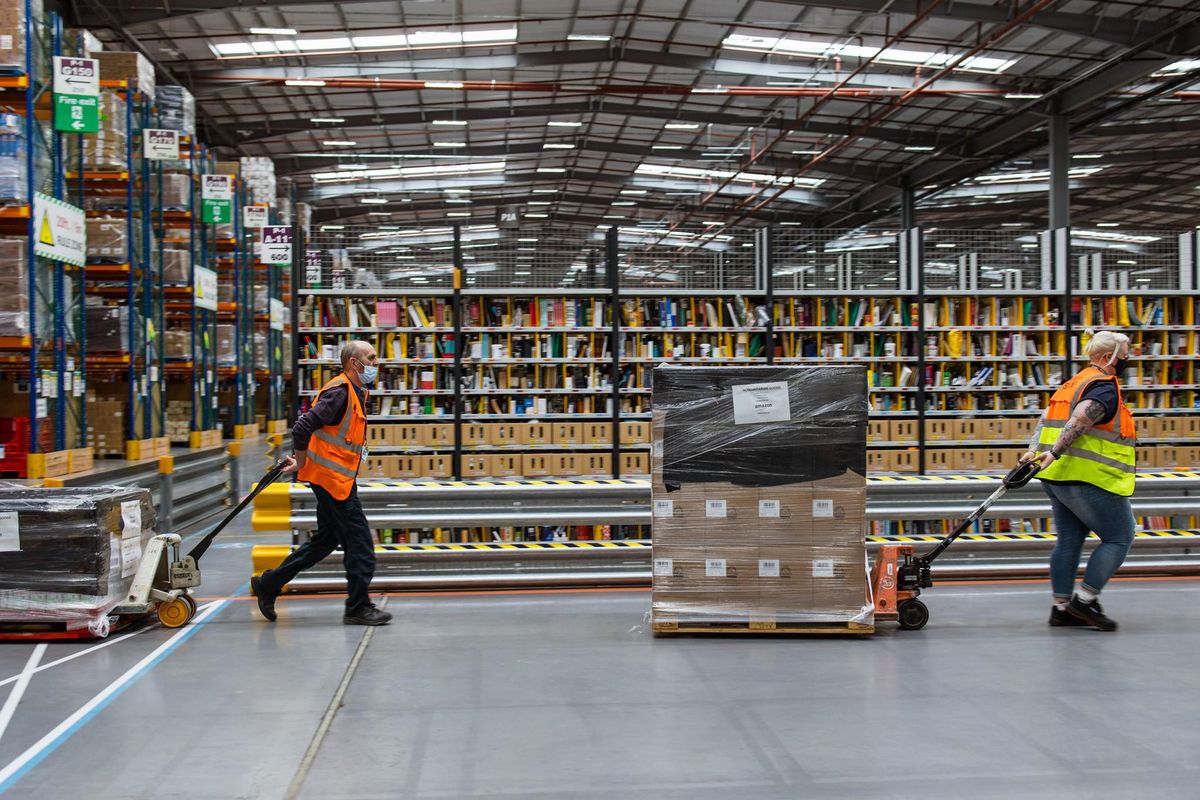 Plans for an Amazon warehouse in Round Rock—a $250 million project slated to be a large distribution center—are on hold.
This comes just after the tech giant had its worst financial quarter in seven years.
The details:
Late last year, it announced an expansion at the Domain adding 2,000 more corporate and tech jobs.
Amazon still owns the site in Round Rock. Plans for it are unclear.
Early this week, the Wall Street Journal reported that Amazon is aiming to scrap warehouse space as it faces a slowdown in its e-commerce operations.
Part of that effort involves exploring the possibility of ending or renegotiating leases with outside warehouse owners. Another aspect is a plan to sublease warehouse space.
"It allows us to relieve the financial obligations associated with an existing building that no longer meets our needs," an Amazon spokeswoman told the Wall Street Journal. "Subleasing is something many established corporations do to help manage their real estate portfolio."