Austonia AM
100% Austin news, info, and entertainment, straight to your inbox at 6 a.m. every morning.
In five minutes, you're fully informed and ready to start another great day in our city.
Get connected with our daily update
(City of Austin)
Despite continued declines in new confirmed COVID-19 cases and related hospital admissions, four primary and secondary schools in Travis County are now reporting clusters, defined as three or more positive cases at a single location, local health officials said Tuesday. More than 25 cases have been reported across the four schools.
Many of these clusters stem from athletic programs, such as strength and conditioning activities for football teams, Austin-Travis County Interim Health Authority Dr. Mark Escott said. He did not provide the names of the four schools; Austonia filed a public information request for more information and is awaiting a response.
---
This news arrives one day after The University of Texas at Austin confirmed two positive COVID cases at its residence halls. Student newspaper The Daily Texan also reported on a third confirmed case at the off-campus Scottish Rite Dormitory over the weekend.
Since classes began last week, the university has reported eight confirmed cases on its public dashboard.
As health officials have predicted, the return to in-person schooling has led to confirmed cases among students. This is why Escott and others have recommended that schools reopen in phases, starting at no more than 25% capacity, despite pushback from some parents.
"It's important to note that disease spread is happening," he said.
Continued declines
Despite these clusters, Travis County has positive news to report.
The moving average number of daily new confirmed COVID-19 cases is now 89—as low as it was in early June, pre-surge—and the number of related hospitalizations and testing positivity rate also continue to decline.
Just over 6% of Travis County residents who were tested for COVID last week returned positive results, according to Austin Public Health data. While disparities continue—with much higher rates of positivity among Native American and Latino residents—the overall rate continues to fall.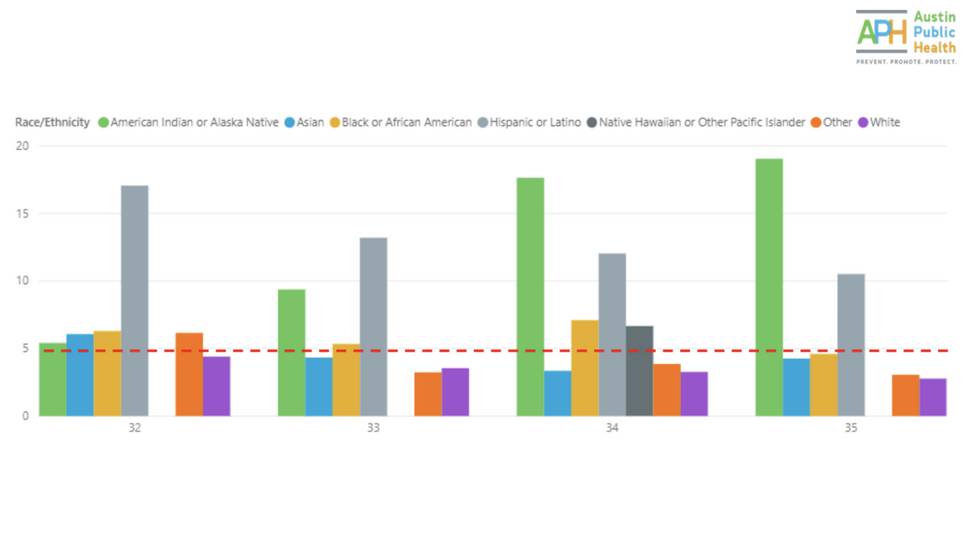 The overall positivity rate for COVID-19 tests conducted in Travis County last week was 6.2%, but that rate varies widely across demographics. (Austin Public Health)
Escott said he would like to see the positive rate fall below 5% for all demographics before moving to a Stage 2 risk designation, which comes with fewer restrictions.
Area ICUs are also out of "present danger," Austin Mayor Steve Adler said Tuesday, with local hospital systems Ascension Seton, Baylor Scott & White Health and St. David's HealthCare reporting a combined occupancy rate of 73% on Monday.

The Austin metro is reporting fewer COVID-related hospital admissions and a lower ICU occupancy rate. (Rational Anarchy/Reddit)
But this does not mean Austinites should relax their precautions, especially given that Labor Day festivities and continued school openings could lead to an increase in new cases.
"On June 10, we were at less than 90 [new confirmed daily] cases [on average]," Escott said, comparing it to the current average. "It only took us three weeks to reach our peak of 558 cases a day … but it took us two months to get down from that peak."
Other news
Austin Public Health released the names of long-term care facilities that have reported outbreaks after previously refusing to do so, citing privacy concerns.
Texas Attorney General Ken Paxton's office ruled in July that the Texas Health and Human Services Commission should disclose such information, according to a news release from the Freedom of Information Foundation of Texas.
The nonprofit had advocated for the release of such information, arguing that revealing the names of impacted facilities "does not identify an individual resident."
Escott included the names of local facilities with current clusters in his weekly update to council members and county commissioners.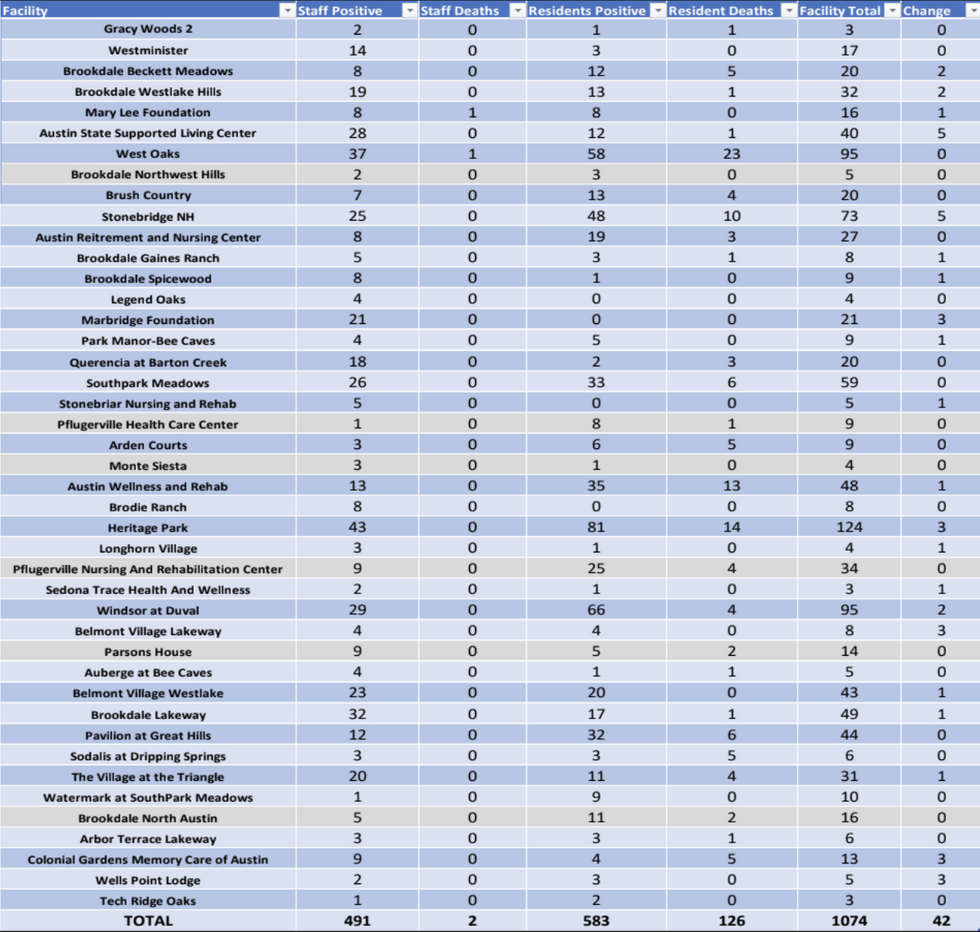 Austin-Travis County Interim Health Authority Dr. Mark Escott shared the names of local long-term care facilities that have COVID clusters for the first time on Tuesday. (Austin Public Health)
Matthew McConaughey is reportedly weighing a run for Texas governor in 2022.
The Austin resident and Oscar winner has been "quietly making calls to influential people in Texas political circles, including a deep-pocketed moderate Republican and energy CEO" as he decides whether to run, according to Politico.
McConaughey said a gubernatorial run is "a true consideration" while on a March episode of Houston's "The Balanced Voice" podcast.
Although most political strategists doubt McConaughey's commitment and viability as a candidate, some are still intrigued by the possibility.
"I find it improbable, but it's not out of the question," Karl Rove, a top Republican strategist with a long history in Austin, told the political news site. He added that the big question is whether McConaughey would run as a Republican, a Democrat or an independent.
Brendan Steinhauser, an Austin-based GOP strategist, told Politico he's surprised McConaughey isn't being taken more seriously. "Celebrity in this country counts for a lot," he said. "It's not like some C-list actor no one likes. He has an appeal."

Texas Gov. Greg Abbott plans to run for a third term and remains popular among Republican voters, 77% of whom approve of his performance as of April, according to the Texas Politics Project.
Some strategists believe an independent McConaughey run would benefit Abbott. But a recent poll from The Dallas Morning News and the University of Texas at Tyler found that McConaughey would beat Abbott, 45% to 33%, with 22% opting for someone else.
Mimi Swartz, an executive editor at Texas Monthly, mulled a McConaughey run in a recent opinion essay from the New York Times. "Texas may not be ready for a philosopher king as a candidate, much less governor," she wrote. "May the best man win, man."
Some JuiceLand production facility workers and storefront employees are organizing to demand wage increases, better working conditions (including air conditioning in the warehouse) and pay transparency, among other asks. They are also calling on staff to strike and customers to boycott the Austin-based company until their demands are met.
JuiceLand responded on Saturday. "We are listening," the company wrote on their Instagram story. "JuiceLand crew now makes guaranteed $15 an hour or more companywide."
JuiceLand, which was founded in 2001 by Matt Shook and now has 35 locations in Austin, Houston and Dallas, acknowledged the rising cost of living across Texas and the added stress of the pandemic in an email to employees on Saturday, part of which @juicelandworkersrights shared on social media. "There's no denying that times are tough and financial security means more now than ever," the company wrote.
Organized JuiceLand workers rejected this proposal, according to a recent post on the @juicelandworkersrights Instagram account, and reiterated their demands.
"Cost of living in Austin is rising exponentially and will only continue to get worse with the tech boom," the post read. "$15 is barely a sustainable living."

Related Articles Around the Web