Get connected with our daily update
(City of Austin)
Despite continued declines in new confirmed COVID-19 cases and related hospital admissions, four primary and secondary schools in Travis County are now reporting clusters, defined as three or more positive cases at a single location, local health officials said Tuesday. More than 25 cases have been reported across the four schools.
Many of these clusters stem from athletic programs, such as strength and conditioning activities for football teams, Austin-Travis County Interim Health Authority Dr. Mark Escott said. He did not provide the names of the four schools; Austonia filed a public information request for more information and is awaiting a response.
---
This news arrives one day after The University of Texas at Austin confirmed two positive COVID cases at its residence halls. Student newspaper The Daily Texan also reported on a third confirmed case at the off-campus Scottish Rite Dormitory over the weekend.
Since classes began last week, the university has reported eight confirmed cases on its public dashboard.
As health officials have predicted, the return to in-person schooling has led to confirmed cases among students. This is why Escott and others have recommended that schools reopen in phases, starting at no more than 25% capacity, despite pushback from some parents.
"It's important to note that disease spread is happening," he said.
Continued declines
Despite these clusters, Travis County has positive news to report.
The moving average number of daily new confirmed COVID-19 cases is now 89—as low as it was in early June, pre-surge—and the number of related hospitalizations and testing positivity rate also continue to decline.
Just over 6% of Travis County residents who were tested for COVID last week returned positive results, according to Austin Public Health data. While disparities continue—with much higher rates of positivity among Native American and Latino residents—the overall rate continues to fall.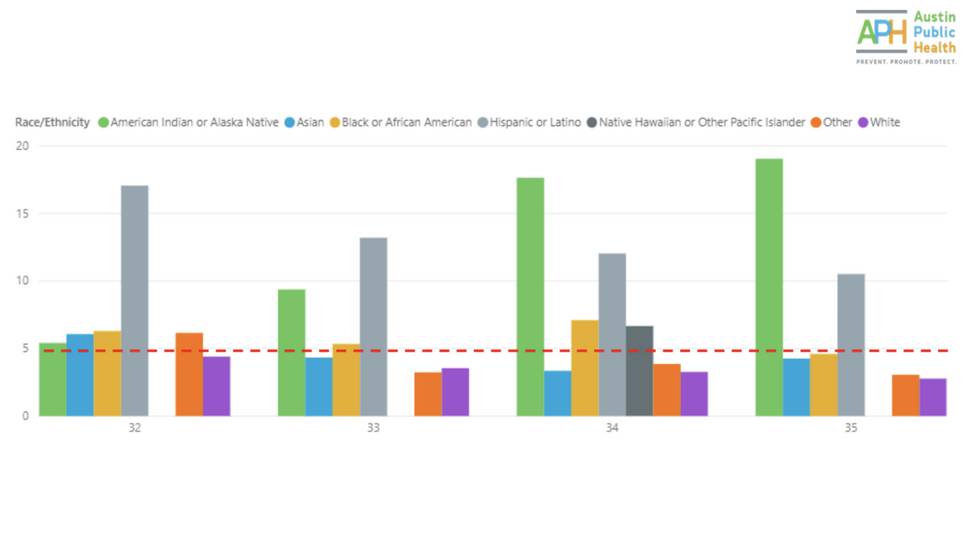 The overall positivity rate for COVID-19 tests conducted in Travis County last week was 6.2%, but that rate varies widely across demographics. (Austin Public Health)
Escott said he would like to see the positive rate fall below 5% for all demographics before moving to a Stage 2 risk designation, which comes with fewer restrictions.
Area ICUs are also out of "present danger," Austin Mayor Steve Adler said Tuesday, with local hospital systems Ascension Seton, Baylor Scott & White Health and St. David's HealthCare reporting a combined occupancy rate of 73% on Monday.

The Austin metro is reporting fewer COVID-related hospital admissions and a lower ICU occupancy rate. (Rational Anarchy/Reddit)
But this does not mean Austinites should relax their precautions, especially given that Labor Day festivities and continued school openings could lead to an increase in new cases.
"On June 10, we were at less than 90 [new confirmed daily] cases [on average]," Escott said, comparing it to the current average. "It only took us three weeks to reach our peak of 558 cases a day … but it took us two months to get down from that peak."
Other news
Austin Public Health released the names of long-term care facilities that have reported outbreaks after previously refusing to do so, citing privacy concerns.
Texas Attorney General Ken Paxton's office ruled in July that the Texas Health and Human Services Commission should disclose such information, according to a news release from the Freedom of Information Foundation of Texas.
The nonprofit had advocated for the release of such information, arguing that revealing the names of impacted facilities "does not identify an individual resident."
Escott included the names of local facilities with current clusters in his weekly update to council members and county commissioners.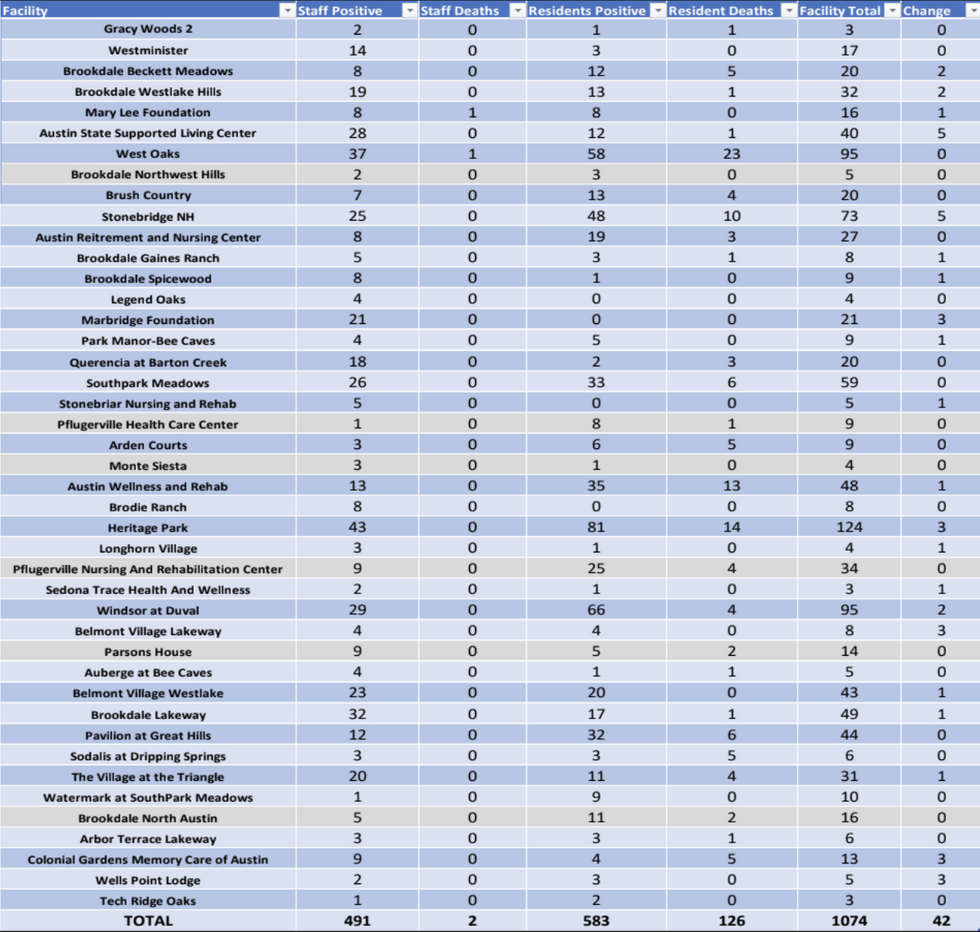 Austin-Travis County Interim Health Authority Dr. Mark Escott shared the names of local long-term care facilities that have COVID clusters for the first time on Tuesday. (Austin Public Health)
The Texas French Bread Bakery, located on 2900 Rio Grande Street, has been completely destroyed after a fire erupted on Monday night.
The Austin Fire Department responded to the fire just before 11 p.m., where they arrived to see flames coming from the roof of the bakery. Firefighters fought the fire for about an hour before the roof collapsed.
While no one was injured in the fire, firefighters say the historic building was completely totaled.
AFD determined that the fire was accidental and caused by mechanical failure. AFD said the damages amounted to $1.6 million total: $1.1 million in structural damage and $500,000 in damage to the contents of the bakery.

This year, Texas French Bread will celebrate 40 years of business. Before the bakery occupied the building, it was the Rome Inn, a music venue that hosted 1970s artists like Stevie Ray Vaughan.
Austin's first major league team is ready to extend its reach with a new collaborative sports complex The Pitch, an Austin FC destination packed with local food, beverages and Verde fervor is set to open in Northeast Austin in February.
The Pitch, a collaboration between Austin FC and Karlin Real Estate, among other entities, will be located in the 50-acre Parmer Pond District, which already hosts the club's practice facility St. David's Performance Center.
Dubbed a "true destination" for both soccer fans and the community, The Pitch will consist of multilevel shipping containers designed by Mark Odom Studio that will carve out into a 1,200-seat stadium complete with a soccer pitch made of turf, food and beverage options and a five-acre "Parmer Pond" featuring jogging trails.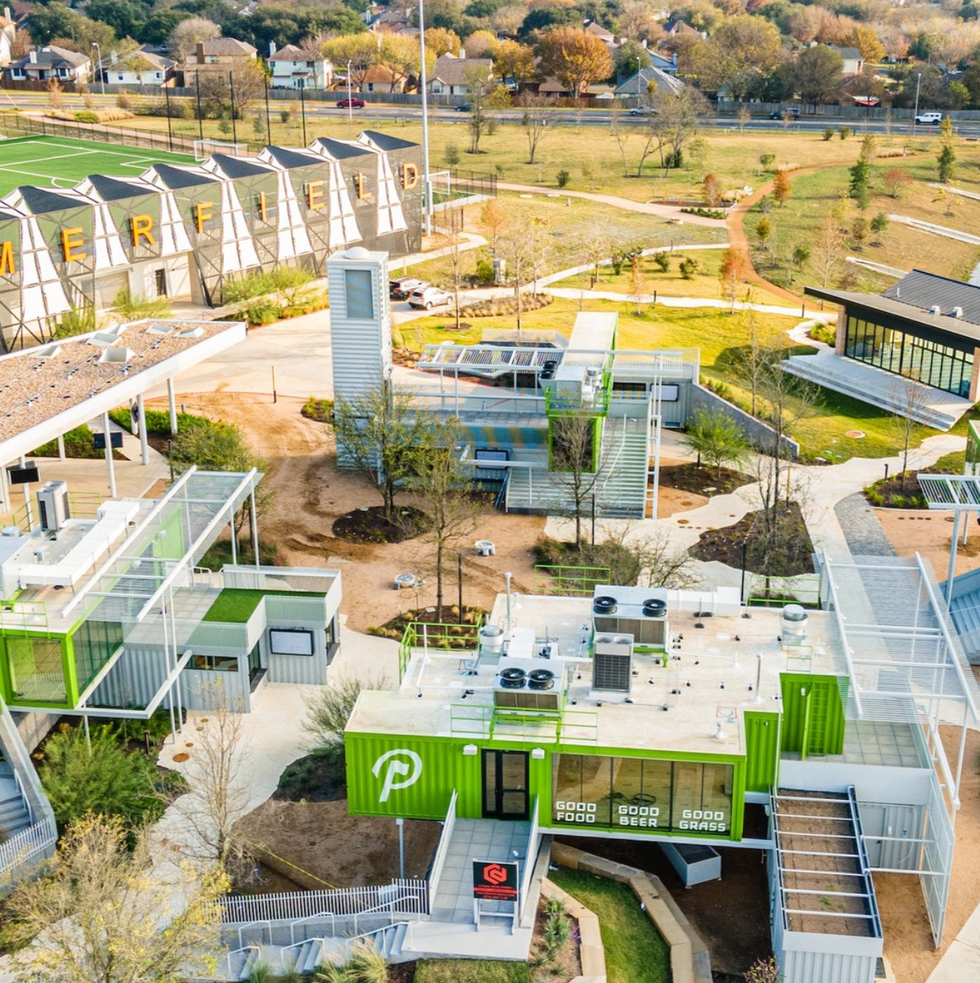 Made from multilevel shipping containers, The Pitch will include food and a 1,200-seat soccer pitch made from artificial turf. (The Pitch)
"The launch of Karlin's new food and entertainment experience will greatly enhance the Parmer development while perfectly complimenting St. David's Performance Center," Austin FC founder Anthony Precourt said. "The Pitch... will offer a strong variety of food options and gathering spaces for guests who will utilize St. David's Performance Center and Parmer Field for a variety of events."
The Pitch project lead Dave Greeley, who helped come up with the concept, is a former president of Austin FC parent company, Two Oak Ventures.
"The vision behind The Pitch at the Parmer Pond District is to be a first-of-its-kind sports, dining and entertainment destination," said Dave Greeley, The Pitch project lead and Team Orbis president. "This will be an unmatched experience for Parmer Austin tenants, Austin FC and club supporters, and the community."
With its proximity to the practice center, the venture hopes to contribute to the growing "soccer city" of Austin during Austin FC matches and youth games with the Austin FC Academy hosted at the St. David's Performance Center.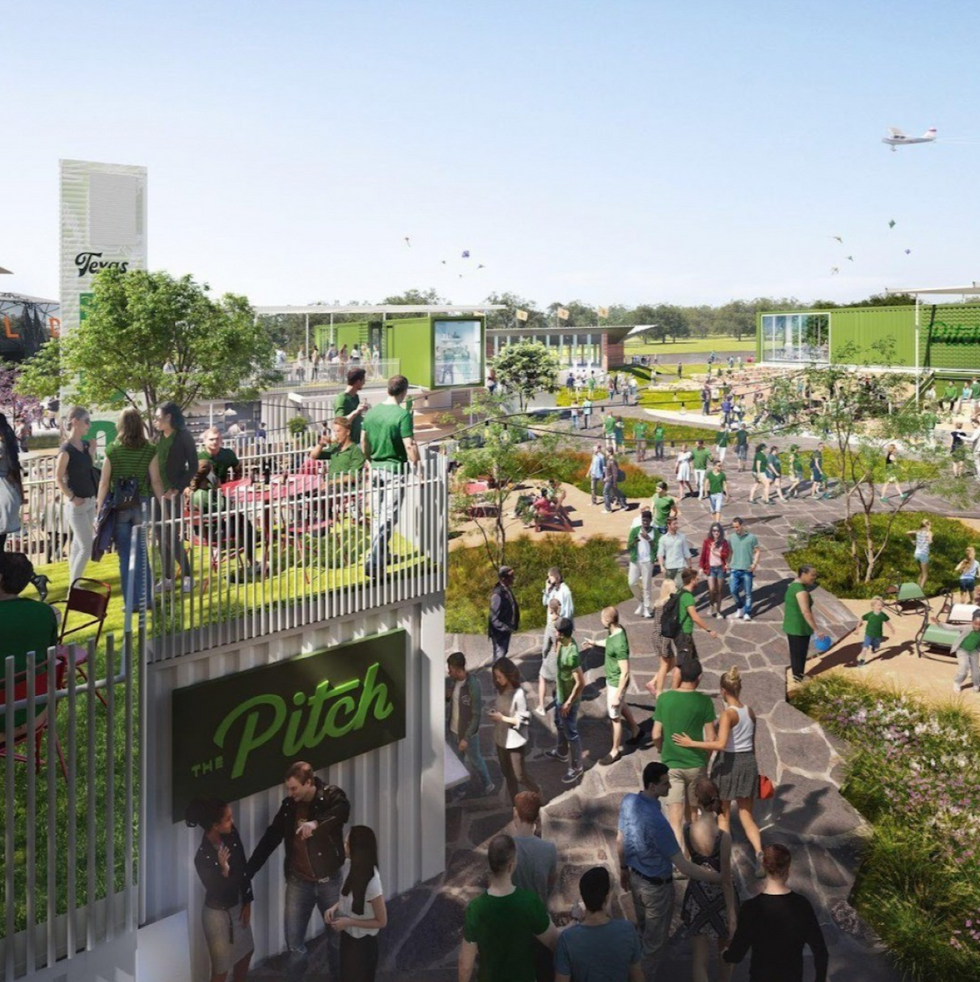 The Pitch hopes to converge both community and club interests with Austin FC. (The Pitch)
In addition to the soccer pitch, stadium and pond, The Pitch will provide a foody experience made by the creative team behind Austin staples like Fareground and Easy Tiger. The complex will offer local bites including:
Ranger Burger, which offers beers and burgers made from highly-coveted Wagyu beef direct from Ranger Cattle in East Austin
Ga Roti, which merges flavors from Northern Vietnam with the culinary techniques of France to create a unique rotisserie chicken joint
Taco Flats, a local taco chain serving Mexico City-style tacos, micheladas and more
Sand Bar, which fulfills its namesake with beauty cocktails, local beers and a sand volleyball court
Coffee Club, a coffee shop and bakery
Corner Kick Bar, the soccer-focused main bar of The Pitch complete with "tunes, TVs and (a) beer garden"
The Pitch will squeeze between St. David's Performance Center and Parmer Pond alongside the southern edge of Parmer Austin, a Karlin Real Estate venture that will eventually include multifamily housing, corporate office space and an aerospace and defense center.