Get connected with our daily update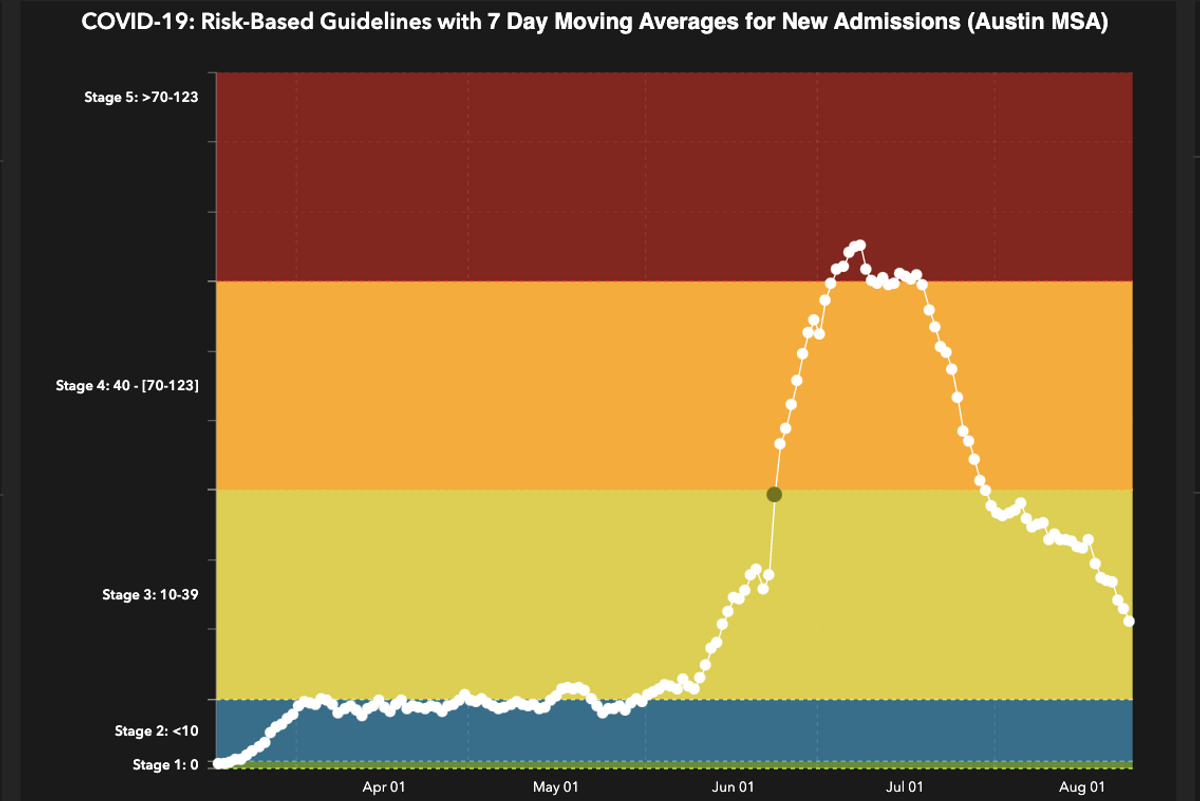 (Austin Public Health)
The Austin area moved to a Stage 3 level of risk after more than two months at Stage 4, with Austin-Travis County Interim Health Authority Dr. Mark Escott citing declines in the number of new confirmed cases, COVID-related hospitalizations and the positivity rate as reasons for the change.
---
Local health officials identified a threshold of 40 new daily COVID-related hospital admissions, on average, as the threshold between Stage 3 and Stage 4. Although Travis County reported fewer than 40 admissions on average since July 30, Escott had previously recommended maintaining the Stage 4 designation because of a plateau in new confirmed cases and concerns about a recurring surge.
But in the last two weeks about half of the new cases reported in Travis County were backlogged and are no longer active, which suggests the plateau is giving way. "We have evidence now that supports the fact that our cases are actually declining more substantially," Escott told City Council members on Tuesday.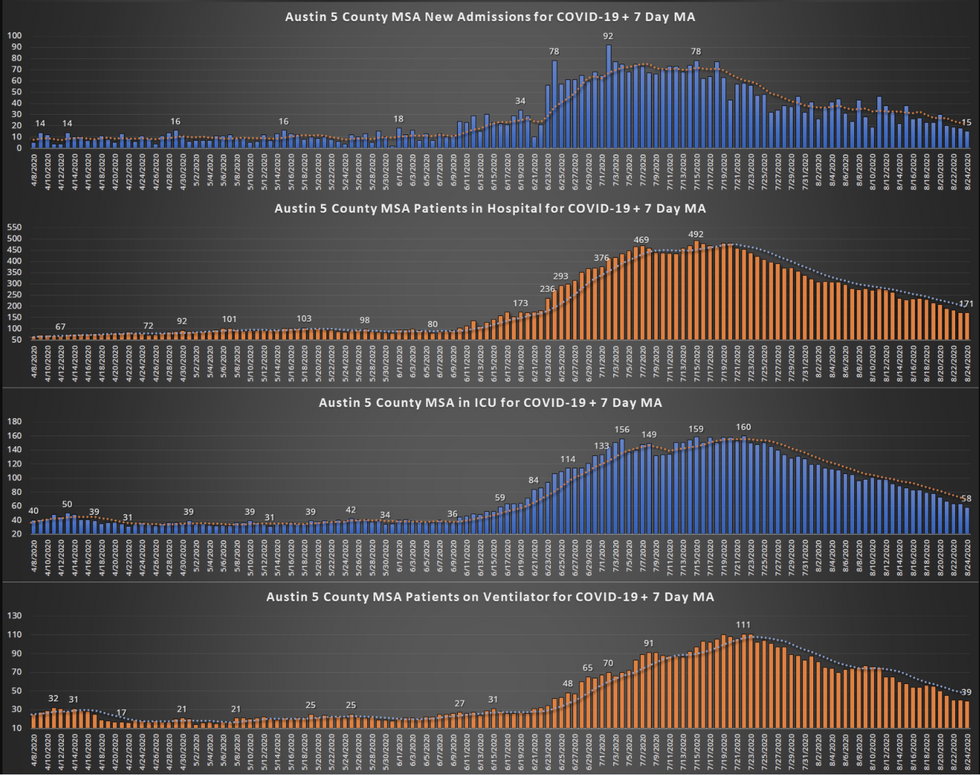 New COVID-related hospitalizations, ICU occupancy rates and ventilator use are all on the decline. (Rational Anarchy/Reddit)
This, combined with a clear decline in COVID-related hospitalizations and a continually decreasing positivity rate, supports a lower risk level. "I feel confident now in making the recommendation that we change our staging risk to Stage 3," he said.
The main difference between Stage 3 and Stage 4 is a recommendation at the higher stage that individuals restrict their trips to only essential businesses and those that have reopened per the state's plan. But Austinites should still act in a protective way: adhering to social distancing guidelines, wearing masks and avoiding social gatherings.
"Even though we're in Stage 3, we must continue to act as if we're in Stage 4, if at all possible," Escott said. "Why is that important? Because we are approaching the start of school."
There is not enough evidence yet to know how COVID will spread once students return to the classroom, Escott said, but it will likely lead to an increase in confirmed cases.
Already, there is concern about the start of classes at the University of Texas at Austin and other area colleges, as photos and videos have circulated on social media showing crowds of students outside of sorority houses and downtown bars.
Photo taken by my colleague on UT's west campus today. Sorority rush. No masks, but if you look closely they are we… https://t.co/pfqDihZ18V

— Catherine Weaver (@Catherine Weaver) 1598317015.0
There are also concerns about flu season and the upcoming Labor Day weekend, given that festivities over Memorial Day weekend set off the Austin area's first surge.

Addressing misinformation
In recent weeks, some residents have expressed disapproval of the local response to COVID, insinuating that the pandemic cure is worse than the disease.
Gale Atwater called into the Travis County Commissioners Court meeting last week to ask if Escott considers the costs of the lockdown against the cost of reopening. "I think that you should be balancing that with what is being lost with our humanity, with how many people in nursing homes haven't touched their grandchild, how many suicides happened, how many drugs, etcetera, etcetera," Atwater said.
In his weekly update, Escott addressed some of these questions, as well as other claims that have circulated on social media.
There is no clinical evidence that masks cause pneumonia or toxic levels of carbon dioxide, Escott said, and the Travis County medical examiner reports that there is some evidence that the number of deaths by suicide have actually declined year-over-year.

There is also material online suggesting that COVID-19 is no more dangerous than the seasonal flu, but this is also wrong. So far, 11,773 Texans have died from the coronavirus, compared to 3,516 from the flu during the 2019-20 season.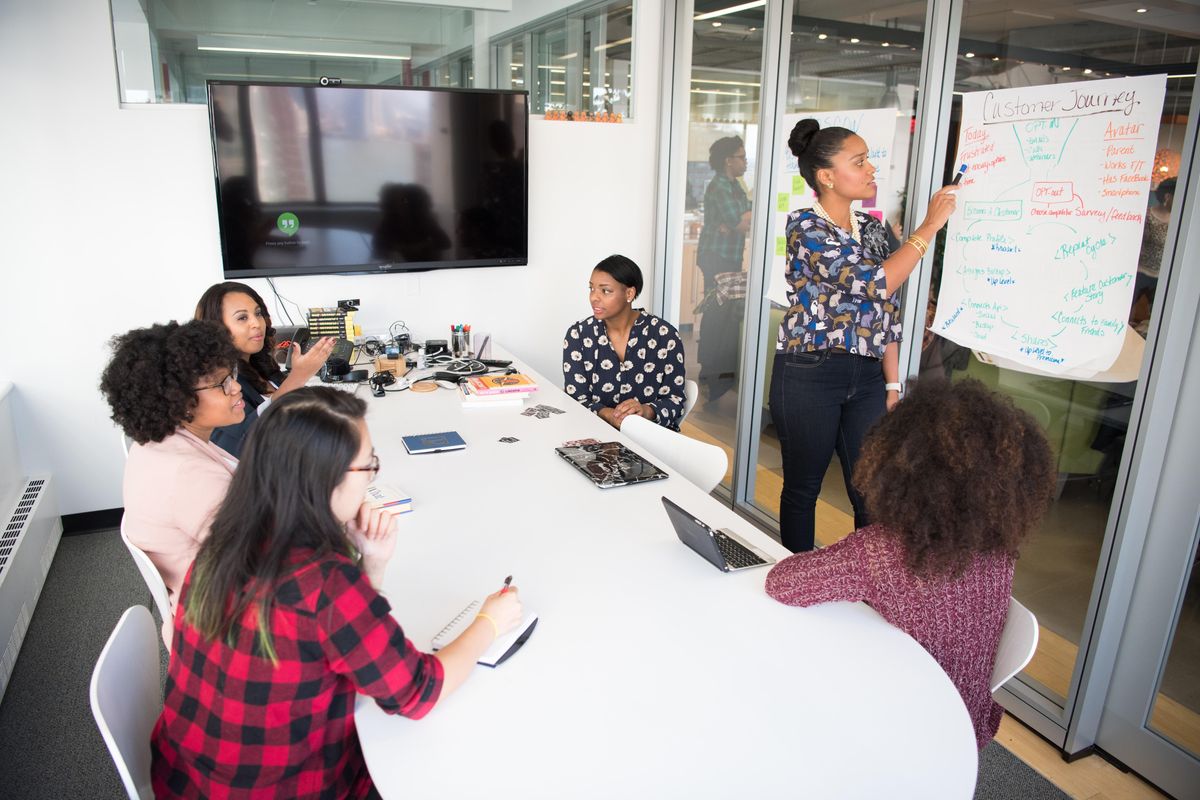 The 40-hour workweek has reigned since around the time of the Great Depression. But a new schedule gaining steam could lead some companies to throw out the practice of having employees clock in five days a week.
Promising results are coming out halfway into a six-month trial of four-day workweeks in the U.K. with 35 out of 41 companies responding to a recent survey saying they were "likely" or "very likely" to continue the reduced week after the pilot ends.
The trial, which began in June, is run by nonprofit 4 Day Week Global, think tank Autonomy, the 4 Day Week UK campaign and researchers at Cambridge University, Boston College and Oxford University. It involves 3,300 workers across 72 companies who are trying out one paid day off per week between Monday and Friday.
During the four-day week, 34% of companies reported that productivity "improved slightly" and 15% say it "improved significantly."
With the survey indicating that a four-day workweek could have some perks for companies and employees alike, will Austin join in on the trend?
On job searching tools like LinkedIn and Indeed, some jobs based in Central Texas are boasting a four-day work week. And Coltech Global, a recruiting firm based in London with a growing presence in Austin, began the four-day work week about a year ago.
Jessica Sutcliffe, a staffing consultant at Coltech, joined the company to help grow the U.S. market. She says due to the time difference between the U.S. team and the UK one, the company implemented a four-day week.
"I've found it very beneficial as it allows time to rest and complete life admin, whilst also enjoying life, travel and be able to come back to work rested/fulfilled outside of work, which ultimately helps focus inside of those core work hours," Sutcliffe said via email.
In an Instagram post, Coltech said that not only are employees feeling the benefits of being more refreshed in the mornings, having reduced illness and a less stressed atmosphere, but it's also improving their carbon footprint since there's less time spent traveling to the office and using energy.
Niki Jorgensen, director of service operations at human resources service provider Insperity, noted similar factors driving companies to make the change to a reduced work week.
"The most significant benefit for a company to adopt the four-day workweek is the improvement of employee morale," Jorgensen told Austonia via email. "Over the past two years, numerous studies have shown employees think a four-day workweek reduces stress and burnout. With reduced stress and burnout comes improved employee engagement."
And while Austin is already drawing in plenty of workers who are in their early careers, a four-day week may help companies stand out to that bracket's top talent even more.
"Companies can leverage this to make their company more appealing, especially to younger generations who strongly consider factors outside of compensation when choosing employment," Jorgensen said.
She went on to offer a few tips for making a smooth transition to a four-day week like setting expectations and staggering coverage so that it's still possible to see clients five days a week. Also, employers should be flexible. She says some employees may not be able to get 40 hours of work done in a shorter week due to responsibilities like childcare, so employers should consider how they can still accomplish their duties.
Before ditching the 40-hour workweek though, it can help to take a temperature check to see if an extra day off is the right fit for the workplace.
"Do not implement a flexible schedule such as the four-day workweek if business owners and managers cannot commit to the level of trust and flexibility needed to ensure the schedule's success," Jorgensen said.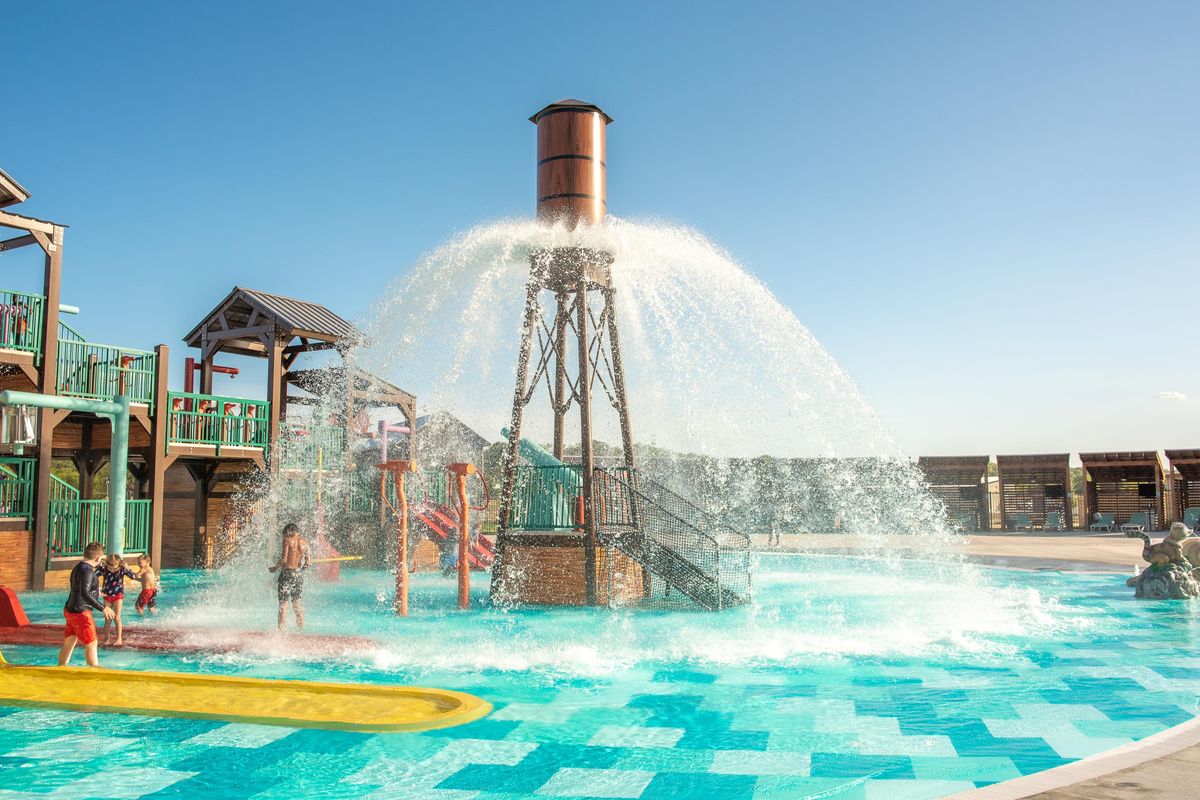 Camp Fimfo Waco
Camp Fimfo Waco, a brand new camping resort, is kicking off football and fall camping season in style! With top-notch amenities, premium accommodations, and 10 weekends of fall fun, there's no better place to have a fall camping getaway, especially if you're a Baylor football fan!
Fall promises to be a one-of-a-kind camping experience. From Sept. 16 to Nov. 24, weekends will be packed with fall-themed activities, including special Halloween weekends in October. Campers can enjoy activities like fall crafts, campground trick-or-treating, costume contests, site decorating, outdoor movie nights, and more!