Get connected with our daily update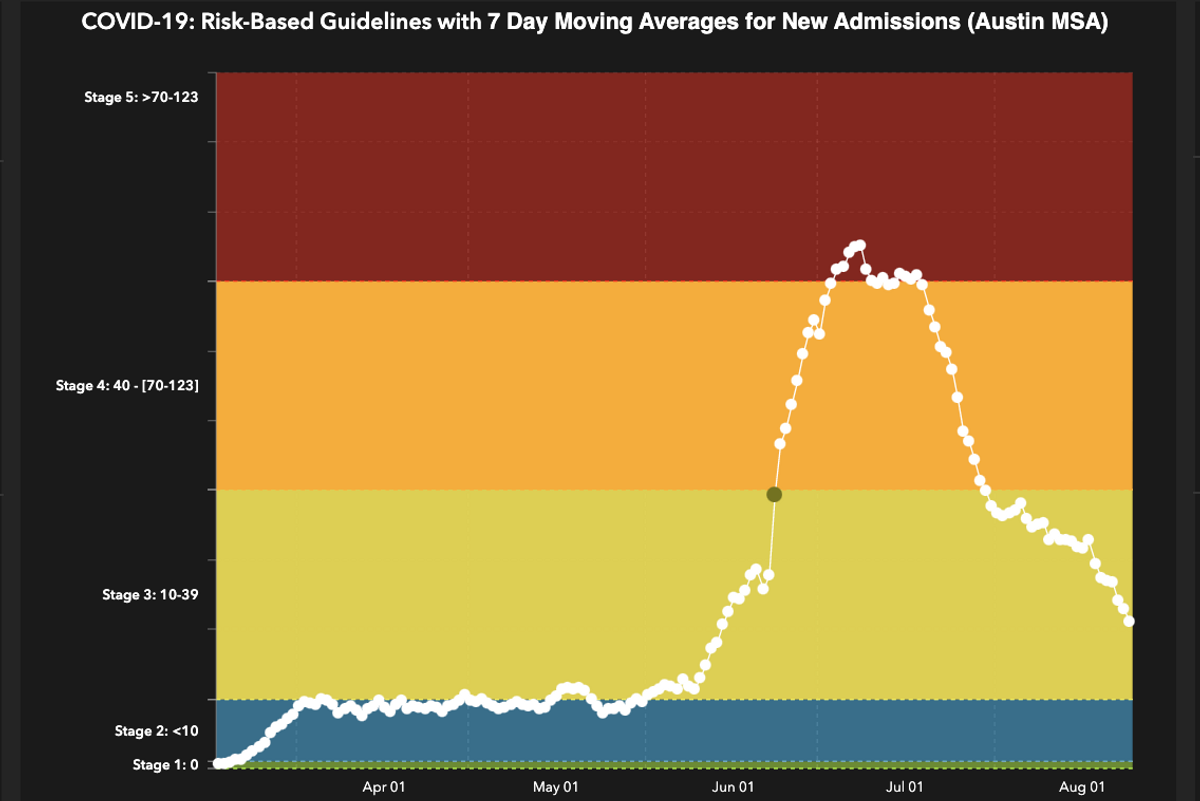 (Austin Public Health)
The Austin area moved to a Stage 3 level of risk after more than two months at Stage 4, with Austin-Travis County Interim Health Authority Dr. Mark Escott citing declines in the number of new confirmed cases, COVID-related hospitalizations and the positivity rate as reasons for the change.
---
Local health officials identified a threshold of 40 new daily COVID-related hospital admissions, on average, as the threshold between Stage 3 and Stage 4. Although Travis County reported fewer than 40 admissions on average since July 30, Escott had previously recommended maintaining the Stage 4 designation because of a plateau in new confirmed cases and concerns about a recurring surge.
But in the last two weeks about half of the new cases reported in Travis County were backlogged and are no longer active, which suggests the plateau is giving way. "We have evidence now that supports the fact that our cases are actually declining more substantially," Escott told City Council members on Tuesday.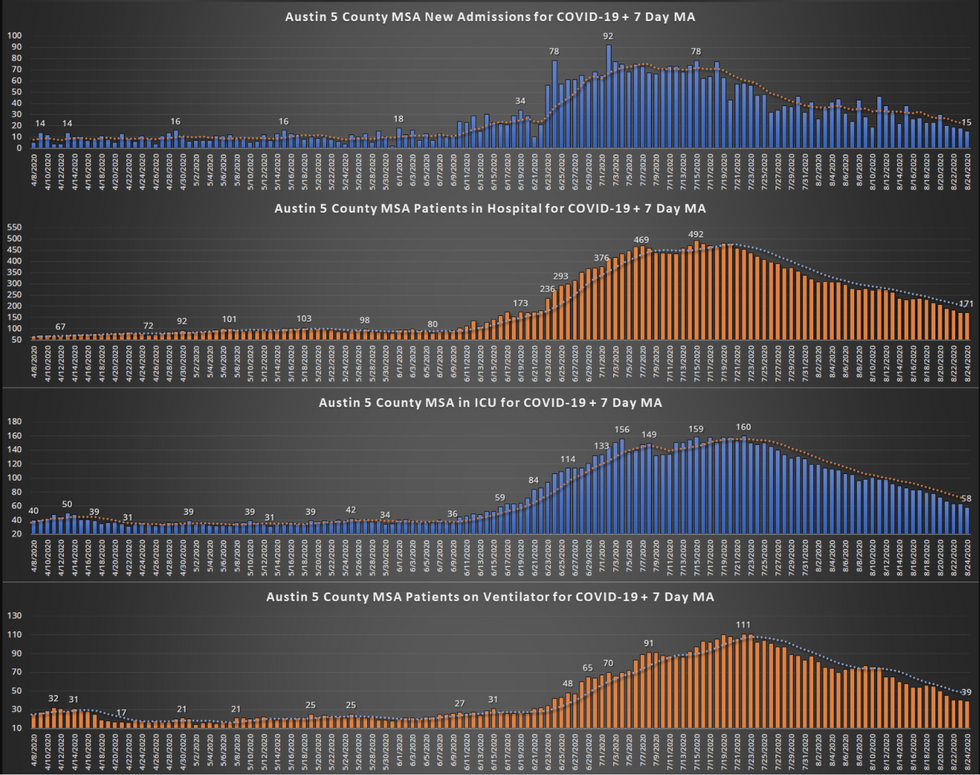 New COVID-related hospitalizations, ICU occupancy rates and ventilator use are all on the decline. (Rational Anarchy/Reddit)
This, combined with a clear decline in COVID-related hospitalizations and a continually decreasing positivity rate, supports a lower risk level. "I feel confident now in making the recommendation that we change our staging risk to Stage 3," he said.
The main difference between Stage 3 and Stage 4 is a recommendation at the higher stage that individuals restrict their trips to only essential businesses and those that have reopened per the state's plan. But Austinites should still act in a protective way: adhering to social distancing guidelines, wearing masks and avoiding social gatherings.
"Even though we're in Stage 3, we must continue to act as if we're in Stage 4, if at all possible," Escott said. "Why is that important? Because we are approaching the start of school."
There is not enough evidence yet to know how COVID will spread once students return to the classroom, Escott said, but it will likely lead to an increase in confirmed cases.
Already, there is concern about the start of classes at the University of Texas at Austin and other area colleges, as photos and videos have circulated on social media showing crowds of students outside of sorority houses and downtown bars.
Photo taken by my colleague on UT's west campus today. Sorority rush. No masks, but if you look closely they are we… https://t.co/pfqDihZ18V

— Catherine Weaver (@Catherine Weaver) 1598317015.0
There are also concerns about flu season and the upcoming Labor Day weekend, given that festivities over Memorial Day weekend set off the Austin area's first surge.

Addressing misinformation
In recent weeks, some residents have expressed disapproval of the local response to COVID, insinuating that the pandemic cure is worse than the disease.
Gale Atwater called into the Travis County Commissioners Court meeting last week to ask if Escott considers the costs of the lockdown against the cost of reopening. "I think that you should be balancing that with what is being lost with our humanity, with how many people in nursing homes haven't touched their grandchild, how many suicides happened, how many drugs, etcetera, etcetera," Atwater said.
In his weekly update, Escott addressed some of these questions, as well as other claims that have circulated on social media.
There is no clinical evidence that masks cause pneumonia or toxic levels of carbon dioxide, Escott said, and the Travis County medical examiner reports that there is some evidence that the number of deaths by suicide have actually declined year-over-year.

There is also material online suggesting that COVID-19 is no more dangerous than the seasonal flu, but this is also wrong. So far, 11,773 Texans have died from the coronavirus, compared to 3,516 from the flu during the 2019-20 season.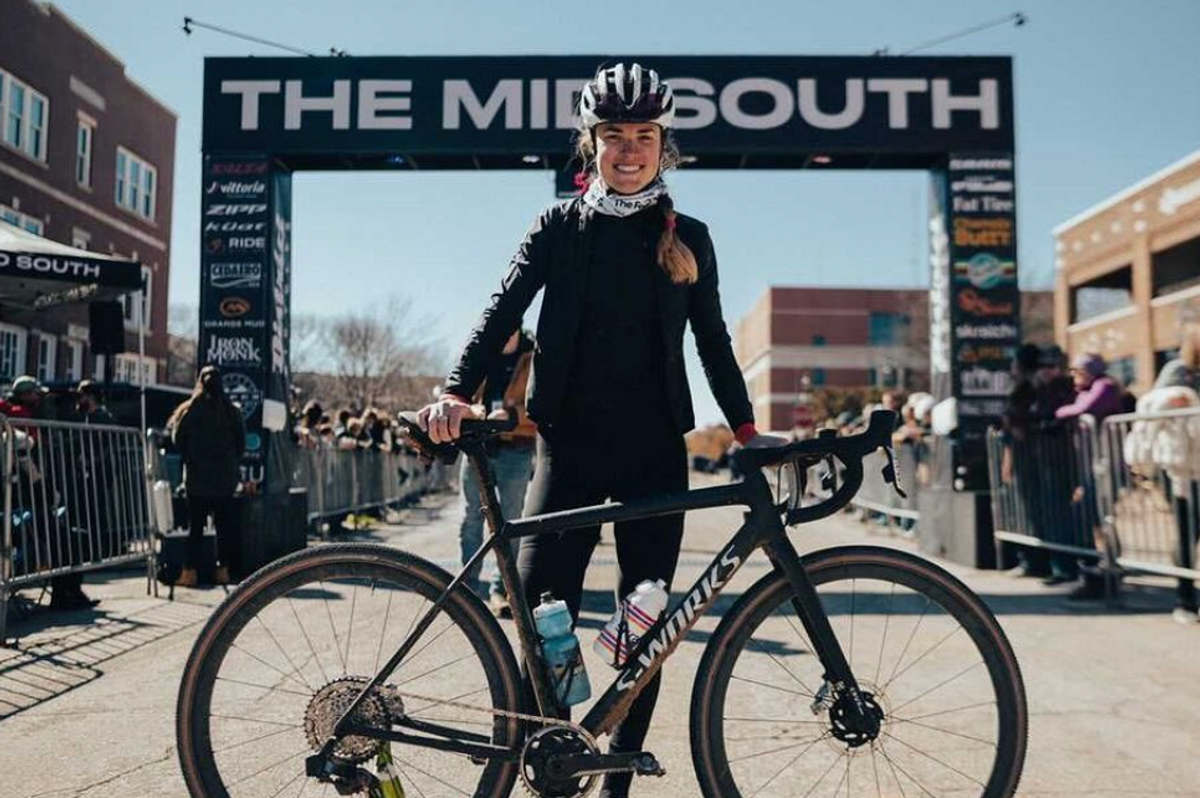 Austin police are investigating the killing of Moriah "Mo" Wilson after she was found with gunshot wounds inside an Austin home.
Wilson, a gravel and mountain bike racer, was visiting Austin from Colorado in preparation for the Gravel Locos race on Saturday taking place in Hico, a small town 2 hours from Austin.
On Wednesday, her roommate came home and found Wilson unresponsive with "a lot of blood near her," police said. It is now being investigated as a suspicious death. No further information on the suspect or motive behind the killing are available at this time.
Wilson recently had become a full-time biker after winning a slew of races in the past year.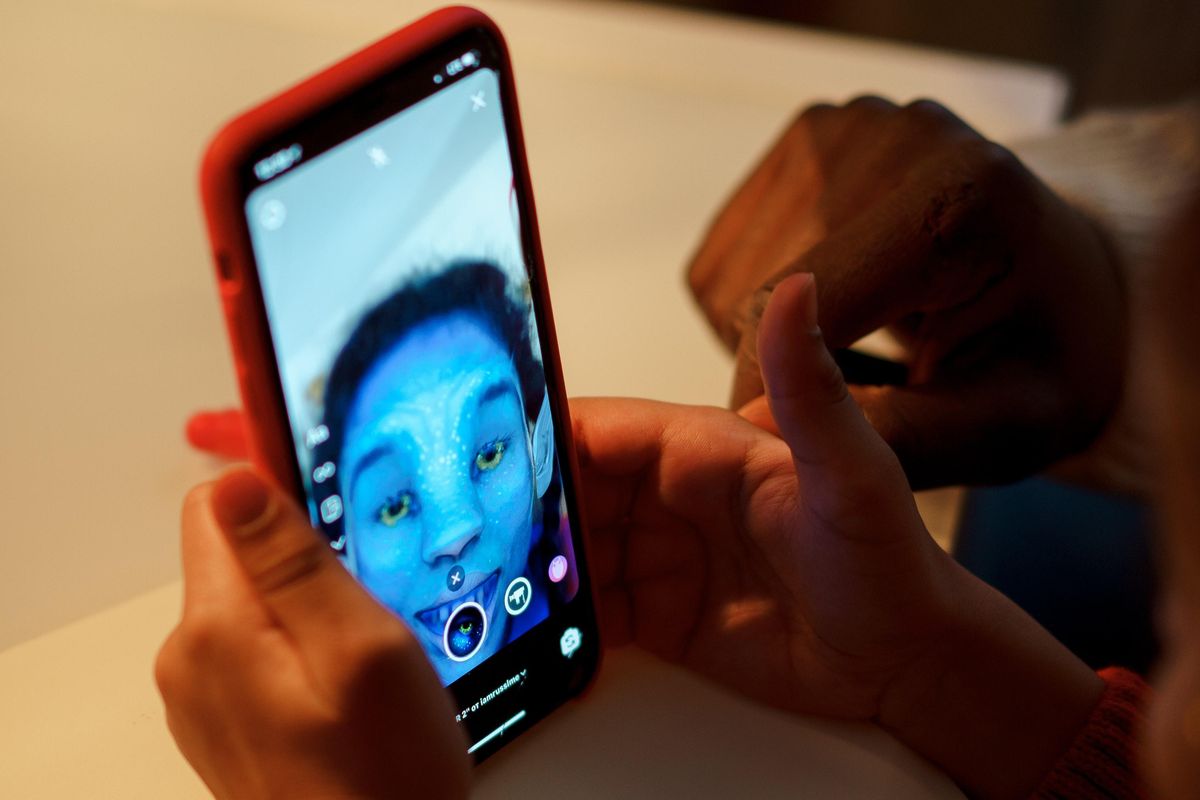 Some of your favorite Instagram filters can't be used in Texas anymore and Austinites are sounding off on social media.
Meta, Facebook and Instagram's parent company, announced on Wednesday that certain filters would no longer be available in Texas.
The change is a result of Texas Attorney General Ken Paxton's lawsuit against Meta, alleging the company uses facial recognition technology that violates laws in Texas. A release from Meta says it stopped using facial recognition tech in November 2021 and denies Paxton's allegations.
Some Austinites bemoaned the shift, saying some of their favorite filters were now unavailable.
But more often than not, locals joked about the ban.
And some in-between chose to show off some natural beauty.
Finally, some are trying to cash in on the opportunity.
Meta said it plans to create an opt-in system for both Texas and Illinois residents, who are facing the same issues.