Get connected with our daily update
(City of Austin)
With new COVID cases, hospital admissions and positive tests on the rise in Travis County, local health officials asked residents to recommit to protective actions—or risk a worsening surge as holiday gatherings accelerate transmission.

---
"The real threat is over Thanksgiving," Austin-Travis County Interim Health Authority Dr. Mark Escott said Tuesday. "If people don't heed the advice, if they gather with family and friends in the traditional sense …. We are going to see substantial spread as a result of that."
In the last 12 days, Travis County has posted a more than 100% increase in the average number of new COVID cases confirmed each day. There has also been a 50% increase in new hospital admissions over the same period.
These trends raise concerns about local hospital capacity.
Already, Travis County hospitals have accepted 13 patients from other jursidictions, Escott said. They are primarily from El Paso, where there are now nearly as many active COVID cases as total cases reported in Travis County since March.
Although Austin's three hospital systems—Ascension Seton, Baylor Scott & White Health and St. David's HealthCare—have plenty of available beds right now, staffing is a concern.
"From the hospital standpoint, we have beds. We have ventilators," Escott said. "The challenge is the people."
As a result, local health officials have revised the metro's ICU surge capacity from 331 beds to just 200. They are also considering lowering the threshold for Stage 4 risk-based guidelines from an average of 40 new COVID-related hospitalizations each day, given the reduction in ICU beds.
Currently, 64 ICU beds are occupied in the Austin metro.
But updated projections from the COVID-19 Modeling Consortium at the University of Texas at Austin suggest that many more could be soon.
Based on the current transmission rate, researchers at the consortium estimate that the metro could see as many as 116 ICU patients by mid-December, which means there would be fewer beds available for non-COVID cases, such as heart attacks, strokes and serious injuries.
To help prevent this outcome, local officials are discussing policy changes, such as a reduction in restaurant capacity limits, that might help reverse this trajectory and avoid a second shutdown.
#COVID19 update 11-16-20: We're seeing our numbers increase. We are in a fight to keep schools and businesses open.… https://t.co/ae0Y5Z0xWV

— Mayor Adler | 😷wear a mask. (@Mayor Adler | 😷wear a mask.) 1605577141.0
Ultimately, such changes are up to the governor.

In the meantime, Escott stressed the importance of masking, social distancing and hand-washing over the Thanksgiving holiday.
This is especially important for high school and college students, who may be involved in extracurricular activities or returning home from campus.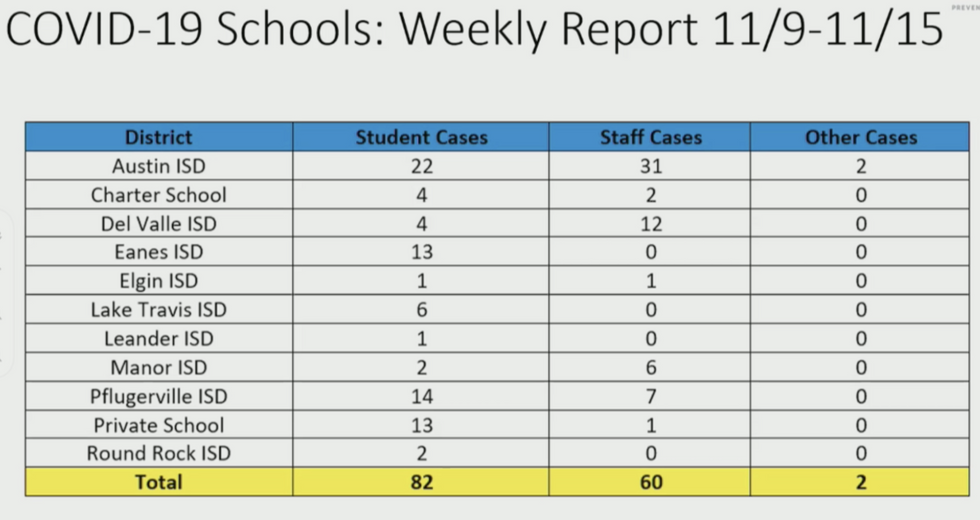 (Austin Public Health)
Last week, Travis County school districts reported 144 new COVID cases among students and teachers, nearly all of which stemmed from social or extracurricular activities rather than from classroom interactions, Escott said.

The University of Texas at Austin also reported a significant increase in its clinical testing positivity rate, which was 12.1% for the week ending Nov. 14, compared to 7.1% the week before.
Escott urged students to wear masks while at home and maintain social distancing to avoid infecting their family members and other close contacts.
"We're seeing what we expected to see," he said. "When people aren't masked or social distancing, transmission is happening."
The Texas French Bread Bakery, located on 2900 Rio Grande Street, has been completely destroyed after a fire erupted on Monday night.
The Austin Fire Department responded to the fire just before 11 p.m., where they arrived to see flames coming from the roof of the bakery. Firefighters fought the fire for about an hour before the roof collapsed.
While no one was injured in the fire, firefighters say the historic building was completely totaled.
AFD determined that the fire was accidental and caused by mechanical failure. AFD said the damages amounted to $1.6 million total: $1.1 million in structural damage and $500,000 in damage to the contents of the bakery.

This year, Texas French Bread will celebrate 40 years of business. Before the bakery occupied the building, it was the Rome Inn, a music venue that hosted 1970s artists like Stevie Ray Vaughan.
Austin's first major league team is ready to extend its reach with a new collaborative sports complex The Pitch, an Austin FC destination packed with local food, beverages and Verde fervor is set to open in Northeast Austin in February.
The Pitch, a collaboration between Austin FC and Karlin Real Estate, among other entities, will be located in the 50-acre Parmer Pond District, which already hosts the club's practice facility St. David's Performance Center.
Dubbed a "true destination" for both soccer fans and the community, The Pitch will consist of multilevel shipping containers designed by Mark Odom Studio that will carve out into a 1,200-seat stadium complete with a soccer pitch made of turf, food and beverage options and a five-acre "Parmer Pond" featuring jogging trails.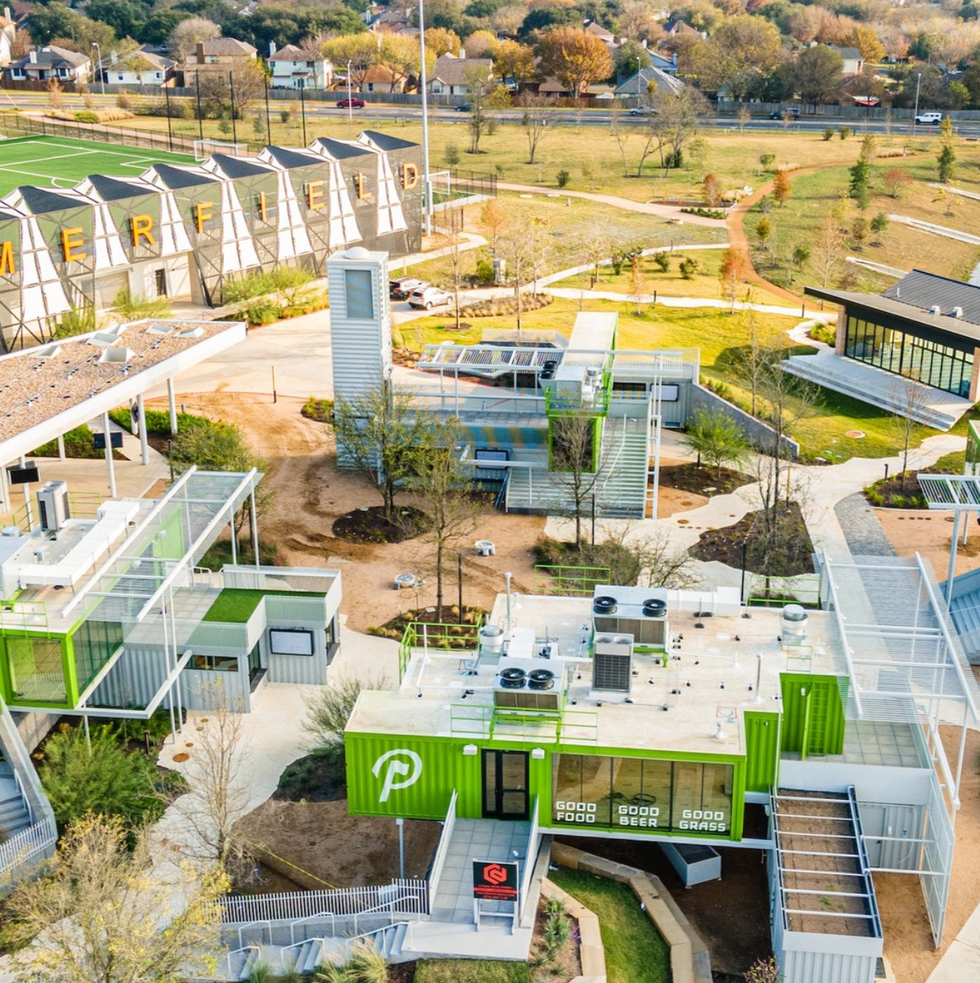 Made from multilevel shipping containers, The Pitch will include food and a 1,200-seat soccer pitch made from artificial turf. (The Pitch)
"The launch of Karlin's new food and entertainment experience will greatly enhance the Parmer development while perfectly complimenting St. David's Performance Center," Austin FC founder Anthony Precourt said. "The Pitch... will offer a strong variety of food options and gathering spaces for guests who will utilize St. David's Performance Center and Parmer Field for a variety of events."
The Pitch project lead Dave Greeley, who helped come up with the concept, is a former president of Austin FC parent company, Two Oak Ventures.
"The vision behind The Pitch at the Parmer Pond District is to be a first-of-its-kind sports, dining and entertainment destination," said Dave Greeley, The Pitch project lead and Team Orbis president. "This will be an unmatched experience for Parmer Austin tenants, Austin FC and club supporters, and the community."
With its proximity to the practice center, the venture hopes to contribute to the growing "soccer city" of Austin during Austin FC matches and youth games with the Austin FC Academy hosted at the St. David's Performance Center.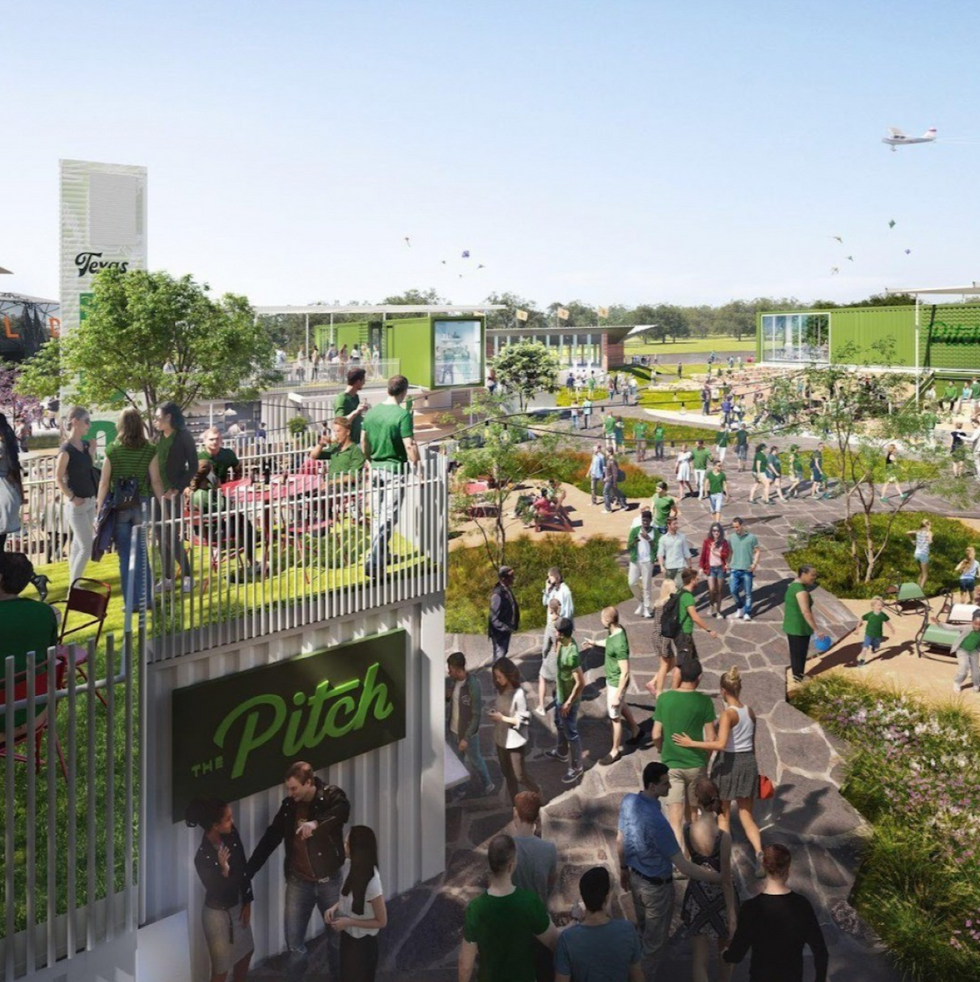 The Pitch hopes to converge both community and club interests with Austin FC. (The Pitch)
In addition to the soccer pitch, stadium and pond, The Pitch will provide a foody experience made by the creative team behind Austin staples like Fareground and Easy Tiger. The complex will offer local bites including:
Ranger Burger, which offers beers and burgers made from highly-coveted Wagyu beef direct from Ranger Cattle in East Austin
Ga Roti, which merges flavors from Northern Vietnam with the culinary techniques of France to create a unique rotisserie chicken joint
Taco Flats, a local taco chain serving Mexico City-style tacos, micheladas and more
Sand Bar, which fulfills its namesake with beauty cocktails, local beers and a sand volleyball court
Coffee Club, a coffee shop and bakery
Corner Kick Bar, the soccer-focused main bar of The Pitch complete with "tunes, TVs and (a) beer garden"
The Pitch will squeeze between St. David's Performance Center and Parmer Pond alongside the southern edge of Parmer Austin, a Karlin Real Estate venture that will eventually include multifamily housing, corporate office space and an aerospace and defense center.