Austonia AM
100% Austin news, info, and entertainment, straight to your inbox at 6 a.m. every morning.
In five minutes, you're fully informed and ready to start another great day in our city.
Get connected with our daily update
(Austin Regional Clinic)
Over the last week, the Capital Medical Clinic on West 38th Street has been "besieged" with phone calls.
The callers all want to know the same thing: Is the clinic offering COVID-19 vaccines to members of Group 1B? The group includes people 65 years of age and older and those with a chronic medical condition.
The answer, at least for now, is no, said Dr. James Marroquin, an internal medicine doctor who practices at the clinic.
---
Instead, Capital Medical Clinic is working to allocate its 500 doses to individuals in the 1A group, including its own clinical staff and other front-line healthcare workers.
Many of Travis County's 58 other facilities that have received vaccine allotments are in the same boat.
Austin Regional Clinic, Austin Public Health, H-E-B Pharmacy and many other local providers are limiting their vaccine supply to members of group 1A, which include front-line healthcare workers, first responders and long-term care facility staff and residents.
Austin's three hospital systems—Ascension Seton, Baylor Scott & White Health and St. David's HealthCare—are doing the same.
"Once we have more vaccines, we will start offering the vaccine to Group 1B as supply allows," Tarrytown Pharmacy Pharmacist-in-Charge Dr. Rannon Ching wrote in an email to Austonia. "We still have quite a lot of folks in 1A, but we do want to start taking care of 1B as soon as we can."
Only two facilities—Austin State Hospital and the Family Wellness Clinic at the University of Texas at Austin School of Nursing—are administering vaccines to individuals in Group 1B, out of more than 40 that Austonia reached out to or otherwise confirmed.
Mixed messages
The first COVID-19 vaccines were distributed in Texas the week of Dec. 14. Gov. Greg Abbott said 1.4 million residents would receive their first dose by the end of the year.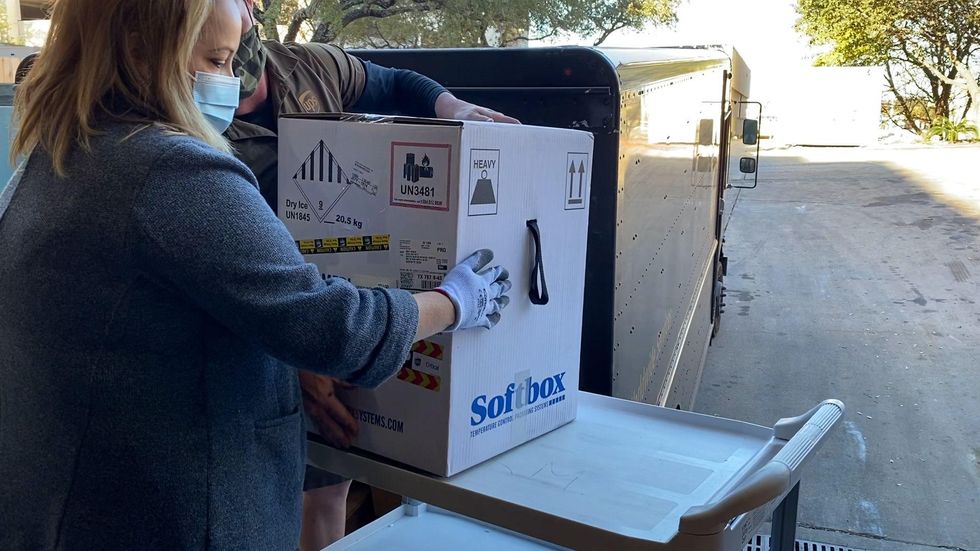 Nearly 3,000 doses of the Pfizer vaccine were delivered to St. David's Healthcare hospitals on the first Friday after approval. (St. David's Healthcare)
Although vaccines continue to be distributed to facilities around the state, there have been myriad issues with the rollout, including mixed messages from health officials and data delays, and the number of Texans vaccinated falls far short of the stated goal.

Texas Department of State Health Services Commissioner Dr. John Hellerstedt raised concerns of "unnecessary delays in administering all allocated vaccines and reporting those administered doses to the state's immunization registry" in a Dec. 23 memo.
As a result, he directed facilities that had received COVID vaccines to expand access to 1B individuals once all willing members of Group 1A had been vaccinated.
Less than a week later, DSHS mandated that providers "immediately vaccinate" members of both groups and directed eligible residents to call their providers to sign up for their shots.
This was confusing for clinics such as Marroquin's. With no clear guidance from the state, staff did not know whether to reserve some of their vaccine supply to ensure they would be able to administer the second dose or administer everything and hope for another allocation.
It also led to the influx of callers—in Austin and around the state—who were being told by state officials that vaccines were going unused but couldn't make an appointment at their local doctor's office.
Delayed reporting
State Rep. Donna Howard, D-Austin, tweeted on Dec. 30 that the roll-out was impacted by a number of challenges, including delayed reports of how many vaccines had been administered, which led to a "false impression" that more doses were available or otherwise uncommitted.
What I think I know after a full day of non-stop meetings with state agencies and pharmacies about COVID vaccine distribution. #txlege 1/

— Donna Howard (@Donna Howard)1609374917.0
The DSHS vaccine dashboard currently reports that 17,741 Travis County residents have received the COVID vaccine, out of 41,925 doses that have been distributed. Statewide, 377,050 people have been vaccinated—or just over a fourth of what the governor promised.

These numbers are likely an undercount because of the aforementioned reporting delays.
"I'll tell you that the state's reporting data on vaccines is way, way off," Austin-Travis County Interim Health Authority Dr. Mark Escott said at a Dec. 30 press conference.
But he also admitted that the state had not yet distributed enough doses locally to cover all of the individuals in both groups.
Austin Public Health estimates there are about 80,000 individuals in the 1A group, or nearly twice the number of doses distributed in Travis County so far, plus an additional 205,000 in 1B.
Still, Escott remains optimistic. He expects "a significant portion, if not all" members of groups 1A and 1B who wish to be vaccinated will receive their first dose by the end of February.
"Once we can cover the 1B group, that covers the vast majority of individuals who are going to have a severe illness or death from COVID-19," he said.
Losing trust
This confusion, however, may have lasting consequences.
Austin City Council Member Natasha Harper-Madison and Travis County Commissioner Jeff Travillion joined three other Black elected officials representing Central Texas in raising concerns about the "troubling roll-out of COVID-19 vaccines" and how it has deepened inequities in the state's pandemic response.
"Generations of disinvestment and underdevelopment in the Eastern Crescent led to the lack of grocery stores, pharmacies and clinics (able to distribute vaccines)," they wrote in a statement issued Monday. "This is a major concern given that the Black and Latino communities within the Crescent are more vulnerable to COVID-19 and have seen disproportionately higher rates of death due to the illness."
On Monday, Marroquin and his colleagues had trouble reaching patients, which some suspected was due to the flood of incoming calls from vaccine seekers.
"There's like a frenzy out there," he said.
Updated 4:45 p.m. to include a response from the Austin State Hospital.

Austonia file photo. (Christa McWhirter/Austonia)
Police have arrested one of two suspects involved in a mass shooting at Austin's Sixth Street in the early morning hours on Saturday, leaving 14 people injured and two in critical condition.
The arrest was made by the Austin Police Department and the Lone Star Fugitive Task Force. One suspect is still at large.
Police started receiving 911 phone calls at 1:24 a.m about a man that fired shots into a large crowd, and responded to a chaotic scene on the 400 block of East Sixth Street. Detectives are surveying video footage captured by bystanders and cameras on the scene to identify the suspect.

The Austin Police Department has narrowed down their search to two male suspects and believes there was "some type of disturbance" between the two parties.
No deaths have been reported. Fourteen victims are receiving treatment in a hospital in stable condition with one treated in an emergency room; two are in critical condition.
According to Interim Police Chief Joseph Chacon, "almost all" of the victims are innocent bystanders but police have not ruled anyone out at this time.
Shooting on 6th Street Austin Texas 6-12-2021 (Aftermath) youtu.be
The shooting occurred on the weekend of the Republic of Texas Motorcycle Rally. With lots of people downtown, police say it was difficult to get EMS in and out of the scene. Police arrived while the scene was still an "active threat," officers "immediately began lifesaving measures" and drove six victims to the hospital in their squad cars, said Chacon, and four were transported in ambulances.
Chacon said that the incident is believed to be isolated, and they optimistic they will be successful in getting the two suspects into custody. Multiple departments, including APD, the FBI, Texas DPS and the ATF, are involved in the investigation.
Austin police are also requesting state troopers for patrol assistance in the coming days. Chacon stressed staffing issues are increasingly making responding to emergency calls "very hard."
"Overall, we remain a safe city," Chacon said. "Also keep in mind when you come downtown, you need to be safety conscious. Be vigilant of your environment and your surroundings."
Today marks the five-year anniversary of the Pulse nightclub shooting in which 49 were killed and 53 wounded in Orlando, Florida. Anyone with information on the shooting is asked to call 911 or 512-472-TIPS.

This story was updated at 2:47 p.m. to include new information and will be updated as more details are revealed.
From Your Site Articles
Related Articles Around the Web
Austin police are investigating a homicide in North Austin where a woman was shot and killed, just hours after a mass shooting in Downtown Austin hospitalized 14 people.
APD is working a suspicious death near the 1900 block of W Rundberg Ln. PIO is en route and will update with media staging location. PIO6
— Austin Police Department (@Austin_Police) June 12, 2021
Police originally responded to Ironhorse Flats Apartments, 1900 block of W. Rundberg Lane, at 3:20 p.m. when they found the woman with multiple gunshot wounds. She was transported to a local hospital, where she was pronounced dead at 4:07 p.m.

No one is in custody as of yet but police are speaking with potential witnesses. Officials said they believe this was an isolated incident with no danger to the public but said possible relation to the downtown shooting has not been specifically ruled out.
Officers could not provide a suspect description and the relationship to the victim is still unknown.
This is a developing story that will be updated as details become available.