Get connected with our daily update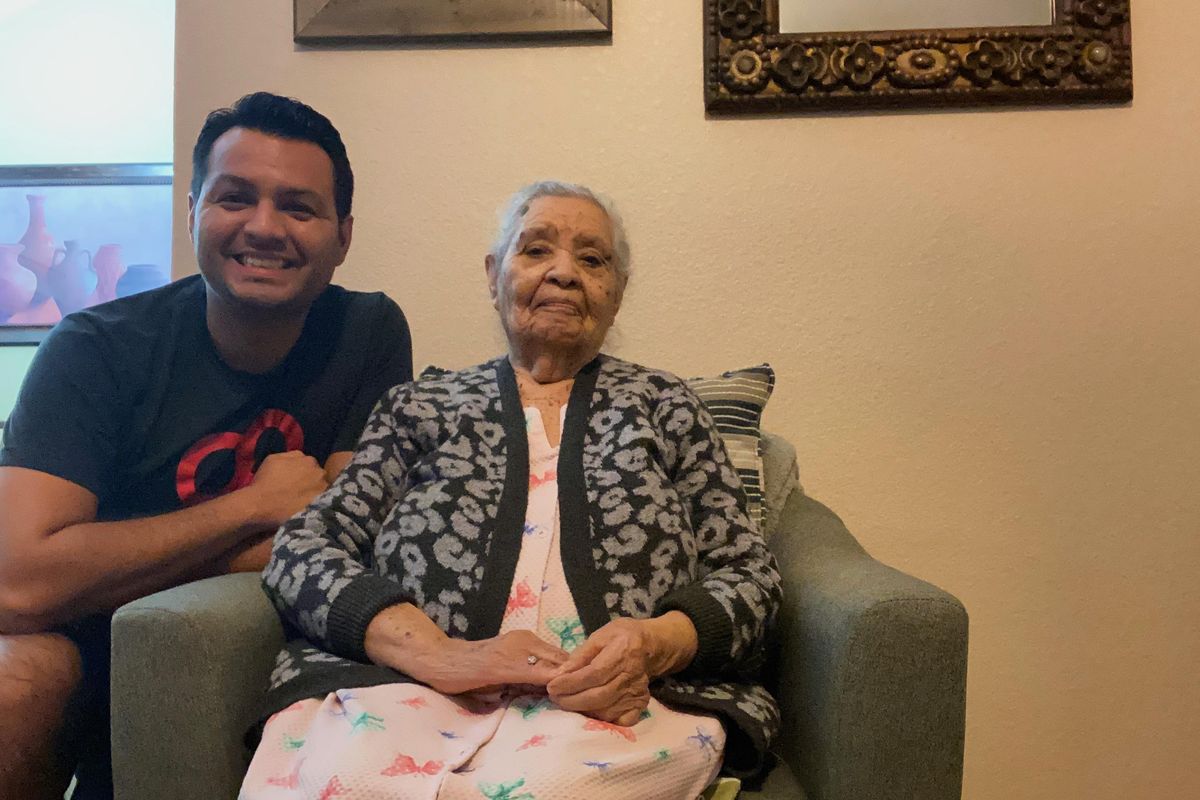 (Omar Gomez)
South Austin resident Omar Gomez has spent the last week driving around town and refreshing the H-E-B website, looking for a COVID-19 vaccine appointment for his 93-year-old grandmother, who lives with his aunt.
"When we went in person, there wasn't any available," Gomez told Austonia.
---
His grandmother qualifies as a member of Group 1B, which includes people ages 65 years of age and older as well as those with a chronic medical condition. Texas public health officials said on Dec. 29 that vaccine providers should expand access to 1B, but most still do not have the supply to meet the demand from 1A individuals, such as frontline healthcare workers and long-term care facility residents.
"There was no clear communication," Gomez said. "Everything's vague."
The statewide vaccine distribution process has been bumpy. In addition to mixed messages, delayed data and missed targets, local elected officials and community leaders have raised concerns about equity.
The greatest need
There are 70 ZIP codes across the city of Austin and Travis County. Four of them—78660 in Pflugerville, 78753 in Northeast Austin, and 78741 and 78744 in Southeast Austin—account for more than a quarter of the area's total COVID-19 caseload this pandemic. Three of them are east of I-35, and the fourth straddles it.
But only 12 of the 62 facilities in Travis County that have received allotments of the COVID vaccine from the state of Texas are on the east side, which local elected officials and community leaders say is inequitable and shuts out those communities most impacted by the virus.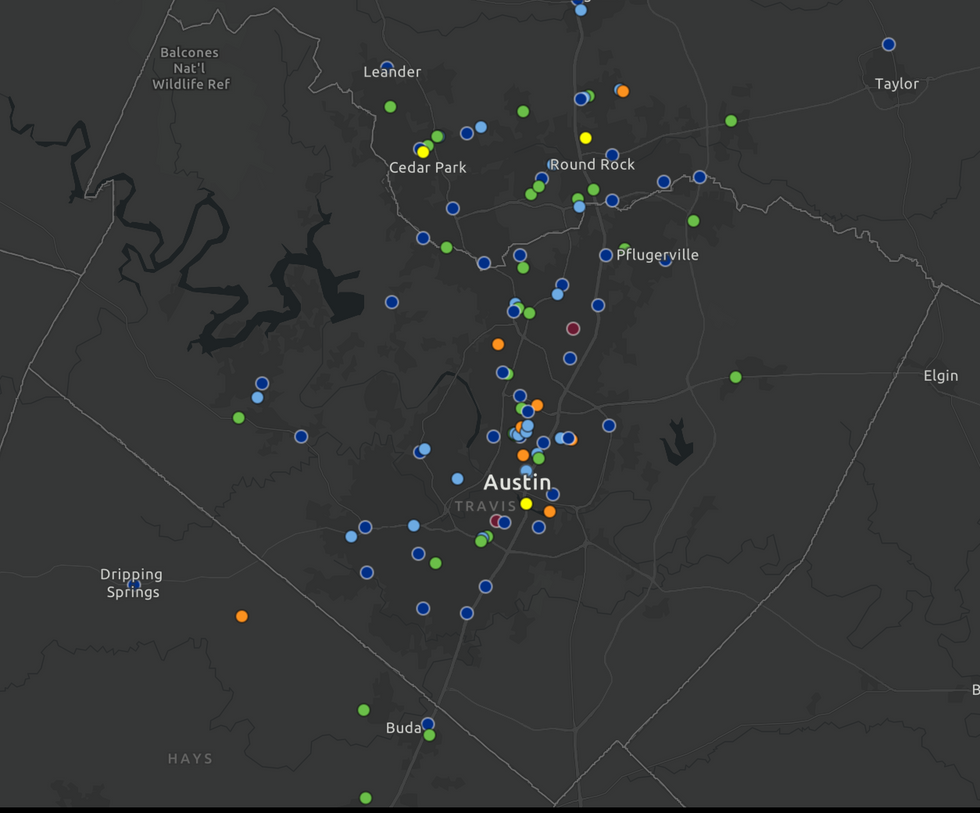 The vaccine distribution sites in Travis County are largely concentrated on the west side of I-35. The most impacted ZIP codes, however, are almost entirely on the east side. (Texas Department of State Health Services)
"The COVID-19 virus has really put a magnifying glass on disparities in the Eastern Crescent and in communities of color and other communities that are existing in the margin," Austin City Council Member Natasha Harper Madison said Monday.

Black and Latino residents have been disproportionately impacted by the coronavirus pandemic. Black residents make up less than 8% of the city's population but account for 10% of COVID deaths, according to the U.S. Census Bureau and Austin Public Health. More egregiously, Latino residents make up roughly one-third of the city's population but account for 46% of confirmed COVID cases and nearly half of COVID deaths.
The lack of access to vaccine providers in the communities hit hardest by the virus is like deja vu, harkening back to similar issues during the testing rollout earlier in the pandemic, said Paul Saldaña, a fourth-generation East Austinite and member of the Austin Latino Coalition.
The local and state public health departments have not yet accounted for language barriers, lack of internet access and cultural differences that may determine whether someone is able to get vaccinated or not, Saldaña said.
For example, Group 1A includes residents of long-term care facilities, such as nursing homes. "It's unusual for communities of color to put their family members in nursing homes," he explained, and there's no plan in place to get shots into the arms of elderly people living with relatives, such as Gomez's grandmother.
"The need is so great," Saldaña said.
Resource gaps
Historic disinvestment in communities east of I-35 has left the community with a lack of resources.
"There are structural problems that have been created by local customs," Travis County Commissioner Jeffrey Travillion said Monday, pointing to Austin's 1928 master plan, which codified segregation and continues to impact residents today.
One lasting impact is the existence of food and transit deserts, or neighborhoods that lack grocery stores, good public transit and other public resources.
"It's very likely for the minority neighborhoods and the low-income neighborhoods to become a transit desert and a food desert," said Dr. Jungfeng Jiao, an associate professor of urban planning at the University of Texas School of Architecture.
More than a third of the vaccine distribution sites in Travis County are H-E-B pharmacies. Although the San Antonio-based food chain has been lauded for its response during the pandemic, it does not serve every community.
"If you're talking about vaccines in H-E-Bs, well, Manor doesn't have one," Manor Mayor Larry Wallace said Monday. Similarly, there are no CVS or Walgreens locations in the suburban city east of Austin.
For a resident without a car or who is homebound because of a chronic illness, this could mean the difference between receiving a vaccine and going without.
"When you don't have very good public transportation or you don't have any transportation mode, you are in a disadvantaged position to access (a) healthcare provider," Jiao said.
Rethinking the rollout
To address these issues, local elected officials are calling on the Texas Department of State Health Services, which is in charge of allocating the state's vaccine supply, to find alternative distribution sites, such as fire departments, public schools, churches and RVs.
Travillion suggested the Travis County Expo Center in Northeast Travis County, and Harper-Madison said Huston-Tillotson University's East Austin campus could be an option.
Earlier this week, 38 members of the Texas House lobbied the state to improve its response by expanding the priority groups to include frontline workers such as teachers, grocery store employees and daycare workers.
1/ I've received calls from people frustrated & confused by the vaccination rollout in Texas. In response, I sent t… https://t.co/bIPmXgziWR

— Rep. Vikki Goodwin (@Rep. Vikki Goodwin) 1609973866.0
Saldaña and other members of the Austin Latino Coalition have also been pushing Austin Public Health to develop a bilingual public education campaign to help address misinformation and reach vaccine skeptics.

The Pew Research Center found last month that Black and Latino Americans are less inclined to get vaccinated than other racial and ethnic groups, which stems from medical mistreatment and other concerns. Immigrants may be concerned about the information asked of them during the vaccine process, Saldaña said, and people of color are also more likely to have a chronic medical condition, which they may worry could lead to side effects.
APH officials said earlier this week they are working to develop a public information campaign as they wait for the state to increase its allocation of COVID vaccines to local suppliers.
"That process should have started last year," Saldaña said, "when we already knew these vaccines were under development."
More on vaccine rollout: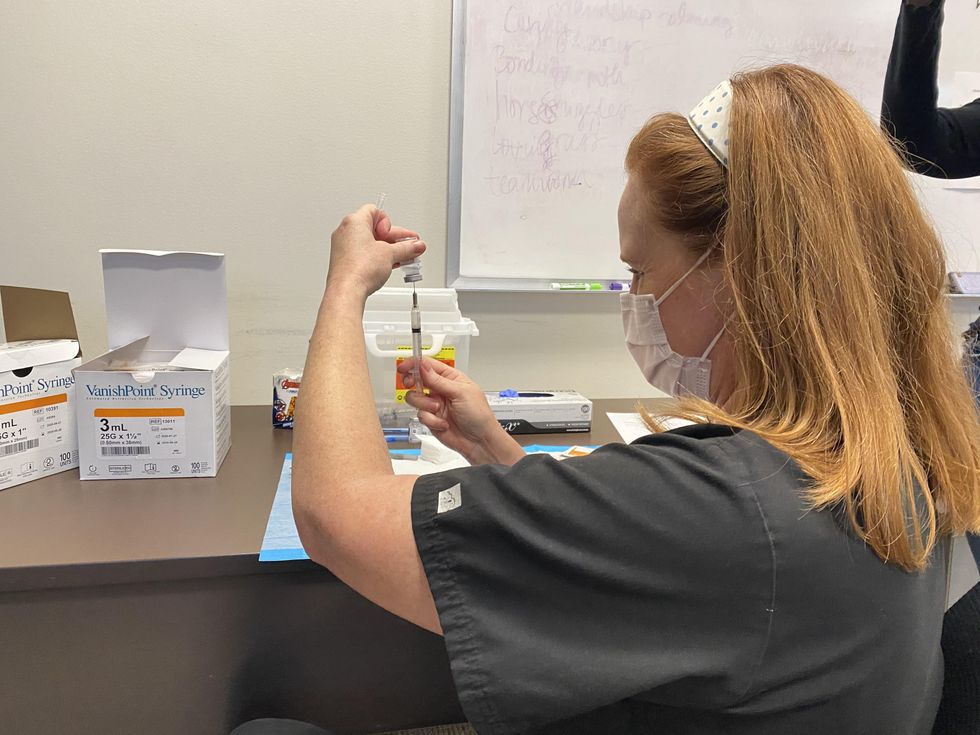 After state expands COVID vaccine access to Group 1B, Austinites find doses remain limited amid bumpy rollout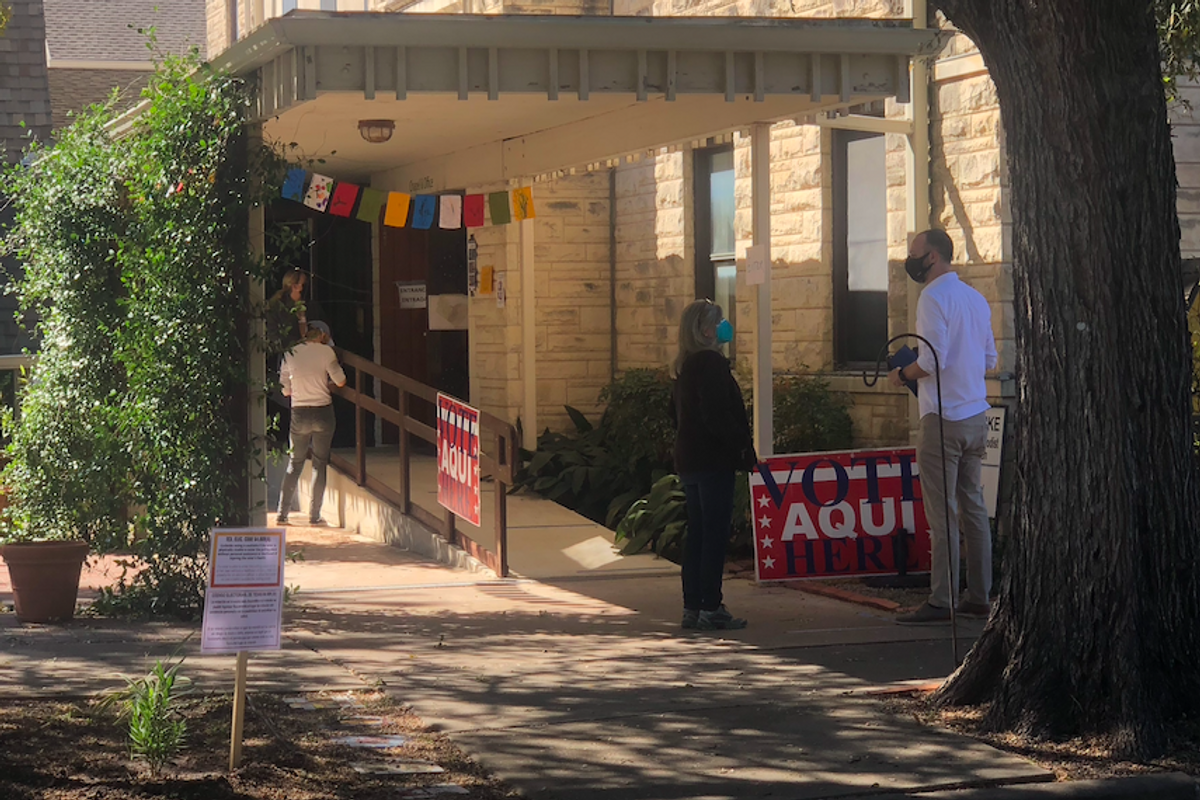 Come later tonight, Texans will officially know who will be on the ballot for the November general election.
In Texas, candidates must win at least 50% of the vote to be elected. In the March primaries where the top candidate only received a plurality of votes, a runoff is being held. Voters will decide on the candidates to represent their party in the November general election. Just like the March primaries, voters will choose which party they'd like to vote in. Then based on location, each ballot will show which races are in a runoff.
Here's everything you need to know before heading to the polls.

Know before you go
The registration period for this election has passed; check if you're registered to vote here.
The polls are open from 7 a.m. to 7 p.m. daily. As long as you're in line by 7 p.m., you can vote.
You'll need a valid photo ID to present once you're at a polling location.
Here is where you can vote in Travis County.
View wait times at polling locations here.
Races to watch in Travis County:
Statewide
Lieutenant Governor
Republican: Incumbent Lt. Gov. Dan Patrick won his primary in March.
Democratic: Mike Collier and Michelle Beckley are vying to be the Democrat candidate on the ballot.
Attorney General
Republican: Incumbent AG Ken Paxton is fighting for his seat against George P. Bush.
Democratic: Rochelle Garza and Joe Jaworski will face off to be the Democratic candidate in this race.
View all the statewide races on the ballot here.
U.S. House of Representatives

View the district you live in here.
District 21
Republican: Incumbent Chip Roy won his primary in March.
Democratic: Claudia Andreana Zapata and Ricardo Villarreal are hoping to secure this vote.
District 35
Republican: Dan McQueen and Michael Rodriguez are going head to head to be the Republican candidate in this race.
Democratic: Former Austin council member Greg Casar won this race in March.
Texas House
District 19
Republican: Ellen Troxclair and Justin Berry are vying to be the Republican candidate in this race.
Democratic: Pam Baggett won her primary in March.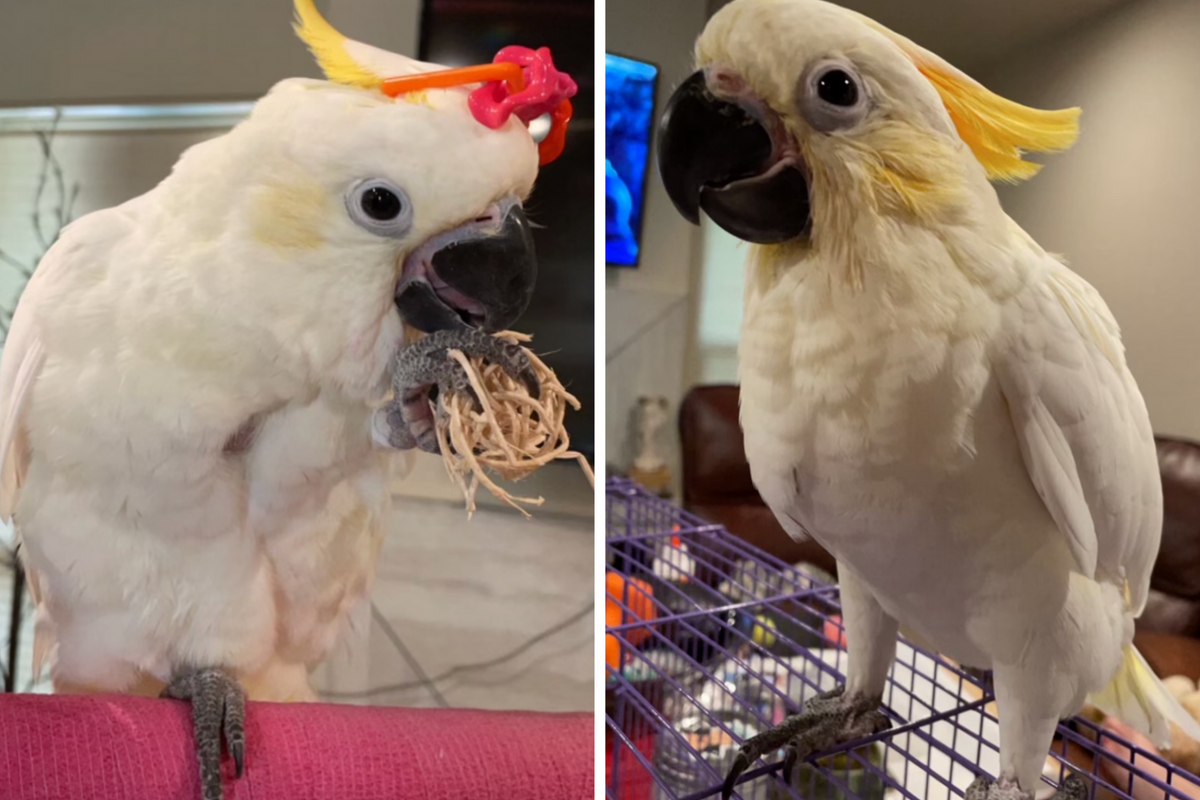 A big-money bird has been stolen from a northwest Austin pet store.
Kelsey Fernandez, the owner of a $6,000 sulphur and citron-crested cockatoo named Lemon Grab, said the emotional support animal was taken from the Gallery of Pets store, around closing time on Sunday.
"I've struggled with mental illness my entire life, and ever since I got him I've been doing so much better," Fernandez told Austonia.
The $6k cockatoo is young and will starve unless he is fed by hand, Fernandez said.
In a surveillance video, a man appears to have something under his shirt as he and two others exit the business around the same time the store believes that Lemon Grab was stolen.
Fernandez said a report has been filed with the Austin Police Department with an $1,000 reward for his return.