Get connected with our daily update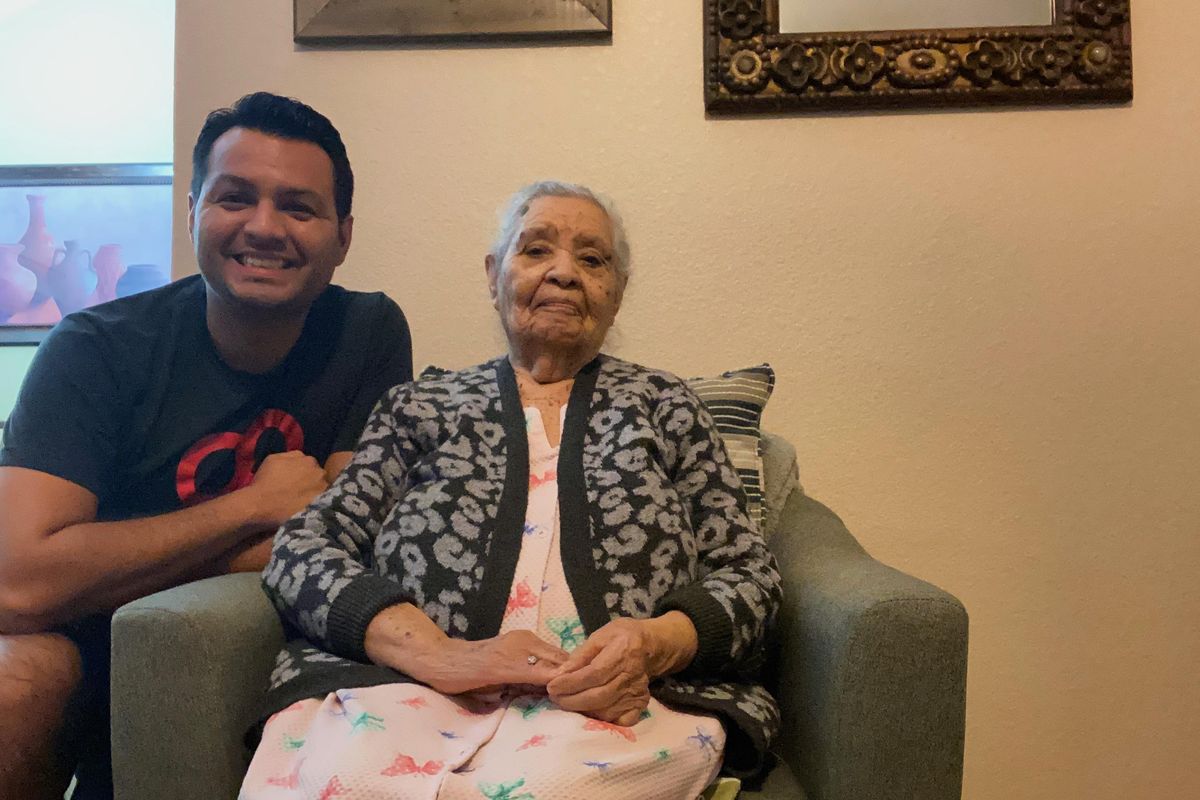 (Omar Gomez)
South Austin resident Omar Gomez has spent the last week driving around town and refreshing the H-E-B website, looking for a COVID-19 vaccine appointment for his 93-year-old grandmother, who lives with his aunt.
"When we went in person, there wasn't any available," Gomez told Austonia.
---
His grandmother qualifies as a member of Group 1B, which includes people ages 65 years of age and older as well as those with a chronic medical condition. Texas public health officials said on Dec. 29 that vaccine providers should expand access to 1B, but most still do not have the supply to meet the demand from 1A individuals, such as frontline healthcare workers and long-term care facility residents.
"There was no clear communication," Gomez said. "Everything's vague."
The statewide vaccine distribution process has been bumpy. In addition to mixed messages, delayed data and missed targets, local elected officials and community leaders have raised concerns about equity.
The greatest need
There are 70 ZIP codes across the city of Austin and Travis County. Four of them—78660 in Pflugerville, 78753 in Northeast Austin, and 78741 and 78744 in Southeast Austin—account for more than a quarter of the area's total COVID-19 caseload this pandemic. Three of them are east of I-35, and the fourth straddles it.
But only 12 of the 62 facilities in Travis County that have received allotments of the COVID vaccine from the state of Texas are on the east side, which local elected officials and community leaders say is inequitable and shuts out those communities most impacted by the virus.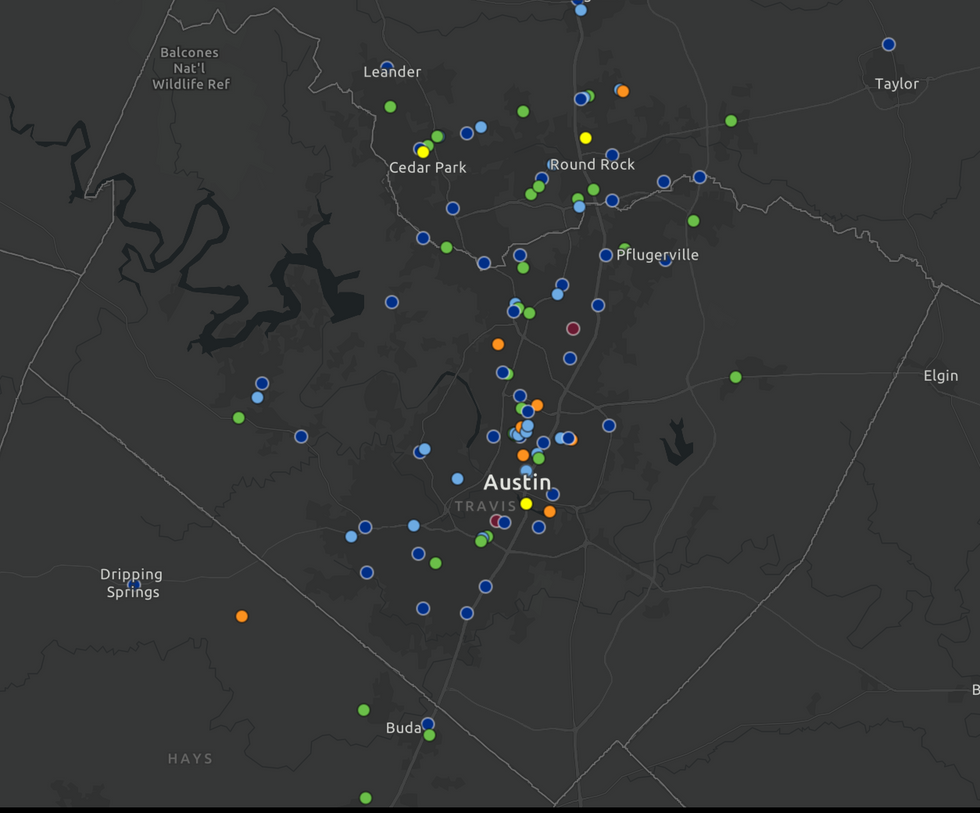 The vaccine distribution sites in Travis County are largely concentrated on the west side of I-35. The most impacted ZIP codes, however, are almost entirely on the east side. (Texas Department of State Health Services)
"The COVID-19 virus has really put a magnifying glass on disparities in the Eastern Crescent and in communities of color and other communities that are existing in the margin," Austin City Council Member Natasha Harper Madison said Monday.

Black and Latino residents have been disproportionately impacted by the coronavirus pandemic. Black residents make up less than 8% of the city's population but account for 10% of COVID deaths, according to the U.S. Census Bureau and Austin Public Health. More egregiously, Latino residents make up roughly one-third of the city's population but account for 46% of confirmed COVID cases and nearly half of COVID deaths.
The lack of access to vaccine providers in the communities hit hardest by the virus is like deja vu, harkening back to similar issues during the testing rollout earlier in the pandemic, said Paul Saldaña, a fourth-generation East Austinite and member of the Austin Latino Coalition.
The local and state public health departments have not yet accounted for language barriers, lack of internet access and cultural differences that may determine whether someone is able to get vaccinated or not, Saldaña said.
For example, Group 1A includes residents of long-term care facilities, such as nursing homes. "It's unusual for communities of color to put their family members in nursing homes," he explained, and there's no plan in place to get shots into the arms of elderly people living with relatives, such as Gomez's grandmother.
"The need is so great," Saldaña said.
Resource gaps
Historic disinvestment in communities east of I-35 has left the community with a lack of resources.
"There are structural problems that have been created by local customs," Travis County Commissioner Jeffrey Travillion said Monday, pointing to Austin's 1928 master plan, which codified segregation and continues to impact residents today.
One lasting impact is the existence of food and transit deserts, or neighborhoods that lack grocery stores, good public transit and other public resources.
"It's very likely for the minority neighborhoods and the low-income neighborhoods to become a transit desert and a food desert," said Dr. Jungfeng Jiao, an associate professor of urban planning at the University of Texas School of Architecture.
More than a third of the vaccine distribution sites in Travis County are H-E-B pharmacies. Although the San Antonio-based food chain has been lauded for its response during the pandemic, it does not serve every community.
"If you're talking about vaccines in H-E-Bs, well, Manor doesn't have one," Manor Mayor Larry Wallace said Monday. Similarly, there are no CVS or Walgreens locations in the suburban city east of Austin.
For a resident without a car or who is homebound because of a chronic illness, this could mean the difference between receiving a vaccine and going without.
"When you don't have very good public transportation or you don't have any transportation mode, you are in a disadvantaged position to access (a) healthcare provider," Jiao said.
Rethinking the rollout
To address these issues, local elected officials are calling on the Texas Department of State Health Services, which is in charge of allocating the state's vaccine supply, to find alternative distribution sites, such as fire departments, public schools, churches and RVs.
Travillion suggested the Travis County Expo Center in Northeast Travis County, and Harper-Madison said Huston-Tillotson University's East Austin campus could be an option.
Earlier this week, 38 members of the Texas House lobbied the state to improve its response by expanding the priority groups to include frontline workers such as teachers, grocery store employees and daycare workers.
1/ I've received calls from people frustrated & confused by the vaccination rollout in Texas. In response, I sent t… https://t.co/bIPmXgziWR

— Rep. Vikki Goodwin (@Rep. Vikki Goodwin) 1609973866.0
Saldaña and other members of the Austin Latino Coalition have also been pushing Austin Public Health to develop a bilingual public education campaign to help address misinformation and reach vaccine skeptics.

The Pew Research Center found last month that Black and Latino Americans are less inclined to get vaccinated than other racial and ethnic groups, which stems from medical mistreatment and other concerns. Immigrants may be concerned about the information asked of them during the vaccine process, Saldaña said, and people of color are also more likely to have a chronic medical condition, which they may worry could lead to side effects.
APH officials said earlier this week they are working to develop a public information campaign as they wait for the state to increase its allocation of COVID vaccines to local suppliers.
"That process should have started last year," Saldaña said, "when we already knew these vaccines were under development."
More on vaccine rollout: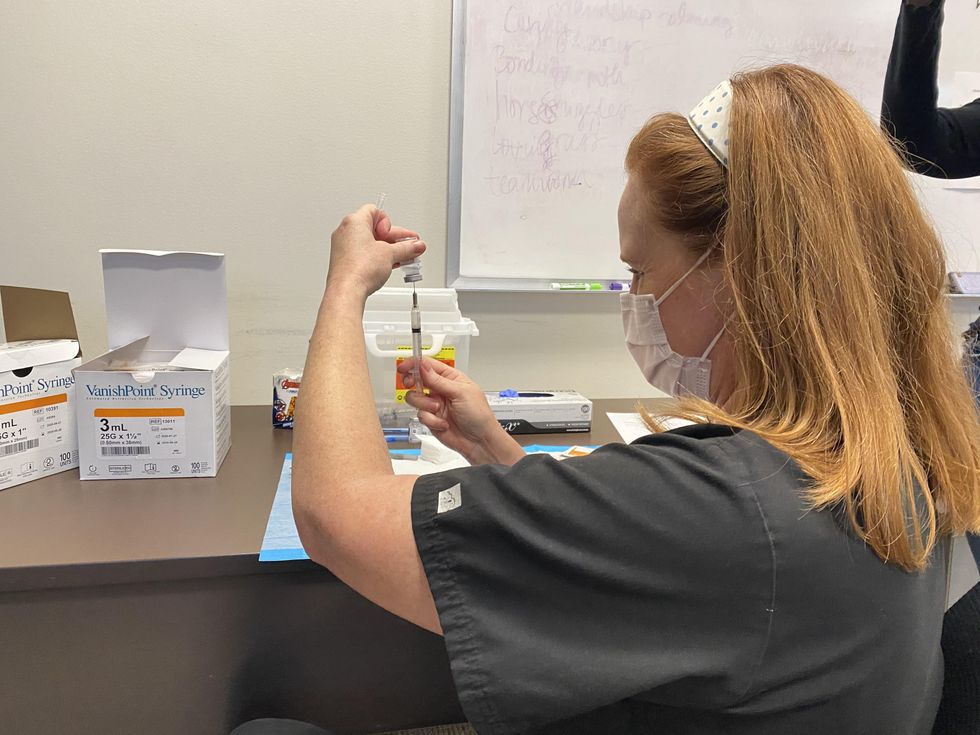 After state expands COVID vaccine access to Group 1B, Austinites find doses remain limited amid bumpy rollout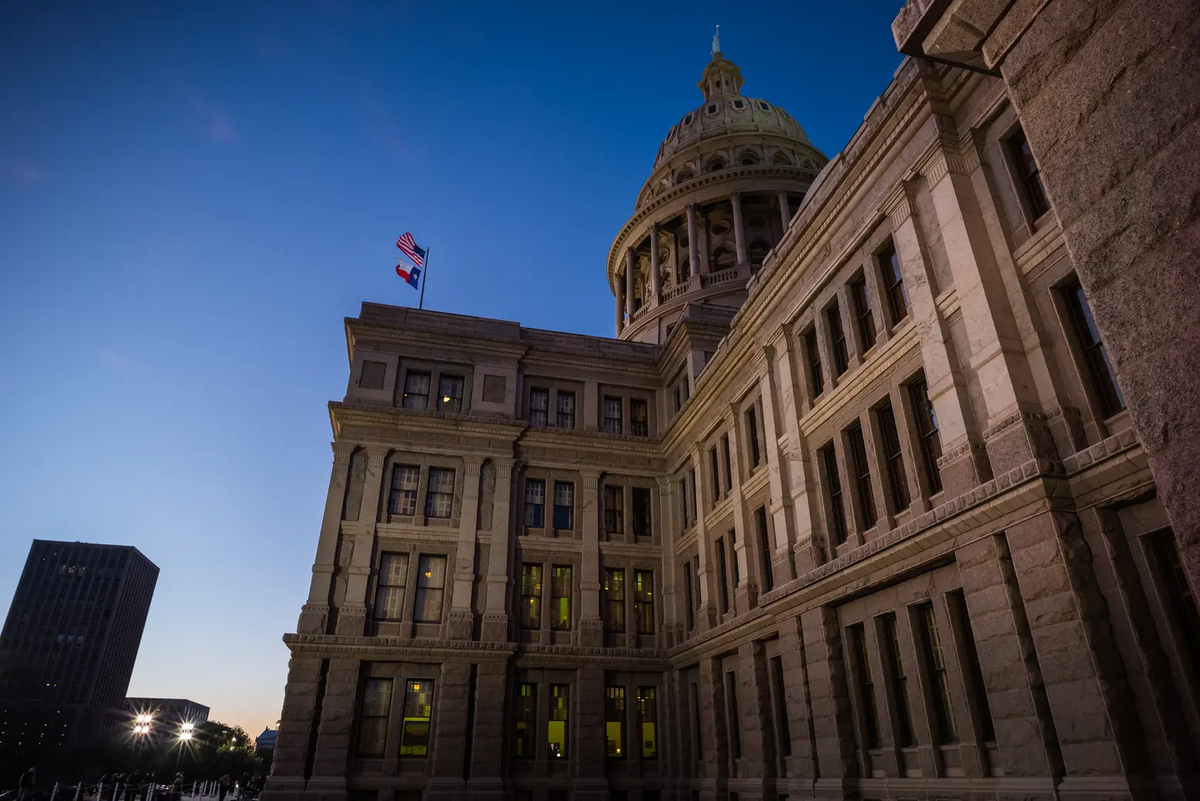 The Texas Senate Democratic Caucus is urging Gov. Greg Abbott to call an emergency special legislative session to consider a variety of gun restrictions and safety measures in the wake of a mass school shooting in Uvalde that left 19 children and two adults dead this week.
In a letter released Saturday morning, all 13 Senate Democrats demanded lawmakers pass legislation that raises the minimum age to purchase a firearm from 18 to 21 years old. The Uvalde gunman was 18 and had purchased two AR-style rifles which he used in the attack.
The caucus is also calling for universal background checks for all firearm sales, "red flag" laws that allow a judge to temporarily remove firearms from people who are considered an imminent threat to themselves or others, a "cooling off period" for the purchase of a firearm and regulations on high capacity magazines for citizens.
"Texas has suffered more mass shootings over the past decade than any other state. In Sutherland Springs, 26 people died. At Santa Fe High School outside Houston, 10 people died. In El Paso, 23 people died at a Walmart. Seven people died in Midland-Odessa," the letter reads. "After each of these mass killings, you have held press conferences and roundtables promising things would change. After the slaughter of 19 children and two teachers in Uvalde, those broken promises have never rung more hollow. The time to take real action is now."
Such laws are unlikely to gain traction in the Republican-controlled Legislature, which has a track record of favoring legislation that loosens gun restrictions. Only the governor has the power to call lawmakers back into a special session for emergency work.
Asked about a special session at a Friday press conference in Uvalde, Abbott said "all options are on the table" adding that he believed laws would ultimately be passed to address this week's horrors. However, he suggested laws would be more tailored toward addressing mental health, rather than gun control.
"You can expect robust discussion and my hope is laws are passed, that I will sign, addressing health care in this state," he said, "That status quo is unacceptable. This crime is unacceptable. We're not going to be here and do nothing about it."
He resisted the idea of increasing the age to purchase a firearm, saying that since Texas became a state, 18-year-olds have been able to buy a gun.
He also dismissed universal background checks saying existing background check policies did not prevent the Santa Fe and Sutherland Springs shootings, which both happened while he has been in office.
"If everyone wants to seize upon a particular strategy and say that's the golden strategy right there, look at what happened in the Santa Fe shooting," he said. "A background check had no relevance because the shooter took the gun from his parents…Anyone who suggests we should focus on background checks as opposed to mental health, I suggest is mistaken."
Since the massacre at Robb Elementary School, the governor's comments about potential solutions have centered around increasing mental health services, rather than restricting access to firearms.
This story has been edited for length.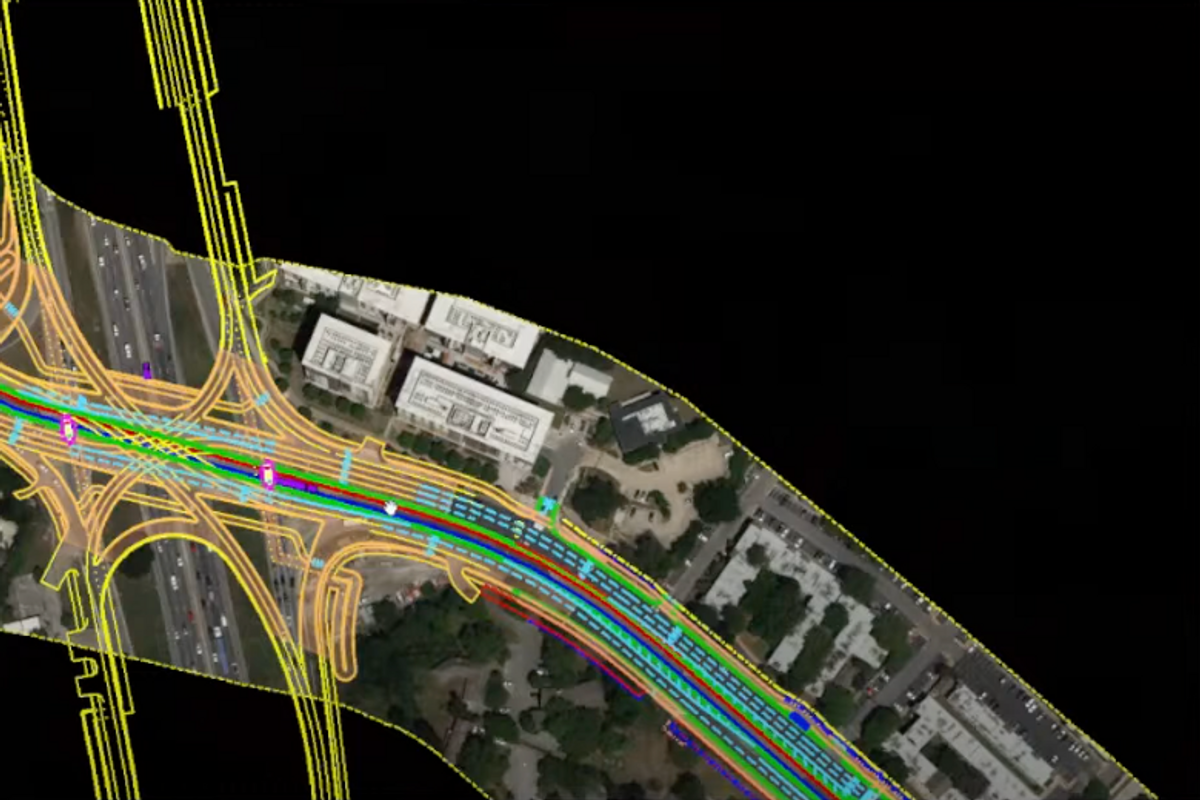 Designs for stations along Project Connect's Blue Line were presented this week, giving a detailed look at what part of the rail system extending from downtown to the airport could look like.
The planned stations that have gotten the latest focus include Waterfront, Travis Heights and Lakeshore stations past Lady Bird Lake.
At the Waterfront station, the preliminary design aims to prevent visual obstructions and save on costs. This is accomplished by a transit guideway that will lower from the bridge to a level station.
Heading onto East Riverside Drive, the light rail faces a curve requiring a slow down to about 10 miles per hour.
The Travis Heights station could involve relocating a pedestrian crosswalk zone at Alameda Drive to Blunn Creek. Since light rails can't effectively operate on a steep grade, this allows the transit guideway to avoid that.
From there, the rail will extend to the Norwood Park area, and though it will reach along the right-of-way zone, the park will be able to remain open.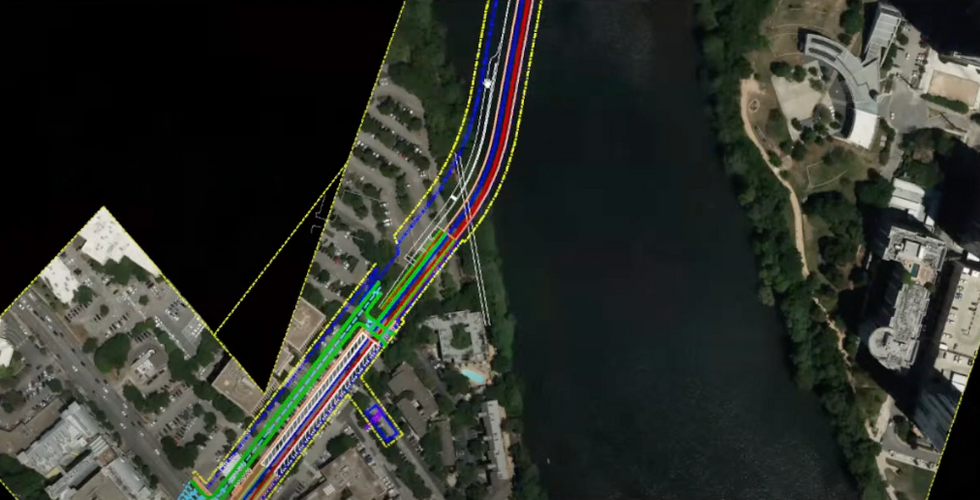 A view of the Blue Line by Lady Bird Lake. (Project Connect)
The line involves some coordination with the Texas Department of Transportation. That's because the department is working on an intersection that will have to be built before the phasing of the section of the Blue Line involving an I-35 crossing.
When it comes to the safety of cyclists and walkers, design ideas include a pedestrian hybrid beacon by East Bouldin Creek that would provide a protected signal to cross. And for the intersection TxDOT is carrying out, Project Connect is working with them on pedestrian access across the intersection. It could involve shared use paths along the street and crossings beneath it.
This summer, the public can expect 30% of design and cost estimates to be released. Though the project was $7.1 billion when voters approved it in November 2020, the latest estimates factoring in inflation and supply chain constraints show it could ultimately be upwards of $10 billion.