Get connected with our daily update
(Tom Madison)
Six weeks into the federal COVID-19 vaccine rollout, the number of Ausinites who have received a shot—or two—is growing, with recipients reporting immense relief and sharing happy selfies.
---
But it's not all smiles. As many encounter long waitlists, tech glitches and mixed messages in search of a shot, some who have received the vaccine feel guilty.
Austonia spoke to six individuals about their vaccine experience, including how they found their appointments, whether they experienced any side effects and how being vaccinated has affected their lives.
Carly Hatchell, 25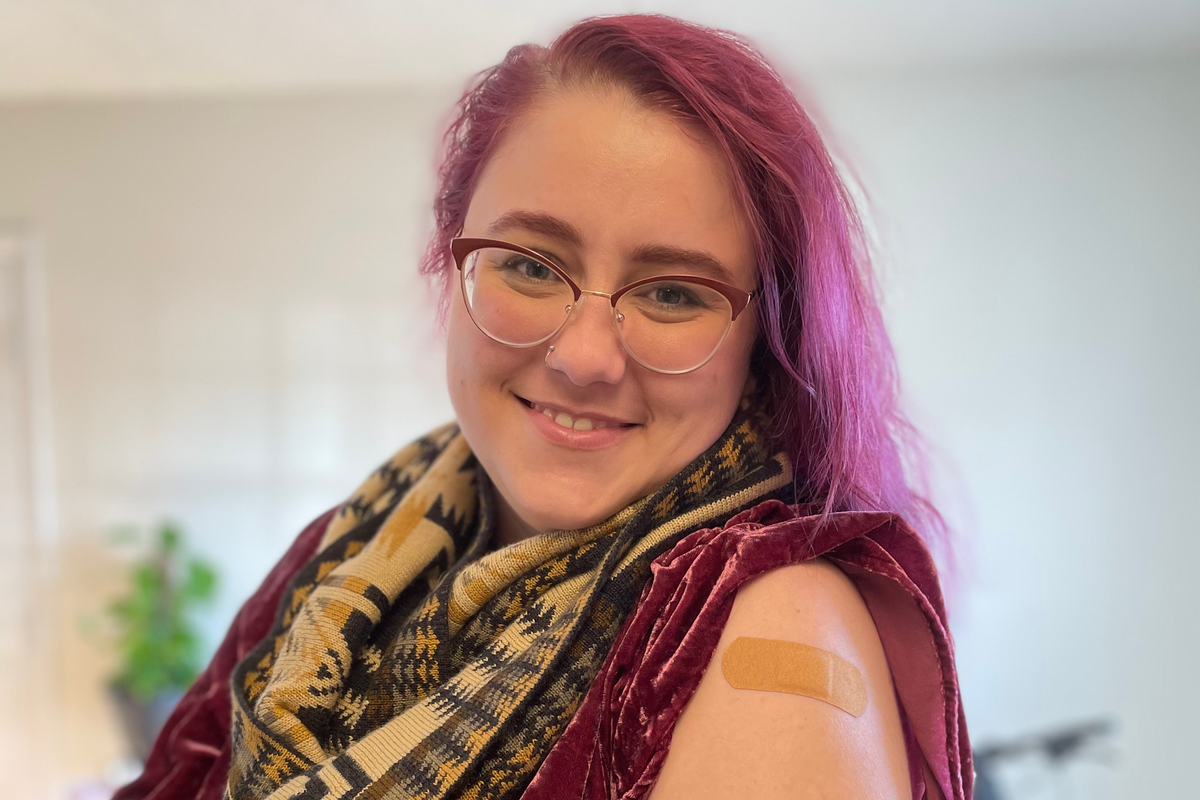 (Carly Hatchell)
Like most early vaccine recipients in Texas, Carly Hatchell is a frontline healthcare worker. As a psychiatric research associate at Dell Medical School and Dell Children's Medical Center, she received her shot from UT Health Austin, the medical school's clinical arm, which was the first provider in Travis County to receive doses from the state.
Hatchell received her first shot on Dec. 18, during the initial week of the rollout, and her second shot earlier this month. "I was very clear on my decision," she told Austonia. "Public health is a big interest to me. I actually served as a contact tracer earlier on in the pandemic."
Other than some soreness in her arm, she didn't experience any other side effects.

Hatchell described her vaccine experience as bittersweet, mostly because although she is now protected most people around her are not. "I have parents (in Houston) who are retired and older, and I know it's really difficult for them," she said. "I kind of wish I could share my dose with them."
Until most people are vaccinated, Hatchell is planning on operating as though she isn't. "I do feel confident that I am at less risk," she said. "But I haven't reduced my precautions just because we don't yet have the data (about long-term protections)."
Tom Madison, 43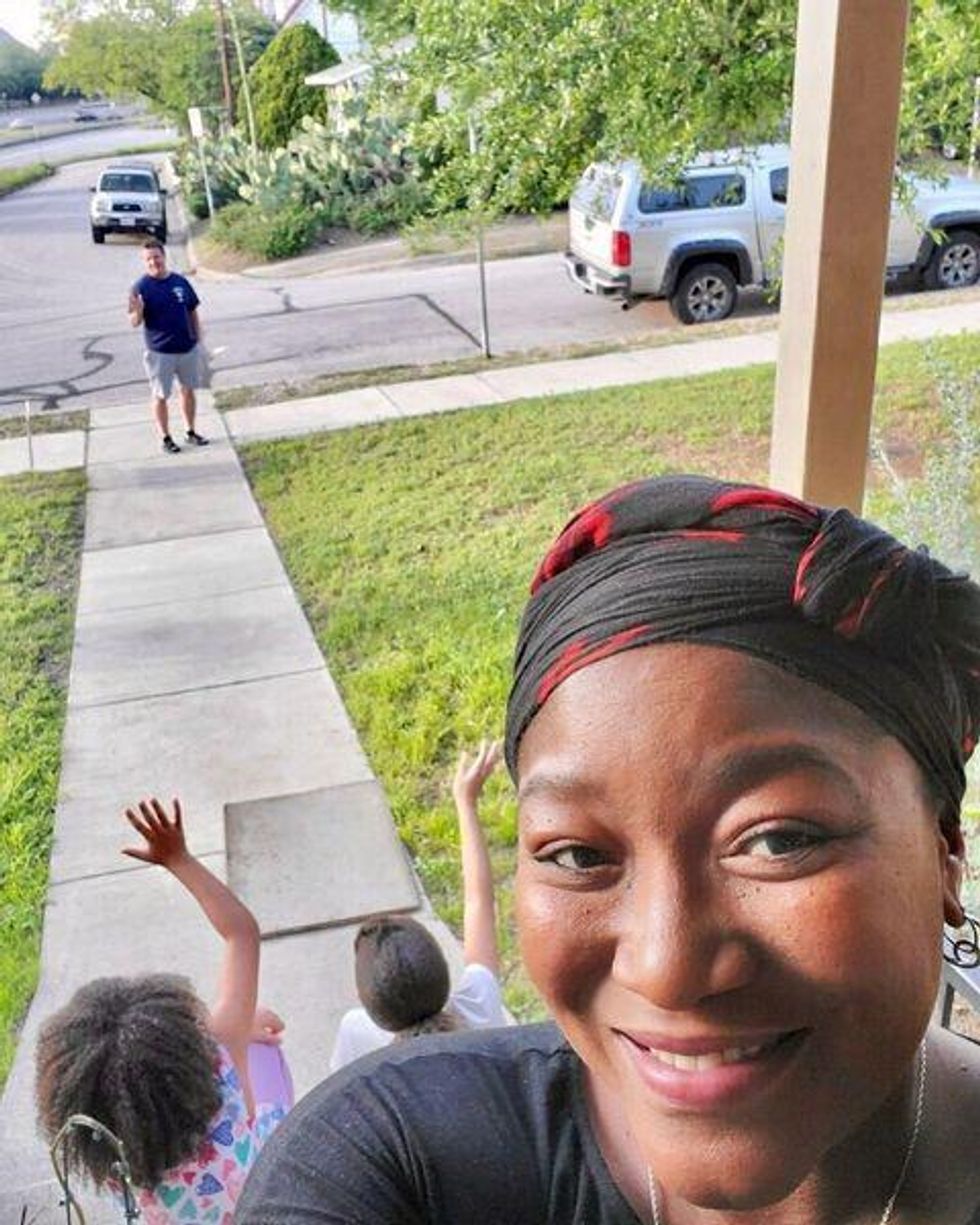 Tom Madison is a lieutenant in the Austin Fire Department and the husband of Austin City Council Member Natasha Harper-Madison, who has lupus and is a breast cancer survivor, putting her at high risk of death from COVID.
Because of Madison's job, where he runs the risk of exposure on every shift, he moved out of his family's home in March. Now that he has received both shots of the vaccine, he feels safer—but is still cautious.
"I'm still staying in the trailer next to the house," he said. "So we're still social distancing from one another because (Austin-Travis County Interim Health Authority) Dr. (Mark) Escott told my wife that we should do it until she gets vaccinated."
In the meantime, Madison has helped administer vaccines at the Delco Center, where Austin Public Health has hosted mass distribution events. "It was a huge operation," he said. "People waited in line for hours. When they go in there, they were so appreciative. It was nice to see."
Nancy Kahn, 64
Nancy Kahn is a nurse who works for a very small company that wasn't able to provide her access to a vaccine. So she began searching for an appointment anywhere she could find one, including a pharmacy in New Braunfels that she heard had one vial—with 10 doses—for healthcare workers. After waiting on the phone for an hour, she snagged a spot at Austin Regional Clinic. "I got lucky," she said.
Kahn's husband falls in the 1B group as someone who is over 65 years old and who has had cancer twice. So far, she has enrolled him in three waitlists. "He's number 3,000 at one place. He's 600 at another place," she said. "At ARC, I don't know what number."
Still, Khan is optimistic. "I've got a sister in Arizona and a brother in Illinois," she said. "There's no talk of 1B (eligibility in those states). So it could be worse."
Stephanie E., 35
Stephanie E., who works for a law enforcement agency with a no-media policy and asked that her last name not be used, was surprised when her employer offered her a vaccine because she has worked from home the entirety of the pandemic. "There was a lot of guilt," she said. "But I'm also 35 weeks pregnant now. It's not likely they were going to give my dose to a teacher or anything, so I went ahead and did it."
E.'s midwife and maternal-fetal medicine doctor told her they couldn't encourage or discourage her from getting vaccinated because of the limited data. But she wasn't concerned. "If Dr. Fauci gets it, then it seems safe," she said, adding that she feels better about her upcoming hospital stay—when she'll give birth—knowing that she has an extra layer of protection.
Now vaccinated, E. hasn't let down her guard. With three kids at home, including an 11-month old, she and her husband continue to be cautious, avoiding visits with even extended family. "They're going to meet two babies at once," she said.
Capri Conlon, 29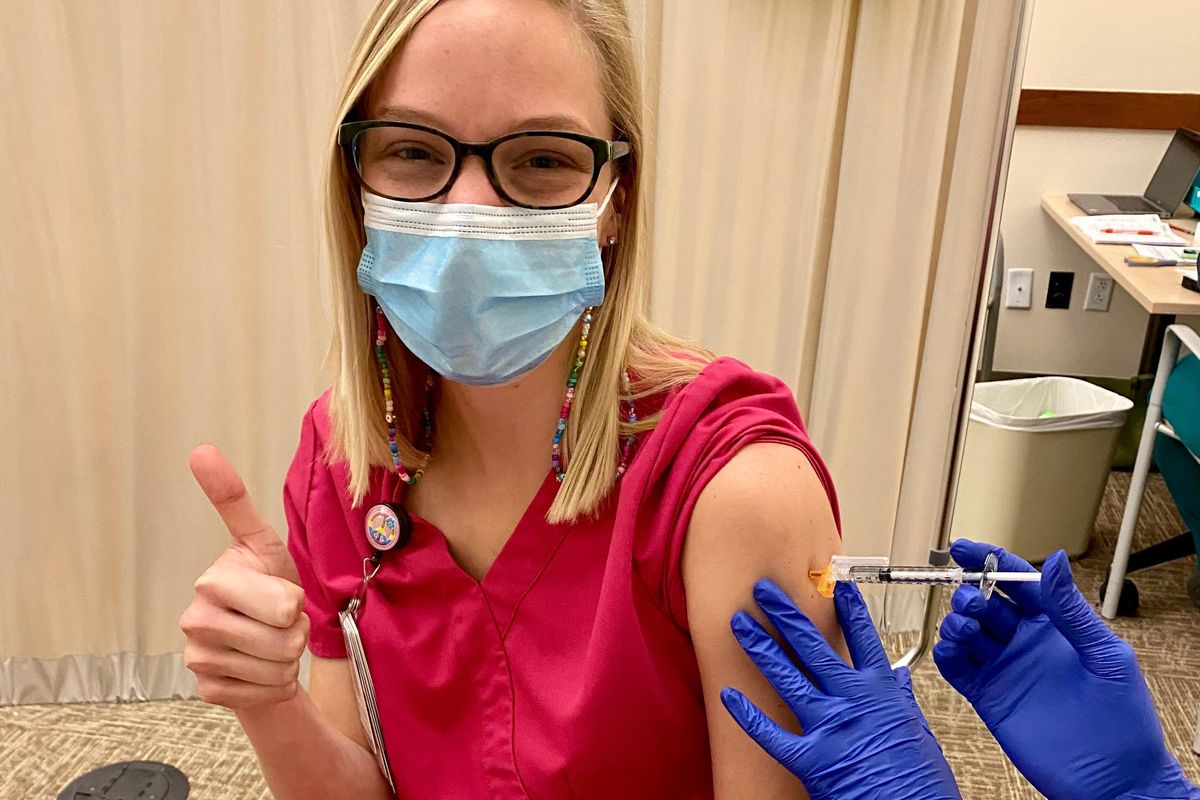 Capri Conlin is a nurse practitioner for Dell Children's Hospital. Last month, her employer sent out a sign-up link to all eligible employees, but Conlin's name was accidentally left off of it. Luckily, it was a quick fix and she received her first shot on the same day as Hatchell, in mid-December. "There's finally a light at the end of the tunnel," she said after receiving her second shot. "It feels surreal."
Conlin's patients are children and most of them are immunocompromised. As a result, she has changed her way of life to ensure she doesn't put any of them at risk of contracting COVID-19.
"Getting the vaccine, it just felt like a big relief," she said. "I just know going into my patients' room I'm not putting them at risk anymore."
Lynne Wiesman, 61
Wiesman is a professor at Austin Community College, where she teaches American sign language interpreting. Before the pandemic, she also worked often as an interpreter in area hospitals.
Although the state of Texas did not include interpreters in group 1A, a local agency successfully advocated for interpreters to be prioritized in Travis County because of their work on the front lines.
As a result, Wiesman was able to make an appointment to get vaccinated after someone shared the number for a triage nurse at ARC on a private FB page for interpreters. "I do anticipate going back to (work in) hospitals," she said.
But first Wiesman needs her second shot, which is scheduled for early February. "They've assured us (there will be enough doses)," she said. "That's the only thing that I have a slight concern about."
Wiesman opted out of taking a photo of herself having received the vaccine. She says she didn't want to rub it in the face of less privileged people who wish to be vaccinated.
The Texas French Bread Bakery, located on 2900 Rio Grande Street, has been completely destroyed after a fire erupted on Monday night.
The Austin Fire Department responded to the fire just before 11 p.m., where they arrived to see flames coming from the roof of the bakery. Firefighters fought the fire for about an hour before the roof collapsed.
While no one was injured in the fire, firefighters say the historic building was completely totaled.
AFD determined that the fire was accidental and caused by mechanical failure. AFD said the damages amounted to $1.6 million total: $1.1 million in structural damage and $500,000 in damage to the contents of the bakery.

This year, Texas French Bread will celebrate 40 years of business. Before the bakery occupied the building, it was the Rome Inn, a music venue that hosted 1970s artists like Stevie Ray Vaughan.
Austin's first major league team is ready to extend its reach with a new collaborative sports complex The Pitch, an Austin FC destination packed with local food, beverages and Verde fervor is set to open in Northeast Austin in February.
The Pitch, a collaboration between Austin FC and Karlin Real Estate, among other entities, will be located in the 50-acre Parmer Pond District, which already hosts the club's practice facility St. David's Performance Center.
Dubbed a "true destination" for both soccer fans and the community, The Pitch will consist of multilevel shipping containers designed by Mark Odom Studio that will carve out into a 1,200-seat stadium complete with a soccer pitch made of turf, food and beverage options and a five-acre "Parmer Pond" featuring jogging trails.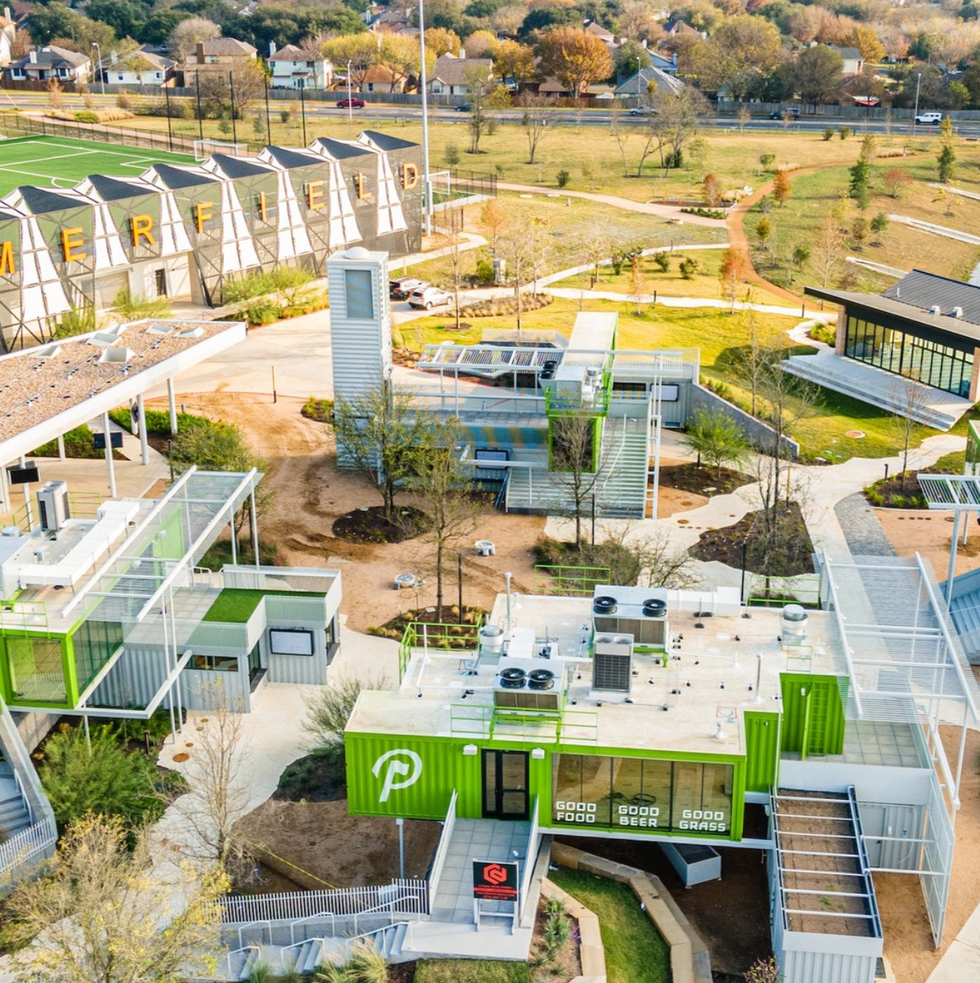 Made from multilevel shipping containers, The Pitch will include food and a 1,200-seat soccer pitch made from artificial turf. (The Pitch)
"The launch of Karlin's new food and entertainment experience will greatly enhance the Parmer development while perfectly complimenting St. David's Performance Center," Austin FC founder Anthony Precourt said. "The Pitch... will offer a strong variety of food options and gathering spaces for guests who will utilize St. David's Performance Center and Parmer Field for a variety of events."
The Pitch project lead Dave Greeley, who helped come up with the concept, is a former president of Austin FC parent company, Two Oak Ventures.
"The vision behind The Pitch at the Parmer Pond District is to be a first-of-its-kind sports, dining and entertainment destination," said Dave Greeley, The Pitch project lead and Team Orbis president. "This will be an unmatched experience for Parmer Austin tenants, Austin FC and club supporters, and the community."
With its proximity to the practice center, the venture hopes to contribute to the growing "soccer city" of Austin during Austin FC matches and youth games with the Austin FC Academy hosted at the St. David's Performance Center.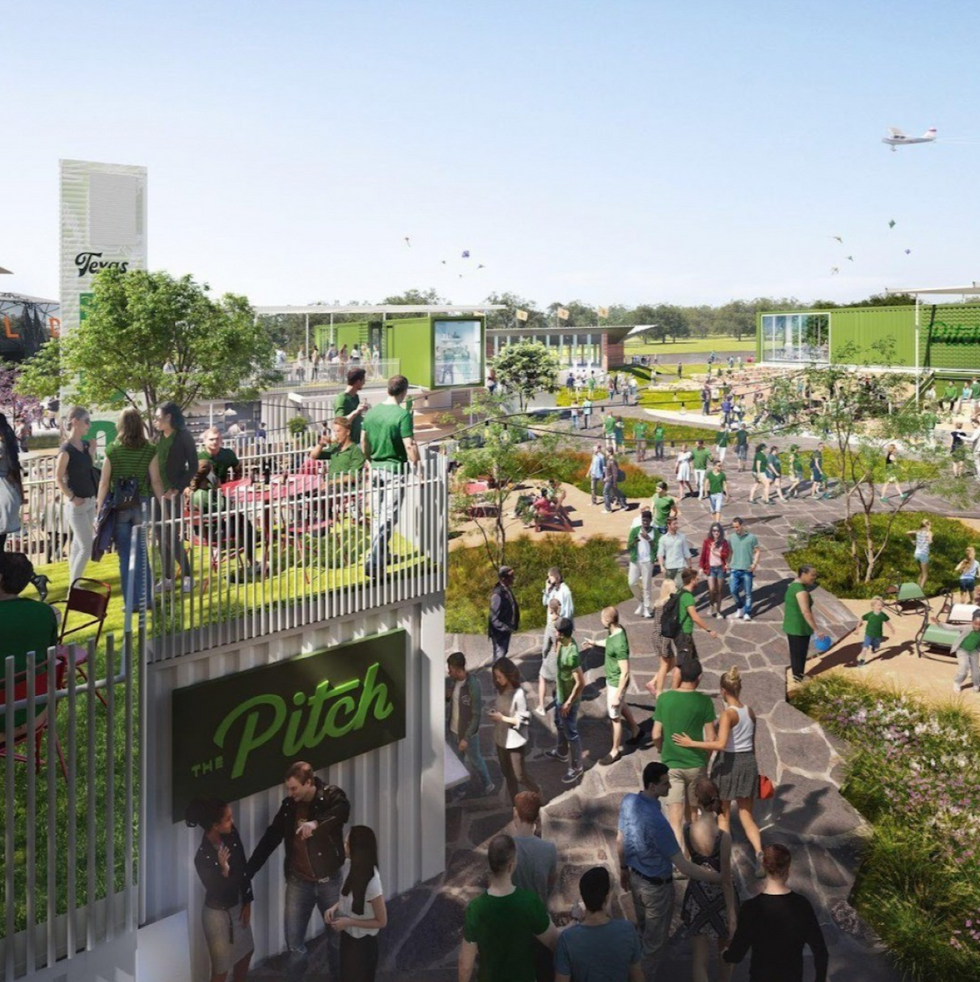 The Pitch hopes to converge both community and club interests with Austin FC. (The Pitch)
In addition to the soccer pitch, stadium and pond, The Pitch will provide a foody experience made by the creative team behind Austin staples like Fareground and Easy Tiger. The complex will offer local bites including:
Ranger Burger, which offers beers and burgers made from highly-coveted Wagyu beef direct from Ranger Cattle in East Austin
Ga Roti, which merges flavors from Northern Vietnam with the culinary techniques of France to create a unique rotisserie chicken joint
Taco Flats, a local taco chain serving Mexico City-style tacos, micheladas and more
Sand Bar, which fulfills its namesake with beauty cocktails, local beers and a sand volleyball court
Coffee Club, a coffee shop and bakery
Corner Kick Bar, the soccer-focused main bar of The Pitch complete with "tunes, TVs and (a) beer garden"
The Pitch will squeeze between St. David's Performance Center and Parmer Pond alongside the southern edge of Parmer Austin, a Karlin Real Estate venture that will eventually include multifamily housing, corporate office space and an aerospace and defense center.