Get connected with our daily update
(Ascension Seton)
The Texas super crisis continues amid the ongoing COVID-19 pandemic, delaying vaccine shipments and leading to cancelled appointments. However, Austinites can expect delayed allocations and appointments to resume early next week, followed by an increased weekly allocation, according to the Texas Department of Health Services. Around 25% of this week's allocation remains in out-of-state warehouses awaiting shipment due to the inclement weather; the doses are expected to ship out in the first half of next week, followed by next week's allocation.
Twenty-seven providers in Travis County will receive a total of 31,250 vaccine doses for the week of Feb. 22 as part of the 11th weekly allocation, with the bulk going to hub provider Austin Public Health, whose COVID testing sites and vaccine clinics have been closed since last Saturday due to inclement weather.
---
Austin Public Health (12,000 doses)
DSHS Central Pharmacy Warehouse (6,100 doses)
UT Health Austin (5,850 doses)
Seton Medical Center (3,000 doses)
Austin Ear Nose and Throat Clinic (500 doses)
WellMed Ben White (400 doses)
CommUnityCare Rundberg (300 doses)
CommUnityCare ARCH (200 doses)
CommUnityCare Sandra Joy Anderson (200 doses)
CommUnityCare William Cannon (200 doses)
CommUnityCare Hornsby Bend Health Center (200 doses)
CommUnityCare North Central (200 doses)
CommUnityCare South Austin (200 doses)
Lone Star Circle of Care at El Buen Samaritano (200 doses)
Baylor Scott & White Institute for Rehabilitation (200 doses)
Refugee Services (200 doses)
CommUnityCare Southeast Health and Wellness Clinic (200 doses)
CommUnityCare Del Valle (200 doses)
Fresenius Medical Care (100 doses)
Carousel Pediatrics William Cannon (100 doses)
Lone Star Circle of Care at Collinfield (100 doses)
Lone Star Circle of Care at Ben White (100 doses)
Lone Star Circle of Care Family Care Center (100 doses)
People's Community Clinic (100 doses)
Encompass Health of Austin (100 doses)
Victory Medical and Family Care (100 doses)
Manor Pharmacy (100 doses)
As of Friday, most health care providers remain severely constrained by the power crisis, water crisis or both.

APH does not yet know when vaccine operations will resume, but the department will reach out to those whose appointments have been canceled with a new time, date and location. The department also tweeted out that it would be working on a larger scale than before once operations restart with extended hours.
Currently, second dose appointments are the priority. "While they may be several days between the time your appointment is canceled and your new appointment information is sent, it is important to remember that there is flexibility allowed between doses without losing effectiveness," Austin-Travis County Interim Health Authority Dr. Mark Escott said in a statement Thursday. The CDC recommends that providers administer the second dose as close to the recommended interval as possible (three weeks for Pfizer, four for Moderna), but in cases where that is not possible the agency advises it may be given up to six weeks after the first shot.
UT Health Austin, the clinical wing of Dell Medical School and the other hub provider in Travis County, canceled vaccine appointments through Friday and are asking appointment holders to return next week during specific times according to the schedule listed below: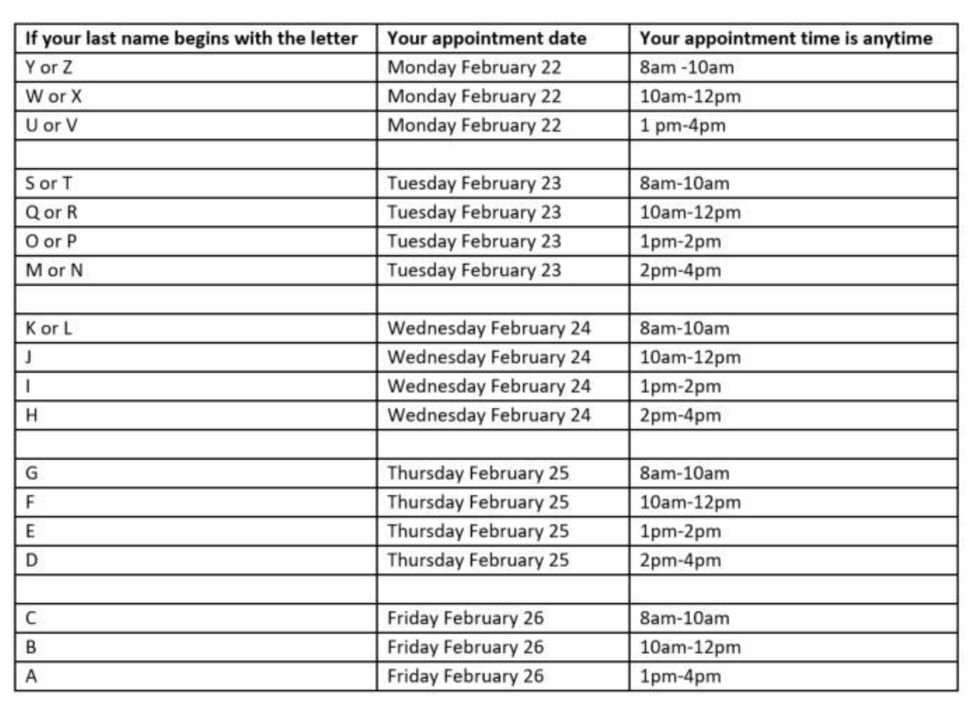 (UT Health Austin)
People with vaccine appointments at UT Health Austin next week should arrive as planned.

CommUnity Care East Austin also canceled appointments through Friday due to the inclement weather. "We will reach out to you to reschedule any appointments missed," the community clinic network tweeted Friday.
Although the remaining providers may have doses to administer next week, many are limiting their supply to existing patient waitlists or reaching out to eligible candidates directly. View a list of providers with a waitlist here. Note that the DSHS Central Pharmacy Warehouse does not serve the general public.
With this latest allocation, Travis County will have received 186,975 doses overall. Local public health officials estimate that there are 285,000 area residents who fall in the 1A and 1B priority groups.
As of midday Friday, 109,252 Travis County residents have received at least one dose of the COVID vaccine and 48,327 residents have received both doses, according to Texas Department of State Health Services data.
DSHS will allocate 591,920 initial doses of the COVID vaccine to 563 providers across the state this week, focusing on hub providers capable of widespread community distribution as well as smaller providers serving older adults. This represents a 45% increase compared to last week's allocation and includes 84,240 doses for large-scale FEMA vaccine clinics in Harris, Dallas and Tarrant counties.
In addition to the first shot allocations, Texas has ordered 364,830 doses intended for second shots. DSHS advises Texans waiting for their second dose to "rest assured" knowing that their appointments will be rescheduled. "Even if they receive the second dose outside of the recommended six-week time frame, they will get the full protection of the second dose and will not need an additional booster shot," according to a Friday DSHS press release.
The Texas French Bread Bakery, located on 2900 Rio Grande Street, has been completely destroyed after a fire erupted on Monday night.
The Austin Fire Department responded to the fire just before 11 p.m., where they arrived to see flames coming from the roof of the bakery. Firefighters fought the fire for about an hour before the roof collapsed.
While no one was injured in the fire, firefighters say the historic building was completely totaled.
AFD determined that the fire was accidental and caused by mechanical failure. AFD said the damages amounted to $1.6 million total: $1.1 million in structural damage and $500,000 in damage to the contents of the bakery.

This year, Texas French Bread will celebrate 40 years of business. Before the bakery occupied the building, it was the Rome Inn, a music venue that hosted 1970s artists like Stevie Ray Vaughan.
Austin's first major league team is ready to extend its reach with a new collaborative sports complex The Pitch, an Austin FC destination packed with local food, beverages and Verde fervor is set to open in Northeast Austin in February.
The Pitch, a collaboration between Austin FC and Karlin Real Estate, among other entities, will be located in the 50-acre Parmer Pond District, which already hosts the club's practice facility St. David's Performance Center.
Dubbed a "true destination" for both soccer fans and the community, The Pitch will consist of multilevel shipping containers designed by Mark Odom Studio that will carve out into a 1,200-seat stadium complete with a soccer pitch made of turf, food and beverage options and a five-acre "Parmer Pond" featuring jogging trails.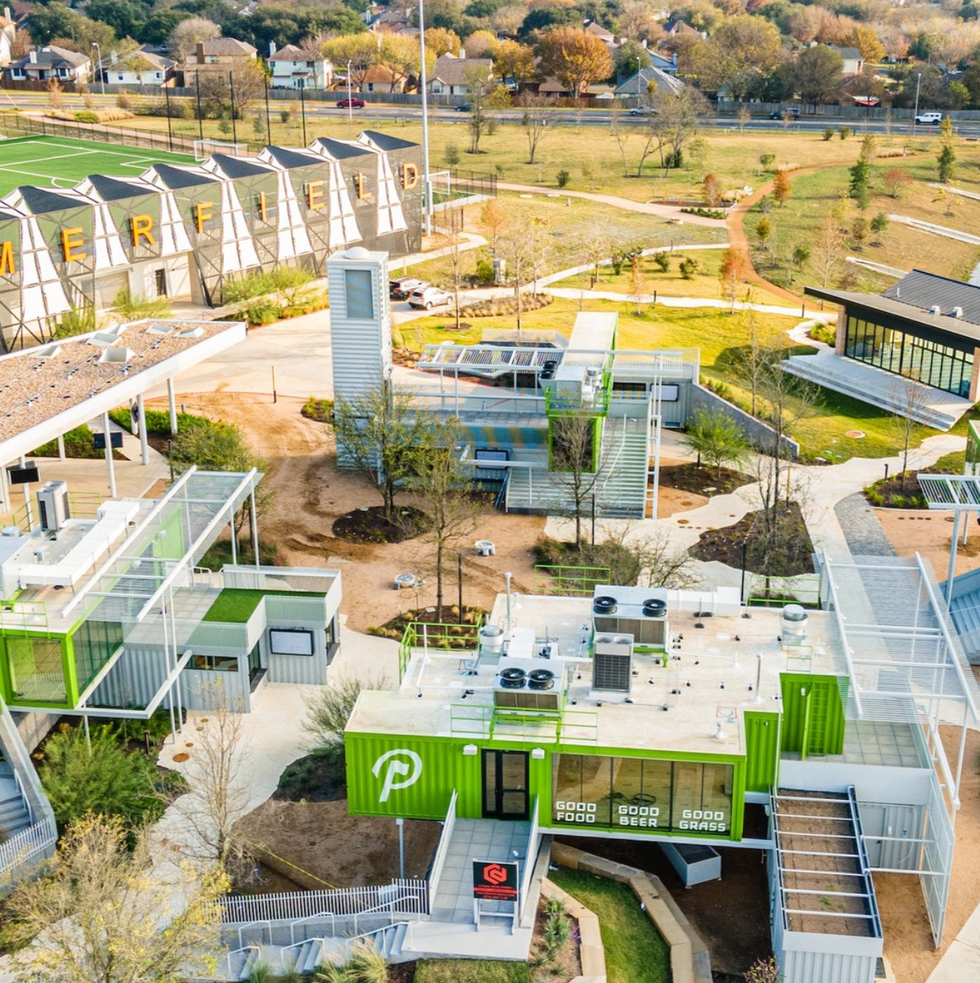 Made from multilevel shipping containers, The Pitch will include food and a 1,200-seat soccer pitch made from artificial turf. (The Pitch)
"The launch of Karlin's new food and entertainment experience will greatly enhance the Parmer development while perfectly complimenting St. David's Performance Center," Austin FC founder Anthony Precourt said. "The Pitch... will offer a strong variety of food options and gathering spaces for guests who will utilize St. David's Performance Center and Parmer Field for a variety of events."
The Pitch project lead Dave Greeley, who helped come up with the concept, is a former president of Austin FC parent company, Two Oak Ventures.
"The vision behind The Pitch at the Parmer Pond District is to be a first-of-its-kind sports, dining and entertainment destination," said Dave Greeley, The Pitch project lead and Team Orbis president. "This will be an unmatched experience for Parmer Austin tenants, Austin FC and club supporters, and the community."
With its proximity to the practice center, the venture hopes to contribute to the growing "soccer city" of Austin during Austin FC matches and youth games with the Austin FC Academy hosted at the St. David's Performance Center.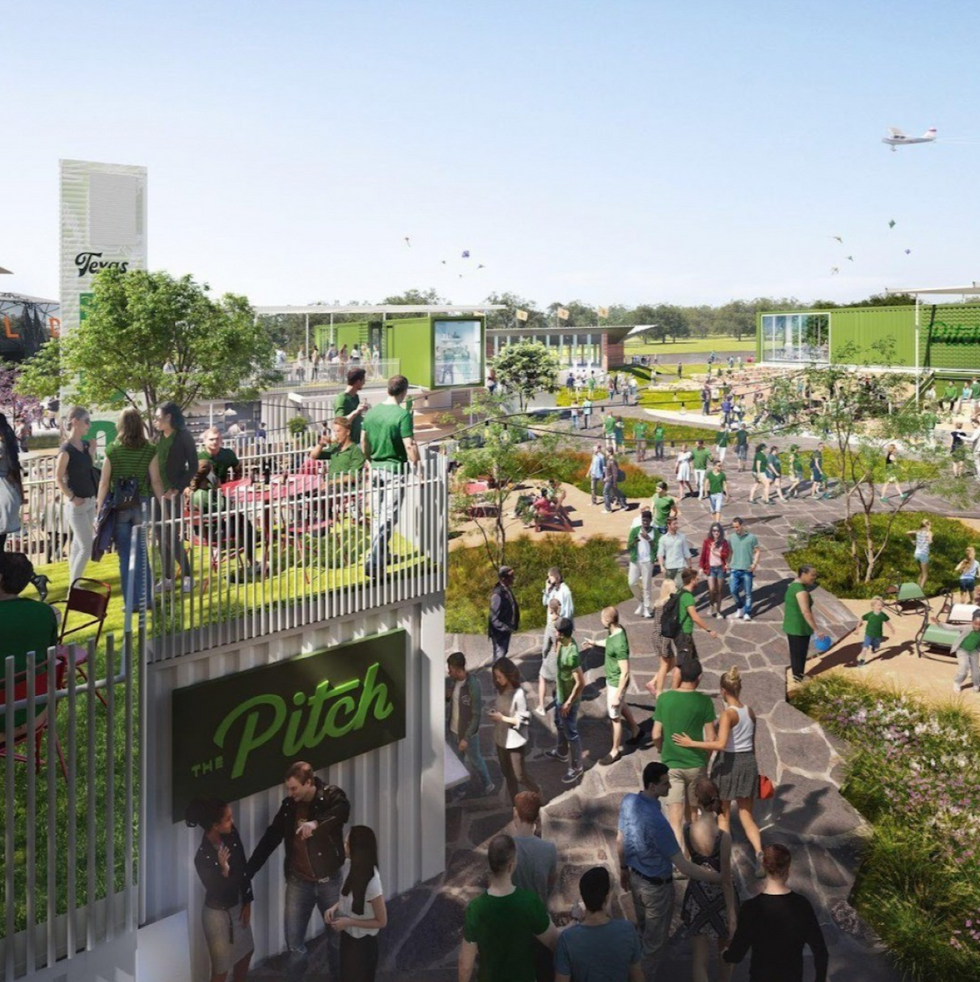 The Pitch hopes to converge both community and club interests with Austin FC. (The Pitch)
In addition to the soccer pitch, stadium and pond, The Pitch will provide a foody experience made by the creative team behind Austin staples like Fareground and Easy Tiger. The complex will offer local bites including:
Ranger Burger, which offers beers and burgers made from highly-coveted Wagyu beef direct from Ranger Cattle in East Austin
Ga Roti, which merges flavors from Northern Vietnam with the culinary techniques of France to create a unique rotisserie chicken joint
Taco Flats, a local taco chain serving Mexico City-style tacos, micheladas and more
Sand Bar, which fulfills its namesake with beauty cocktails, local beers and a sand volleyball court
Coffee Club, a coffee shop and bakery
Corner Kick Bar, the soccer-focused main bar of The Pitch complete with "tunes, TVs and (a) beer garden"
The Pitch will squeeze between St. David's Performance Center and Parmer Pond alongside the southern edge of Parmer Austin, a Karlin Real Estate venture that will eventually include multifamily housing, corporate office space and an aerospace and defense center.