Never miss a story
Sign up for our free daily morning email...
...and afternoon text update
Get connected with our daily update
Chris Savittiere
For ten years, Chris Savittiere supplied upscale restaurants and hotels in Austin and around the country with aprons, uniforms and leather goods. To start, the self-taught designer converted his Austin house into a sewing studio. A couple of years ago, he opened a shop on Austin's east side for his business, Savilino.
Then, as restaurants and hotels were hit by coronavirus concerns and regulations, the business disappeared overnight.
---
"I laid off my staff," he said, "and asked if they would stick around for a couple of days and make some masks and see what happens. I said, 'It's either going to be a big dud because no one is going to wear one or it will keep us afloat for a while.'"
The first week they had enough work to keep people going. Then, in the first days of April, they made it onto the news one night, and the Centers for Disease Control issued the recommendation that people wear a cloth mask in public.
"And it just blew up," he said. "Immediately, we hired more people."
Savilino was suddenly receiving about 3,000 mask orders per day. Savittiere says the business has produced over 12,000 cloth masks, and that about 9,000 more are currently being made.
He is building "a small army of home sewers." So far, he has about 17, with more coming on board every day. He provides curbside pickup of the materials the sewers need.
Inside the shop, wearing masks and sanitizing frequently, is an eclectic team. A hairstylist is handling the phone, while another is in charge of orders. An old bartender buddy of Savittiere's, who is also an actor, is managing the shipping area. Lighting people are cutting fabric.
"It's a ragtag group of people," he says. "Everyone is just really dedicated."
Some of his customers are previous clients, who are still trying to stay in business, such as restaurants offering take-out service. Other orders are coming from the public as people call, write to him on Instagram, contact him on Facebook and text. To manage the process, he sends them all to the company's website.
He has donated masks to the ARCH, an Austin resource center for the homeless, and says that when he is ramped up and able to fill existing orders, he will begin to donate masks to other organizations. He has also made it possible for the public to use his website to commission masks for donation.
For now, he is navigating various bottlenecks in the supply chain, working to reduce the current 10-to-14-day wait for masks. He thinks his team will be caught up in about a week, and then able to fill orders more quickly.
At some point, when people are able to return to restaurants and hotels, he will have to face the question of whether to go back to his previous business. He is concerned that as these clients face harder times, custom goods may be one of the first things they cut. He also says that he is having a change of heart.
"I'm feeling more of a responsibility to the community and things that benefit the public," he says. "I feel there's a cultural shift that's going to happen after this."
As Austin navigates its homelessness crisis, city voters will decide starting Monday whether to reinstate a ban on sitting, lying and camping in certain areas of the city. Proposition B has drawn impassioned support and opposition and is perhaps the most contentious item on the May 1 ballot.
Austonia sought out clear and brief editorials from either side of the debate. Arguing in favor of Prop B is Cleo Petricek, a Democrat and co-founder, along with Travis County GOP Chairperson Matt Mackowiak, of the Save Austin Now political action committee, which has led the charge to reinstate the camping ban. Opponent Emily Seales is a licensed clinical social worker and advocate with over 20 years of experience working and volunteering in homeless services in Austin and around the country. She is currently on staff at the Sunrise Homeless Navigation Center and is board co-chair of Open Door.
Editor's note: These submissions are the unedited views of their authors. Claims made have not been fact-checked to give the proponent and opponent a chance to speak their minds freely.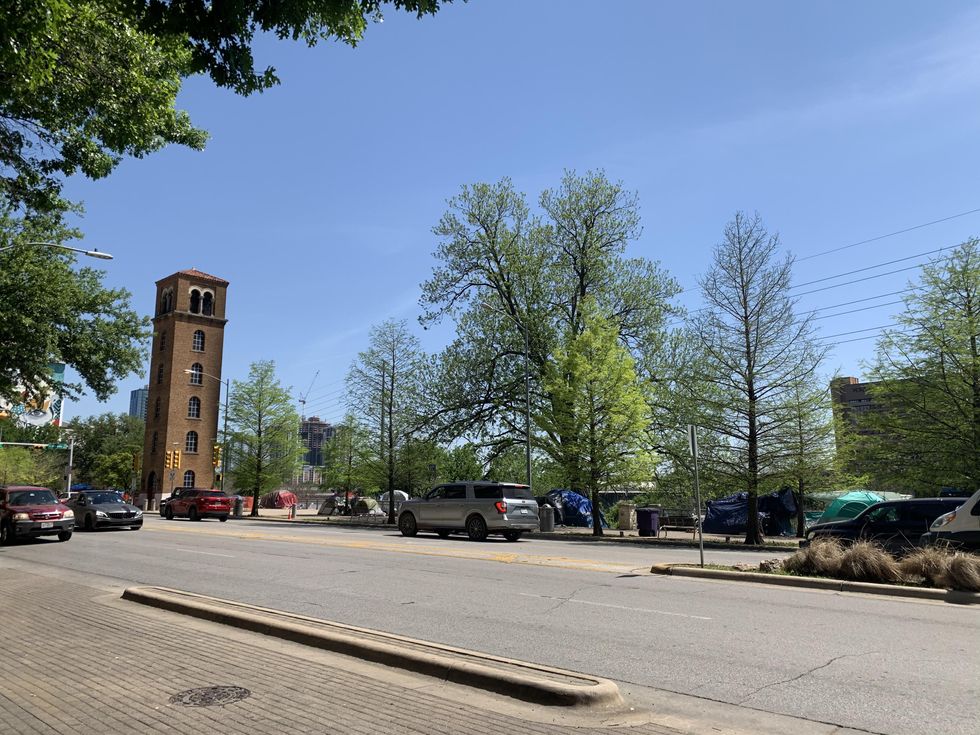 Homeless residents have also set up tents along Cesar Chavez Street near Buford Tower, which recently caught fire after a blaze spread from the camp. (Emma Freer)
Pro: Voting yes on Prop B sends a message to council that voters' voices and real solutions are paramount

In June 2019, the Austin City Council rescinded regulations on camping in public spaces. They did so without any serious public discussion and in fact appeared to actively avoid serious scrutiny. The resulting chaos is clear for all to see. Parks and playgrounds impacted by illicit behavior, lewd activities in public, trash strewn in waterways and public spaces, and most critically, assaults on the public and on other homeless individuals.
It is obvious that the homeless are not helped by this misadventure. Vulnerable women and youth in these camps are abused, mentally ill individuals are not served and there is no incentive for substance abusers to seek help.
Proponents of this mess have put forward no credible plan for any short term housing that restores safety—instead they talk about abstract housing concepts that even they acknowledge will take years to develop. This is the mark of narrowly focused activism, not what citizens should expect from elected leaders who promise to serve their communities. At every turn, the proponents of this chaos have demonstrated that they are not capable of fully considering the needs of diverse communities and proposing workable solutions. Instead they simply double down on trying to tell Austin that anything other than their chaos is heartless and inhumane. This is intellectually lazy, and Austin should demand better.
The chaos created by the City Council has resulted in a public outcry culminating in the citizens demanding to be heard by direct ballot. This demand is across the political and economic spectrum. As a co-founder of the Save Austin Now PAC and a lifelong Democrat, I have seen the diversity of people raising their voices in concern for our city.
It's time we turn this situation around and vote yes on Prop B. It sends a clear message to the council that the citizens of Austin must be heard as we work toward real solutions. There are successful models to learn from and some in our own state. But it all starts with voting yes on Prop B starting April 19.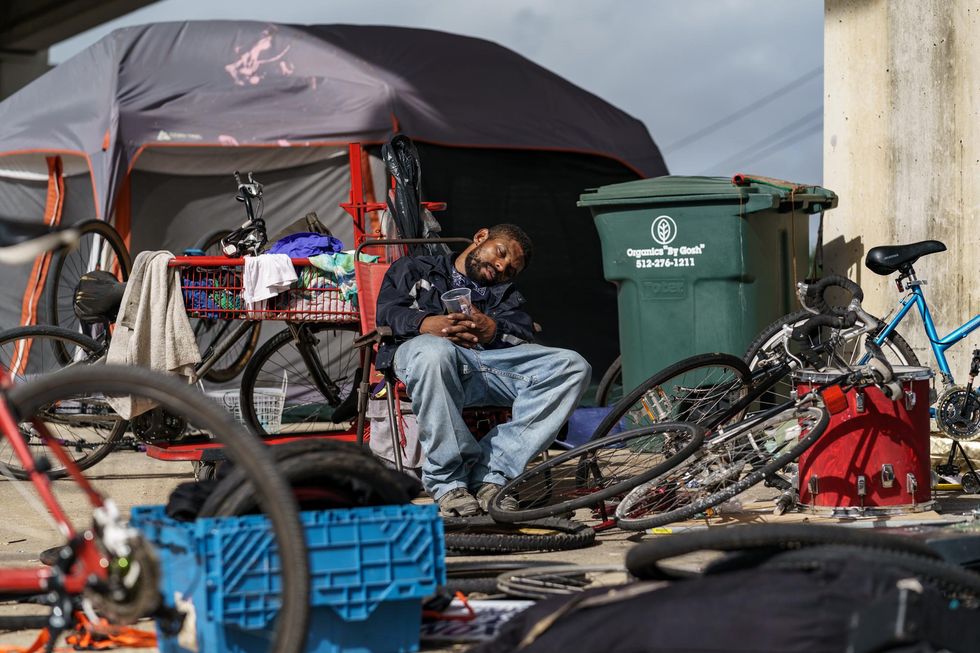 A homeless residents sleeps in the middle of a bike scavenging operation based at a camp under the South Austin overpass. (Jordan Vonderhaar)
Con: Prop B blames homeless individuals rather than providing solutions to societal problems
Austin's homeless population needs help, but Prop B doesn't do anything to solve our city's problems. It simply tells people who are experiencing homelessness that they cannot exist, visibly, in public space. I, too, am worried about the encampments. They are evidence that our strategies to help people return to housing aren't sufficient. But telling people "You can't stay here" without giving them alternatives isn't a solution.

The reason so many people are experiencing homelessness is that it takes a long time to get into housing, even when you do everything right. Shelters are at capacity, we lack deeply affordable housing, landlords can refuse housing vouchers, and housing programs are full.
As a case study, I want to tell you about "Bill," whom I met two years ago. Bill was a veteran, father, former truck driver and person of faith. He was also homeless and unsheltered. Bill had recently suffered a series of strokes and was desperate for both disability income and housing.
Bill and I worked together every single week for 17 months. He eventually was awarded disability and moved into his own apartment.
Bill's situation is typical of hundreds of people who are stymied by our complicated processes and lack of housing. Prop B would not add resources for people like Bill. Read the ballot language. Because Prop B bans "camping," people would have to move around constantly to avoid being cited. All that moving around takes time and energy. People like Bill would have a harder time keeping their appointments with case managers. Unpaid fines from citations build a criminal record—and landlords can choose not to rent to someone with a record. So punishing people for not having housing makes it even harder to get housing. Prop B hurts, not helps.
In this election, Austinites have a choice to criminalize people like Bill or to work toward solutions. Prop B places the blame on individuals rather than recognizing homelessness as a failure of society.
Prop B is an inhumane and wrong response. Oppose Prop B, and let's focus on solutions. Learn more
here
.
(Laura Figi/Austonia)
Austin FC's opening match at LAFC has already gotten plenty of buzz, and not just because the team will be playing its first-ever match. The opener will also see two famous fans pitted against each other: Will Ferrell and Matthew McConaughey.
Since he joined the club as a part-time owner in 2019, McConaughey hasn't been quiet about going Verde. The Austin icon has been a hypeman for the team on the Jimmy Kimmel show, spoken with MLS Commissioner Don Garber at SXSW and is vocal about the club on Twitter.
On Tuesday, McConaughey talked all things Austin FC from what appeared to be an Airstream.
"We've been talking about this," McConaughey said. "We've been building this brick by brick. We understand it's Verde, it's listos, but now it's live."
"I just got some chills saying that," McConaughey added.
This weekend will put the club to the test for the first time against LAFC, which also happens to be part-owned by a big Hollywood name. Comedian and actor Will Ferrell will be on the other side of the pitch come Saturday, and he's ready to start a rivalry.
After talking to McConaughey about both teams, Ferrell told Spectrum News he's excited to watch his team play the so-called "Austin Cacti" this season.
"I can only hope for a rivalry," Ferrell said. "I think Austin is going to be a fantastic market for a brand new soccer team, and I can't wait to be there when LAFC plays the 'Austin Cactuses.'"
Now with five days to go, McConaughey said that he and Ferrell had been having a "war with words" over the match and are planning on placing bets before game time.
It's not the first time the two have found themselves on opposing sides of a sport. Back in 2018, Ferrell made his way to Austin to see USC football duke it out with the Longhorns (psst,—UT won.)
McConaughey and Austin FC are hoping to see yet another loss for Ferrell as they head to their first game on Saturday, but the match will be quite the challenge.
The MLS set the opening schedule for more than fame; the newly-formed Austin FC has been one of the most talked-about teams this preseason, and LAFC is projected at No. 2 in the league's power rankings. Austin FC currently sits at No. 21.
Head Coach Josh Wolff has said LAFC has one of the best offenses in the league.
"LAFC has one of the best attacking teams in the league," Wolff said. "They will punish you. They've never been shy of putting up goals, and again, I expect them to be one of the best teams in the league this year."
The club has lived up to Wolff's words: in just their second season of existence, LAFC took first in the Western Conference and were Supporters' Shield winners in 2019.
Austin FC will need to hold off LAFC captain Carlos Vela, a versatile winger/attacking midfielder who won the Most Valuable Player title in 2019, as well as high-scoring forward Diego Rossi.
Meanwhile, LAFC will face challenges in DP Cecilio Dominguez and midfielder Alex Ring, the former NYCFC "ringleader" who has worn the captain's armband already for his newest team. Forward Rodney Redes may or not be playing Saturday due to a "ding" on his knee, but if he does, he'll be a force to be reckoned with as well.
Austin FC's inaugural match will be nationally broadcast on FOX and FOX Deportes and will be featured on Alt 97.5 FM.