Get connected with our daily update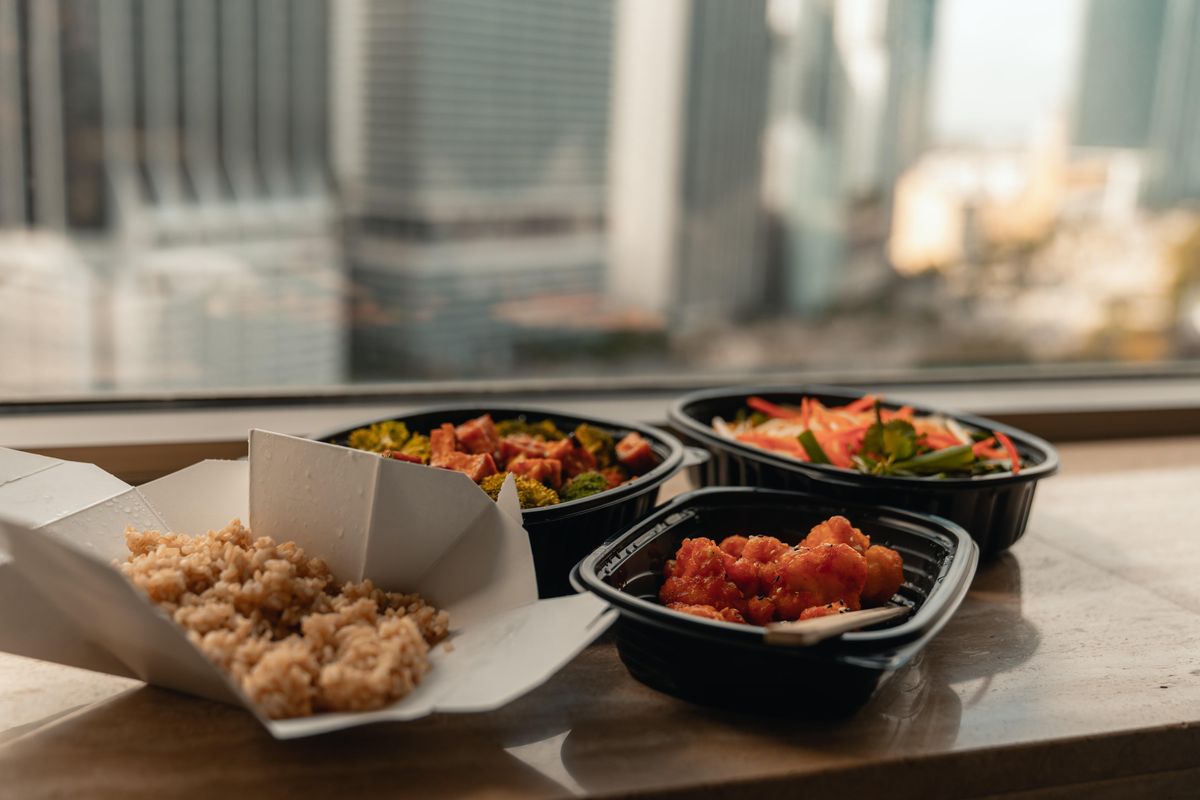 (Pexels)
Austin's restaurants have had a tough year. With COVID-19 cases on the rise, hospitals nearing capacity and Stage 5 COVID-19 risk-based guidelines in effect, some Austin eateries have taken it upon themselves to put "flattening the curve" on the menu.
---
After a year of strife and strain on the food industry, the latest Stage 5 recommendations have put extra strain on restaurant owners, leaving them between a rock and a hard place. Since the guidelines are just recommendations, not orders, owners are left with the choice to stay open and risk infection or close and lose money.
The guidelines recommend shuttering dine-in services, limiting outdoor dining to 50% and closing down at 10:30 p.m.
Although the guidelines just went into effect on Wednesday, these restaurants have already voluntarily closed their dining rooms.
P. Terry's
P. Terry's announced on Saturday that it would close dining rooms at all burger stands and Taco Ranch locations effective immediately, though drive-thru and delivery will still be open.
DrinkWell
DrinkWell, located at 207 E. 53rd St., closed its dine-in services on Wednesday, the same day Austin moved into Stage 5, though pickup and curbside options are still available.

"We are closing dine-in services voluntarily as a way to do our part to support our community in lowering the impact of COVID-19 for our guests and the staff here at DrinkWell," the restaurant said on Instagram.
Old Thousand
Old Thousand, located at 1000 E. 11th St., made the decision to close Sunday but remains open for takeout. Its second location, at 4805 Burnet Road, was not mentioned in the temporary closure.
Eldorado Cafe
Eldorado Cafe, located at 3300 W. Anderson Lane, is one of the rare restaurants that has had their dining room closed through the entirety of the pandemic. Now is no different, as the restaurant plans to reopen indoor dining in 2021.
L'Oca d'Oro
Likewise, L'Oca d'Oro, located at 1900 Simond Avenue, has kept customers from dining in for months, trying to adapt to the pandemic in other ways, like starting a subscription service.

More than 110,000 restaurants—
or nearly 1 out of every 5 establishments
—have shut down nationally since the pandemic started, according to a recent survey. Locally, it has meant Austin has said goodbye to iconic spots like Shady Grove, Threadgill's and Magnolia Cafe on Lake Austin, among others.
A fallen conduit at The Northshore apartment complex, 110 San Antonio St., has displaced residents in 439 apartments for the past two weeks.
According to residents who spoke with Austonia, the power lines fell around 6 p.m. on April 28, cutting off power to most units in the building. However, many residents have still been living in their powerless units.
The complex told residents repairs would be finished on Wednesday, after postponing a few times leading up to that, but announced Tuesday that it can't guarantee that power will be restored by the end of the week.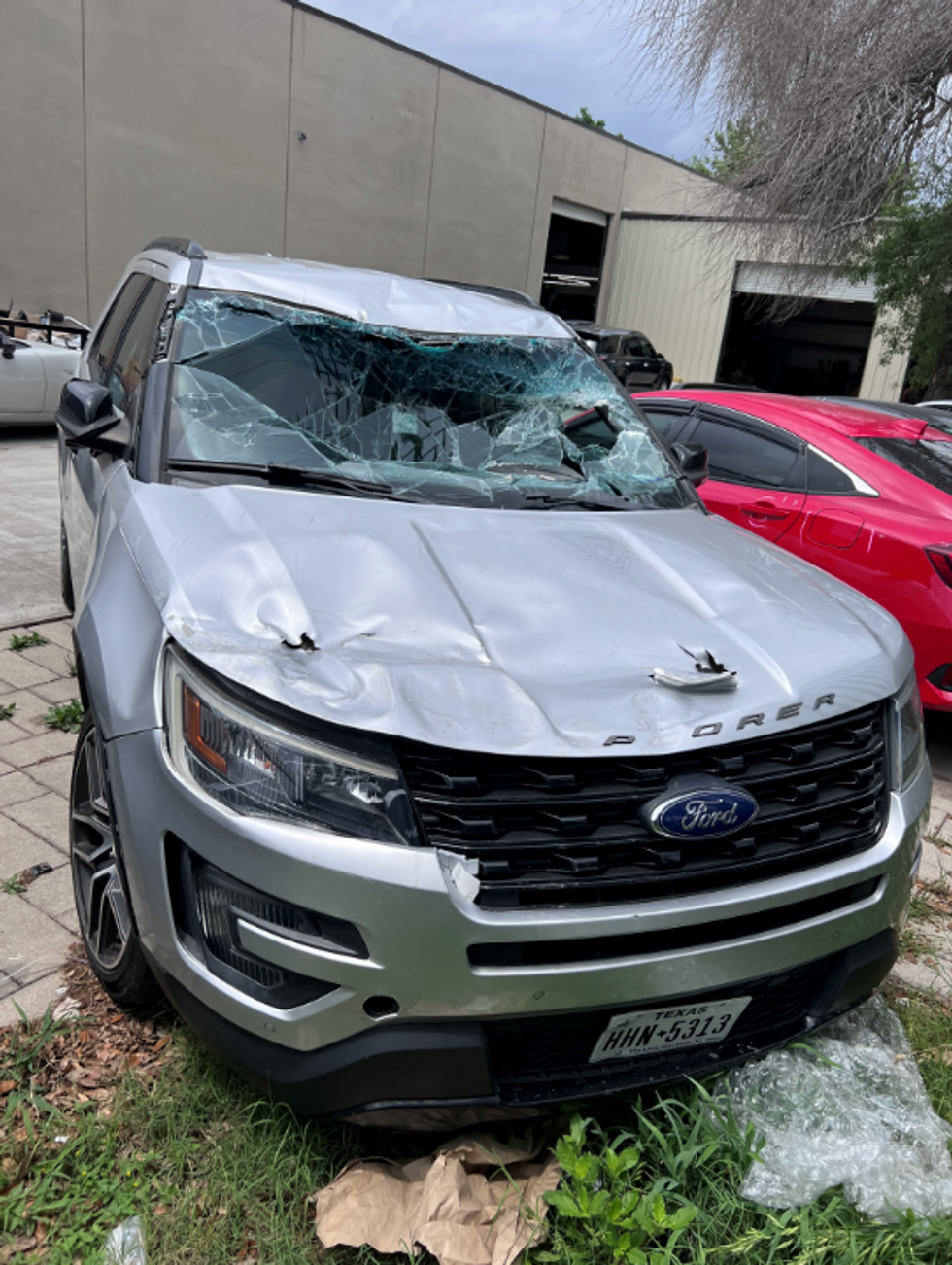 (P.J. Rabice)
P.J. Rabice, who was dining at ATX Cocina with his wife during the incident, was one of the first to find out about the damage. Rabice said they gave his 2016 Ford Explorer to the valet and had just sat down when a loud noise followed by a sudden dust storm rushed through.

A few minutes later, a manager came to tell Rabice the conduit had blocked the garage and shortly found out it fell on his vehicle.
The complex was unable to get his vehicle out of the fallen rubble until Wednesday, May 4. Though he hasn't heard back from insurance companies yet, Rabice expects the car to be a total loss.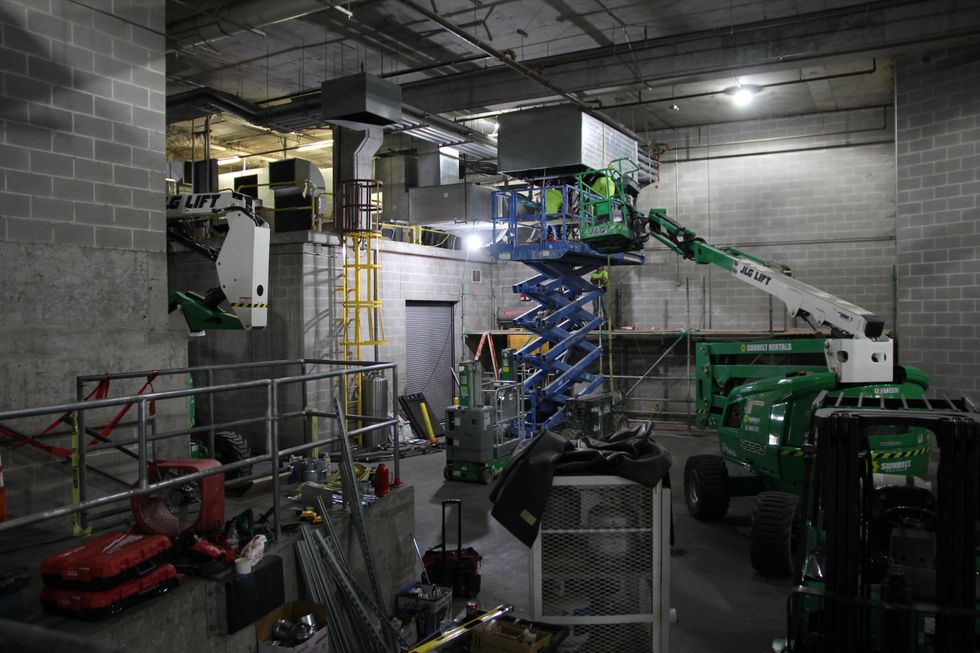 Rabice said the situation "kind of sucks but you move on." For eighth floor resident Chris, who declined to use his last name to protect his privacy, the two-week debacle is starting to wear on his "high spirits."
"The lack of expectation management, the just long duration of this ordeal—it's starting to become tiresome," Chris said. At this point… other accommodations are kind of something I'm thinking about more seriously now."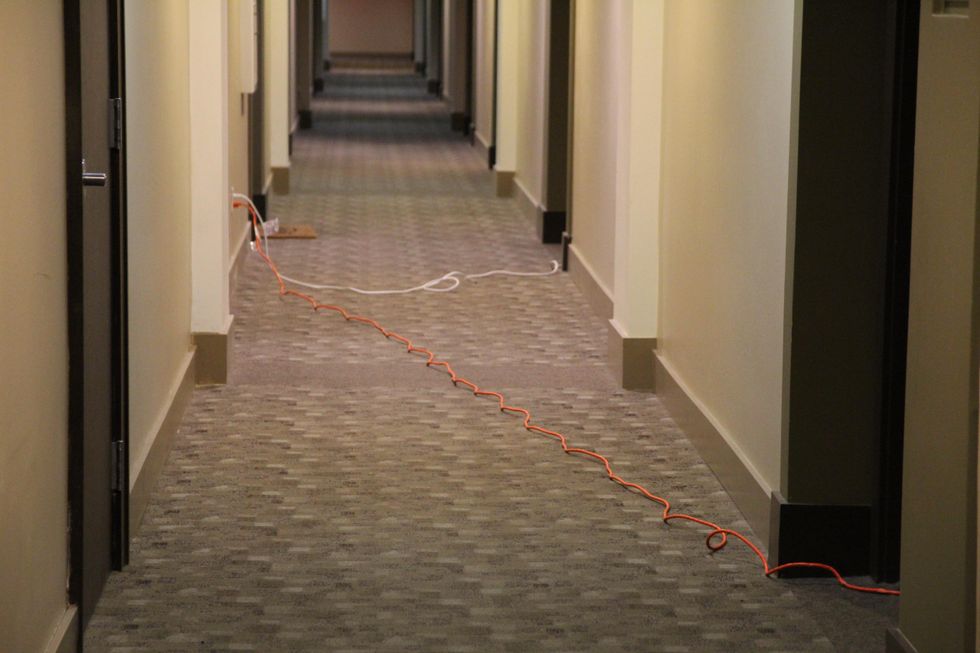 Many of the 38 floors have extension cords running from common areas into their apartments, including Chris. (Laura Figi/Austonia)
Chris has continued to live in his apartment, for the most part, with an extension cord running from the hallway and into his unit that gives him a morsel of electricity. The complex is compensating residents with $375 per day for accommodations but Chris said many people are following his lead by staying home and gathering in common areas at night, where there is AC.
At this point, Chris isn't sure when his home will have power. Chris said when the complex emailed saying they didn't have a timeline anymore, he found that more comforting than empty promises.
"Don't sugarcoat it, like this was a major collapse and if you don't have an ETA at this time, please say that," Chris said. "It seems like we'll be compensated, which is at this point, all I can reasonably expect. I can't really fix the power myself so I'm just keeping on keeping on and hoping that they continue to send us updates."
The complex is emailing residents daily on the state of repairs, telling residents they would extend reimbursement until 48 hours after the repairs have been finished.
"It is not enough simply to say we're so very sorry for this disruption to your life. Please understand we sincerely want the power back on as much as you do," the complex said in an email on Tuesday.

The complex did not immediately provide comment to Austonia.
"Where else would you want to live where it's 93 degrees out, gloomy and smells like queso?" Trevor Wallace said.
TheCalifornian comedian poked fun at new Austin move-ins with $2,000/month dumpsters, plenty of Austiny quirks and an ode to Texas weather in a viral TikTok last week.
Over 1.8 million viewers have seen the video since it was posted on May 5. The post, which channels the woes of some Austinites—and the onslaught of "cool kids" that move in from his home state every day—has more than 275,000 likes as of Tuesday.
Austin's skyrocketing rents were on full display in the video as Wallace approached a dumpster that he claims goes for just $2,000 a month on Zillow ("and it's got a sunroof").
The comedian, who has gained 7.6 million TikTok followers for his often-douchey, clueless characters, also took aim at Austin's culture with these quick-witted quips:
"When we move here, what color do you think you're going to dye your hair?"
"Did you know if you say brisket three times fast, you'll actually shit your pants!"
"I'm actually growing out my mullet right now."
"What's my love language? Girls in a pink cowboy hat."
Wallace also commended the southern city's summertime weather. "Today's weather forecast—a Rainforest Cafe that caught on fire, which is pretty good for us," Wallace said in the skit.
Austin landmarks, including the Texas Capitol and Sixth Street, were on full display as Wallace satirized both Austin's queso-obsessed food scene and recent move-ins in one clever stroke.
"You don't know what queso is? (Laughs in clogged arteries) must be from Fort Worth," Wallace said. "That's in Texas, right?"
Wallace also took a jab at Austin's live-in comedian Joe Rogan, its public transportation and the tendency to see a few too many guns for a Californian's comfort in downtown Austin.
"New York has subways, LA's got Ubers, Austin's got scooters... and shooters," Wallace said. "Welcome to Sixth Street!"
In true Austinite fashion, many residents joined in on the lighthearted jokes against their city in the comments, while others took on the age-old duty of asking no more move-ins to make their way to Austin.